Some people love wide open roads, while others prefer crowded spots and some relish the thought of silent, hidden alleys. For the latter, Macau has an interesting lineup and the following are our favorites. From Buddhist praying halls set in narrowed corners to ruins located on beautiful squares, the city has a lot to explore! There are numerous patios and avenues, little alleys and hidden streets all over Macau, especially when it comes to the oldest part of the city. Vintage and most certainly nostalgic, these places are safe from crowds, traffic and noise, so take some time to visit them. Take this ride with us and discover some of Macau's most fascinating alleyways.
What's amazing about this town is the power it has to house so many different worlds in one. On one side, the casinos with all its luxurious trappings, but also grand condos and buildings, with swimming pools and fitness clubs, busy streets filled with people and traffic, children laughing and crowds shopping; and then there are these alleyways–sometimes standing right in the middle of all this hustle and bustle, these alleyways seem to be stuck in time. A time one can rarely see around the city anymore; of drying your clothes outside and talking to your neighbor from one window to the other.
Most of these places are located around Macau's downtown, including close to Rua dos Mercadores, Rua das Estalagens, Rua de Tercena, among others. They hide truly off the beaten path alleyways one can hardly see much of these days. The best way to discover these charming Macau alleyways is in person so charge up your camera, put on some comfy shoes and away you go!
Pátio das Seis Casas
(See featured image above)
Its Portuguese name means "patio of the six houses" and it's named so because of the number of residences it used to have. Unfortunately, every single house is now in ruins, but one still has the chance to take very beautiful photos and feel the vibe of times gone by.
This patio is located in the Barra area, close to St. Lawrence's Church, on a narrowed alley leading to one of the area's busiest streets, where a market with the same name stands. An interesting titbit to know about this alleyway is that Russian painter George Smirnoff lived with his family in one of these houses after arriving in Macau in 1944 for refuge, fleeing the Japanese in Hong Kong!
Pátio das Seis Casas St. Lawrence's Parish, Macau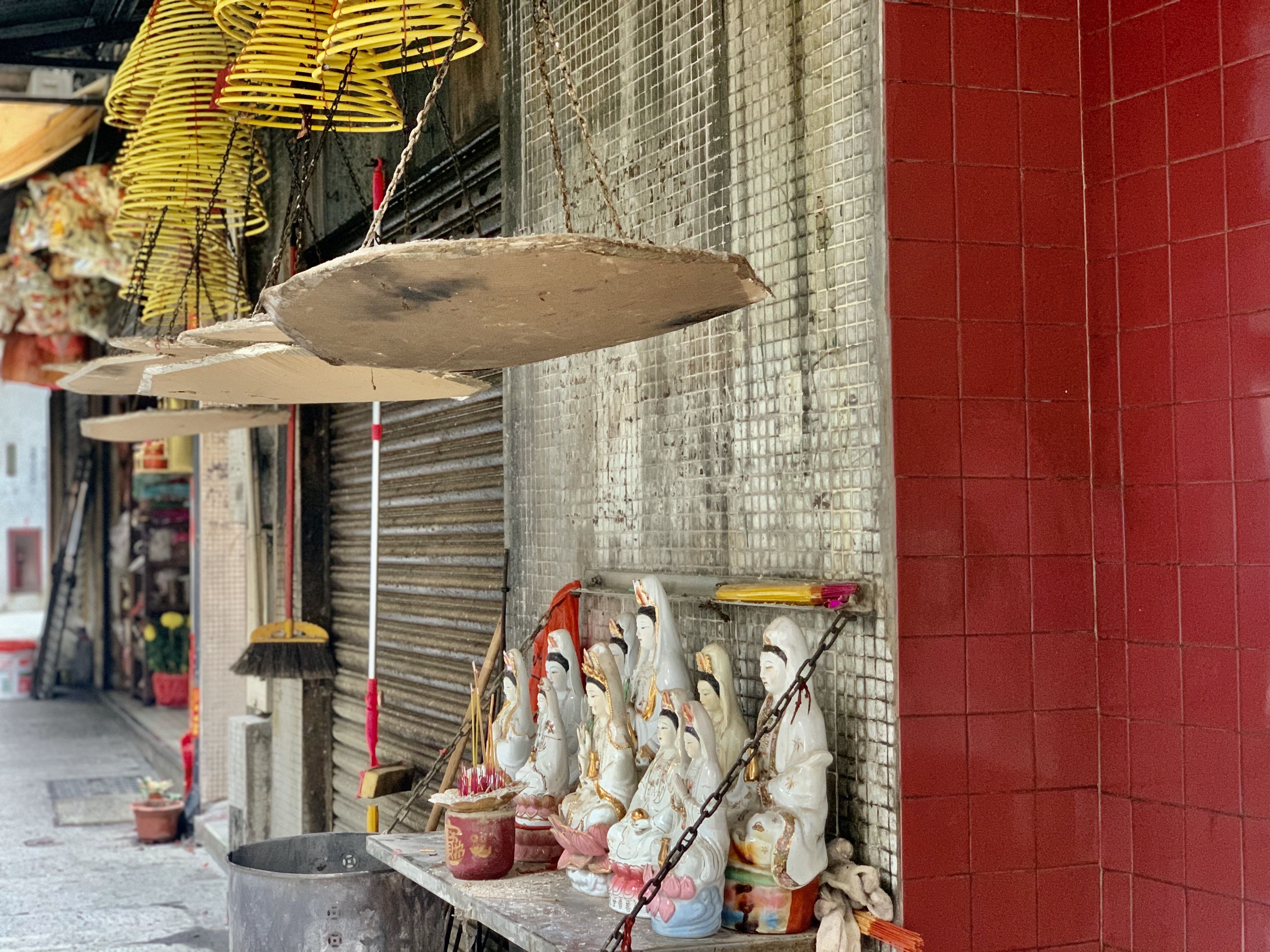 Rua do Bazarinho
Rua translates into "street", which is not very accurate when you reach this place. This tiny little alley has a beautiful old praying hall–Foc Tac Chi Temple–where locals usually burn incense and praying to higher powers. You could even miss this nice place if you weren't paying attention to your walk. Before the 20th century, Rua do Bazarinho (meaning small outdoor fair) was known for its brothels.
Coming from St. Lawrence's Church, just turn left on Rua da Casa Forte, and then turn left again towards Pátio das Seis Casas. All these lead to St. Lawrence Market, in case you get lost. Rua do Bazarinho leads to Pátio da Ilusão as well. Located in a quiet corner of the city and although not your everyday tourist spot, this is a go-to place if you're looking to experience the lives of locals. People come here to pray, but also to buy their groceries and fresh goods at the St. Lawrence Market, just a street down.
Rua do Bazarinho St. Lawrence's Parish, Macau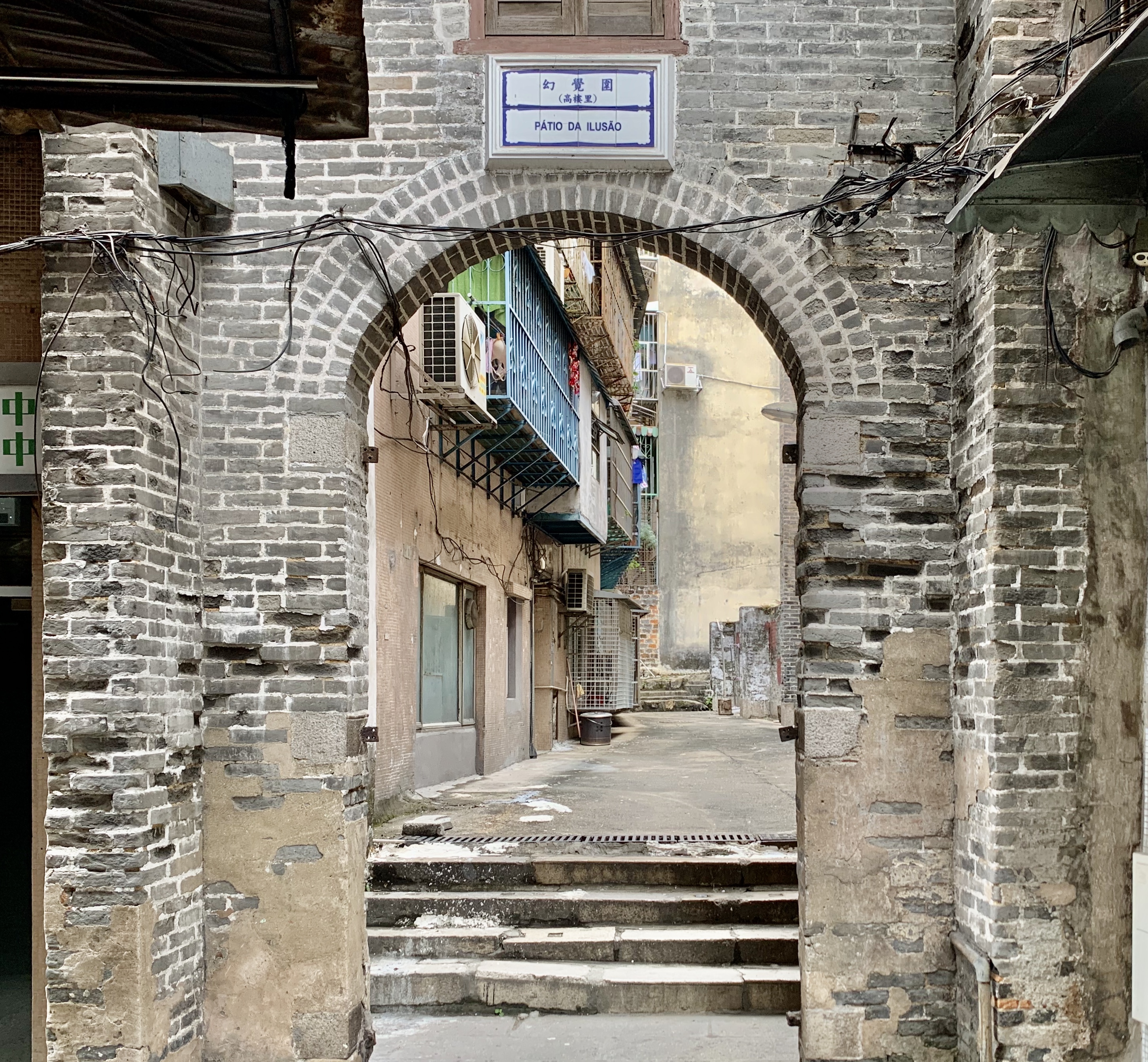 Pátio da Ilusão
Macau and Hong Kong are both special administrative regions and neighbors. However, they look or feel nothing alike. If Hong Kong is the New York of Asia, then Macau might be more of a village set in France, Italy, Spain or Portugal. With these hidden alleys and pedestrian roads, one feels not only nostalgic, but there's also the overwhelming itch to photograph the local life happening around you.
Named "illusion patio", although it looks decrepit, it isn't actually lifeless. People still live nearby, and that's why you might be seeing clothes drying on a rack and windows opened. We can certainly imagine the lives of people who experienced this area in its heydays–shouting something to your neighbor from one window to the other, or seeing where the whole set of apartments dried its panties and shirts, blouses and socks outside. Another interesting detail of this patio is the window grilles–they're falling apart, but still keep a bright, strong Bordeaux color, ideal for a photo background!
Pátio da Ilusão St. Lawrence's Parish, Macau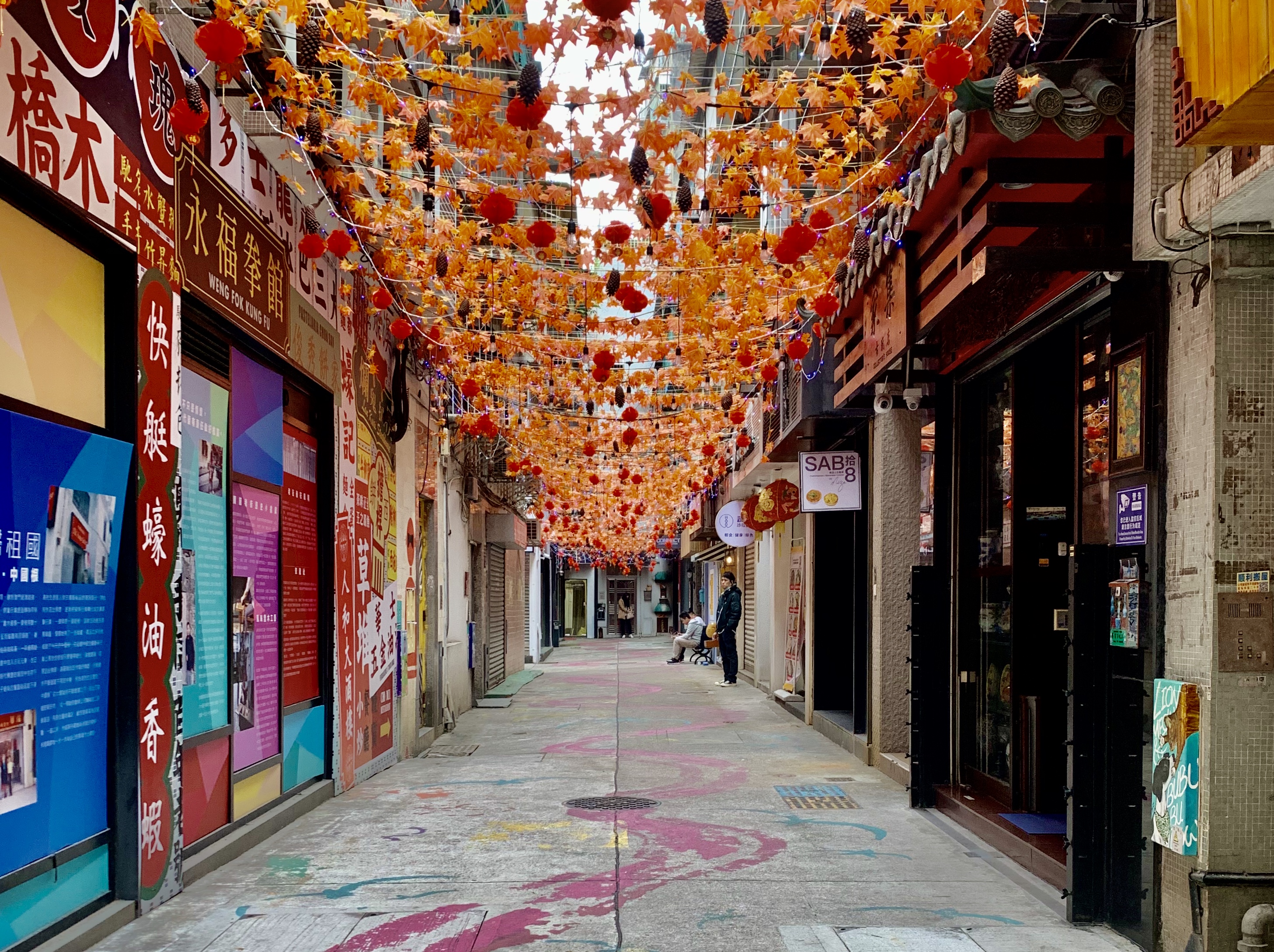 Pátio de Chon Sau
Featuring a modern Western and Macanese food restaurant, Cafe Sab 8, but also SAUCE Salaboratory–healthy wholesome dishes, mainly salads–this patio is everything an Instagram addict needs. Get your fix here and have fun mixing all the colors this area offers. Artsy in its nature, the local government decided to revamp it and turn it into a hip place for locals and tourists to enjoy something different in this area.
When coming from Rua dos Mercadores, follow Rua das Estalagens and turn right when you start seeing these decorative flowers. Pátio de Chon Sau is set in an ever-changing area of the city, always trying to keep up the newest and hippest trends when it comes to food and innovation.
Cafe Sab 8 10 Patio de Chon Sau, Macau, +853 2835 8191, www.facebook.com/Cafesab8
SAUCE Salaboratory 1-15 Patio de Chon Sau, Macau, +853 6393 9584, www.facebook.com/SAUCE-Salaboratory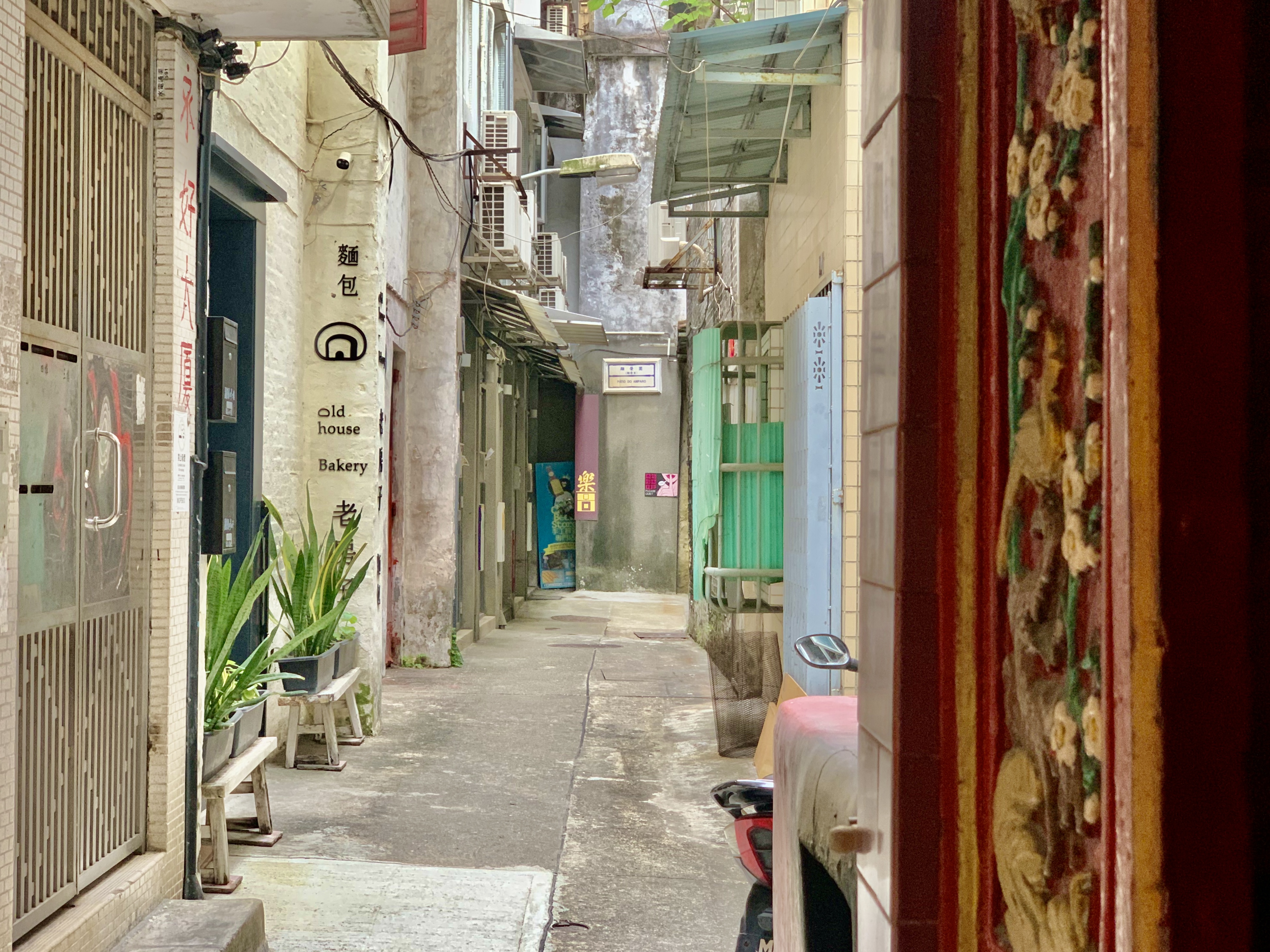 Pátio do Amparo
Photographs can only portray a sliver of what a place truly is like and Pátio do Amparo's vibe can only be felt in person. Take a breath, look around and you'll find that Macau is so much more than just world-renowned monuments and churches, or casinos and hotels. According to official records, one of Macau's first customs office–a mansion–was located in this area. The Macao Streets website explains that in the 17th century, China opened a series of offices, one of them in Guangdong. It had branches here to deal with taxes and supervise regional and international trade from ships coming to and from Macau.
Actually, the mansion itself occupied the area we now know as Pátio do Amparo: One can see a rectangular-shaped arch in Chinese-style on both sides of the patio's entrance. Unfortunately, the building itself was taken down in 1849, during the First Opium War. This part of the city offers incredible insights into what it was decades, even centuries ago. Besides housing Old House Bakery and its homemade bread and cookies, this patio also features a praying hall on the left-hand side. These are all about experiencing the life of locals in places where the 21st century and European culture hardly got.
Old House Bakery Pátio Do Amparo No. 13 Santo António, Macau, +853 2836 2237,  oldhousebakery.business.site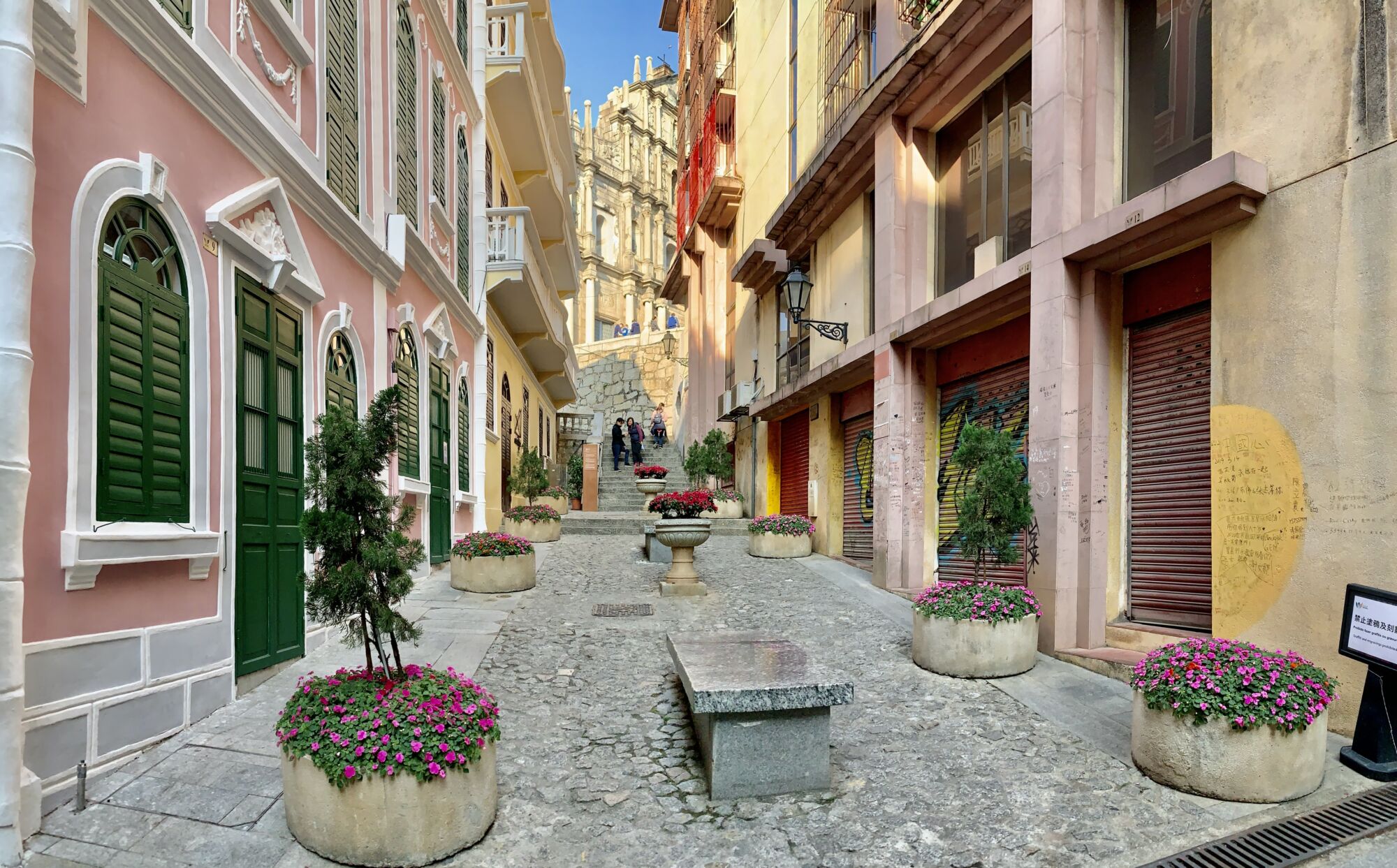 Travessa da Paixão
Travessa da Paixão or "Alley of Passion" is one of Macau's most visited sites. Perhaps because it stands close to the Ruins of St. Paul's or maybe it's mentioned in tourist guides. Although this alley is now frequented by married and wedded couples for photoshoots and romantic strolls for people in love or about to fall in love, it was named after the "passion" for Christ.
Truth be told, it's beautiful and well worth the visit, but what makes it even better is the building housing Cinematheque Passion. With a minimalistic modern architecture project, the government kept parts of the original building. Also, the Ruins of St. Paul's makes an appearance in the background in various angles (see above image), so be sure to play with your camera to get the best one! The pink bright and yellow houses are beautiful to look at as well.
Cinematheque Passion 13 Travessa Da Paixão, Macau, +853 2852 2585, www.cinematheque-passion.mo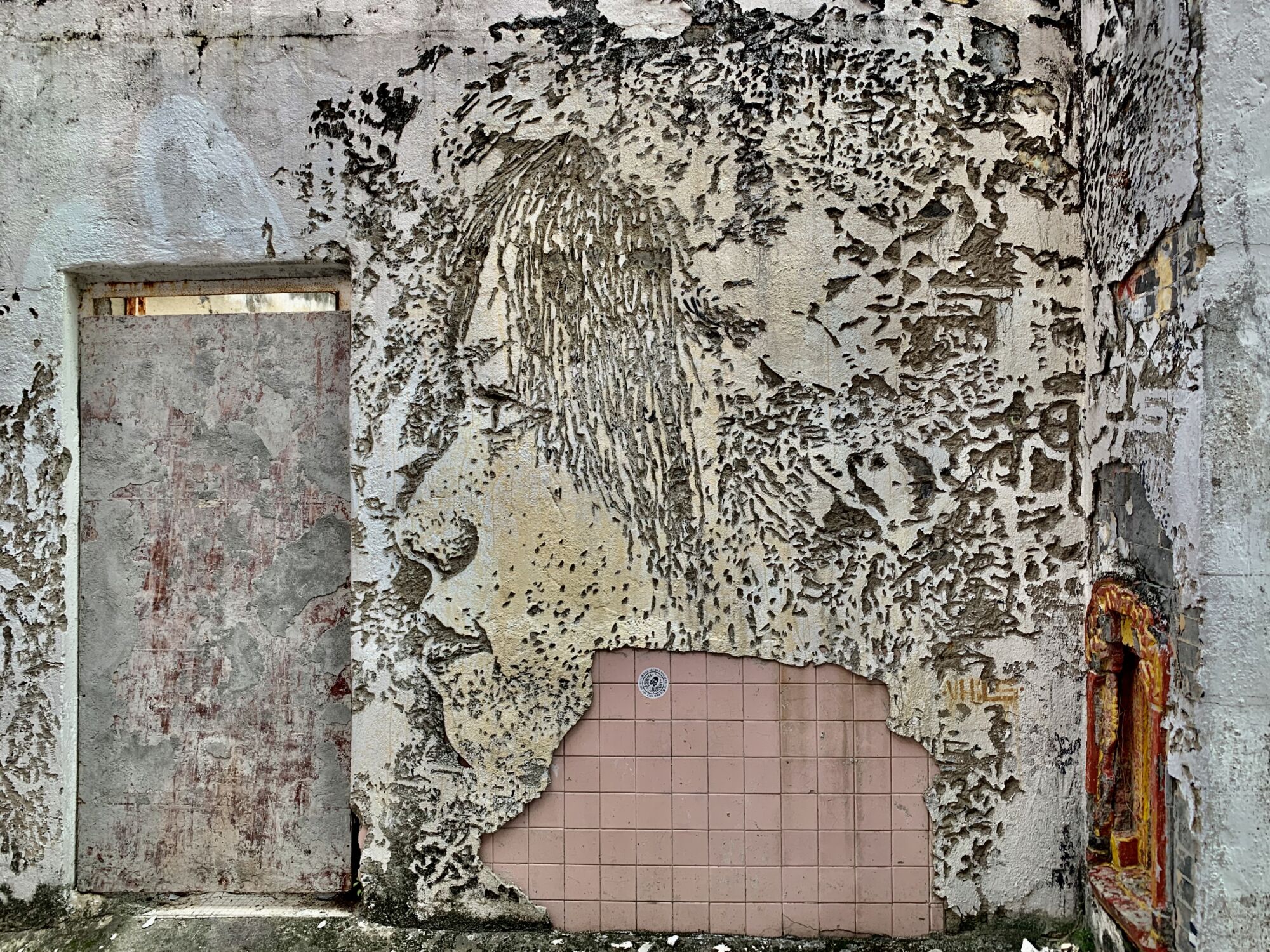 Rua dos Clérigos
Taipa seems like a very modern and upscale area and yet, there are still some hidden gems to discover there! Taipa Village has lots of corners and labyrinth-like alleyways to explore. They might not be as old and traditional as the ones found on the Macau side, but they sure are worth a visit.
Rua dos Clérigos has a particularly special vibe; maybe it's all the street art and graffiti, or the Portuguese products shop and the Italian and Macanese restaurants, but we sure love this area. There's a Vhils piece of art close to tiny Chinese religious motifs placed in the street, plus, there's Barcelona serving up delicious food and Taipa Village Art Space to soothe your creative soul. Who would've known that such a tiny alley would have so much to offer?
Rua dos Clérigos Taipa Village
Also read: Barcelona: True Catalonian Food at the Heart of Taipa Village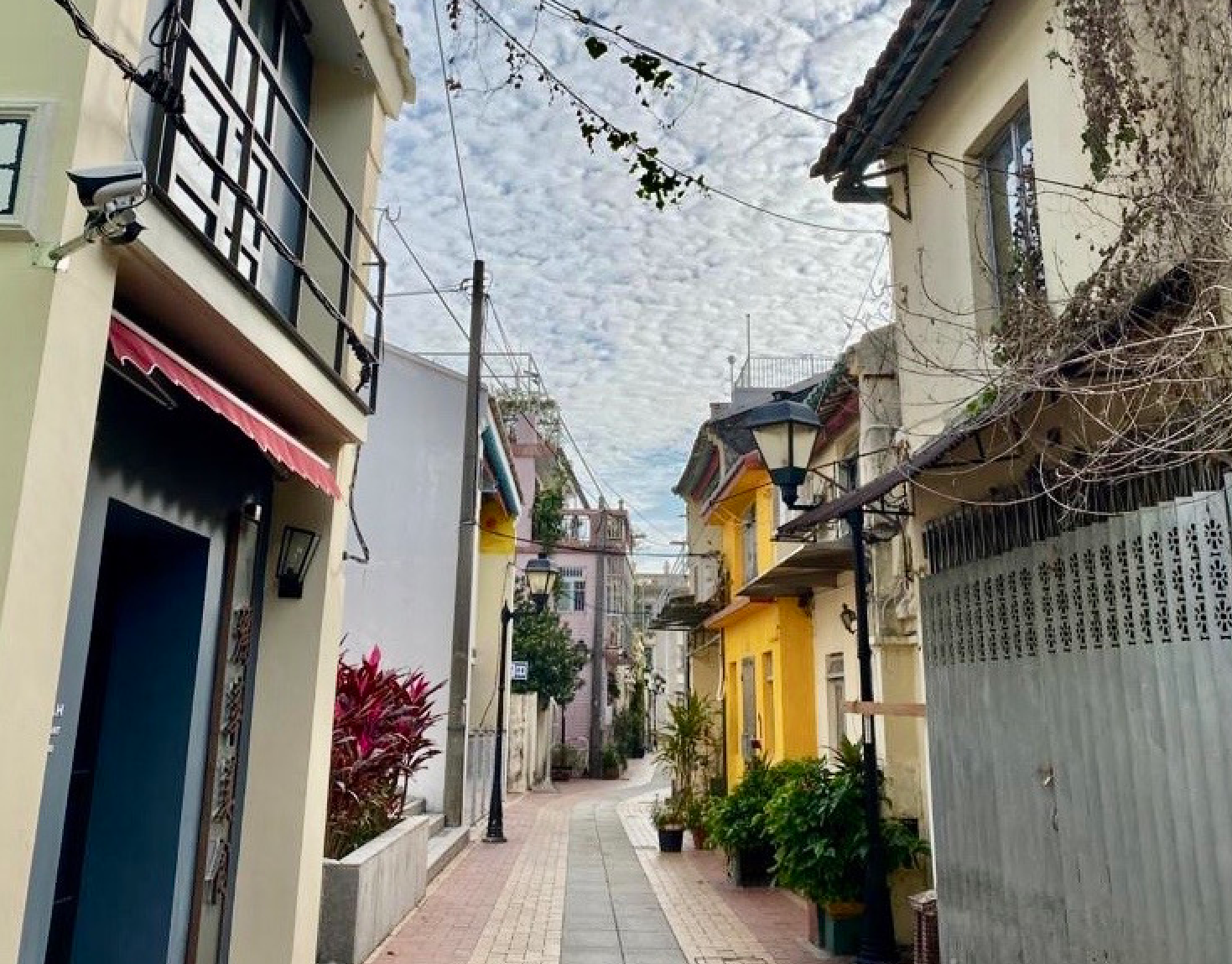 Rua dos Negociantes
Called a street, but looking more like a back alley, Rua dos Negociantes is just wonderful. As peaceful as Macau gets, lined with colorful little houses and no more than two buildings, one can breathe the fresh air coming from all directions. Coloane used to be a fishing village and unfortunately, some of these houses are either abandoned or in a bad condition. However, it's still great to roam around and imagine how it all was decades and centuries ago.
Rua dos Negociantes Coloane Village
Tags
Related Posts