Travessa da Corda's name is related to the kind of trade that was concentrated around it. During the early 20th century, fishermen and workers would be braiding rope and cordage at the open square in front of the Lin Kai Temple. This is because many neighboring residents of Travessa da Corda and its surroundings were rope-braiders. In the olden days, the products were taken to boat equipment shops and general merchandise stores at the St. Lawrence district for sale.
Nowadays, the area maintains looking like a traditional road. This is where people can get a sense of how it was back in the old days of Macau during the fishing and the rope-building era especially in the front of the Lin Kai Temple. With time, the streets of Travessa da Corda is now scattered with shops and always filled with people. The main attractions of the streets are now are the Cinema Alegria, the Workers' Children Secondary School for the primary section, and the well-known Lin Kai Temple, which is also located here.

Lin Kai Temple
This is one of Macau's oldest temples. Well-preserved and located quite away from all the city's hustle and bustle, it features several interesting items, unique architecture, and great spots to take photos! It's a great spot to visit if you are looking for some Macau heritage without having to go to the Ruins of St. Paul's. Read more on our take of Lin Kai Temple here.
Lin Kai Temple 21-35 Travessa da Corda, Macau
Cinema Alegria (Veng Lok)
The building still serves as a cinema theatre, but its history goes way beyond that. The theatre was inaugurated in February 1952 debuting the screening in Macau of a documentary regarding China's and the government's power (A China Libertada, in Portuguese). The People's Republic of China was formed in 1949 and the founding of Cinema Alegria was a wealthy local merchants' idea which included Ma Man Kei, Chan Chek San, and Ho Yin (there are several sites in Macau with his name). Unlike all the other cinema theatres in the region, this one was known for exhibiting and screening movies in favor of the government. There were also Russian, North Korean, and Vietnamese movies. The room is also used for Cantonese opera and the annual gala in celebration of China's National Day.
Cinema Alegria 85-E Estrada do Repouso, R/C, Macau

San Kio Garden
Set close to Lin Kai Temple, this garden is one of the most relaxing and quiet gardens in Macau. Lou Lim Ieok is very beautiful, but it is generally full of tourists on weekends and locals during weekdays. Camões Garden is also nice, but too wide if you are looking for some peace. At San Kio Garden, you can sit down and calmly observe what's going on. Everything seems to move at a slower pace with the immutable architecture and chirping birds. There are lots of bird cages resting on trees here. Locals believe that birds like and need to get some fresh air, so, as some do with dogs, they walk their winged pets. There are also some tables where old people rest and talk to each other whereby the garden is part of a local elderly association. You might find it on Google Maps at a different street since it's located in an alley close to Travessa da Corda.
San Kio Garden Estrada do Repouso, Macau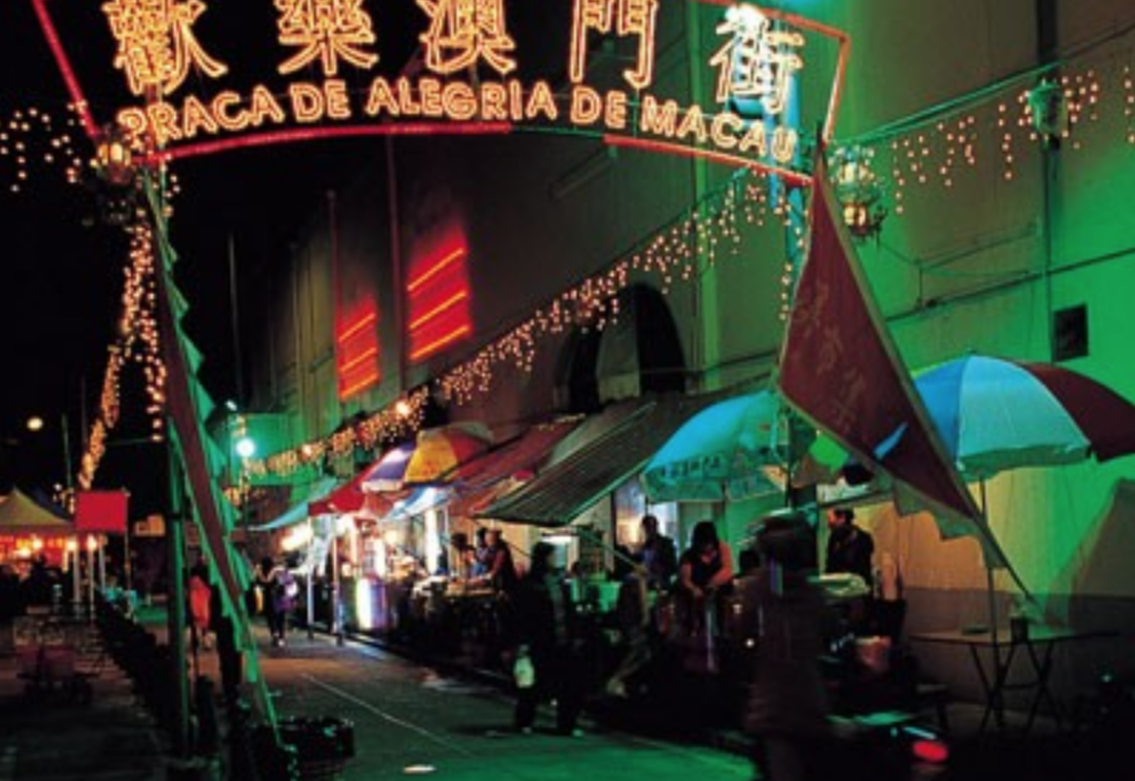 Flea and Street Food Market
Every weekend until 11:30pm, there's a street food night market organized by a local association. Here, you can find something very tasty and local since it's street food. Experience the local food and ambiance while walking through this market and feel the Macau vibes creeping in, without having to stay in the middle of a heavy crowd.
Flea and Street Food Market Estrada do Repouso, Macau
Tags
Related Posts