Taking your annual leave soon, but can't or won't travel? Don't let this ruin your vacation. Macau is an exciting place with a lot to offer. From gastronomic experiences and excellent hotels to unique cultural heritage, there are activities that can make your days off work that much more unforgettable. All you need to do is switch from resident mode to tourist mode. Read on and get some inspiration on how to spend a perfect staycation in Macau!  
Book a night in a hotel 
Pack a small suitcase and leave your house chores such as cooking and cleaning behind! Nothing screams of a Macau staycation more than booking a room in one of the numerous wonderful hotels in town. These days, there will not be a problem with making a reservation even on short notice. Note that you can get a better rate on nights between Tuesday and Wednesday as these are usually the least busy times of the week.
Order yourself room service and have dinner in bed, enjoy a delicious hotel breakfast and spend the day lounging by the pool. Want a clean set of towels? Let the hotel staff deliver them for you. Need a drink? Enjoy a cocktail or two at the lounge!
Also read: Macau Hotels: One for Every Kind of Traveler
Spend a day at the seaside
Sometimes we forget that Macau borders the South China Sea. That means having beautiful beaches to spend sunny days with your friends and family. Take your time and walk bare feet on the black sand of Hac-Sá or chill under the palm trees of Cheoc Van (see featured image above). Grab a book and a picnic basket and while the day away in pleasant company, listening to the sound of the waves and smelling the tempting aroma of nearby barbecues. 
Hac-Sa Beach Estrada de Hac Sá, Coloane
Explore the city like a tourist 
Everyone who currently lives in Macau knows that the cultural heritage goes beyond Senado Square and the Ruins of St. Paul's. But leading a busy life doesn't always allow us to spend the whole weekend wandering the touristy spots, looking at Macau through the eyes of a tourist. 
Start your way at A-Ma temple, go up Penha Hill to be awed by the stunning panoramic view from up there. Proceed to the Historic Centre of Macao that is a UNESCO World Heritage Site, taking pictures of the charming churches and colonial buildings on the way. Stop by Senado Square for a quick bite of street food. And yes, walk towards the iconic Ruins of St. Paul's. You won't regret it, even if you had seen them dozens of times before! With the unfortunate absence of tourists, comes a hidden advantage of seeing the always crowded landmarks with only a few visitors. Always look on the bright side! 
Check out our Heritage section for more inspiration and ideas on places rich in history and heritage in Macau. We also recommend checking these walking routes that the Macao Government Tourism Office is offering. 
Also read: Senado Square's Best Street Food
Feel the relaxed vibes of Coloane 
Yes, Macau is a busy city, but there is still a part of it that is laid-back and tranquil and that place is Coloane. If you aren't a regular visitor of Coloane, have a walk around and you'll definitely tune in to vacation mode. Go on a hike through the lush greenery of Coloane hills, travel to remote Hac-Sá Beach, or visit charming temples and churches of Coloane Village and Ká-Hó. Whatever plan you come up with, finish the day off with dinner at Fernando's Restaurant that serves hearty Portuguese food in a cozy environment.
Fernando's Restaurant 9 Praia de Hac-Sá, Coloane, +853 2888 2264, www.fernando-restaurant.com
Also read: Off the Beaten Path: 10 Things to Do in Coloane
Taste the flavors of local cuisine 
Undoubtedly, food is an integral part of any culture. Exploring the local restaurant scene and trying different cuisines can be the highlight of any journey. Lucky you, as Macau was recognized as a UNESCO creative city of gastronomy, meaning that there are a plethora of dining destinations right here. Macanese cuisine was particularly highlighted and some say that this is the first fusion cuisine in the world! Learn more about its origins and distinctive characteristics here. To spare you hours of research, we've already assembled a list of places that serve the best Macanese food in town. Besides Macanese cuisine, there are plenty of other delicious things to try and this is the perfect time to finally taste these top 10 dishes to have in Macau! 
When it comes to upscale dining, getting a table in a Michelin-stared restaurant may be a little easier nowadays so make full use of this time! Just make sure to check if they are open and make a reservation before putting your fancy clothes on.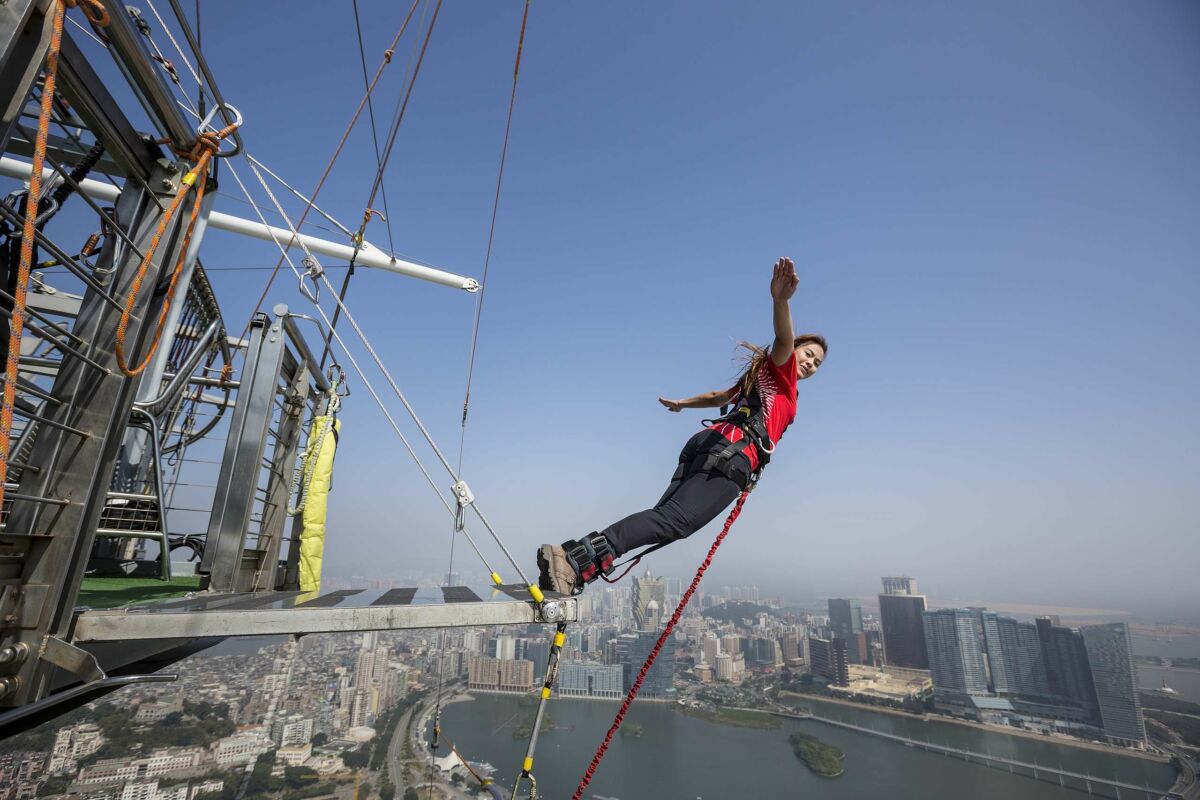 Do the bungee jump
Vacations must include adventures, right? Muster up the courage and step off the highest bungee-jump platform in the world. If the only thing that stopped you from jumping off Macau Tower is the price, you don't have an excuse anymore! Skypark by AJ Hackett offers all sorts of adrenaline-pumping activities such as Tower Climb, Sky Jump, Bungee, and Skywalk. This exhilarating experience is definitely one that will make your vacation unforgettable! 
Skypark by AJ Hackett Macau Tower, Limited Level T2, Adventure Zone, Macau Tower, Macau, +853 8988 8656, www.ajhackett.com/macau
Indulge in a spa treatment
Fortunately, some of Macau's spas have reopened and are a great choice for the ultimate in rest and relaxation. During your Macau staycation, make full use of the facilities and schedule a massage or a multiple-hour experience in one of the city's luxurious facilities. Get rid of that weight on your shoulders from day-to-day stress and hard work. All your worries will melt away after the first sip of herbal tea or a relaxing foot massage ritual. Not to mention, it is so easy to forget what part of the world you are in when the sounds of the tropical forest are played in the background and the aroma of essential oils surround you. 
Tags
Related Posts