Brought to Paris in December 1910 by French engineer and inventor Georges Claude (1870–1960), neon signs became exceptionally popular all around the world, with the United States winning by far. One can still see millions of these scattered across the country, especially in cities like Las Vegas or hotels. They are also very popular in both Macau and Hong Kong, with the latter even having an association that helps to preserve the history of this "legacy".
Some formats and designs are already considered traditional, such as the ones from pawn shops (in Macau), or karaoke and saunas in both regions. Unfortunately, there are not that many left, at least like we can see in photos from the 60s and the 70s, where neon signs would light up entire streets. We took a night tour through this beloved city to discover some of the best ones still standing! Check out what we encountered on a quiet and lit-up night around Macau.
Hotel Lisboa
(See featured image)
Definitely one of the most iconic buildings in Macau, Lisboa–as it's commonly known–is on top of our list of best neon signs in Macau. Although it's part of the structure itself, it's been there since the beginning, lighting up one of the busiest parts of the city center, close to Ferreira do Amaral roundabout. Although Grand Lisboa now overshadows this casino a bit, it's still quite majestic once you look at it. Built in 1970 and owned by Macau tycoon, Stanley Ho, Hotel Lisboa holds numerous stories and it's one of the most emblematic buildings in Macau; neon signs included.
Hotel Lisboa 2-4 Avenida de Lisboa, Macau, +853 2888 3888, hotelisboa.com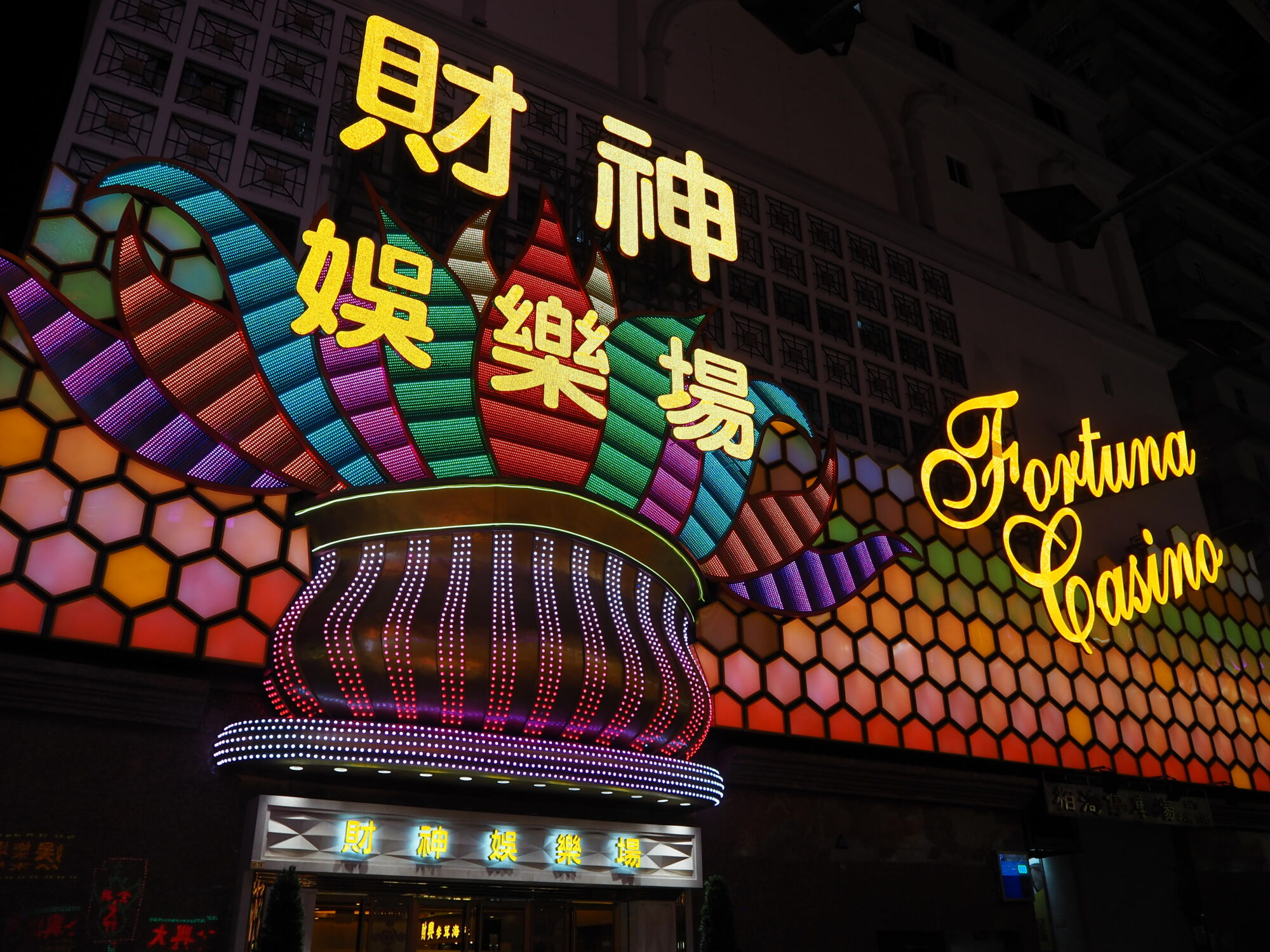 Fortuna Casino 
With bright colors and lots of flashing, Casino Fortuna takes us back to those movies from the end of the 80s, where beautiful women and men entered the casinos and hotels dripping in jewelry; Frank Sinatra playing in the background and you're suddenly in Vegas! Seemingly stuck sometime around the same era, Casino Fortuna–located behind Hotel Lisboa–features a gambling hall, but also a hotel area. Its neons signs are super attractive and mesmerizing! Huge and filling up the whole entrance, it's great for photographs. Inaugurated in 1992, it's also owned by Stanley Ho's company, Sociedade de Jogos de Macau (SJM).
Fortuna Casino 63 Rua de Cantão, Macau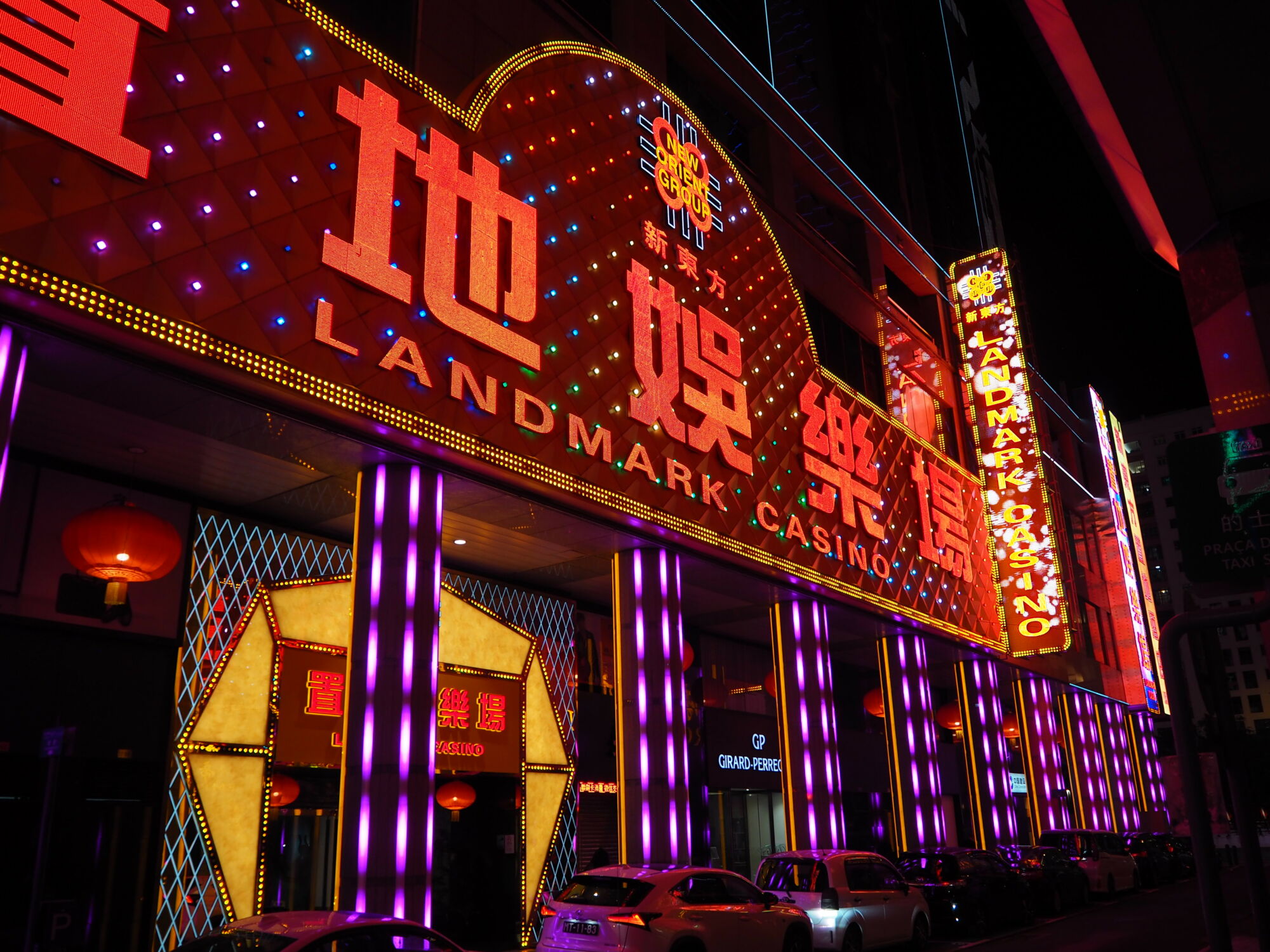 Landmark Casino
Considered the first themed casino in Macau–Egyptian motifs, if you must know–the building itself was inaugurated in 1997; it started out as just a hotel, with the casino being later introduced. Owned by David Chao–who also owns Macau Fisherman's Wharf–Landmark is, well, a landmark in Macau. Quirky and almost kitsch, it's a great legacy of the 90s in the city. Everything was flashy and lit up, including most properties on this side of the city. Money and pleasure goes hand in hand in the area and that's still visible these days. With its main entrance located at the renowned Avenida da Amizade, the above photo was taken from the back entrance, where there are smaller neon signs also worth checking out.
Landmark Casino 555 Avenida da Amizade, Macau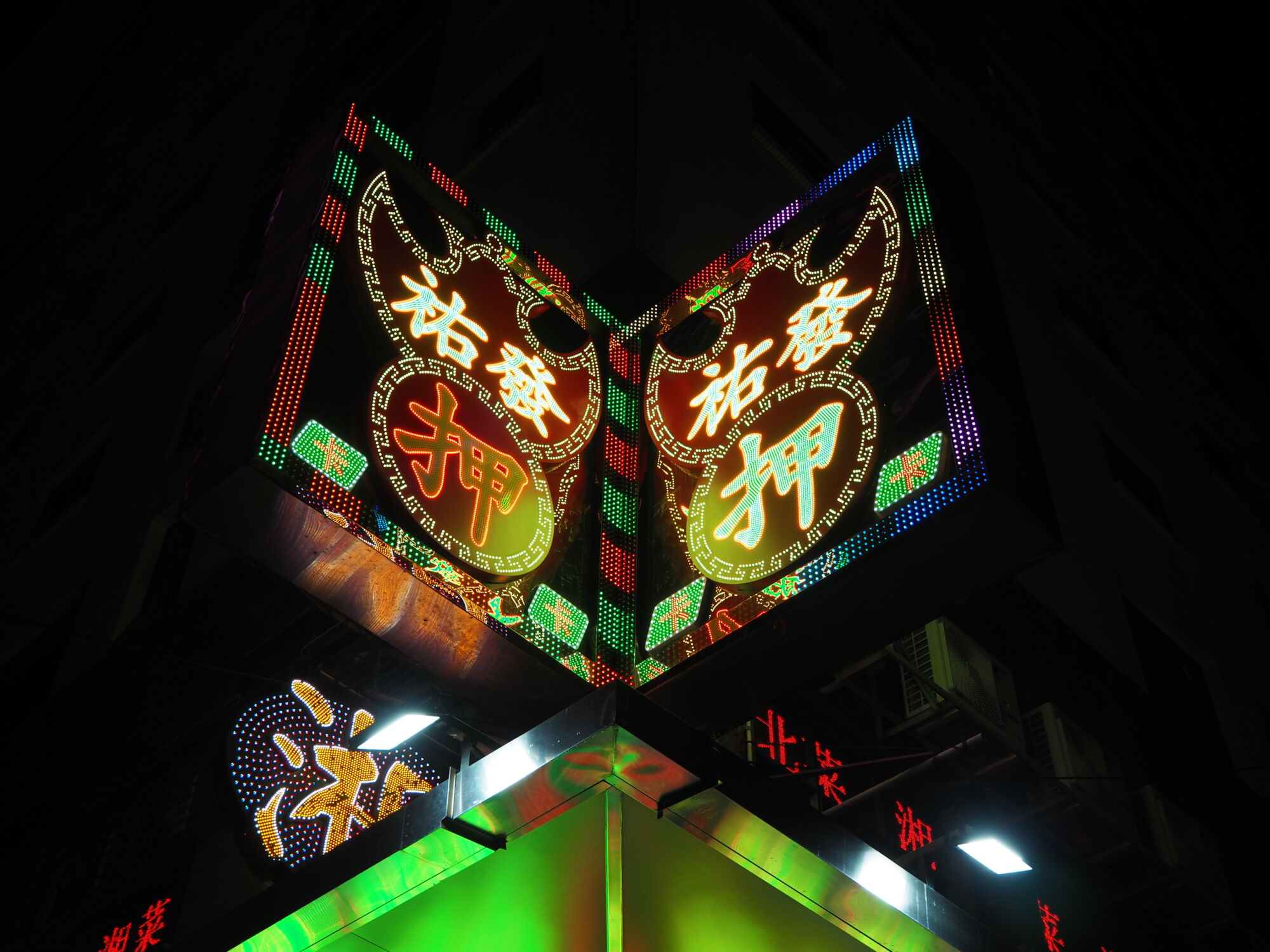 Pawnshop Signs
These can still be found a bit all over the city, but mostly along NAPE, ZAPE, and behind Hotel Lisboa's narrow streets. Locating them there–close to casinos–has a specific purpose. When gamblers run out of money, a lot of them get desperate to keep playing and winning, so they rush to pawn their valuables at the closest place they can find and then go back to the tables. Pawnshop signs are always like the one in the photo above: a rounded base and beaked ends on top always mean there's a shop where you can exchange valuables for money; sometimes even exchange currencies. Unlike karaoke or sauna signs–which are also abundant in Hong Kong–these are very characteristic of Macau life because this is where they're needed. We found this one along Avenida Sir Anders Ljungstedt, right behind L'Arc Macau hotel.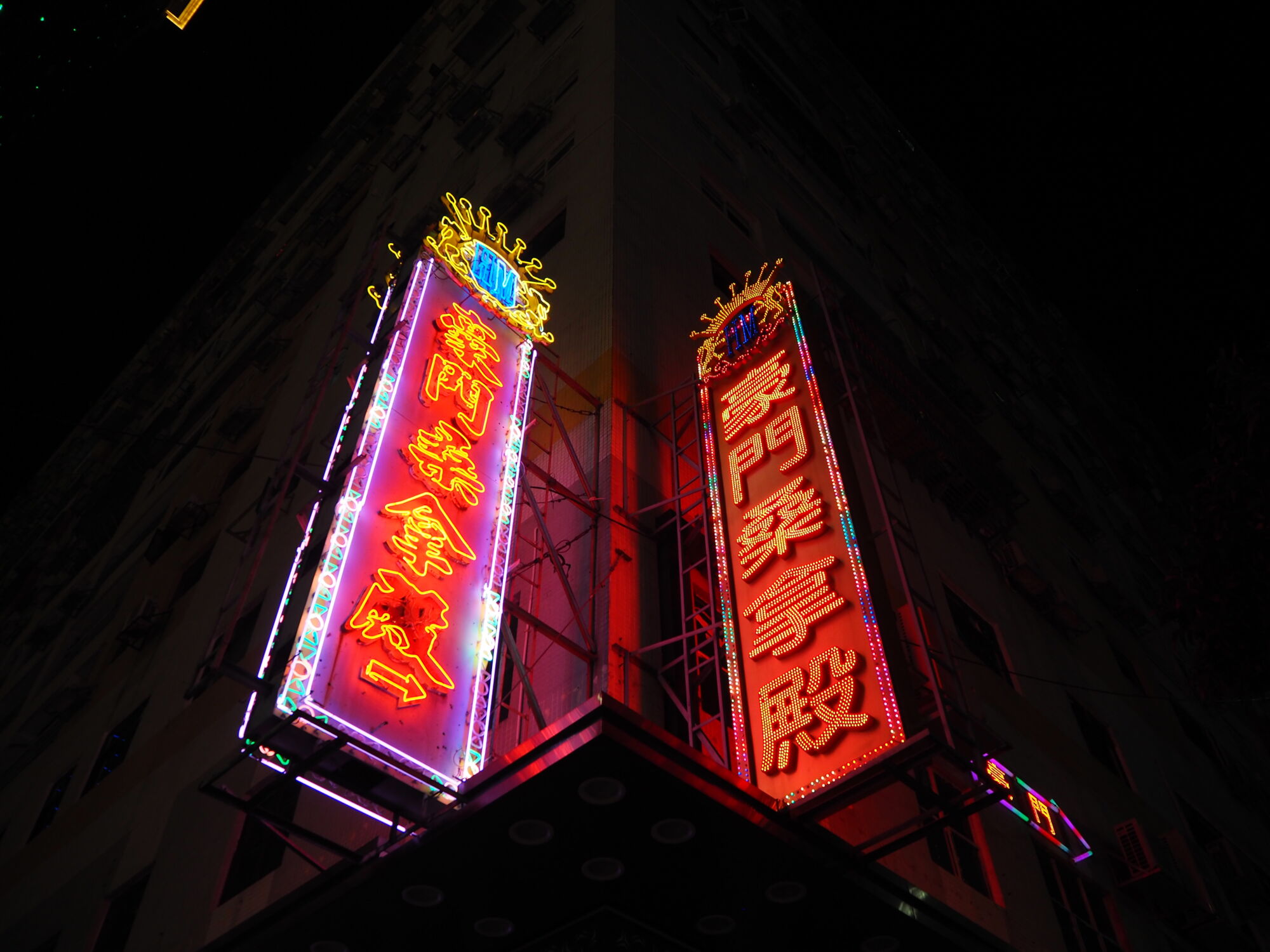 Sauna Signs
Very common both in Macau and Hong Kong, these show the way into a world of pleasure and relaxation. Women aren't allowed into saunas and these are believed to include more than just hot baths on their menus. This specific neon sign is indicating the way to a sauna called "Sauna Massage Noble Family", on the next street. Found on the intersection of Avenida Sir Anders Ljungstedt with Rua Francisco H. Fernandes (where said sauna is located).
Restaurante Federal
If you walk along Avenida Dr. Rodrigo Rodrigues towards Macau Art Garden, you'll see a beautiful bright red neon sign high up on a building: it's for Restaurante Federal. Its design looks like a beehive painted in red and yellow, while the eatery's name is also carved on it. It's also visible from afar, as it's one of the only neon signs left in the area. There are more on adjacent streets, but none that sticks out as much as this one.
Restaurante Federal Nam Kwong building, Av. Dr. Rodrigo Rodrigues, Macau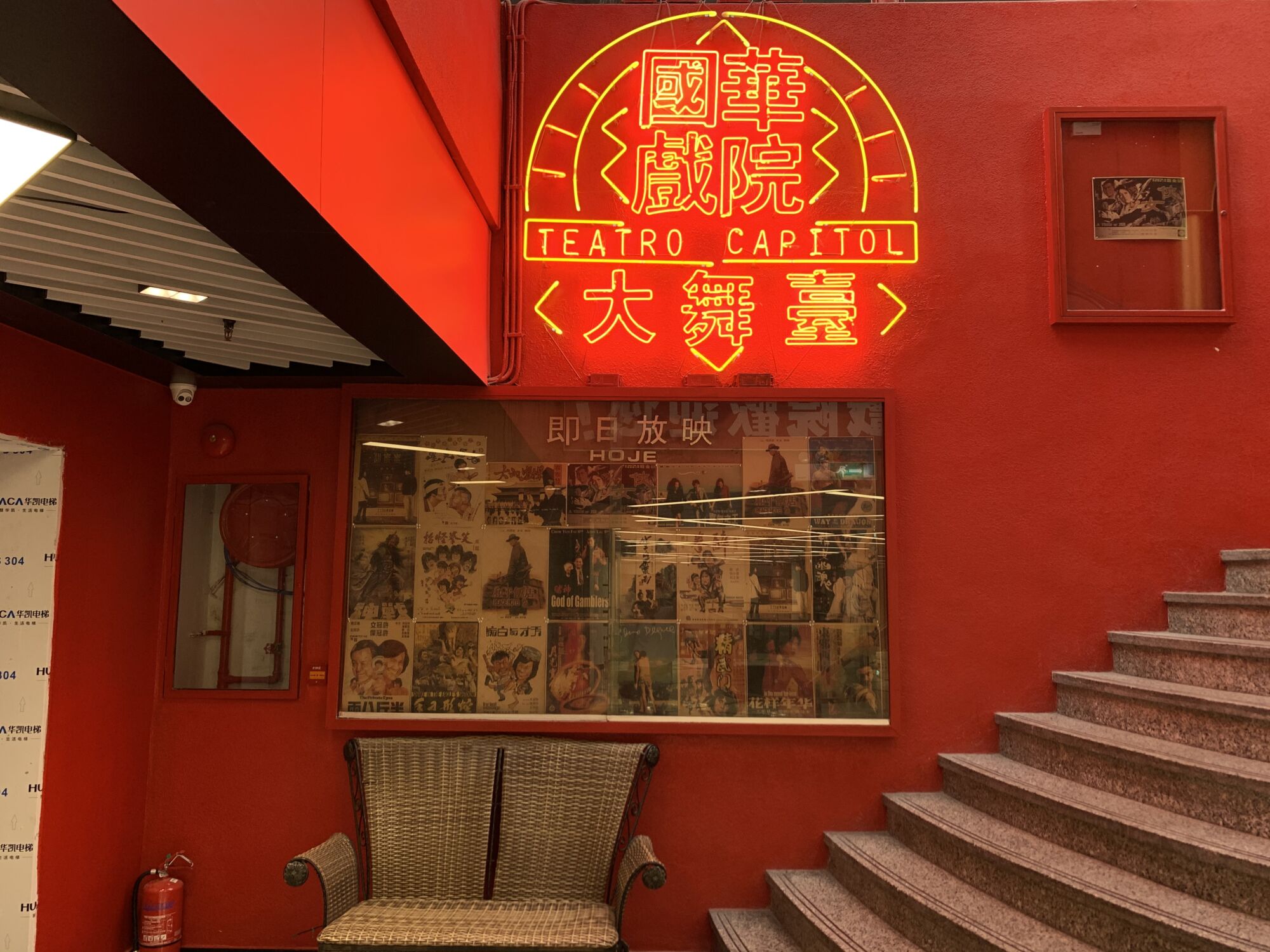 Teatro Capitol
One of the most emblematic cinema halls in Macau has finally been revamped! We thank whoever decided to renovate this building located at Rua das Mariazinhas–how the street is known–officially called Rua Pedro Nolasco da Silva. Teatro Capitol Commercial Building used to have a life of its own, with tarot and hand reader shops, boutiques and so many other cool stuff. It was later abandoned and left alone for a long time. In 2019, the building opened back to the public, with the last floor going back to its original function: a cinema hall. Once you get there, this gorgeous, big neon sign congratulates you, almost like welcoming you back to an era of Macau that's now nonexistent.
Teatro Capitol Rua de Pedro Nolasco da Silva, Macau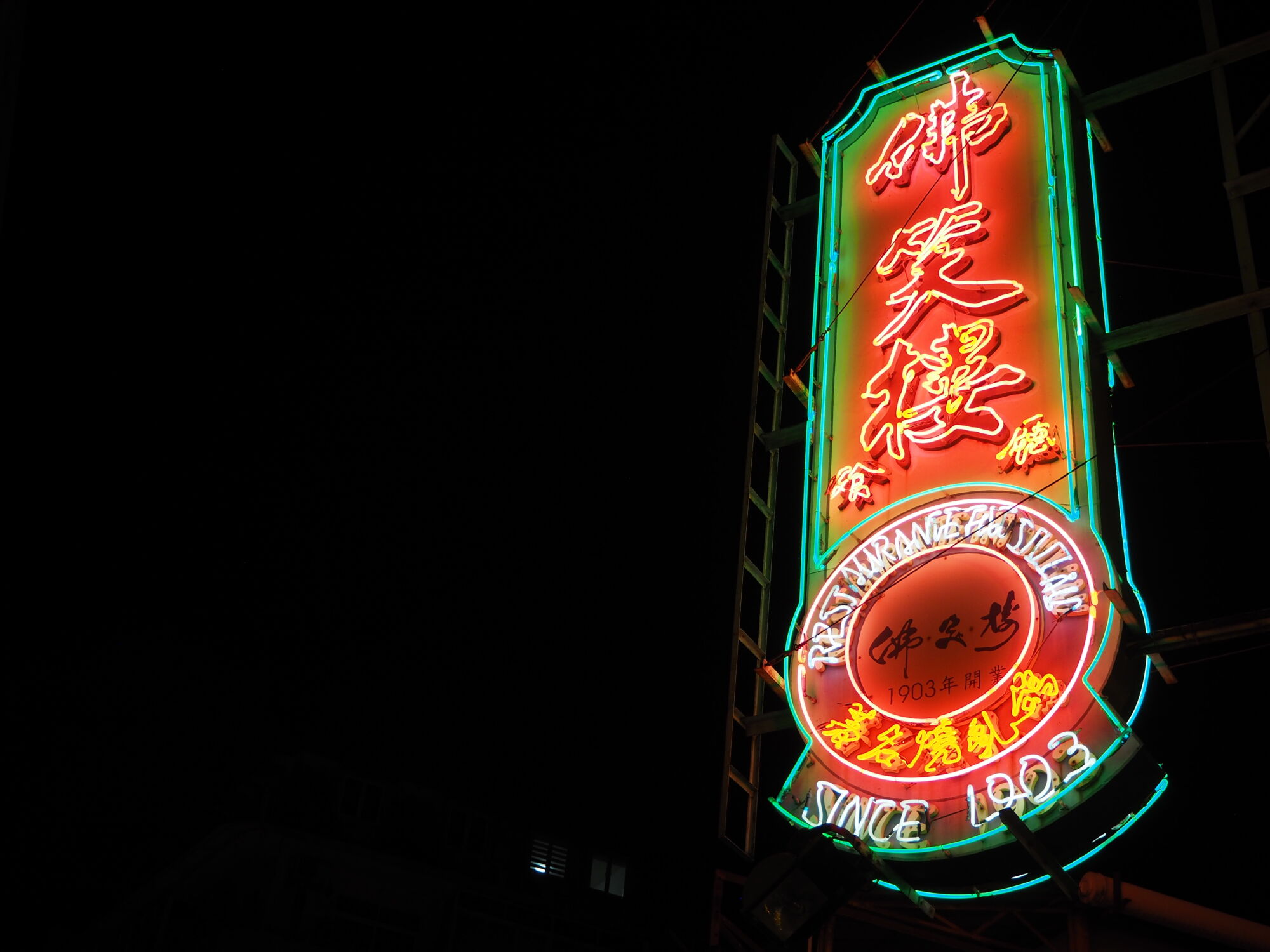 Fat Siu Lau
Inaugurated in 1903–as one can still clearly read on the neon signs base–Fat Siu Lau is one of the most traditional restaurants in town. Maybe its location helped its reputation–it's right on Rua da Felicidade–but the truth is that this is also one of the most emblematic neon signs in Macau. We're not sure if it's the colors or the fact that it shines so bright when everything around is dark, but the truth is that we do love this neon sign and feel like it's part of the city's history, showcasing something that has been long gone: tradition.
Fat Siu Lau 64 Rua da Felicidade, Macau
Tags
Related Posts