Macau is packed with Western-style bars, but it also has a wide range of local joints to choose from. Karaoke is a pretty popular thing on this side of the globe, but not all of the karaoke places have English songs in their libraries, so we've only included the ones that do. Why not try out one of these cool places for a local Macau drinking experience.
After 6
(See featured image above)
This popular bar in Taipa is always packed with locals and Westerners. Besides offering Chivas mixed with green tea (a common drink all over China) this joint also offers two darts machines and a lot of music. No reservations needed – just a good attitude.
After 6 Rua de Seng Tou 507, Taipa, +853 6683 3063

Minibar & Lounge
Also situated in Taipa, Minibar is known for its tasty appetizers that come with the drinks. Whether it's a beer, a glass of wine or one of their cocktails, they always come with salted popcorn and some dried fruits and nuts on the side. They also have a snooker table and have sets of dice which the locals use to play a particularly fun local drinking game. It's called 'show off"' (吹牛) and is known all over China. It basically consists of guessing the total number of dice on the table, which are hidden inside non-transparent cups. When it's your turn, you can either lie or tell the truth, and others players will guess to see if they think you're lying, therefore making you disclose the entire game. If the announced number matches the real result, you're free; if the contrary happens, you drink! Fun, right? There is also good music to keep the mood going of course.
Minibar & Lounge Av. Dr. Sun Yat Sen 119, Taipa, +853 2883 0638, Minibar & Lounge Facebook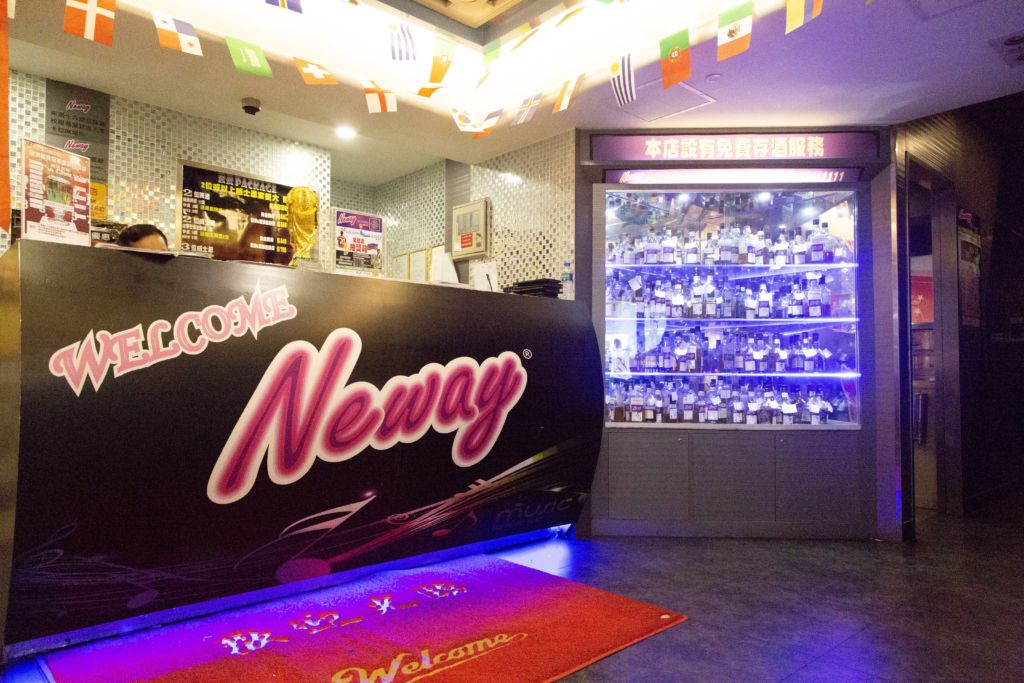 Neway Karaoke Bar
This is a huge place located in the NAPE area. Besides having a lot of cozy private karaoke rooms, it also boasts incredible anti-noise walls which keep you focused on hitting those high notes without distraction. Neway has an array of drinks on their menu, but they also offer light snacks and real food. Their English song list is pretty extensive, so you won't be stuck between J.Lo and Christina Aguilera.
Neway Karaoke Bar 2/F Chong Fok Centro Commercial, 26-28 Avenida de Marciano Baptista, NAPE, Macau, +853 2841 1111, www.facebook.com/neway

Casablanca Café
Casablanca is located in Macau's 'Little Lan Kwai Fong', a small strip of bars with a river view. It's popular among locals and features a lovely outdoor space with tables and chairs – great for sitting, chatting and listening to the music while time passes by.  There is a wide choice of dining establishments around the area also, so if your stomach starts complaining, you won't need to walk too far.
Casablanca Café 1369-1373 Avenida Dr. Sun Yat-Sen, Macau, +853 2875 1281

Beer Temple
Although this is not a place generally frequented by locals, there is something mystical about Beer Temple and we had to add it to the list. This bar is located in a secluded area of St Paul's Ruins neighborhood, but it is never that busy, even though it is minutes from the main tourist sites. The only downside is they close quite early compared to some other places in the city, but they have one of the most diverse lists of beer in town so it's worth a visit.
Beer Temple Rua de Nossa Senhora do Amparo, Macau, China, +853 2835 2803, www.facebook.com/beertemple
Share
Tags
Related Posts