Award-winning Chef Graham Elliot is not only a restaurateur but also a television personality and cookbook author. Additionally, he is a curious traveler and never skips a trip to a wet market when visiting Macau. In 2018, Chef Elliot opened his first restaurant project in Asia, Coast at MGM Cotai, introducing contemporary American cuisine to the city's gastronomy scene. During his recent visit to Macau, we sat down with Chef Graham to talk about Macau's wet market, how to cook more at home and ways to eat delicious food and stay healthy.
Welcome back to Macau, this time for an exclusive Tour with Chef Graham Elliot event at MGM Cotai – what are you most excited about this visit?
Every time I come to Macau I go to the markets and I like to see all the different ingredients and the food–the weirder the better. Usually, I bring people from my team with me and we get to play around with a few different things. So we decided, why not share this experience with the public and that's what we did. Meet with the group, go to the market, find new things, come back and they each go to a station to cook different stuff. This is my chance to share my thought process of why I cook things and the way I do it. It's also a great opportunity to show off a lot of cool ingredients that some people might not have seen before.
That's what I am excited about most about this trip. Instead of coming to Macau the usual way, where I'd be in the kitchen cooking some recipes or a special lunch. This is what I really like to do, being with people, cooking together, being with them side by side.
What are some of your favorite ingredients from the Macau market?
Seafood, absolutely. It's so much fun as every day it's different. Most of the seafood is alive and based on what they find. Some days it's a giant lobster and the next day there is no lobster but a live octopus creature crawling out of the water. Sometimes there are baby squids, other times there are these gorgeous little mussels that are still open and moving.
Last time I was in Macau I posted all these images of live seafood in Macau and had to take them down as some people got really upset. That's what makes it so amazing–that every country, every culture does the best with whatever food they have. It's exciting to go to learn and see some of these things. Local eels, live abalone or even worms!
For someone like me, it's very cool, for other people it's crazy and that's what makes it so exciting.
There is still a lot of confusion (in Asia) about American cuisine. For you, what is modern American cuisine?
The US is very diverse so let's break it into sections. There is southern food, Californian food and so on. But most of what's going on now in the States is healthier stuff. So there's a major focus on vegetables, seafood, and lighter flavors. This is more to the chefs and of course, Americans still eat McDonalds. But those people who are actually in the food world, are leaning towards that (healthier) style.
I think that in America, more than anywhere, a chef's work is based on creativity and is about doing anything you want. Because we are such a melting pot, you can be inspired by this region of China or perhaps you've been to Tokyo or South America and it has influenced how you make food. It's not just simply American food, it's exciting to be able to learn and keep evolving.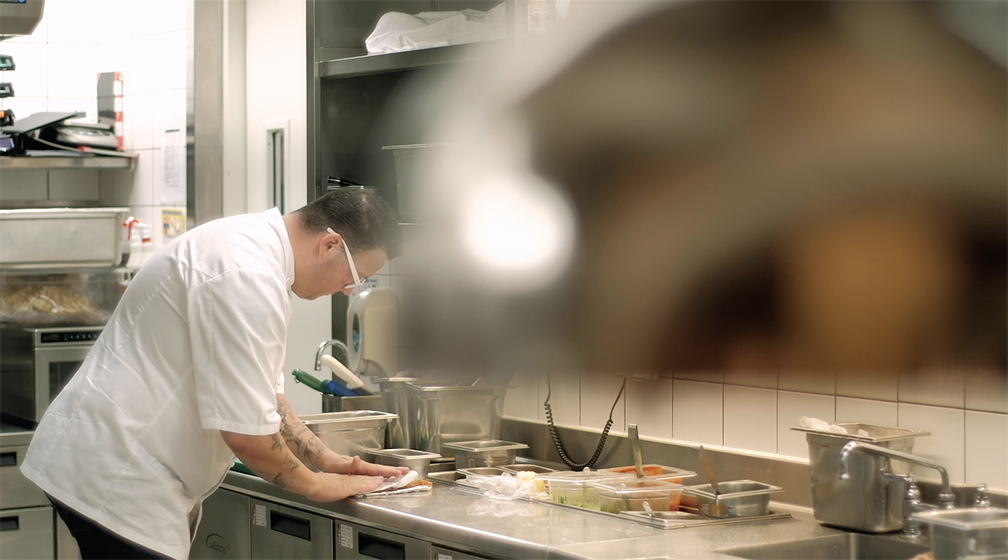 Macau is confidently developing into one of the dining capitals of Asia with so many fantastic restaurants on offer. How does Coast stand out? What makes the restaurant particularly different?
For me, it's the energy. Everything is equally important. It can't just be the chef or a big name. It's the music, the décor, the uniforms, the menu–all of those details. You feel it when you come to Coast–it has its own energy.
Coast is like a mix of local ingredients and techniques, as well as knowledge gathered from my travels. We are trying to keep the menu always evolving–I don't like having the same dishes on the menu all the time. So we change the menu with seasons and also based on what we learn or recently tasted.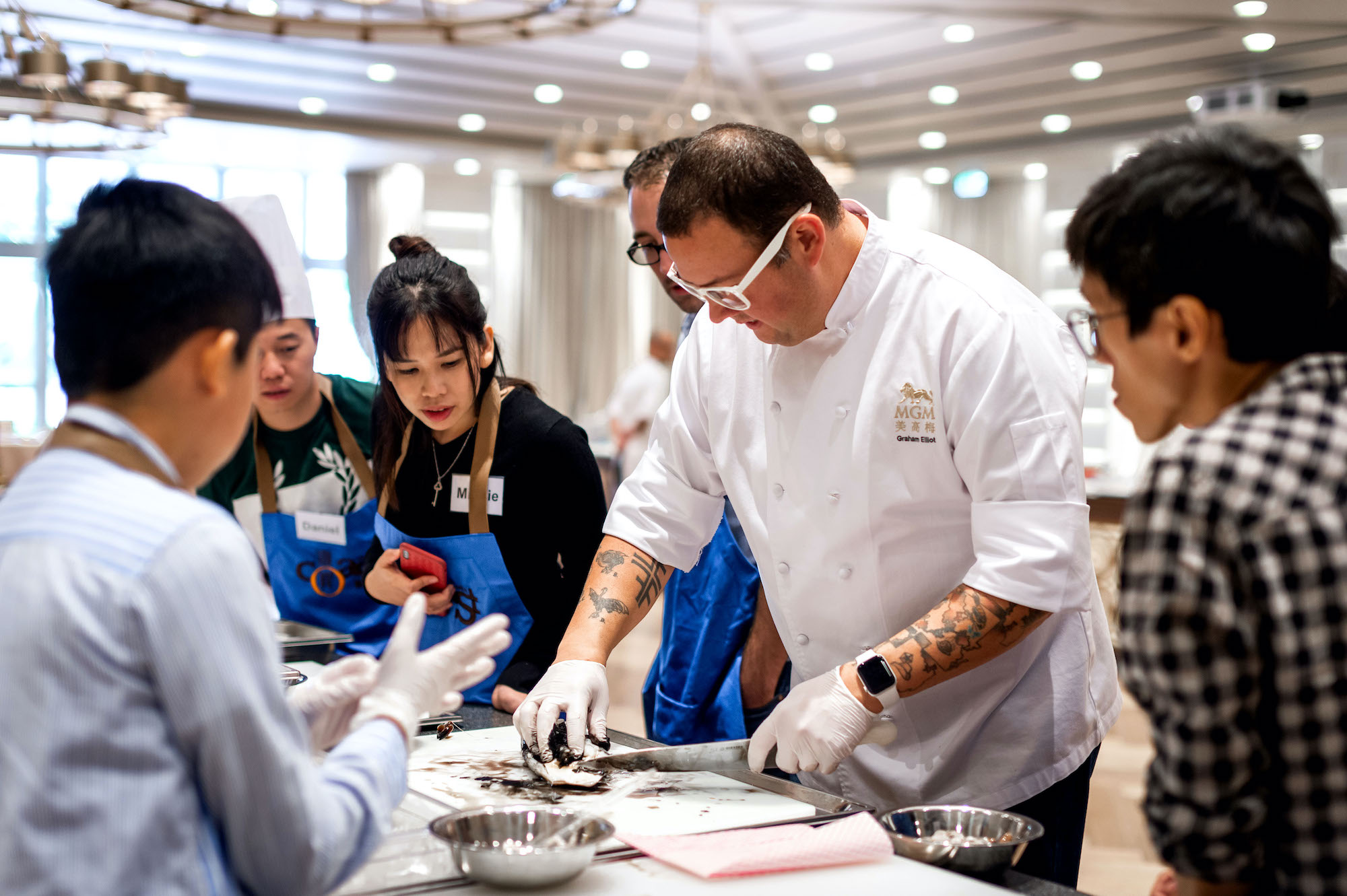 In Macau (and Hong Kong) it's so easy to eat out. What would be your advice for those who would love to cook more at home – what to begin with?
You can't be scared of cooking. I feel like in the States, as well as here in Asia, people read cookbooks. They look at the recipe and all this information is written down and it's one gram of this and 10 grams of that; It's like math, I hate math! I don't want to do that. I just want to go to the store or the market, open the fridge and be like "Oh, carrots! Scallops! Let's do this and that!"
Because "cooking" is taking something raw, putting it on the fire and then it's cooked. It's very easy! But you have to get out of your own head and try to look at it that way.
Once you understand that, you can think of the season, cooking temperature and so on. The seasons are important. You wouldn't want to serve sashimi or ceviche when it's wintertime just like you wouldn't serve a giant piece of grilled meat when it's 30 degrees Celcius outside.
If you figure out how to sear, grill or sauté and you have your ingredients, it should be liberating and not like a chore. Often people say they don't cook at home as they don't have time. But I really think it's because they feel intimidated or scared that they'll mess it up.
Your weight-loss story is truly inspiring! Any tips on how to stay on track and still get to enjoy a delicious life?
The big thing for me is focusing on flavor. Not in a broad generic sense but looking at what you have. You can take heavier ingredients like pasta, bread or potatoes and they are going to taste alright but, generally, they taste good when you add butter or cheese.
But if we take a piece of salmon or, let's say, lobster tail and brush it with olive oil, herbs, chopped garlic or chilies and lime you cook it and serve it with a simple salad, shaved veggies or fennel and citrus–it just explodes with flavors.
If you use spices, heat, acidity, and little sweetness, all of these make food taste better and you don't need to add any other heavier ingredients.
I always look at a dish and think what I can take off of it. That's an easier way to think about it.
Another tip is to think of what you should eat instead of what you shouldn't eat. Instead of saying "I am not allowed to eat carbs or gluten" or "I am not allowed to eat dessert or shouldn't eat bread" a better way is "No matter what, today I have to eat three green vegetables and two fruits" And after a week or so you'll train yourself to eat differently way.
One more tip to share for those who have kids who love eating fried stuff and chips– tell them they can but they have to make it. Slice the potatoes, make them paper-thin, cook them and make your own potato chips. This way you show them what it takes to make them and then they can have it.
---
Follow Chef Graham Elliot on his Instagram @grahamelliot
Coast MGM Cotai, Avenida da Nave Desportiva, Cotai, +853 8806 2328, www.mgm.mo/cotai/dining
Tags
Related Posts