The conversation about inspirational women shaking the sphere of gastronomy cannot be complete without the mention of Chef Hélène Darroze. Apart from a shining two Michelin star on her cap, she was also awarded the Veuve Clicquot Prize for Best Female Chef 2015 from The World's 50 Best Restaurants. However, Hélène's heart beats the most as a mom to two girls. Her love for children is evident having co-created the charity association "La Bonne Etoile" that helps disadvantaged children. As a flourishing figure, her influence in the culinary world also extended to being a judge on the hit French television series Top Chef since 2015. She is also admirably an author of four books with one more to be published in March 2020.
To say that Hélène is an inspiring female figure is an understatement. In fact, she was the inspiration for the character Colette in Pixar Animation Studios' Ratatouille. The American toy manufacturing company, Mattel, also used her as the inspiration for the chef doll, in a new concept of 14 different female role models in the Barbie range. The dolls marked International Women's Day honoring women who have broken boundaries in their fields and have been an inspiration to the next generation of girls. This is exactly why an exclusive event at Chiado is bound to be an extraordinary event with the influential chef gracing the special affair. Get to know the woman inspiring many girls to shatter the glass ceiling no matter what industry or walk of life.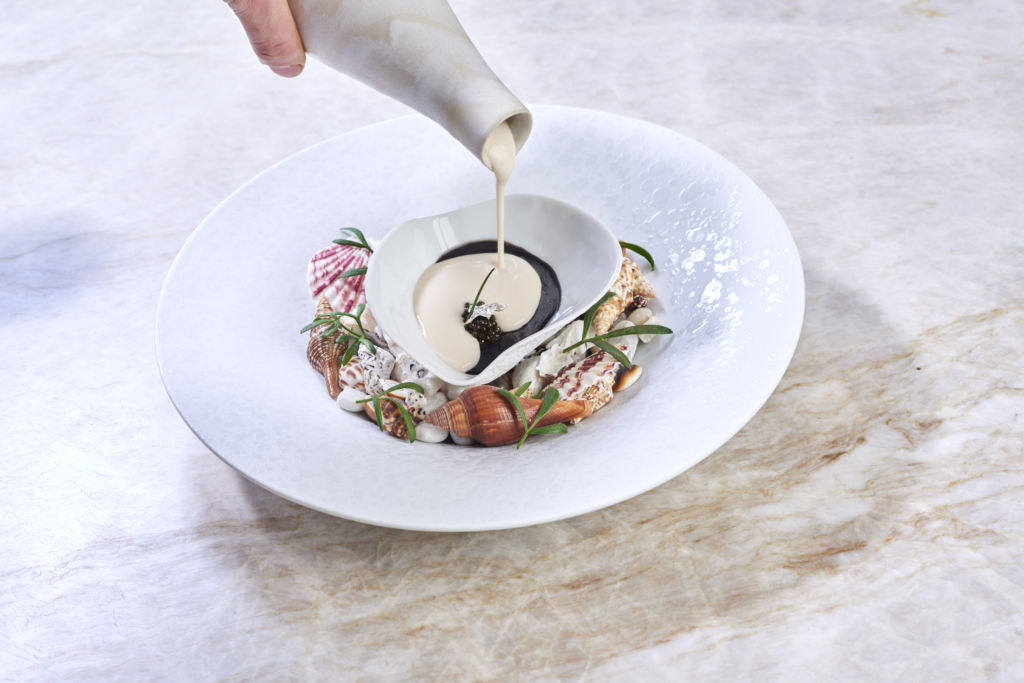 PASSIONATE BEGINNINGS
Hailing from a family of chefs, it's no surprise that Hélène grew up with profound respect for French culture and ingredients. Her background immersed her in the discipline and values of fine dining. It was, however, the operational side of the restaurant industry that first piqued her interest. She finished a business degree at L'Ecole Supérieure de Commerce in Bordeaux and after graduation, relocated to Monaco. Her adventures brought her to work behind the scenes with Alain Ducasse at his three-Michelin star Le Louis XV in the famous Hotel De Paris. It wasn't long until Ducasse discovered her innate potential and an even more colorful journey began for the culinary maven.
In 1995, she returned to her home region of Les Landes, where her father entrusted her to run the family-owned Relais & Châteaux affiliated restaurant in Villeneuve-de-Marsan. This gave her the opportunity to craft and develop her own culinary style with the support of her family. Thus, she remained here for four years.
STRIKING OUT ON HER OWN
Bold and brave at 32, the talented chef broke with family tradition and headed to Paris to open her own venture, Restaurant Hélène Darroze in the heart of Saint-Germain des Prés on the Left Bank which was a true labor of love. The restaurant opened to international critical acclaim and was awarded its first Michelin star in 2001 and a second in 2003. Building on the success of Paris, in 2010, she opened her first restaurant outside France at the iconic Connaught Hotel in London's prestigious Mayfair. Just six months after Hélène Darroze at the Connaught launched, it was awarded a Michelin star, with the second following in 2011.
CULINARY PHILOSOPHIES
Believing that gastronomy remains the greatest opportunity to deliver the ultimate in hospitality, Hélène's principles are "to cook is to live and to live is to cook". She draws her inspiration from seasonal ingredients and is meticulous in sourcing the finest produce from her native Les Landes, the French Pays Basque and the British Isles. With a creative spirit that stems from a respect for those ingredients, she crafts dishes that is a product of self-expression. Her creative flair delivers dishes and menus full of instinct and emotion, yet always remaining faithful and sensitive to the absolute quality of their core ingredients.
---
Award-winning Chef Hélène Darroze hosts an exclusive wine dinner in partnership with Château de Saint-Cernin wines at Chiado in August. Chef Hélène Darroze heads Michelin-starred restaurants in Paris and London, and she has also earned recognition as "World's Best Female Chef" from The World's 50 Best Restaurants. While in Macau, each one of her culinary masterpieces will be paired with extraordinary Château de Saint-Cernin wines from Périgord.
The exquisite dinner menu includes marinated carabineros with lime and sea herbs, clams, razor clams and dashi jelly, wild salmon from Scotland with Tasmanian pepper, crème fraîche, Oscietra caviar and dill, not to mention velouté of white coco beans from south-west of France with smoked eel, pickled girolles and shavings of duck foie gras from Les Landes. Next up is the barbecued Wagyu beef from Japan, "Coeur de boeuf" tomato, fresh almonds, black truffle from Australia with roasting jus, with the meal ending on a sweet note of raspberries, olive oil cream, sorrel sorbet.
When: 6:00pm, Sunday, August 11, 2019
Where: Chiado Restaurant, Shop 2206, Level 2, Sands Cotai Central, Cotai, Macau
How much: MOP $4,450 per person (plus 10% service charge)
Seats are limited, so for booking and more information, call +853 8113 8988 or send an email to [email protected] or visit www.sandscotaicentral.com/chiado
Tags
Related Posts