From engineering to finance and finally to the kitchen, Judy Joo of JinJuu Hong Kong has worn hats. But as chefpreneur, she is making sure we try the best of Korean food infused with modern culinary practices. We chat with her as JinJuu prepares to celebrate Tabasco's 150th anniversary with some fusion drinks and dishes.
Can you tell us about yourself and how you got started as a Chef?
I have had a very random route into the kitchen.  I studied engineering at University and then embarked upon a career in finance at Morgan Stanley.  After about five years, I had an epiphany and decided that finance was not my calling in life and I enrolled in cooking school. After graduation, I started mostly working in food media (magazines, food styling, etc). After an across the pond move to London, I started working in kitchens and doing television. The rest is history.
What made you decide to open Jinjuu in Hong Kong?
Rachel Rockowitz (Bruce Rockowitz's daughter) dined at Jinjuu Soho one evening and loved it so much, she decided to throw her birthday party there. Bruce and Coco Lee (his wife) came and Coco fell in love with the place as well and urged Bruce to open one in Hong Kong. We opened 6 months later and I named the dragon on the wall "Rachel" in her honor.
What exactly is modern Korean cuisine?
Every chef's interpretation of modern Korean cuisine is going to be different.  At Jinjuu, we fuse a lot of flavors from around the world into our dishes and present them in a contemporary way.  Food is always evolving and we hope that our take on Korean food helps make the cuisine more global and loved by all.
What do you think is the biggest misconception about Korean food and how are you hoping to influence a change?
Most people do not know the vast variety that Korean food offers.  People really just know about Korean bbq, bibimbap, and kimchi. And, people also have a misconception that everything is super spicy.  Korean cuisine is so varied and there are so many regional specialties. We try to make the menu at Jinjuu as welcoming as possible and encourage people to try new dishes. Also, through my show, Korean Food Made Simple, I try to really showcase Korean food in a very approachable and easy way.
For those new to Korean Food, what dishes would you recommend trying first?
Well, you have to start with the most popular dishes, right?  Bibimbap, japchae, Korean fried chicken and kimchi fried rice. Then, of course, the barbecue dishes are always super popular. For someone who wants something a bit more complex, I suggest going for one of the jjigaes or soups—my favorite is a silken tofu seafood hot pot called soon dubu jjigae.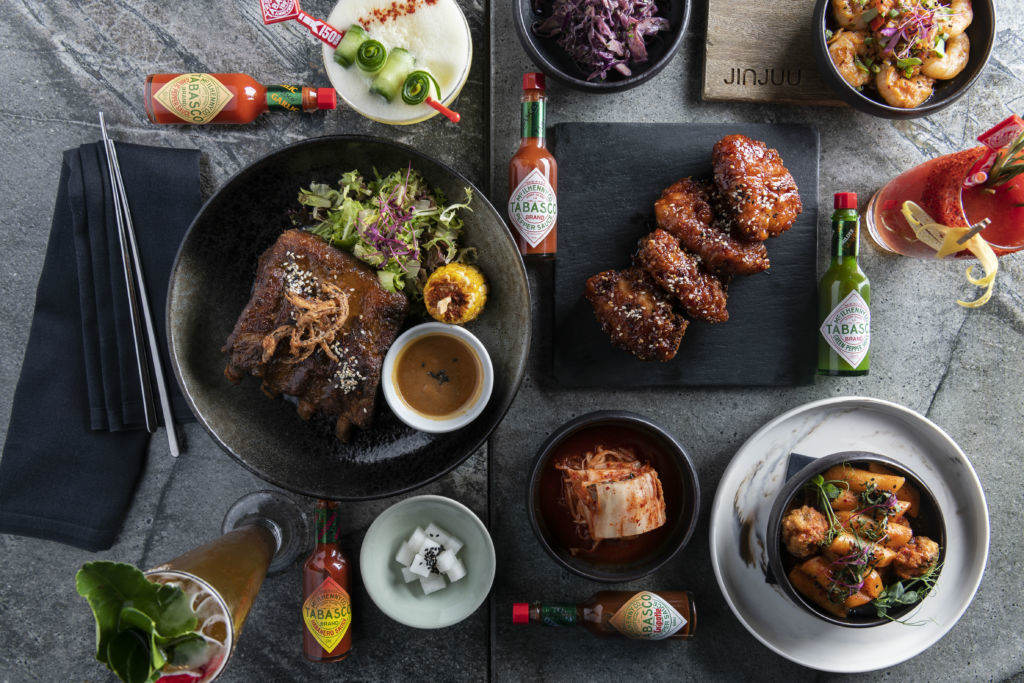 What has been your biggest challenge as a chef and how did you overcome it?
Being a female chef, a foreigner, and cooking an esoteric cuisine has been a big challenge in London. The industry still is very much a "white boys playground" and it is hard to break in and garner respect when you are a female. When I opened Jinjuu in London, all of the top critics were comparing us to Thai restaurants and our japchae noodles to pad thai…. I found that to be so incredibly ignorant and frustrating. You just have to grow a thick skin and endure really and keep trying. It really is just about sheer determination, fortitude, and tenacity. Just don't' give up.
You went from finance to becoming a chef– both male-dominated industries. What advice can you share with women?
Speak up.  Women have a tendency not to voice their opinions and do not ask for what they want. Also, I always tell other women not to overthink things. We tend to think that we are not qualified for roles that are presented to us. Just got for it with an open mind and whatever you don't know you'll learn on the way.
Jinjuu Hong Kong x Tabasco's 150th anniversary is coming up, what can we expect from this collaboration?
As the only restaurant in Hong Kong taking part in the official 150th Anniversary celebration of the still-family-owned Tabasco Pepper Sauces, we have a range of exciting dishes and drinks to showcase. Our signature Korean Fried Chicken with red cabbage coleslaw, gochujang sauce and kimchi is shaken up a notch with Tabasco Green Sauce. Another spicy creation is the US Baby Back Ribs (HKD $225), spice-rubbed and glazed with plum doenjang, Tabasco Sauce, served with crispy onions, salad, and spiced corn cobs. On the drinks, side there is Meet Mr. Lada or Big Bang both cocktails infused with the highly versatile Tabasco has been created by Head Barmen, Paulo Quejano.
What's coming up for you in 2018?
Who knows what the future will bring….
Also read: 5 Hottest Korean Restaurants in Macau
---
Have you been to Jin Juu hong kong? You don't know what you are missing. Check out more at www.facebook.com/JinjuuHK
Tags
Related Posts