Back in the day, lobsters did not exactly make it to royal tables. No one in their sane mind ever thought of even touching this undesirable seafood unless they could not afford anything better. Lobsters were so plentiful and easy to fish that they were classed as peasant food. Furthermore, they were fed to farm pigs, used as fertilizer, and even fish bait. How the tables have turned! Today it's one of the most luxurious ingredients, a delicacy cooked on special occasions. If you can't say no to a perfectly cooked crustacean, poached, grilled, wok-fried, or any other way, check our list of the best places in Macau to have lobster!
Tim & Daf's Restaurant
(See featured image)
A dinner with lobsters doesn't always mean a hole in your budget. Tim & Daf's Restaurant is a perfect example of that. A small takeaway shop in Taipa Village sells rolls and buns served on parchment, with the signature one being the juicy lobster roll. Succulent pieces of lobster with mayo tucked between freshly baked glossy buns look mouthwatering and taste even better. MOP $168 is not as cheap as fast food sandwich but relatively affordable for fresh lobster. Order some crispy French fries on the side and a refreshing drink, and you are good to go!
Tim & Daf's Restaurant 6-8 Rua Ho Lin Vong, Taipa, +853 6303 3328, www.taipavillagemacau.com/tim-dafs-restaurant
Vida Rica Restaurant
The larger the group, the harder it gets to find a dining destination that will satisfy everyone. But don't even consider splitting the group or canceling the event. Luckily, places like Vida Rica Restaurant at Mandarin Oriental, Macau, will give you a wide range of options, from Chinese specialties to Western classics. Those looking for Chinese cuisine might want to check wok-fried lobster dishes with three different sauces. One is with sakura shrimp XO sauce; the other features black bean, chili, and kailan; and the last one comes with garlic and premium soya sauce.
Chef Marco de Boni, who is in charge of Vida Rica's kitchen, is from Italy. So don't miss out on some Italian creations such as lobster foie gras ravioli, lobster risotto with octopus, clams, and prawns, and our favorite lobster tagliatelle. This homemade pasta bathes in a flavorful sauce based on lobster-shell broth, garlic, chili, tomato, and a generous portion of lobster bits.
Vida Rica Restaurant Mandarin Oriental, Macau, 945 Avenida Dr. Sun Yat Sen, NAPE, Macau, +853 8805 8918, www.mandarinoriental.com
Also read: Chef Marco de Boni of Mandarin Oriental, Macau: On Pasta & the Perks of Living in Macau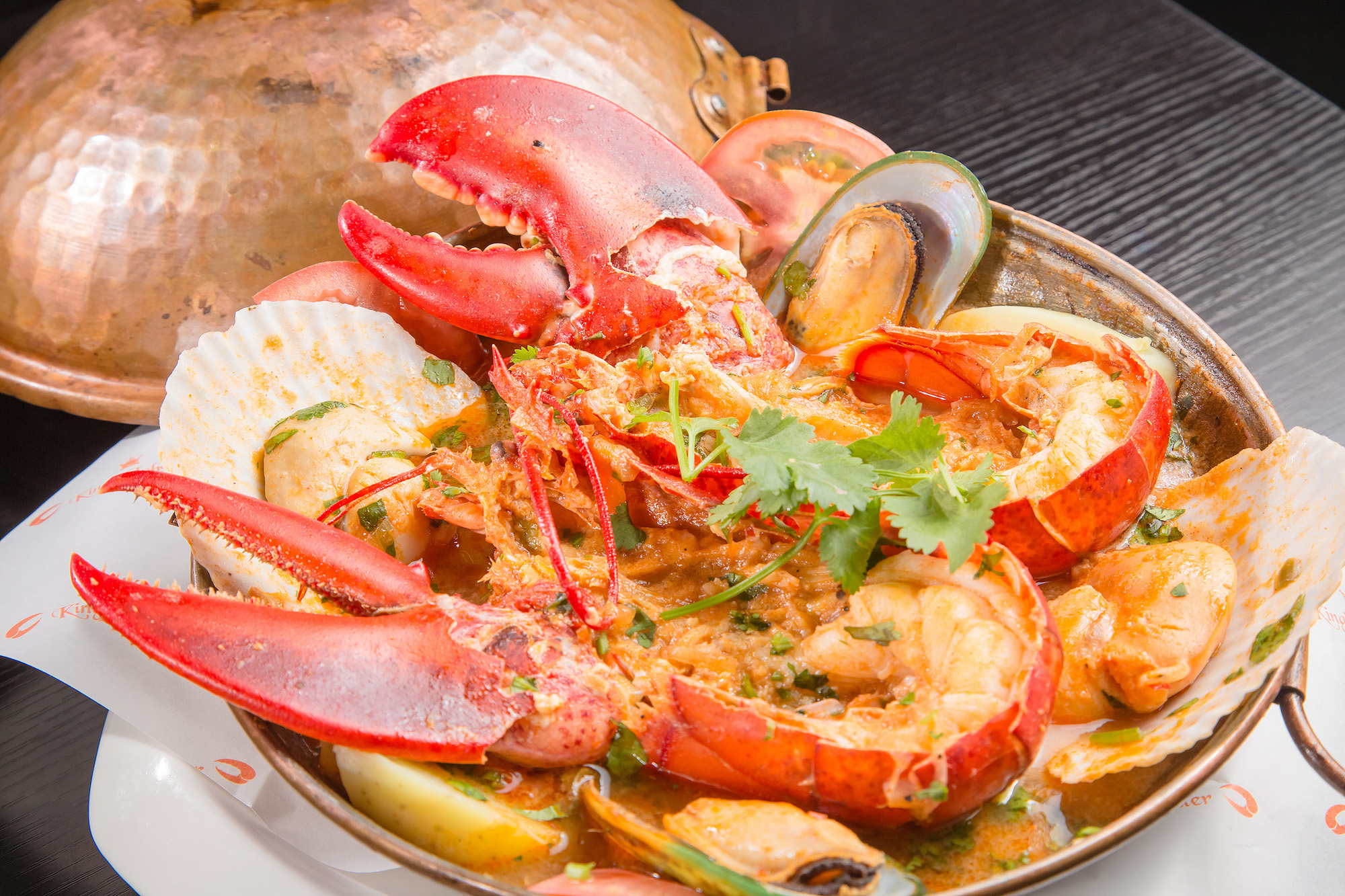 King's Lobster 
Taipa Village boasts an impressive number of places to eat in a relatively small area it occupies. From Asian eateries, historic Macanese spots to Western restaurants and cool bars, there is something for everyone. When craving lobster in Macau, find a small casual restaurant on Rua dos Negociantes near Paulaner Wirtshaus and OTT, King's Lobster. With a name like that, there is no second-guessing what they specialize in. Lobster roll, lobster pasta, lobster burrito, a salad with lobster–the list goes on! Whatever you choose will look and taste great and moreover, the prices are rather affordable.
King's Lobster 23 Rua dos Negociantes, Taipa Village, +853 6301 1823, www.taipavillagemacau.com/kings-lobster-restaurant

Grill 58
Macau's foodies love Grill 58 for its outstanding expertise in steaks. However, their culinary team's knowledge covers way more than meat. Masters of charcoal, woodfire, grill, and ingredient sourcing, Grill 58 is a perfect place for both juicy filet mignon and succulent crustaceans. The lobster department is represented by all-time favorite whole Boston lobster on ice, creamy lobster bisque, charred lobster with zesty lemon aioli, and heavenly grilled lobster with lobster potato puree and garlic butter. If that is not enough to rush there, you can also have some lobster teppanyaki-style.
Grill 58 MGM Cotai Avenida da Nave Desportiva, Cotai, +853 8806 8888, www.mgm.mo
Also read: Chef Conor Beach: Playing With Fire at MGM Cotai's Grill 58

Chùn
Located under the glass dome of MGM Cotai's Spectacle, Chùn serves traditional Cantonese recipes with a contemporary twist, focused on wellness and keeping the original essence and freshness of the ingredients. One of their signature plates is the stir-fried Boston lobster with assorted onion. The chef cooks the lobster in hot oil to prepare it, then stir-fries it according to the Cantonese "wok chi" technique. The combination of method and precise cooking time allows the lobster to keep its initial flavor and delicate texture.
With plenty of affordable options, Chún also surprises even the most sophisticated foodies with the extravagant stir-fried Australian lobster with black truffle for MOP $3,680. If that is out of reach for you, ask for a live lobster cooked your favorite way–baked in supreme bouillion; with ginger and spring onion; with buttercream sauce; steamed with crushed garlic; steamed on egg white, or served with noodles.
Chùn MGM Cotai, Avenida da Nave Desportiva, Cotai, +853 8806 2388, www.mgm.mo/chun
The St. Regis Bar Macao
Mainly known and loved for its splendid atmosphere, live jazz, and original cocktails, The St. Regis Bar Macao also offers a food menu that can compete with Macau's best restaurants. Not your casual bar bites, the dishes here are exquisite and artfully presented. Among the most opulent choices is the combination platter served on a stunning dish crowned with a golden octopus. Some salad, fries, a dry-aged beef burger, fried baby calamari, and half Boston lobster will make any group of diners happy. Should you wish a seafood alternative for a burger, give their lobster sliders with Japanese mayonnaise and grilled lettuce a try–perfect for sharing and finger-licking good! For the 360-degree seafood feast, ask for a whole poached lobster with half a dozen oysters. That order pairs exceptionally well with a glass of fine champagne.
The St. Regis Bar Macao 2F, The St. Regis Macao, The Londoner Macao, Estrada do Istmo, s/n, Cotai, +853 2882 8898, www.thestregisbarmacao.com
Also read: Food at The St. Regis Bar: Bar Bites With Five Star Quality
The Ritz-Carlton Café 
Inspired by a traditional French brasserie, The Ritz-Carlton Café is like a wormhole to Paris. Go through the door, and you will find yourself immersed in the Parisian atmosphere and surrounded by delicious aromas and flavors. The menu is strictly French, with classics like onion soup, escargot, foie gras, and lobster thermidor. Don't skip the soup section when at the Ritz and go for the lobster bisque, perfectly smooth, delicious seafood cream topped with airy Pernod foam and served in a cup with a crouton on the side. For more crustaceans, check the seafood platter, a perfect appetizer to share, especially over a bottle of French white.
Besides a la carté specials, The Ritz-Carlton Café has prepared something special for the weekend diners. From Friday to Sunday, guests can enjoy the Surf & Turf set menu. Choose your steak and pair it with fresh seafood. We are particularly crazy about a medium-rare rib-eye with grilled Boston lobster. If you've never tried this combination before, get ready for a memorable experience.
The Ritz-Carlton Café The Ritz-Carlton, Macau, Galaxy Macau, Estrada da Baía de Nossa Senhora da Esperança, Cotai, +853 8886 6712, www.galaxymacau.com
Also read: Soup It Up: Macau's Hearty Soups
Lai Heen
The highest Chinese restaurant in Macau, Lai Heen at The Ritz-Carlton, Macau is also one of the city's most beautiful. With carved wooden walls, stunning furniture, and decor that reflects local culture, it is an ideal place for a special occasion. However, that doesn't mean you can't come here randomly for lunch, especially to taste Lai Heen's delectable dim sum. If you did come to celebrate, there is hardly a more appropriate dish to share with your loved ones than the sauteed Brittany blue lobster with water bamboo and matsutake mushroom. The lobster is sprinkled with caviar to make it even more luxurious and highlight its delicate flavor.
Among other crustacean-based gems are the crispy rice with lobster, Inaniwa noodles in lobster bisque, and live lobster cooked your choice of ways.
Lai Heen 51F, The Ritz-Carlton, Galaxy Macau, Estrada da Baía de Nossa Senhora da Esperança, Cotai, +853 8886 6868, www.galaxymacau.com/lai-heen
Also read: Macau's Restaurants & Bars With Outstanding Design
Ristorante Il Teatro
Who doesn't love Italian cuisine? It can be affordable, straightforward, or exquisite and complex, but it has always had millions of fans, no matter their tastes and budgets. Ristorante Il Teatro at Wynn Macau lays more on the fine dining side of the spectrum, although their menu caters to pretty much all palates and diets, even vegetarian. To satisfy the lobster aficionados, Il Teatro's chef has crafted a few dishes with phenomenal flavor combinations and artistic presentation. Start with the chilled lobster salad that features Irish blue lobster, creamy stracciatella, and tomatoes. That flavorsome crustacean is also the key ingredient of the Monograno Felicetti spaghettoni with rich seafood sauce and Amalfi lemons. Another hot plate with Irish blue lobster is brodetto, an elevated version of fisherman's stew packed with seafood.
Ristorante Il Teatro Wynn Macau, R. Cidade de Sintra, Macau, +853 8986 3663, www.wynnmacau.com/en/restaurants
Also read: Buon Appetito: Macau's Best Italian Restaurants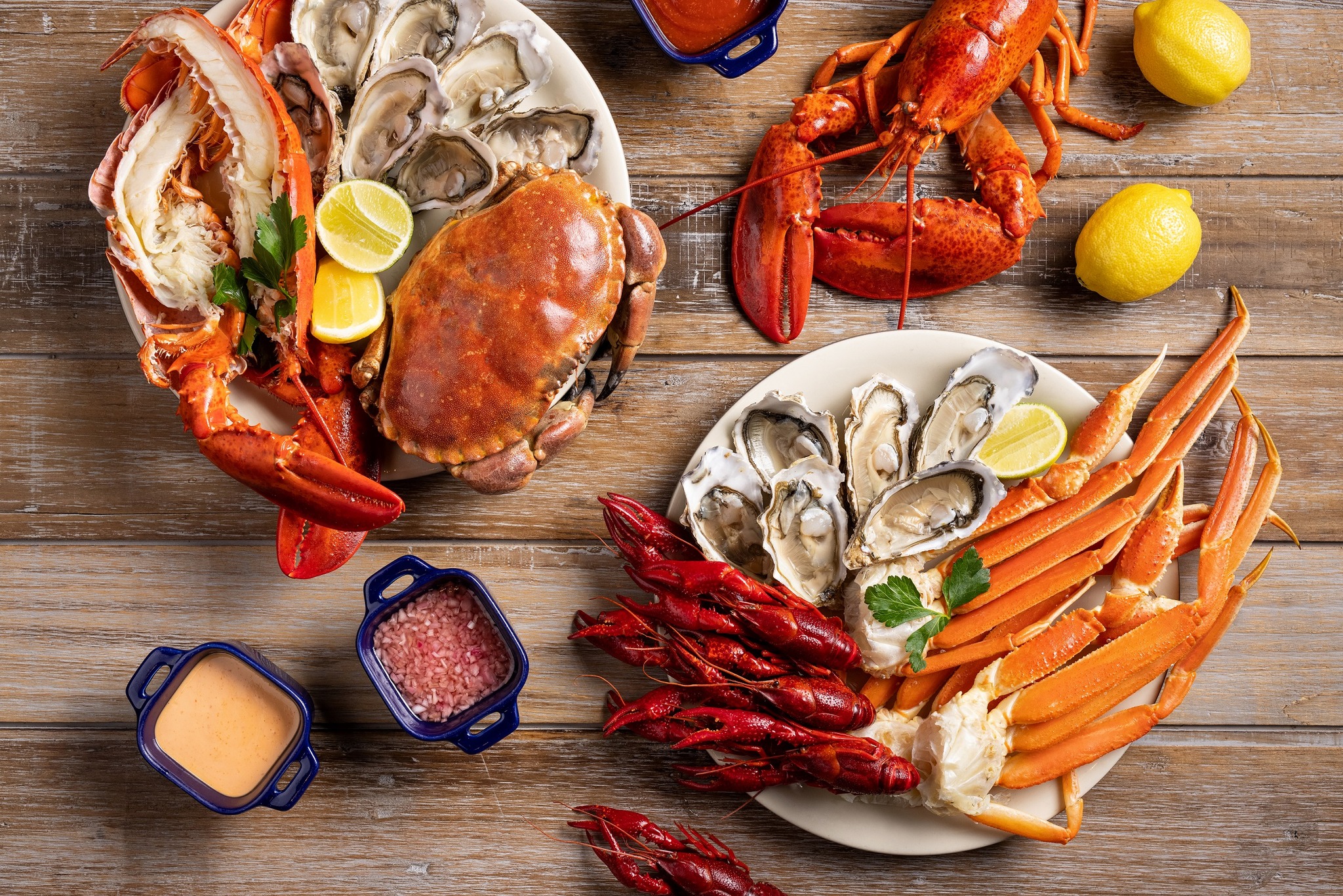 Feast
Buffets in Macau are not rare, and there are even restaurants that only do buffet meals. What's not to love? Pay a fixed price, spend as much time as you want and eat all you can. From sushi and sashimi, grilled steaks, dim sum to live cooking stations and dessert bars, Macau buffets sure can impress. One of our to-go spots is Feast at Sheraton Grand Macao, a restaurant that perfectly reflects its name. Come with friends and family to immerse in the laid-back atmosphere of an international feast with a focus on Asian, Portuguese, and Macanese food. Among its best assets is the selection of fresh seafood with oysters, sashimi, lobsters, crabs, and more. Because why have one lobster dish if you can have almost unlimited lobsters at Feast?
Feast Level 1, Sheraton Grand Macao, The Londoner Macao, Estrada do Istmo, s/n, Cotai, +853 8113 1200, www.londonermacao.com/feast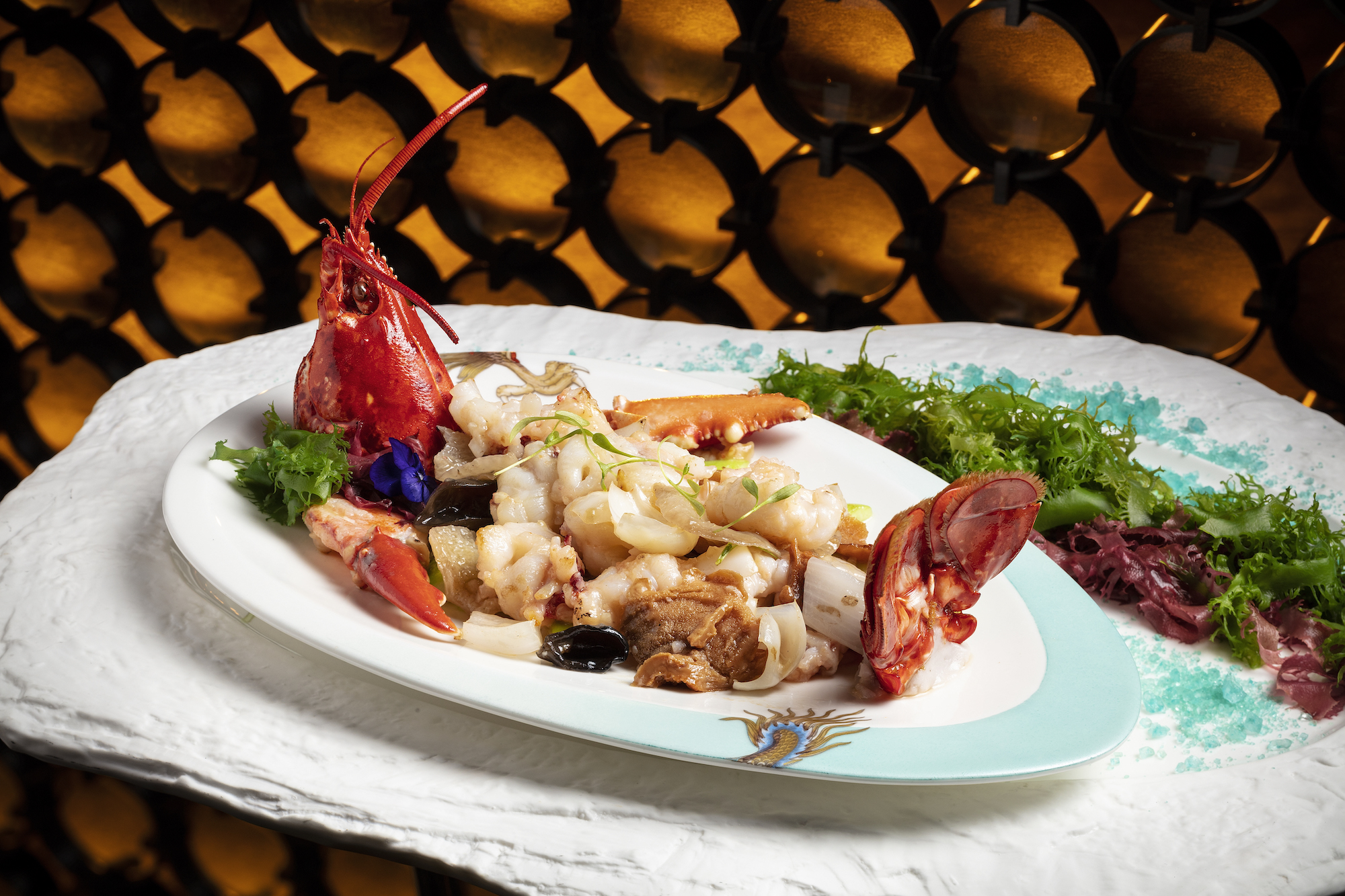 Pearl Dragon 
When you wish to experience luxurious gastronomy Cantonese style, make a reservation at Pearl Dragon, a precious stone of Studio City Macau's restaurant scene with a Michelin star. Cantonese cuisine is famous for its seafood courses, and Pearl Dragon showcases that with a large section of fruit de mar, dried and fresh from the sea. Naturally, lobsters also live in the restaurant's kitchen, poached, wok-fried, wok-baked, and steamed. One of the most outstanding dishes to order here is the stir-fried Brittany lobster with wild mushroom and lily bulbs. Stir-fried French blue lobster with egg white and aged Chinese wine is equally remarkable!
Pearl Dragon Shop 2111, Level 2, Star Tower at Studio City Macau, Estrada do Istmo, Cotai, +853 8865 6560, www.studiocity-macau.com
Also read: The Most Outstanding Chinese Restaurants in Macau
Jade Dragon 
Proudly carrying three Michelin stars (the highest award) since 2019, two stars from 2016 to 2018, and one star for the previous two years, Jade Dragon is a dream destination for foodies. And that's just Michelin guide recognition–there are more accolades Jade Dragon has accumulated over the years. Under the creative and meticulous guidance of executive Chef Kelvin Au Yeung, the culinary team creates masterpieces that are innovative, refined, made with organic farm-fresh ingredients, and presented as art objects.
Whether you find yourself at Jade Dragon for a multi-course meal or to taste their dim sum selection, you have a chance to try dishes where lobster is the star element. Have it fresh from the sea and grilled or stir-fried with various Chinese sauces and ingredients of your choice or indulge in the braised Brittany lobster in a clay pot. We love their signature Jade Dragon dumplings. Decadent poached won ton in lobster bisque is a must-try too. Think dim sum, but make it exquisite.
Jade Dragon City of Dreams, Estrada Do Istmo, +853 8868 6688, www.cityofdreamsmacau.com

Golden Pavilion
Having lobster for dinner is definitely not an everyday thing and somewhat an indulgence. But how about taking it even further and starting your day with a lobster breakfast? That is easy to fulfill at Golden Pavilion, a cafe at City of Dreams that serves South-East Asian flavors, cha chaan teng, and Macanese specialties. They also have some decadent options for a substantial breakfast, such as steamed rice with lobster and Iberico ham and Boston lobster with fusilli in clam soup. If you come for lunch or dinner, you can pick some lobster dishes from a la carte. Representing vibrant Asian flavors and ingredients, the selection of clay pots with lobster is not to be missed either!
Golden Pavilion City of Dreams, Level 1, Estrada Do Istmo, +853 8868 6631, www.cityofdreamsmacau.com/golden-pavilion
Tags
Related Posts