When we recall back to our childhood, nostalgic memories of the sweet smell of cinnamon sugar from the neighborhood bakery or the crunch of a flaky buttery croissant would inevitably make us smile. Local bakeries are a great treasure trove of pastries, bread, and cakes to go with any breakfast coffee or afternoon tea break. We've rounded up the best local bakeries in Macau offering delicious baked goods and sweet treats that would tempt anyone!
Pastelaria Michele – Mei Sek
(See featured image above)
Located close to the Red Market, on one of Horta e Costa avenue's parallel streets, this spot is small, yet filled with delicious pastries! From milk bread with sausage–an all-time-favorite amongst kids of all ages for decades–to several other classic Macau bread-based snacks, this place has everything you might think of when it comes to baked goods. We also love their sweet rolls, which go perfectly with a hot cup of coffee in the morning.
Opening hours: Daily, 6:00am–7:00pm
Pastelaria Michele 62A Estrada de Coelho do Amaral, Macau, +853 2855 7615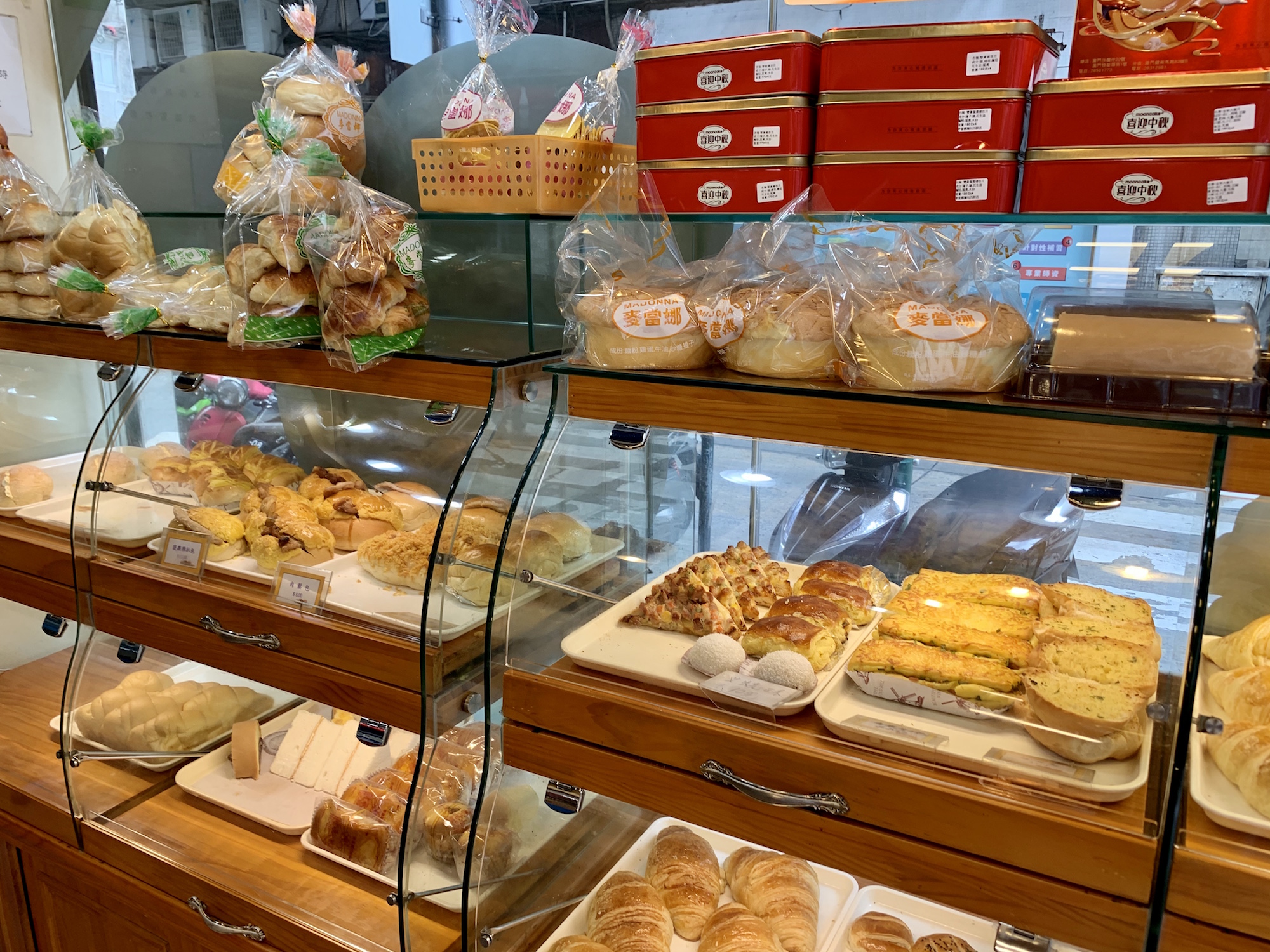 Macktongna Bakery
Ideal for people living or working close to Kiang Wu Hospital or Tap Seac Square, this bakery is small yet has a very complete range of baked goods. Besides the typical Macau-style pastries and cakes, there are also French-style croissants, freshly baked early in the morning. We recommend their version of a pizza slice, ham and cheese puff, and a coconut dessert that's just the right amount of sweetness. Sausage, red bean and custard fillings are also available, of course.
Opening hours: Daily, 7:00am–8:00pm
Macktongna Bakery 83B Estrada do Repouso, Macau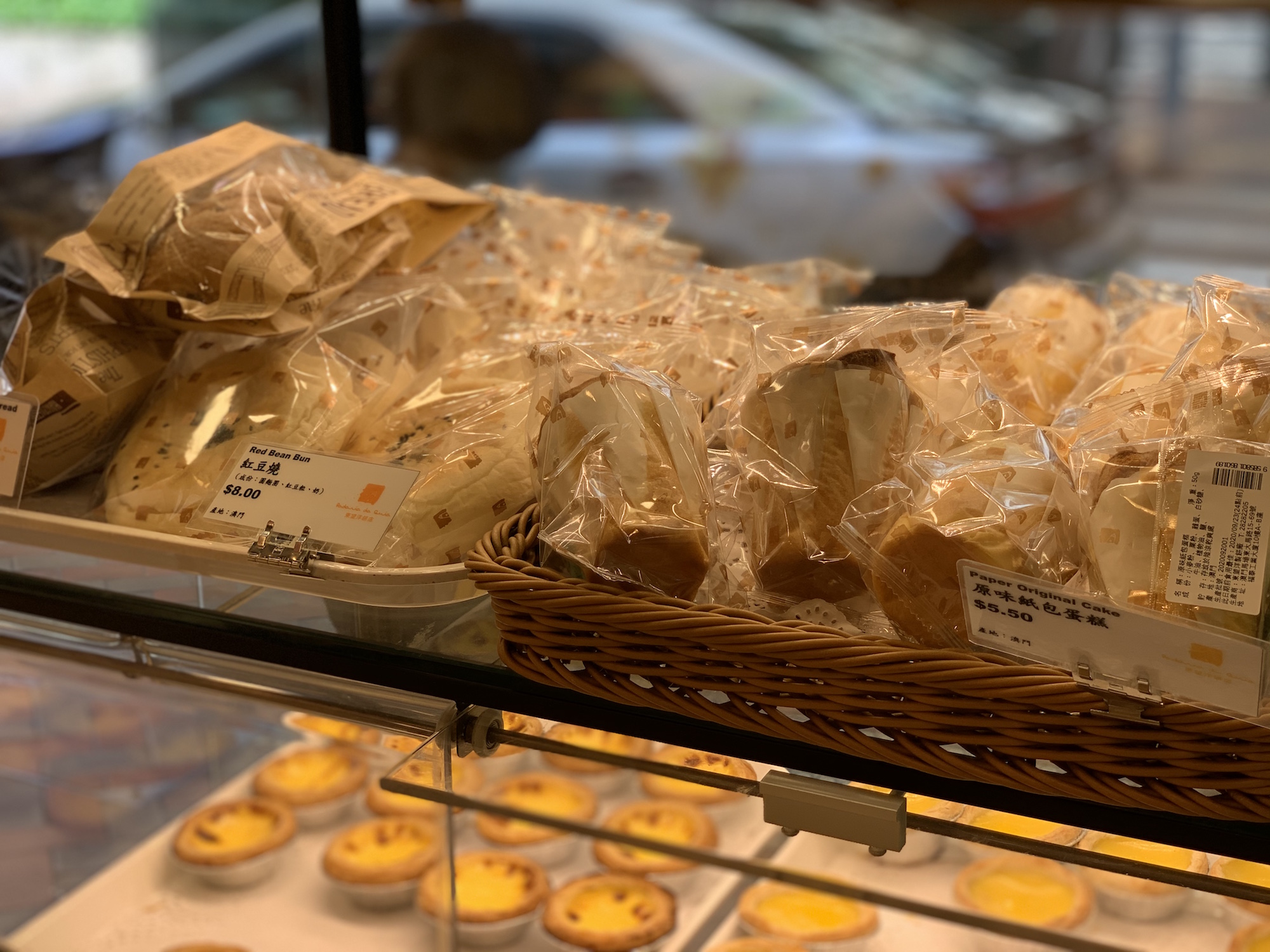 Padaria da Guia
Padaria da Guia is one of the newest bakery brands in town and offers a wide variety of baked items with a twist. From cheese bread to sweeter versions, there are some with red bean in it–very sought after by locals, especially teens–some green tea options as well. What we love in this place is their version of egg tart: not too sweet with a very smooth flavor, these are one of the best snacks you can have after a day's work. There are various locations of Padaria da Guia throughout the city, which also extends to Taipa.
Opening hours: Daily, 7:00am–10:30pm
Padaria da Guia 73 Rua de Cinco de Outubro, Macau, +853 2892 3875, www.facebook.com/GuiaBakery
10 Rua da Praia do Manduco, Macau, +853 2896 9066
100 Avenida Horta e Costa, Macau, +853 2821 6023
216-276 Avenida da Concórdia, Macau, +853 2822 0195
Prince Flower City Building, Taipa, +853 2885 5326
Universidade de Macau, Avenida da Universidade, Taipa, +853 2850 6234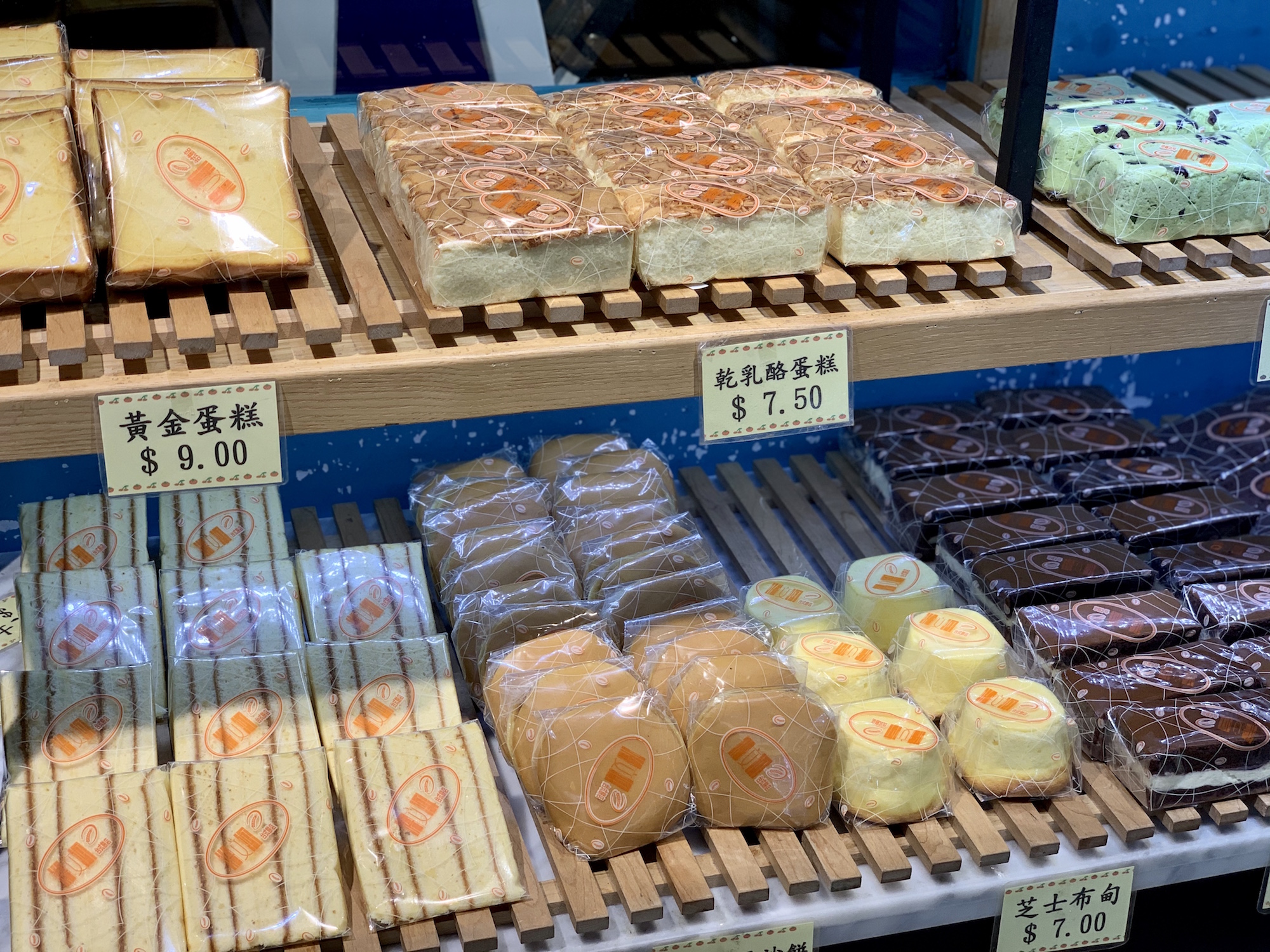 Pastelaria I Man Yin
A humble and local bakery located near the Three Lamps District is the spot to grab a red bean pancake sandwich. If you are familiar with Doraemon, a Japanese cartoon, you probably know this dessert. It is а red-bean pancake which consists of two small pancake-like patties made from castella, a popular Japanese sponge cake wrapped in a filling of sweet red bean paste. They also sell super soft and fluffy sponge cakes that are airy and spongy with a tender crumb. You can also buy souvenir snacks here like their pineapple cakes. They are usually square-shaped with a buttery, shortbread-like casing and a thick pineapple filling. They are very fresh, crisp, and we love the buttery taste of its crust and the sweetness of the pineapple. For a quick sweet treat, their grab-n-go mochi with cream is the best. The whipped cream filling also gives it a nice accent and their crepe rolls come with a fluffy cream filling matcha, melon, chestnut, and more. They also sell traditional Chinese sweets, pastries, and savory bread too.
Opening hours: Daily, 7:00am–9:00pm
Pastelaria I Man Yin 36A Rua de Fernão Mendes Pinto, Edf. Fun Lok, R/C, Macau, +853 2855 3633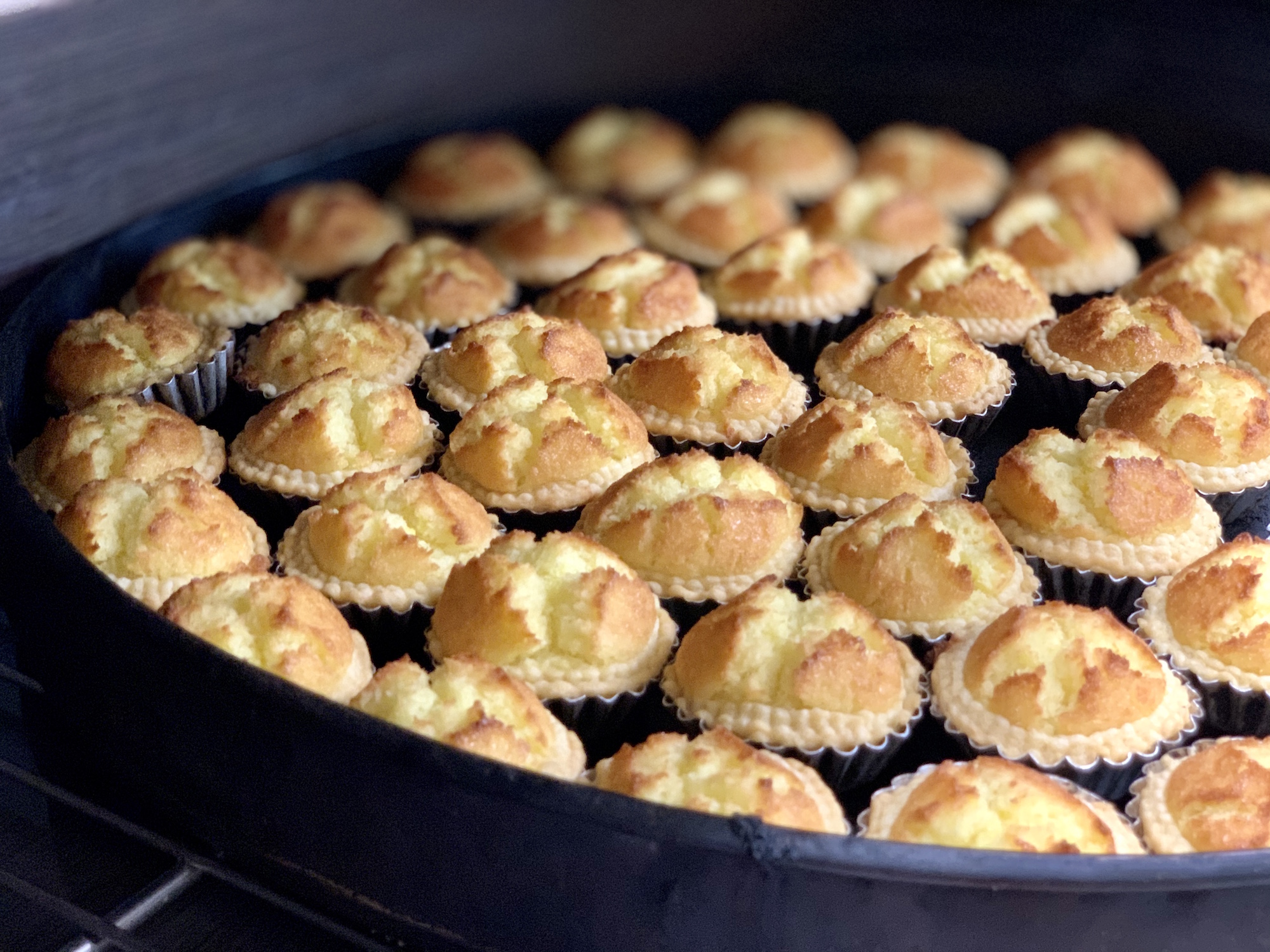 Ma Hong Kei Pastelaria 
Set on Rua Central–close to Dom Pedro V Theatre and St. Augustine Church–Ma Hong Kei is one of the most popular and busy bakeries in the area. If you live nearby, head there for some of the freshest bread in town! From a simple loaf to local sweetened bread with sausage or filled with red bean, there's an array of things to try here. Don't miss out on the wonderful pastries! Unlike French or Portuguese pastry, Macau ones are usually less sweet. Pineapple bun is also a very popular one, so be sure to try it. They open early, ideal for those who wake up with the sun craving for a delicious local snack. Inaugurated in 1959, it's been open since then with a recently refurbished decor showcasing its history.
Opening hours: Monday–Saturday, 6:00am–7:00pm
Ma Hong Kei Pastelaria G/F, Edificio Mei Luen, 53 Rua Central, Praia Grande, Macau, +853 2897 3002, mahongkei.com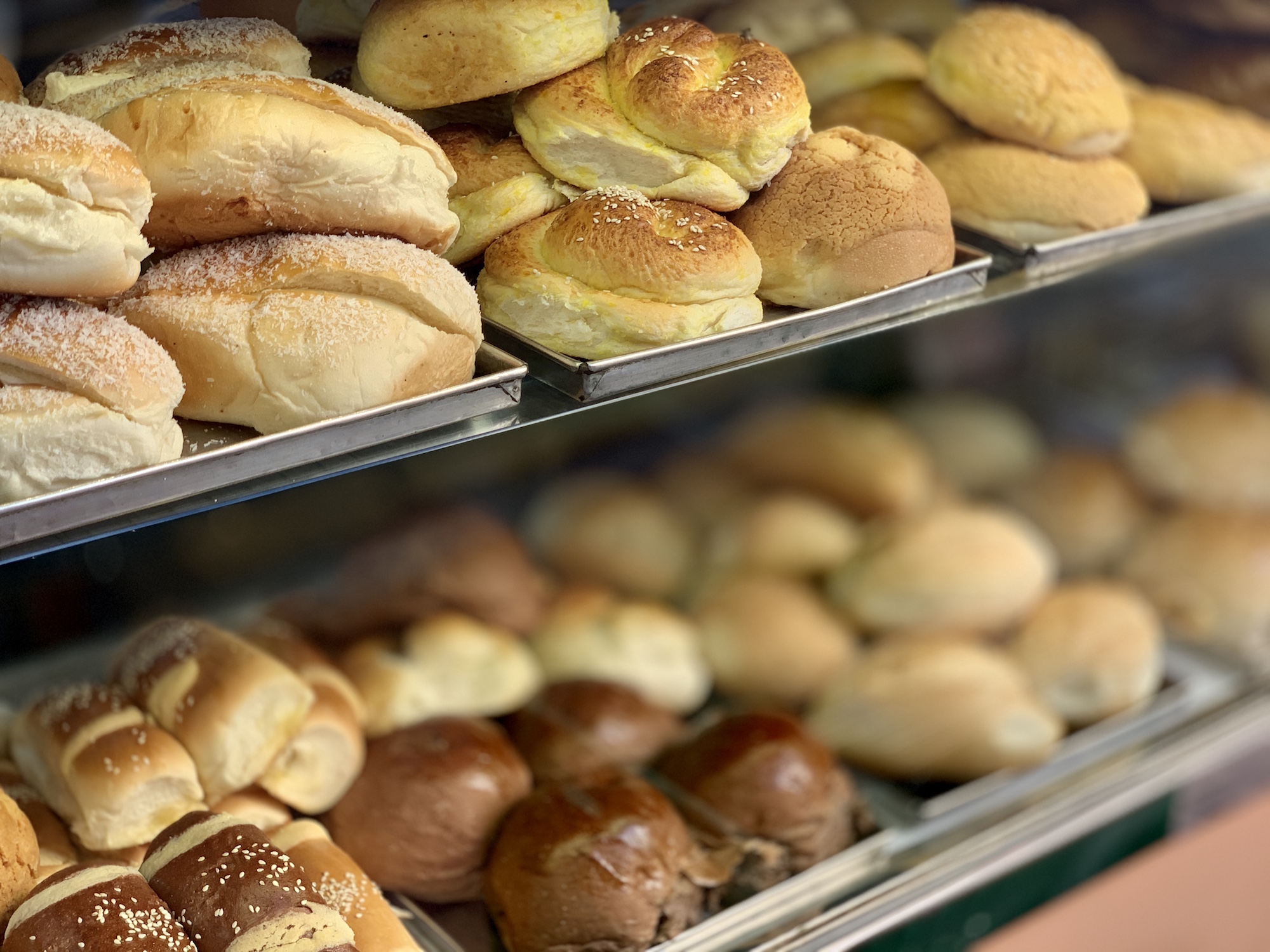 Pastelaria Jim Sai
Jim Sai is also located in the São Lourenço area and it's the to-go place for the simplest yet best-baked goods. The bread is phenomenal and freshly made every single morning. There are many different kinds of bread: from regular white to multi seeds, salty to sweet, there's an array to choose from. There are also light cakes and other choices that make the little ones smile every time grandma fetches them from school and takes them to Jim Sai for a treat.
Opening hours: Daily, 5:00am–9:00pm
Pastelaria Jim Sai 33 Rua de S. Lourenço, Macau, +853 2897 3278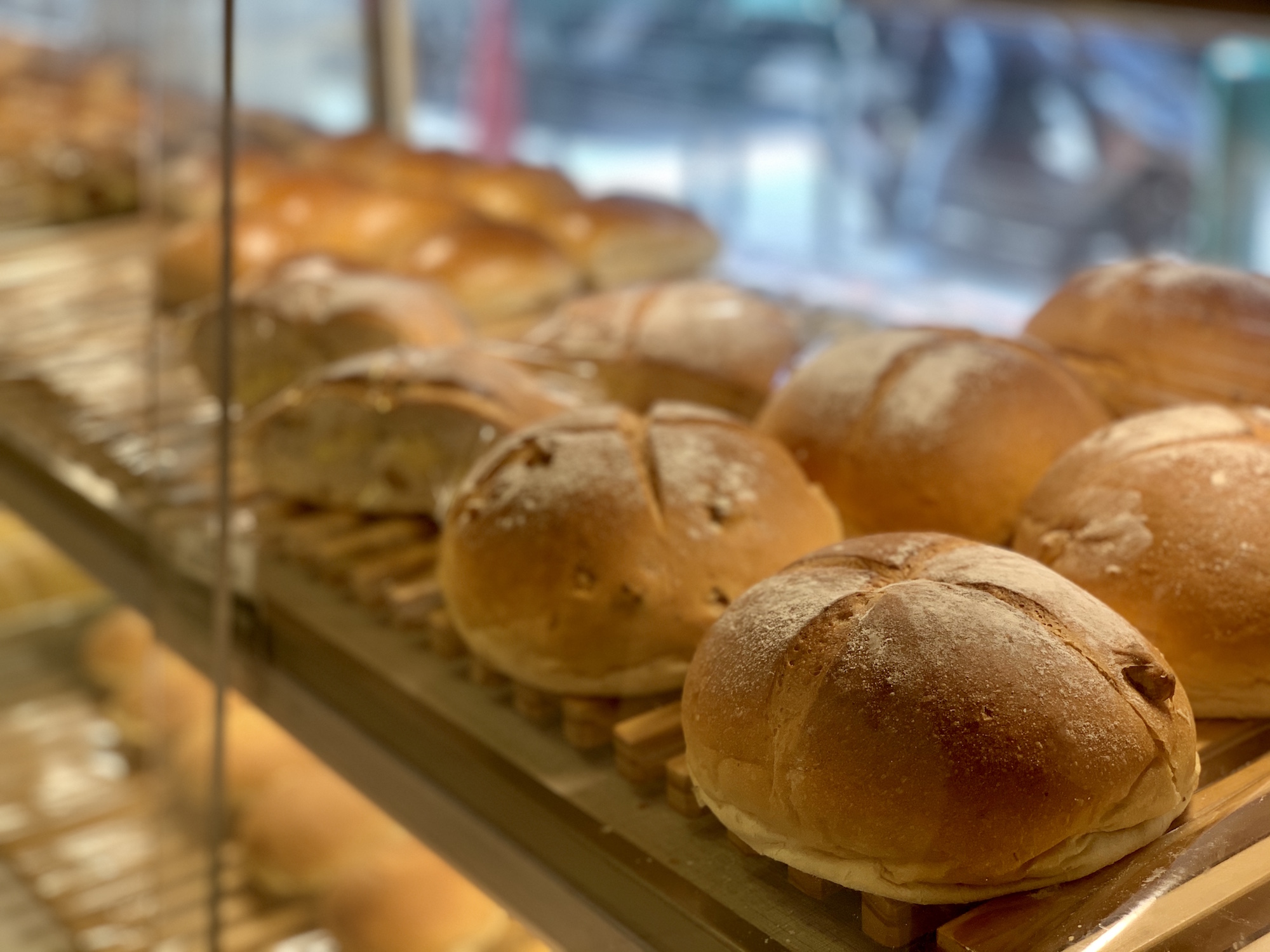 Padaria New Mario
Ever since we were little, our mums would always grab some of our favorite pastries here after school. We would always and still look forward to their raisin danish fondly called the raisin braided bun. Golden and caramelized with raisin bits and a sprinkle of nostalgic feels. On the savory side, their simple cheese loaf makes a scrumptious tea bread while their curry fish buns are a great snack when hunger pangs beckon. They're especially soft and the best when they are fresh out of the oven. Roll cakes, sandwiches, and other desserts such as jellies and puddings are available too. Every day from 6:00pm to 9:00pm, you'll see a long queue of people from the elderly to school children queueing up to get a hold of their "buy two get one free" promotion.
Opening hours: Daily, 9:00am–6:00pm
Padaria New Mario 11E Avenida Horta e Costa, Edf. Kou Wang, R/C, Macau +853 2852 9722
Also read: Macau's Must Try Snacks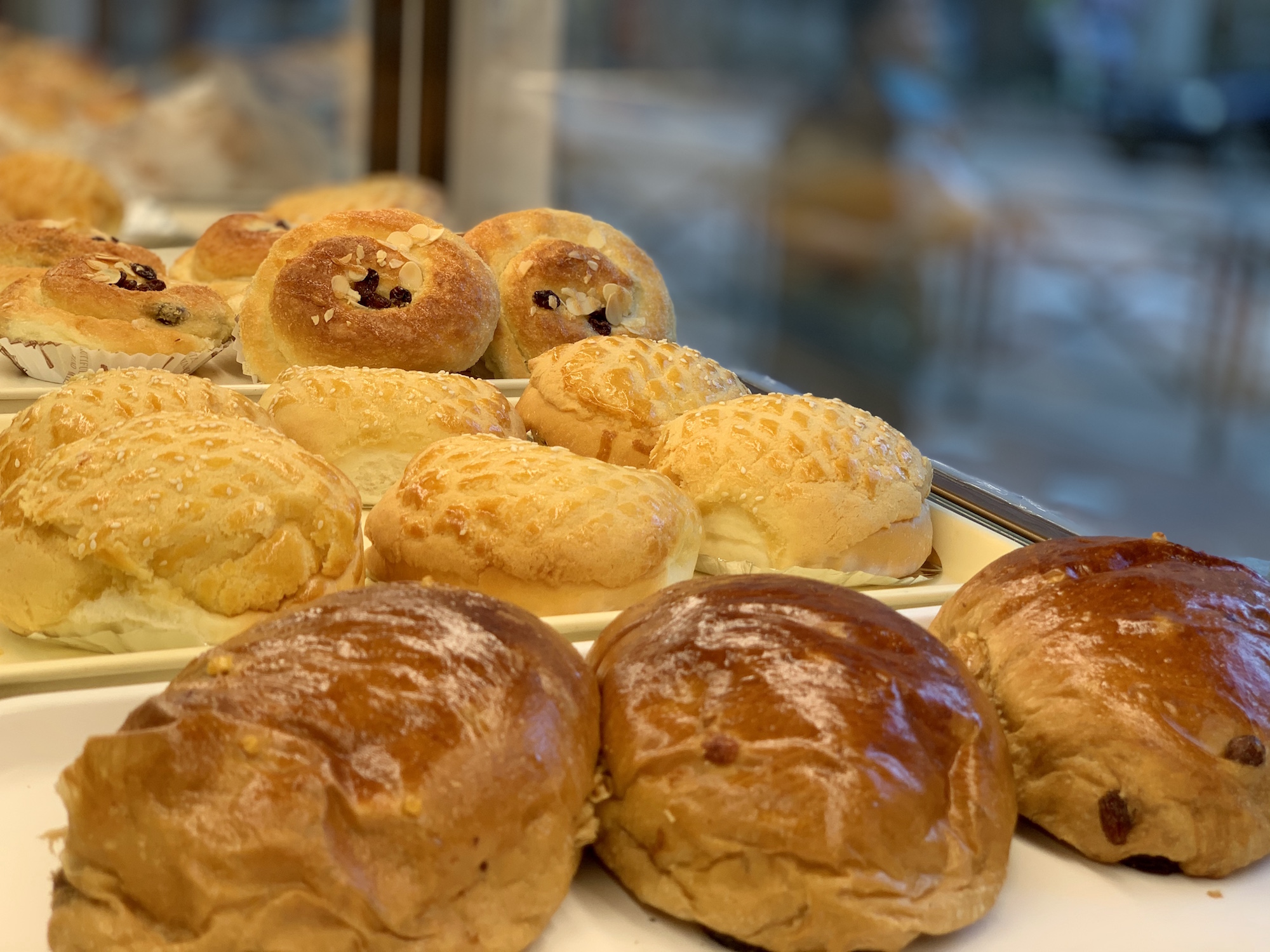 Maxim's Cake Shop
You may notice that the good ole' cinnamon swirl buns aren't as popular in Macau because red bean wheat bread is preferred. The soft and fluffy bread with sweet red bean paste filling and the crunch of sesame seeds all come together to create an awesome treat to munch at for breakfast or as a snack. If you are not used to eating sweet red beans, it may take some time to acquire the taste. However, once you start enjoying it, there is no way to stop loving it. The next amazing must try offering is their peanut butter swirl buns–impossibly soft buns that are injected with magical swirls of delicious peanut butter. We recommend their honeycomb cake, which takes its name from its beehive-like interior, full of little air pockets. The caramel toffee flavor and the spongy, airy texture sure makes this cake a lovely afternoon delight. If you're looking for something savory, we recommend their Mediterranean pizza, pork salad wheat sandwich, or Japanese style bun.
Opening hours: Daily, 11:00am–7:00pm
Maxim's Cake Shop 112 Rua do Campo, R/C, Macau, +853 2838 5883
175 R. de Seng Tou, Taipa, +853 2884 2586
Also read: Best Breakfast Spots in Macau to Eat Like a Local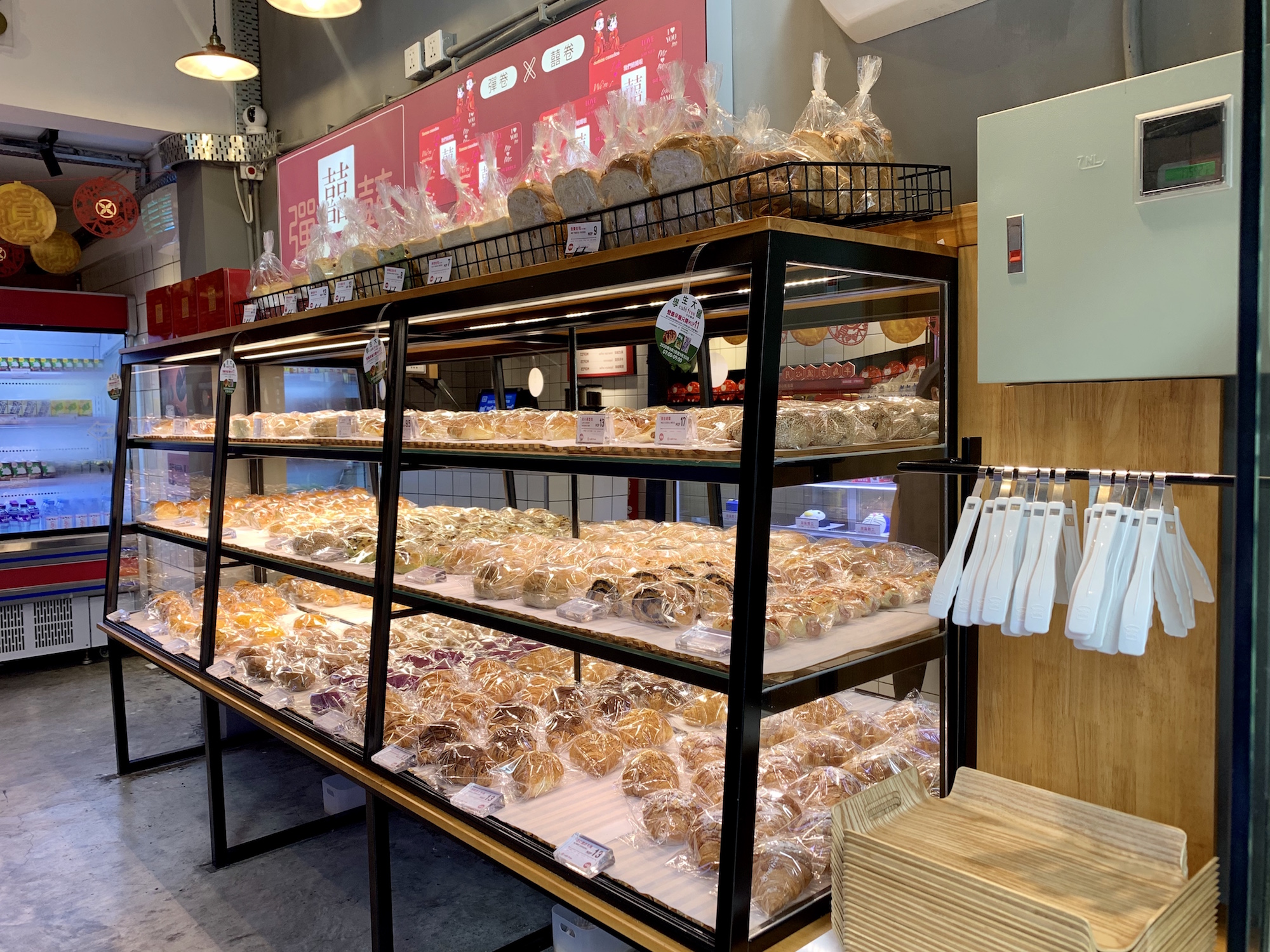 Cafe Free
Cafe Free is a bakery chain with nearly ten outlets around Macau selling bread and other baked goods of consistently good quality which are reasonably priced, with many local fans. We like how Cafe Free has a mochi series going on such as their mochi cheese bread, taro mochi balls, mochi matcha green tea bun, mochi, and red bean stuffed matcha bread, mochi and red bean stuffed earl grey bread, and mochi stuffed cheese bread. If you love mochi, you will love the chewy and bouncy texture! We also like one bun that is reminiscent of your favorite cozy cup of tea and coincidentally, it goes pretty fantastically with a cup of tea too–their earl grey cheese bread. It doesn't really have a strong flavor, just nice and subtle with soft cream cheese bits in the middle. They also sell cartoon-inspired cakes, birthday cakes, and more.
Opening hours: Daily, 7:00am–11:00pm
Cafe Free GF, 100B Avenida Horta e Costa, Macau +853 2821 5933, www.facebook.com/cafefreemo
China Civil Plaza, Alameda Dutor Carlos d'Assumpção, Macau, +853 6331 6685
G/F, 8A Rua de Tomás da Rosa, Macau, +853 6331 6696
154 R. Nova da Areia Preta, Shop 74, Edf. Kin Wa (Block 9), Macau, +853 6331 6694
330 R. de Évora, Taipa, +853 6331 6693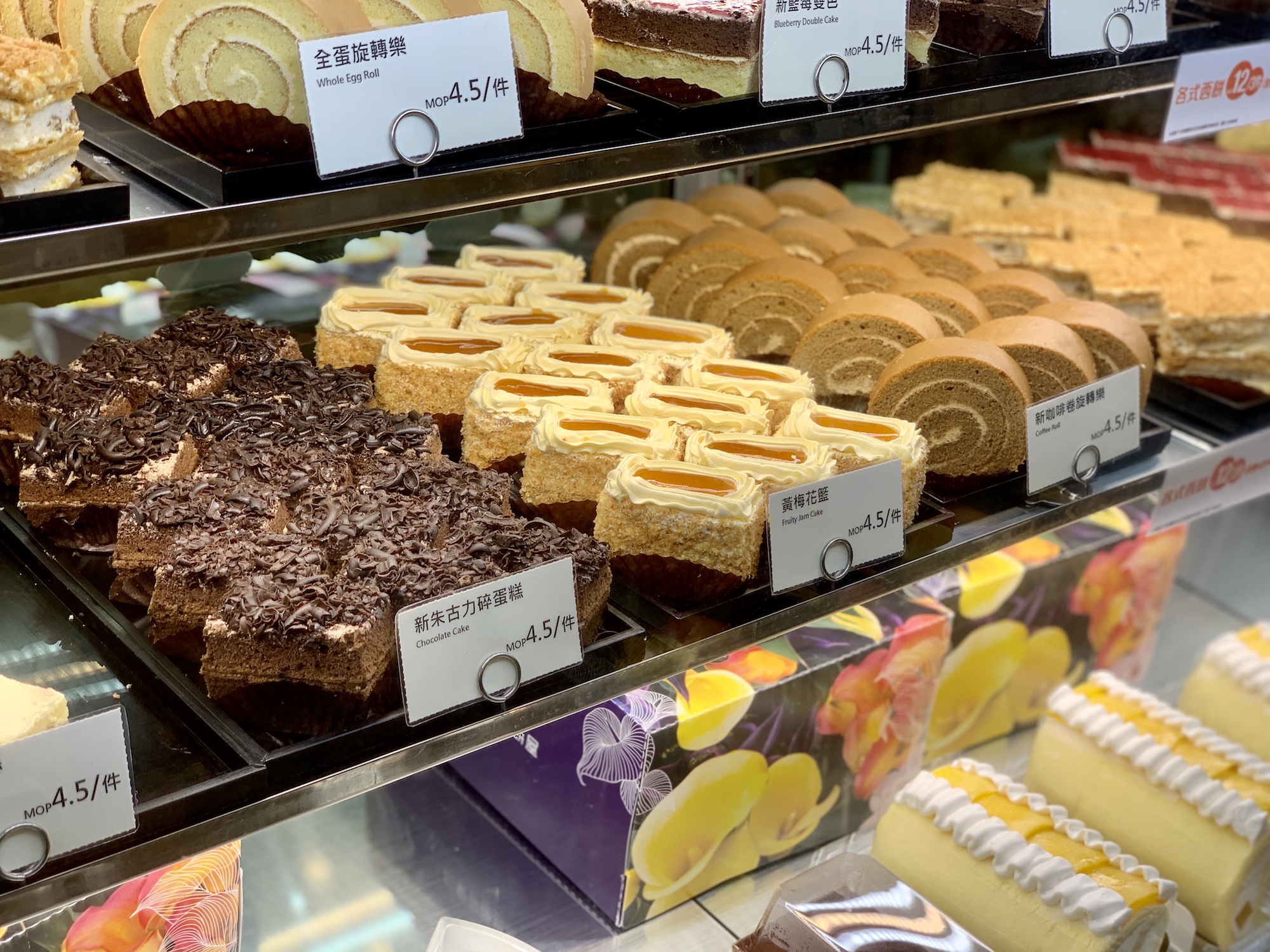 Saint Honore Cake Shop
This local bakery is the place to get some simple yet classic donuts. Sugar donuts were popular back when we were kids and were a special treat our parents got for us as an after-school snack. There's just something about the light crispy dough and the sugar crystals covering your lips. When it comes to donuts, more is often better. Other than donuts, there are classic roll cakes, moist chocolate cake slices, and whole cakes for any occasion on offer too!
Opening hours: Daily, 7:00am–9:00pm
Saint Honore Cake Shop 11C Avenida Horta e Costa, Edf. Kou Wang, R/C, Macau +853 2855 2266 www.facebook.com/SaintHonoreCakeShop
76-146 R. de Seng Tou, Macau, +853 2883 1844
Also read: Freshly Baked Bread in Macau
This article was originally written by Bel Faustino in March 2018 and updated by Leonor Sá Machado in September 2020 .
Tags
Related Posts