Whenever our friends from abroad come visit us in town, we always include our personal favorite local snacks in their itinerary. Maybe the next time you come visit Macau, you can include them, too. Here are our must-try snacks when in town!
Egg Tart
(See featured image above. Source: Pixabay)
You can grab this piece of heaven in a tart at Lord Stow's Bakery or Margaret's Cafe e Nata. Its top is a caramalized egg custard filling like crème brulee that sits on a flakey, crunchy pastry tart (best eaten while its hot!), and they are also sold in boxes of six and are packaged for transport, making for a great gift to back home for family and friends.
Lord Stow's Bakery 1 Rua do Tassara, Coloane, +853 2888 2534, www.lordstow.com
Margaret's Cafe e Nata Kam Loi Building, 17B Rua do Comandante Mata e Oliveira, Macau, +853 2871 0032, www.facebook.com/Margarets-Café-e-Nata
Almond Cookies
These cookies are handmade with the mixture being pressed into wooden molds firmly, then roasted over a charcoal oven and finally slapped on a table  ready to eat. Its texture is powdery and very fine, it will begin to crumble when you bite them. They might  even remind you of Christmas shortbread cookies! The delicious cookies are one of Macau's popular treats. You can find them in various shops lining the streets leading up to the city's famous landmark, the Ruins of St. Paul's, and they make perfect souvenirs to bring back home. Begin walking from St. Dominic's square towards the ruins, and you will find many shops selling the cookies, including Pastelaria Koi Kei Bakery, which also sells our favorite meat jerky (see below). Price: MOP $18/box.
Koi Kei Bakery, 23AA–23AB, Rua de S. Paulo, Macau, +853 2835 8230, www.koikei.com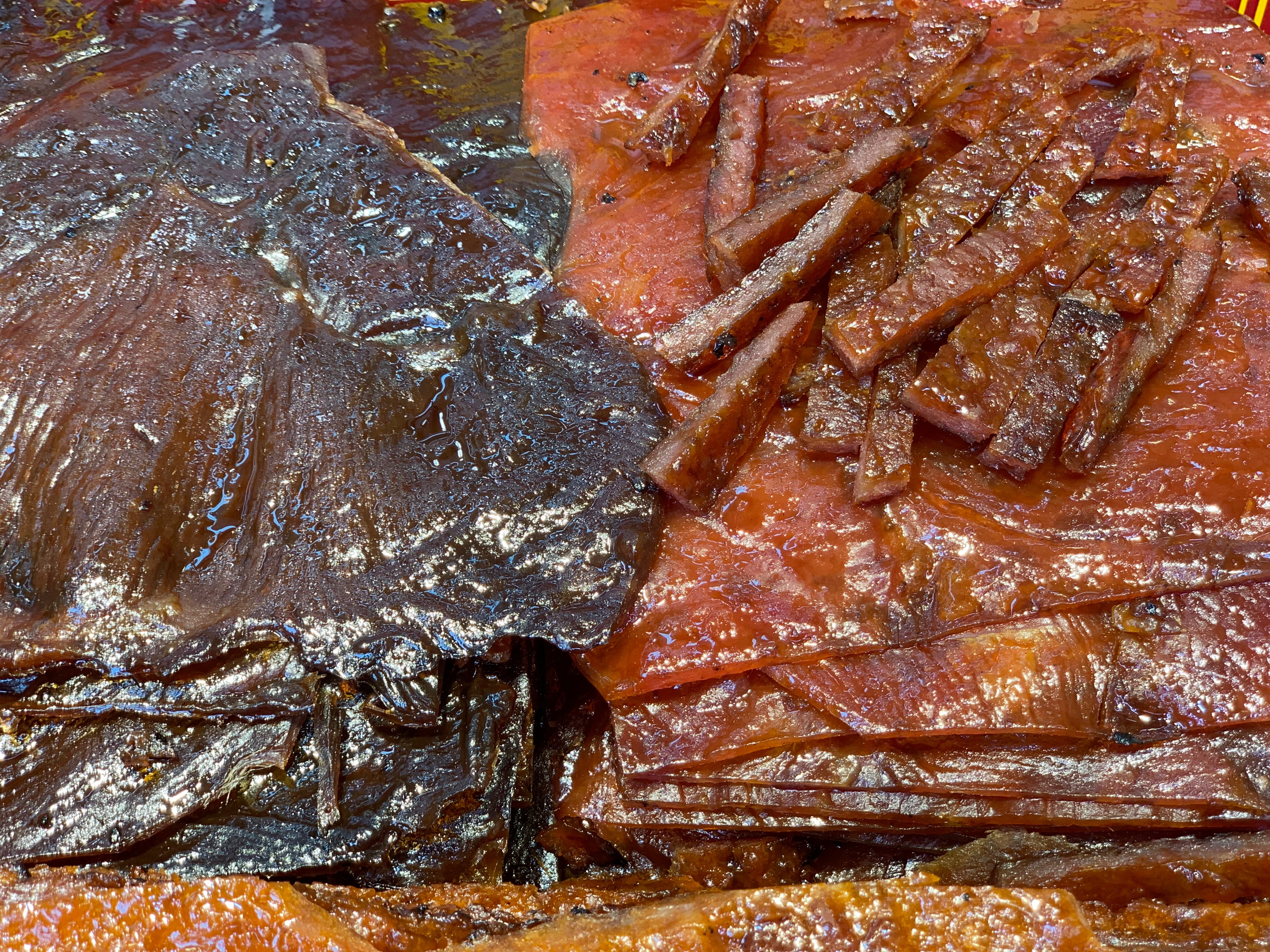 Meat Jerky 
Also known as "bak-kwa", this is a Chinese savory-sweet dried meat prepared with spices, salt, sugar and soy sauce which is similar to jerky but with a sweeter taste. It is most commonly made with beef and pork, but you can also find more exotic meats such as ostrich and boar. They also offer other different flavors such as BBQ or spicy. You can have a lot of free tastings at Pastelaria Koi Kei Bakery, the number one selling shop for 12 years straight. You can find it just down the streets from the Ruins of St. Paul's, and be prepared to get overwhelmed with friendly employees waiting outside, eager to cut you a free sample with their giant scissors! You can also enjoy a free sample of their almond cookies. You will find employees carrying them around on giant rounded bamboo trays. Price: MOP $69–149/pound (depending on what flavor and what type of meat).
Koi Kei Bakery, 23AA–23AB, Rua de S. Paulo, Macau, +853 2835 8230, www.koikei.com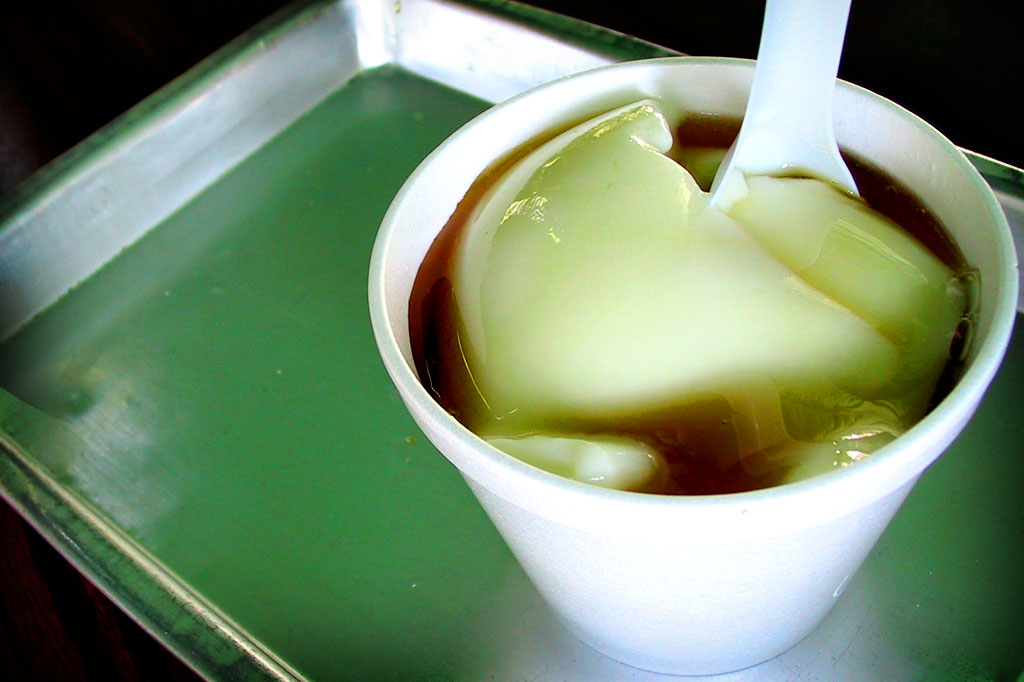 Soya Bean Tofu Tapioca Drink
This drink is one of our ultimate favorites because it reminds us of "Taho" from the Philippines. It consists of soft tofu, brown sugar syrup with a hint of ginger taste and tapioca pearls. We personally love this drink warm. You can find it after you pass all the fresh fruit stalls in the Three Lamps District to your left side where you will find a store selling warm chestnuts and a variety of bottled soy milk. It costs MOP $8 each.
Three Lamps District, Rotunda Carlos da Maia, Macau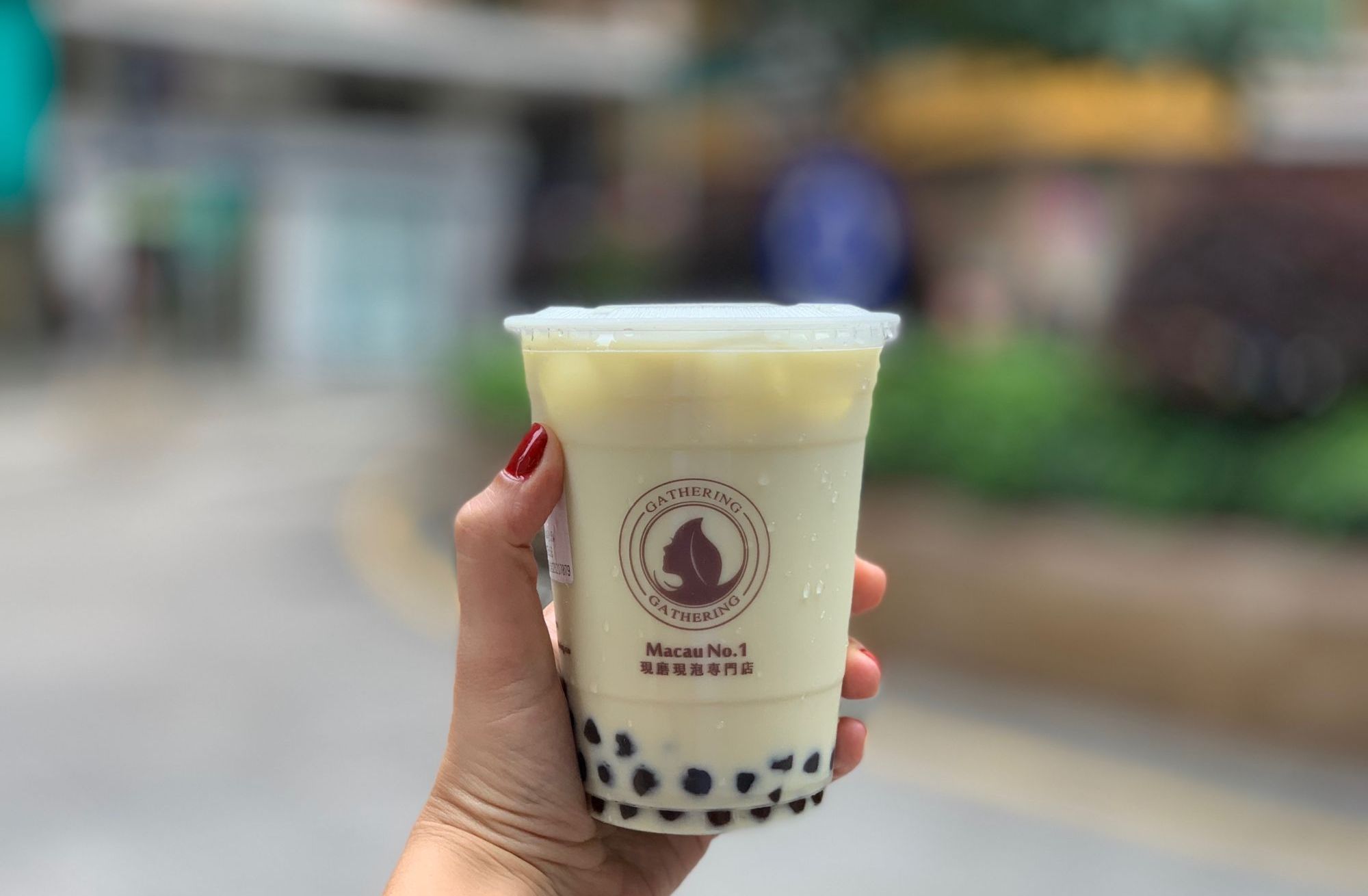 Bubble Tea
Having started in Taiwan, the bubble tea quickly spread throughout Southeast Asia and it's now one of this region's most popular drink. There are numerous variations: from chai bubble tea, to thai latte, plain tea or fruit beverages, fat little tapioca bubbles come on the end of your cup like a prize worth wining! Either it's your first time in Macau or you've been around for some time, this is quite a popular drink. Besides original, it's usually very tasty and has an array of flavor options. Most known brands are Koi, Comebuy, Thailax, Gathering and Share Tea. They all have shops all over the city, so head to one and choose your fav!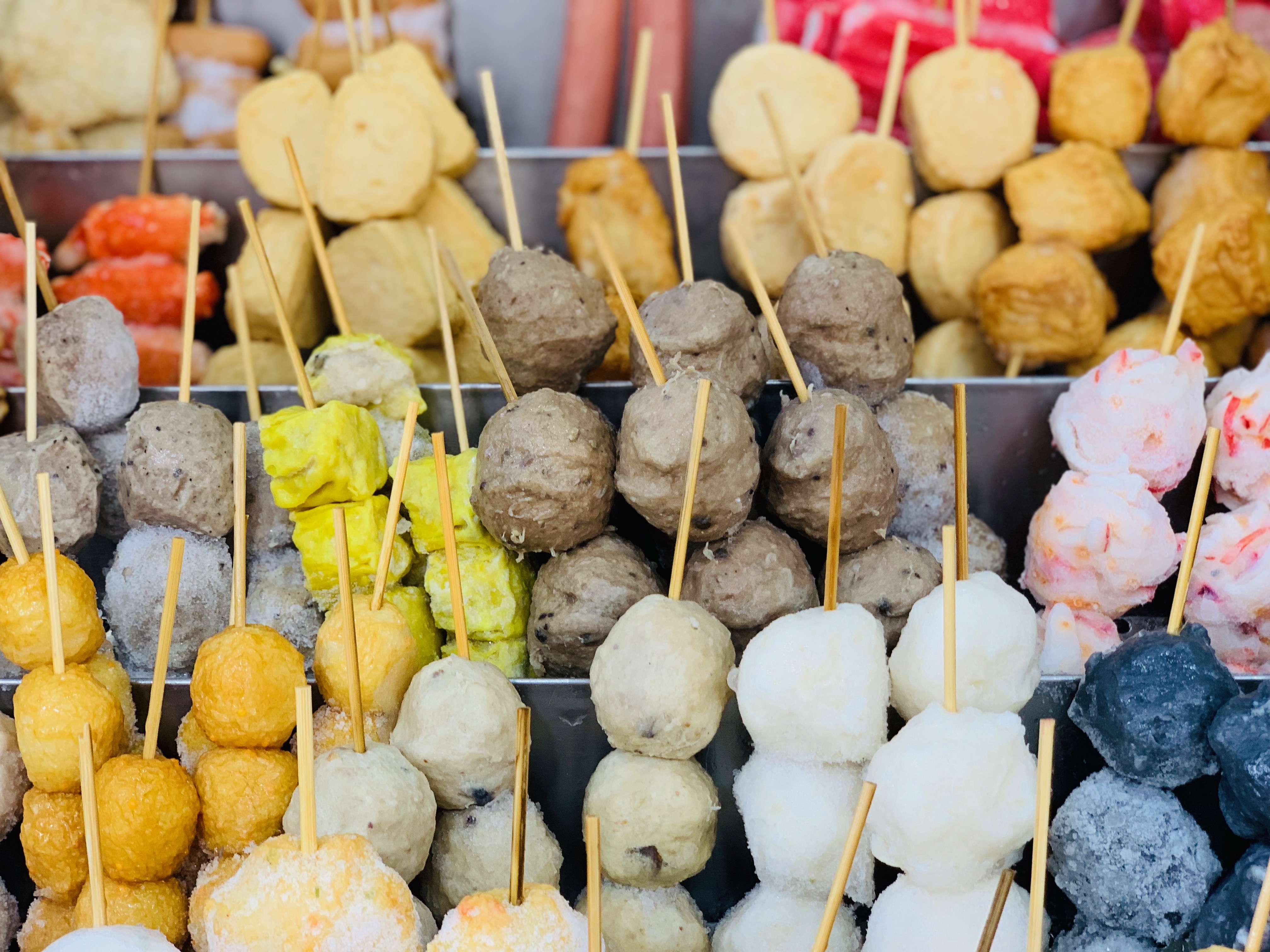 Curry Fish Balls
On the streets of Rua S. Domingos, you can find at least three stalls selling and cooking these street snacks of skewers. There are  not only fish balls, but beef balls, vegetables, squid balls and many more! Just pick what you like and the street vendor will boil them for you and ask if you would want it spicy or not. Our friends would call them "Tusok tusok" because, in Tagalog, it literally means to poke. And that's how you eat them; you just poke through them with a wooden stick and enjoy! But when our friends from Singapore came to visit Macau, they had something similar back home and they call it "Lok lok". Our personal favorite is the cheese balls. Don't get too excited though! Let it cool down a bit before you take a bite, or else the melted cheese inside will burn your tongue. Take it from us, it does happen! Price: from MOP $5–11 per skewer. Shops are all around town, mainly city center.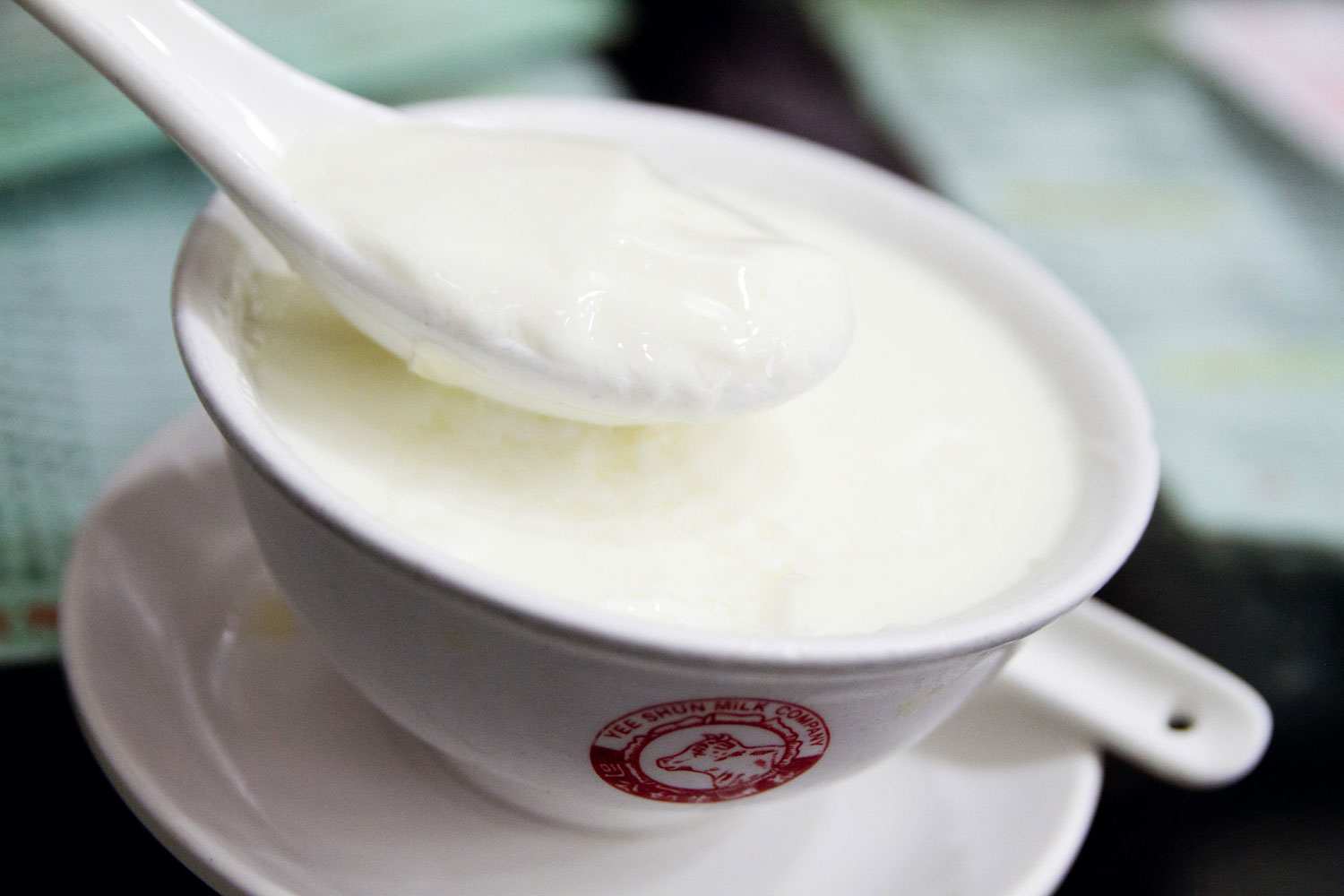 Yee Shun Dairy Company Milk Pudding
Cold or warm, this is an all-year perfect dessert kind of snack. Served in-store and to go, it might be a bit pricier when compared to our other choices, but it is worth the try! Founded in Macau more than 100 years ago, Yee Shun Company has now spread to Hong Kong. Their stores are always full or tourists and locals looking for it. There is also a variation with ginger in its recipe. Each individual bowl costs around MOP $35. Their main branch is located close to Senado Square, but they have expanded, and have several, mainly at Broadway Macau and some other places.
Yee Shun Dairy Company 381 Av. de Almeida Ribeiro, Macau, +853 2837 3104
This article was originally written by Bel Faustino on March 24, 2016 and updated by Leonor Sá Machado on February 11, 2019.
Tags
Related Posts