We're always game for a bowl of noodles, wherever they're from, as long as they make our bellies happy and warm! Among the various noodle dishes, one of our favorites is the Japanese ramen with its flavorful broth full of umami, smooth and slightly chewy noodles, and a vast selection of toppings. Even if you can't travel to Tokyo, there are plenty of welcoming places in our city to sate those Japanese noodle cravings. Check out our list of the best ramen spots in Macau and grab a hot bowl of slurpingly good noodles!
Ramen Pro 
(See featured image above)
This small cozy eatery in Fai Chi Kei will not impress you with fancy design or an abundance of dining options. But if you came here for authentic flavors, then you won't be disappointed. At Ramen Pro, they offer traditional noodles based on a cloudy type of broth, known as "paitan". However, they also offer a couple of signature soups, namely shrimp and peanut ramen. So if you are up for experimenting, give one of them a try! We stuck to tradition and tried the original pork ramen topped with a generous serving of green onion, fungus, nori, egg, and pork chashu–nothing extravagant yet fulfilling. It is a very decent classic soup with a thick broth and flawless balance of flavors. To our surprise, the order came to the table within a minute. Seems like a record! The entrance is on the inner side of the building, not the street side. Look for blue curtains with "Ramen Pro" on them. 
Opening hours: Daily, 12:00pm–8:30pm 
Ramen Pro Edificio Weng Hoi (torre I), 252 R. do Cmte. Joao Belo, Macau, +853 6675 4522, www.facebook.com/RamenPro.Macau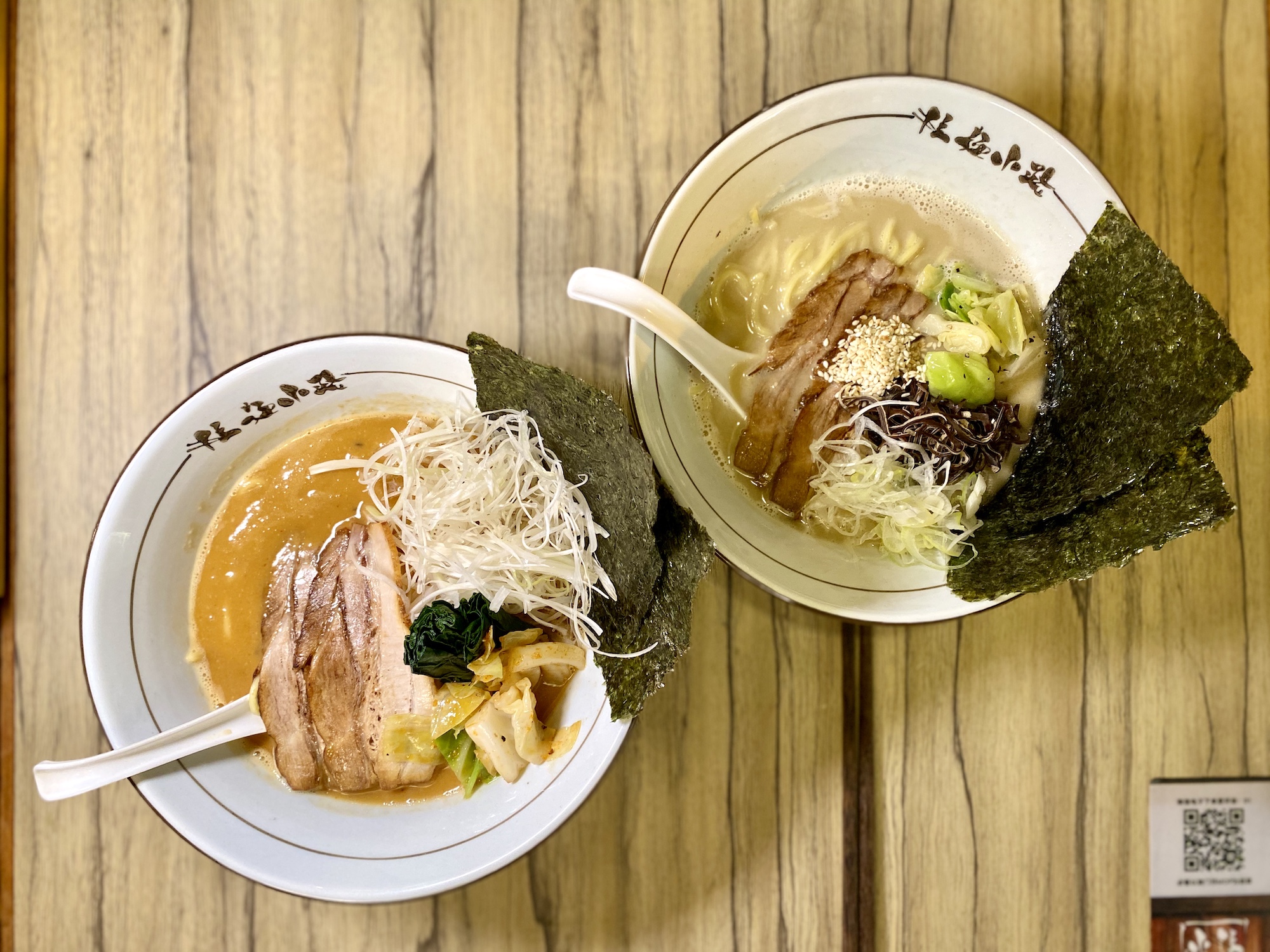 Ramen Kouji 
If you want to experience a different and fun way of eating Japanese noodles, you can try Ramen Kouji's Dip Noodles, or tsukemen. In a way, it is a deconstructed ramen where broth, noodles, meat, and other toppings are served in separate bowls. The broth is much more saturated than typical noodle soups, but you aren't meant to gulp it down as the flavor is typically intense and too salty on its own. Pick up a few strands of noodles with your chopsticks, dip them into the soup, then slurp away. Tsukemen is not the only type they serve at Kouji. There are various options, both chicken and pork-based. You can also choose between regular and big portions, although the regular one is already relatively large. To find this ramen spot, at the end of Filipino Street in San Ma Lo, walk straight ahead from ANAK Philippine Bread. The area is reminiscent of Japan's narrow streets, which sets the scene and brings an authentic touch. They also have a second branch in Taipa located near Cuppa Coffee.
Opening hours: Daily, 12:30pm–9:30pm
Ramen Kouji Rua da Alfândega, No. 50, Mei Keng Building, +853 2893 8964, www.facebook.com/RamenKoujiYokohama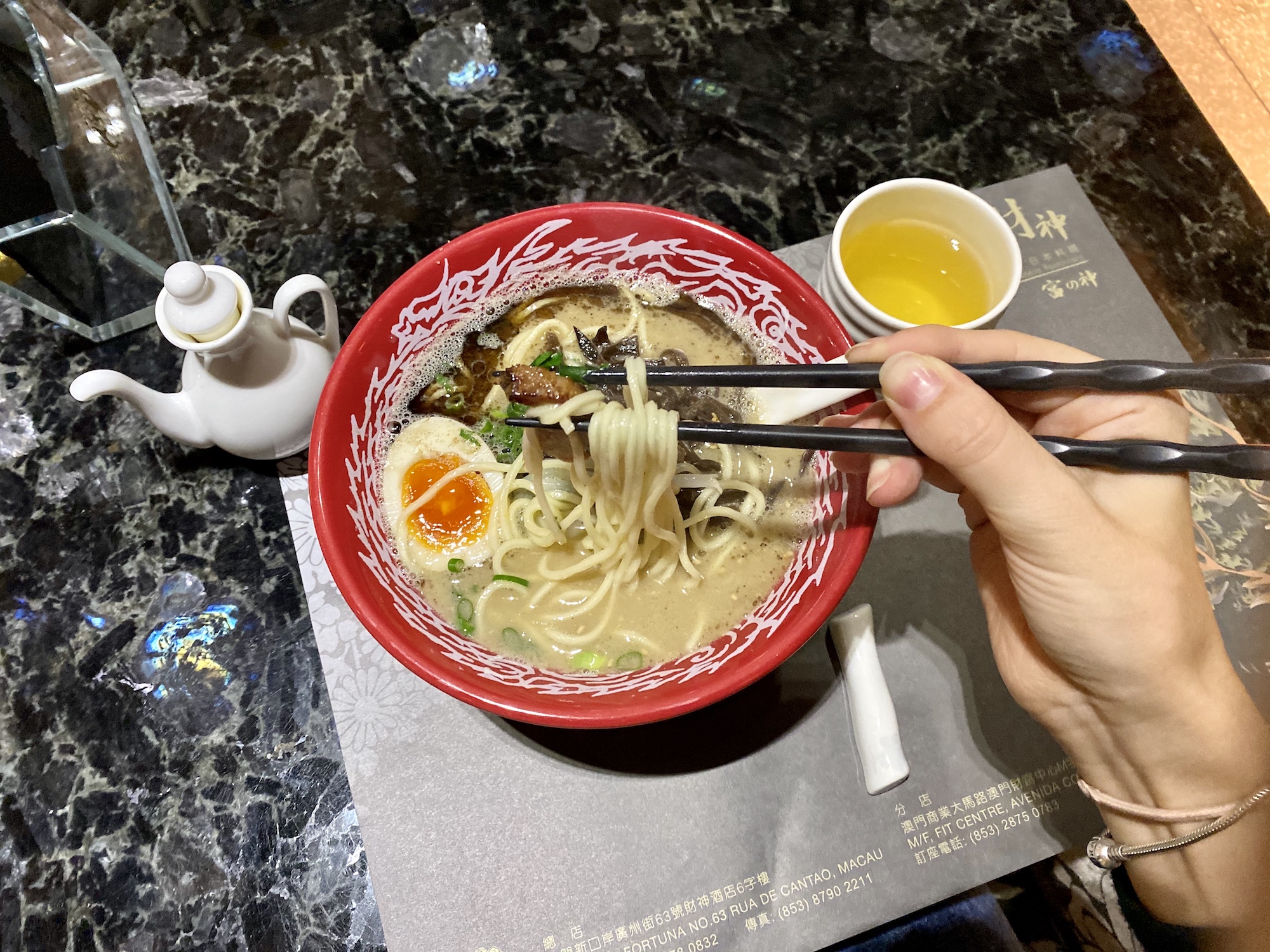 Fortuna Japanese Restaurant 
Located on the sixth floor of Hotel Fortuna, Fortuna Japanese Restaurant is a spacious dining spot that serves all kinds of Japanese food, from sashimi to tepanyaki. As for the ramen selection, there are four soups, all pork-bone-based. The classic cloudy broth comes with a variation of add-ons, such as chili and black soya. Chilli adds extra spiciness to the dish, and the black soya adds a dramatic touch. All ramen except for the plain noodle one comes with a traditional set of toppings: fungus, spring onion, egg, pork chashu, some sesame seeds, and a generous serving of noodles. You can also ask for additional toppings for an extra charge. 
Opening hours: Daily, 11:30am–3:00pm, 6:00pm–11:30pm
Fortuna Japanese Restaurant 6/F Hotel Fortuna, 63 Rua de Cantao, Macau, +853 2878 0832, www.hotelfortuna.com.mo/restaurants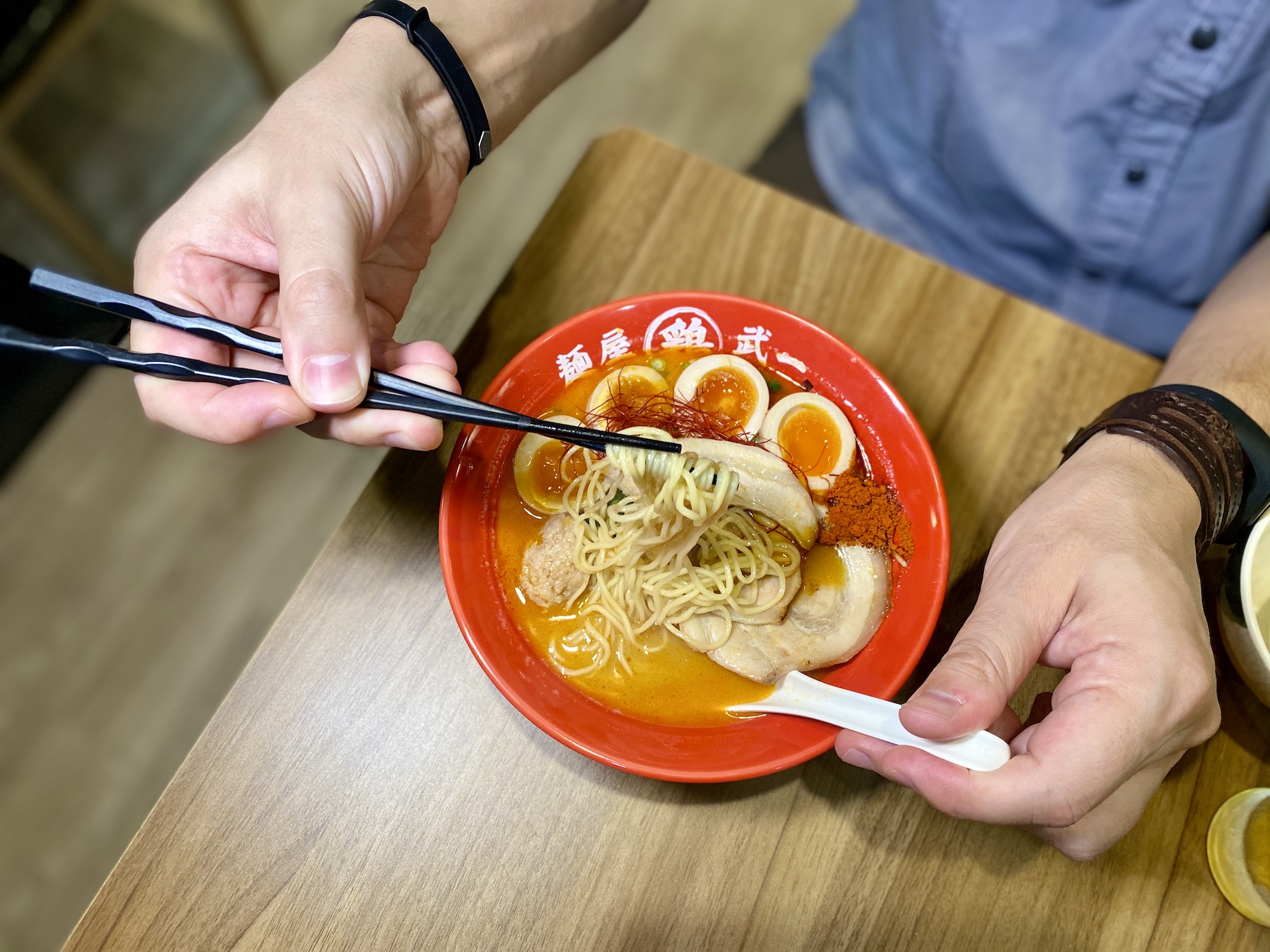 Tokyo Shimbashi Tori Paitan Ramen
Suppose you always choose tonkotsu ramen because of its unmistakable rich texture and intense flavor over other soups. In that case, you should check out the Tori Paitan broth at Tokyo Shimbashi Tori Paitan Ramen. Cooked with chicken bones, it holds its own against pork-based broth when it comes to flavors. Besides this signature bowl, we love their spicy ramen with paprika. Even though the menu here is only in Chinese, the staff would be happy to translate it for you and help you make an order. There are three branches in Macau, so pick one that is nearest to you! 
Opening hours: Daily, 11:30am–9:30pm
Tokyo Shimbashi Tori Paitan Ramen 42 Rua de Londres, Macau, +853 2840 3026
358 Rua Marginal do Lam Mau, Macau, +853 2825 2926
23 Rua Formosa, Macau, +853 2822 1948, www.facebook.com/麺屋-武一-澳門店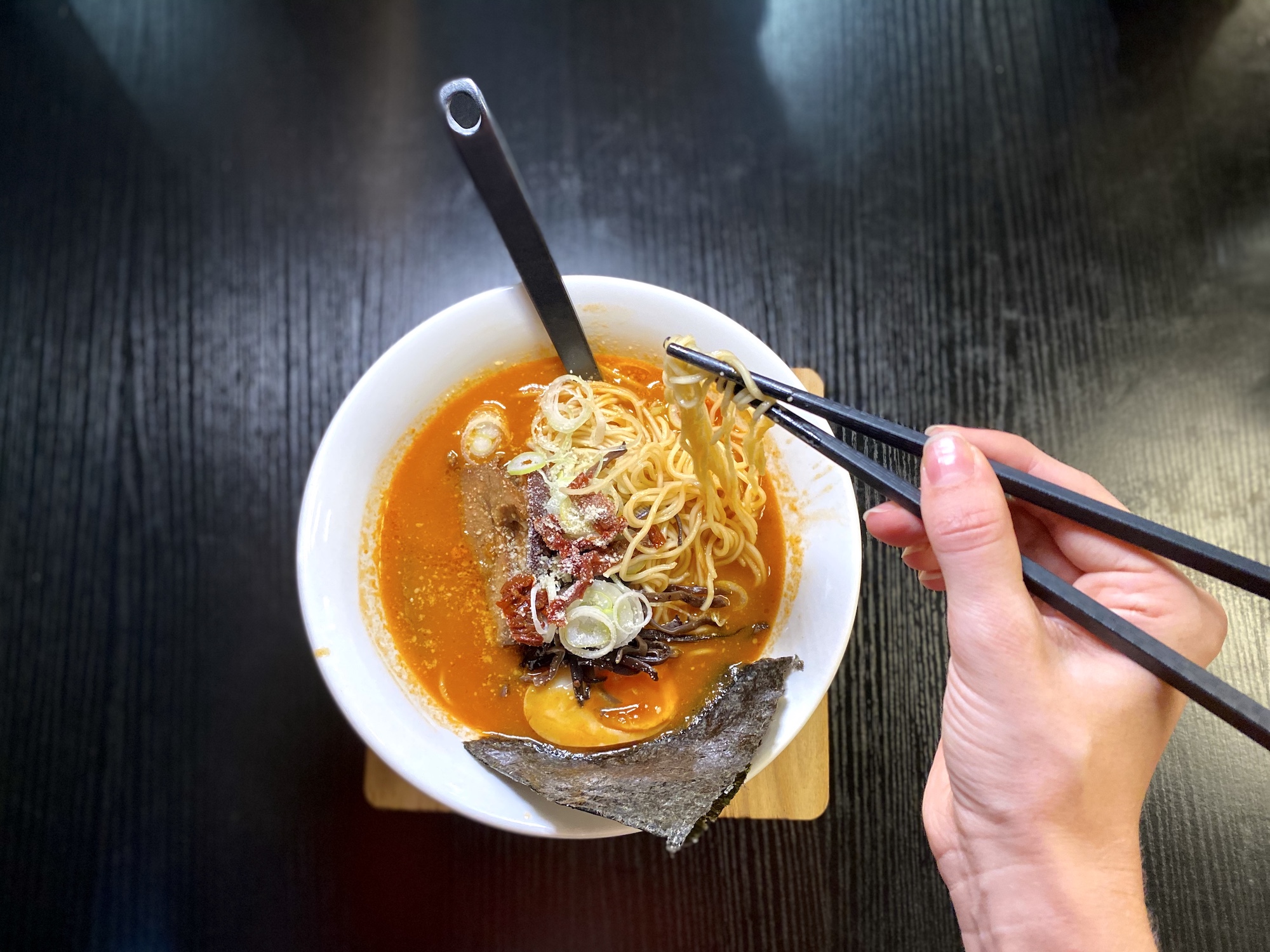 Tunmo Ramen 
If you are willing to take a glimpse outside the traditional, Tunmo would be your risk-free zone with its sumptuous tomato ramen. All of their noodles are worth the attention but the tomato ramen really stands out in a great way and makes this shop a star on any gastronomy map, making sure we keep coming back and bringing friends. Its thick tomato broth comes with leeks, sun-dried tomatoes, egg, nori, fungus, beef, and a pinch of parmesan. So consider this a ramen with an Italian accent, which sets it apart from ramen with good old tonkotsu broth but that doesn't make this tomato ramen any less delicious!  
Opening hours: Monday–Saturday, 12:00pm–8:30pm
Tunmo Ramen 408 Avenida do Governador Jaime Silvério Marques, Macau, +853 6686 1861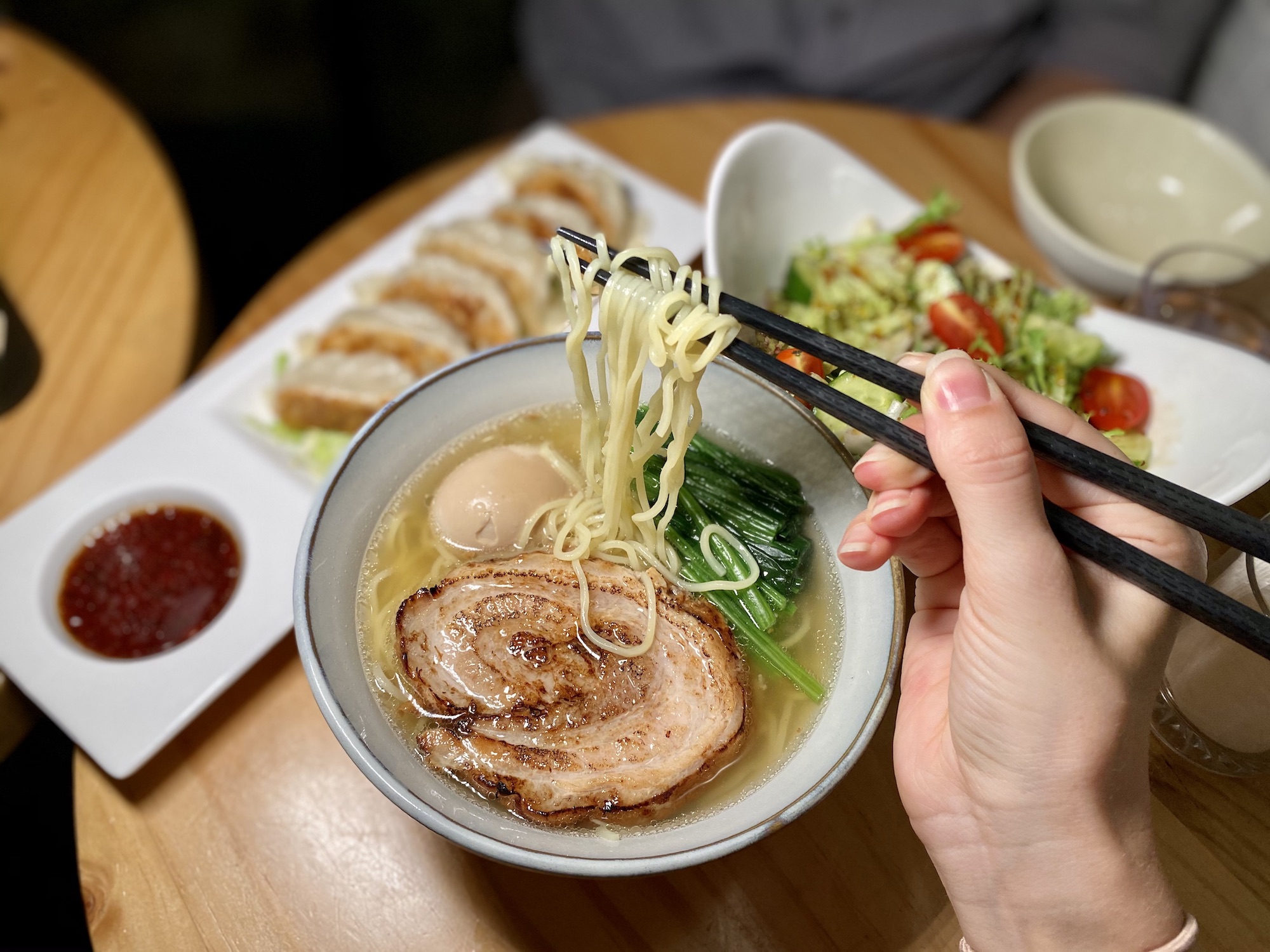 Menya Kokukeika
Menya Kokukeika is one of the best spots in town for clear,  salt-based broth also known as shio ramen. The salt-based soups are usually lighter and more delicate than the cloudy ones. At this little cozy noodle shop, go for the seafood-based ramen served with an egg, veggies, and a thick piece of pork chashu–tender and smoky. If you are cold or feeling a bit under the weather, this dish will be the perfect remedy. Moreover, the prices here are hard not to get excited about. If you are starving, order some pork dumplings on the side–only MOP $25 for three!
Opening hours: 12:00pm–10:00pm
Menya Kokukeika 86 Rua de Paris, Macau, +853 2850 9049
133-B Rua de Francisco Xavier Pereira, Macau, +853 2878 9917, www.facebook.com/menyakokukeika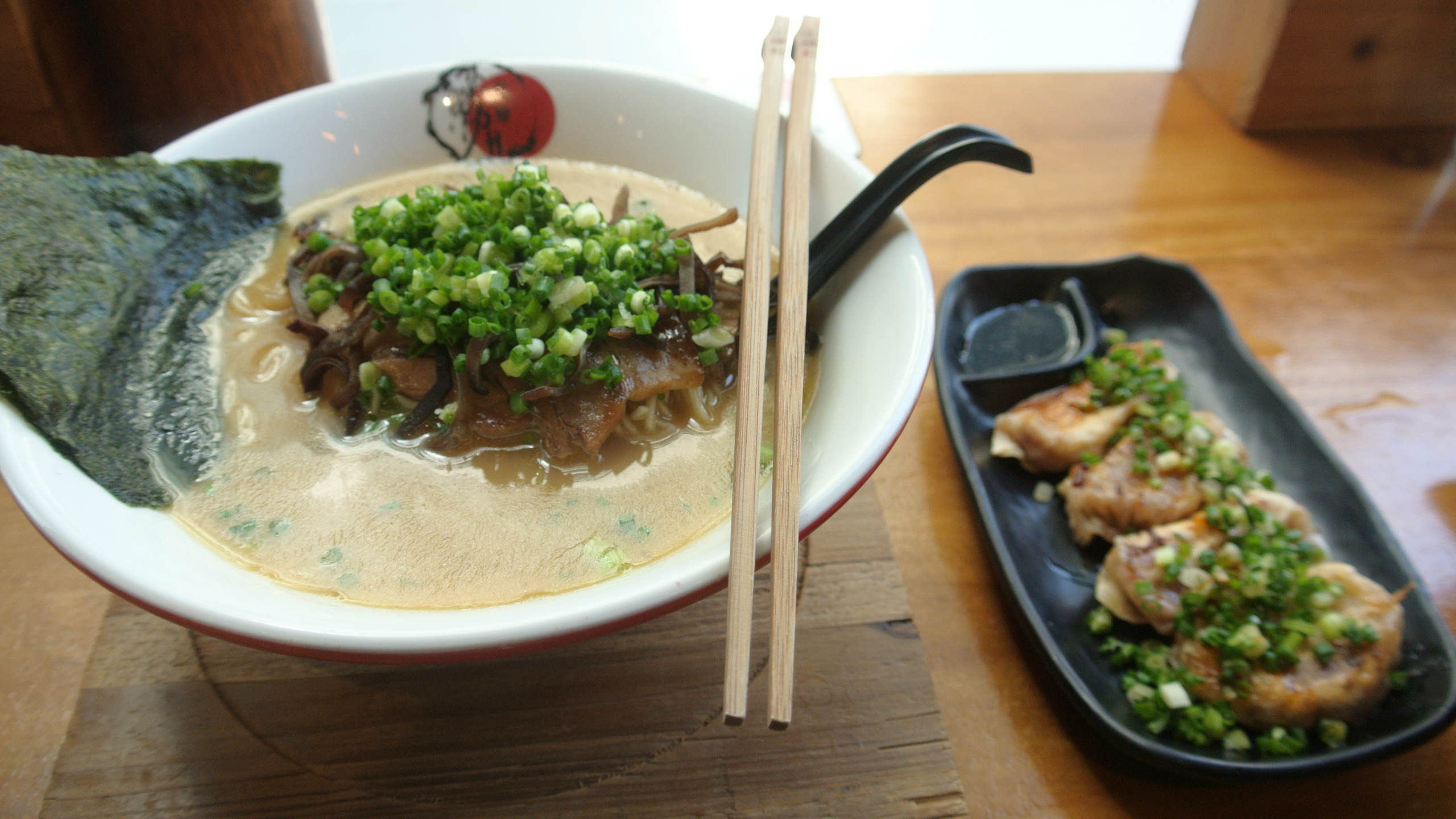 Sio Seng Hin Ramen
Sio Seng Hin Ramen in Nam Van offers hot bowls filled with steamy broth, succulent pork belly, and mouth-watering noodles. Usually, at Macau's ramen eateries, you would either have a la carte options or a form to be in charge of your order. Order slips are at every table, and you need to circle your preferences. Choose how you want your noodles or whether you prefer original pork bone, spicy pork bone, or special broth. You can also choose your noodles' texture, level of spiciness, and extra toppings such as extra pork, udon (served after one round), or ajitama–flavored egg. We love adding pork belly and their secret sauce, with a little garlic, green onion, and black fungus. Whatever the combination you select, the result will be authentic, satisfying, and, last but not least, reasonably priced. Don't forget to add an extra side of dumplings pan-fried dumplings! Sio Seng Hin Ramen has another branch in Taipa Village, great for those looking for ramen while strolling around the area. 
Opening hours: Daily, 12:00pm–9:00pm
Sio Seng Hin Ramen 251-292 Av. Commercial de Macau, Macau +853 6204 6106, www.facebook.com/小勝軒日式拉麵
Also read: Get Warm: Best Ramen Spots in Taipa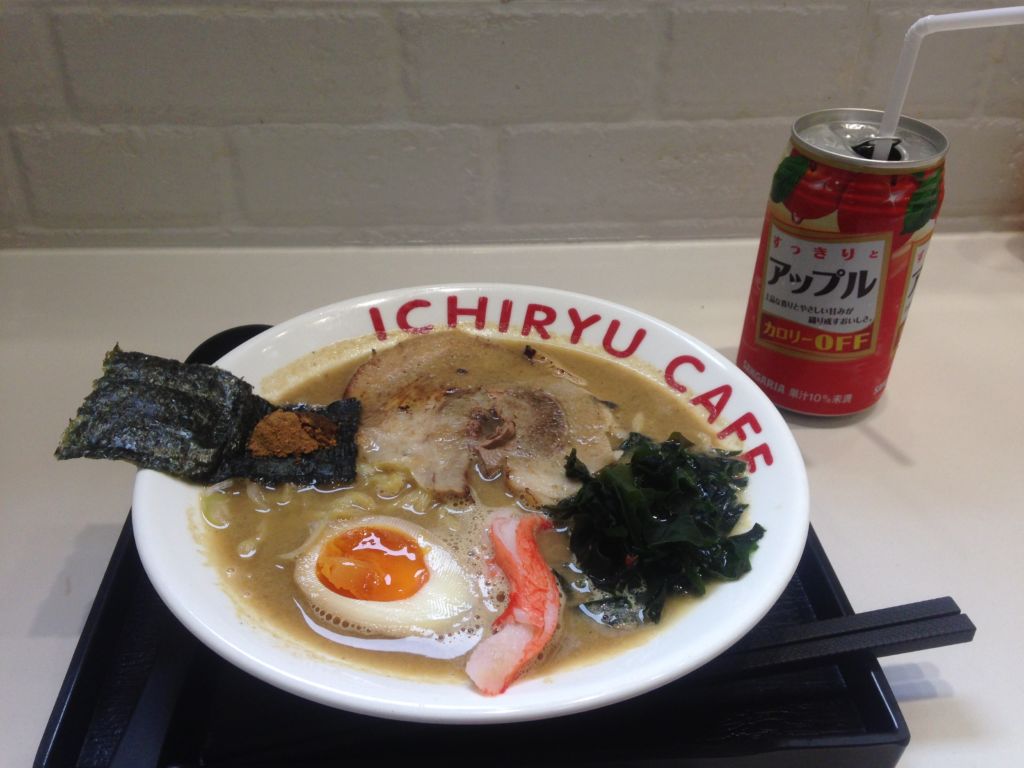 Ichiryu Cafe 
Why not try Japanese ramen and souffle pancakes at the same time? Ichiryu Cafe offers three choices of Gyokai (fish broth) signature ramen, Gyokai shoyu (a lighter, soy sauce broth), Gyokai shio (typically light and easy to enjoy), and spicy shoyu ramen. They also serve hot tea drinks such as furano lavender tea, refreshing drinks like sakura cola, vanilla ice cream cola, and sangria apple juice. If you have a separate stomach for desserts, don't miss out on Ichiryu's souffle pancakes that are airy and fluffy.
Also read: Great Places for Pancakes in Macau
Opening hours: Daily, 12:00pm–8:30pm 
Ichiryu Cafe 51 Rua de Pedro Coutinho, Macau, +853 2852 5263, www.facebook.com/ichiryu.cafe
This article was originally written by Bel Faustino in May 2018 and updated by Ksenia Kuzmina in November 2020.
Photo credits: Ksenia Kuzmina and others
Tags
Related Posts