Indonesian cuisine is one of the most vibrant, rich, and colorful cuisines out there, full of intense flavor that will make you ache for another bite. There is actually more to Indonesian food than mi goreng or nasi goreng (Indonesian fried noodles or fried rice) and with a little exploring, you can find some real gems in Macau. Unknown to many, we'll be introducing flavorful beef rendang to grilled chicken skewers with peanut butter sauce. Yes, PB sauce. Sounds strange? We challenge you to give it a try and we promise you will begin wondering where this sauce has been all your life along with the rest of the amazing Indonesian food that we are about to mention that you can find in Macau.
Loly Indonesian Food
(See featured image above)
If you haven't tried Javanese food, Loly offers home-cooked Banyuwangi Indonesian food, snacks, and drinks that you need to tick off your Indo foodie list. For appetizers, share a platter of sate ayam (satay chicken) with peanut dip packed with sensational flavors that leaves you asking for more. The flavorful, tender meats would have you craving more and more after each bite. If you like seafood, gulai ikan (derived from the word gulai as coconut curry and ikan as fish) is a rich, spicy and succulent curry-like sauce complemented with a mound of steamed white rice.
And if you think their sate ayam is to die for, wait until you try their ayam bakar (literally means grilled chicken) with the char and smokiness from the caramelized chicken skin, the sweet aromatic spices, the distinctive taste of sweet soy sauce. While we'd happily eat it on its own, we simply couldn't pass on enjoying it with their pandan rice and interesting sauces which makes the dish more inviting and lovely. The chicken itself was so flavorful and not too tender but with just enough texture so that with every bite it kept releasing more chicken juices while the pandan rice was rich green and very fragrant. The place gets pretty crowded during lunch and dinner time but you'll know it's a great spot when it's worth a wait for a lot of people.
Loly Indonesian Food 33 Rua da Erva, Edifício Pek Hoi Kok, Macau +853 2855 7318 www.facebook.com/indonesianfoodmacau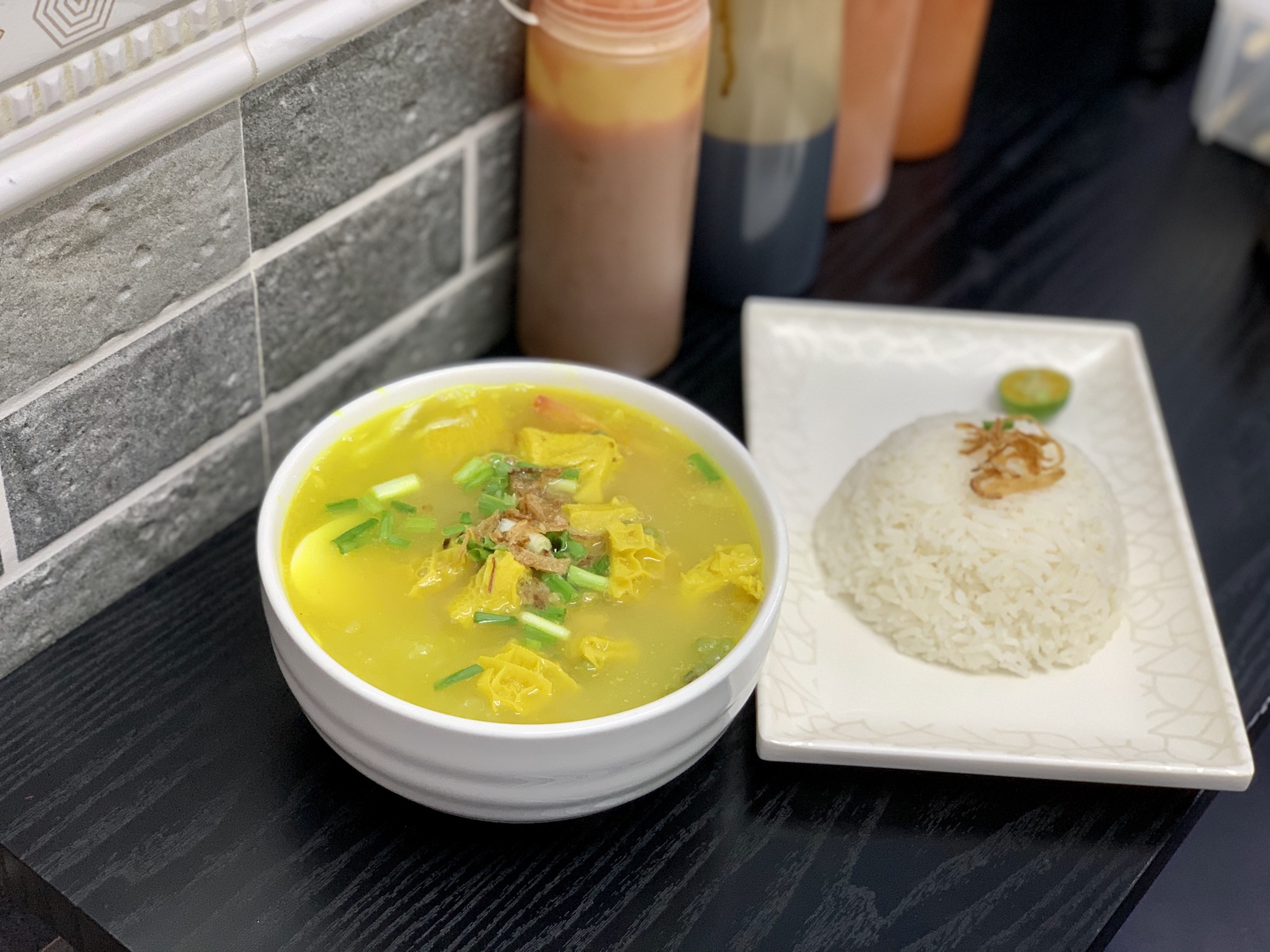 Anak Djakarta
This little restaurant has a few seats on a narrow counter and its menu isn't extensive. However, it's always packed with Indonesian nationals, which always means it serves authentic Indonesian food, right here in Macau. We tried their beef tripe curry soup with a side of steamed rice and besides fulfilling, it was also very flavorsome: a curry taste without being too strong.
Anak Djakarta also has deep-fried fish, chicken curry, and grilled chicken, amongst other traditional Indonesian dishes, mainly from the capital, Jakarta. There's also an important fact on Anak Djakarta: its kitchen is entirely halal–meaning Muslim friendly. They're the first halal-certified Indonesian restaurant in Macau!
Opening hours: Monday–Saturday, 9:00am–9:00am
Anak Djarkarta 5 Rua da Restauração, Macau, +853 6252 7563, www.facebook.com/anakdjakartacafe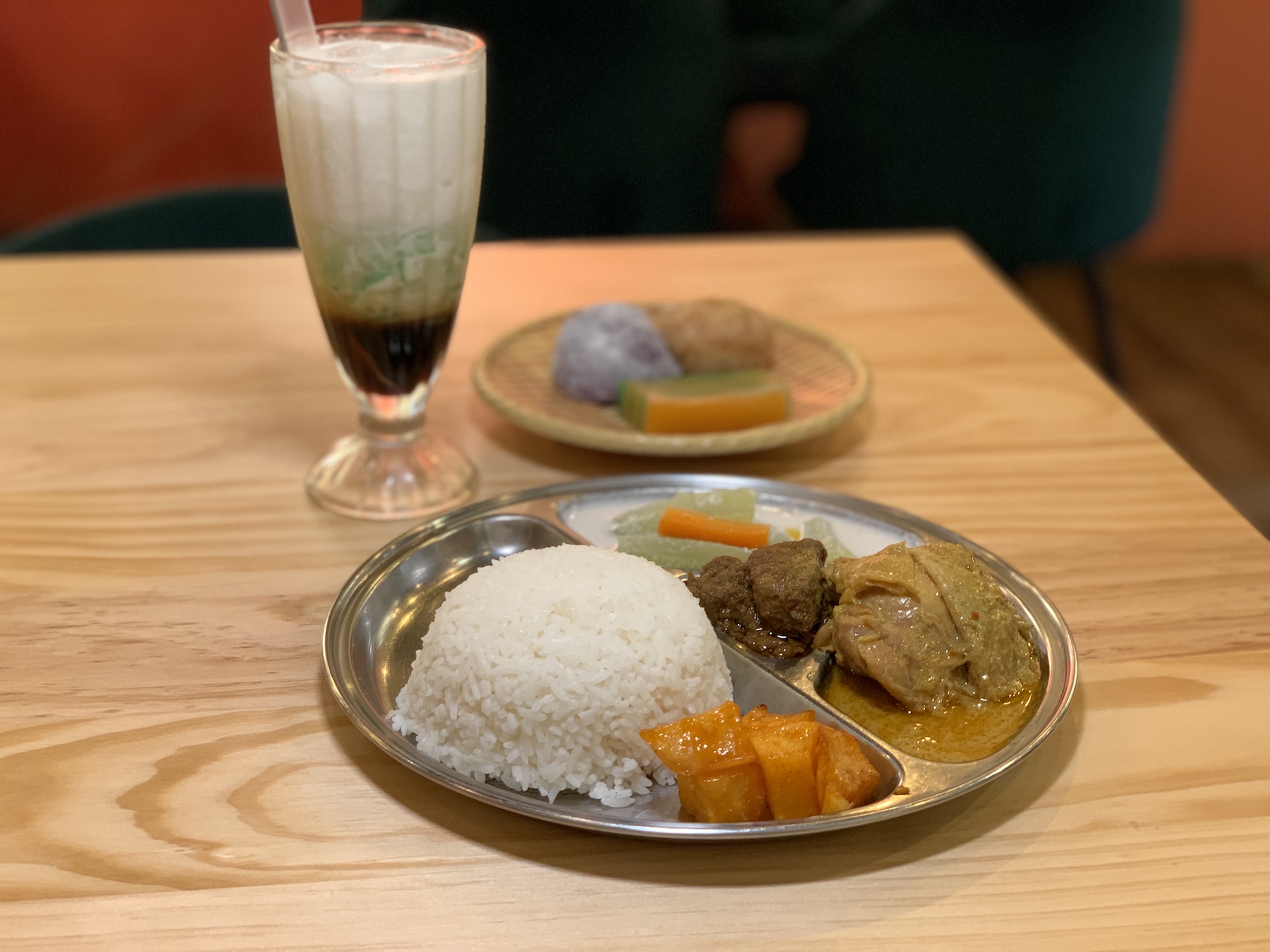 Estabelecimento de Comidas Medan
Besides lots of snack shops scattered across the city–also Taipa–there's a proper Medan restaurant where you can sit, lay back and just enjoy all the amazing Nanyang food they've been crafting since 1972. From famous curries dishes to langdong and much more, there's an array to order here. The picture above depicts their wonderful and flavorsome curry platter, with two kinds of meat–chicken and beef–on a creamy and homemade curry sauce, plus cooked vegetables on coconut milk. Some potatoes and steamed rice on the side and voilà, a perfect meal for lunchtime while experiencing different flavors. Order their typical beverage es cendol and have an assortment of small sweet snacks for dessert! Strongly based on coconut milk, taro, and rice flour, these aren't very sugary, just the right amount.
Looking for some quick Indonesian snacks? Head over into the inner areas of Red Market and find this Medan snack store with a variety of munchies to try. Our personal favorites are their lampar ayam, these delicious little parcels of lemongrass sticky rice stuffed with chicken floss wrapped in banana leaf are the best we've tried so far. On the sweet side, we recommend their mangga ketan hitam (mango and red sticky rice) where they use dark palm sugar to add the luscious sweet flavor to the rice where the sweetness is then balanced out with mango slices. We also like their bangka singkong (cassava and coconut cake), talas (taro and coconut ball), and spekkut (thousand layers of cake). There's honestly so much to choose from!
Opening hours: Daily, 12:00pm–9:00pm
Estabelecimento de Comidas Medan 40–41 Rua de Marques de Oliveira, Macau, www.facebook.com/medan.macau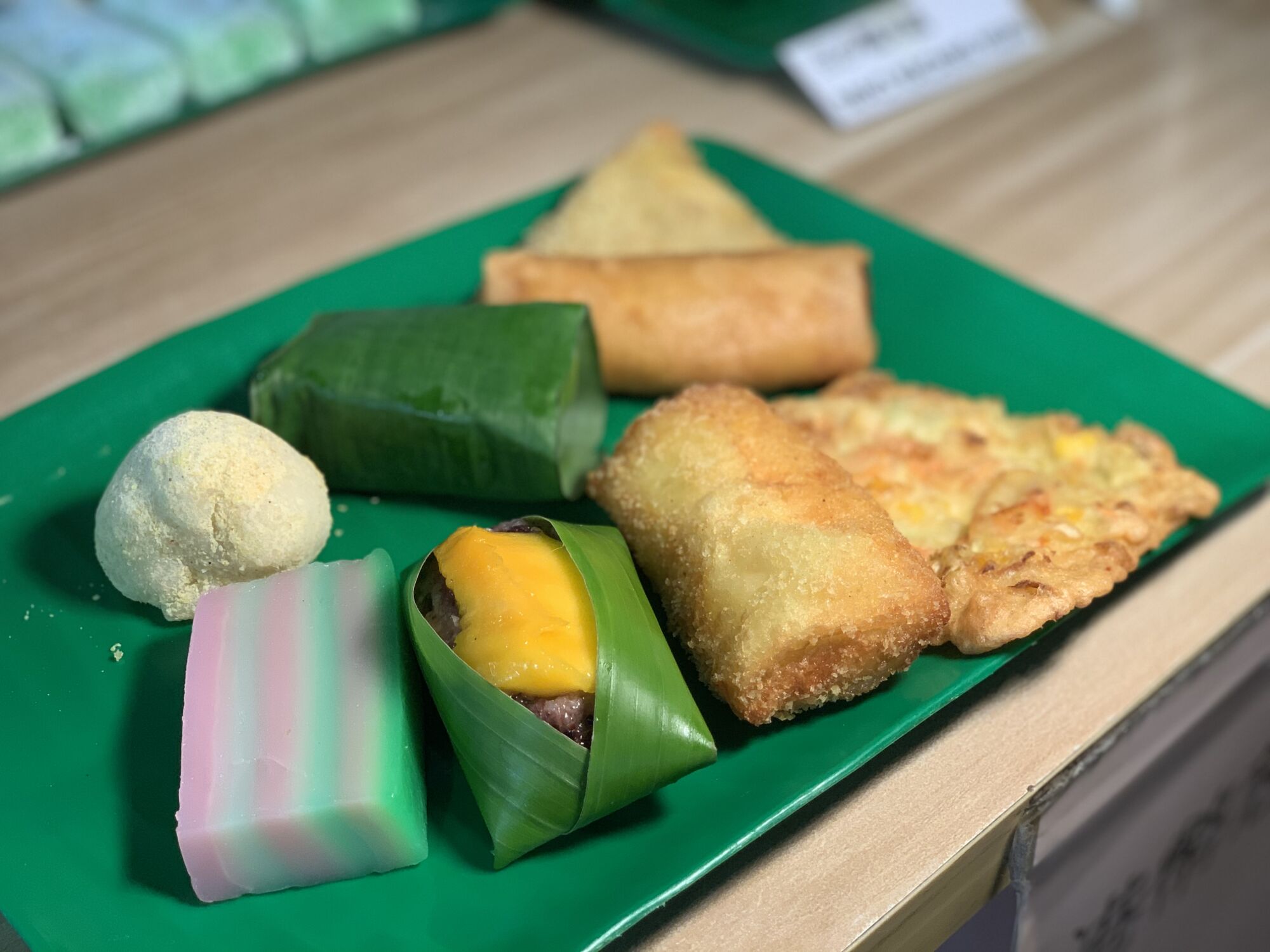 Nusantara Nam Yeong
If that wasn't enough Indonesian snacks for you, check out Nusantara Nam Yeong. Founded in 1968, they offer 50 years of Indonesian specialties and Nanyang snacks. We suggest their dadar gulung, a pandan crepe roll enveloped with grated coconut fillings infused with juicy palm sugar syrup where pandan leaf is the core ingredient of dadar and the green layer is made of a batter colored with natural pandan juice extracted from pandan leaves, hence the tempting sweet fragrance.
Another recommendation is their lapis that is the easiest to recognize and remember due to its colorful layers. This was a snack we used to eat a lot during our childhood days and we would enjoy peeling and eating it layer by layer. Just think of a layered mochi cake. They've also got mandarin and pandan cake slices, mangga or pisang (mango or banana) cake, different types of lapis, and more.
Opening hours: Daily, 12:00pm–8:00pm
Nusantara Nam Yeong 86 Rua do Almirante Costa Cabral, +853 2830 3916
Naughty Nuri's
Stroll around the old downtown of Macau situated on Rua de Felicidade–also known as Happiness Street–visit this pork-centric restaurant and discover why their ribs are a must-try on your foodie bucket list. Naughty Nuri's started its humble beginning in Ubud, Bali. Established in 1995, got its name from the owner, Isnuri Suryatmi (best known as Nuri) and her husband, Brian Aldinger.
They started by selling some grilled food on their roadside warung when their pork ribs stood out and became a great hit ever since. We're not quite sure what the "naughty" stands for but we assure that its menu will make your taste buds go crazy. From their zingy pink grapefruit chicken salad, flavorful beef rendang to their Naughty Nuri's ribs, this is a must-go spot not only if you like Indonesian specialties, but meat as well.
Opening hours: Friday–Wednesday, 12:30pm–10:30pm
Naughty Nuri's 7 Rua da Felicidade, +853 2853 0425, www.facebook.com/Naughty-Nuris
Also read: Naughty Nuri's: Balinese Food and Must Try Ribs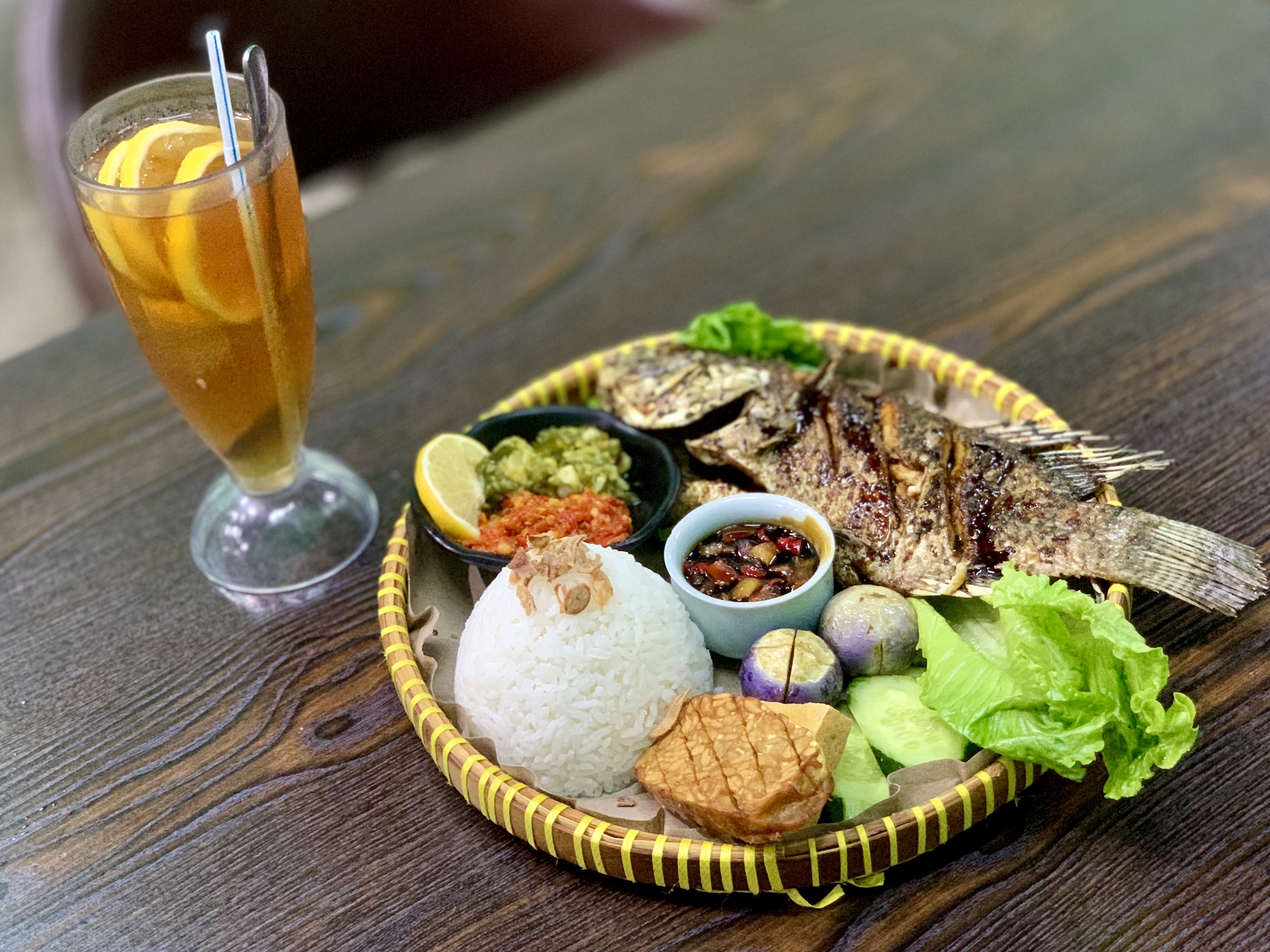 Sambal Jawa Indonesia
Such a nice place! Located close to Rua do Amparo and Rua dos Ervanários, this Indonesian restaurant is Muslim-friendly–only halal food–and serves dozens of typical dishes. We decided to go for the deep-fried fish with steamed rice: it came with much more than that. A peanut fried snack (super crispy), tofu, and vegetables, plus wonderful homemade sauces with chili on the side. We missed a good and freshly cooked fish for a change! However, this isn't the only thing you can have at Sambal Jawa. The signature chicken skewers are not only very popular but also super Instagrammable and flavorsome. With a sweet touch on the outside, the chicken is cooked till it's crispy but never burnt.
There are no pork dishes, but there is plenty of chicken, beef, and fish ones to choose from. Almost everything goes with rice but also some veggies on the side. What to drink? Well, from a traditional lemon ice tea to fruit juices or the very Indonesian es cendol–a mix of coconut milk with jelly bits and coffee–the list is also wide.
Opening hours: Daily, 11:00am–10:30pm
Sambal Jawa Indonesia 9A Rua de Tercena, Macau, +853 2870 3133, www.facebook.com/Restouran-SambaL-Jawa
This article was originally written by Bel Faustino in June 2018 and updated by Leonor Sá Machado in September 2020.
Tags
Related Posts