Founded in 2015 by Meng Wong, Chakra Space used to be located near A-Ma Temple, in Calçada da Barra. However, as the clientele grew so did the need to find a bigger space. Nowadays it is nestled at the heart of the bustling city, in Travessa dos Santos, an alley accessible through Rua do Campo. 
This two-story mostly vegetarian restaurant has a speakeasy vibe and the concept behind it goes beyond that of serving healthy food and drinks. Chakra Space stands as a haven where diners are invited to be fully present and embrace slow-living. In case the slow-living movement does not resonate with you, do not hold back from visiting this eatery. In the end, Chakra Space really is just about finding balance and the pursuit of a meaningful life, whatever that is for you, no fundamentalisms attached. In fact, you might have noticed we avoided the terms vegetarian or vegan. This is because the menu features a spaghetti alla putanesca with anchovies.
Chakra's Brief History
The founder's background is a far cry from being a restaurateur. Meng studied fashion design in Taiwan. While living on the western Pacific island, he felt the need to learn about vegetarian cuisine. "Taiwan is teeming with eateries and stalls, but I got tired of the food because it was a bit heavy for my taste", he explained. What started out as an autodidacticism endeavor resorting to Youtube tutorials and long hours of web surfing would end up setting his path. Back in Macau, Meng decided to establish Chakra Space as he reckoned there was room and demand for a restaurant focused on healthy eating and conscious living in the city. Back then, the operation was a one-man show with him cooking each dish coming out of the kitchen and handling nearly all business-related tasks. Nowadays, a team of cooks from India and the Philippines is in command of the kitchen. 
Chakra Space joined forces with two other Macau-born brands to present the community with wholesome food, artisan bread, and freshly brewed coffee. Café Philo (well-known coffee specialists within the booming coffee scene in town) and Cebolinha Workshop (artisan bread makers) offer their goods at number 12 Travessa dos Santos too. This creation of synergies between local brands is very interesting, offering customers a chance to support three local brands with their dollars in one sitting.
The Space
On the upper floor, there are two communal tables and two counters, one of which faces the wide windows overlooking the quiet alley within St. Lazarus District. The interiors have been designed to feel in sync with the tranquil energy flowing at Chakra. A clean and clutter-free design sets the mood, giving away little space other than the essential. White walls, two shelves filled with books, thriving plants, and Buddhist motifs make the room. Along the staircase, a warm-colored fabric wall hanging depicting a meditating figure and the seven chakras catches our eye. On the ground floor, there are few counter seats available. However, there is a small seating area outside for those who prefer to dine alfresco or to enjoy their post-meal cup of coffee over there.
We visited Chakra Space for a midweek lunch and found its top floor packed with lively patrons chatting whilst enjoying their lunch breaks. Most of its clientele is made of locals who are curious about trying out vegetarian meals in Macau, looking to bring in more vegetarian food into their diet, or people following a vegetarian diet.
The Menu 
With a selection of roughly ten dishes ranging from vegan, vegetarian, or fish, Chakra Space's menu isn't extensive. Lunch set menus priced at MOP $68 include one main of choice, such as vegan curry, coconut eggplant curry, Indian veggie curry roll, paninis (coming in plain or herbs), pasta, noodles (including white miso ramen), and the highly popular 4 and 5 deli sets with grain rice. These sets make for a complete meal featuring different flavors and textures. Currently, the 5 deli with grain rice is composed of a vegan patty made with lotus root and oyster mushroom, fried white and purple Chinese yam with spinach, pickled radish, and carrots with uzi sauce, Indian pancake with curry sauce, and vegetable egg pie.  For an extra MOP $10, diners get to choose one added item between genmai tea (Japanese brown rice green tea), long black coffee, or soup of the day. Since seasonality is key when crafting wholesome, healthy food note on the bottom of the menu states that these sets may be changed according to what is in season. This applies to desserts too. Patrons are advised to ask about desserts available on the day. One of their most popular desserts is a non-vegan crème brûlée but there are some other tempting options on rotation too, like banana roll cake with dark chocolate nibs, matcha roll cake with red bean curd, and Japanese mochi and chiffon cake.
The beverages list features a selection of coffee and coffee-based drinks such as espresso, long black coffee, and cappuccino. For an extra MOP $3, any coffee-based drink can be brewed up with oat milk. French rose tea, lemonade, matcha latte, and the much-loved kombucha all make for a wonderful pairing to the dishes on the menu.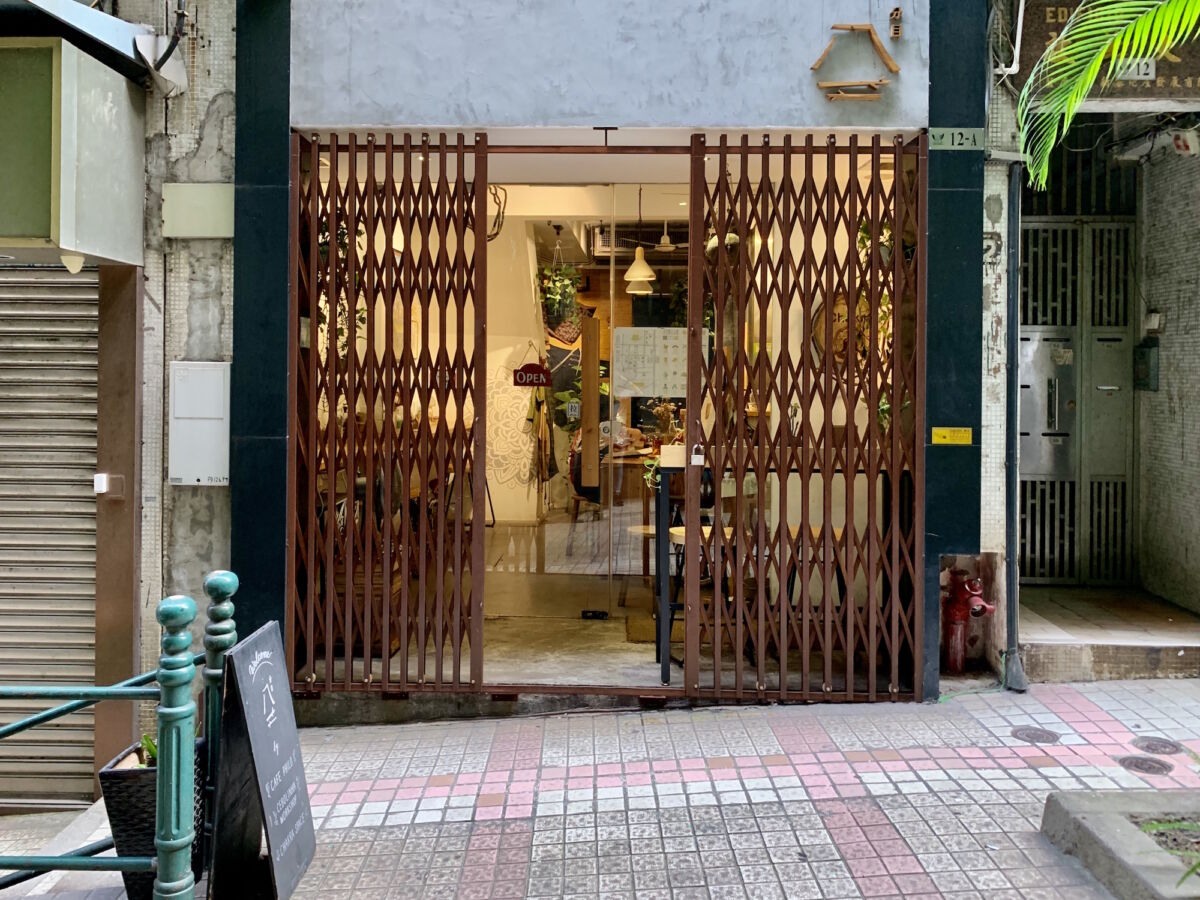 If you visit Chakra Space for dinner, don't expect to get a hold of the whole lunch menu at your disposal. As Meng explained to us, the dinner experience is meant to be custom-made according to the diner's preferences and the best ingredients available. He advises guests to call in advance, let him know about the occasion, what kind of food they'd like to have, which ingredients they'd like to see included, and, of course, about any dietary restrictions. Once Chakra's team has that information on their side, they'll create a tailored menu to feed and delight the party. The menu can be based on Chinese, Thai, or Western cuisine and for MOP $188 per person it may include appetizers, mains, dessert and tea to be shared among guests. To some extent, the experience kind of resembles that of a private kitchen.
Also read: Best Vegetarian & Vegan Places in Macau
This was originally written by Annie Anastasia in July 2016 and updated by Sara Santos Silva in April 2021.
---
Chakra Space 12 Travessa dos Santos, Macau +853 6536 9780, www.facebook.com/octaspace1
Tags
Related Posts