From neighbourhood "char chaan teng"s that are still popular to this day, to modern coffee shops popping up all over Macau, there's no denying that coffee brings people together. The world loves coffee and Macau is no different! Here are the best spots in the city to get caffeinated and also catch up with your buddies. We've separated these by areas, so you don't need to worry about being in Macau side and meeting your friend on the island.
-TAIPA SIDE-
Quarter Square
(See featured image above)
A trendy and artsy coffee shop/showroom in Taipa Village, Quarter Square is a place for like-minded people to rest and savor the moments. Visitors are usually greeted by their "PR director"–Copper the Frenchie–the owner's four-legged friend and inspiration to one of their coffee drinks, the Copperccino, that's slightly sweetened and extra foamy.
Their house blend is made with beans from Ethiopia, Panama, Nicaragua, and Brazil. Espresso brewed with this blend is the one to come back for. Besides their coffee and Copper, Quarter Square is famous for the friendly people working there. The staff are always happy to explain the difference between various coffee beans they serve and help you to choose yours. While you sip your Copperccino, take a look around as they often have interesting merchandise by various designers, as well as cool art on the walls.
Opening hours: Monday–Saturday, 11:00am–7:30pm; Sunday, 12:00pm–7:30pm
Quarter Square 89 Largo Maia de Magalhães, Taipa Village, +853 2857 6914 / +853 6290 5138, www.facebook.com/quartersquare, www.instagram.com/quartersquare

Lamgo Coffee & Roasting
A small coffee corner in the same Taipa Village square as Quarter Square, Lamgo Coffee doesn't have much to offer except for outstanding siphon and espresso coffee. Siphon coffee dates back to 1800s and some people describe it as the most theatrical. When this method was invented, coffee aficionados believed that boiling kills the taste, so they started experimenting with pressure, temperature and glass bowls. As a result, a vacuum coffee maker was born and it is still used today.
There is no sitting area inside, but with the cozy and quiet Largo Maia de Magalhaes right outside it's not a deal breaker. The walls of the small coffee shop are covered with various certificates of coffee craft proving the exceptional skills of Lamgo baristas. Not that you would need that extra proof after tasting their coffee. Lamgo's house blend is Arabica with a hint of acidity, a bit sweet and bitter. Exiting the coffee shop, check out the gigantic mesmerizing vacuum coffee makers, a true museum-worthy exhibit.
Opening hours: daily, 12:00pm–5:00pm
Lamgo Coffee & Roasting Largo Maia de Magalhães, Taipa, www.instagram.com/lamgocoffeeandroasting

Common Table
Many locals know Common Table as a nice spot to get together with friends for a laid-back breakfast or lunch. However, this Taipa cafe happens to serve some of the best coffee in the city, mainly thanks to the talented and precise barista Vida. The blend of Brazilian, Colombian and Yunnan beans creates a balanced, rich-flavored coffee. Try their Project 19 coffee latte, a perfectly balanced Ethiopian blend with a double espresso and 55-degree steamed milk. There might not be a large selection of coffee beans here, but if you are looking for a nice place to eat and a decent cup of coffee, consider Common Table.
Opening hours: Tuesday–Sunday, 8:00am–12:00am; closed on Mondays
Common Table Shop A, Nova City, Avenida de Guimarães, Taipa, +853 2885 6601, www.facebook.com/commontablemacau, www.instagram.com/commontable.mo
-MACAU SIDE-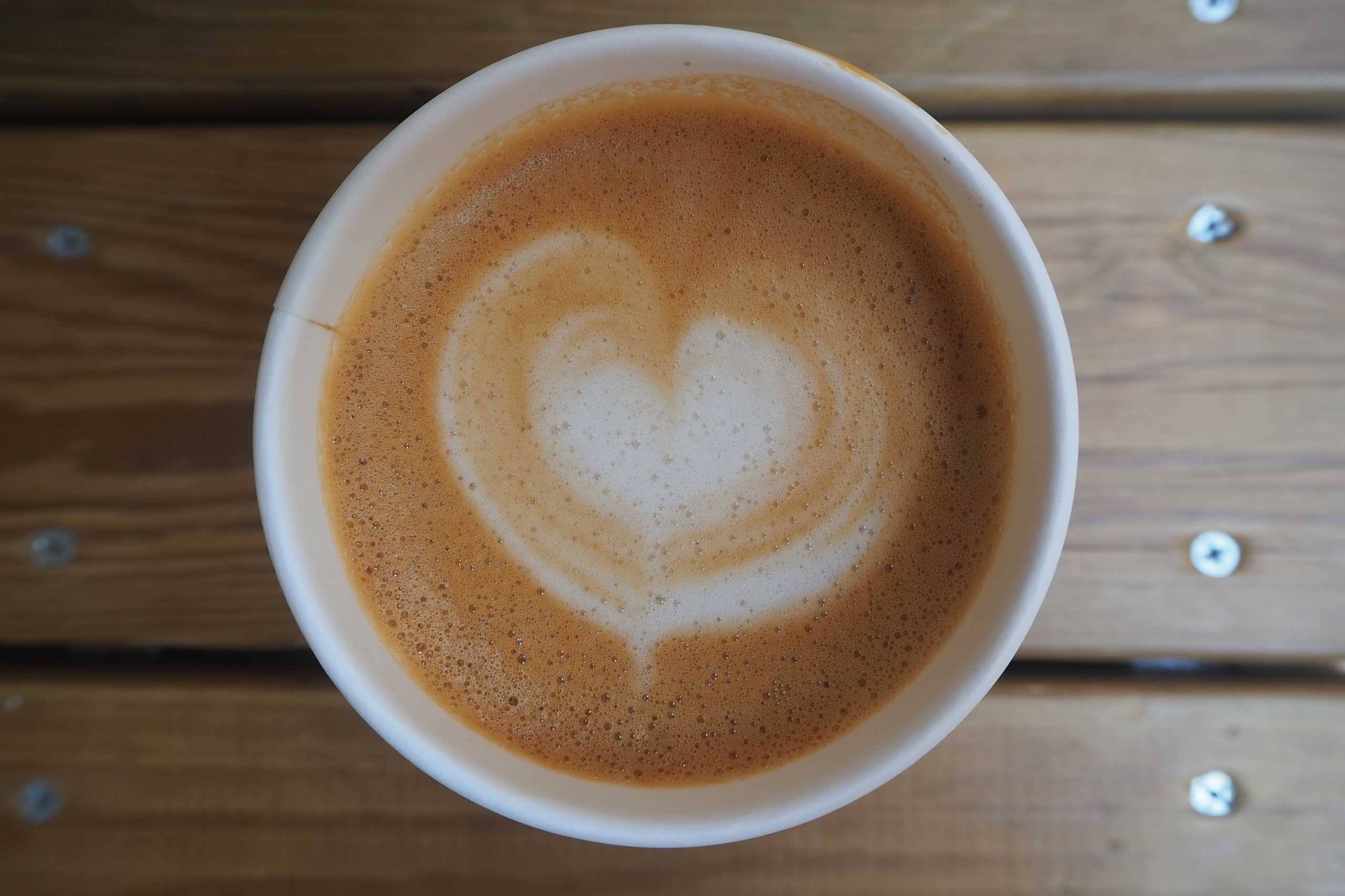 Pace
Tucked in one of Macau's oldest and (now) trendiest alleys, Pace's menu includes different coffee beverages, tea and homemade fresh cookies. This is an ideal spot to chill at if you are looking to get away from the city's chaos while remaining in its center. Pace's coffee comes from local brand of roasters, Blooom, and it's a combination of Ethiopian, Brazilian and Indian beans. An important element here is their oat milk option–an increasing trend of combining oat, rice, soy or almond milk with your favourite coffee beverage. Non-dairy options can be quite difficult to find in Macau but Pace has it! Prices range between MOP $25 (for a short black) to MOP $48 (for an iced mocha).
Opening hours: Daily, 11:00pm–7:00pm
Pace 49 Rua dos Ervanários, Macau, +853 6238 0391, www.instagram.com/pace_macau
Comma Coffee
Looks picture perfect, right? Well, that's because it kind of is. At Comma Coffee, staff greets you happily every time, you can choose between hot and iced coffee, there is always a seat during the afternoon and soy milk for all our lactose intolerant friends. This is a great place to go if you are looking for peaceful moments with only you, your coffee and perhaps your loved ones or just a book. Besides coffee, they also serve beverages such as tea and food, including set lunch and other dishes during the day! Single espresso, creamy black, cappuccino or mocha latte are just some of the choices their menu offers. Prices range between MOP $25 and MOP $50.
Opening hours: 11:00am–7:00pm, closed on Sundays
Comma Coffee 14A Rua da Sé, Wing Kei Building (block I), Macau, www.facebook.com/commamacau, www.instagram.com/comma_macau

Single Origin
A tiny two-story artisan coffee shop, Single Origin is a paradise for coffee snobs. The selection of beans (that you can also take home) is quite extensive and includes coffee from Africa and South America. Ask the barista to guide you through the flavors and tones to choose your perfect beans. Ask about the Roaster Series, a collaboration project with different coffee shops around the world. Every chapter of the series brings a new original blend.
Single Origin's specialty is pour over coffee. Although similar to drip coffee, pour over technique makes your drink taste even richer. This is achieved by controlling temperature stability and pouring consistency. Basically, the quality of pour-over coffee is directly proportional to barista skills. Luckily, Single Origin's baristas have nailed that technique. The house blend that they use is Brazilian and Guatemalan beans. The brewing takes some time, but hey, this is not a fast coffee chain. These guys know an aromatic masterpiece needs time and precision.
Opening hours: daily, 12:00pm–8:00pm
Single Origin GF 19 Rua de Abreu Nunes, Macau +853 6698 7475, www.facebook.com/singleorigincoffee, www.instagram.com/singleoriginmacau
Terra
One of the greatest features of Terra is its location. Surrounded by UNESCO heritage sites, this coffee shop makes for a nice pit stop. The house blend is a mix of Indonesian, Brazilian and Colombian beans. What a combination! The blend roast is somewhere between medium and strong. If you need some extra energy, ask the barista to make your coffee stronger for an extra MOP $15. For latte lovers, they have a big selection, including Baileys latte. As for milk options, they offer regular, almond and soy. Looking for something refreshing? Give Terra's fake lager a try too! It's an unusual, but interesting mix of espresso and tonic water.
Opening hours: Monday–Thursday, 12:00pm–8:00pm; Friday–Saturday, 10:00am–9:30pm
Terra Largo de Santo Agostinho, Macau, +853 2893 7943, www.facebook.com/terracoffee
Rethink Coffee Roasters
Rethink is all over the city and features several options for those who don't drink milk. Their hazelnut latte (with oat milk) is delicious and best served cold. Its NAPE shop has both takeaway and dine-in alternatives, so take your time choosing from their wide selection of beverages which includes tea and other non-coffee drinks. Afterwards, all you have to do is sit down and watch people go by. If you are in a rush, don't worry– the staff are happy to make it quick and tasty!
Opening hours: daily, 9:30am–10:00pm
Broadway Food Street, A-G022, Broadway Macau, Avenida Marginal Flor de Lotus, Cotai, +853 6881 1319
Opening hours: daily, 8:00am–7:00pm
Rethink Coffee Roasters Shop H, GF, Tsui Fung Building, Tai Fung Plaza, 76 Rua de Berlim, Alameda Doutor Carlos d'Assumpção, Macau, +853 6356 3838, www.instagram.com/rethinkcoffeeroasters
BLACK by Single Origin
BLACK by Single Origin is one of the best places that serve coffee not only in NAPE, but possibly in the whole of Macau. This hipster coffee corner attracts people with their laid back, minimalist exterior as well as the lingering aroma of their freshly brewed coffee. In partnership with Single Origin, all of their coffee beans are produced by Blooom Coffee. They offer choices of black or milk coffee from the menu, including oat milk. You should order their salted caramel latte at least once! The salty aftertaste, paired with the sweetness and bitterness of the coffee, is something you'll not experience with other drinks. In the summer, their nitro coffee with seasonal flavor choices is a must-try! Among their food options, we like their avocado toast; perfect for a quick, light breakfast. Check their Facebook page for updates.
Opening hours: Monday–Friday, 8:00am–5:00pm
14 Travessa do Comandante Mata e Oliveira, R/C, Macau, +853 6264 3365
Opening hours: Monday–Friday, 8:00am–5:00pm
503 Rua de Coimbra, R/C U, Taipa, +853 6231 2508
Opening hours: Thursday–Tuesday, 11:00am–7:30pm
79 Rua de Sao João, R/C A, Taipa, +853 632 59471
Opening hours: Monday–Saturday, 8:00am–5:00pm
BLACK by Single Origin 316 Avenida do Gov. Jaime Silvério Marques, Macau, +853 6202 7524
Communal Table
Sister branch of Single Origin and Blooom Coffee House, and hidden away from one of the busiest areas in Macau, Rua do Campo, Communal Table is a specialty coffee house with a simple industrial design that creates a cozy space. Communal Table serves local roasted specialty coffee, from pour over coffee to espresso and from single origin to blended. The concept is simple: a table large enough to share your thoughts, ideas, happiness, coffee and food with friends and strangers. Along with their Western-style sandwiches that make for a good quick lunch, they also serve a wide selection of coffee and great chiffon cakes. We like their Earl Grey cake and Uji matcha cake with a hot cup of coffee. Aside from coffee, they also serve tasty meals, including fresh salads. Breakfast is available until 10:30am. Coffee beverages range from MOP $25 to MOP $55.
Opening hours: Monday–Friday: 7:45am–6:00pm, Saturday and Sunday: 10:00am·7:00pm
Communal Table 29-31 R. Formosa, Edificio Yan Hou, +853 6677 9985, www.facebook.com/communaltablecoffee, www.instagram.com/communaltablemacau
Wonderwall Coffee
Serving up good coffee drinks in a relaxed setting, this wine bar/coffeehouse is situated in one of the most beautiful spots in Macau, between St. Lazarus District and Tap Seac Square. A nice place to enjoy a glass of wine or chill with a bottle of beer at night. Pop in for a slice of their New York-style cheesecake and a cappuccino, then stay the entire day with a good book or good friends. We've tried their hazelnut latte (with soy milk), but variety is key in here. From single espresso, to long blacks or different lattes, they have a long list. They generally pour in regular milk when it comes to mixed drinks, but other options are available. Prices ranges between MOP $20 and MOP $60 for coffee-related items. Check their Facebook and Instagram account for updates!
Opening hours: Daily, 11:00am–9:00pm
Wonderwall Coffee Rua do Volong, No 54A, Edf. Nga Loi, R/C, +853 6555 3650, www.wonderwallcoffee.com, www.instagram.com/wonderwallcoffee
Café Philo
Café Philo is tucked away close to St. Lazarus district and they have now opened a second location, in the Tap Seac area. Boasting a modern, clean and minimalist decor, it is a wonderful place to chill, study or just listen to music with headphones on without the worry of being bothered. Besides coffee selections such as mocha (you such really try it), latte, espresso and many others, there are also some non-coffee beverages, such as red cappuccino and different teas. Unwind here away from the chaos of the city.
Opening hours: Monday–Thursday, 11:00am–8:00pm; Friday, 11:00am–1:00am; Saturday, 10:30am–1:00am; Sunday, 10:30am–8:00pm
Café Philo 17B Rua dos Artilheiros, Macau
9 Rua Filipe O'Costa, Macau, +853 6531 6705, www.facebook.com/CafePhilo, www.instagram.com/cafe_philo
This article was written by the Macau Lifestyle team.
Tags
Related Posts