"Cha chaan teng" means tea house and it's a local culinary tradition in Southern China. For some locals in Macau, it is a place to begin the day and enjoy morning coffee and egg sandwiches, with a newspaper in hand. For others, it offers a quick and affordable meal during lunch and dinner breaks. Cha chaan teng is a concept special to this region because of its unique multicultural menu–both for food and drinks. It a traditional that's become part of Macau, places where you'll be able to witness local lives. Since Macau has been influenced by the Portuguese culture, there are still traces that can be found within its cuisine and even the menus of some of these restaurants.
If this is the first time you're walking into a "Cha chaan teng", don't be shocked to hear lots of people yelling across the room. This is usually the case during busy hours as the waiters communicate your order to the kitchen. Pick a seat, grab a menu from the table, and start from there.
First things first, drinks
Besides the usual coffee and milk tea options, there are also some drinks that can only be found in places like these. If it is a hot day out there and you are craving for something icy to cool you down, the red bean ice is a top choice! It is a traditional sweet drink made with red bean, sugar syrup, evaporated milk, and crushed ice. In some places, coconut milk is added to give it an exotic touch and flavor.
If you cannot decide whether you want to try coffee or milk tea, go for the mixed drink–coffee with tea. This is a very popular drink ordered by the locals with both milk coffee and tea in one cup! It also has an interesting Chinese name which translates to the mandarin duck "yuen yeung". These kinds of ducks always appear in pairs and symbolize the harmony of two species, just like coffee and tea does! This is one of our favorite local drinks because besides having both coffee and tea in it, it's also very characteristic of this part of the world.
Give these a try if you are feeling adventurous! However, if you prefer something safe, a good old "iced Coke with lemon" will always keep you refreshed for the rest of your day while you explore the city's hidden gems.
Also read: Must-Try Macau Drinks: From Milk Tea to Ginger Coke
Much more than bread
If you've been to cha chaan tengs before, you know bread is the basic and most sought-after ingredient at these places: sandwiches–of almost anything, really–and toasts are a must and usually what you'll see people eating. However, there's a whole universe of food outside this category. Noodles are also a winner, with macaroni dishes as top choices, but also egg or rice noodles on soup or stir-fried. Why not have some macaroni soup with preserved meat? Besides tasteful, it's also fulfilling.
We also love other dishes such as stir-fried minced meat–choice of pork or beef–with vegetables and steamed rice, or even instant noodles soup with a fried egg and preserved meat, ideal for winter.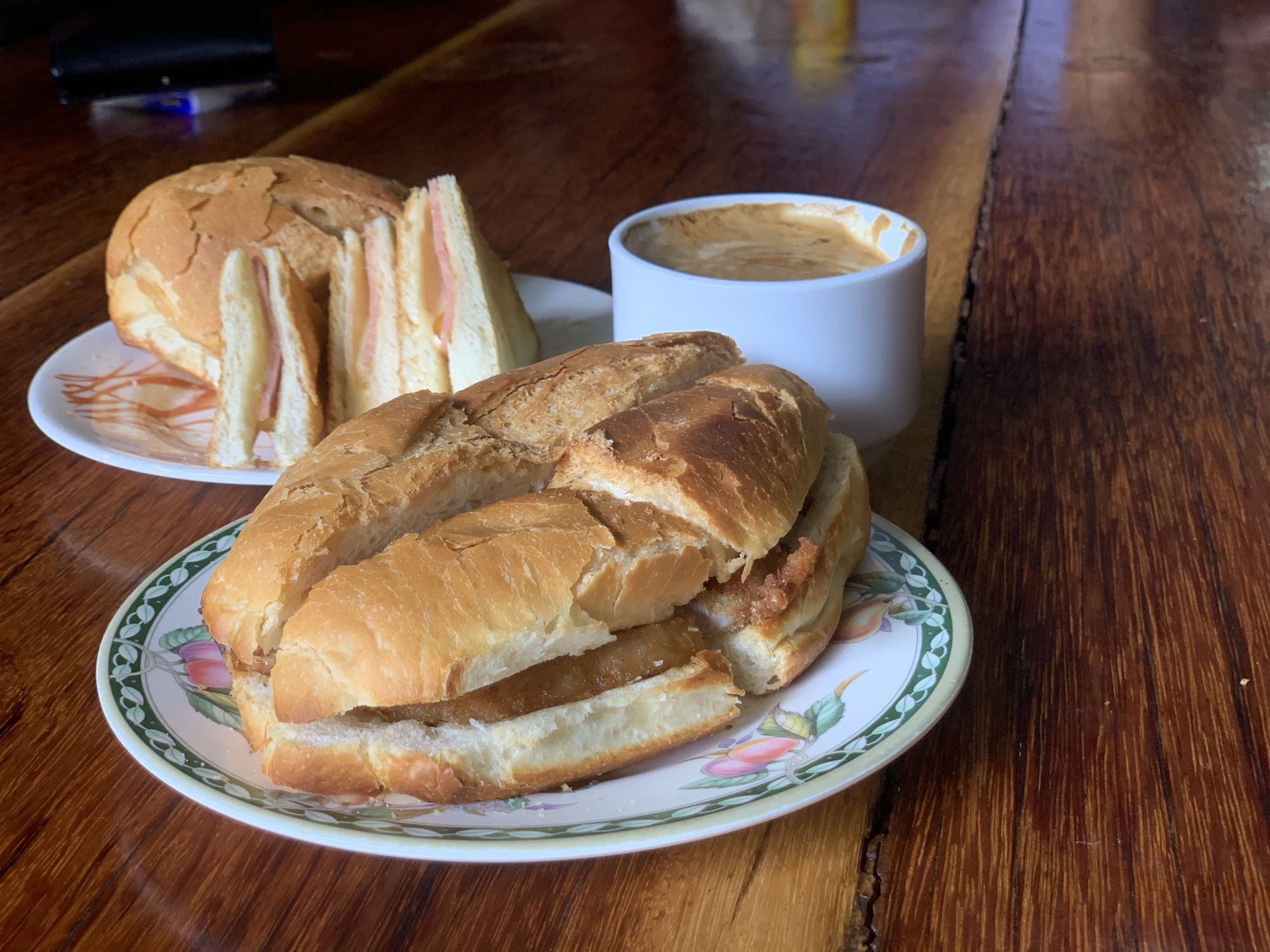 To begin your cha chaan teng journey in Macau, check out the oldest existing one–Nam Ping, 10 minutes away from Senado Square, tucked away on what used to be one of the busiest streets in town. This joint is always full of busy people in for a quick coffee and a sandwich, a good meal during lunchtime, or even catching up with friends over a hot, freshly poured milk tea. When there, we love ordering their scrambled eggs and bbq pork meat–a sandwich with a side of milk tea or iced lemon tea, but anything with char siu will satisfy our cravings, really.
However, if you are around Coloane, Hon Kee Cafe is definitely the place to go for its handcrafted coffee, authentic menu, and beautiful setting in nature. There are many cha chaan tengs around Macau and the menus may vary. Some of them even offer special drinks made of secret home recipes. If you are lucky enough to have found these spots, do give them a try and let us know which are your favorites things so far!
Also read: Hon Kee Café: A Taste of True Coffee in Coloane
Also read: Best Local Breakfast Spots in Macau
---
Opening hours: Daily from 6:30am–6:30pm
Nam Ping G/F, 85-85A Rua de Cinco de Outubro, Avenida de Almeida Ribeiro, +853 2892 2267
Opening hours: 7:00pm to 6:00pm, closed on Wednesdays
Hon Kee Cafe Merendas de Lai Chi Vun Park, Coloane, +853 2888 2310
Tags
Related Posts