As a designated UNESCO Creative City of Gastronomy, Macau has so much good food to try. One area our city excels in is desserts and snacks! Local dessert houses are deliciously fulfilling and better yet, very affordable. We have put together our list of the unmissable local Macau desserts especially for those with a sweet tooth to try while round and about Macau. In addition, many of these street desserts come with a special ingredient called "history" and  "heritage" which has molded them over time. When you take a bite you not only experience sweetness but also the rich culture of our city. Here are five local desserts to sink your sweet tooth into!
Cocos Hung Heng
(See featured image above)
This one's a hard one to track down, but once you find it you'll be back for sure. Cocos Hung Heng is overflowing with history and has been operating since 1869 where its traditions and menu are passed down through generations.
The item that sells out the most is their homemade coconut ice cream, made from coconut water, milk, and some coconut flesh. This dessert is completely sugar-free with no preservatives as well, so it's pretty diet-friendly!
Cocos Hung Heng 14 R. da Tercena, Avenida de Almeida Ribeiro, +853 2892 094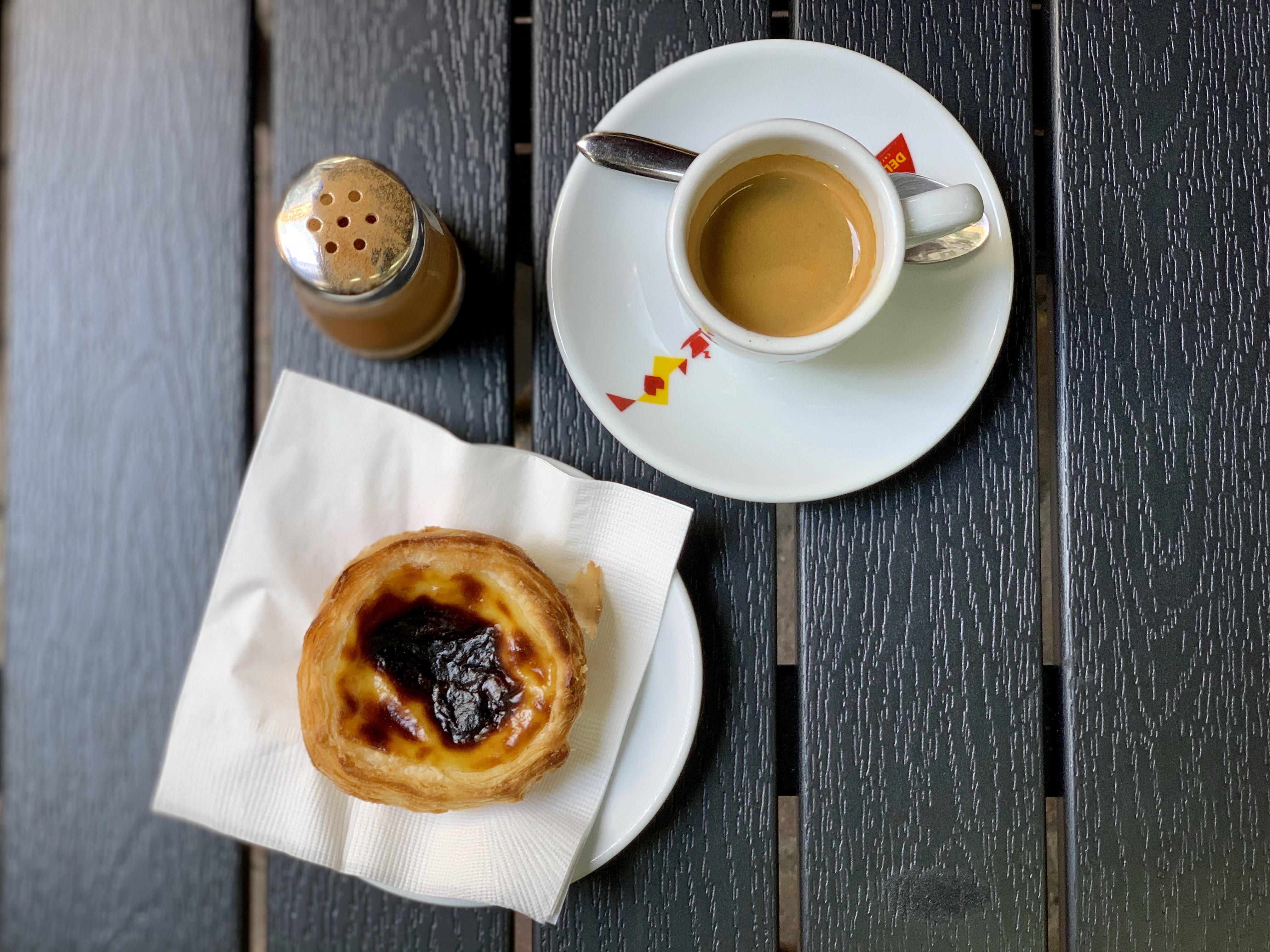 Egg Tarts
This Macau snack or dessert is so iconic that we reckon it should be on the national flag, or at least on a commemorative stamp! There are not many pairings better than the delectable crispy crust and the creamy custard filling–they definitely satiate a craving at any time of the day.
We recommend Lord Stow's Portuguese egg tarts, but take note as you may have to wait in a long queue but it will be worth it. If you don't want to wait, most local bakeries have their own version which tastes just as great!
Lord Stow's Bakery 1 Rua do Tassara, Coloane Village, +853 2888 2534, www.lordstow.com
Also read: Where to Find the Best Portuguese Egg Tarts in Macau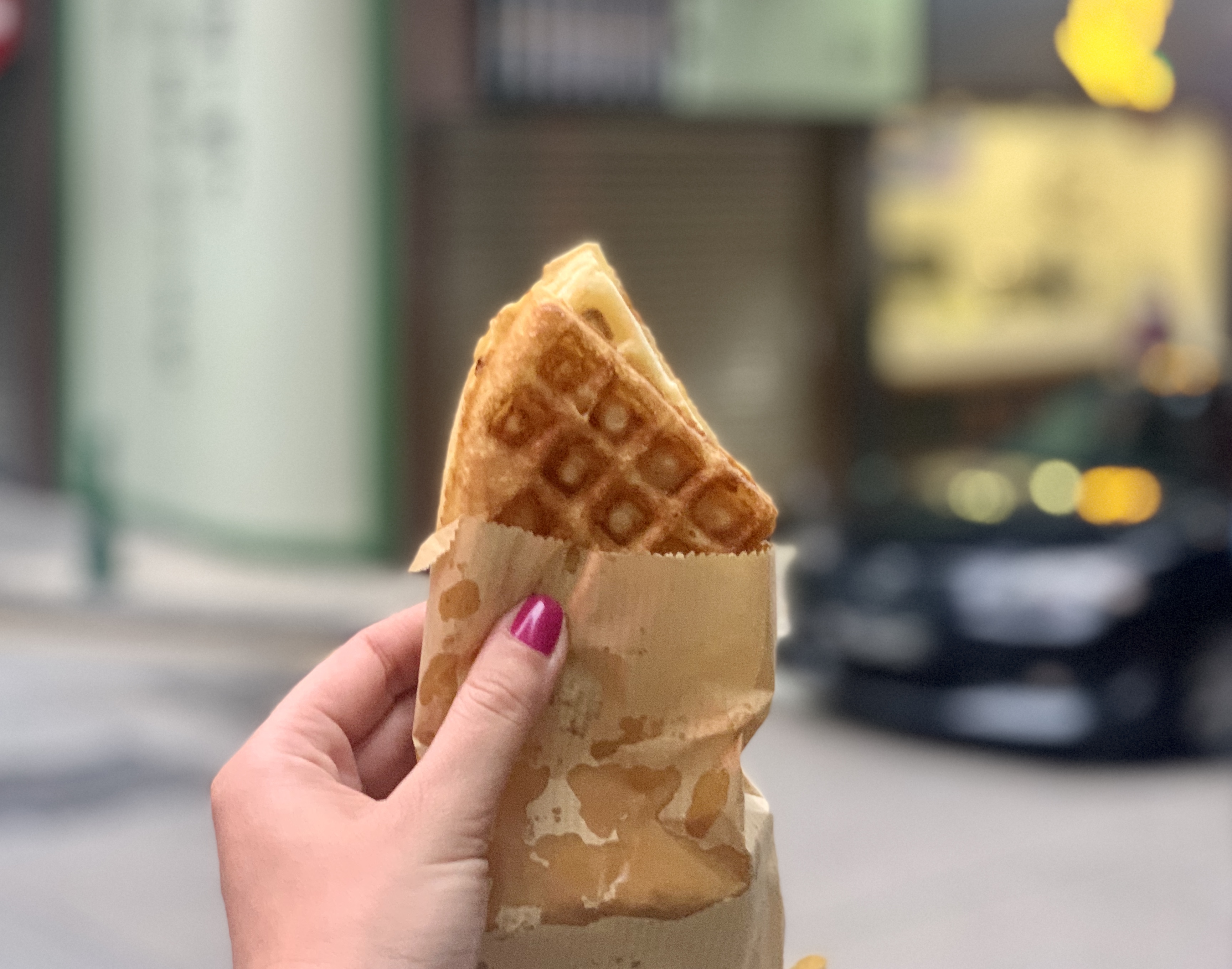 Waffles or Bubble Waffles
This is another classic and nostalgic dessert or snack to grab while on the go in Macau. You can smell them as you walk around the streets of Macau–the milky sweet aroma tempting you to buy one. While the classic ball-shaped ones (also known as egg puffs, bubble waffles, eggettes or in Cantonese, gai daan jai) are the cutest, waffles are the classic choice.
With waffles, you can have it with generous servings of peanut butter, drizzled with condensed milk too! Find these all over Macau, such as on the way to Senado Square at Hing Yi Waffle Stall, one of the oldest stalls serving them in Macau, or look for them up the path to St. Dominic's Church. Simply follow your nose!
Hing Yi Waffle Stall Pátio das Flores Alley
Also read: Best Waffle Spots in Macau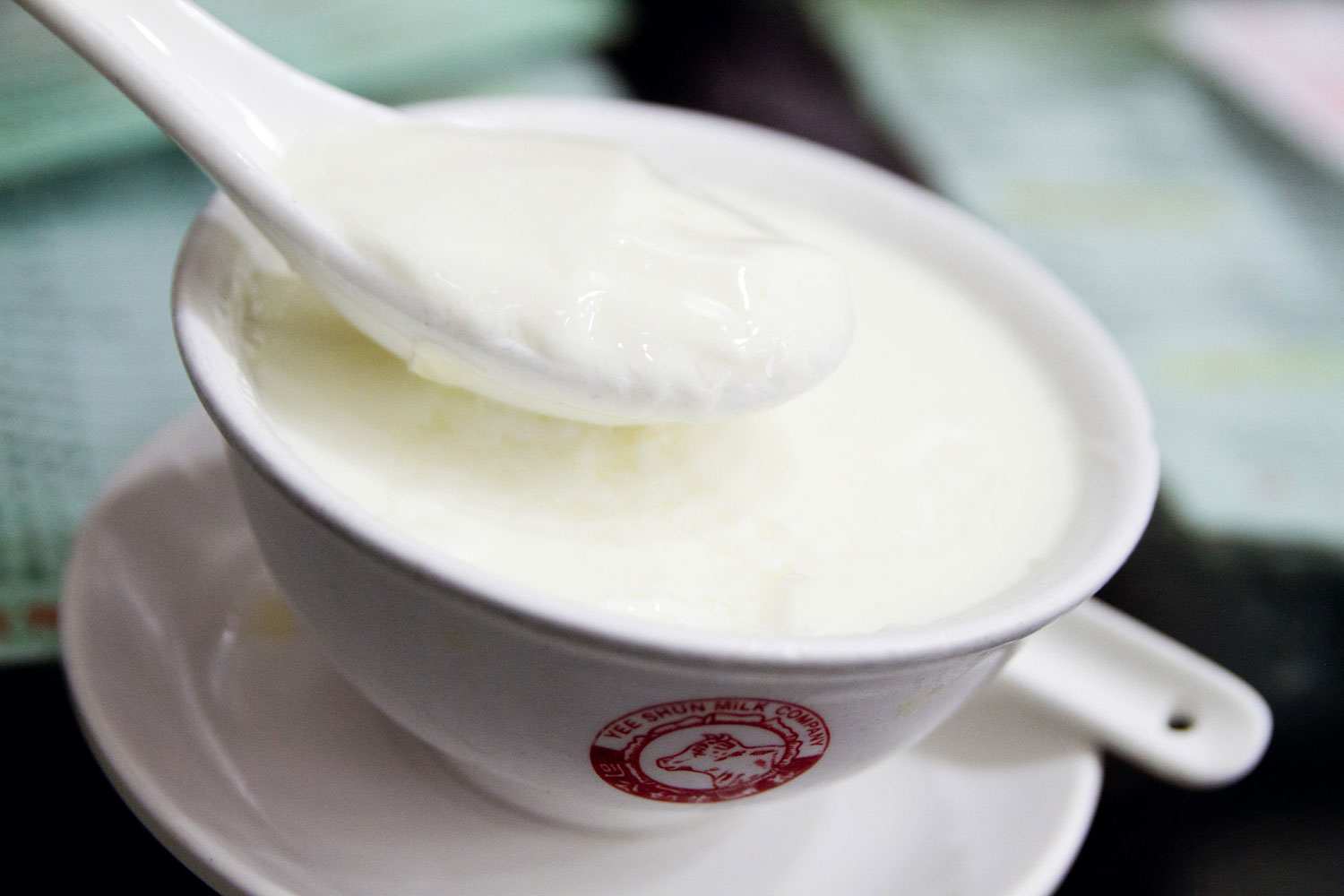 Milk or Ginger Pudding
Usually full of locals and tourists alike, Leitaria I Son is well known by many communities–from Chinese to Portuguese, Filipino to Macanese, people of all ages head here to have a taste of one of the truest Macau flavors. With shops in Hong Kong as well, its most recognizable element is the huge neon cow figure at the shop's entrance. The most famous one–which you might remember if you lived in Macau somewhere around the 80s and 90s–was located in Leal Senado, on the left-hand side, under those arcaded buildings.
There are two kinds of puddings–one made with milk and has a sweet yet very subtle taste, while the other includes ginger, which imparts a light spiciness, very characteristic of this root, widely used in Asian cuisine. Chinese and Macanese desserts are usually sweet, but never too sugary, in comparison to Portuguese ones, for instance. Have this pudding hot or cold, your choice! The first is a great option for windy and cold afternoons, while a cool and fresh bowl of ginger pudding goes very well with a hot Macau summer's day.
Leitaria I Son – Yee Shun Milk Company 381 Avenida de Almeida Ribeiro, Macau, +853 2837 3104
705 Market Street, Level 3, Shoppes at The Venetian Macao, The Venetian Macao Hotel, Estrada da Baía da Nossa Senhora da Esperança, Cotai, +853 2882 8791, www.venetianmacao.com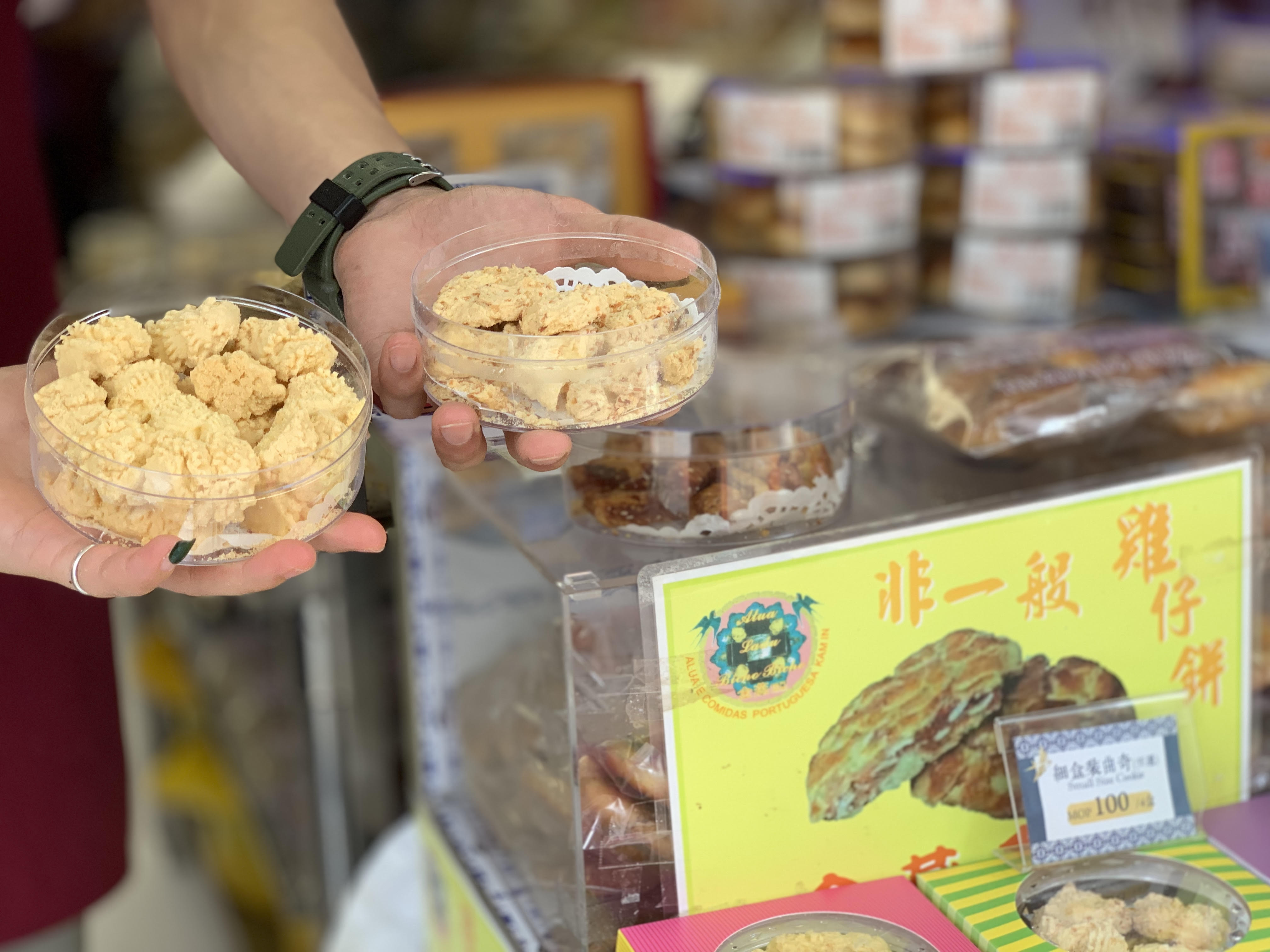 Almond Cookies
The Koi Kei Bakery logo is on shopping bags all over Macau and they are famous for their exceptionally yummy souvenirs and signature treats. Their almond cookies are their most famous and one of our personal favorite local Macau desserts. These delicacies are handmade and roasted over a charcoal oven then tossed into a basket to cool and be eaten.
Want a free sample? Make your way through the crowded pathway to the Ruins of St. Paul's and you won't complain about being hungry, as there will be loads of almond cookies to try alongside beef jerky and more–it's like a buffet of samples! Grab a box and share your blessings with your families back home since sharing is caring.
Koi Kei Bakery 70-72 Rua da Felicidade, R/C, Macau, +853 28938102, www.koikei.com/en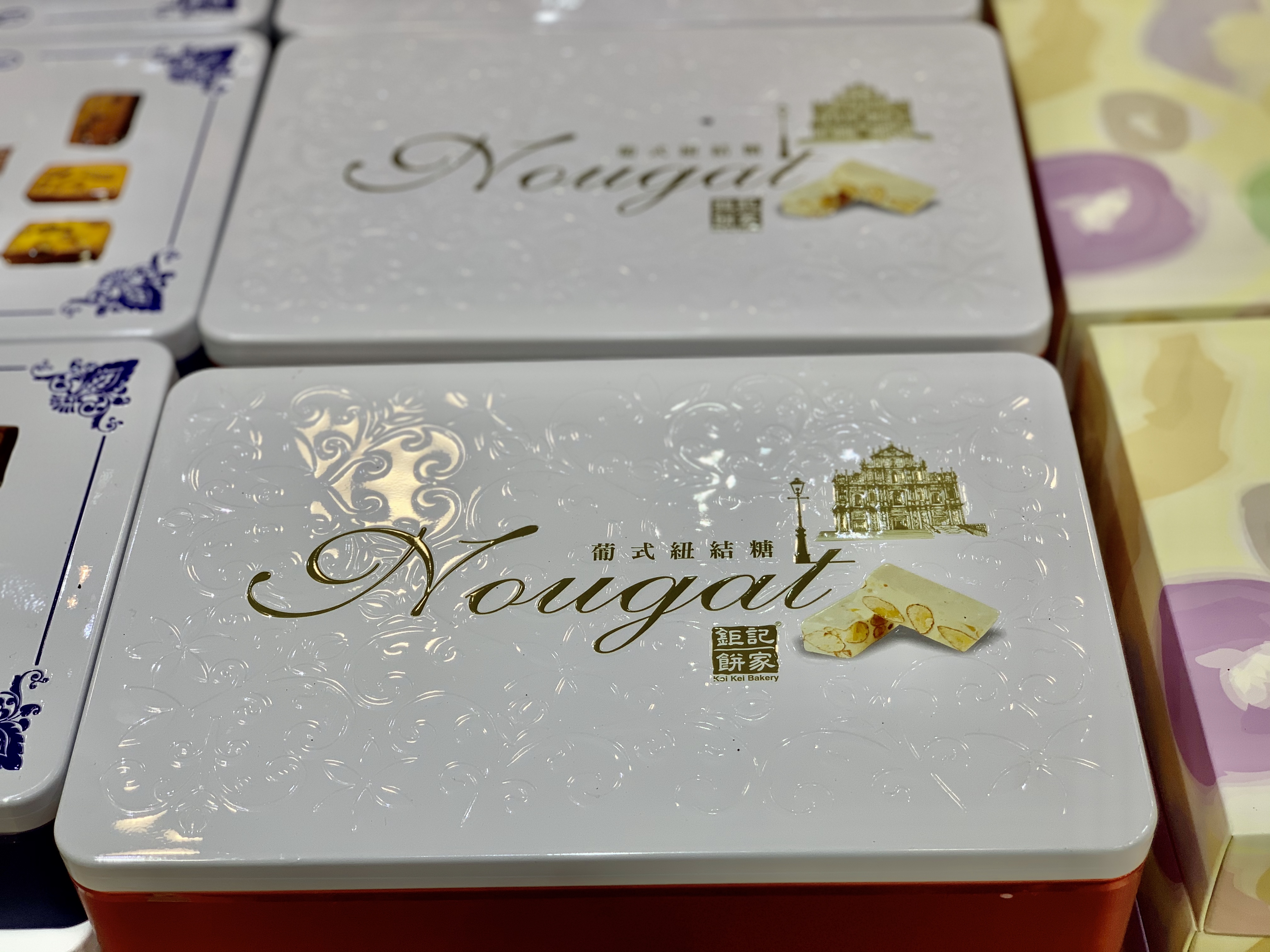 Almond Nougat
Some call it "Portuguese-style" nougat, but in fact, this does not even exist in Portugal. This is a Macau-based sweet and can be found at any traditional shop like Koi Kei or Cherykoff. They are abundant in the city center and around Taipa Village. The nougat is similar to the ones you can find in Spain–made with almond or peanut, it also has condensed milk.
Hard at first, they then turn soft and are even fun to chew! Why not head to one of these places and buy a few packs for the whole family? These boxes are perfect as a gift, but there are other variations as well with ginger or sesame seeds. These are a treat you won't want to miss.
Cherykoff 31 Rua do Cunha, Taipa Village, +853 2882 7811
Koi Kei Bakery 70-72 Rua da Felicidade, R/C, Macau, +853 28938102, www.koikei.com/en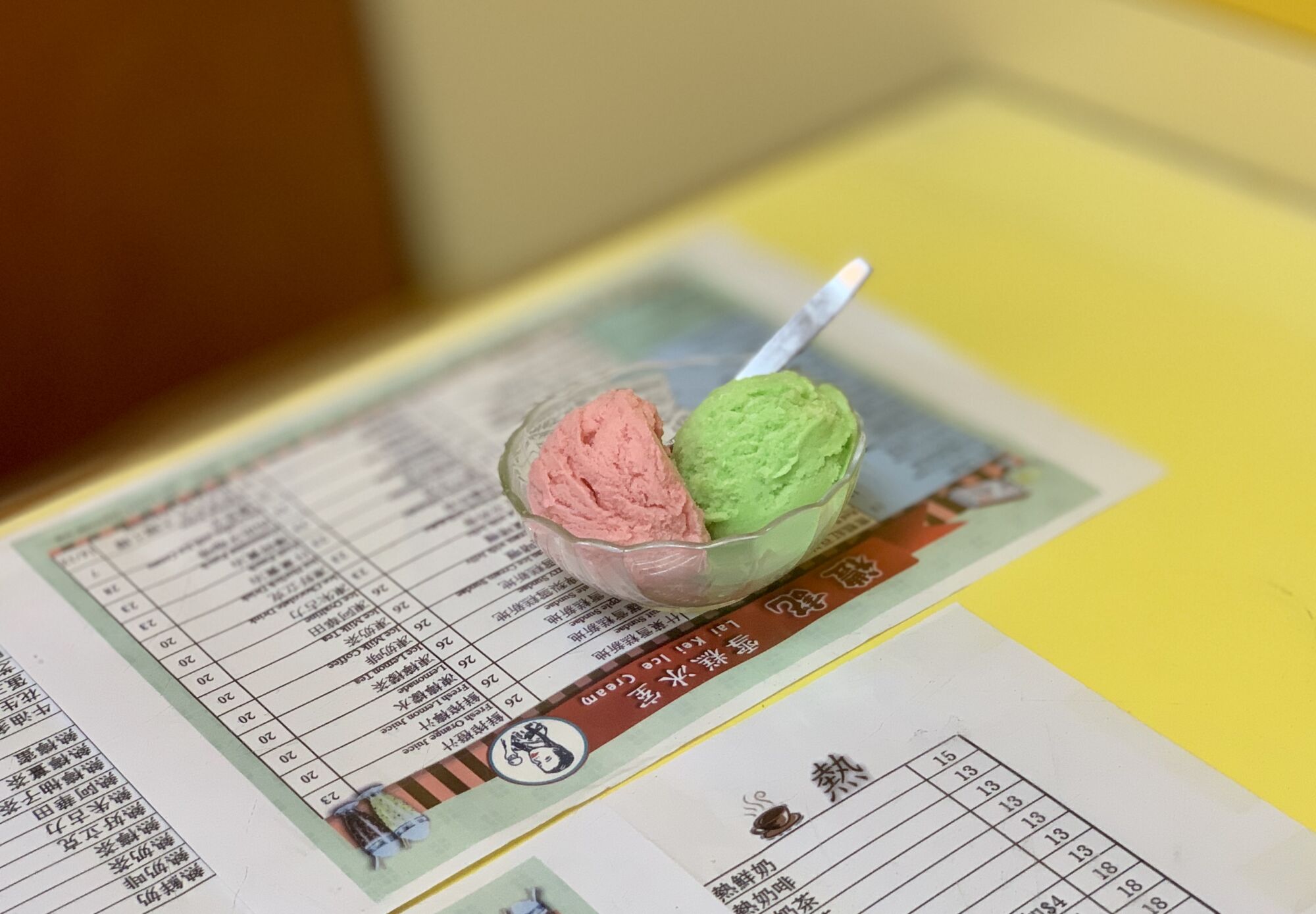 Lai Kei Ice Cream
With decades of existence, this is a must-go place if you're in town. Whether as a tourist or resident, a trip to Lai Kei is essential, especially if you're into both desserts and vintage spots. This ice cream shop located five minutes away from Tap Seac Square is one of the oldest traditional shops in Macau and having kept its vintage decor and vibe, it's like going back in time.
Here, you can choose between more than 10 different ice creams flavors, but also milkshakes and other beverages. We went for a scoop mix of strawberry and peppermint–which went very well together because of its colors–but we've been told sesame, peanut and coconut are also must-haves!
Lai Kei Ice Cream 10 Avenida do Conselheiro Ferreira de Almeida, Macau, +853 2837 5781
Also read: Macau's Best Ice Cream Spots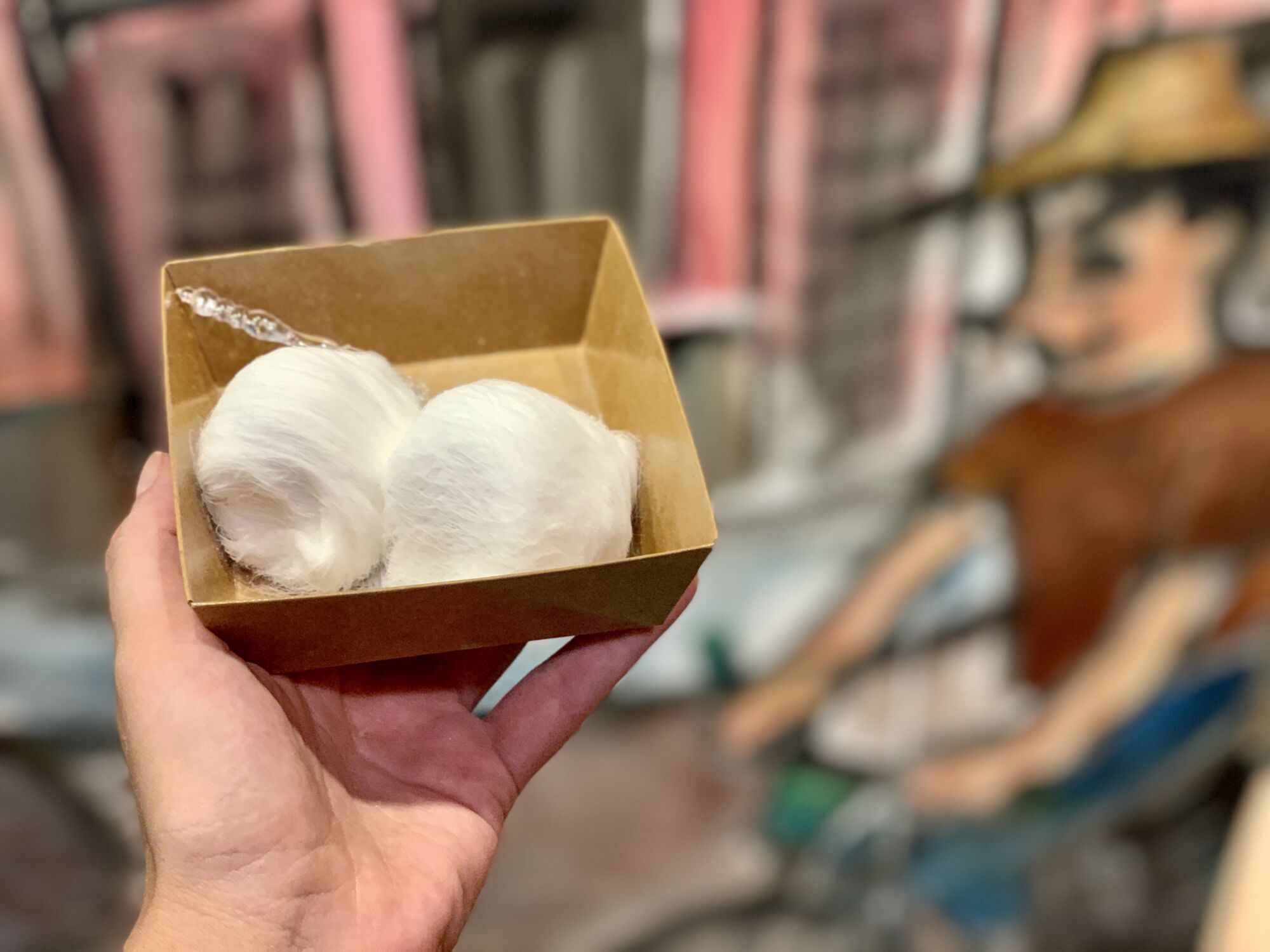 Yau Kei Dragon Beard Candy
Founded in 1986, it's one of the oldest Macau local brands still in business. From a street stall, they went to a small shop and recently relocated to St. Lazarus district, just right up the stairs on the way to Kiang Wu Hospital. Made of sugar, coconut, and crushed peanuts, this is an unmissable dessert for various reasons: it bears history, it's part of Macau and it's delicious! We went there to check it out and loved what they did with the space: with lots of historical elements, the chef making this delicacy can be seen from a glass window. They also sell tofu or chocolate-flavored ice-cream that goes inside the dragon beard candy! Check our review on it here.
Yau Kei Dragon Beard Candy 25-B Calçada da Igreja de São Lázaro, Macau, +853 65889928, www.facebook.com/yaukeidragonbeardcandy, www.instagram.com/yaukeicandy
This article was originally written by Hannah Estenilo in September 2018 and updated by Leonor Sá Machado in March 2020. 
Tags
Related Posts