Ring in the year of Golden Tiger with festive feasts at MGM this Chinese New Year! MGM presents a vivid array of Chinese festive delicacies from different regions in the country, for guests to celebrate this grand traditional festive season with family and friends in auspicious felicity.
Sumptuous Gastronomy Offerings
Sichuanese restaurant Five Foot Road at MGM COTAI brings to town a lineup of authentic regional festive a-la-cart dishes and set menus, curating a unique dining experience reminiscent of a banquet held at the esteemed mansions in Chengdu. Taste the traditional Sichuan festivity with an assorted Sichuan preserved meat platter, a dish that most represents the centuries-old Chinese new year customs in the region. another traditional mansion dish, steamed chicken with pickled chili, shredded winter bamboo shoots, ham, and ginger, is presented in the Chinese red lantern shape with the symbolism of prosperity for the coming year. Made perfect for festive gatherings, the festive set menus include the gourmands' favorite Sichuanese classics, such as marinated fresh abalone with homemade chili sauce in Sichuan style, stewed bird's nest with chicken and egg white in bouillon, and more. The restaurant's set menus are good for sharing.
Chún at MGM COTAI and Imperial Court at MGM MACAU are each serving a Chinese New Year special set dinner menu. Imperial Court's is crafted with luxurious seasonal ingredients. Among the dishes that symbolize good fortunes, are steamed yellow croaker with chicken bouillon and baked Japanese softshell lobster with cheese and butter. Specializing in contemporary Cantonese cuisine, Chun's set menu includes dishes that are innovative with great respect to tradition, such as braised African abalone and goose web with hua diao and abalone sauce. Both sets are good for parties of six. The two Chinese restaurants also offer celebratory a-la-carte, dim sum, and sumptuous poon choi treasure bowl, tailor-made for the jubilant spirit of Chinese New Year.
When: January 31–February 15, 2022
Where: Five Foot Road, Imperial Court, and Chún, MGM Cotai, Avenida da Nave Desportiva, Cotai
How much: Five Foot Road set menus – MOP $3,688* (for four people), MOP $8,088* (for 10 persons)
Chún and Imperial Court's set menu – MOP $6,800
Embrace Traditional Festivity with Chinese Folk Art
On top of the sumptuous dining offerings, MGM also embraces the traditional festivity with Chinese intangible cultural heritage. Chinese calligraphers and traditional papercutting artists are invited to station at the above three restaurants to present each of their craftsmanship to guests, during the first three days of Chinese New Year. Guests may also take home these created-on-site craft works to stir up the festivities with a rich cultural context.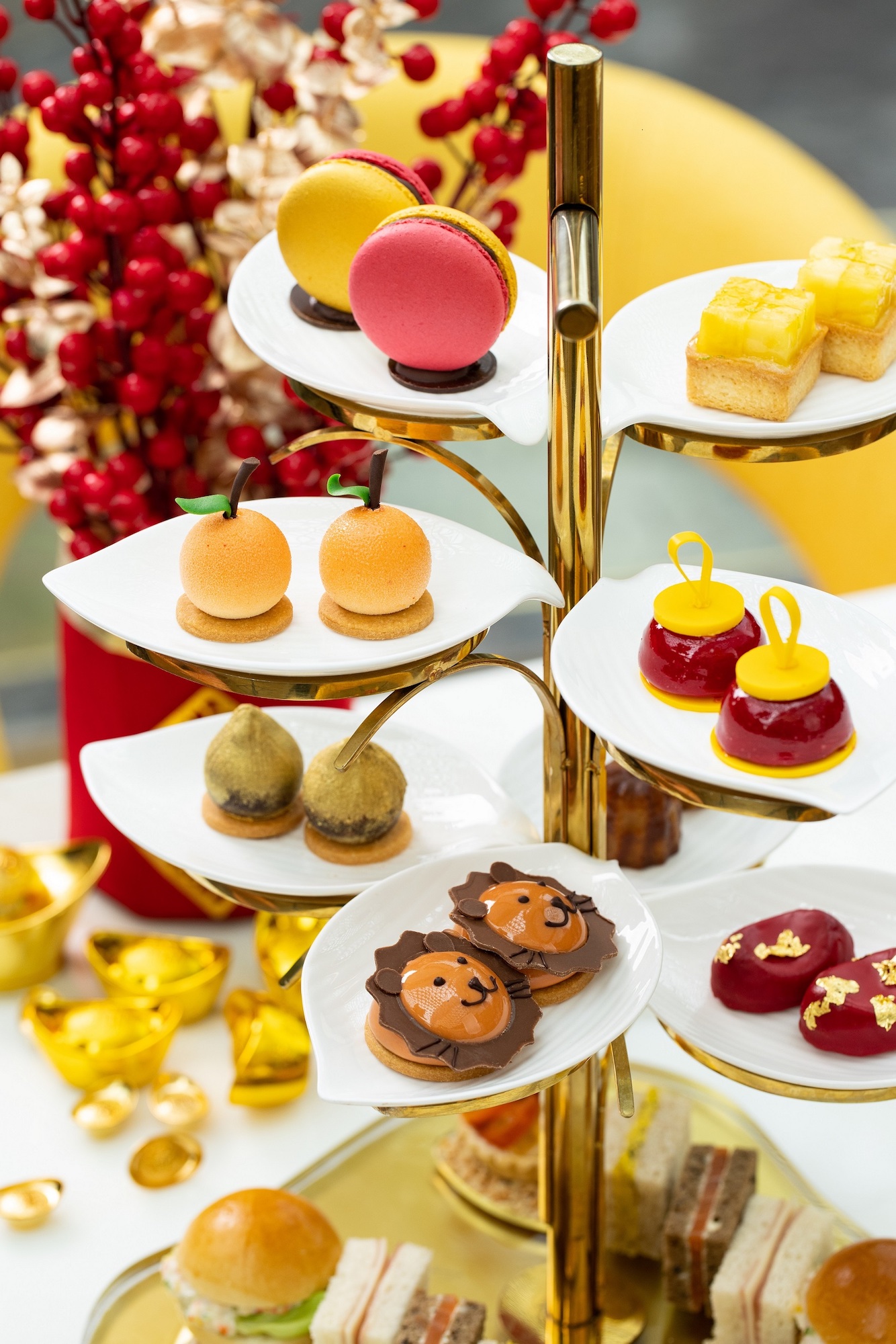 Decadent Afternoons
Grande Praça at MGM MACAU and the Spectacle at MGM COTAI will be dressed up for the Chinese New Year to wish everyone good fortune and prosperity. Guests are invited to indulge in an afternoon escape under the natural sunlight at Rossio and Anytime respectively. Coast is also illuminated with natural sunlight through the decorative glass, making it a popular gathering spot for a festive afternoon. The culinary teams have prepared special Chinese New Year afternoon tea sets to usher in an abundance of happiness and good luck.
For those opting for a more conventional affair, Chún offers an afternoon tea set that features nine different Cantonese dim sums at the price of MOP $188 per pax, including steamed pork dumplings with dried oyster and sea moss, as well as baked whole baby abalone and diced chicken puff pastries.
When: January 31–February 15, 2022
Where: Rossio, MGM Macau, Avenida Dr. Sun Yat Sen, NAPE, Macau, and Anytime, and Coast, MGM Cotai, Avenida da Nave Desportiva, Cotai
How much: Chinese New Year afternoon tea – MOP $188 per set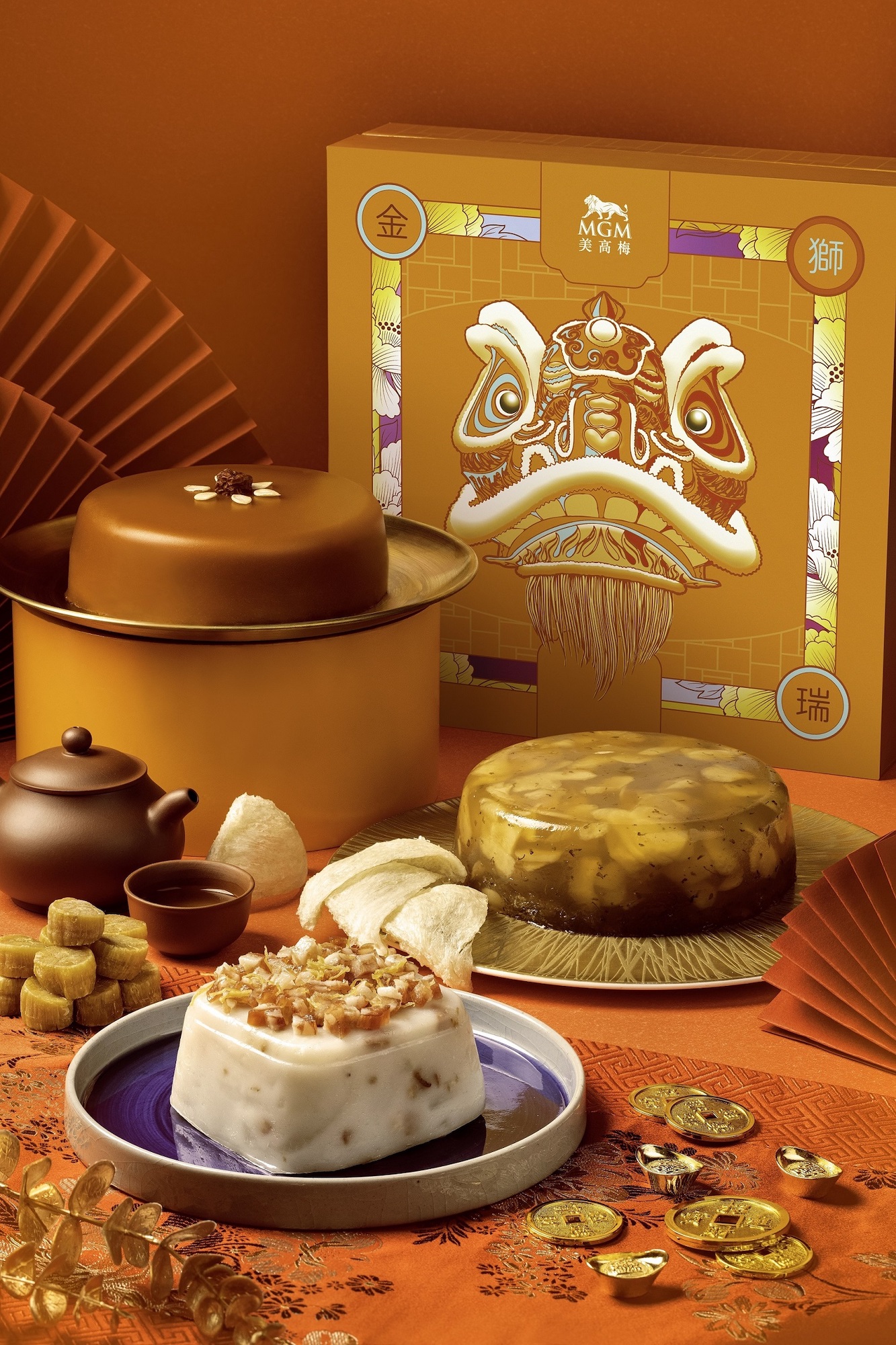 Delightful Festive Puddings
MGM's homemade festive pudding gift boxes are made perfect for sending the warmest greetings and blessings to friends and family. On top of the beloved classics, Chinese New Year coconut, and ginger pudding, and turnips with conpoy and preserved meat pudding, adding to the lineup this year is the delicious and nutritious new flavor, water chestnut and osmanthus with bird's nest pudding.
When: Voucher Purchase – January 3–31, 2022
Redemption – January 14 – 31, 2022
Where: Voucher Purchase – Pastry Bar, Imperial Court, Square Eight, MGM Macau, Avenida Dr. Sun Yat Sen, NAPE, Macau, and Anytime, Chún, Five Foot Road, Hao Guo, Miàn Duì Miàn, MGM Cotai, Avenida da Nave Desportiva, Cotai
Redemption – Pastry Bar, MGM Macau, Avenida Dr. Sun Yat Sen, NAPE, Macau, and Anytime, MGM Cotai, Avenida da Nave Desportiva, Cotai
How much: Chinese New Year festive puddings – MOP $298–498*
For more information and reservations, call +853 8802 3888 or check their official website
*Subject to 10% service charge
Brought to you in partnership with MGM Macau and MGM Cotai
Tags
Related Posts