The Dispensary and Statement are two of the three (the other is The Chinese Library) newest venues by Aqua Restaurant Group at Tai Kwun that have been the talk of the town since they opened. The bar and restaurant are located on the top floor of the beautiful old colonial Central Police Headquarters where the Officers' Mess once sat. The grandeur of the building, the high ceilings and opulent decor is worth a visit alone, but of course, there is a fine menu full of decadent treats to match the elegant surroundings. Designed by Hong Kong design powerhouse AB Concept, the interior evokes elements of Hong Kong's colorful history. On one side is the modern British restaurant, Statement, in the middle is The Dispensary, a cocktail bar, and The Chinese Library (regional Chinese) is on the other side.
Since a visit here is a very special affair indeed, we thought we would provide you with a handy guide on what not to miss during a visit – read on to find out more about the unique concepts!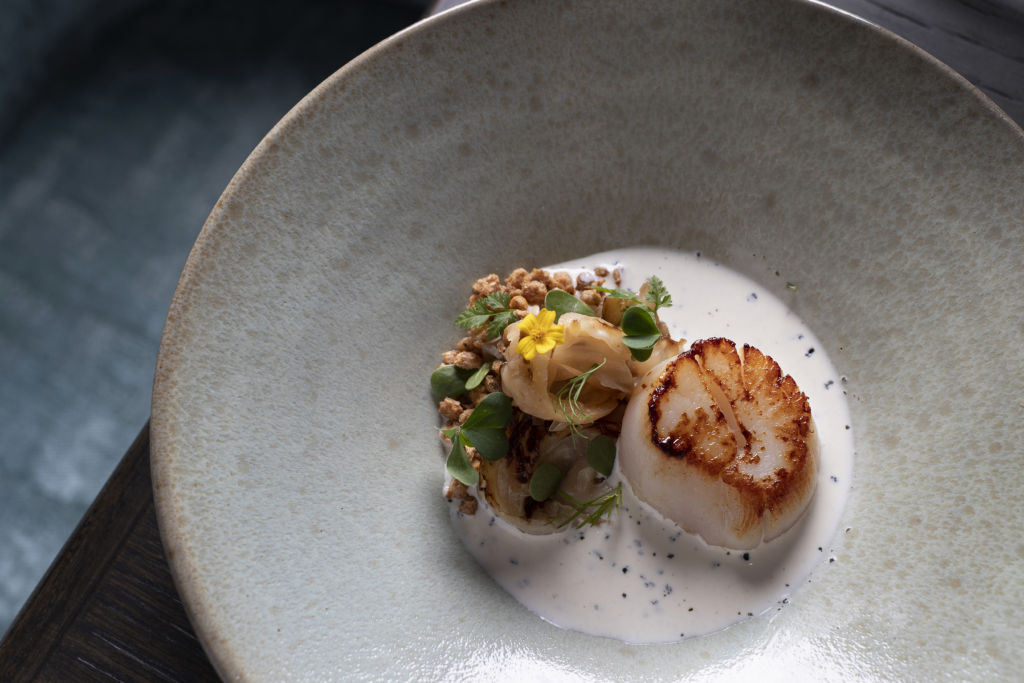 Statement Restaurant
Statement is inspired by modern British culinary philosophy and inspired by the city's colonial past, so the menu is all about the provenance of the ingredients, which are carefully sourced from the finest purveyors in the British Isles, cooked using techniques for which Britain was historically famous. Roasting, braising and stewing have been a characteristic of British cooking for centuries and now it is used here in Hong Kong. Heirloom beetroot ravioli with aubergine and red pepper, kaffir lime yogurt starter with roasted and oven-smoked vegetables topped with crushed pistachios and refreshing hints of lime is a refreshing twist on traditional English vegetables, using refreshing flavours the country isn't usually known for.
Even simple ingredients such as cabbage are brought to life in the starter paired with scallops, in their signature pan-fried scallop (see above image) starter, which features smoked cabbage hearts with Welsh laverbread butter all painstakingly cooked for four hours, with a Welsh seaweed sauce specially sourced to add an authentic British seafood flavor. To add another charming and quintessentially British touch, Statement hand-churns its own butter and infuses it with Marmite. As anyone who grew up in Britain knows, you either love Marmite or you hate it (a slogan from a popular Marmite add still running today) and we definitely love it, especially on their rustic farmhouse bread! We also can't get enough of their desserts, hearty British treats that are warming and wholesome – Scottish shortbread anyone?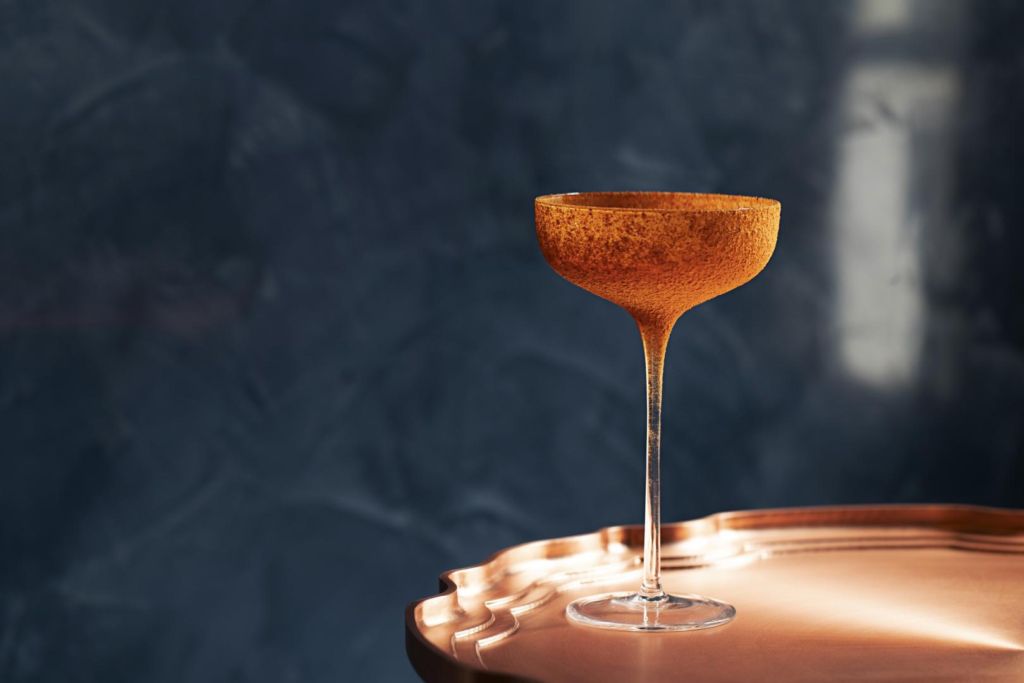 The Dispensary Bar
Next door, The Dispensary offers an extensive list of wines and spirits, but their signature creations and concoctions. The drinks mirror both the British and Chinese aspects of Hong Kong's heritage, incorporating arresting stories influenced by the police who called the building their home for over 100 years. Dreamed up by Head Mixologist Isabella Vannoni, this drink artisan takes inspiration from the past, fusing flavors of contemporary Britain with traditional herbs from China to create a list of cocktails to make even the most discerning drinker's mouth water. We particularly love The Crown (see above image) a drink inspired by the Queen of England's love for carrot juice. Shaken with Campari, lemon juice, rhubarb cordial, carrot juice and Tanqueray Gin, the drink is refreshing and packs a good punch! We also love the oriental twist on their class favorite called Opium Old Fashioned. To make the drink, Bulleit Bourbon is infused with Oolong tea, honey, mandarin, and Angostura Bitters. What makes it even cuter and alluring, however, is that, in keeping with its Chinese heritage, the cocktail is served within a miniature bamboo dim sum basket which opens with a dramatic puff of aromatic applewood smoke. They also, of course, serve a selection of nostalgic bar snacks, like traditional pork crackling (a crunchy, salty snack often found in English countryside pubs), Chinese snacks like tofu crisps, and, our personal favorite, deep-fried hazelnut balls. The perfect light bites to complement your drinks!
---
Statement Shop 01-1/F, Police Headquarters, Tai Kwun, 10 Hollywood Rd, Central, Hong Kong
Opening Hours: Brunch 11:00am–3:00pm (Sat, Sun and public holidays); Lunch 12:00pm–3:00pm; Afternoon Tea 3:00pm–5:30pm; Dinner 6:00pm till late; Balcony bar snacks 12pm till late
+825 2848 3000, www.statement.com.hk, Instagram: @statementhk
The Dispensary Shop 01-1/F, Police Headquarters, Tai Kwun, 10 Hollywood Rd, Central, Hong Kong
Opening Hours: 12:00pm–12:00am
+825 2848 3000, www.aqua.com.hk, Instagram: @thedispensaryhk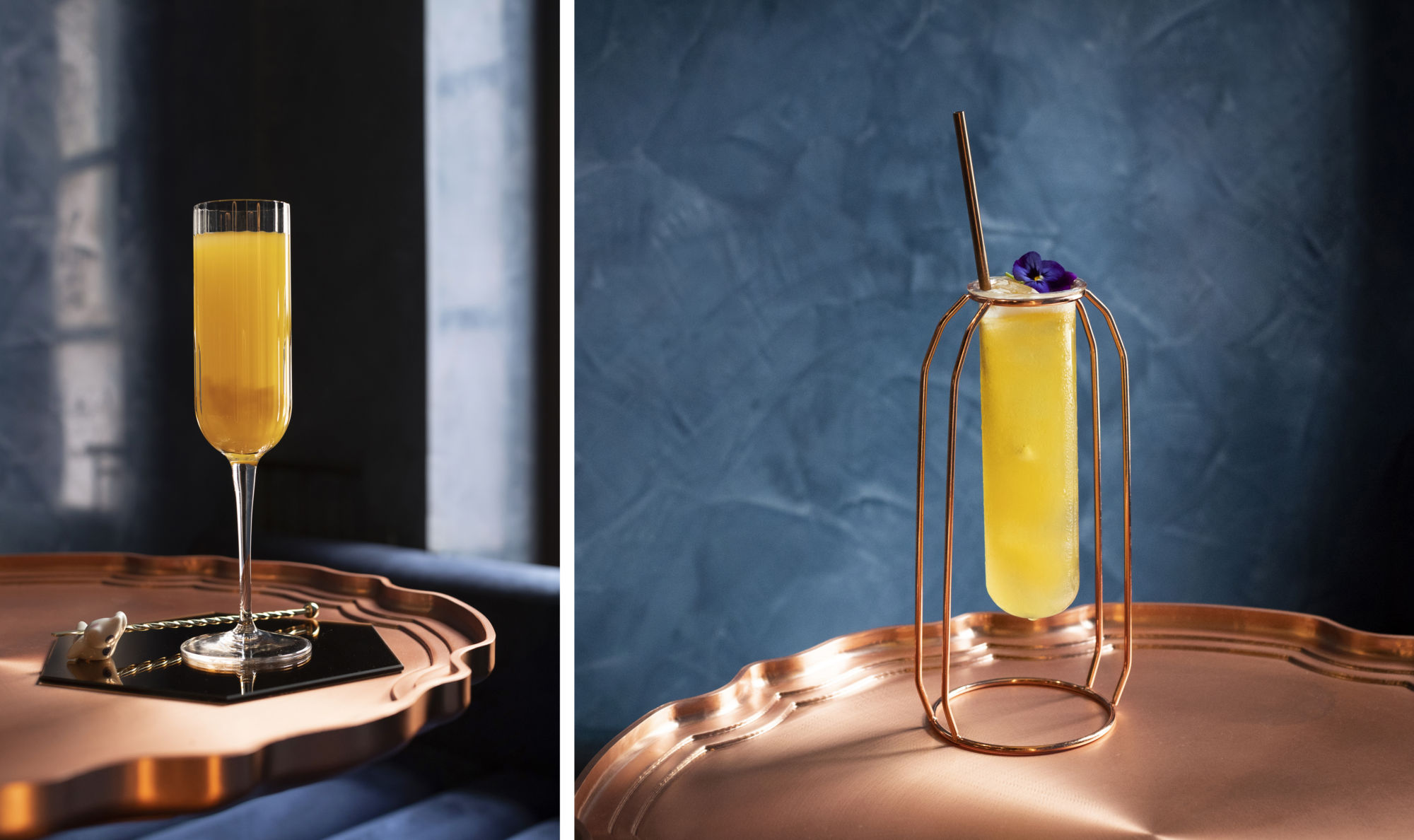 Tags
Related Posts