Luxury and sustainability should go hand in hand. Sustainability is a hot topic and many hospitality brands have pitched in their effort in order to be more green. This is no different in Macau and was manifested at the Macao Green Hotel Awards with a total of 19 hotels bagging various awards and recognition. The prestigious event was held by the Environmental Protection Bureau (DSPA) for concrete efforts in maintaining environmentally friendly operations in 2018. Together with the previous two editions of the awards, a total of 55 hotels have thus far been awarded for their green operations.
All of the hotel properties were commended for their waste reduction efforts. Hotel Okura Macau, Morpheus, and MGM Cotai received gold awards, while Sands Macao, The Countdown Hotel, NÜWA, Broadway Hotel, and Crowne Plaza Macau were awarded a silver. MGM Macau, Riviera Hotel Macau, Inn Hotel and Harbourview Hotel received bronze awards.
Spending our holiday at great convenience without harming the environment is such a great feeling for all kinds of travelers. There should be no guilt in indulging in the ultimate hotel experience at these eco-friendly hotels. You'll have peace of mind and heart knowing that you're staying at a place that values sustainability and environmental protection.
Morpheus
(Featured image above)
Morpheus is just quite possibly the hotel of the future. Reminiscent of a setting in a sci-fi film meshed with the best in luxury and hospitality, it's the sustainable initiatives of Morpheus that have set it apart from the rest in the city. From the high-speed panoramic lifts to futuristic designs of guest rooms and suites, every space presents premium furnishings from the world's leading designers and cutting-edge technology designed to enhance convenience and comfort.
Morpheus has also redefined dining by featuring world-class chefs like Alain Ducasse and Pierre Hermé. Bask in panoramic views of Macau while dining at the Chinese restaurant, Yí, on the 21st floor Sky Bridge. Pamper yourself, body and soul, at the serene Spa. Swim under the stars at the rooftop sky pool. You'll have access to exceptional amenities with the comfort knowing that the Melco supports the single-use plastics reduction progress. Their achievement of global standards for sustainable energy and facilities management is simply remarkable.
Morpheus Hotel City of Dreams Macau Estrada do Istmo, Cotai, +853 8868 3432, www.cityofdreamsmacau.com/morpheus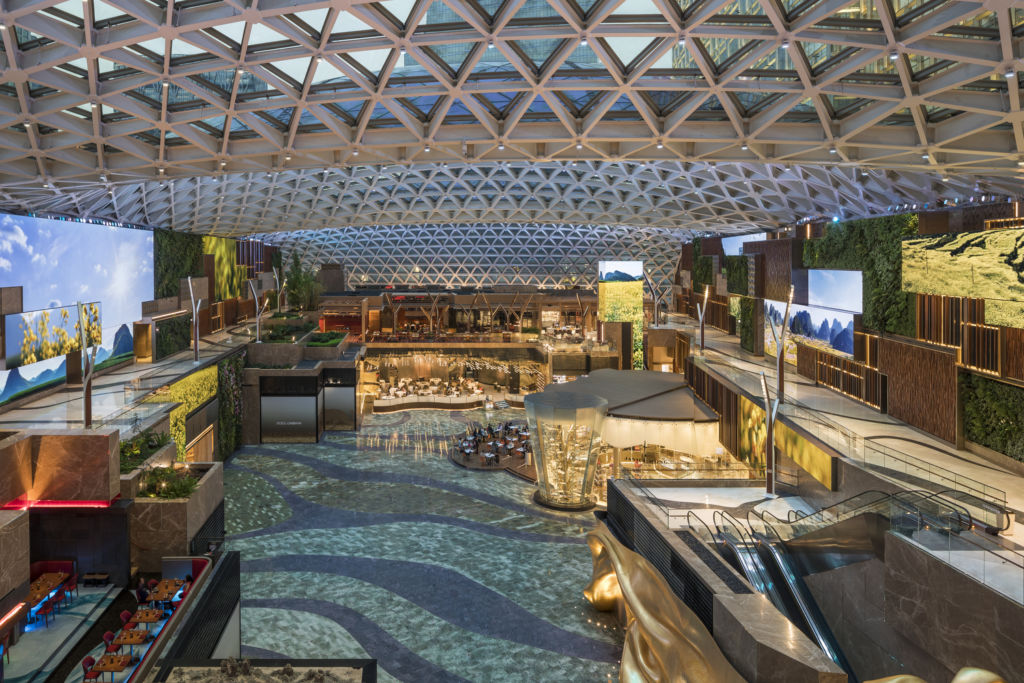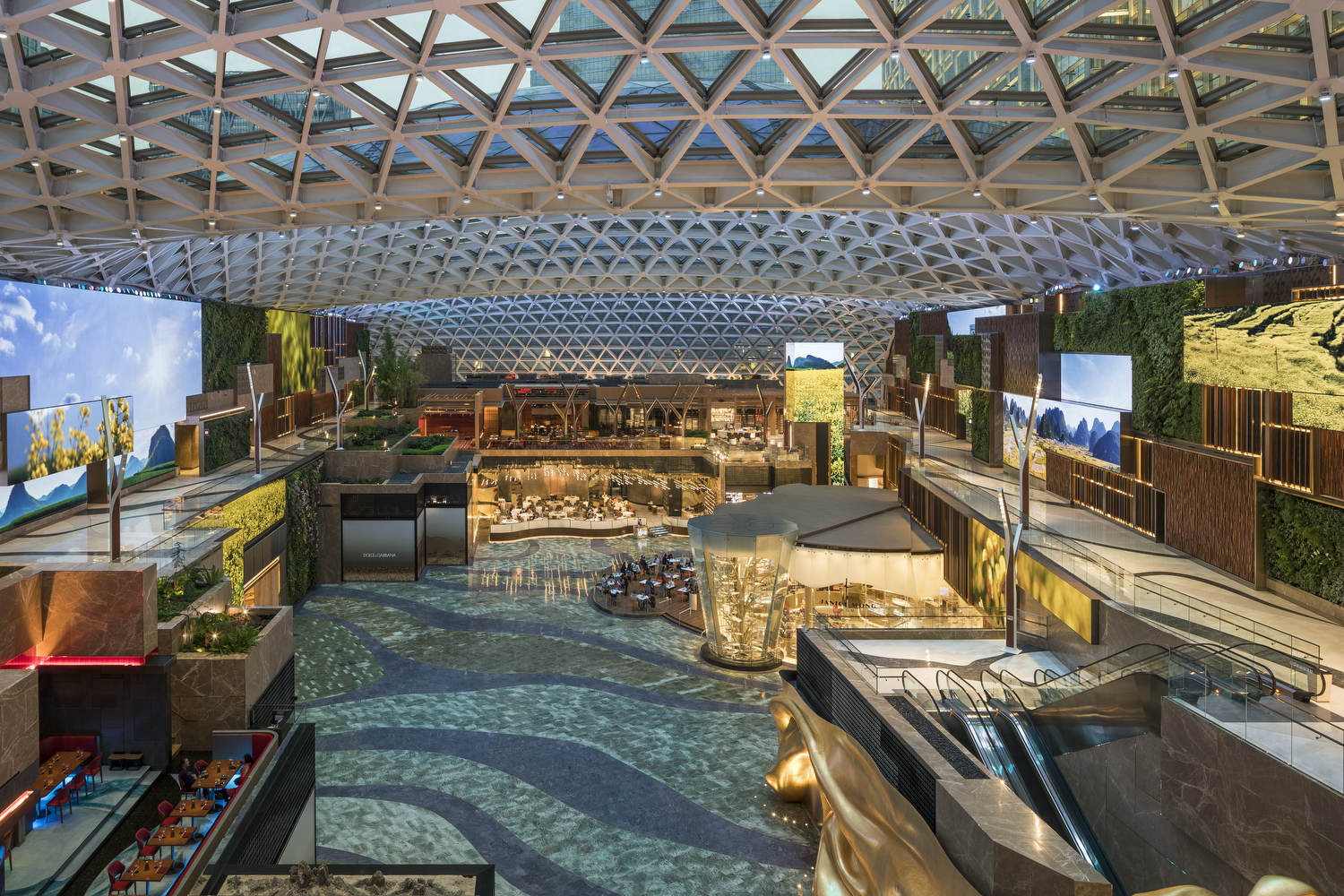 MGM Cotai
MGM Cotai's facade is already aesthetically stunning. One will be surprised to learn that it's a state-of-the-art green building. It has integrated environmentally sustainable aspects into its initial design processes. From highly innovative heating and cooling systems, water efficiency measures, high standards for noise, light and air quality to the world's largest indoor garden with over 100,000 plants and 2,000 species, MGM Cotai takes the lead to sustainable development in the integrated resort industry by example.
It's hard not to miss the glittering jewel-like facade towering the Cotai Strip, MGM Cotai is an innovative icon of Macau. See for yourself as you step inside a cutting-edge, multi-sensory realm where you will discover Asia's first adaptive and dynamic theater or immerse yourself in the spectacular Spectacle when visiting this location. MGM Cotai also boasts the world's largest collections of sensory digital art on display apart from being a creative culinary destination featuring Macau dining concepts curated by world-renowned celebrity chefs.
MGM Cotai Macau Ave. Da Nave Desportiva, Cotai, Macau +853 8806 2318, www.mgm.mo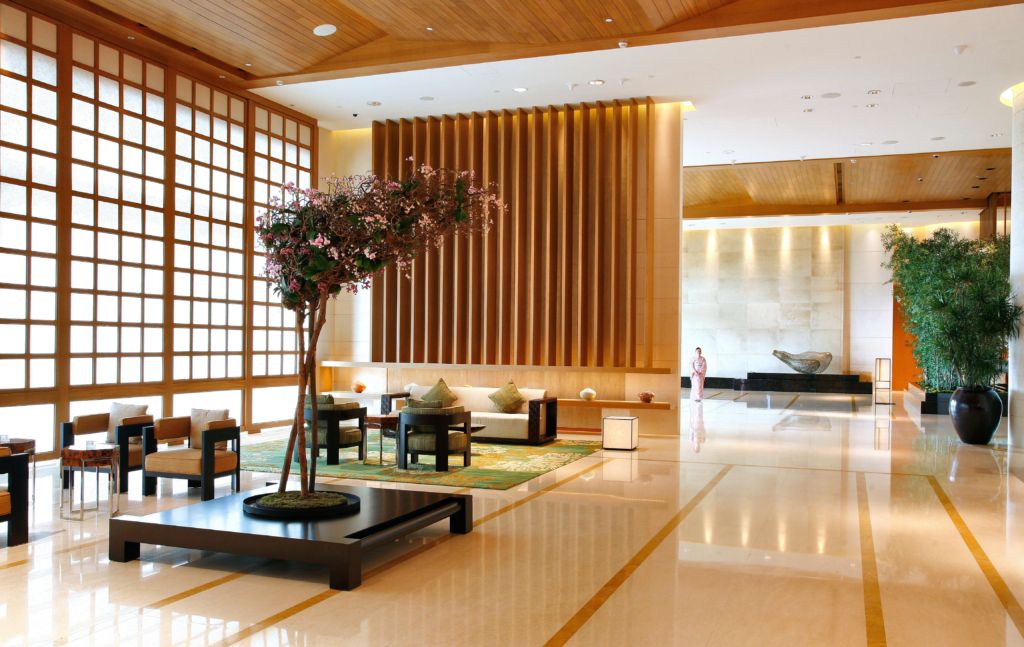 Hotel Okura Macau
Hotel Okura Macau exudes the rich traditions of Japanese hospitality. You'll find the essence of what makes the land of the rising sun one of the best destinations in the world at this five-star luxury resort hotel in Macau. From the opulent suites to exceptional cuisine and service, guests will be whisked away to an experience they won't easily forget.
What makes Hotel Okura Macau even more admirable are their eco-conscious efforts that include minimizing food waste and implementation of proper segregation that they're strict and serious about. They also use electrical vehicles for ground service to lessen their carbon footprint. Hotel Okura also encourages participation by establishing the reward mechanism to motivate guests to actively adopt green practices. You'll appreciate the famed Hotel Okura service right in the heart of Macau with the same ethos that has made Japan an environmentally-friendly country.
Hotel Okura Macau Estrada da Baia de Senhora de Esperanca, Cotai,  +853 8883 5126, www.hotelokuramacau.com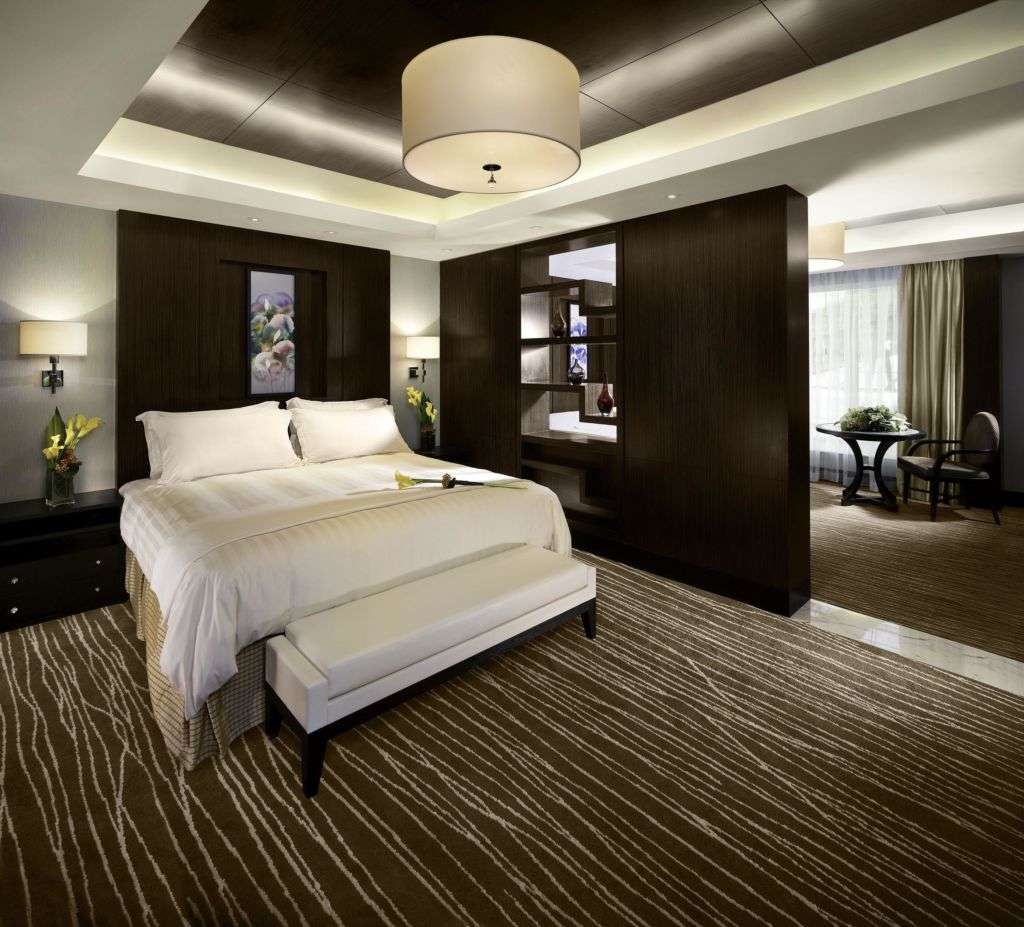 Sands Macao
One of the popular hotels that attract tourists from all over the world has upped their ante to promote more sustainable tourism and hospitality. Sands Macao's rooms and suites are some of the best accommodations in the city. It wasn't too long ago when the hotel was awarded the TripAdvisor Certificate of Excellence Awards in 2014. Aside from being home to Copa Steakhouse where many prized dishes are coveted by visitors and residents alike, one can relax in perfect tranquility and luxury offered by the superior amenities at Sands Macao.
Sands Macao has continued in its commitment to environmental responsibility. By reducing the impact of their operations on nature, they continue to make small steps towards sustainability. From participating in environmental activities, engaging both employees and guests towards making green choices, you cannot undermine the huge efforts that are made by many individuals on a daily basis at this property. It's easy to say that your holiday at this hotel will be meaningful and impactful.
Sands Macao 203 Lardo de Monte Carlo, Macau, +853 2888 3330, www.sandsmacao.com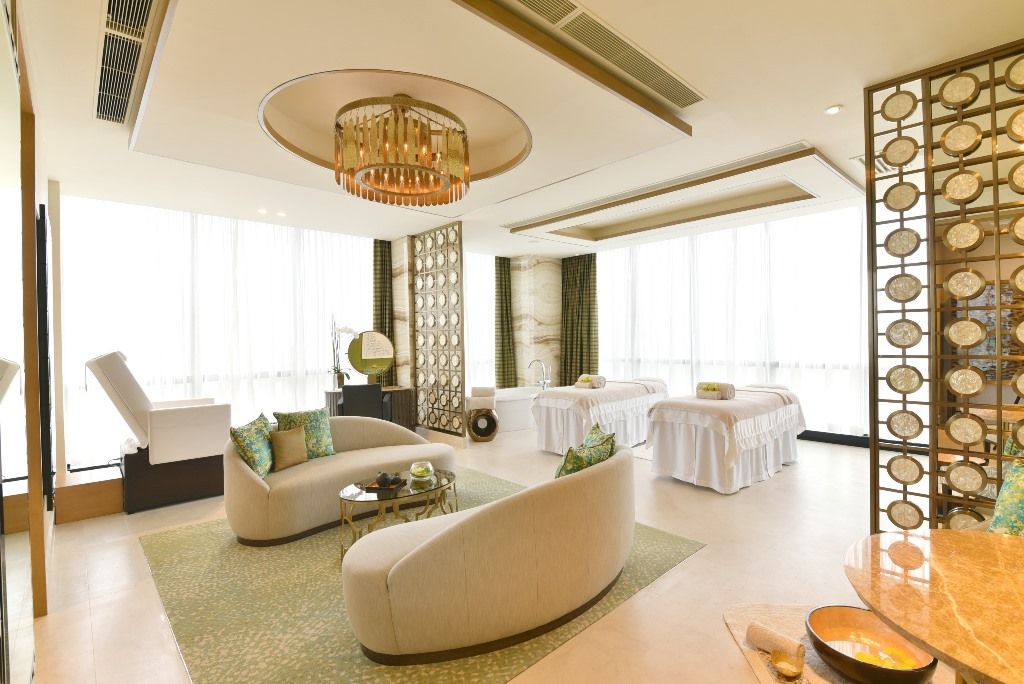 NÜWA
NÜWA's awards as part of Melco's environmental programs continue to inspire. Paying homage to Asia's rich cultural inheritance, this beautiful location blends traditional aesthetics and contemporary sensibility. With about 300 guest rooms including 33 luxurious villas, it shines along with other Melco properties. These awards recognize significant achievements including the installation of Macau's largest onsite solar photovoltaic array, to sourcing 100% of electricity from renewables in 2018 and using decomposer technology at City of Dreams, which handle 200 kg of food waste daily.
These energy efficiency measures are fundamental in the comprehensive roadmap to becoming carbon neutral by 2030. We can't wait to see what they can accomplish this year and in the next decade. With travel trends consistently changing, staying at an eco-friendly hotel is one that will never go out of style.
NÜWA City of Dreams, Estrada do Istmo, Macau, +853 8868 6688, www.cityofdreamsmacau.com
---
For further information on Macao Green Hotel Award, check their website
Macao Green Hotel Award www.dspa.gov.mo
Tags
Related Posts