Who needs a destination wedding when you can have your dream nuptials around the various luxurious hotels around Macau? These venues offer complete wedding packages to ease your preparations, saving you from turning into a bridezilla on your most-awaited special day. Everything is steeped in style and sophistication. Whether you're planning a big or an intimate wedding, we've got the best locations for your incredible day in Macau.
Mandarin Oriental, Macau
(Featured image above)
Magical doesn't even begin to describe the ambiance of Vida Rica Bar where you can hold your wedding ceremony at Mandarin Oriental, Macau. This unique experience of making that life-long commitment amidst the breathtaking views of the Macau skyline will no doubt be a day to remember. The Mandarin Oriental team also offers a range of thoughtful touches and services. If you're worried about your wedding cake or the floral arrangements, they've got it covered with an amazing line-up of the best suppliers.
The Ocean Ballroom is a stand-out when it comes to venues in the city. It offers expansive views through floor-to-ceiling windows that overlook the sea. The over-all contemporary and stylish feel all throughout the hotel will simply drive away all the jitters on your wedding day. It has elegant interiors blended with the latest modern technology. If you're looking to host a more intimate celebration, why not do it in great style at the Presidential Suite while enjoying the finest views in Macau?
The more personal details you bring to your wedding reception, the more it will feel right to you and your significant other. Being open to accommodate these small, thoughtful details make the service at Mandarin Oriental, Macau stand out. Love birds can have a customized cocktail created by Vida Rica Bar's mixologist based on their own love story, which is sure to dazzle guests. For those looking for a custom made wedding logo the design team at Mandarin Oriental, Macau will be happy to assist.
Mandarin Oriental, Macau 945 Avenida Dr. Sun Yat Sen, NAPE, Macau, +853 8805 8888, www.mandarinoriental.com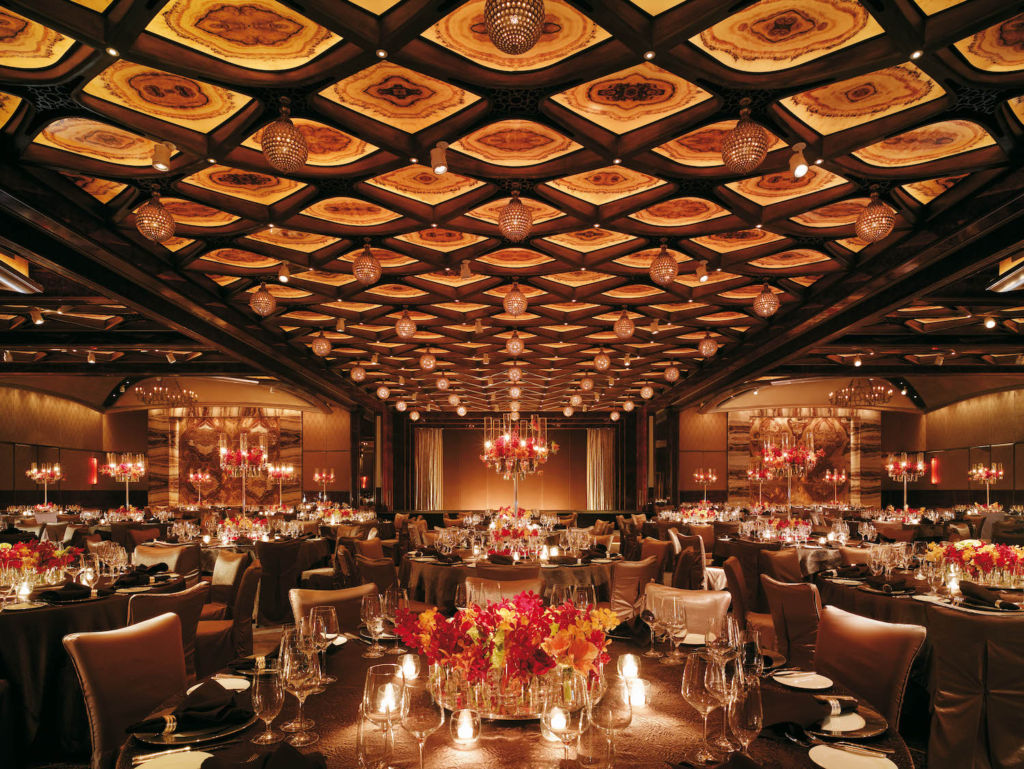 MGM MACAU
A venue to rival any royal wedding, MGM Macau has all the wedding checklist requirements covered. From the finest service and extreme attention to detail, the event planners can help you with everything from personalized invitation cards and even designing menu options. You can bring your vision to life with realistic execution of details big or small.
The Grand Ballroom at MGM Macau has been the setting of many spectacular unions. Its striking and sophisticated composition makes it a favorite among brides. The pillar-less and open space feature make it easy to incorporate a theme of choice. It also allows for easy integration of state-of-the-art lighting and sound mixing. After all, all celebrations need exceptional music and a spacious dancefloor! The venue has a maximum occupancy of 900 so no family or friend will be ever left out of the guestlist on the most memorable day of your life.
MGM Macau Avenida Dr. Sun Yat Sen, NAPE, Macau, +853 8802 8888, www.mgm.mo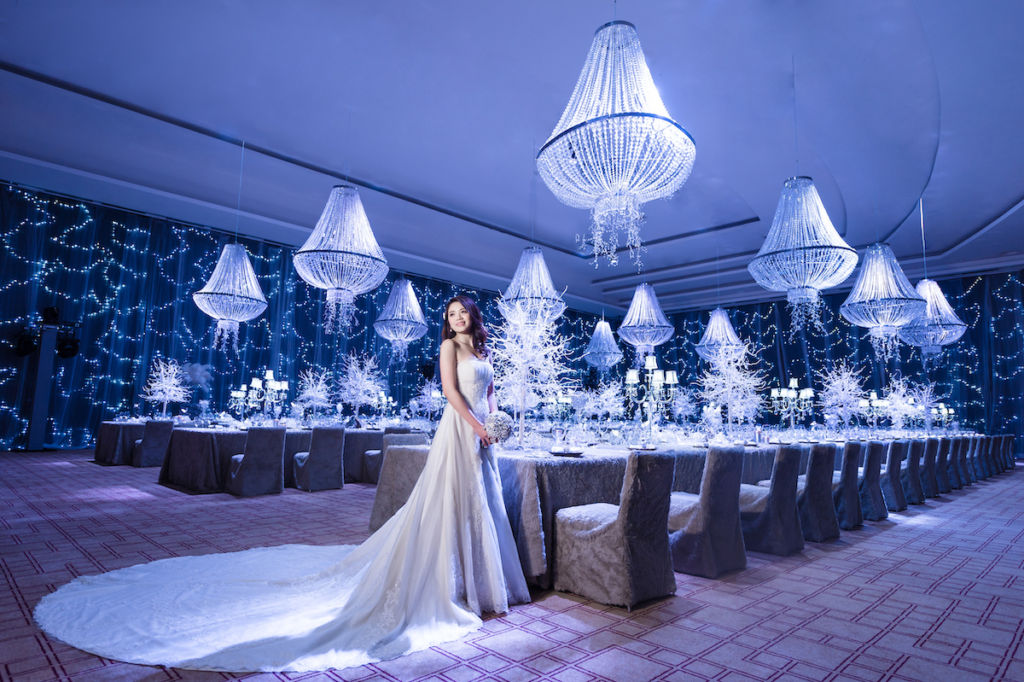 Grand Hyatt Macau
Grand Hyatt brings together tradition, culture and a couple's personal style to create a wedding that is both exciting and memorable. With two pillar-free ballrooms, you can choose an ideal set-up to suit your wedding event. We understand that sometimes Asian weddings tend to be huge, the exquisite Grand Ballroom can host up to 1,300 people or 100 banquet tables to provide a solution to these matters. On the other hand, the Salão do Teatro ballroom can cater for up to 360 guests for a wedding banquet and features a unique open kitchen concept.
Whether you desire a lavish Chinese banquet or European fine dining, the master chefs at Grand Hyatt Macau will create a truly memorable wedding feast. The event venues feature the latest built-in audio and visual equipment to enhance the elegant ambiance. There is always a technology butler on hand to offer support so no glitch will remain unsolved on your wedding day.
Grand Hyatt Macau City of Dreams, Estrada do Istmo, Cotai, +853 8868 1908, www.hyatt.com/en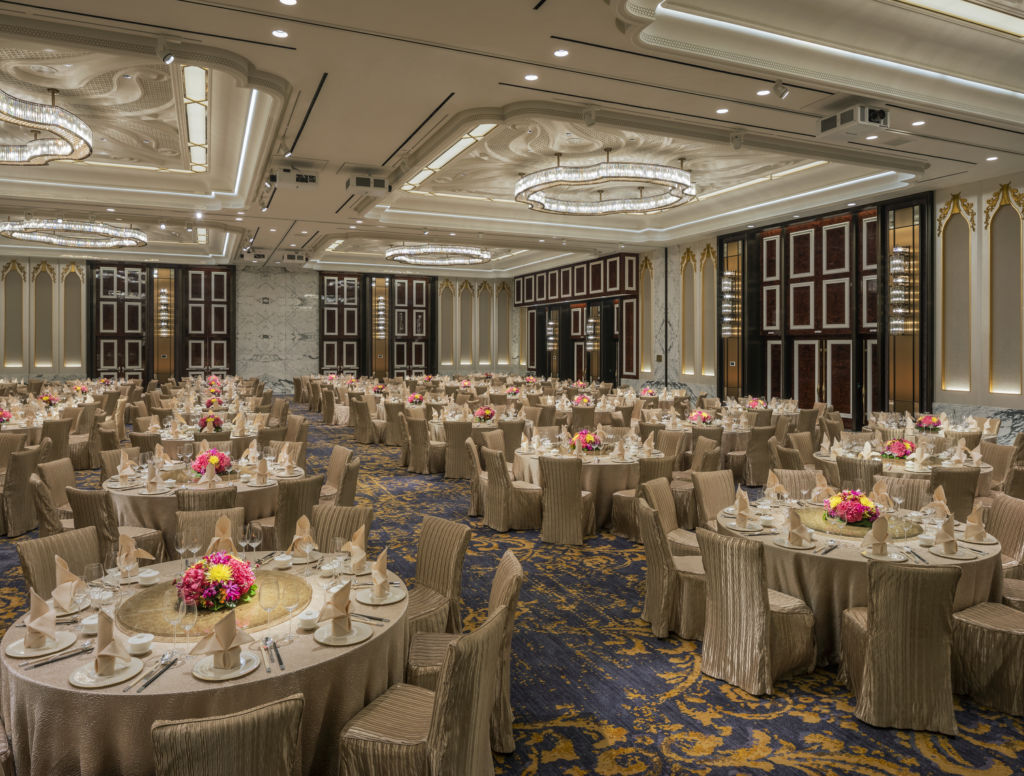 MGM Cotai
There is simply nothing about MGM Cotai that we don't adore. The hotel property is an iconic structure that impresses at every angle. While we're in awe of the Spectacle and the MGM Theater that boasts Asia's first truly dynamic theater space, the ballroom options fit every kind of budget or guestlist when it comes to weddings. You will love the professional and knowledgeable planners ready to help with everything from personalized invitation cards to elaborate bouquets.
Home to culinary giants, prepare to be impressed by a specially-designed menu that's available for your wedding guests no matter the crowd size. MGM Cotai takes pride in redefining the way people experience art and entertainment and that is also evident with events and weddings. You'll find style and sophistication woven into every detail of the biggest day of your life.
MGM Cotai Avenida da Nave Desportiva, Cotai, +853 8802 8888, www.mgm.mo/en/cotai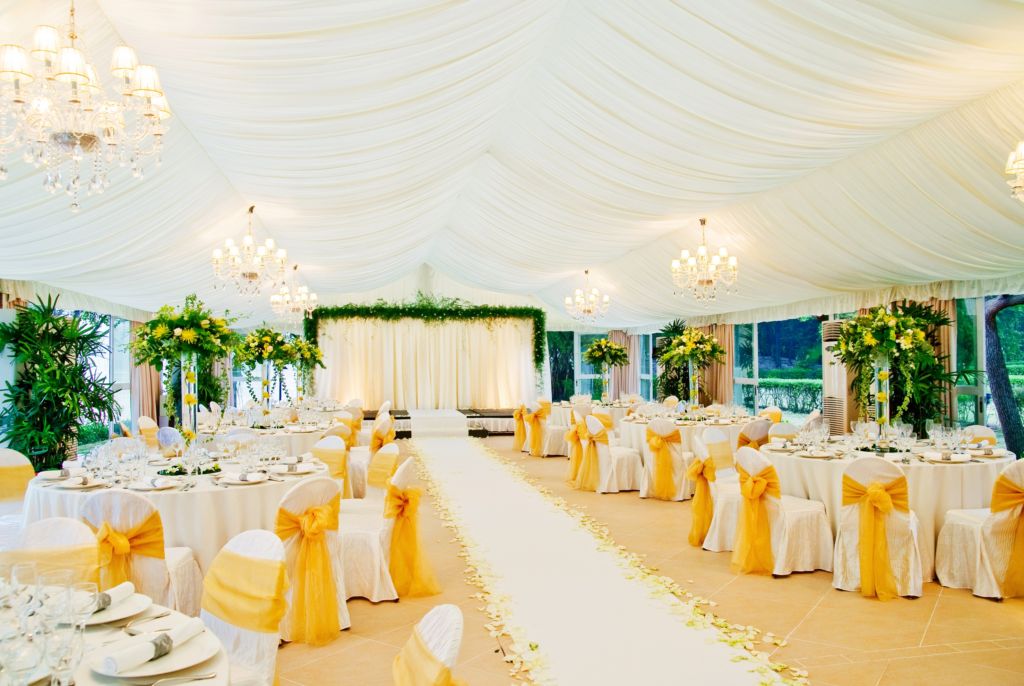 Grand Coloane Resort
What makes Grand Coloane Resort a special place to get married? Well, for starters, it's an escape from the hustle and bustle of Cotai and busy areas of Macau. At the same time, you're in familiar territory making you and the entire wedding entourage feel comfortable and at home. The beautiful nature that surrounds the property calms the heart and mind as you say your vows.
This location offers a secluded island feel without the worry of any supplier glitches. The ballroom is an elegant hall that can hold up to 12 tables plus a stage and 16 tables without a stage. It can host up to 192 guests and if you want to use the adjoining foyer, it can expand to 264 guests and 22 tables. No matter what your headcount is, the Grand Coloane Resort team will cater to all your needs for stress-free happily ever after kind of event.
Grand Coloane Resort 1918 Estrada de Hac Sa, Coloane, +853 8899 1127, www.grandcoloane.com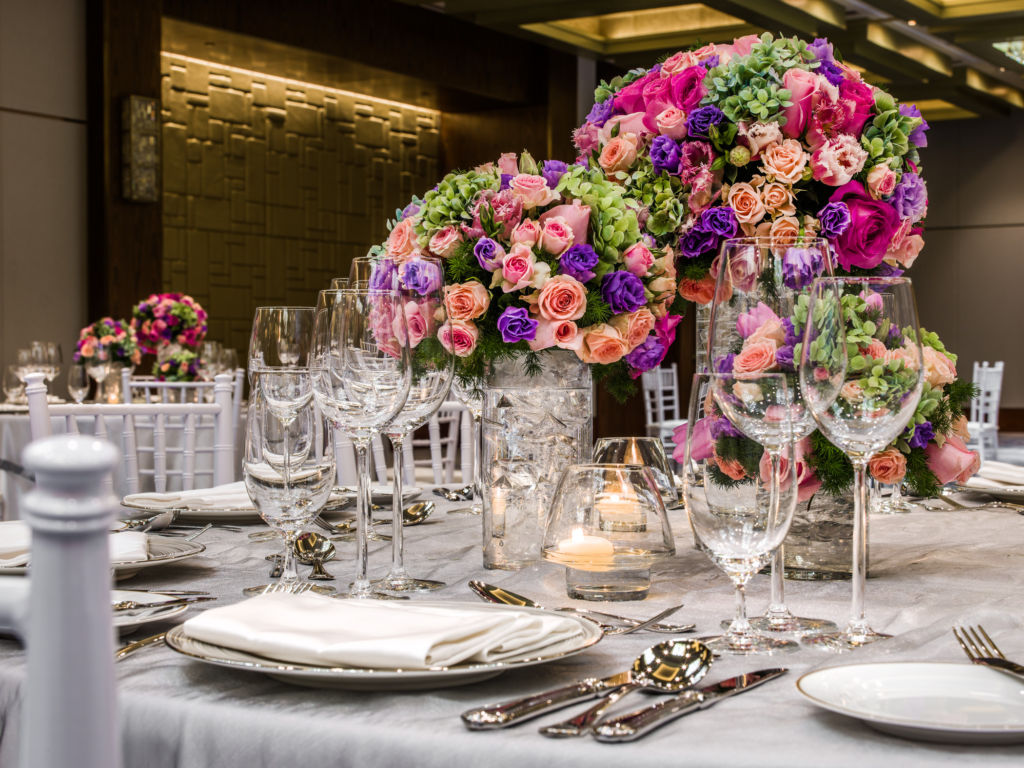 The St. Regis Macao, Cotai Strip
Once in a lifetime occasions require a space that surpasses expectations. This is what The St. Regis Macao symbolizes making this location one of the well-loved wedding venues in Macau. The property provides an array of sophisticated venues and services. One in particular that stands out is the 628-square-meter pillarless Astor Ballroom. It has a magnificent backdrop for grand events of which weddings should be.
From custom catering to assisting with state-of-the-art audiovisual amenities, The St. Regis event coordinators assure that your special day flows flawlessly. The majestic Astor Ballroom is located on the fifth floor of the hotel and can accommodate up to 336 distinguished guests. It features the most advanced technology and elegant chandelier lighting for great photos and videos on the most important day of your life!
The St. Regis Macao, Cotai Strip 8/F, Estrada Do Istmo, S/N, Cotai, +853 2882 8898, www.londonermacao.com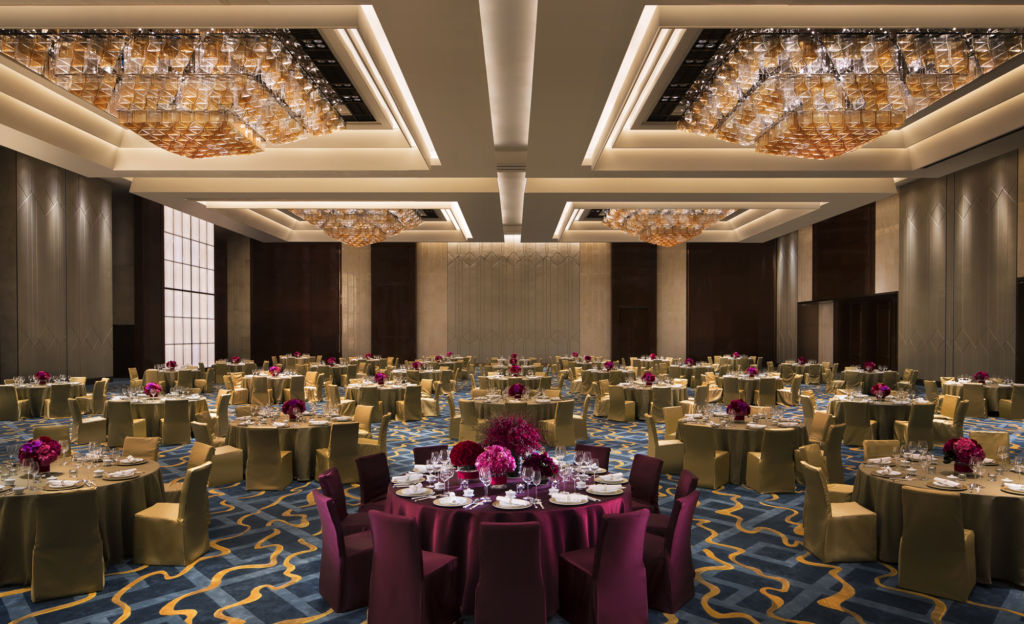 JW Marriott Hotel Macau
The JW Marriott Hotel Macau is a superb wedding venue. It takes romance to another level whether you're looking for something simple or extravagant. The property values even the smallest details of your wedding day. The hotel's pillar-less Grand Ballroom features direct ground-level access to ensure the utmost intimacy and convenience for the couples' special day. There are also a lot of reasons to love the pre-function space with a bright and welcoming setting for the cocktail reception.
Every couple is assigned a dedicated event manager to ensure consistency and continuity of the wedding plans. From venue and decorations to culinary arrangements, you'll also find a personal butler on hand to ensure the whole wedding day passes with no woes. You can also opt to hold an exclusive after-party at the al-fresco Pool Bar or the sophisticated Lobby Lounge for the ultimate day or night of a fantastic celebration.
JW Marriott Hotel Macau Galaxy Macau, Estrada da Baía da Nossa Senhora da Esperança, s/n, Cotai, +853 8886 6228, www.marriott.com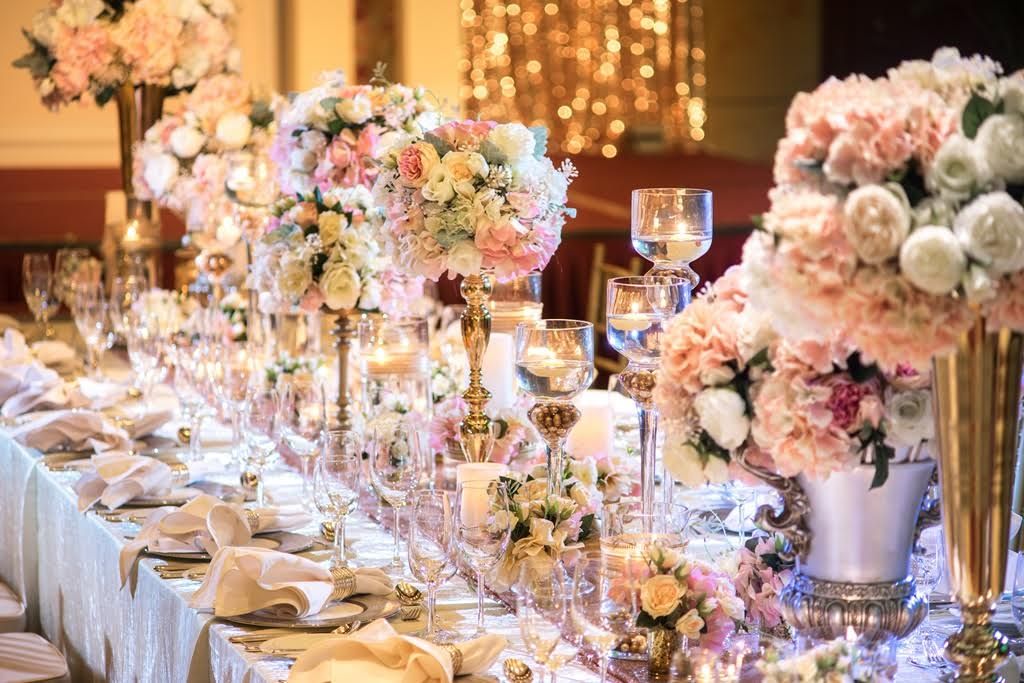 Banyan Tree Macau 
Banyan Tree Macau embodies the art of romance. You'll find Instagram couples raving about Banyan Tree locations from all over the globe as their choice of accommodation. So why not hold your wedding at this special place?
If you're planning a big wedding, hiring a wedding planner is non-negotiable. Trust us when we say that it will transform your wedding journey. The Banyan Ballroom is the perfect location for a grand Macau wedding that can accommodate 1,300 guests. It definitely meets the demands of the largest weddings in Macau. However, if you opt for an intimate reception room, The Banyan Room 1-4 are identical, intimate rooms with a capacity of seating up to 150 guests. You'll find stylish interiors and crystal chandelier giving the rooms an aura of style. The reliable event coordination team is also on hand to handle all kinds of requests to avoid any setbacks.
Banyan Tree Macau Galaxy Macau, Estrada da Baia de Nossa da Esperança, Cotai, +853 8883 6688, www.banyantree.com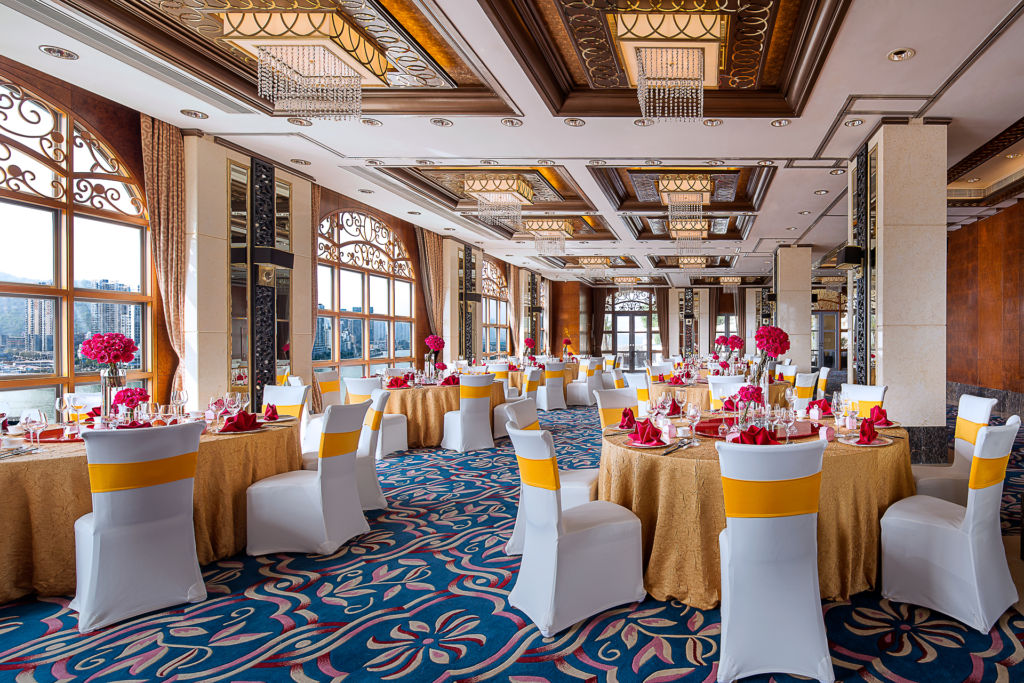 Sofitel Macau At Ponte 16
If you're worried about the unpredictable weather but don't want to compromise on elegance and style, Sofitel Macau At Ponte 16 is the place to celebrate your wedding! Bringing a touch French passion and style to your wedding, expect an unforgettable day filled with cinematic moments on your big day.
The dependable staff is available to ensure a personalized wedding planning executing all the essential details, including photography and catering if you wish to avail of their service. Situated on the sixth-floor ballroom is the beautiful Baccara. The floor-to-ceiling windows encased by whimsical frames, and soft lighting reflected in elegant mirrored pillars are reminiscent of fairytales. The ballroom doors open onto two separate terraces overlooking the majestic Pearl River. This location is certainly Instagrammable just as it is bound to be memorable. Don't forget to encourage your guests to post photos complete with a personalized wedding day hashtag to seal the momentous day on your social media memories!
Sofitel Macau At Ponte 16 Rua do Visconde Paço de Arcos, Macau, +853 8861 0016, www.sofitelmacau.com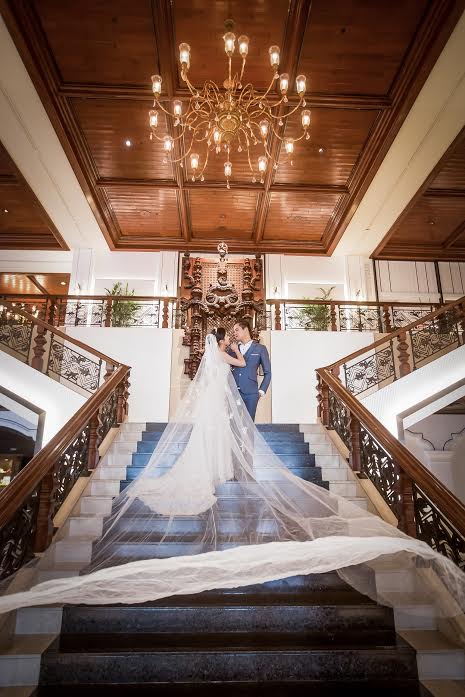 Grand Lapa, Macau
Grand Lapa is like an oasis in the middle of the bustling crowds of Macau. The hotel is located near picturesque places that are perfect for your pre-wedding shoot. If you want a fuss-free all in one location kind of event for your big day, then this is a wise choice. From the central location and top-notch facilities, Grand Lapa provides everything you need or might need.
They have great options for the wedding of your dreams including a dedicated wedding planner who can assist, organize and coordinate every detail of your day before, during and even after your event. All of the beautiful function spaces are opulently decorated, many with an entrancing historical theme, after all, this property embraces Macau's East-West cultural identity and spirit.
Grand Lapa, Macau Avenida de Amizade, Macau, +853 2856 7888, www.grandlapa.com
Tags
Related Posts