Nothing spreads holiday cheer like a beautifully decorated Christmas tree. It's such a significant tradition during the festive season, and we're truly lucky to live in a city decked with the most stunning Christmas trees. In the next few days, bring your kids on a tree-hopping adventure through Macau to see gorgeous decorations. Think of it as a treasure hunt or a visual journey and you can even enjoy lovely afternoon tea treats at these wonderful locations with the whole family.
Macau Fisherman's Wharf
(Featured image above)
You'll find a spark of magic at Macau Fisherman's Wharf this year. Prepare to fall in love with the spectacular and dazzling light displays at this beautiful location. You'll also find the tallest Christmas tree in town measuring 25 meters high at the main entrance! Kids and adults will be astonished by the grandeur and Christmas-themed decorations the venue has prepared for all. It's impossible not to take photos of the majestic atmosphere surrounding the area. Bring your friends, workmates, and loved ones on a stroll at Macau Fisherman's Wharf this festive time of the year.
Macau Fisherman's Wharf Avenida da Amizade e Avenida Dr. Sun Yat-Sen, NAPE, Macau, +853 8299 3300, +853 8299 3581, www.fishermanswharf.com.mo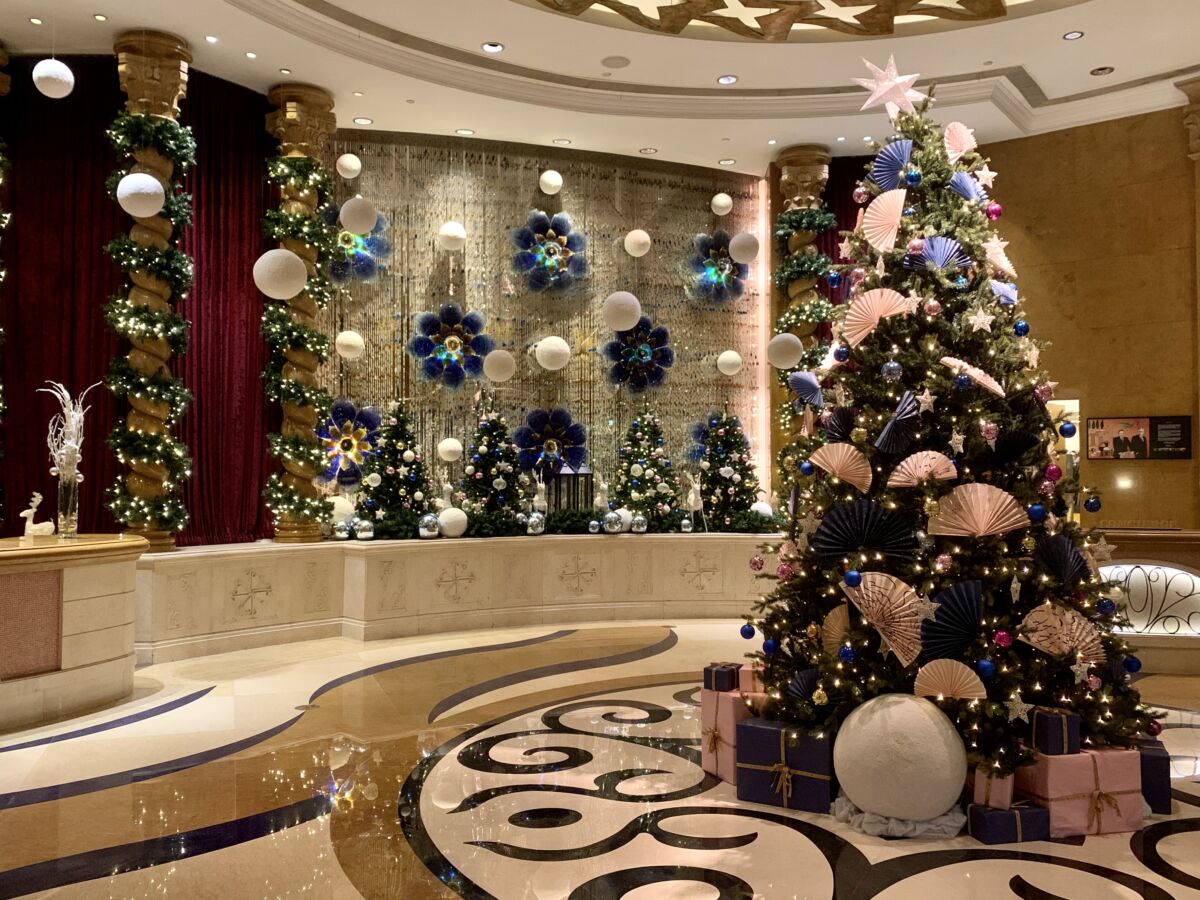 SOFITEL MACAU AT PONTE 16
If you're missing Paris this time of the year, there's only one place in the city that will sate your sense of nostalgia–Sofitel Macau at Ponte 16! This hotel brings to life the beauty of style and fashion intertwined in a Christmas tree. Blue fans dominate the chic backdrop as you reunite with family and friends at Sofitel Macau At Ponte 16 this holiday.
Sofitel Macau At Ponte 16 Rua das Lorchas e Rua do Visconde Paço de Arcos, Macau, +853 8861 0016, www.sofitelmacau.com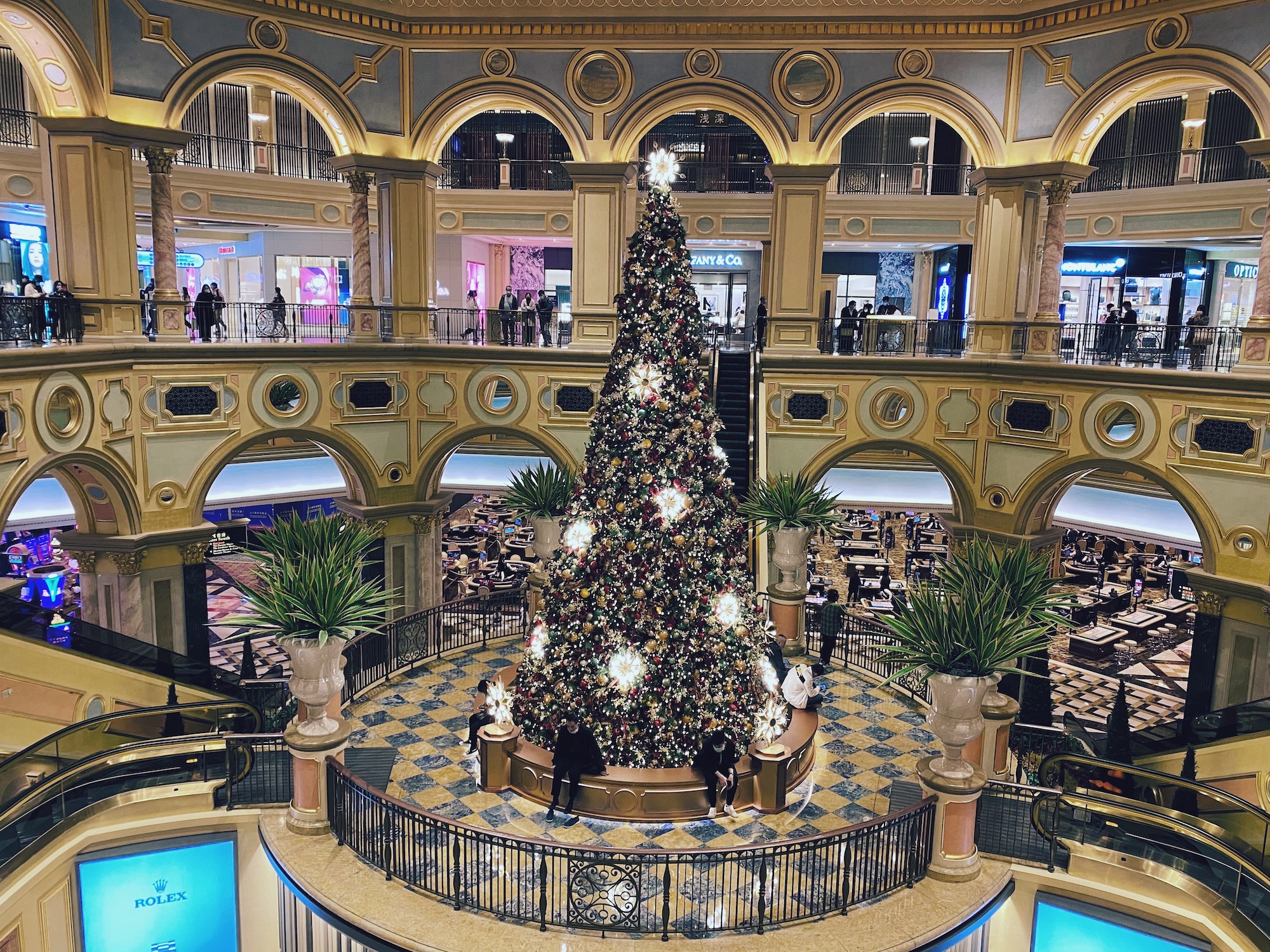 The Venetian Macao
Every year the Venetian Macao transforms into a magical scene and this year is no different. You'll find an astounding Christmas tree in full decoration. It's positioned in the entrance greeting guests and radiating a joyful vibe for shoppers and visitors. It's such a refreshing sight to see as you pass by Cotai and has simply become as iconic as The Venetian Macao location this time of the year.
The Venetian Macao Estrada da Baía de Nossa Senhora da Esperança, Cotai, +853 2882 8888, www.venetianmacao.com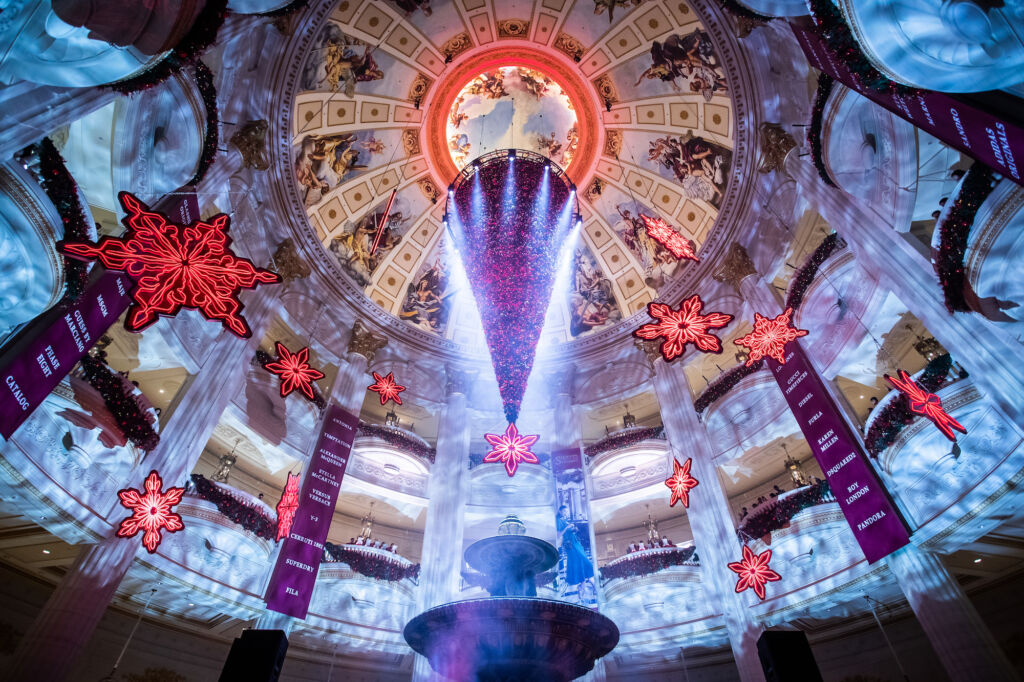 The Parisian Macao
Talk about innovation and that's exactly how the 50-foot inverted Christmas tree at The Parisian Macao should be aptly described. Hanging from the ceiling in the lobby rotunda of The Parisian Macao, the spectacular sight intrigues passersby. One cannot help but stop and stare. If you haven't taken a selfie at this spot, then you're missing out on a cool Instagram Christmas post. Bring the whole family to explore the beautiful decorations at this fantastic property.
The Parisian Macao Estrada do Istmo, Lote 3, Cotai, +853 2882 8833, www.parisianmacao.com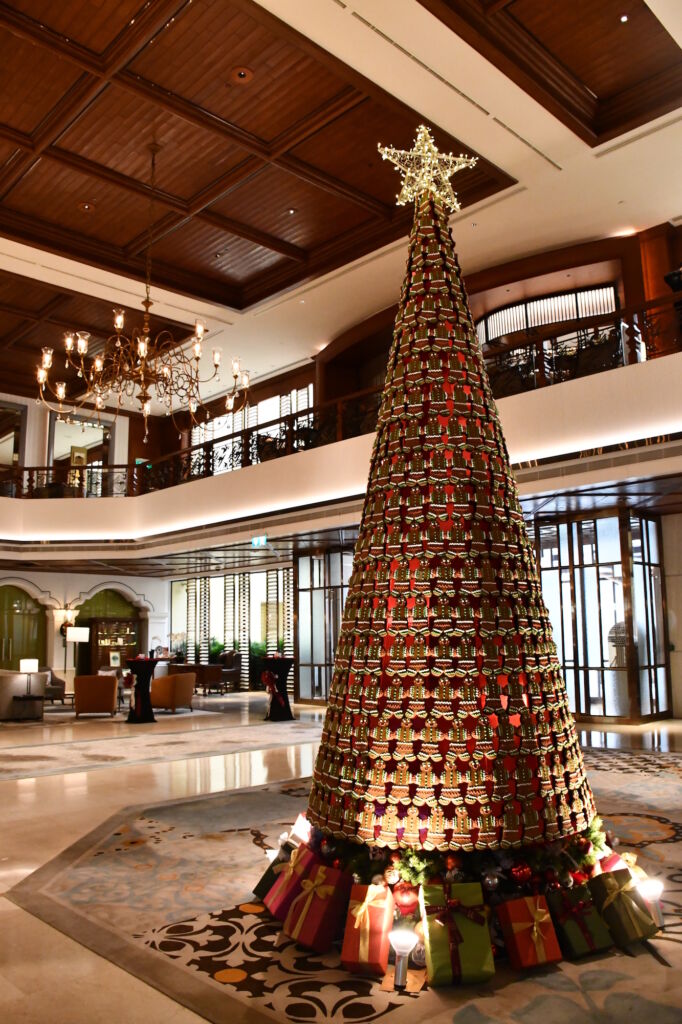 GRAND LAPA, MACAU
The gingerbread is a staple treat this festive season and Grand Lapa, Macau has taken it to a different level by creating the tallest gingerbread tree in Macau. The two-story gingerbread Christmas tree display at the hotel is a delightful sight, especially for kids. The hotel also crafted a holiday feast of art-inspired festive Boa Vida signature events with special highlights on the amusing stilt arts performance and workshops, offering a life-time opportunity for art lovers of all ages to understand, appreciate and experience this captivating performance art with its Portuguese origins.
Grand Lapa, Macau Avenida de Amizade, Macau, +853 2856 7888, www.grandlapa.com
View this post on Instagram
SENADO SQUARE
Right in the heart of our beloved city stands a green giant gift-inspired Christmas tree to cheer up the city dwellers of Macau. The Senado Square is home to the stunning sight cementing its status as an iconic landmark in the SAR. The designs blend perfectly with the mosaic-tiled floors and neo-classical buildings. You'll also love the open-air venue allowing a wide space for everyone to take photos and marvel at the wonderful illumination. Go on a Christmas tree spotting spree around the city and make this one at Senado Square your last stop to cap off a fantastic visual experience.
Senado Square Largo do Senado, Macau
Also read: Macau Landmark: Leal Senado Building
FOUR SEASONS HOTEL MACAO, COTAI STRIP
If you need a refreshing scene, head to the Four Seasons Hotel Macao, Cotai Strip. You'll find a stunning Christmas tree that will make you feel calm and peaceful inside. With so many things that transpired this year, a staycation at this lovely hotel property with its newly refurbished suites will definitely help you reclaim your motivation and positivity in life just as the year ends.
Four Seasons Hotel Macao, Cotai Strip Estrada da Baía de N. Senhora da Esperança, S/N, Taipa, +853 2881 8888, www.fourseasons.com
Tags
Related Posts