Passionate about books and literature, with vast experience in the world of publishing and editing, Catarina Mesquita decided to create Mandarina Books, Macau's first-ever publishing house dedicated to kids. Making use of the city's resources and unique particularities, Mandarina Books' main focus is publishing in Cantonese, English, and Portuguese, working with local artists–mainly illustrators–to teach the little ones, through fun products, about Macau. Born in 2019, Mandarina Books has been publishing one book per year and some other items such as flashcards. The brand was also involved in a theater play for kids, made in Macau! Read all about this exciting project that values Macau and its people.
When did you start Macau-based publishing house Mandarina? Can you tell us what it's all about?
I founded Mandarina in 2019. It was something I've been wanting to do for some time now. The idea started almost immediately after I arrived, seven years ago already. My life went back and forth and I finally created the project when I felt like I had enough experience and knowledge about Macau to be able to make something like this. Mandarina Books is the first-ever publishing house in Macau exclusively dedicated to children, and all of our content is in three languages: Portuguese, English, and Chinese–traditional and simplified. Our first book was published in traditional Chinese and English, the second one in Portuguese, English, and traditional Chinese, and the third one–Mandarina's first short stories' book–in Portuguese and traditional Chinese. More recently, we published a set of flashcards, which are an adaptation of our second book.
Mandarina Books' goal is to publish children's books and to teach them about Macau, teaching them in a fun and pedagogic way. We talk about details such as historical background, monuments, and other things. Mandarina Books is called so because we chose the symbol of prosperity–the mandarin fruit–on this side of the world for the logo. The purpose was also to connect with the local community and traditions. Our books already reached more than 1,000 children and families. Our buyers have been mostly foreigners who look for info on the city, but also local Chinese families. This is also one of my main goals: to reach the local community, which is something I'm happy about. The publishing house also brought me something I always wanted: it enabled me to connect to a different side of Macau that I didn't know. I even made a lot of friendships through Mandarina and that also brought us new projects.
What's your background? Do you have any previous experience in publishing?
The idea started off due to my professional background, which includes five years working at a children's book publishing house in Portugal, which was always a passion of mine. We executed various projects for big companies such as Warner Bros, Hello Kitty, and other big companies in Portugal. Mandarina's team is very small. I'm basically the one doing most of the work of project management and content. We also work with illustrators and translators and some other people who also contribute to the projects to become reality.
How did you find yourself in Macau?
I came with my boyfriend at the time and landed here without ever having visited the city before. In a certain way, coming to Macau was part of a love story.
I had more or less of a plan of staying for some time, but I feel that I lived very different lives here. I use to say that seven years in Macau mean seven different lives! Macau's been an adventure and a good experience. I also have a son who was born here, something that also connected me even more to the city. I don't see myself living anywhere else for at least the near future. The thing I like most about living here is the safe environment the city allows.
What's the publishing house's main focus?
To teach children about Macau with lots of details focusing on the history and traditions such as gastronomy, monuments, and other settings.
Why did you decide to cater to younger audiences?
It has to do with my past experience. Landing that job at a children's publishing house made me fall in love with this industry–and content for children in particular–and I also feel this is an area that needs work, also to be loved and cherished. It's a quite saturated area in Portugal, but not so much in Macau. Of course, there were already children's books in Macau, but there was no one fully dedicated to it. I feel Mandarina does it in a special way; we give a lot of attention to detail. There are games, a lot of beautiful pictures, and some texts, which help to develop children's cognitive features. The chromatic selection is also something we think about. We try to attract the market through our attention to detail.
What is the process like for publishing a book at Mandarina? How long does it usually take from start to finish?
With regards to timelines, I use to say "Mandarina is Catarina" because it moves as I can (laughs). There's no even rhythm right now, but I've been trying to publish at least one content a year. Covid-19 also delayed a bit all the projects, but that's what we've been doing. However, my intention is to produce with quality rather than quantity.
I'd say a book takes around two months from concept to publishing, give or take. Some of the products might take less–one of our contents took two weeks of planning and one week to release, for example.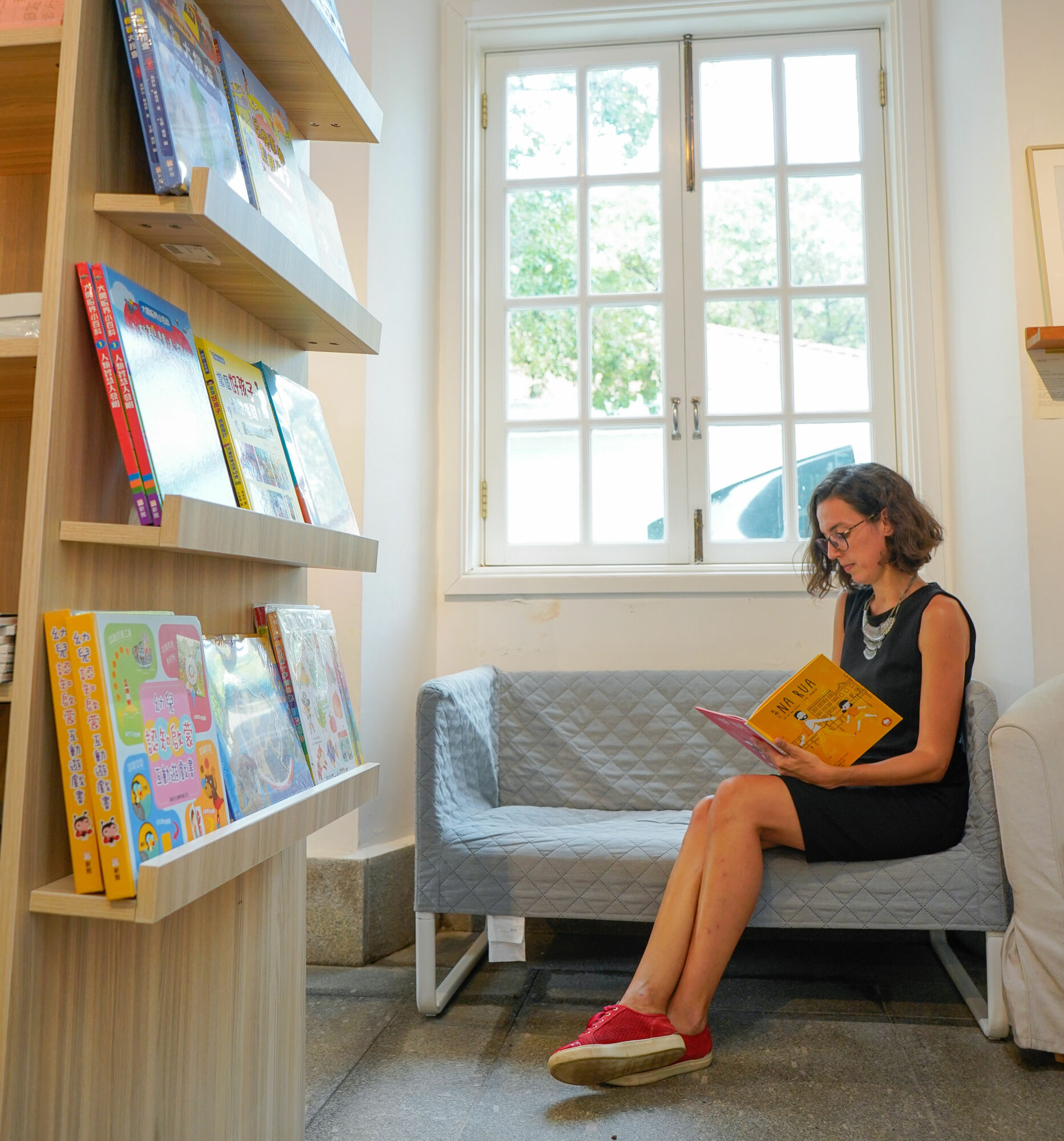 Who produces the content of the products? Do you invite local authors and artists to participate?
Yes, for sure! We take pride in being almost 100% made in Macau. Nowadays, printing is made in China, but the rest is done locally. "Na Rua" was written by a local writer, Joe Tang, a children's playwriting author. We also try to collaborate only with artists and people from here, including the illustrators.
Our translator, for instance, is a Chinese local who speaks fluent Portuguese as well and was interested in Mandarina, contacted us and started collaborating. We planted a seed and it's like a mandarin tree, where every branch is someone from Macau, who's creative and understands our project.
Is Mandarina open to collaborations with local talents?
Although we're now open to create books with other themes that aren't related to Macau, the people who participate in them are still going to be local, or at least that's our desire. We're open, yes. We look for people who identify with the projects and books, preferably local people who know and understand the city.
How's been the public's reaction to the books and other products on offer so far? Any bestsellers that stand out?
It's been quite good. "Na Rua"'s first edition sold out and we released a second edition. In September 2020, Mandarina's content reached around 1,000 families and has been raising since then. The book talks about a girl and her father, and a boy with her grandmother that strolls around Macau, eat dumplings, cook at home, buy local foods at the market. The story has been very well received by the audience, especially the Chinese community.
It's funny because Chinese people sometimes ask me why I, a Portuguese person with no previous connection to Macau, want to write about the city.
One of the main challenges is getting to local schools and I believe this is mostly due to a language and cultural barrier. I also feel a lack of support from entities and schools themselves. It would be great that these institutions understood our main goal: that more children learned about Macau and its history in a fun and didactic way.
What upcoming products or launches do you have planned?
Lots of them! (laughs) I'm quite hyperactive when it comes to ideas and Mandarina itself. We have lots of ideas for new books, we want to start releasing books that also cater to children's critical thinking and artistic sensibility. That's our next step, to create something that develops their creative and artistic side. Probably sometime around June–ideally June 1, International Children's Day.
Do you share your time between Mandarina and something else?
I also teach primary school kids. It's interesting to see how both these worlds intertwine. I also have a three-year-old, Salvador, and this is how I spend my time, between these things. I also spend a lot of time wandering through the city because, in truth, that's how I also find inspiration for Mandarina's projects.
What are your favorites spots in Macau?
I love Taipa Village. It's always been my all-time favorite place in Macau, those small streets. Also Rua dos Mercadores and Barra area. I'd say mostly all those old areas that have a lot of alleyways. "Na Rua" was an idea that I had a long time ago, in 2013, when I first started walking these tiny streets and alleys. Also, Coloane, where I spend a lot of time as well because there's a lot of greenery.
When you're not teaching or running your own company, what do you enjoy doing most? How do you spend your free time?
When I'm not working in front of the computer or teaching, I'm always thinking about new and exciting projects. I also love chatting and talking to people, getting to know new, interesting people. I recently discovered a new passion: taking care of plants! I created a small garden with plants, not a fake one on a balcony (laughs).
What are your all-time favorite restaurants in Macau?
I love food and eating! I'd say Chi Sasa Japanese Cuisine–close to Taipa Café and Broadway Macau–is my favorite restaurant. It's funny because I didn't know this was actually my favorite one. It was only when I arrived from a trip to Tibet that I really felt the desire to head there. When I got out of the maternity ward, Chi Sasa was also the restaurant I headed to.
Cheong fan is also one of my favorite foods, as well as sweet mochis with sesame and peanuts.
Also read: A Bookworm's Guide: Where to Buy Books in Macau
---
Mandarina's books are available at several local bookshops, including Livraria Portuguesa, Cuchi-Cuchi Bookhouse, Júbilo 31 Books, My Book, IPM's bookshop, and Universal Bookstore
To know more about Catarina Mesquita or Mandarina Books, check their Facebook page and Instagram @mandarina.macao
Mandarina Books Rua Fernão Mendes Pinto, 96 Taipa, Macau, +853 6280 3442, [email protected]
Tags
Related Posts