Are you ready to say "I do"? Congratulations! One of the greatest and most memorable moments of a person's life is their wedding day. Making a lifetime commitment to love and cherish one person for the rest of your life is one of the most poignant chapters in life. Now some great reasons why getting married in Macao is one of the best decisions you'll ever make as you embark on a new quest as a married couple.
Macao has developed into a unique and popular travel destination through the years. It's a place that blends modern culture with a Portuguese historical past. It retains an exceptionally fascinating charm that combines classical European and Asian architecture with modern skyscrapers and a laid-back urban appeal that is perfect for your wedding day.
This accessible destination is a dream getaway but with an urban city's logistic support network at hand. The English language is widely spoken, and the locals are renowned for their warmth and hospitality. Traveling to Macao is convenient with an easy visa on arrival policy for many nationalities. Indulge in a luxurious or a strictly budgeted celebration with flexible options and ways to achieve the wedding of your dreams in Macao.
Majestic Ceremony
Choose from a stunning selection of churches in Macao, with many inscribed as a collection of monuments in "The Historic Centre of Macao" on UNESCO's world heritage list. Our Lady of Penha sits on a hilltop overlooking the magnificent view of Macao. There is a large open courtyard that adds attraction to the location and picturesque grottos. Nestled on the island of Taipa is another favorite for wedding ceremonies with an exquisite location in the old Taipa Village. Exuding a neoclassical architectural style, Our Lady of Carmel sits beside a gorgeous garden and pavilions that provide a perfect atmosphere for the most important day of your life. Take a walk at the elegant Taipa-Houses Museum with a picturesque view of the Cotai strip on the other side.
Mark your wedding day in rich history and culture at the cathedral tucked in the heart of Macao where the bustling city is at its best. Many of Macao's magnificent landscapes are accentuated by church structures thanks to its colorful history. Discover other churches in the city with 7 Unique Parishes in Macao.
For a proper Catholic ceremony you will need to have official Catholic documentation as proof of the religious status. If that is not the case, no worries – some Macao churches have wide-open public spaces that allow for stunning photoshoots in a romantic setting.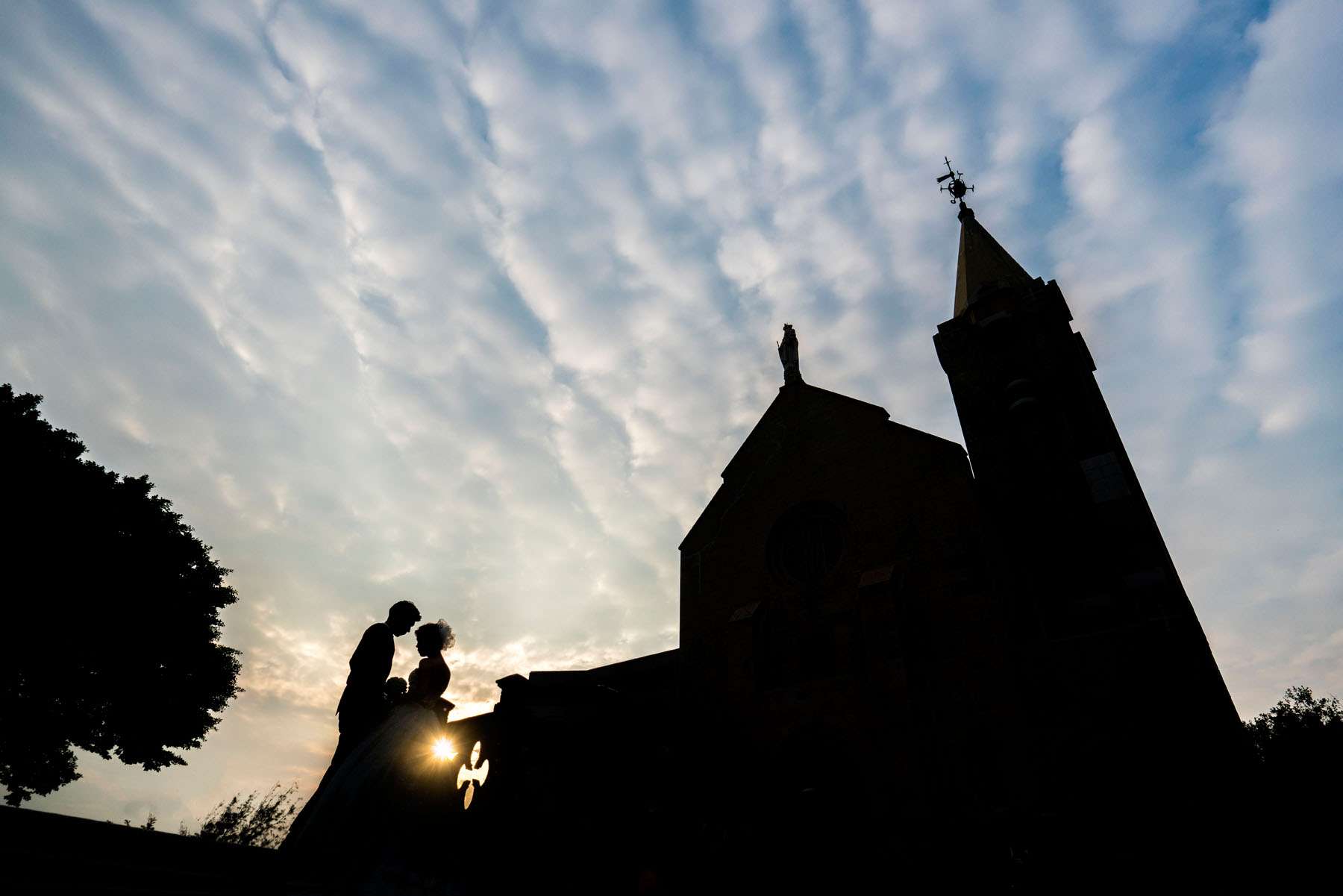 Beautiful Backdrop
Macao is home to scenic locations that will make your wedding celebration a memorable experience. Get a panoramic view of the city heading to the historic Guia hill where the Guia Fortress and lighthouse are located. Nothing can be more romantic than visiting the highest point on the Macao peninsula.
There is a beautiful contrast in the landscape of Macao that provides an enchanting appeal. You could be walking the cobbled streets of the city evoking a European atmosphere and on the other side of the street, a temple and Chinese lantern elegantly conjure up an Eastern flavor to your wedding photographs. There's just an exquisite charm that makes Macao the perfect wedding destination.
Everywhere you turn in Coloane Village is an instagrammable space. From the picturesque alleyways to local cafes, it's a tranquil location away from the bustling city life. Tucked away in the southernmost part of the island, the historical churches, temples, and other traditional facades provide a perfect background to the beautiful photographs that will remind you of special days. Discover these Instagram-friendly places for memorable photographs.
With the city's local suppliers comprising a pool of talented photographers, videographers, wedding coordinators, florists, and musicians, you will find everything you need for your big day in Macao.
Things to Do
Planning a bachelor or bachelorette party pre-wedding? Macao has a lot of great entertainment venues and options as well as great restaurants and venues to hold private or public parties. It's also easy and safe to travel around Macao. Public transportation is easily accessible and walking is quite common because of the proximity of places. Private hire cars are easily booked and arranged online prior to your arrival in Macao. You don't even have to worry about logistics issues when it comes to your wedding suppliers or transporting your guests from one place to another.
Host an afternoon tea, spa party, or sports activity at different locations in the city. You can even do a walking tour of the UNESCO world heritage sites for a day with the whole entourage.
Macao takes pride in fusion cuisine with combinations of Portuguese and Chinese flavors dominating the local taste. Embark on a culinary adventure at Senado Square or Rua do Cunha where friendly snacks and treats are lined up in the street food stalls to taste and savor. For your wedding day, there's an array of world cuisines such as Italian, French, Japanese, Indian and other culinary offerings available with a robust dining scene in the city.
Five-star and integrated resort hotels line the Cotai strip and the whole of Macao for your picking. With numerous options to explore, it doesn't matter if you're budget-conscious or particular about the theme of your wedding venue. Whether luxurious, intimate, big, or small, there is a great selection of hotels with different settings and requirements. You can choose from various packages according to your needs.
Things to See
Come rain or shine turn your big day into the fairy tale you deserve. In summer and spring, the sun shines brightly and the gorgeous greenery combined with colorful adornments embrace Macao's scenery, draping it in a festive ambiance. During the rainy and winter season, you can opt for an indoor ceremony and reception, and enjoy the cooler temperatures for a more romantic feel.
A destination wedding is an exceptional experience for your guests. It's the ultimate bonding experience with your family and friends. Stroll through Taipa Village, Anim'Arte Nam Van, Barra Square and Dom Pedro V. Theatre for some traditional cultural immersion pre or post wedding celebrations. You can even take young guests and explore local art galleries or specialty and family-friendly museums which are mostly all free admission.
Head to Nam Van Lake for a wonderful walk with spectacular sights. Discover art pieces, vintage items, unique crafts and handmade ornaments that are reasonably priced and extraordinary keepsakes for your wedding day.
Macao is filled with action-packed happenings to enjoy. There's always so much to see and experience with exciting musical events, theater acts and an entertainment arena that offers diverse options. If you time your wedding just right along with major events, such as the Macau International Fireworks Festival, Macau Grand Prix or even Chinese New Year, it adds a special touch to the grand affair.
Cherish a unique experience in Macao that will linger in your memory for years to come. What's even better is that Macao is already home to five-star hotels that make for the perfect honeymoon. But if you fancy a change of scenery, the Macau International Airport is a gateway to other neighboring destinations in close proximity and lesser travel time. Make your dream wedding come true in the magical landscape of Macao!
Tags
Related Posts