Created at the beginning of the 20th century as a method of post-injury rehabilitation, pilates has grown into a fitness activity with millions of fans, including Margot Robbie and the Dutchess of Sussex. It is a slow-paced and low-impact strength and endurance workout that focuses on maintaining proper form, and toning body muscles using your bodyweight. Regular classes will result in a number of benefits and among them are muscle strength gain, healthier joints, and improved body balance. Sounds fantastic, right? Then keep reading and make some notes about Macau spots to practice pilates.
– Studios and Gyms
 –
Pilates House
Macau
(see featured image above)
If you are a pilates fan, there is a big chance you have already heard of Pilates House. A studio exclusively dedicated to pilates was founded by Ceci Lam, an Instagram blogger and lululemon ambassador in Macau. She became a big fan of pilates for helping her to maintain a correct posture, be aware of her health, and control both body and mind. To share her knowledge with others, she founded Pilates House which now has two studios, one on the Macau side and another in Taipa. One is located on the grounds of Fabrica Va Nam, and another is on Avenida da Praia Grande. 
Equipped with Balanced Body Trapeze Table, Allegro 2 Reformer, Combo Chair, Ladder Barrel, and Spine Corrector, Pilates House is one of a few places that offer reformer-based classes. If you've already started your pilates journey, reformer classes are more recommended than mat ones, as the reformer will reduce the risk of injury. The groups are rather small, which allows the instructors to pay attention to every student. But if you wish for your instructor's undivided attention, private classes are available. 
Class packages are available and you can check the schedule for group classes on the Pilates House website
Pilates House Macau 1G Fabrica Va Nam, 568 Avenida Olympica, Taipa, +853 6272 0531
19 floor A, Edf. Great Will, 655 Avenida da Praia Grande Macau, +853 6272 0531, www.pilateshousemacau.com, www.facebook.com/pilates.house.macau, www.instagram.com/pilates_house_macau
Warrior Fitness 
You probably know Warrior Fitness for its array of martial art training classes and high-intensity workout options. However, they also offer different types of group sessions focused on flexibility, toning, and posture, such as yoga and pilates. Guided by Mel Devis, an instructor with a dance background, the classes are scheduled on Tuesday and Thursday mornings. 
Your first class is free and if you get hooked after the first hour, consider getting a Warrior Fitness membership or pay per class.
Warrior Fitness Macau Va Nam Bldg, Avenida Olimpica, Taipa, +853 6223 1511, warriormacau.com, www.facebook.com/warriormacau, www.instagram.com/warriormacau
Anytime Fitness
An international chain with five gyms in Macau, Taipa, and Coloane, Anytime Fitness has a whole spectrum of fitness amenities, equipment, personal trainers, and group sessions that include pilates.
Pilates classes at Anytime Fitness at Caravel Hotel are taught by Caitlin Shi. Previously a dancer, she is now a fitness instructor certified in yoga, dance yoga, aerial yoga, and pilates with additional expertise in postpartum repair and body shaping. For gym members, her group classes are free. If you don't own an Anytime Fitness membership, you can buy a day pass and participate in their group classes for an additional fee. Also, non-members can sign up for a personal training session with Caitlin. There is also a pilates class at Anytime Fitness Ocean Plaza by Cintia Milk.
To check the schedule for pilates classes, go to Anytime Fitness Macau's official Facebook page. 
Anytime Fitness Macau 96-126 Rua do Guimaraes, Macau, +853 6555 8764, www.anytimefitness.hk/macau-hong-kong, www.facebook.com/AnytimeFitnessMacau, www.instagram.com/anytimefitnessmacau

Yoga Loft 
Who would think there is an epicenter of peacefulness and tranquility right next to Macau's busiest areas? Yoga Loft is located at Senado Square, which gives it both the benefit of accessible location and unique views. Even with its hectic touristy surroundings, Yoga Loft's founders managed to turn the studio into a perfect place to practice, meditate, and focus on body and mind. Here, they feature many yoga classes and activities, as well as pilates sessions and workshops as well. Follow their Facebook page for more updates.
Yoga Loft Travessa S. Domingos, Edificio Centro Comercial Lek Tang, 2-A, 4/F, Macau, +853 6362 8004, www.yogaloftmacau.com, www.facebook.com/yogaloftmacau 
– Independent teachers & organizations

–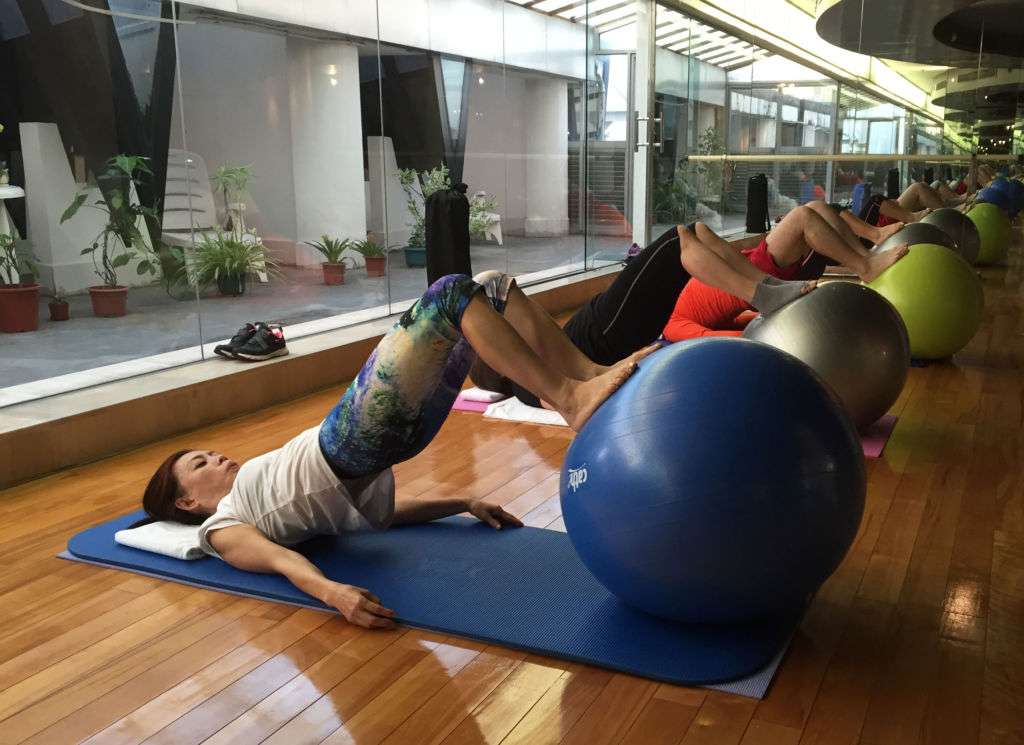 ZG Pilates & Wellness
With the support of her soothing guidance, qualified instructor Zuleika Greganyck offers one-on-one private and group Pilates Mat classes limited to five students for a small group private session that you can arrange with her. Sessions take place at the student's home, a fitness or dance room available at their building.  If you are interested in a class, contact her on Facebook, WhatsApp, or WeChat. You can also catch Zuleika at Pilates House.
ZG Pilates & Wellness +853 6628 0616, www.facebook.com/ZGPilates
ManaVida
Sweat for others with ManaVida, an organization focused on building social and physical awareness in Macau. ManaVida encourages a healthier lifestyle through engaging sessions and fitness events. For every paid session, a part of the profit is donated to charity. You can become a ManaVida member, volunteer, raise funds, or contribute supplies.
The pilates instructor of ManaVida is their co-founder, Cintia Milk, a Polestar Pilates Matt qualified instructor, and a NASM certified personal trainer. Currently, she's teaching 45-minute group classes limited to five participants at One Oasis on Saturdays and gives classes at Art Ignition at Ocean Tower on Friday mornings. But if you want a private session or can gather a group of four, contact ManaVida to organize it with Cintia. For updates, keep an eye on their schedule and follow their Facebook page.  
ManaVida +853 6652 0872, www.facebook.com/ManaVida, www.instagram.com/mana.vida
Macau Pilates by Jumey
Discover hidden muscles you never knew existed with Jumey. After an unfortunate neck injury, Jumey discovered pilates as a powerful way of recovery. As a result, she aspired to become a certified instructor, and after acquiring Polestar Hong Kong certification in 2014 began her teaching career in Macau. 
She teaches group and private pilates mat classes for a group of five participants of different levels (beginner, intermediate, and advanced) in the comfort of your own home, clubhouse, or studio. Additionally, you can practice Mat, Reformer, and Studio Pilates at her home studio. Here you will learn how to work with specific props such as the Oov and reformer. If it's your first time seeing and using the reformer, it might look intimidating. It consists of leather straps at the end of a carriage that moves back and forth along the tracks within a frame. Reformer promotes the development of proper alignment, core strength, and flexibility. Whereas the Oov is engineered to match the natural spinal curves of your body and help balance your stability, retrain your mind, and counteract poor posture habits for long-term change. 
Macau Pilates by Jumey +853 6280 8757, www.facebook.com/Macau-Pilates-by-Jumey
This article was originally written by Bel Faustino in July 2017 and updated by Ksenia Kuzmina in May 2020.
Tags
Related Posts