The kids are in for a treat this weekend with wonderful things to do and see—especially for the young members of the family. With amazing art events, cute character shows, storytelling activities, puppet theater and delightful tea time, this weekend makes for a great bonding activity with the children. Don't worry grown-ups, they're all adult-friendly events!
(Featured image above)
Taipa Village "Dream With Love" Photography Exhibition is currently held at the historical setting of the Taipa-Houses Museum and Carmo Hall. As part of the "Taipa Village DREAM WITH LOVE" Campaign which integrates art, people, and community, it is organized by Taipa Village Cultural Association, in collaboration with the British Council and Macau Digital Photography Association.
With an aim to support the local underprivileged community by raising their social acceptance and positive profiles in the community through love and dedication. The campaign consists of a series of art events and activities under the cultural backdrop of Taipa Village and its charming scenes, including a collective photography exhibition.
It is comprised of two elements. The first one is the UK Photography Series. This campaign is co-organized with the British Council by bringing in an inspiring and emotive photo collection from the UK—"11 Million Reasons Exhibition for Taipa Village Dream with Love Photography Exhibition", making its debut in Macau and the 2nd stop in Asia. Presented by the British Council, "11 Million Reasons" aims to raise public awareness and show respect to those fighters who face and overcome their physical constraints through 20 powerful, emotive, and humorous images, inspired by iconic dance moments from classic films.
The second one is the Local Photography Series—"The Harmony Collection & The Dream Collection". Alongside there are two local photography series that have been developed featuring the disabled and abled community to echo the British version and named "The Harmony Collection" and "The Dream Collection". The Harmony Collection captures the magic moment of the interaction between the local community, merchants, the underprivileged community, and disabled during community events through ten joyful, blissful, and touching images. "The Dream Collection" aims to bring the disabled and the professionals together, allowing the former to share and learn about photography theory and shooting skills, so as to deliver the positive message of "Physical Constraints Do Not Affect Personal Ability" to the general public.
When: July 26–August 31, 2017
Where: Taipa-Houses Museum, Avenida de Praia, Carmo Zone, Taipa
How much: Free admission
For more details, contact +853 2857 6116 or visit www.taipavillagemacau.com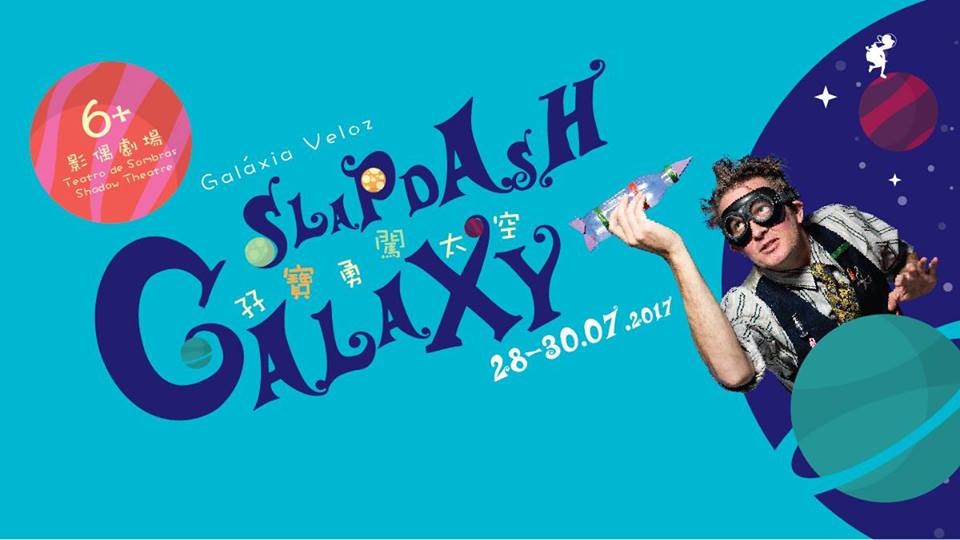 One day, Sam and Junior are forced to flee their barren planet, embarking on an epic adventure across the galaxy. Join the two brothers on their journey through the stars and lose yourself in the craziest shadow puppet show you've ever seen! The award-winning company Bunk Puppets brings us the hit Slapdash Galaxy, a show where performers put together all their wizardry to transform old boxes, bubble wrap, drinking straws, tennis balls, ping pong bats and used household items to tear open your imagination.
Dedicated to innovative, quirky, exciting performances for groovy kids and their families, the Australian troupe has been acclaimed in recent tours around the world, taking their theatrical, comical approach to enchant all audiences, from Egypt, Japan, and China to the UK, Germany and the US.
When: July 28–30, 2017
Where: Macao Cultural Centre, Avenida Xian Xing Hai S/N, NAPE, Macau
How much: MOP $180
For more details, visit www.macauticket.com or contact +853 2840 0555

The Photographic Society of Macao is a non-profit making organization, established on January 25, 1958, the earliest photographic organization in Macau. The goal of the society is to organize friends of photography to promote the art of photography.
The First Macao International Salon of Photography was held in 1981 and has become a major international bi-annual activity with participants from over 50 countries. Awards in these salons are also accredited internationally. See the annual exhibitions on the works of talented members.
When: 9:00am–7:00pm, July 16 – 28, 2017
Where: Chun Chou Tong Pavilion, Lou Lim Ioc Garden, 10 Est. de Adolfo Loureiro, Macau
How much: Free admission
For more details, contact +853 2857 2770 or www.salon.psm.org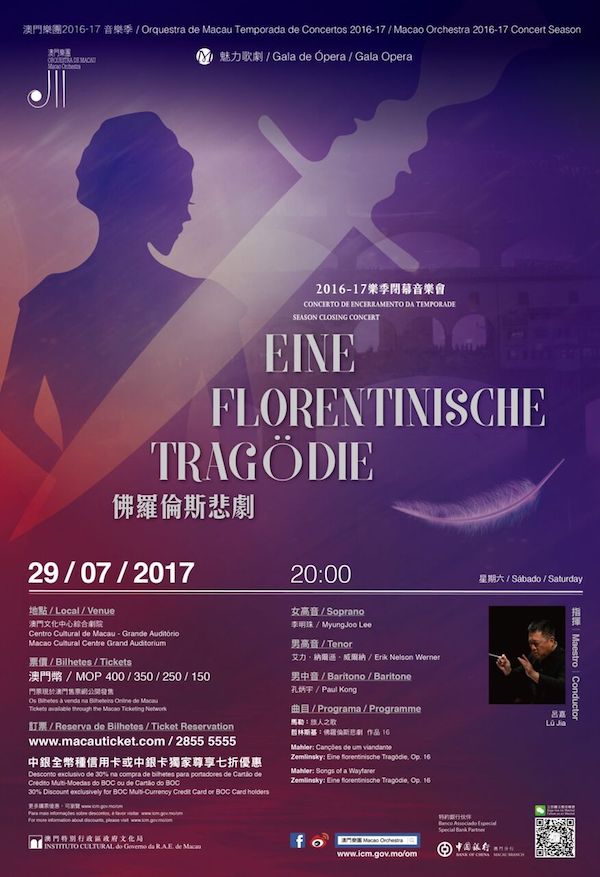 Macao Orchestra concludes the 2016/17 season with the concert edition of Eine Florentinische Tragödie, Zemlinsky's most notable opera. Based upon an uncompleted play by Oscar Wilde, the opera, set in Florence during the Renaissance period, recounts a duel between a wealthy merchant and a nobleman over a love affair. The delicate and lively music, coupled with the exciting and tense plot of the one-act opera, have made it the most frequently performed opera of Zemlinsky.
When: 8:00pm, July 29, 2017
Where: Grand Auditorium, Macao Cultural Centre, Av. Xian Xing Hai, NAPE, Macau
How much: MOP $150–MOP $400 (best for those aged six or above)
For more details, visit www.om-macau.org or contact +853 2853 0782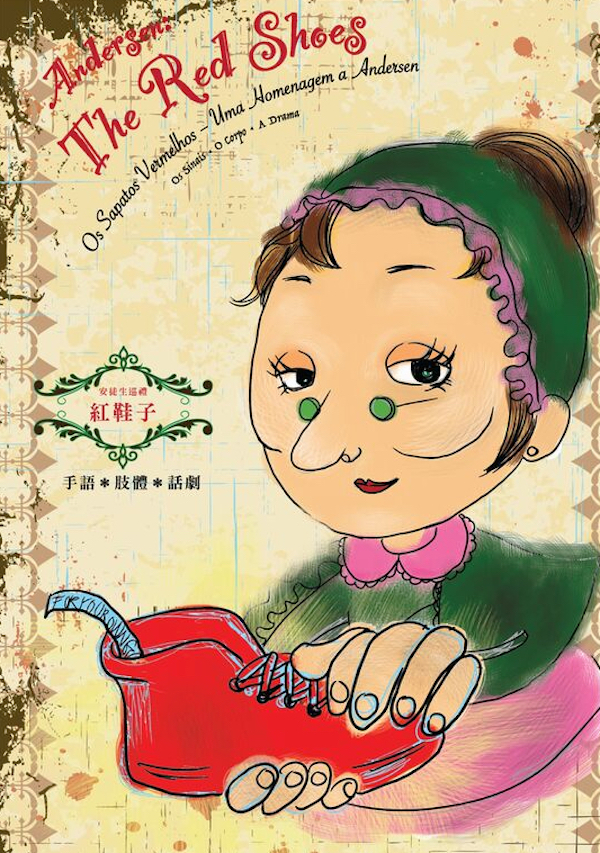 An adaptation of the tale by Hans Christian Andersen, the play invites children and their parents to rethink the meaning of classic fables from a modern perspective, with the objective of discussing the conflict between a risk-free path built by parents for their children and the free will to go their own way. The use of sign language and body language in the play enables audiences to achieve a different interpretation.
When: 8:00pm, July 29–30, 2017
Where: 2F, Black Box Theatre at Old Court Building, 459 Avenida da Praia Grande, Macau
How much: MOP $120
For inquiries and more details, contact +853 6301 8004 or visit www.whatson.macaotourism.gov.mo
Hosting local and overseas acts, the Live Music Association is an incredible location for amazing performances by talented artists and musicians. Don't miss this sweet summer sweat tour!
When: July 23, 2017
Where: Live Music Association (LMA), 11B San Mei Industrial Building, 50 Avenida do Coronel Mesquita, Macau
For more details, visit www.facebook.com/LMA.Macau or +853 2875 7511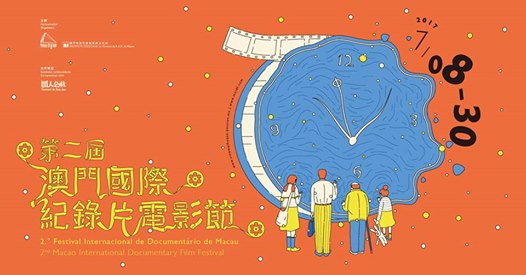 The 2nd Macao International Documentary Film Festival (MOIDF) is a collaboration between Cinematheque Passion and Comuna de Han-Ian. With "Time" and "Growth" as the two main curatorial concepts, and "Image of Time" as the theme, 27 outstanding documentary films from different places in the world will be featured in Macau.
The festival will also feature other award-winning documentary films, including "Still Tomorrow" (Best Chinese Documentary at the Amsterdam Film Festival), "Life, Animated" (nominated for the 89th edition of the Oscar Awards), "Le Moulin" (Best Documentary at the Golden Horse Awards 2016) and "Snuggle" from Hong Kong.
When: July 8–30, 2017
Where: Cinematheque-Passion, No. 13, Travessa Da Paixao, Macau
How much: MOP $60
For more details, contact +853 2852 2585 or visit www.cinematheque-passion.mo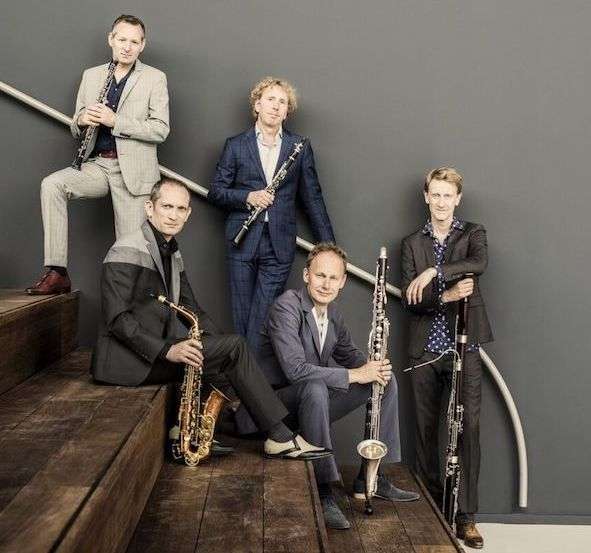 Taking place from June to September this year, the Macau Band Fair features a series of concerts by accomplished local musicians. Check the complete list of performances here.
The fair also features three indoor concerts on July 3, 10 & 31 at 8:00pm at the Macao Cultural Centre. It is free admission with tickets available from Macau Ticketing Network Counters and Macau Band Directors Association, limited to two tickets per person, free seating, best for those aged six or above) performed by local and foreign bands.
When: July 2–31, 2017
Where: Macao Cultural Centre, Dom Pedro V. Theatre, Colegio de Santa Rosa de Lima English Secondary Chapel
How much: Free admission–MOP $100 (Please check for ticketing options below)
For more information, contact +853 2825 2825 or www.mbda.org.mo
For ticketing details, contact +853 2855 5555 www.macauticket.com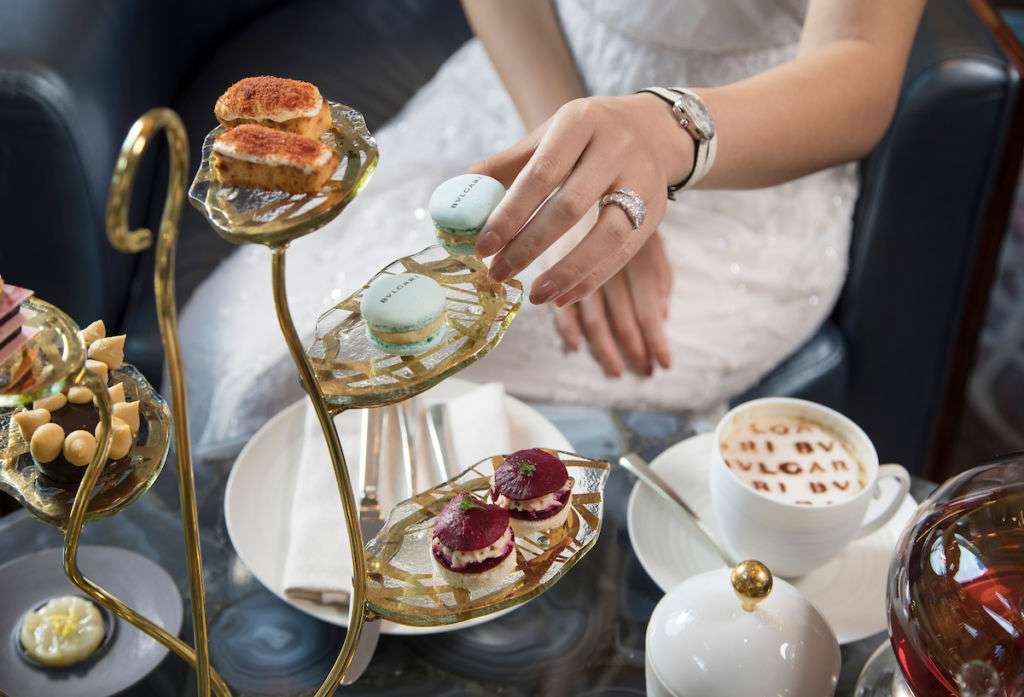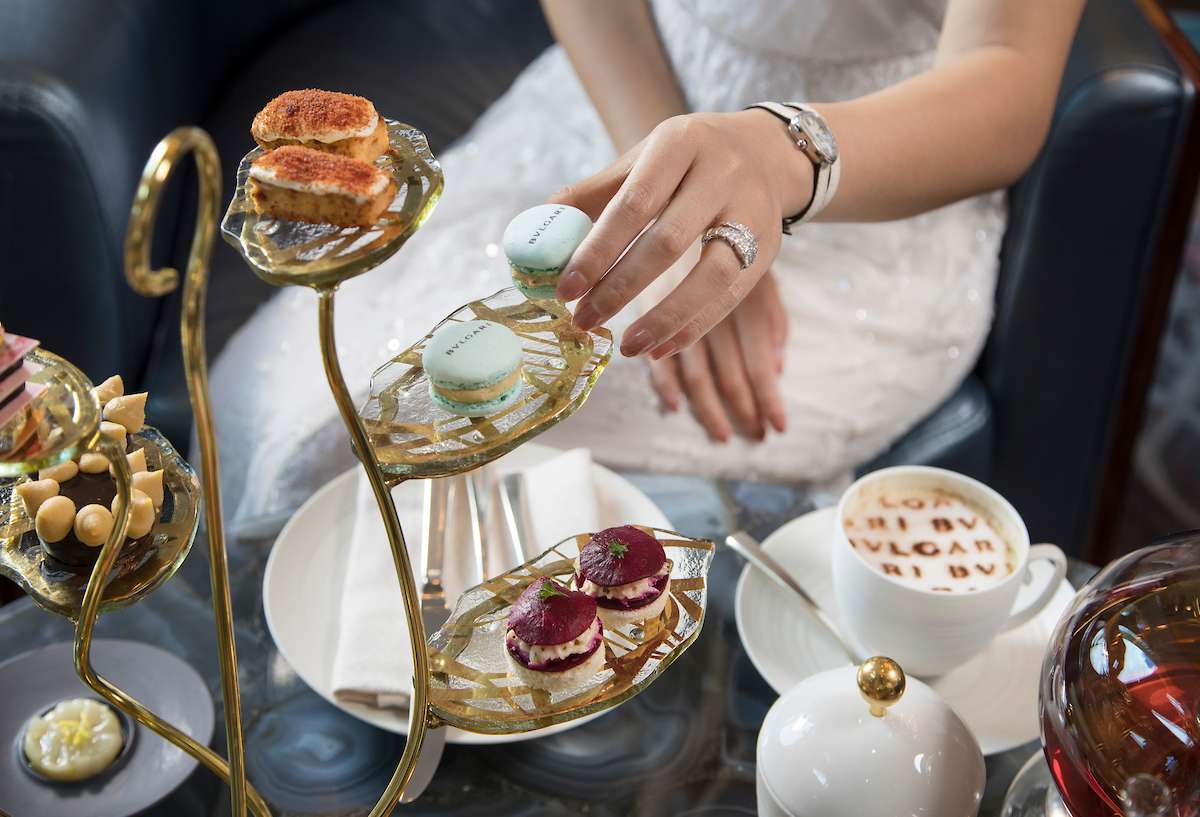 In celebration of edible fashion, the Italian Magnificent Jeweler BVLGARI is collaborating with The Ritz-Carlton Bar & Lounge to present an exclusive BVLGARI "Roman Holidays" afternoon tea experience from July 15 to August 31.
Inspired by the magnificent culture and history of Rome, the set will tantalize guests' taste buds with an artful selection of tea and teatime snacks. Savory choices include tomato polenta, burrata with balsamic, scallop tartare, honey with vanilla, blue Curacau macaroon with duck foie gras, marinated beets with crab meat salad and Iberico ham, mascarpone; while sweet choices include pistachio and raspberry delight, traditional tropical touch, blackberry supreme disc, tonka chocolate and salted caramel and three kinds of scones. Guests who join for afternoon tea will also receive an exclusive BVLGARI fanciful Roman map created by Finnish visual artist Lotta Nieminen.
When: July 15–August 31, 2017
Where: The Ritz-Carlton Bar & Lounge, The Ritz-Carlton, Macau, Galaxy Macau, Estrada da Baía da Nossa Senhora da Esperança, Cotai
How much: MOP $488 (set for two) or MOP $688 (set for two, including two glasses of Louis Roederer Champagne)
For more details, visit www.galaxymacau.com, www.ritzcarlton.com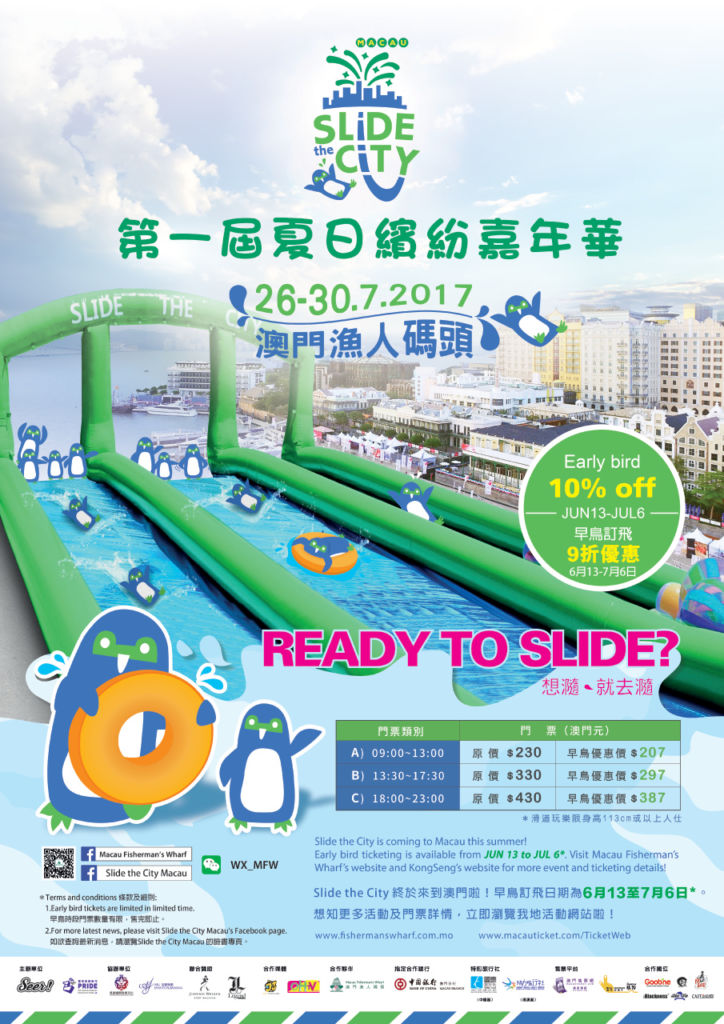 Invite your friends and family for inflatable fun at Macau Fisherman's Wharf. It's the coolest thing to do this summer.
Originating from the United States—and iconic for slides it erects at the center of bustling cities—"Slide The City Macau" will be held on July 26 to 30. This is the place for non-stop fun with your friends and family.
Besides the mind-blowing experience sliding down from a 6-meter high platform follow by a furious 100-meter long ride on this gigantic water slides, there are also great local treats for foodies, classic fairground games for fun lovers, and a jungle gym for the kids.
The tickets are categorized by dates and various time slots. Enjoy as many slides as you want during the respective time slot.
When: July 26–30, 2017
Where: Macau Fisherman's Wharf, Avenida da Amizade E Avenida, Dr. Sun Yat Sen, Macau
How much: MOP$230, MOP$330, MOP$430
For more details, visit www.macauticket.com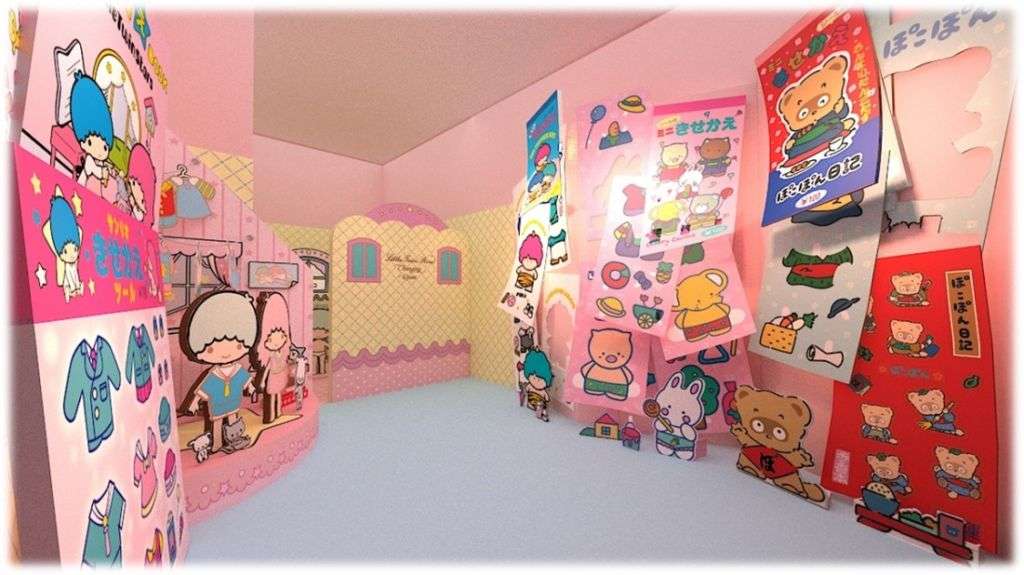 Classic Sanrio characters are more than just Hello Kitty! Keep the kids entertained at Studio City with these adorable characters. Since its establishment from 1960, Sanrio has created over 400 characters!
Embark on a journey through this time tunnel, unlock your memories, and spend a good day with Sanrio friends with the whole family.
When: July 28–September 3, 2017
Where: Studio City, Estrada do Istmo, Cotai
How much: MOP $150 (standard price ticket), MOP $90 (students, senior and handicap), MOP $110 (Macau resident and group ticket with valid Macau ID)
For more details, visit www.studiocity-macau.com or contact +853 2855 5000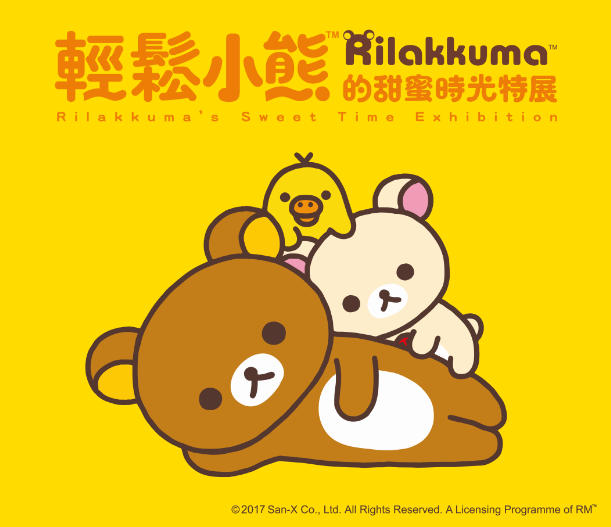 Whether lying down or sitting, every cute action and expression makes people relaxed. Rilakkuma is coming to Broadway Macau from June 30 to August 31 to bring fun to kids of all ages and kids at heart in the city. Don't miss the cuteness overload at Broadway!
When: June 30–August 31, 2017
Where: Broadway Macau, Avenida Marginal Flor de Lotus, Cotai
How much: MOP $80–MOP $120
For more details, contact +853 6288 9485 or visit www.broadwaymacau.com.mo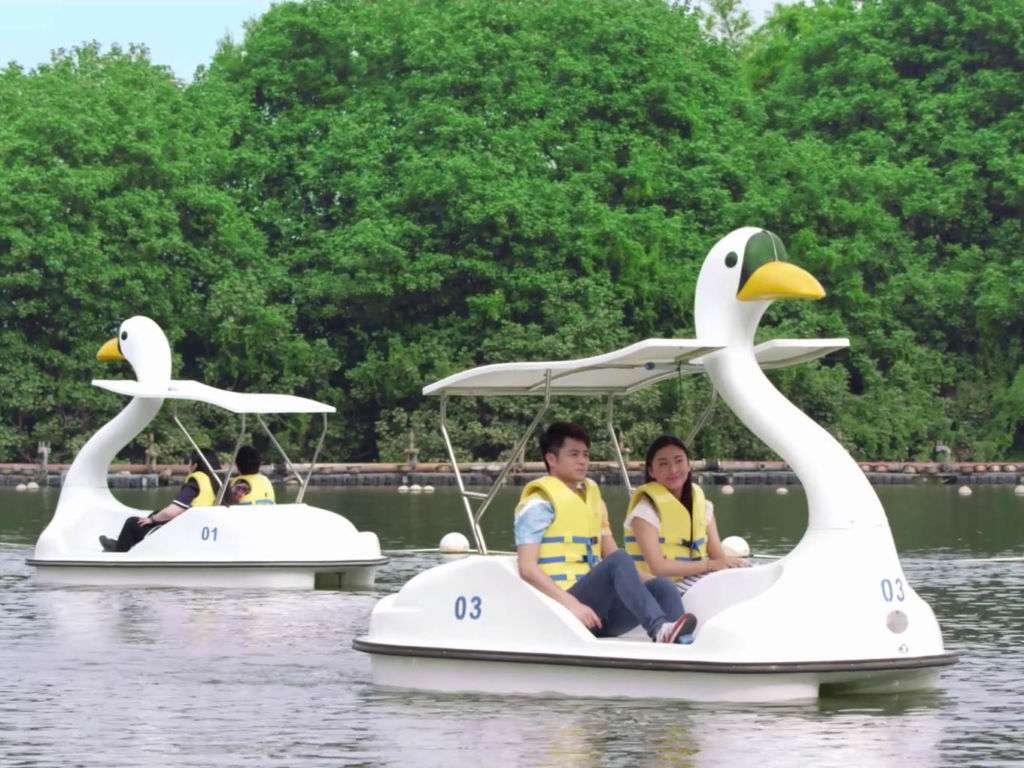 Anim'Arte Nam Van is nestled in the pristine Nam Van Lake waterfront along the Praia Grande promenade. It is one of the city's favorite family attractions featuring an arts pavilion, the IFT Café, a weekend craft market, graffiti display area, cultural and creative shops,  and much more, while boat paddling translates into fun on the lake.
Check out the smiling workshop, outdoor weekend craft market, and laser projection at Nam Van Lake during weekends.
When: July 1–31, 2017
Where: Anim'Arte Nam Van, 744B Avenida Panoramica do Lago Nam Van, Macau
How much: Free admission
For more details, contact +853 2833 7676, www.macaotourism.gov.mo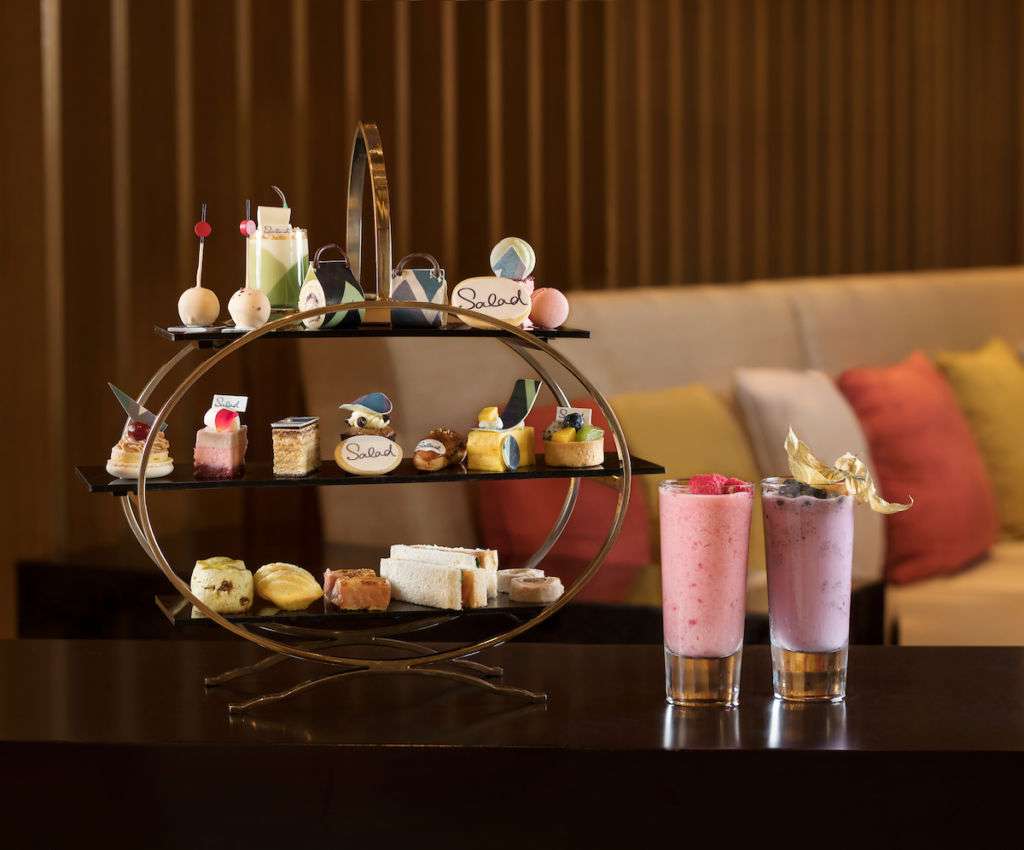 The Bauhaus fashion brand Salad and the Hotel Okura Macau jointly present the Salad x Hotel Okura Macau Afternoon Tea Set Collaboration at The Promenade Shops.
Afternoon tea is the ultimate respite from a long day of shopping, and with the brand new Salad x Hotel Okura Macau afternoon tea set, guests can relax and rejuvenate over a stylish selection of tea and teatime treats.
Visit the Hotel Okura Macau's elegant Japanese-inspired Nagomi to enjoy this limited-time-only tea set that is created by Nagomi chefs and themed around the fashion aesthetic of salad. Sweet choices include coconut lollypop; chestnut mont blanc; carrot cup cake; strawberry layer cake, rose macaroon, and green tea macaroon; opera cake; glass with green tea cream; green tea mousse and white chocolate mousse; and more. For something savory, tea time guests can enjoy smoked salmon sandwiches, quiche, and pork belly with jelly fish and cucumber.
When: July 11–August 31, 217
Where: Nagomi Lobby Bar & Lounge, Hotel Okura, Galaxy Macau, Estrada da Baia de Nossa Senhora da Esperanca, Cotai
How much: MOP $288 (set with glasses of summery smoothies for two)
For more details, visit www.hotelokuramacau.com
•••
•••
Watch Out For This Exciting Event in Hong Kong
It's a great opportunity to explore diverse options of restaurants boasting spectacular interiors, innovative dishes, and delightful dining experience if you're heading to Hong Kong this weekend.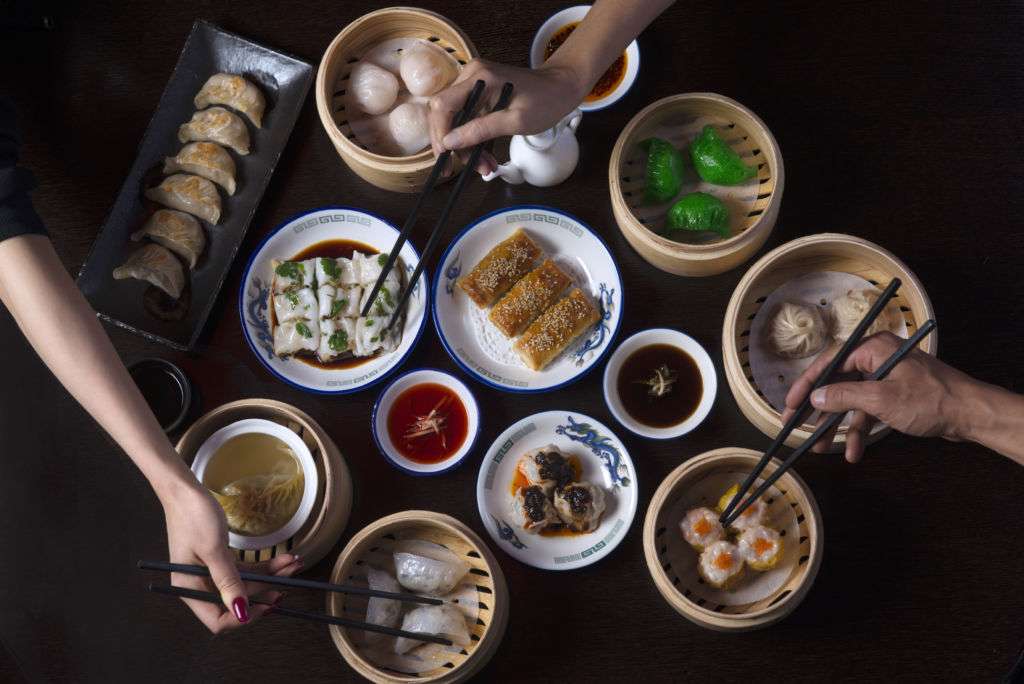 Experience an extraordinary dining experience during the Hong Kong Restaurant Week. With more than 100 of Hong Kong's finest restaurants offering 3-course lunches from MOP $118 and 3-course dinners for MOP $298 only, enjoy the best culinary scene of the city. Restaurant Week is a great opportunity to experience Hong Kong's best restaurants at affordable prices.
When: July 28-August 6, 2017
Where: Hong Kong
How much: Lunch from MOP $118- Dinner from MOP $298
For more details, visit www.restaurantweek.hk
Tags