Almost another week done – time to get ready for the weekend! Plenty of awesome stuff to do round Macau this weekend. You've got some great gastronomy events which promise to take you around the world without leaving the city – if Singaporean is your thing you don't want to miss one of the lion city's best celebrity chefs, Eric Teo, who is heading to Mandarin Oriental, Macau, to cook up some delectable hawker-inspired dishes from his home city. You can also try China's legendary Huaiyang cuisine which is rare, exclusive and only be available at Galaxy Macau for a short time. There's also some inspiring interactive and historical art events. Oh, and don't miss our super exclusive special anniversary giveaway at the bottom!
Time to get your weekend hat on and get ready to enjoy – see you at the other end on Monday! 🎉
(See the featured image above)
One of Singapore's best celebrity chefs, Eric Teo, is returning to Mandarin Oriental, Macau, and he's bringing with him some delectable hawker-inspired dishes from his home city. He has over 30 years of culinary experience in the food and beverage industry in Singapore, having been a former executive chef of Mandarin Oriental, Singapore, since 2011.
The Lobby Lounge at Mandarin Oriental, Macau, invites guests to join Eric Teo for this special dining experience which introduces an array of Singaporean hawker food with a twist. Sample the delicious or chien (pan fried omelet with oyster, scallion and cilantro), rojak, sotong kia (honey chili lemon glazed crispy baby squid), plus some killer barbecued chicken wings with chili sauce, and durian pancakes.
When: 11:00am—10:00pm, August 07—August 12
Where: Lobby Lounge, Mandarin Oriental Macau, 945 Avenida Dr. Sun Yat Sen, Nape, Macau
How much: Set menu served from 12:00pm—8:00pm, priced at MOP $238 per person; a la carte menu from 11:00am—10:00pm, prices vary. Prices subject to 10% service charge and 5% government tax.
For more details or reservations, contact +853 8805 8938 or email them; visit www.mandarinoriental.com or visit their Facebook event page.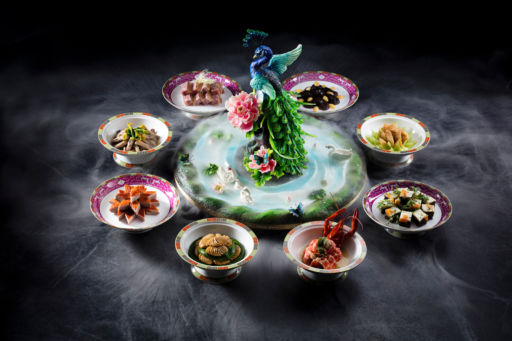 In collaboration with legendary Master Chef Ju Chang Long, Galaxy Macau's culinary talents bring the refined art of Huaiyang cuisine to a few select venues at the mega resort. Your palate will be dazzled by an exceptional selection of distinctive dishes. Superb ingredients, rich flavors, artistic plating, and excellent knife work – these are the hallmark characteristics of China's legendary Huaiyang cuisine which will only be available at Galaxy Macau for a short time. Don't miss exclusive and delectable items like the premium fish maw, fresh blue yabbies (crustaceans) sourced from Australia and decadent baby hairy crabs.
When: July 23—September 8
Where: Festiva, The Noodle Kitchen, and Lugang Café – all at the Galaxy Macau
For more details, call +853 8883 2221 or click here for more information
This exhibition dedicated to Marc Chagall will feature a selection of works which highlight the pre-eminence of light and color in his creations. There will be paintings, gouaches, lithographs, costumes, and tapestries from the talented artist. His work encompasses a world of unique and diverse cultural influences which he encountered during a lifetime marked by war and exile. Chagall's Light and Color in Southern Frances explore the omnipresence of lights and colors in his work from the 1950s, inspired by the dazzling Mediterranean Sea and bright landscapes of the French River. The exhibition has been organized by the Macao Museum of Art under the Cultural Affairs Bureau and made possible thanks to the precious help of the Musée National Marc Chagall in Nice and the support of the Chagall Estate.
When: 10:00am—7:00pm, June 1—August 26, (closed on Mondays)
Where: Macao Museum of Art (MMA), Avenida Xian Xing Hai, Nape, Macau
How much: Free admission
For more information and details please visit www.mam.gov.mo
Share
Tags