Wondering where to go and what to do in Macau this weekend? Look no more, we've got you covered! Check out some of the great things these days, including outdoor fun by Grand Hyatt Macau's swimming pool, or a picnic experience at Sheraton Grand Macao. Don't forget Sunday is Mother's Day celebration, and Mandarin Oriental, Macau has something for every kind of mother! Also, there's still time to find the best surprise for the woman of your life. You can either take her to dinner or buy a beautiful and meaningful gift with our suggestions of presents. Don't miss out on the chance to win a unique summery staycation at Artyzen Grand Lapa Macau by participating in our giveaway.
(See featured image above)
Sitting in the heart of Cotai, there's a stunning swimming pool set amid an enchanting garden complex at Grand Hyatt Macau waiting for you. Summer is fast approaching and this serene location is the perfect place for celebrations, reunions, or just plain relaxing! Keep out of the heat under the shade of a palm tree or a cabana during the day. If you're thinking of a unique date night idea, the calm oasis with a beautiful landscape is transformed into a twinkling magical garden when the lights come up each night offering guests a romantic setting for a drink and dip kind of evening.
Grand Hyatt Macau is home to a 40-meter aqua green-tiled, temperature-controlled outdoor swimming pool. It welcomes guests with a delicious pool menu that offers comfort food, refreshments, and bites for everyone. Rejoice at the free entry offer during the nighttime with their special summer promotion. From cooling off on a hot day to a birthday or pool parties, we can all agree that they are the unforgettable times of our life. Host a pool party at the Grand Hyatt Macau swimming pool just as the sun sets and bring everyone together for a lovely summertime. This summer, you're in luck as there are two Grand Hyatt Macau pool offers just for you!
When: Ongoing
Where: Grand Hyatt Macau, City of Dreams, Estrada do Istmo, Cotai
For more information, check here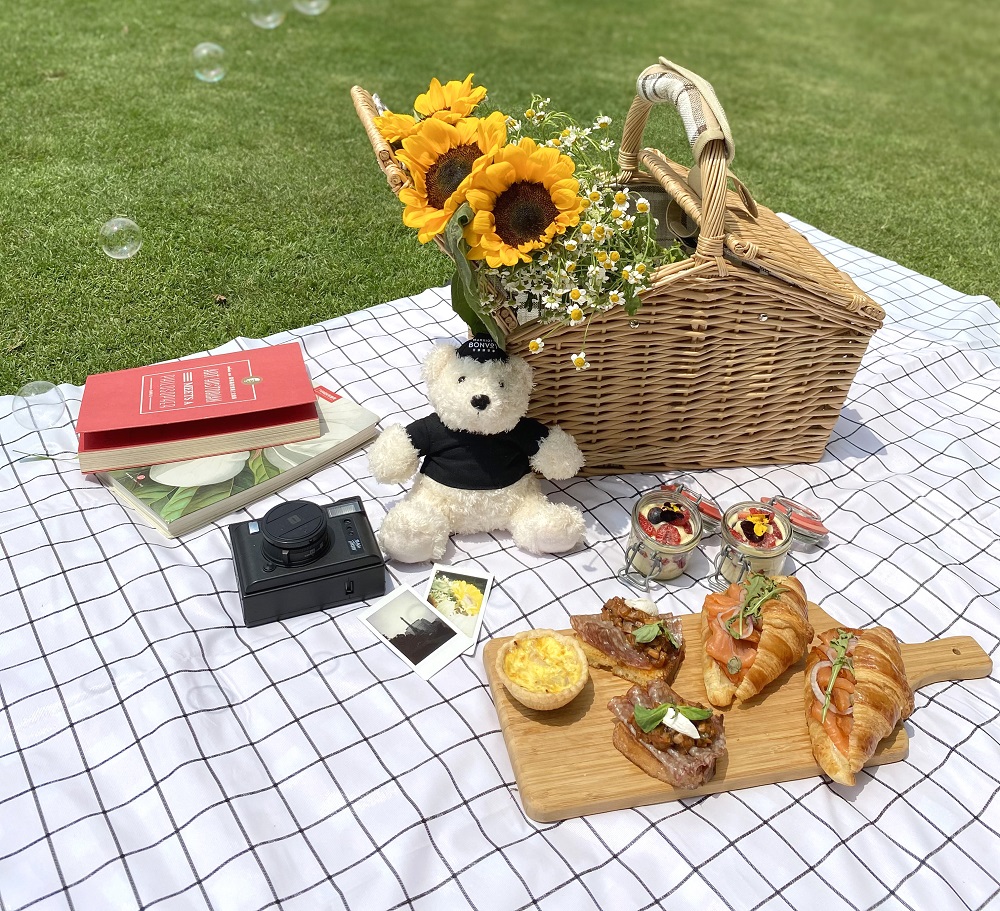 Enjoy a fun-filled picnic on the grass with delicious treats and create unforgettable memories with friends and loved ones with Sheraton Grand Macao's "A Date with Spring" limited-time accommodation package. Offering a delightful outdoor experience, "A Date with Spring" hotel package includes a one-night stay in a Deluxe King or Twin room, as well as a picnic experience featuring a picnic basket full of sweet and savory treats that guests can enjoy on the nearby Le Jardin or elsewhere to explore the beauty of Macau.
The picnic basket is packed with delicious afternoon tea items including charcuterie and cheese, croissants, finger sandwiches, and sweet treats including English trifle, maple, and pecan tart, freshly baked scones, as well as a selection of refreshing beverages. "A Date with Spring" is available now and includes accommodation in a Deluxe King or Twin Room, a picnic experience by Sheraton Grand Macao featuring a picnic basket takeaway, late check-out until 3:00pm, and complimentary room upgrade to the next category (subject to availability upon check-in).
When: Bookings – From now till July 16, 2021
Stays – April 22–July 18, 2021
Where: Sheraton Grand Macao, The Londoner Macao, Estrada do Istmo, s/n, Cotai
How much: From MOP/HKD $888* per night
For more information and bookings, check here
*Subject to a 10% service charge and 5% government tax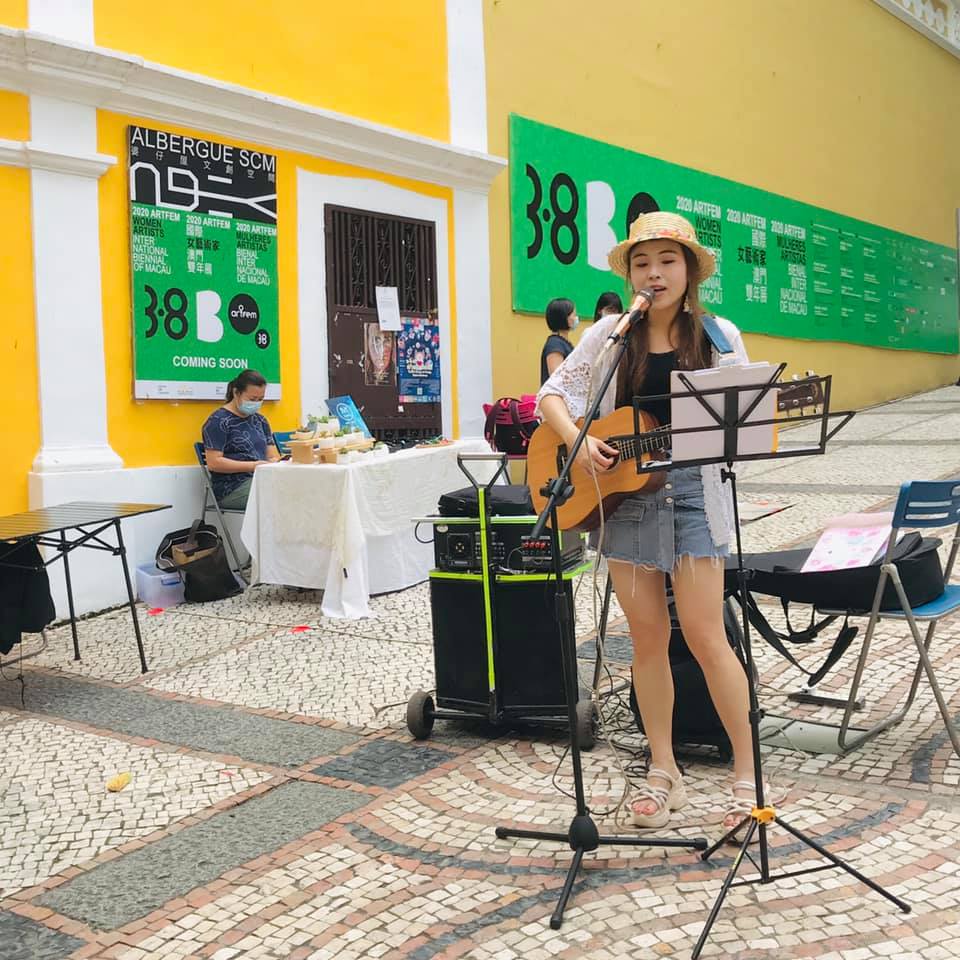 The events collection Sun Never Left features a wide range of arts and cultural activities, including local cultural and creative product stalls, street paintings, and street music performances, to bring lively energy to the European sensations at St. Lazarus Church district and encourage the public to participate in arts and cultural events.
When: Saturdays and Sundays, 3:00pm–6:00pm, May 1 and 2, 8 and 9, 16 and 16, 22 and 23, 29 and 30, 2021
Where: Square in front of the St. Lazarus Church, St. Lazarus district, Calçada da Igreja de São Lázaro, Macau
How much: Free admission
For more information, check their Facebook page or send an email to [email protected]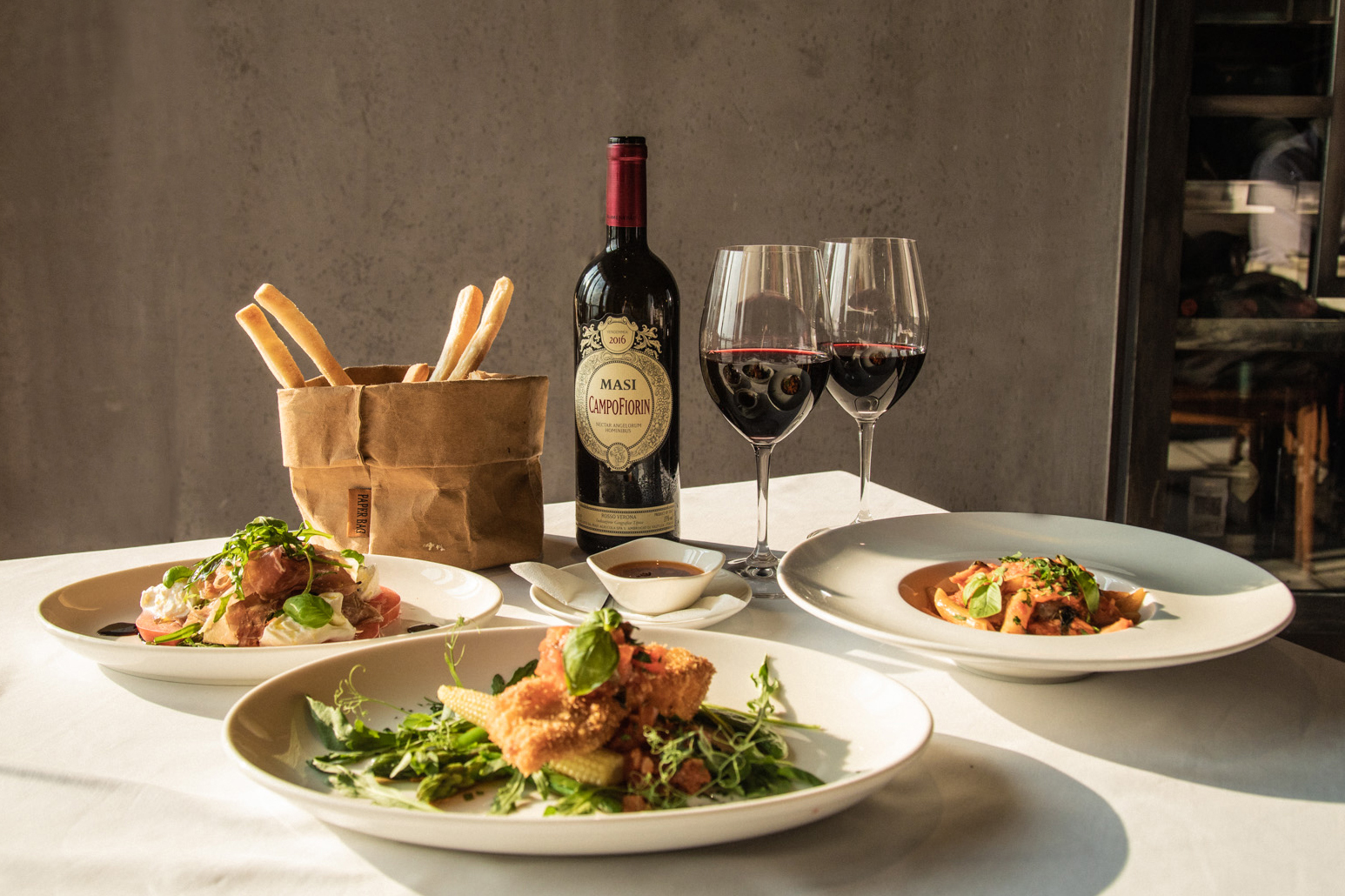 Thinking of a fun way to socialize with your friends or perhaps meet new ones over cocktails and nibbles? Pay only for your drinks with a choice of beer, wine and spritzes while enjoying finger food, snacks, and sparkling conversations. How fun!
When: 6:30pm–8:00pm, Thursdays, from April 15, 2021
Where: Caffé B Macau, Lake View Mansion Block 1, 744G-H Avenida Panorâmica do Lago Nam Van, Macau
How much: Depends on your drink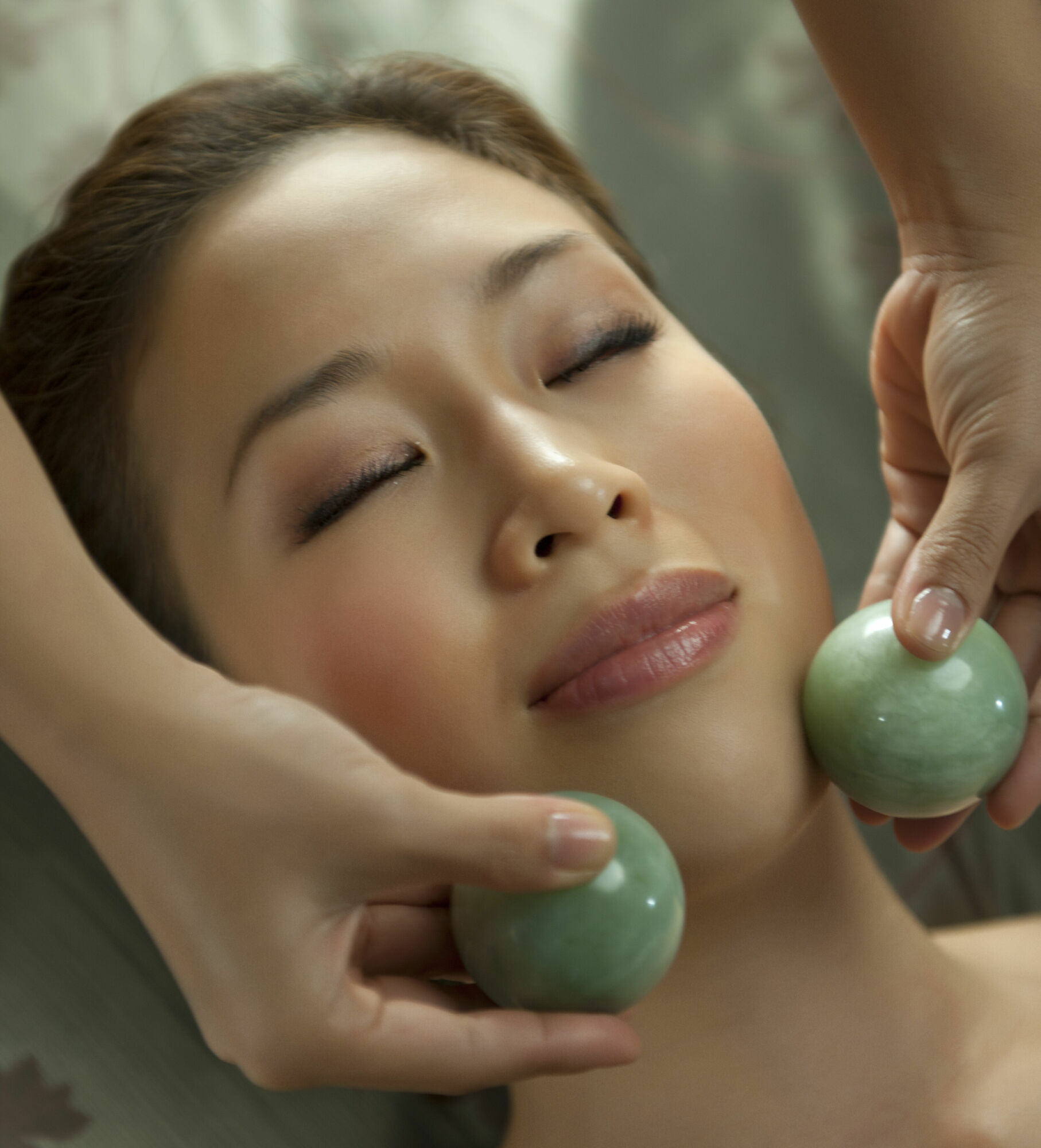 Mandarin Oriental, Macau has crafted wonderful surprises for all the mothers out there! With an array of unique and indulgent offerings, the hotel has different experiences for you and your mother to fully enjoy May, the month of moms. Ideal for lovers of sweets, those who love to keep moving, and also relaxing treatments, these experiences were all crafted to make your mom feel extra special and loved in the month of May.
When: May 1–9, 2021
Where: Fitness Center, The Mandarin Cake Shop and The Spa, Mandarin Oriental, Macau, 945 Avenida Dr. Sun Yat Sen, NAPE, Macau
For more information and bookings, call +853 8805 8888 or send an email to [email protected]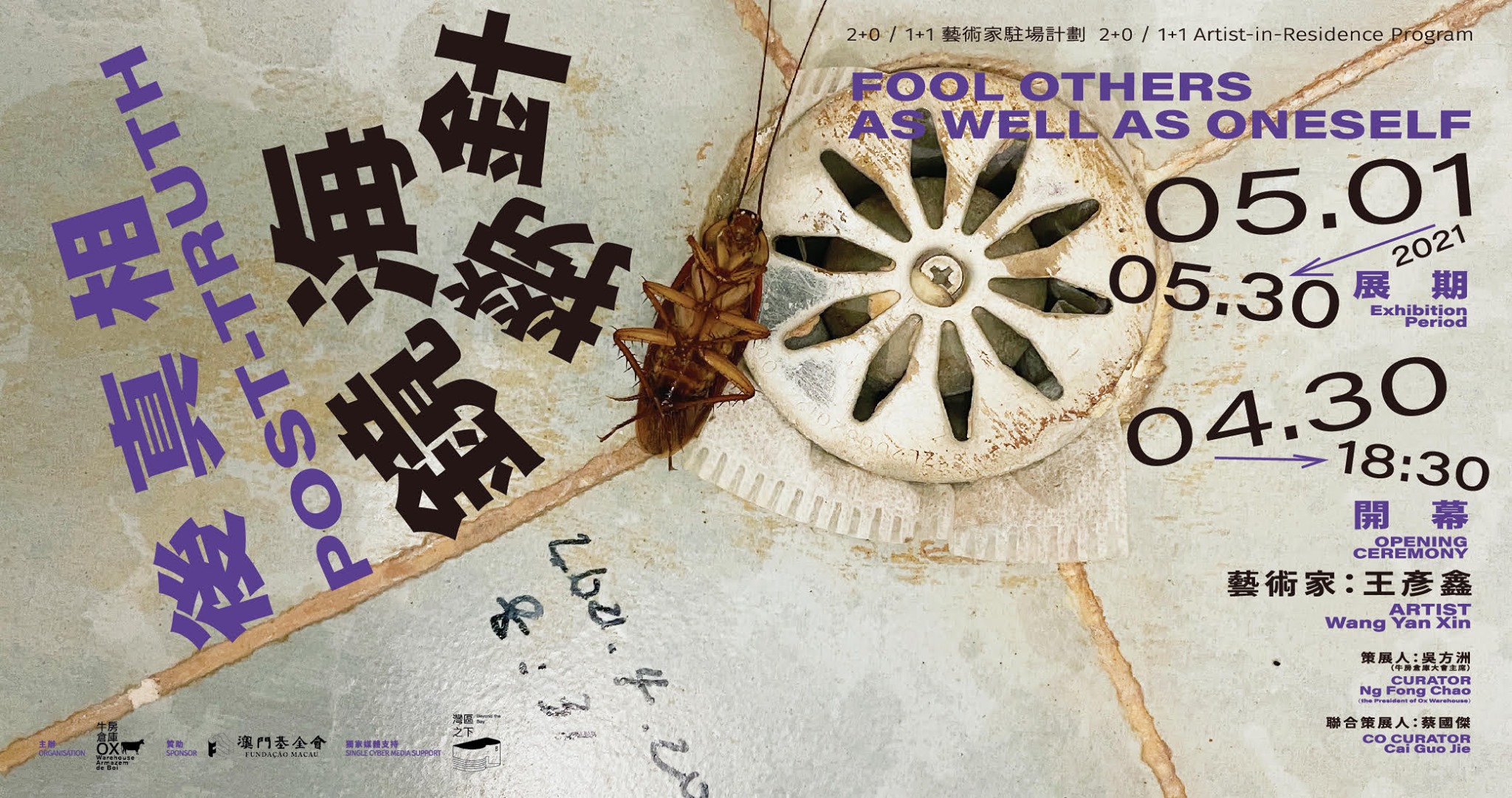 "Post-truth: Fool Others As Well As Oneself" is an experiment of media expansion undertaken by artist Wang Yan Xin from Lanzhou, who utilizes performance art as the major medium that is complemented by videography, installations, photography, painting, and other means. This experiment of cross-media artistic creation initiates the discussions for oneself starting from an artist-in-residence project in Macau and explores the possibilities of artistic creation through a game-based approach.
Incorporating Macau as space and the artist-in-residence project, Wang Yan Xin creates this series based on self-observation and awareness of the weakness, vulnerability, and pretense of oneself. There are questions over what makes one look tough in appearance, what makes one feel fear, and what makes one feel powerless, leading to critical thinking of oneself. Friedrich Nietzsche says, "There are no facts, only interpretations." Different events only represent different interpretations. As "emotions are more influential than facts", lies can be interpreted as "another point of view" or "an opinion" because "everything is relative" and "everyone has their own truth". Thus, this project is also an experiment of the reconstruction of "truth" by oneself.
When: May 1–30, 2021
Where: Ox Warehouse, 15 Rua do Volong, GF, 1F & 2F Gallery, Macau
How much: Free admission
For more information, check the event's Facebook page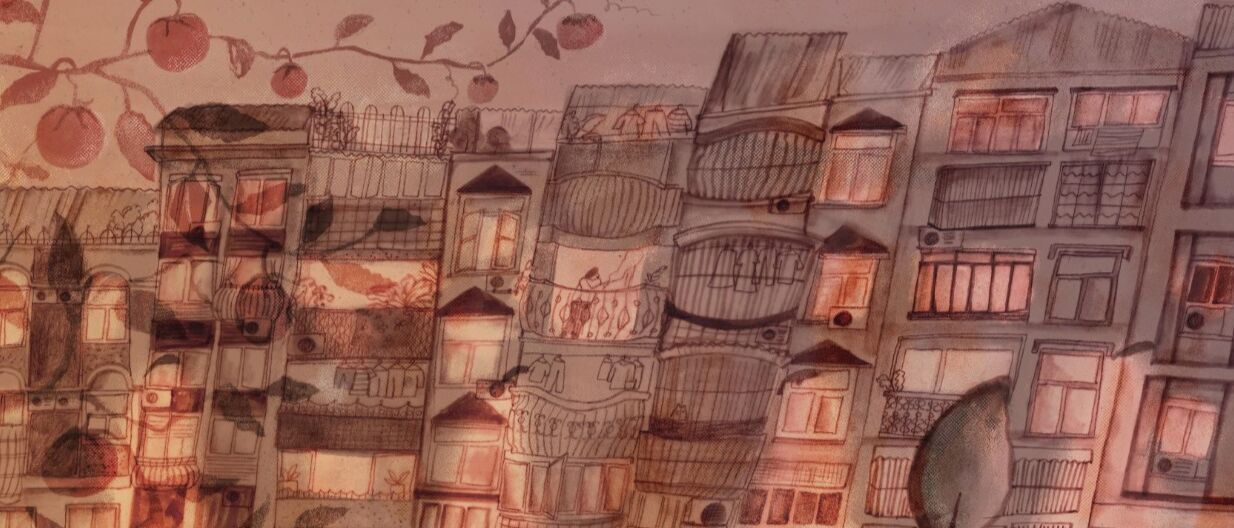 Beautiful Sunset, Infinite Good is an exhibition of local artist Yang Sio Maan, showcased at Creative Macau. The exhibition features some of Yang's illustrations, including from her book, which she wrote and illustrated last year. According to the author, "Mr Matos Goes to Buy Tomatoes" tells the story of Mr Matos who lives around Bird Garden and goes to buy tomatoes, the tomatoes fall onto the ground on his way home and turn into a giant plant. Yang intends to bring Mr Matos to life in the exhibition.
Yang Sio Maan is an independent illustrator based in Macau. She received a BA in English Studies from the University of Macau and an MA in Illustration from the University of the Creative Arts (UK). Aside from accepting illustration commissions, she also participates in community art projects, exhibitions, and alternative publishings, exploring the possibilities of visual language. In 2009, she had her solo exhibition Everywhere and Anywhere at the Post-Ox Warehouse Experimental Site. In the same year, she received the honor of Category Winner at World Illustration Awards by the AOI and the Best of the Best at Hiii Illustration by HiiiBrand.
When: April 15–May 22, 2021
Where: Creative Macau, G/F Macau Cultural Centre Building, Avenida Xian Xing Hai
How much: Free admission
For more information, call +853 2875 3282 or check the event's Facebook page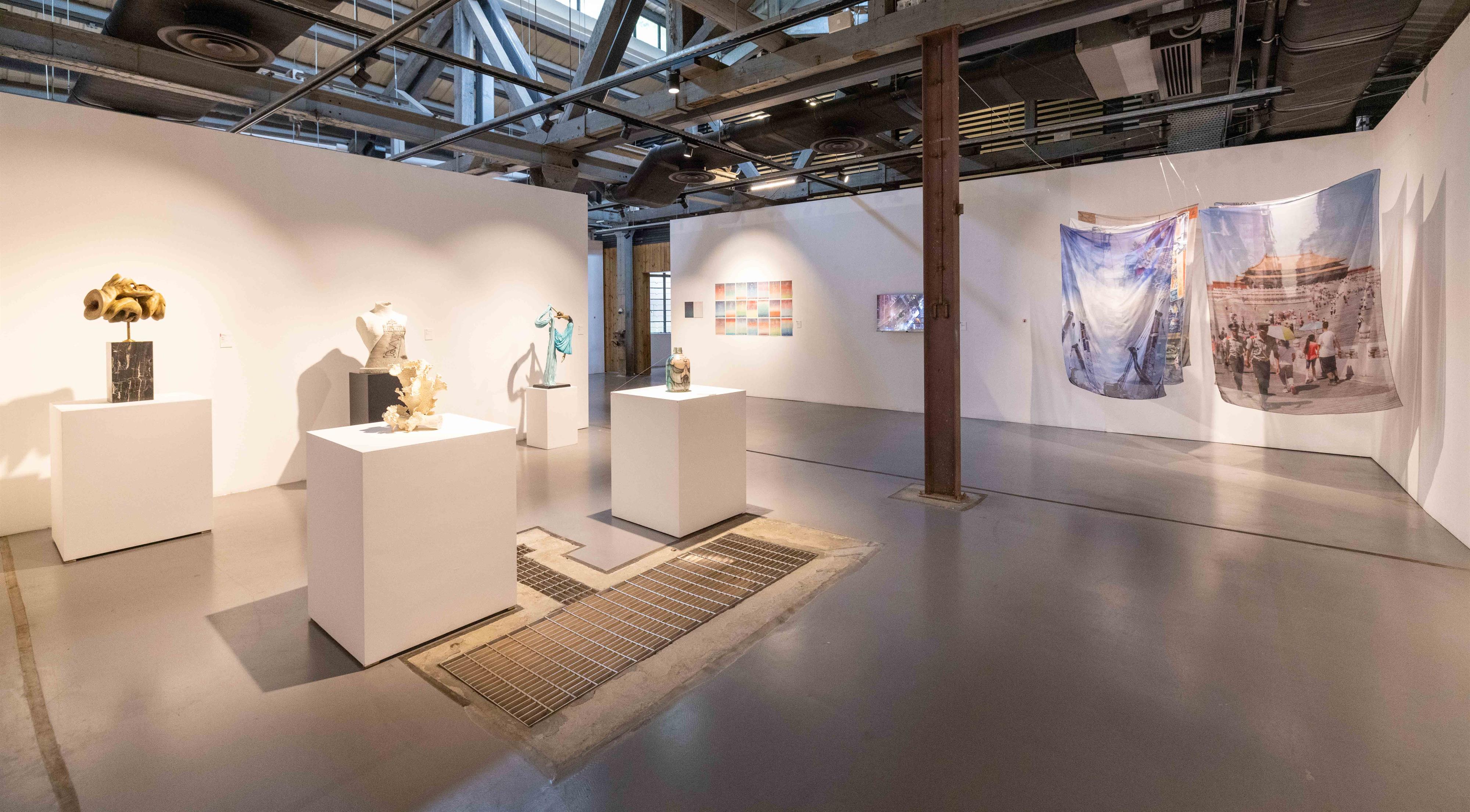 The Collective Exhibition of Macao Visual Arts has been promoting local artistic creation and the development of talents for many years and has been an iconic cultural event in the local visual arts sector, and a platform for Macau artists to showcase their talent and creativity. A total of 300 pieces (sets) from 180 participants were submitted, covering a wide variety of media, ranging from painting, photography, printmaking, ceramics, sculpture, installation, video to related cross-media creations, showing the diversity and creativity of the local art scene.
10 artworks were selected to receive the Outstanding Artworks Award, namely Animus by Lo Hio Ieng; Review by Sit Ka Kit; Infernal Valley by Lou Kam Ieng; UNTITLED#03 by Ricardo Filipe dos Santos Meireles; He Was Here by Ieong Wan Si; Self Portrait Wall-paper by Xie Yun; Measurement by Lam Im Peng; Epitome by Im Fong; St. Dominic's Church by Cai Guo Jie; and Conjoined Existence by Ng Sang Kei. In addition, 10 artworks integrate the Special Artwork Selection, namely Out of the World by Lam Sio Hong; Minus Landscapes by Kun Wang Tou; Everyone has Their Own Truth by Cheong Hoi I; Lost Space by Ieong Mei Cheng; Inclusion Series I by Wu Hin Long; Five Tastes: Bitter and Sweet Feelings by Kam Hio Kuan; Gathering by Lei Ka Ieng; Colourful Macao by Wang Fan; Mists of Macao by João Miguel Vieira Santos de Barros; and Tour by Che Chi Un.
When: Macao Contemporary Art Center – Navy Yard 1, Rua de S. Tiago da Barra, Macau
Where: April 30–June 13, 2021
How much: Free admission
For more information, call 8988 4000 or check here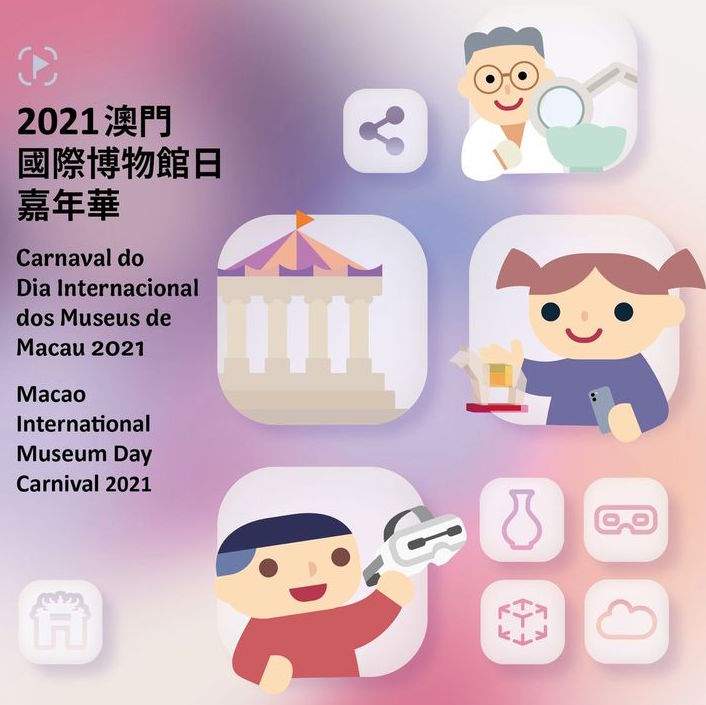 The Macao International Museum Day Carnival 2021 takes place for the whole month of May, offering an array of cool and original activities, performances, and workshops for the whole family to enjoy, especially kids. Non-fired ceramic tile painting, kalimba DIY, and wooden accessory box decoration with matchbox label stickers are just some of the workshops available for free and open for everyone to have fun!
Other experiences include a tactile experience tour, a 3D photography activity, exhibitions and lectures such as "History and Wisdom – Conversation about Classical Chinese Studies", with speaker Chong Chonfai. The Cultural Guide Route takes participants across different corners of the peninsula, namely Lin Fong Temple, Xian Xinghai Memorial Museum, General Ye Ting's Former Residence, and the Historical Memorial House of Kiang Wu Hospital. Take a look into the array of different activities and register online to take on some of these adventures!
When: May 9–31, 2021
Where: Convention Center, Macao Science Center, Avenida Dr. Sun Yat-sen, Nape, Macau
How much: Free admission
For more information, check here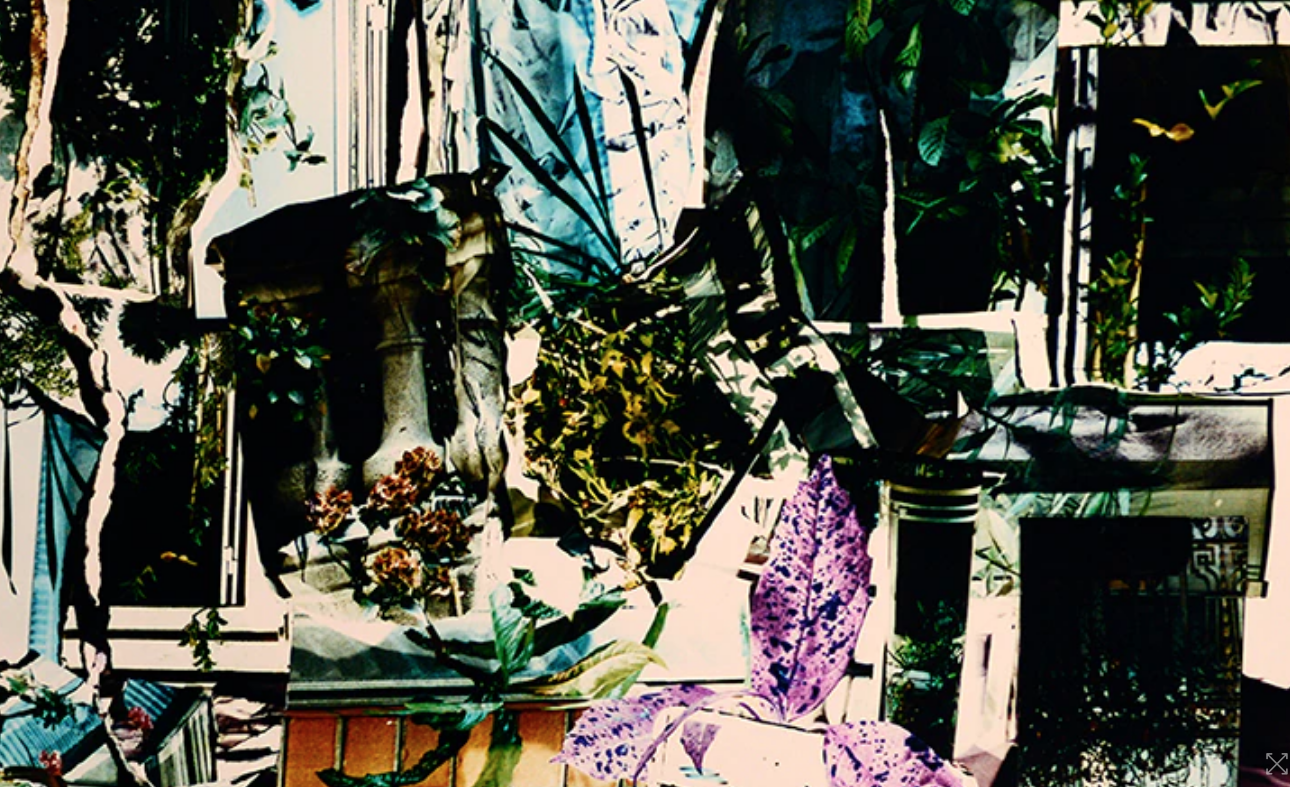 Baptiste Rabichon is an emerging contemporary French photographic artist. He creates his works with a technique that combines traditional and innovative elements including analog photography, digital images, and projections of various objects from daily life.
Rabichon's works are abundant with realistic, hallucinatory, amazing, and experimental context and embody his ingenious ideas of breaking the boundaries of photography. The exhi­bition, featuring 41 pieces (sets) of Rabichon's creations that introduce the contemporary expressions of photography, will be a feast of mo­lecular gastronomy to the eyes of the photographic circle, art aficionados and the general public of Macau, and in­vite viewers to explore further possi­bilities in artistic creation.
When: April 17–June 24, 2021
Where: Tap Seac Gallery, Praça do Tap Seac, Macau
How much: Free admission
For more information, check here
---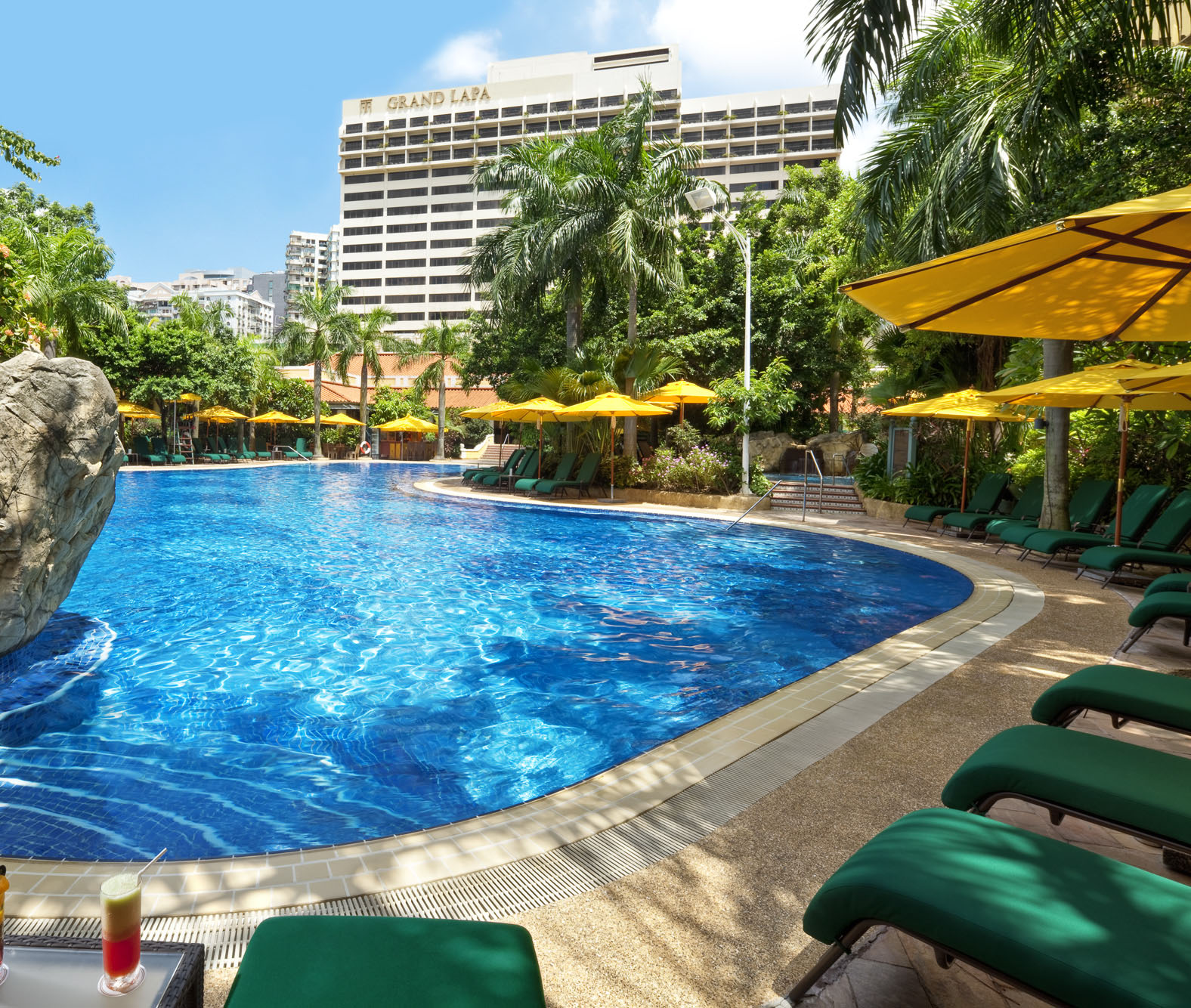 Summer is around the corner and this calls for lounging by the pool or make a splash and jump right in! Home to one of the best pools in town, Artyzen Grand Lapa Macau is the perfect place for a delightful staycation. Imagine waking up without any worries at a resort that doesn't need hours of travel to get to. Leave all your stress behind and focus on rest, relaxation, and cooling off at the pool, or sip on some stylish cocktails while soaking up the rays. Macau Lifestyle is giving away not one, but two prizes and each winner gets to enjoy a night in one of Artyzen Grand Lapa Macau's wonderful accommodations with MOP $1,000 food & beverage credit each! As mentioned, there'll be two lucky winners so what are you waiting for?
This giveaway ends on May 16, 2021, and the winners will be notified directly via email. Good luck!
Tags