It's the first weekend of 2019 so gather your friends and family and head out and experience some of our city's most interesting events! There is Once in a Jungle theatrical performance, EXIM 2018 Experimental Video Festival, an illustration exhibition, a pop-up gastro bar of Catalan food and much more! Read on to find out what Macau has to offer!
(See featured image above)
Once in a Jungle is a drama performance inspired by the fables of Greek storyteller Aesop. The piece is presented in the physical theatre tradition, telling the story of a little mouse trying to navigate its way through a jungle full of danger. The show is suitable for all ages, and features acrobatics, stilt walking, aerial silk work – artists performing aerial acrobatics while hanging from a length of fabric – and puppetry. The play is performed by Black Sand Theatre and promoted by Clube dos Amigos do Riquexó. It lasts for approximately 45 minutes, without intermission.
When: 11:30am, 3:00pm and 7:00pm, January 4 and 5, 2019
Where: Small Auditorium, Macao Cultural Centre, Avenida Xian Xing Hai s/n, NAPE, Macau
How much: MOP $100
For more information, check the event's website, call +853 6650 7204 or 2855 5555, or email [email protected]
Tickets are available for purchase at Kong Seng Ticketing Service and Macau Ticket website
The return of Chef Costa of BarCelona Tapas & Rice with a pop-up gastro bar "Espíritu Catalán", Sofitel Macau At Ponte 16 is introducing a five-week journey of Catalan cuisine that you are not going to find anywhere else in town. From 4 December 2018 to 10 January 2019, every Tuesday to Saturday, Privé will be presenting you the must try tapas and sangria: Spanish ibérico ham and truffle toasted sandwich, classic creamy Spanish croquettes with ham and chicken, fried egg with potato and home-made chorizo, Galician octopus with potato, olive oil and paprika and many more.
Guests can choose eight or 10 dishes from the 14 "must try". For big lovers of Catalan cuisine, Chef's Specials are available for you as well: Chef Hector traditional seafood paella, Spanish premium dry-aged beef, roasted pigeon-filled with Iberico and foie gras and chef dessert selection. With the sizable portion, Chef's Specials are the best for sharing with your friends and families.
When: December 4, 2018–January 10, 2019
Where: Privé, Sofitel Macau At Ponte 16, Rua do Visconde Paço de Arcos, Macau
How much: MOP $388–448 per person
Book your table at +853 8861 7213 or email them
Its the last few days to enjoy The Parisian Macao outdoor ice skating rink at The Eiffel Tower Level 7 observation deck. Guests can hire skates to show off their skills while enjoying roaming entertainment as well as winter food and drink treats. There will also be a winter wonderland, falling snow, seasonal treats with seating areas and pop-up market booths.
When: 4:00pm–10:00pm, November 15, 2018–January 6, 2019
Where: Level 7 Observation Deck, Eiffel Tower, The Parisian Macao, Estrada do Istmo, Lote 3, Cotai
How much: Access to the event area is free; ice rink usage: MOP $50 for 30 mins
For more information, go to The Parisian Macao website
Retro Macau Game Expo is Macau's first and largest event dedicated to the history of video games, with around 100 retro video games and an arcade area provided for experiences. World-class retro games tournaments will be featured, including: The King of Fighters '98, The King of Fighters XIV, with tournaments to be streamed live on various social media platform channels. The winner will receive award money and prizes, as well as a chance to represent Macau to compete with players worldwide. There will also be an exclusive reveal of some rare console devices!
Highlights of the exhibition include a playing area and the tournament area. The Tournament of The King of Fighters '98 and The King of Fighters XIV will be held on December 22 and 23 and the winner will have a chance to represent Macau and compete with players worldwide). There will also be a display area for people to have a look at some of the rare console devices. Light food and merchandise will also be sold on site.
When: 2:00pm–10:00pm (last entrance at 9:30pm), December 15, 2018–January 13, 2019
Where: 2/F, Broadway Macau, Avenida Marginal Flor de Lotus, Cotai
How much: MOP $60 per person, tickets are sold on site
For more information, check the event's official page, their Facebook page or call +853 6288 9485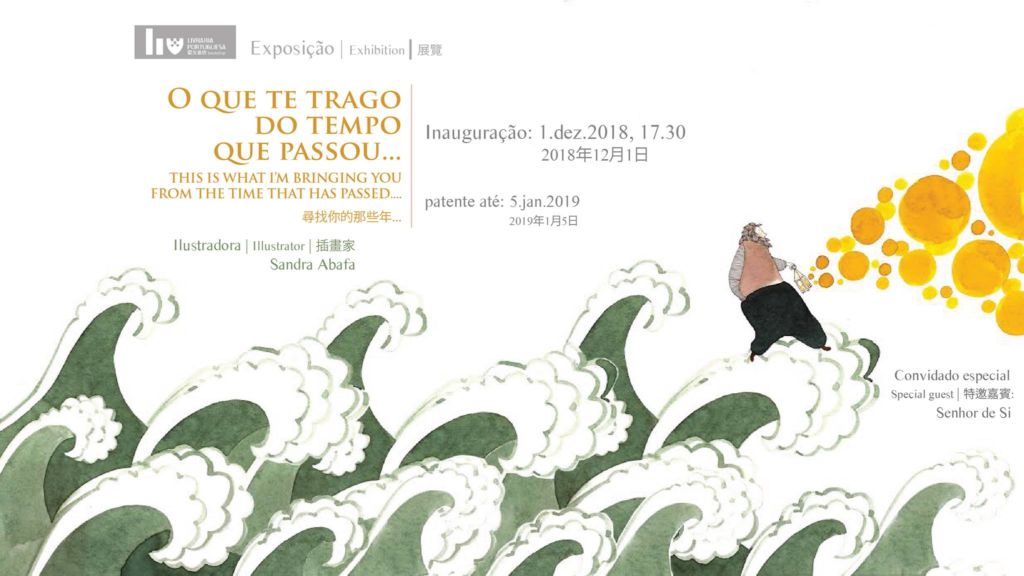 "What I bring you of the time that has passed" is an illustration exhibition about a trip made to the unknown, sailing in a sea where the Past, Present and Future cohabit simultaneously, bringing what is Timeless. The journey, the sea, the impulse of the new is this exhibition's motto, and the inspiration that upholds it.
The exhibition will be a meeting point between working notes, illustrated reflections of "I bring you the time that has passed …" and the result of Sandra Abafa's artistic residence in Macau.
When: December 12, 2018–January 5, 2019
Where: Livraria Portuguesa, 16 R. De São Domingos, Macau
How much: Free admission
For more information, check the event's Facebook page or the artist's Facebook page

Since 2011, EXiM has invited curators from different places to curate a range of screenings, live projections and multimedia (electronic music, sound + moving image) performances. They have respectively focused on experimental moving images from Asia, Taiwan, South Korea, Mainland China, Hong Kong, Portugal and Macau, and China-Hong Kong-Taiwan-Macau. Genres of EXiM work include 16mm experimental films, video art and experimental animation.
This year, Ox Warehouse has moved to a new space – the Post-Ox Warehouse Experimental Site – to continue the event, and EXiM 2018 is no longer focusing on screening activities; instead, works are shown in exhibition format with the focus on Macau experimental film and video creations, inviting local artists who have been creating experimental moving images, featuring Macau works previously shown in EXiM events.
The event was curated by Bianca Lei and includes works by the following artists: Chan Lei I & Lei Man Kit, Suki Chan, Cheong In Fong, Ivy Cheong, Faye Choi, Jose Drummond, Ryan Foo, Ho Ka Cheng, Alice Kok, Bianca Lei, Ella Lei, Fish Leong, Joein Leong, Napx Leong, Paula Lo, Leo Luan, Yves Etienne Sonolet and Biyi Zhu. The exhibition is organized by Ox Warehouse, supported by the Macao Foundation and ICM.
When: 12:00pm–7:00pm, December 2, 2018–January 13, 2019 (closed on Mondays)
Where: Post-Ox Warehouse Experimental Site, 15 R. do Volong, Macau
How much: Free entry
For more information, visit the event's Facebook page, or contact the organizer by calling +853 2853 0026 or emailing them
Tags
Related Posts