Start your Chinese New Year celebrations earlier this year at Hotel Lisboa, or indulge in Grill 58's decadent brunch. Needless to say but this weekend is definitely filled with wonderful dining experiences! We visited MGM Macau's Pastry Bar and it was so good that we really recommend everyone to give it a try. There are also lots of live concerts, exhibitions, and family-friendly activities to enjoy, so scroll down and check out all there's to do this weekend in Macau. Don't forget the 21st Macao City Fringe Festival has started already and there are several cool things to check out there as well. Have a great one!
(See featured image above)
As the Lunar New Year approaches, the city is filled with an auspicious atmosphere as families and friends gather to celebrate. The time-honored Chinese restaurant Portas do Sol at Hotel Lisboa launches the sumptuous Gathering Menu and Premium Gathering Menu feasts to celebrate the savory and bountiful Year of the Tiger. Herald in the festive season, traditional Chinese New Year puddings are exquisitely the must-have items for gifts and enjoyment. Hotel Lisboa offers you the five handcrafted Chinese New Year puddings and a chocolate Fortune Tiger as the perfect choice.
Famed for its fine Chinese cuisine and varied dim sum, the chefs at Portas do Sol embodies the conventional culinary arts amidst the classic dishes. Herald in the merriment and feast with loved ones, the Gathering Menu includes barbecued whole suckling pig, grilled abalone with rock salt, braised supreme food in a clay pot made with 18 kinds of superior ingredients as abalone, sea cucumber, Boston lobster, and dried oyster and more is an ultimate big bowl feast also known as the poon choi, for the festival.
When: January 1–31, 2022
Where: Portas do Sol, Hotel Lisboa, 2–4 Avenida de Lisboa, Macau
How much: Gathering Menu – MOP $8,610* per table of twelve persons (one complimentary Hotel Lisboa dining voucher valued at MOP $800 is offered as an additional gift for each table)
Premium Gathering Menu – MOP $12,485* per table of twelve persons (with a complimentary dining voucher of barbecued whole suckling pig, valued at MOP $1,200)
*All prices are inclusive of a 10% service charge. Guests may enjoy 20% discount with cash, credit card, or designated electronic payment
For more information, check their website here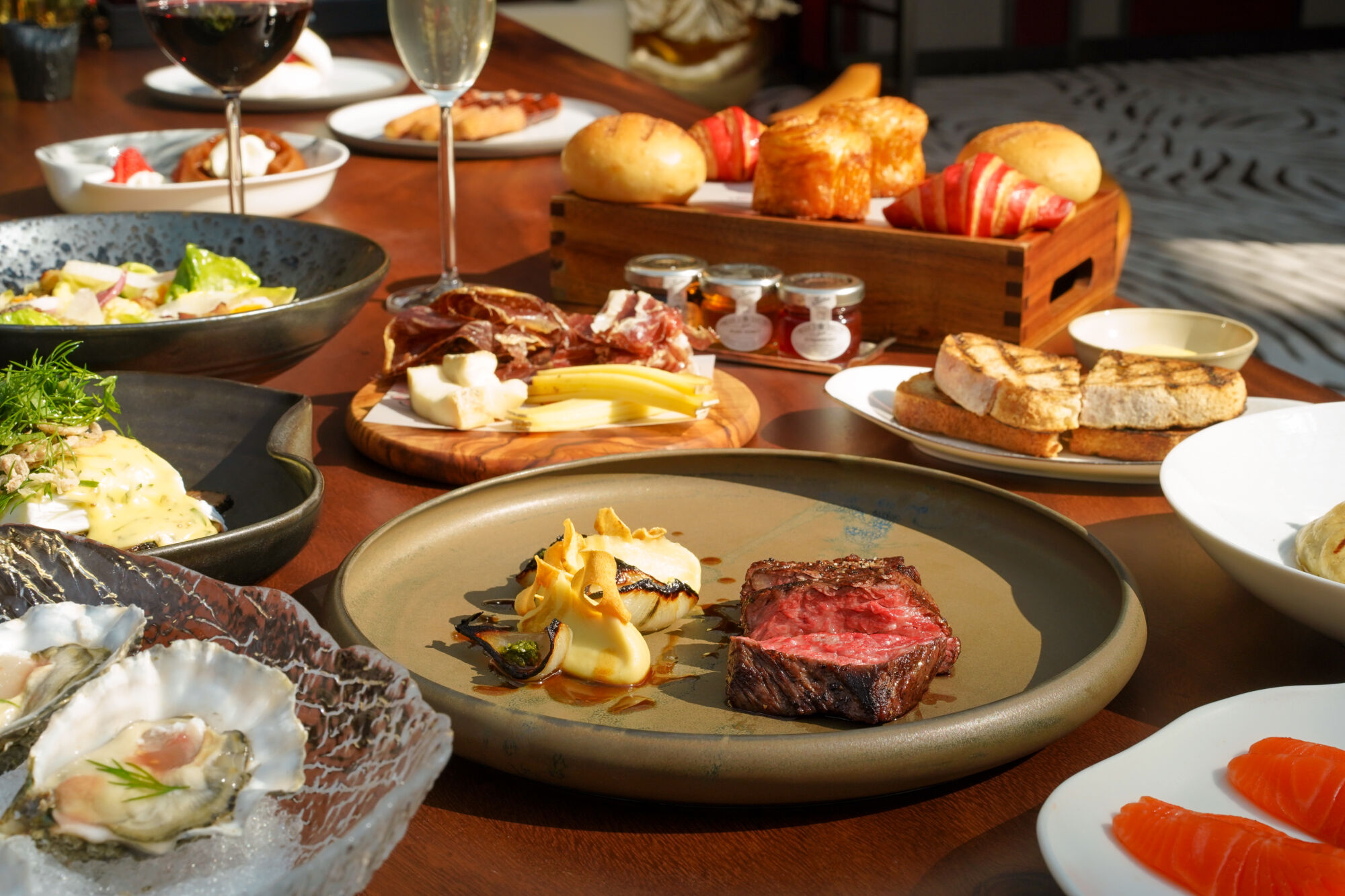 Sunday late mornings are made extra special at Grill 58, situated under the open-air Spectacle with natural sunlight, delightfully complementing a smorgasbord of special treats curated in a three-course menu. A selection of five sharing starters includes Fine de Claire oysters served with fermented tomato and smoked bonito oil, house-cured Petuna salmon trout, Iberico cold cuts (18-months cecina de Leon beef ham and 30-months Bellota ham), and artisanal cheeses from Les Freres Marchand and Grill 58 caesar salad.
Choices of main course include the Australian M9 wagyu Bavette, which is a leaner cut of wagyu with intense flavor which makes a great option for brunch; pan-fried Japanese sea bream served with grilled leek and hazelnut Pil Pil sauce, and more. Four desserts are on offer, with a must-try which is Chef Conor's favorite: fluffy homemade buckwheat waffle served with maple syrup, butter pecans, and silky vanilla cream. The Sunday Brunch menu includes free flow of juices but an option of free flow of selected red, white, and sparkling wines is available as well.
When: Sundays, ongoing
Where: Grill 58, MGM Cotai, Av. da Nave Desportiva, Macau
How much: MOP $480 per person (additional MOP $180 per person for choice of free flow of selected wines)
For more information and bookings, call +853 8806 2318 or check here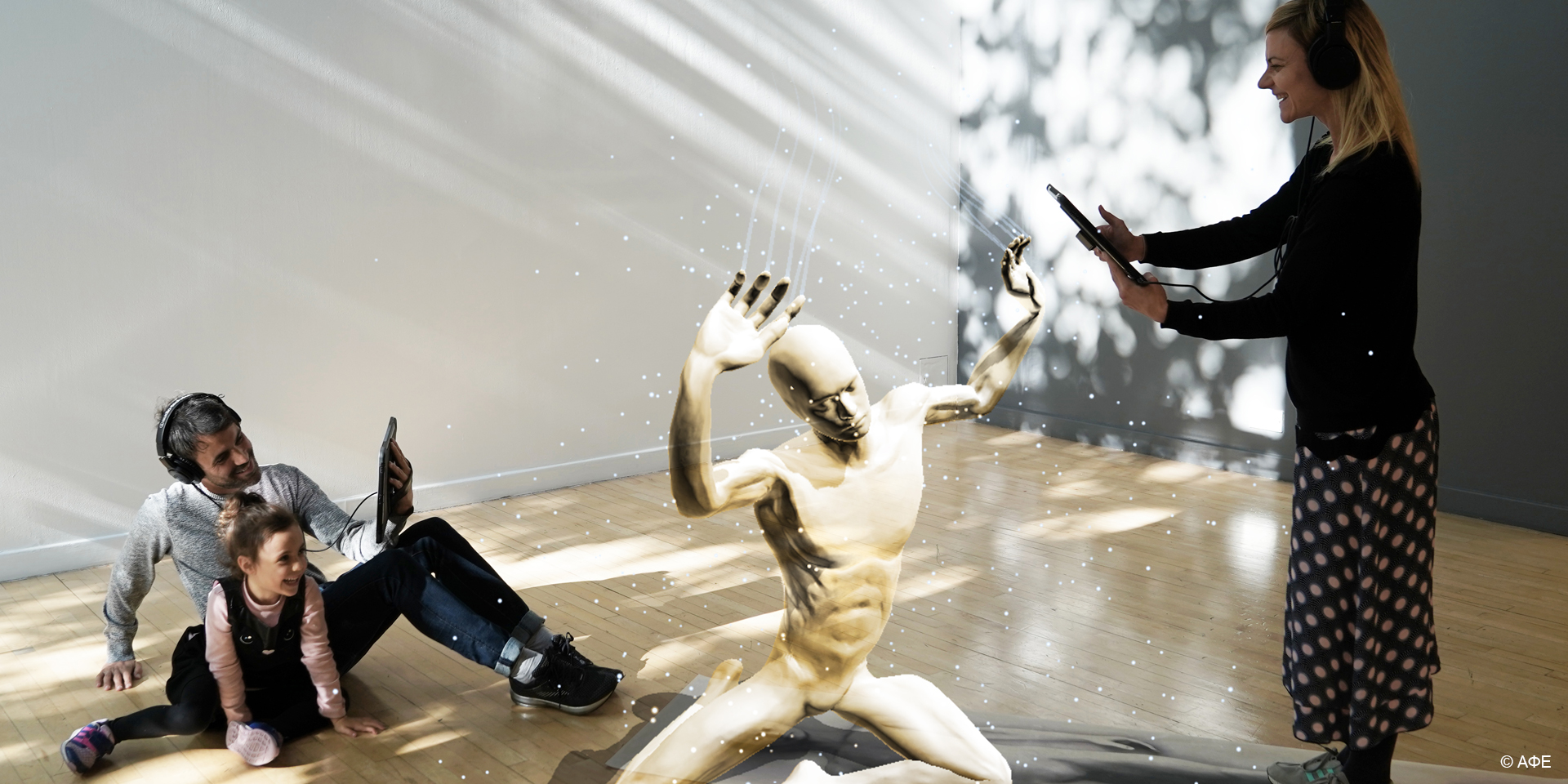 The Macao City Fringe Festival this year, themed "Margin Break", features 20 extraordinary programs and 15 outreach activities, taking art out from regular venues and incorporating art into everyday lives. Together with the mix of online and offline art forms, the Fringe Festival leads the audience to break down the barriers of distance. As usual, there is an array of outreach activities during the Fringe Festival, including screening sessions, sharing sessions, workshops, exhibitions, seminars, exchange sessions, and immersive and interactive community experiences. These could help the audience to further broaden their views on art.
When: January 12–23, 2022
Where: Yizhen Culture and Education Centre, Flat 7D, G/F, Edifício Mau Tan, Phase 3, No. 51, Rua Quatro do Bairro Iao Hon, Macau, Yau Seng Industrial Building, No. 43-45, Rua Um do Bairro Iao Hon, Macau, Mandarin's House, 10 Travessa de António da Silva, Macau, Casa Garden, 13 Praça de Luís de Camões, Macau, General Ye Ting's Former Residence, 76 Rua do Almirante Costa Cabral, Macau, Macao Contemporary Art Center – Navy Yard No. 2, Rua de S. Tiago da Barra, Macau
How much: MOP $50–MOP $120
For more information, call +853 2836 6866 or check the official website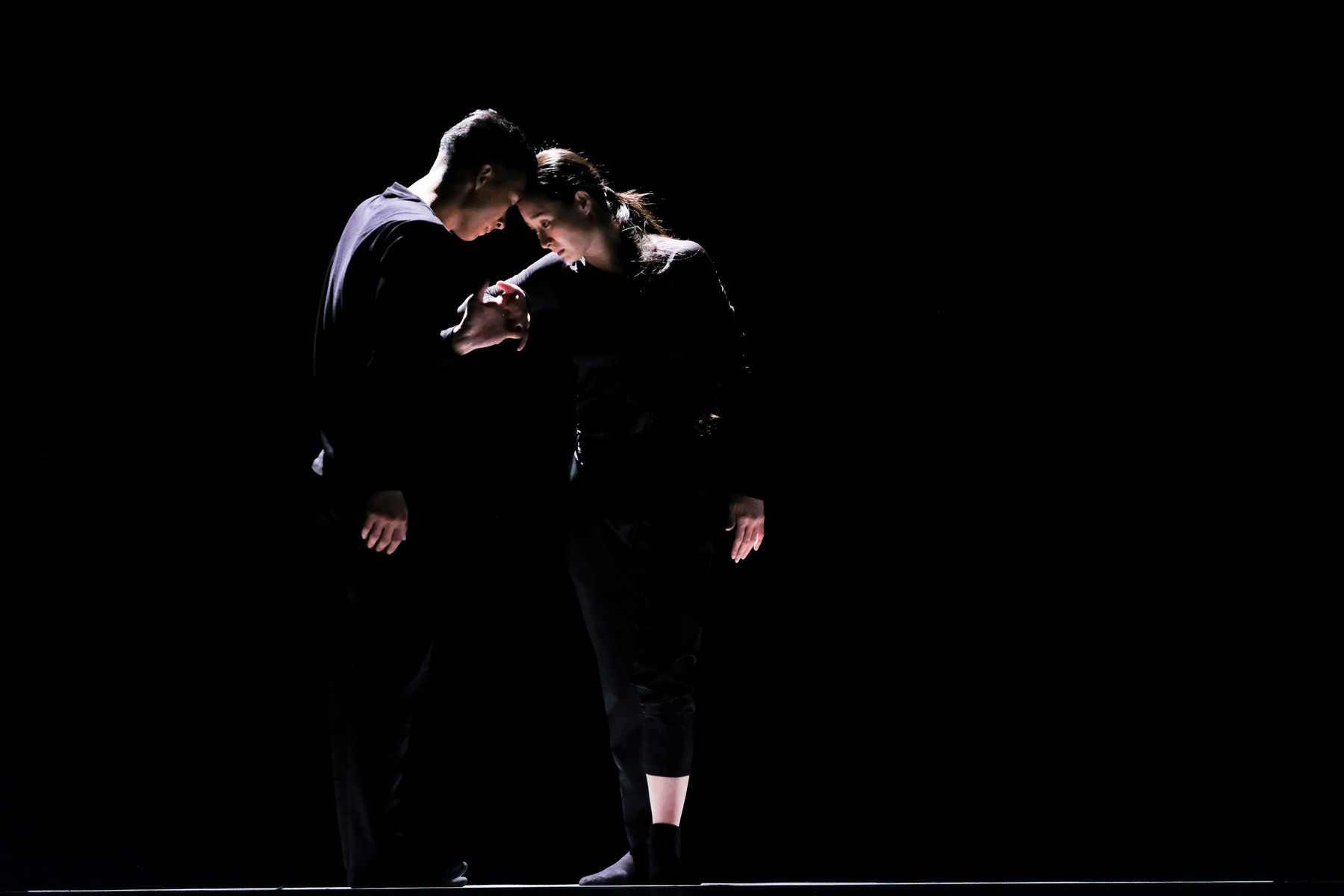 Viewers will glide graciously into the core of dance through the open window of World, a moving, romantic experience conceived by Wang Yabin, one of China's most prolific contemporary choreographers. On her return to Macau, where she presented Moon Opera back in 2016, the creator merges movement and spirituality, using a distinctive stage language to deconstruct the art of dance, hopping beautifully through time and space. A beautiful, visual piece that will bring the audience closer to the essence of choreographic inventiveness.
When: January 15 and 14, 2022
Where: Grand Auditorium, Macao Cultural Centre, Avenida Xian Xing Hai s/n, NAPE, Macau
How much: MOP $180 per person
For more information, check the event's official page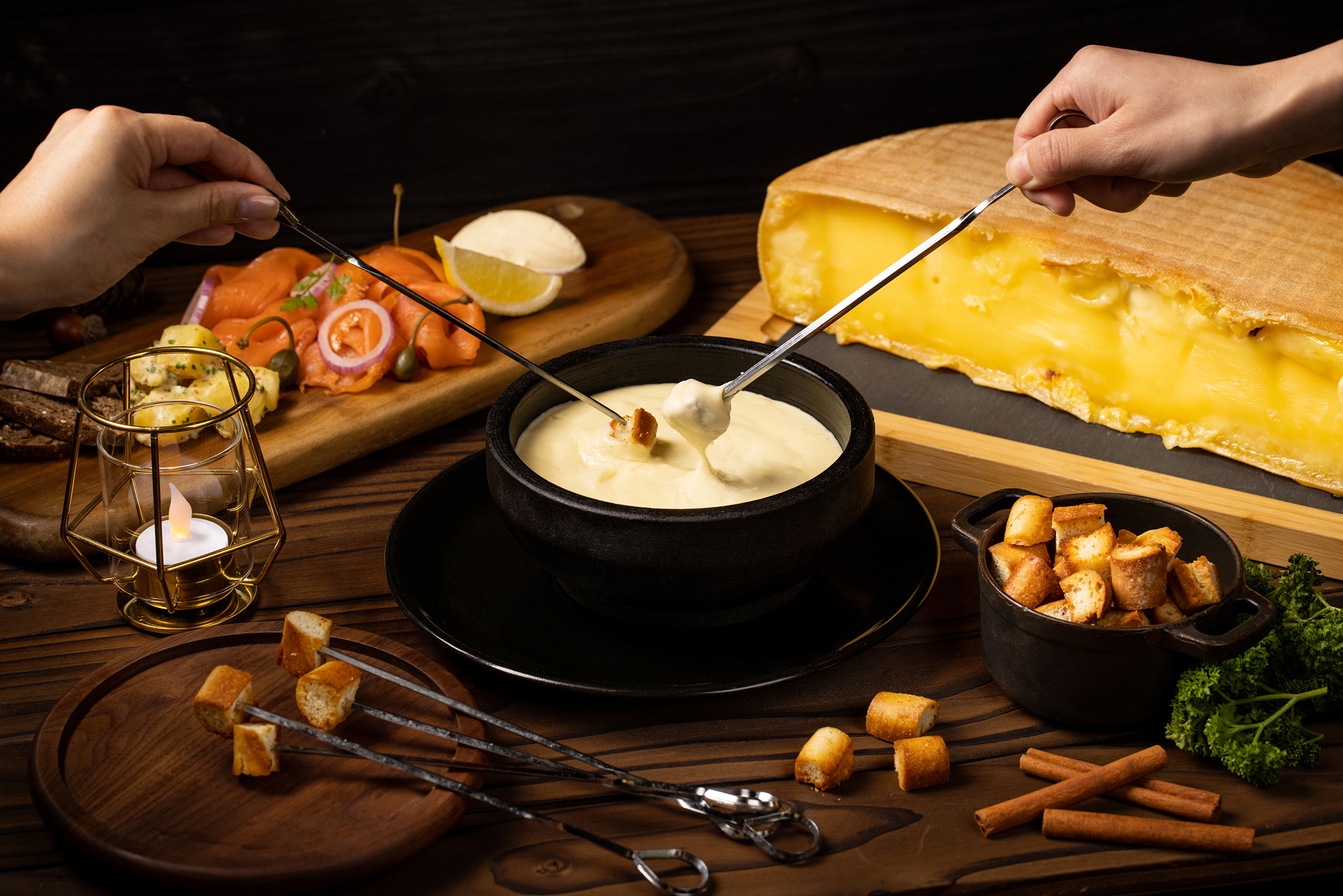 This winter season, Mandarin Oriental, Macau is crafting a very special happening for everyone to relish this unique season. With splendidly festive decorations and a wintery vibe, their Winter Chalet is all you'll need to spend some quality time with friends and family. Filled with traditional seasonal dishes and foods from all over the world, you'll get the chance to experience a cozy and tasteful Christmas throughout the season!
This deal includes favorites such as original Swiss raclette, cheese fondue, Alpine cheese, and cold cut selection, a white pizza with black truffles, traditional ham and sausage selections, Christmas pudding, chestnut pavlova, and so many other delights. There are three different kinds of fondues to choose from, and one of them includes champagne. Festive surprises include classic shrimp cocktail, seared foie gras with Gluhwein reduction, beef Wellington, whole roasted turkey, and whole honey glazed ham*. You can also go for some of Vida Rica Bar's classics for the choice of the main dish. You probably won't resist their Christmas-themed desserts. From Christmas logs and puddings to a cinnamon ice cream with speculoos crumble, there's a world of sweetness to try out.
When: From now till January 30, 2022
Where: Vida Rica Bar, Mandarin Oriental, Macau, 945 Avenida Dr. Sun Yat Sen, NAPE, Macau
How much: MOP $88–1,088 (dishes), MOP $88 (per cocktail)
For more information and reservations, call Vida Rica Bar at +853 8805 8918 or send an email to [email protected]
*The whole roasted turkey, and the whole honey glazed ham should be requested 48 hours in advance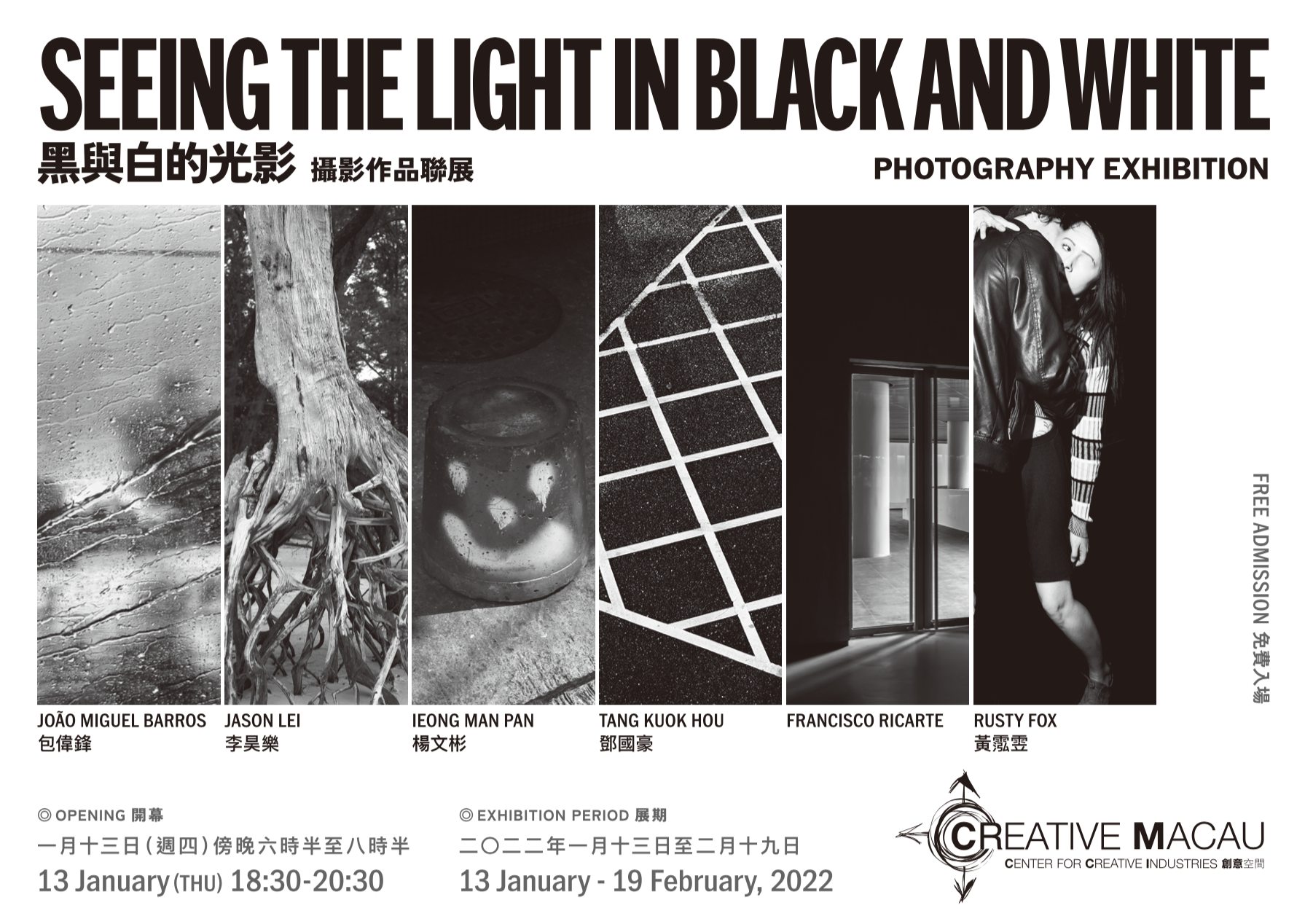 In the course of the history of photography, among photographers who make it as art, there have been opposing ideas about texts to explain the images. It is said that a good photograph needs no explanation. If photography is art and art is sufficient, the image itself must be independent, transmitting everything through the image without describing it in text. In the beginning, photography was considered a way to represent reality objectively, in its pure state, without being touched up. Those images, beautiful or not, tell the truth through the look of that "moment". Later, in the darkroom, it was to improve the film, usually repairing scratches or other flaws in the film. However, today, there is no photograph (image) that is not "adjusted" to obtain a result that is closer to what is desirable. Assuming that manipulation is a recurring practice and so habitual, that by eliminating the undesirable nature of the captured image, the soul of that "moment" is extinguished.
Increasingly, photographic printing has become technological. The printers use technology as a quick book production process, accepting only digital or digitized images of the analog film. The tone is corrected according to the author's taste and demands to the nature of the paper as "compression effects". Where's the truth of the nature of the images? Is there a truth? How many are there? Here are six photographers who gave us the answers and to the public's delight, present the art of photography in their own style. They created something new and original, by manipulating the nature of the image or not, altered, to "show the truth".
When: January 13–February 19, 2022
Where: Creative Macau – Center for Creative Industries, G/F Macao Cultural Centre, Avenida Xian Xing Hai, Macau
How much: Free admission
For more information, check the event's Facebook page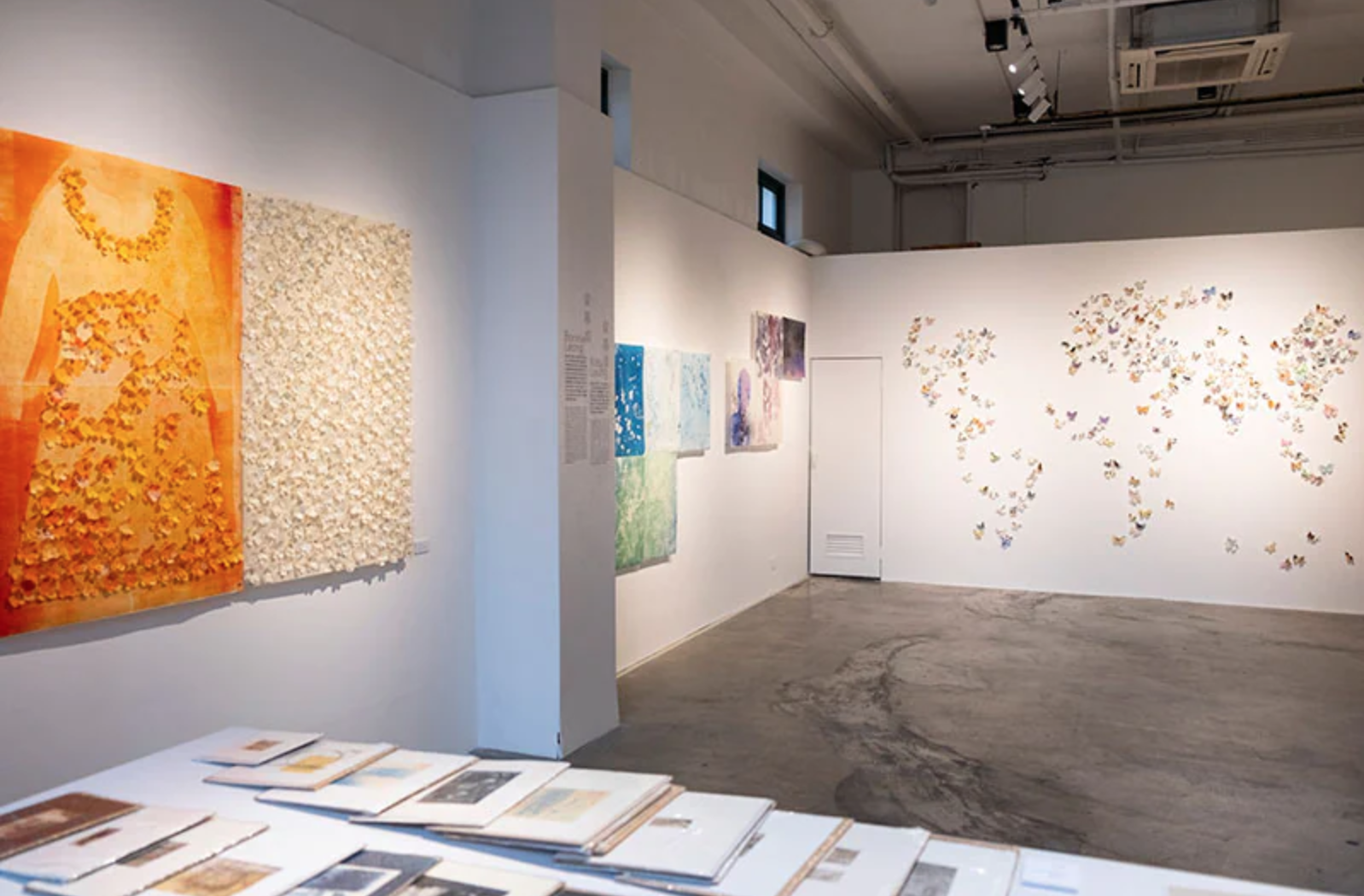 With a theme of nature, this series of works include 300 paper butterflies resembling the similar size and shapes of real butterflies, as well as orange and yellow 3D paper flowers. Artists Bonnie Leong and Kitty Leung reflect on family love by showcasing the rhythms of nature in their works.
When: January 1–27, 2022
Where: At Light, 1 Pátio do Padre Narciso, Macau
How much: Free admission
For more information, check here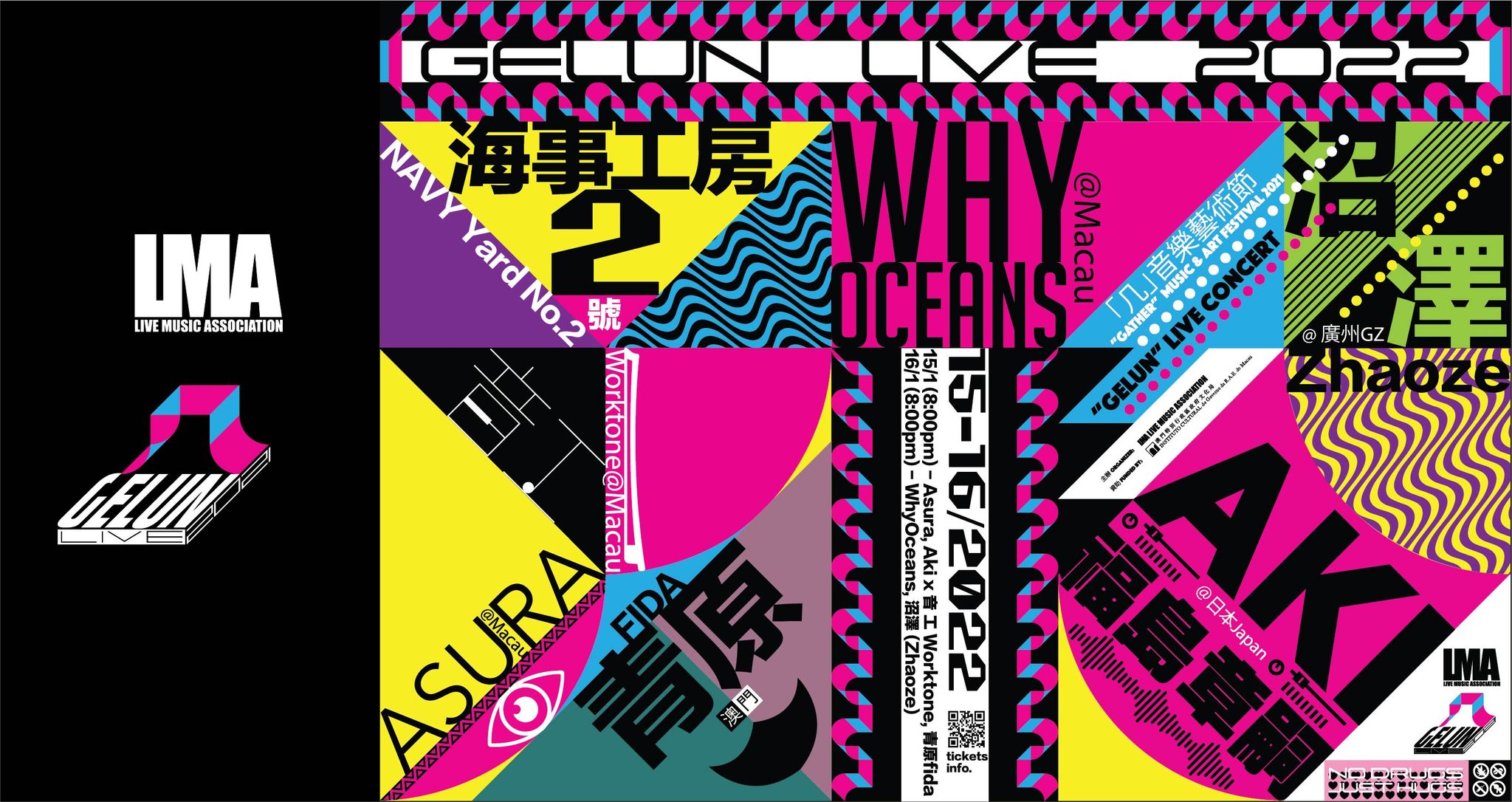 Live Music Association is presenting the Gather Music and Art Festival. This happening–with the theme of "Gather"–aims to remind people to be close to the state of nature and simplicity. It revolves around the theme of sustainable living. Through the connection of various art forms such as music, dance, and visual arts, it re-examines the relationship between the city, mankind, and the natural environment.
Leading environmental protection and interactive fun to be integrated to convey the concept of a sustainable Earth and build a sustainable life with music and art.
Art and music lovers will be able to check out the performances by local and Chinese artists Asura, AKI n' Worktone, FIDA, Why Oceans, and Zhaoze (from China).
When: 8:00pm–11:00pm, Saturday and Sunday, January 15 and 16, 2022
Where: Navy Yard No.2, Macau Contemporary Art Center, R. de São Tiago da Barra, Macau
How much: TBA
For more information, visit the event's Facebook page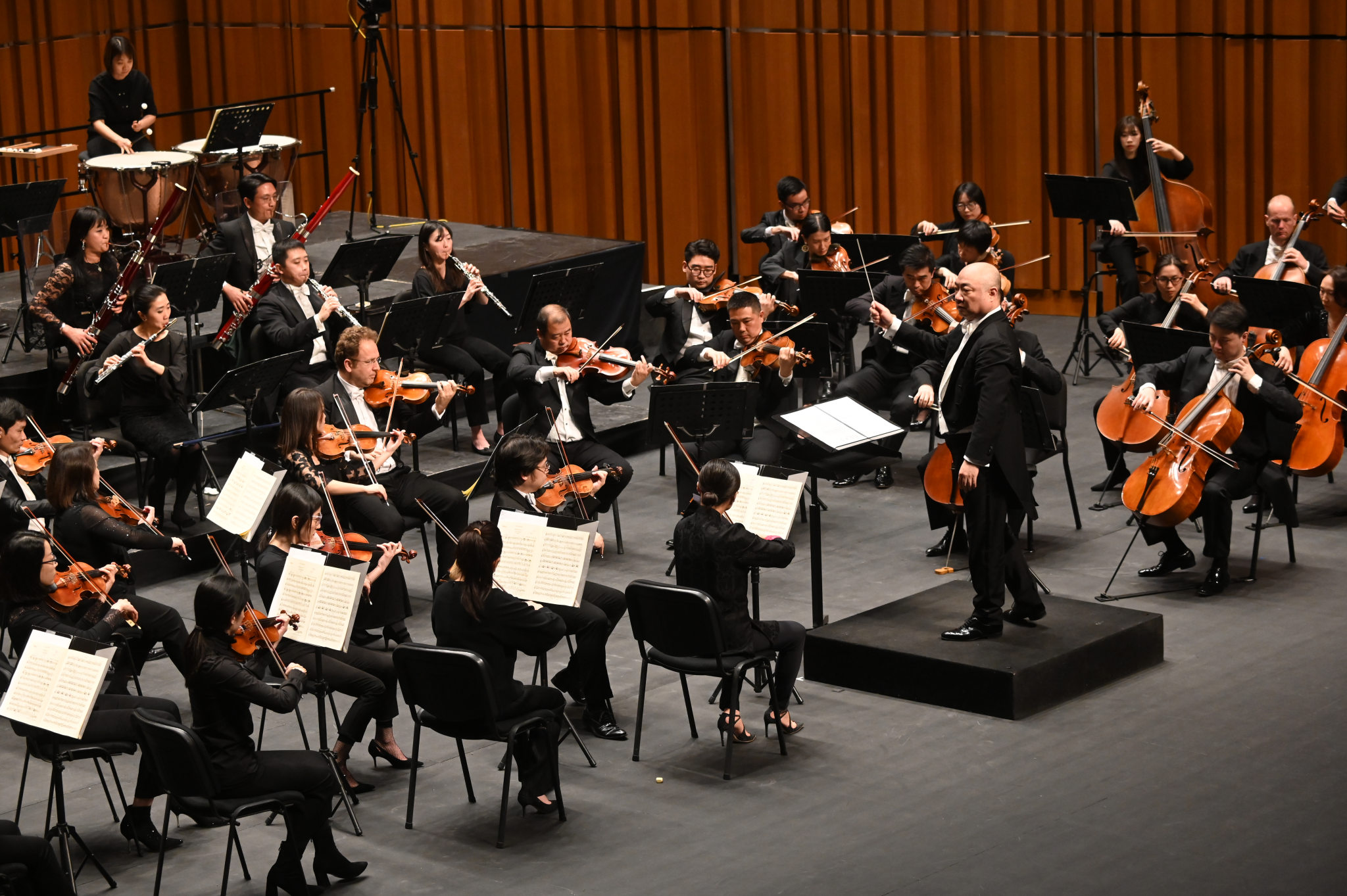 Under the Chinese conductor Xu Zhong, the Macao Orchestra will join hands with Dong Fang, a Chinese singer, to welcome the new year with wonderful classical and impressionist music. The renowned Chinese conductor Xu Zhong is the first Asian musician in history to serve as the Artistic Director of the Teatro Massimo Bellini in Italy. Apart from conducting, he will also perform Piano Concerto No. 1, an important piece for the young Beethoven, as a soloist in the concert with the Macao Orchestra, to unfold the beautiful timbre of classical music.
Dong Fang, one of the top ten young mezzo-sopranos of "CCTV gloriously bloom" in China, has a rich and fruity voice and a relaxed and flexible tongue. She was regarded as a "very promising mezzo-soprano" by Hannoversche Allgemeine Zeitung, a German newspaper. She will sing the soprano part in the concert and present the French composer Maurice Ravel's Trois poèmes de Mallarmé with the Orchestra. The Macao Orchestra will also perform Ravel's Pavane pour une infante défunte and Le tombeau de Couperin for the audience, revealing the keen sense of aesthetics of impressionist music.
When: Saturday, 8:00pm, January 15, 2022
Where: Grand Auditorium, Macao Cultural Centre, Avenida Xian Xing Hai s/n, NAPE, Macau
How much: MOP $150–250 per person*
*Early bird discounts and various discount packages are available
For more information and ticketing, check here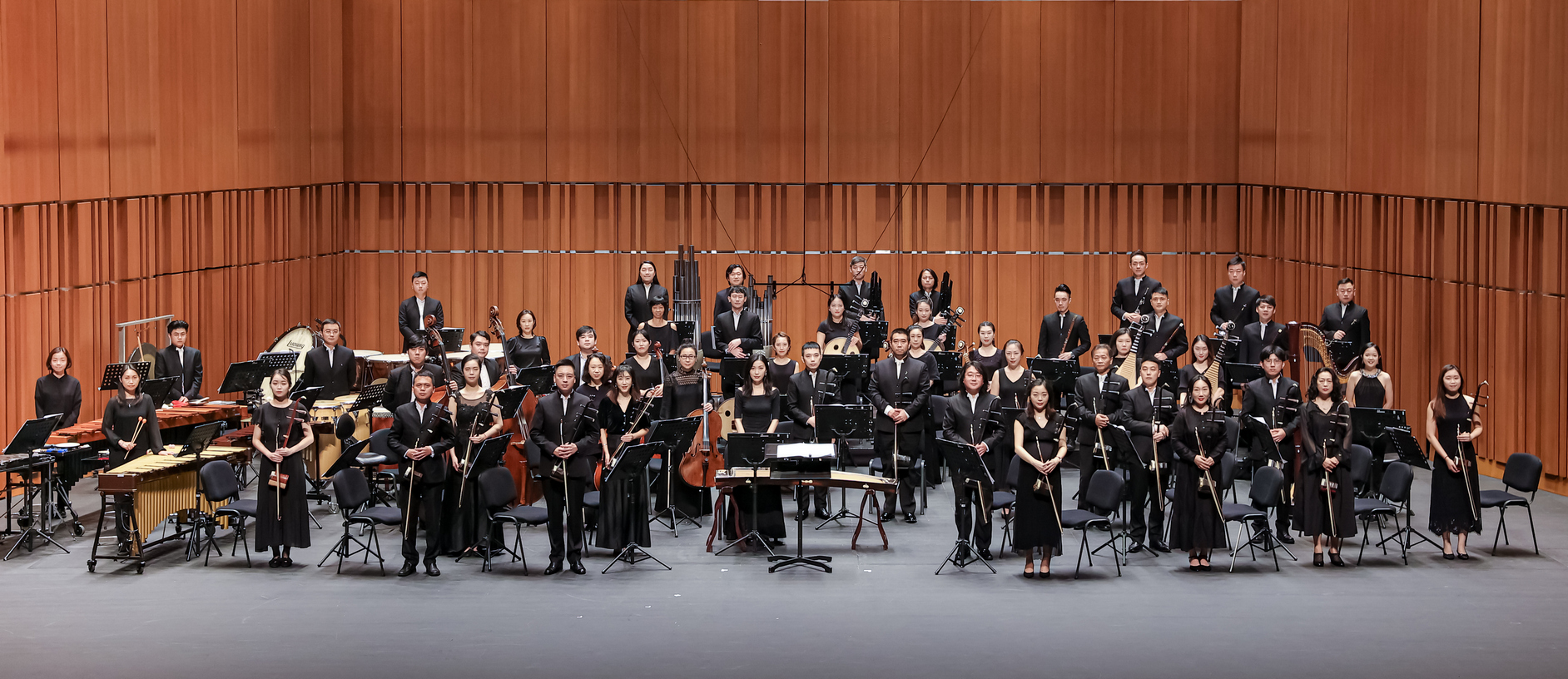 The Cultural Affairs Bureau presents the concert "Feeling of Spring" on 16 January 16, 2022. Under the baton of renowned conductor Bian Zushan, the Orchestra will feature national first-class pipa performer Wu Yuxia to present celebrated musical pieces.
With Chinese music as the medium, the concert will seek to convey the different sensations of spring, expressing the romantic spirit of music and the vigorous vitality of folk music. The program of the concert features the famous Chinese orchestral piece"Spring Festival Overture", which showcases dynamic rhythms through the folklore music genre "Yangge", evoking the festivity and joy of the most important festival of the Chinese nation. Wu Yuxia, a celebrated contemporary pipa performer, will perform the Concerto for Pipa"Clouds and Flowers Fantasia", revealing the classical charm and grace of the Tang dynasty. In addition, Wei Zidong, the Macao Chinese Orchestra's dizi performer, will present the Concerto for Dizi "Spring Breeze" featuring elegant timbre and beautiful rhythms, allowing the audience to feel the charm of Chinese music in spring.
When: Sunday, 8:00pm, January 16, 2022
Where: Grand Auditorium, Macao Cultural Centre, Avenida Xian Xing Hai s/n, NAPE, Macau
How much: MOP $120–200
For more information, check here
Tags