Rejoice, Christmas is almost here! This time every year, resorts and other companies all across Macau compete to outdo each other. Lashings of tinsel, twinkling lights and glimmering baubles make the most gorgeous Christmas trees! Here is our pick of this year's most beautiful trees and where to find them for those picture perfect holiday postcards.
INTO THE FUTURE TREE AT ONE CENTRAL LOBBY
(See featured image above)
Inspired by The Rainbow Stripes' song "When the Robot Came to Dinner", the Atrium of One Central has been transformed into a futuristic Christmas scene, where robots are preparing their Christmas dinner, exchanging gifts and celebrating with family. Instead of using decorations that will be thrown away, recycled materials such as plywood and metal have been thoughtfully re-imagined into an impressively sustainable installation for all. This Christmas the visitors of One Central will be sharing the fruit of love, joy and peace while appreciating this festive installation which is also friendly to our planet earth.
Christmas Reimagined At One Central sets an example of upcycling by reusing all embellishments. Meanwhile, all robots of the installation are donated to Fuhong Society of Macau, a non-profit organization and a collaborative partner of One Central. From December 1—26, 2018, customers can enjoy guaranteed rewards at One Central for any spending of MOP $10,000 or above for gift certificate redemption. Besides redeeming gift certificates, from January 1, 2019 onwards, customers can earn and redeem points on their purchases at One Central, Landmark in Hong Kong and WF Central in Beijing. Every dollar spent will be equivalent to one point at the three locations, plus all the current points will be auto-converted starting from December 1, 2018. Customers can even earn double or triple points for shopping at two or all three locations, respectively, from December 1, 2018 to February 17, 2019.
Discover more Christmas gift and celebration ideas at One Central, and treat your taste buds with premium dining. Add to your wish list is the return of limited-edition MiniMO Santa and his partner Santarina at Mandarin Oriental, Macau. Available at MOP $388 per set, all proceeds will be donated to MINDSET, a Hong Kong-registered charity. A collection of Christmas hampers, delicacies and spa products are also available in the hotel at your choice.
One Central Macau Avenida de Sagres, Nape, Macau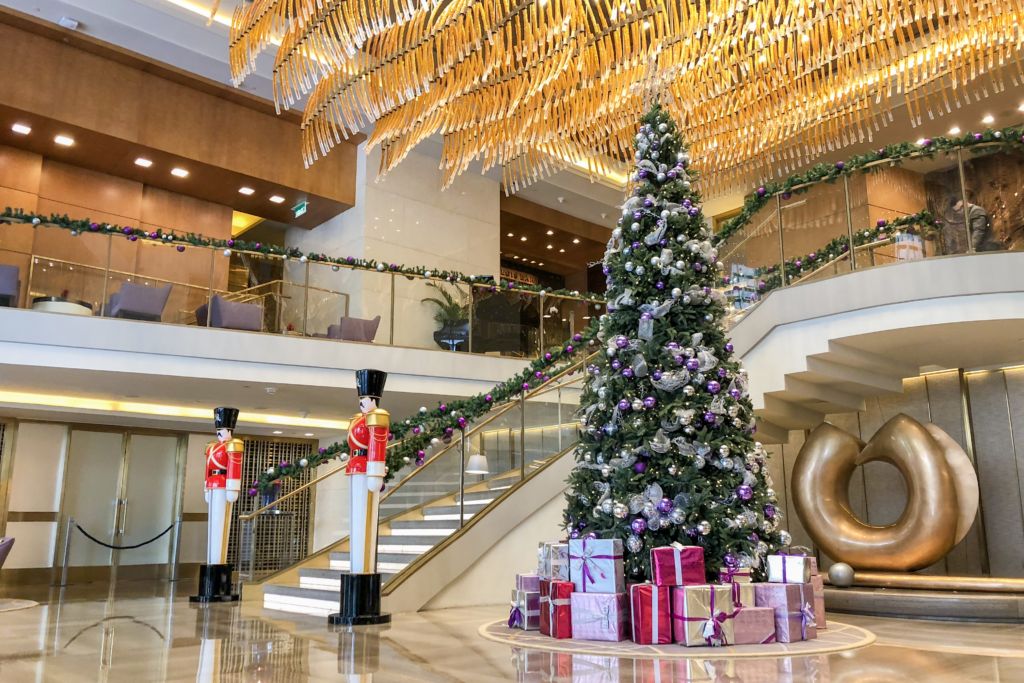 NUTCRACKER PROTECTING TREE AT THE ST. REGIS MACAO LOBBY
A huge, fancy and tasteful Christmas tree and a pair of nutcrackers positioned as guarding it is what St. Regis Macao has gone for. What else can one ask for this Christmas? Head to their luxurious lobby and take some photos that will last forever!
The St. Regis Macao Lobby, Estrada Do Istmo, S/N, Cotai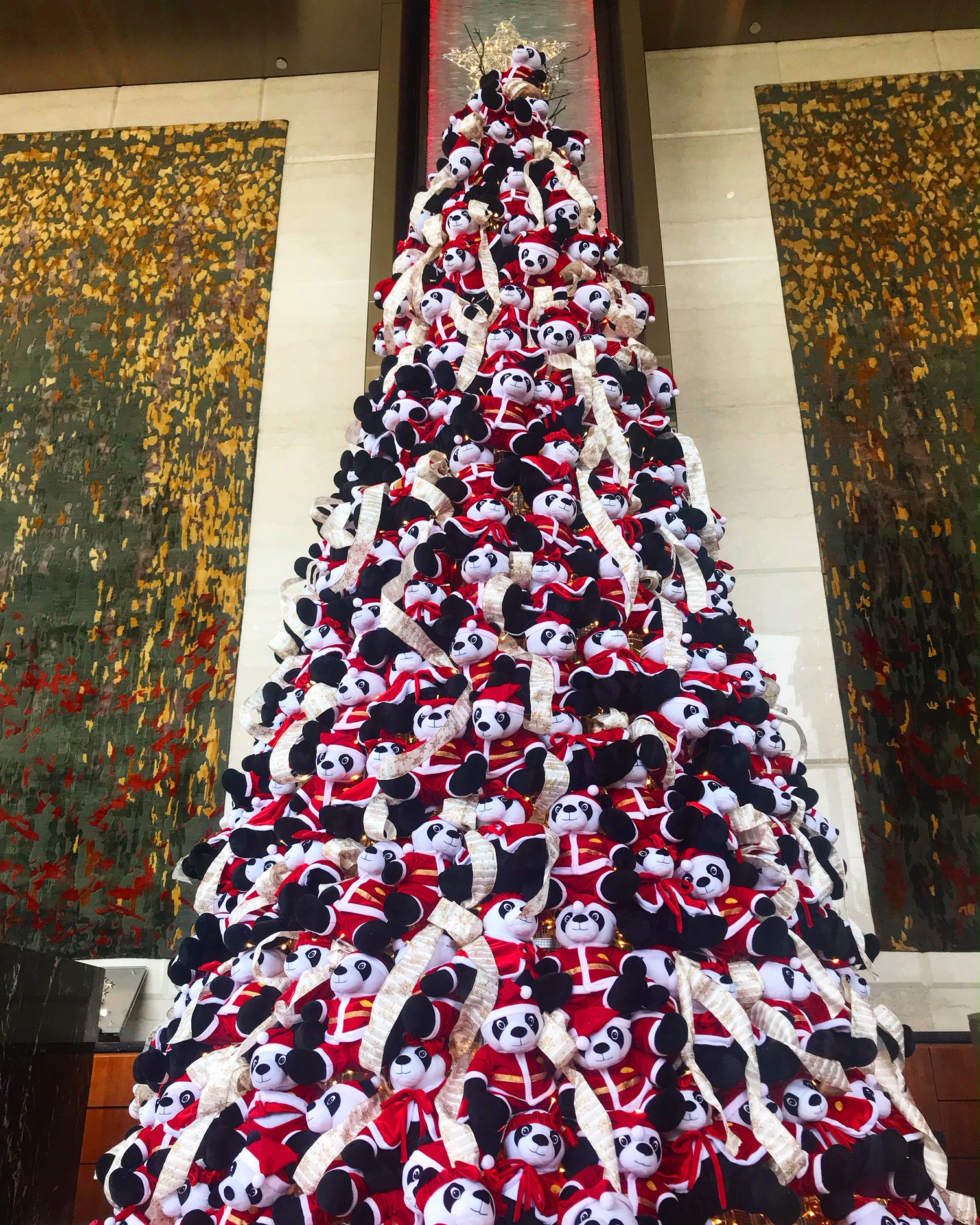 PANDA-THEMED TREE AT MANDARIN ORIENTAL, MACAU LOBBY
Besides offering out-of-this-world dining and cocktails experiences, this Christmas Mandarin Oriental, Macau went further and created a huge panda-themed Christmas tree! It's not only original, but a whole lot of fun for the younger ones. If you have kids or are a plush fan, enjoy some selfies nearby and even take a panda home with you!
The tree structure is made from metal mesh wire and intertwined with LED lights. It is part of the hotel's sustainability efforts to care for the environment. To add on to this meaningful cause, nett proceeds from each purchased will be donated to MINDSET, an established organisaiton to make a difference in the area of mental health.
Mandarin Oriental, Macau  945 Avenida Dr. Sun Yat Sen, NAPE, Macau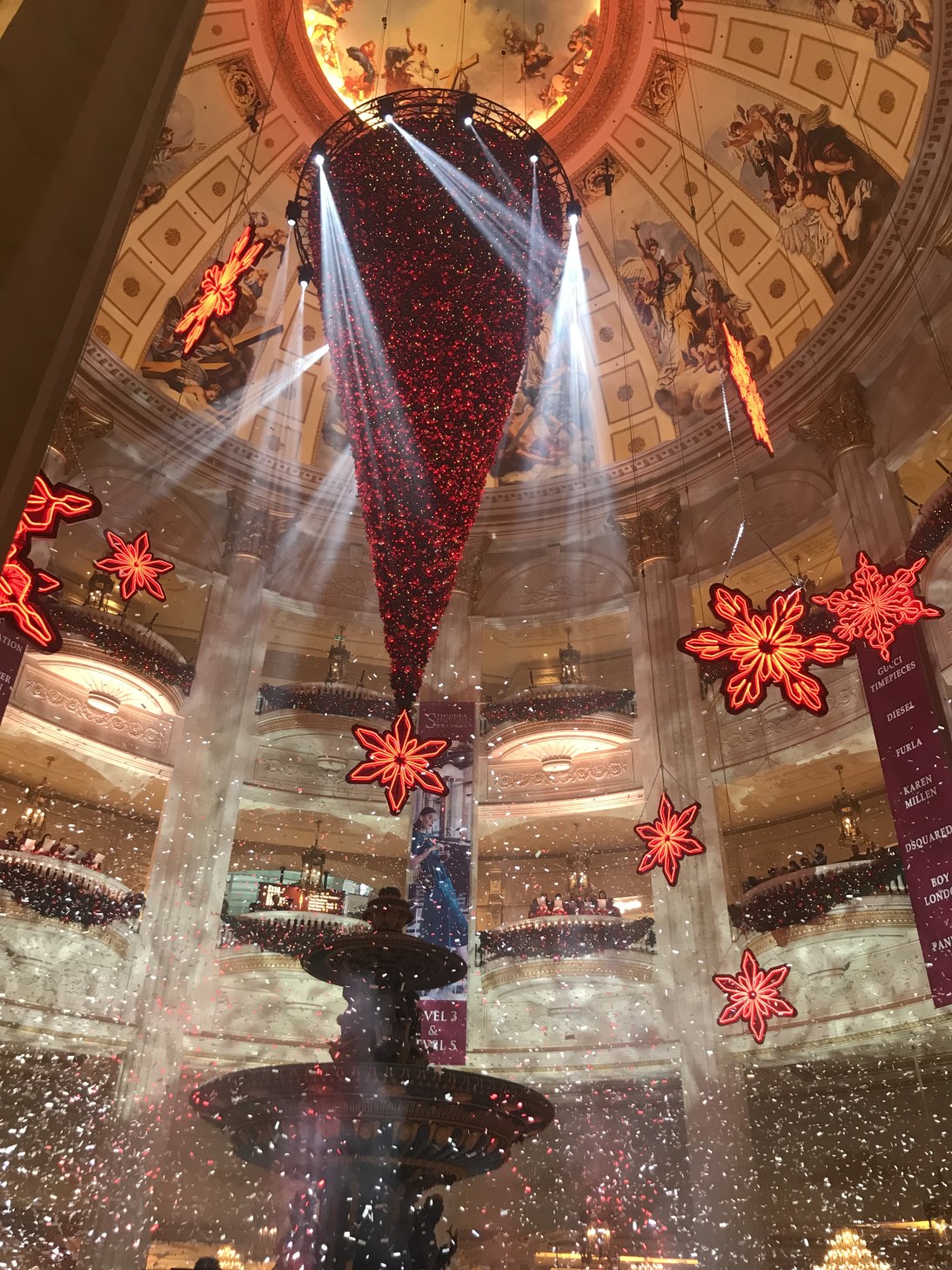 UPSIDE DOWN CHRISTMAS TREE AT THE PARISIAN MACAO
This is definitely the most original idea for a Christmas tree decoration at a hotel! The Parisian Macao decided to feature an upside down tree and have a huge party to show off their new and seasonal centerpiece! If you are looking to take some truly unique photos that are in the spirit of Christmas and yet still quite different, don't miss the chance to go to The Parisian Macao's lobby!
The Parisian Macao Estrada do Istmo, Lote 3, Cotai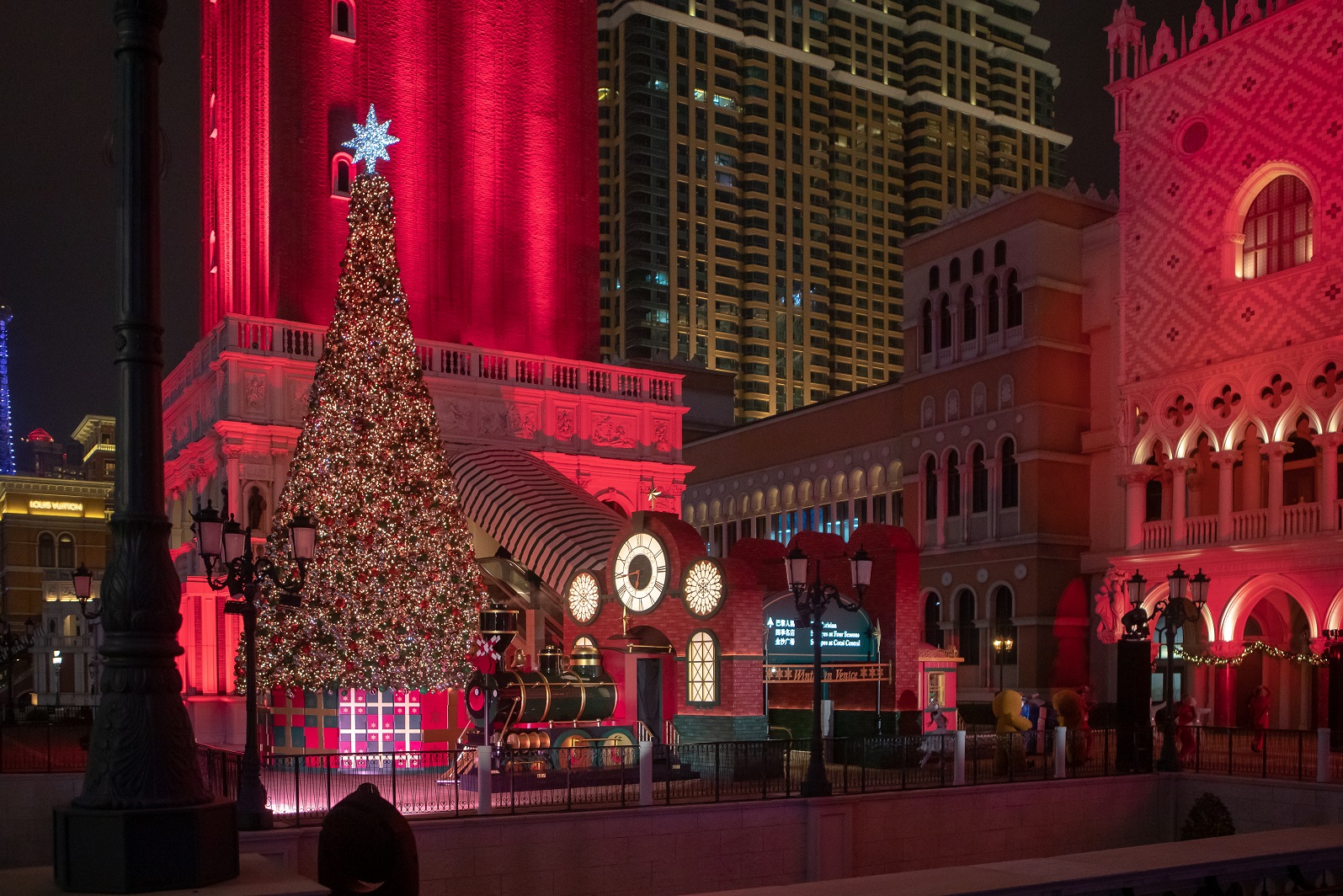 WINTER EXTRAVAGANZA CHRISTMAS TREE AT THE VENETIAN MACAO
Shopping malls are usually quite nice during holiday seasons, but this tree really is something! Integrated in an all-red environment that transpires Christmas from all its pores, this tree is surrounded by in an extravagant setting including a train, a clock tower and several other allusive objects!
Christmas Lagoon Area, The Venetian Macao, Estrada da Baia de Nossa Senhora da Esperanca, Cotai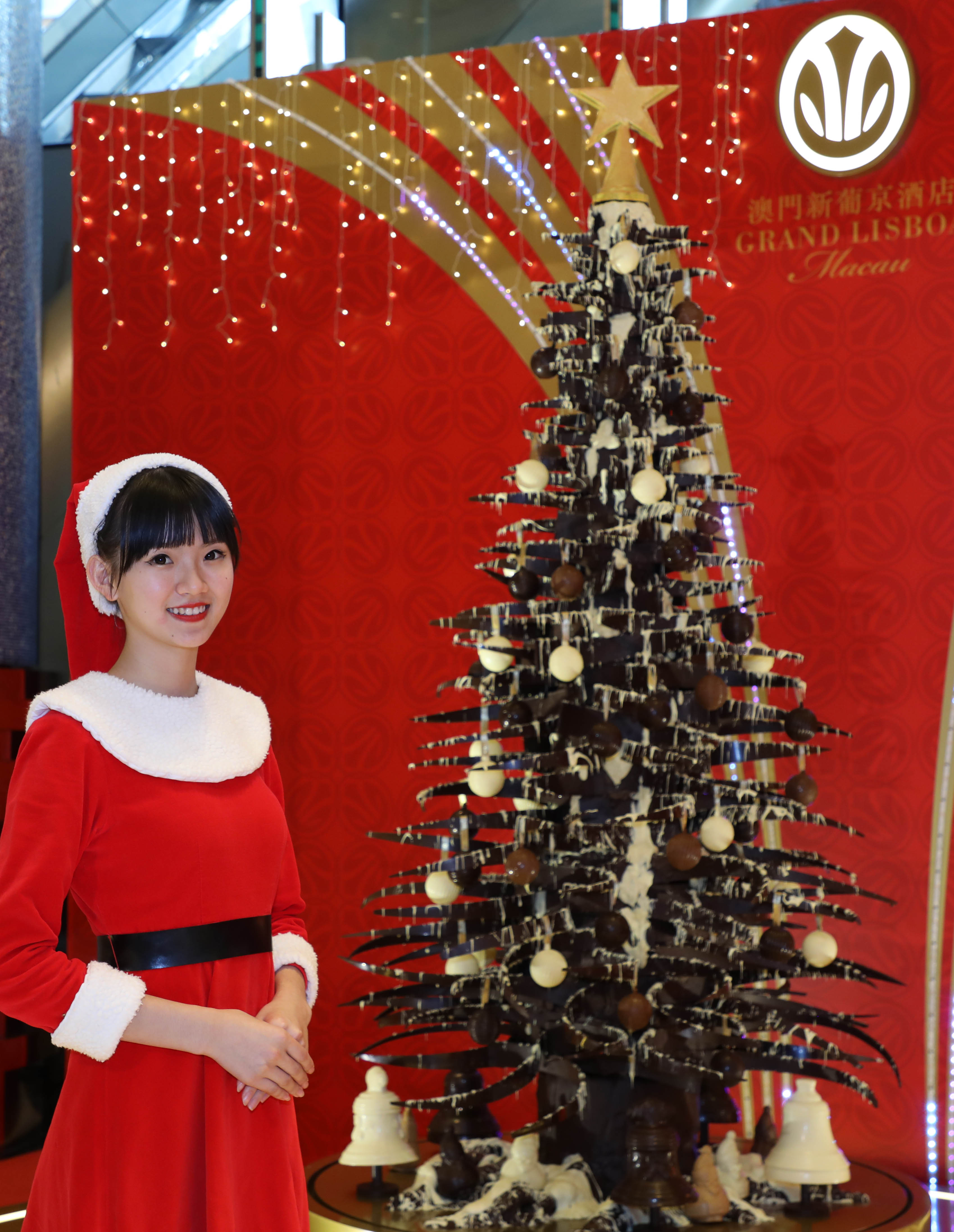 MACAU'S TALLEST CHOCOLATE CHRISTMAS TREE AT GRAND LISBOA LOBBY
Another unique tree stands at Grand Lisboa Hotel. They kicked off the festive season with the opening ceremony of the Hotel Lobby Hamper House, and at the same time, unveiled Macau's tallest Christmas tree made entirely of chocolate – a delicious temptation that stands seven feet tall which fills the whole lobby with an enchanting and sweet fragrance. Norihito Muranaka has spent decades perfecting the art of confectionary creation in France and Japan, and to celebrate Christmas this year, he and his team have meticulously handcrafted a seven-foot-tall Chocolate Christmas tree for the lobby. Chef Muranaka and his team of talented pastry chefs created over 150 pine boughs, drizzled white chocolate 'snow' over them and sculpted 100 pieces of chocolate Christmas ornaments to decorate the tree. This deliciously designed tree is made of over 250 pounds of chocolate.
Grand Lisboa Lobby, Avenida de Lisboa, Macau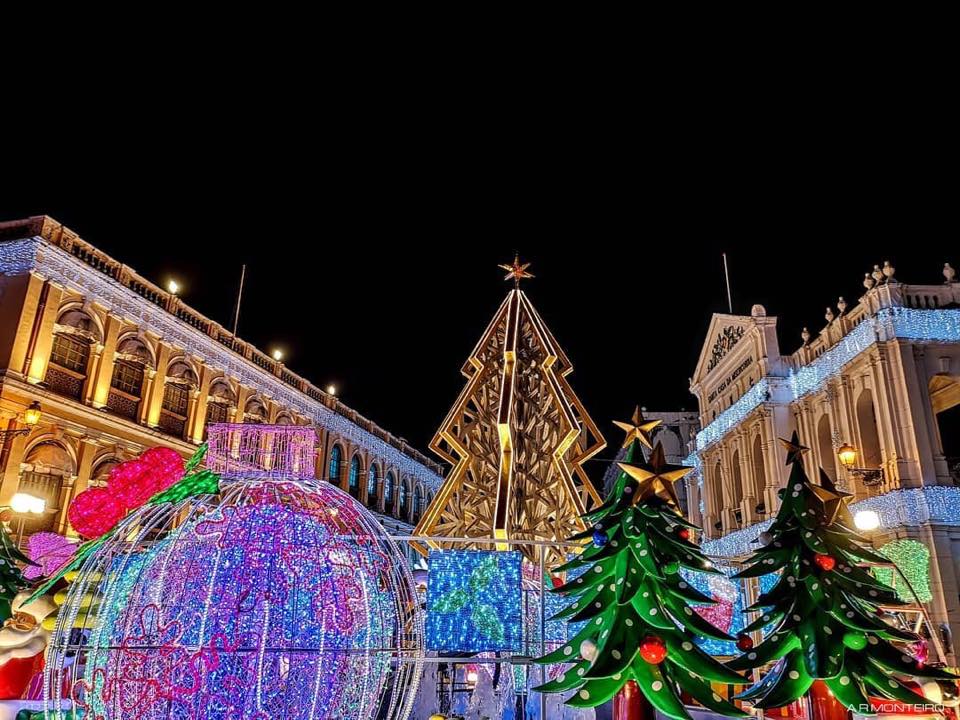 A COLORFUL CHRISTMAS WITH A GOLDEN TREE AT SENADO SQUARE
If you have been in Macau during Christmas celebrations for long enough, you know Senado Square boasts some of the most special and colorful decorations in the city! Head to Macau's most iconic and touristic spot to feel the season warming up your heart and take some photos for posterity!
Senado Square Largo do Senado, Macau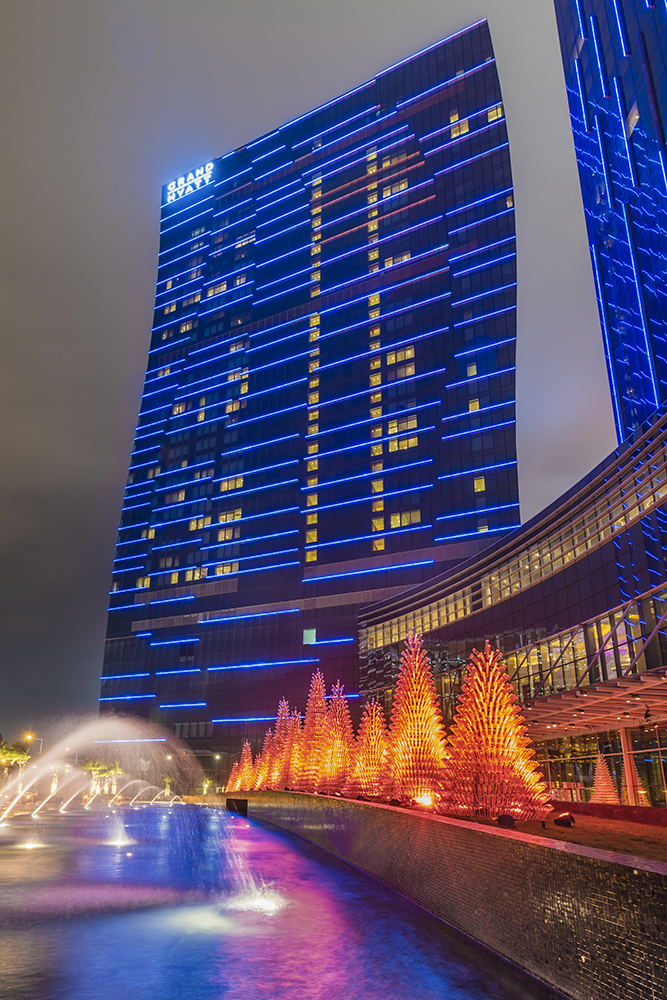 SUSTAINABLE CHRISTMAS TREE AT GRAND HYATT MACAO
This year, Grand Hyatt Macao decided to go green! For this festive season, the hotel created eco-friendly trees to bring some light and joy to its outdoors! Besides original, this idea helps the environment, so think about it when looking for awesome stuff to photograph this season in Macau.
Grand Hyatt Macau City of Dreams, Estrada do Istmo, Cotai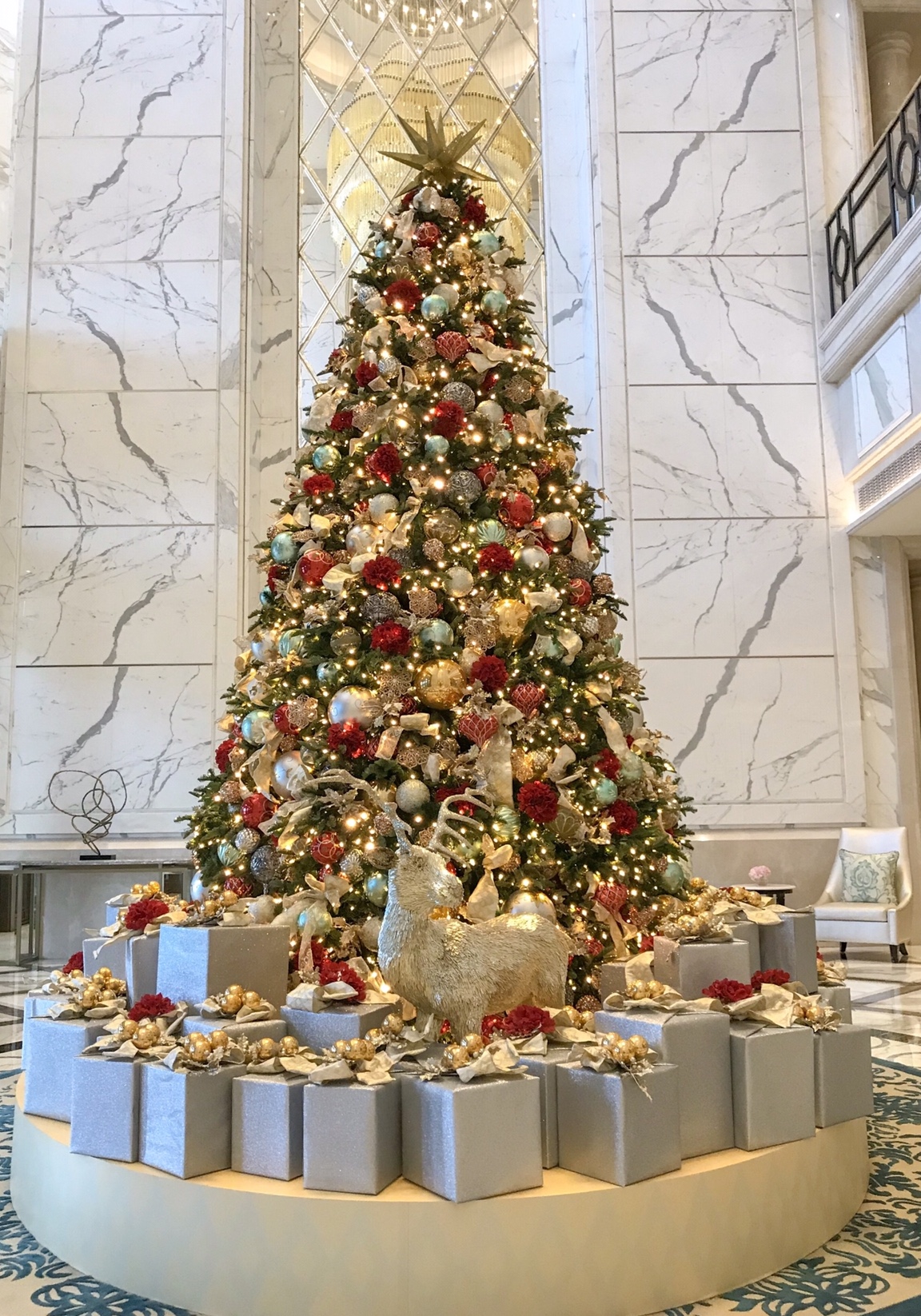 GOLDEN POWER CHRISTMAS TREE AT THE RITZ-CARLTON 
Tis the season to be jolly, but also classy and few do that as well as The Ritz-Carlton Macau. There, you will find this beautiful Christmas tree filled with golden and red ornaments, perfect to snap those perfect holiday photos you have been craving for! Head to the Ritz-Carlton Macau for some shopping, brunch or afternoon tea and have a blast with this tree!
The Ritz-Carlton Macau, Galaxy Macau, Estrada da Baía da Nossa Senhora da Esperança, Cotai
Tags