It's going to be an eventful September and the city's buzzing with interesting things to do! Why not check out a basketball tournament then grab some rosy dim sum afterward? Also, don't forget to book a table somewhere nice to see the fireworks contest, or maybe even go up Macau Tower to see them up close. Read on to find out what events to check out this September in Macau!
(See featured image above)
AJ Hackett Macau Tower is having its Skywalk Spectacular Fireworks at 233 Meters on six dates this September and October! If you've never been up there, this is the ultimate chance to enjoy a walk on one of the world's highest towers, while enjoying an amazing fireworks show on the nights of the International Fireworks Display Contest.
This year, there's a celebration duo: the 20th anniversary of the establishment of the Macao SAR, and the 30th anniversary of the contest. Join in on the fun at special prices, so bring your friends and family and don't forget the camera so these moments can stay with you forever. The ticket includes Skywalk & viewing of fireworks, a t-shirt, an e-Certificate, a membership card, videos and photos, and Tower admission ticket.
When: September 7, 13, 21 and 28, October 1 and 5, 2019
Where: AJ Hackett Macau Tower, AJ Hackett Macau Tower Limited Level T2 – Adventure Zone – Macau Tower Macau, Macau
How much: MOP $788 per person, $758 per person for groups of four people or above
Local Macau ID and Blue Card holders only pay MOP $588 per person
Special rates for bookings and payments made before August 31, 2019
For more information, check their website and for bookings, send an email to [email protected]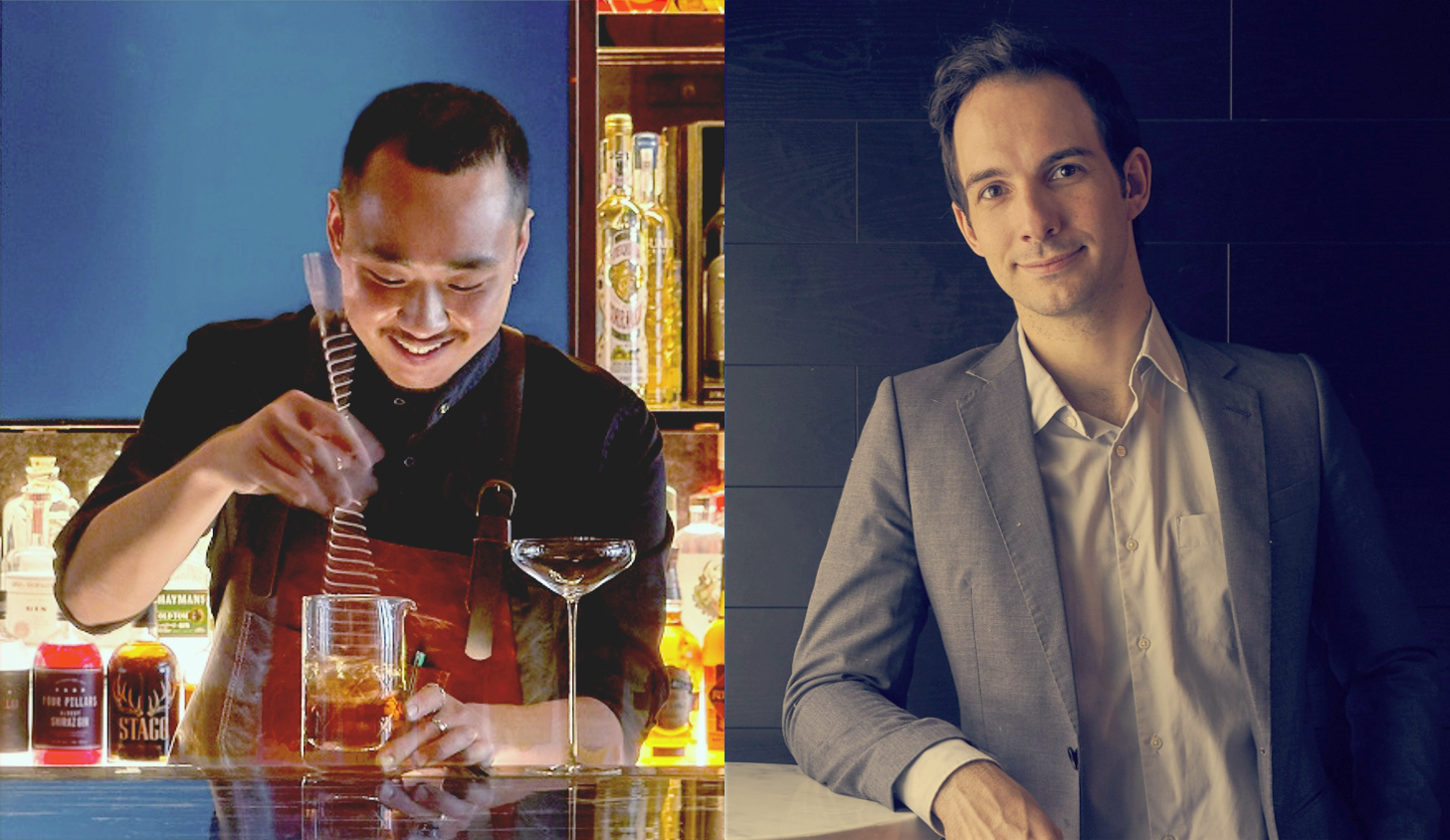 A friendly mixologist competition between Bin Guo from MO Bar at Mandarin Oriental, Wangfujing and Bastien Ciocca from the award-winning Hope & Sesame bar in Guangzhou. The menu includes five cocktails and one mocktail to choose from, with original and exclusive recipes making their way into the mix.
When: 9:00pm till late, Friday, Saturday and Sunday, September 13, 14 and 15, 2019
Where: Vida Rica Bar, Mandarin Oriental, Macau, 945 Avenida Dr. Sun Yat Sen, NAPE, Macau
For more information and reservations, call +853 8805 8928, send an email to [email protected] or check their Facebook page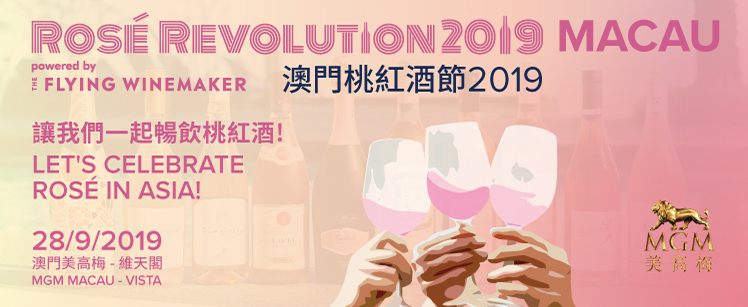 Rosé Revolution 2019 is back by popular demand! Party while celebrating the rosé festival at MGM Macau. Take your chances at exploring and tasting the best rosé from different winemaking regions of the world. Alongside the world's best pink wines, guests can also savor different kinds of food and enjoy DJ music performance. Bring some friends and sip on your favorite rosé for a true rosé experience. Returning for the 9th consecutive year, The Flying Winemaker has chosen four iconic cities across Asia to host Rosé Revolution. Since the inception of the event, Rosé Revolution has made a name for itself to be the leading voice of rosé in Asia. The festival brings together trade, media and consumers to celebrate the style of rosé. The event incorporates food and lifestyle concepts to empower the perception of rosé in the eyes of Asia based consumers.
Just like last year, this 2019 edition also includes a pink dim sum feast! After the success of the pink dim sum rosé pairing offered from the Shanghai and Macau leg of Rosé Revolution 2018, rosé and food offerings are back, with special pink menus. Inspired by the pinky hue of rosé wine, Imperial Court at MGM Macau will be launching a selection of delightful Rosy Dim Sum from September 1 to 30 in celebration of the month of rosé. Imparting a little creative twist to the usual steamed shrimp dumpling, the champagne infused steamed shrimp dumpling has a hint of fruitiness to enrich this classic dim sum dish. For guests who fancy desserts over savory dishes, deep-fried puffs with lotus paste and snow glutinous rice dumpling stuffed with rose would definitely satisfy their taste bud with layers of goodness.
When: Saturday, 4:00pm–8:00pm, September 28, 2019
Rosy Dim Sum – September 1–30, 2019
Where: Rosé Revolution 2019 – MGM Macau, Vista, Avenida Dr. Sun Yat Sen, NAPE, Macau
Rosy Dim Sum – Imperial Court, MGM Macau, Avenida Dr. Sun Yat Sen, NAPE, Macau
How much: Rosé Revolution 2019 – Early bird tickets – MOP $220 (if purchased between August 11 and September 18, 2019)
Standard tickets – MOP $290 (if purchased between September 19 and 28, 2019)
Rosy Dim Sum at Imperial Court – MOP $42–MOP $52
For more information on the Rosé Revolution event, call +853 8802 3888 or check the event's official website. For reservations and more information on the Imperial Court experience, call +853 8802 2361
For ticketing, click here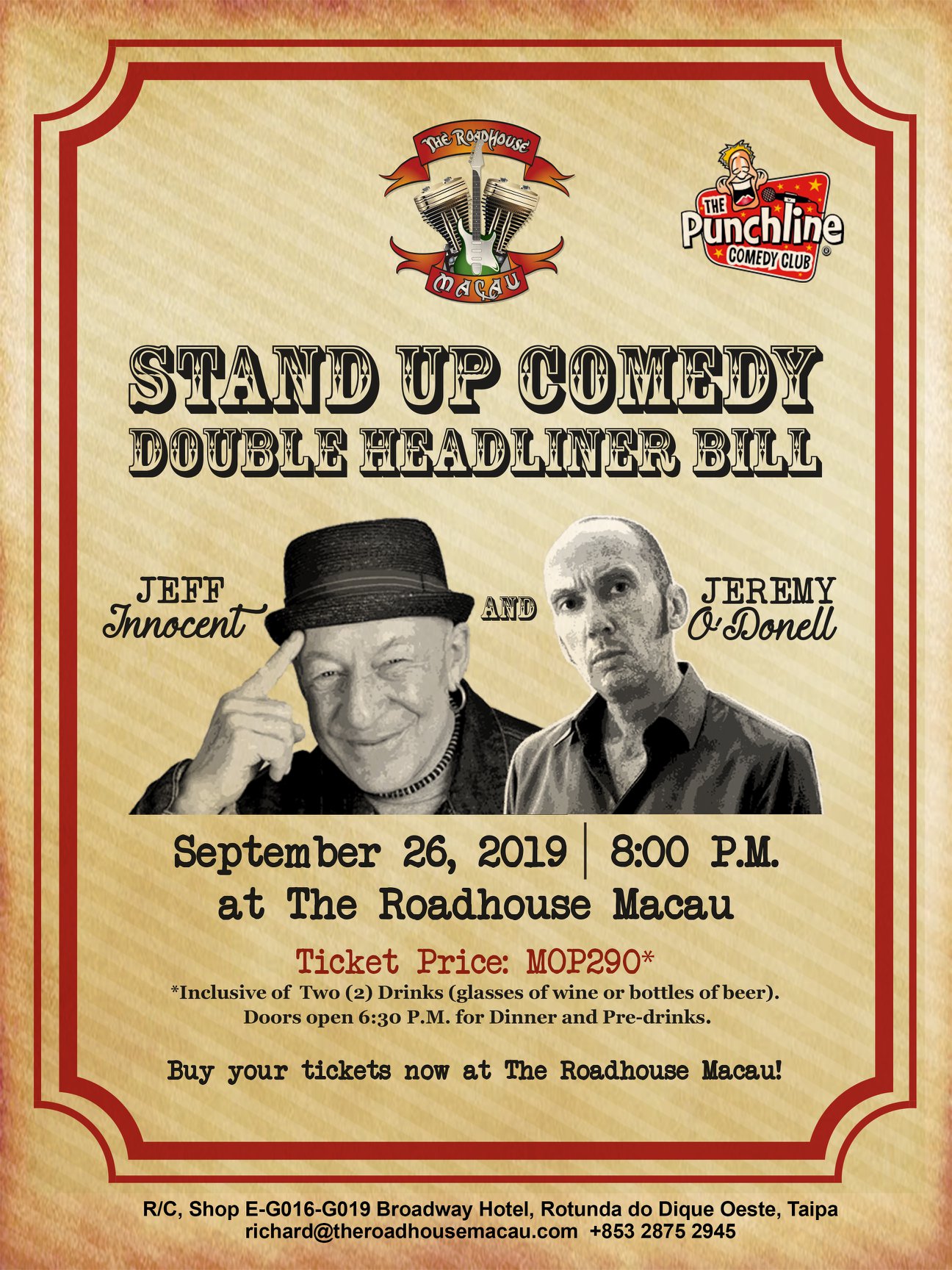 From the creators of All Irish Stand Up Comedy Night, The Roadhouse Macau presents you with Stand up Comedy. Double Headliner Bill! On Thursday, September 26, it hosts another night of infectious laughter with the hilarious Jeff Innocent and Jeremy O'Donnell.
Jeff Innocent is a popular and experienced stand up comedian, actor, writer, and cultural commentator. As a stand up comedian, he has reached near-legendary status among his peers and audience alike by staying at the top of his game for over 15 years. His unique appeal lies in the contrast between his East End 'Geezer' appearance and demeanor, and his educated, philosophical delivery and subject matter.
As an act or compere, Jeremy O'Donnell mixes sharp one-liners with friendly story telling and sparkling off the cuff wit. His cheeky smile and friendly nature have endeared him to audiences all over Britain and as far afield as Berlin, Bahrain, Paris, and Zurich. He has a reputation for reliably strong performances at major comedy clubs nationwide including Jongleurs and The Comedy Cafe. He also tailors his act for regular corporate shows.
When: 6:30pm (doors open for dinner and pre-drinks), 8:00pm (show starts), Thursday, September 26, 2019
Where: The Roadhouse Macau, E-G016-G019 Broadway Food Street, Broadway Macau, Avenida Marginal Flor De Lótus, Cotai
How much: MOP $290, includes two drinks (glasses of wine or bottles of beer)
For more information and reservations, call +853 2875 2945 or check the event's Facebook page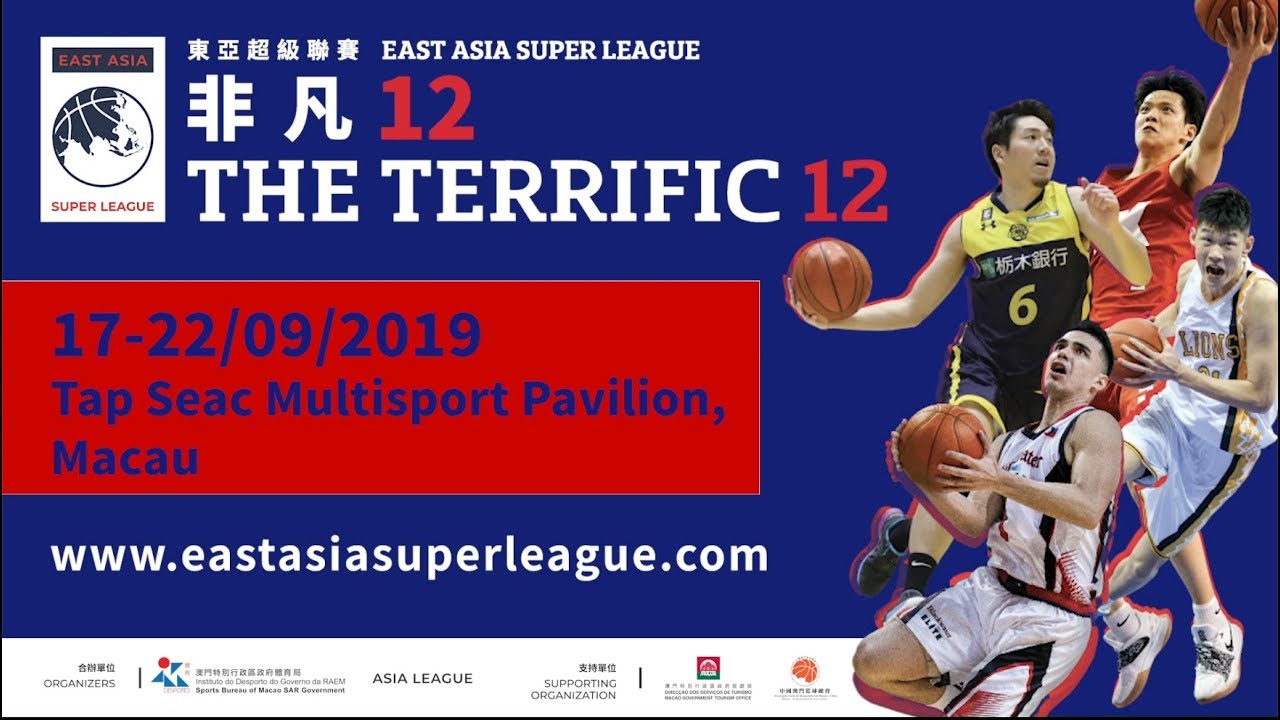 East Asia Super League hosts The Terrific 12 from September 17 to 22 at Macau's Tap Seac Multi-sports Pavilion. The FIBA-recognized basketball tournament, features three clubs from the CBA (China), four from the B.League (Japan), two from the KBL (Korea) and three from the PBA (Philippines).
A group stage, semi-finals, and finals will play out 16 epic games in total to crown this year's champion. Each participating team's roster boasts their biggest domestic stars such as Guo Ailun (Liaoning Flying Leopards), Yuki Togashi (Chiba Jets), Sunhyung Kim (Seoul SK Knights), June Mar Fajardo (San Miguel Beermen) and many more. Participating team rosters also features two foreign import players. Teams include the Chiba Jets, the Blackwater Elite, Seoul SK Knights, the Shenzhen Aviators, Ryukyu Golden Kings, San Miguel Beermen, Zhejiang Guansgsha Lions, Utsunomiya Brex and many more!
When: Tuesday–Sunday, September 17–22, 2019
Where: Tap Seac Multisport Pavilion, 95 Avenida Conselheiro Ferreira de Almeida, Macau
How much: MOP $50–$400
For more information on teams and schedules, check the event's official website or send an email to [email protected] For tickets, check here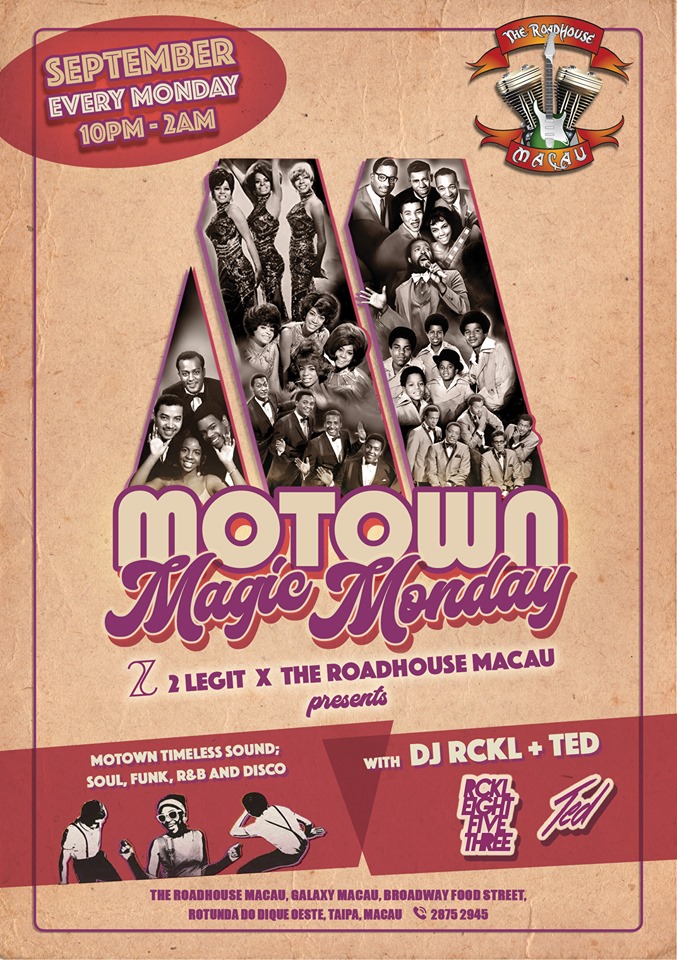 Starting from Monday, September 2, The Roadhouse Macau introduces DJ nights, this first night featuring local DJ Rocklee and DJ Ted. They will funk up your nights with the Motown sound. Five weeks of classic Motown tunes will make anyone jump up from their chairs and dance to funk, soul, R&B–from all-time classics to future sound. Monday is the new Friday!
Motown Records is an American record label owned by Universal Music Group. It was originally founded by Berry Gordy Jr. as Tamla Records on January 12, 1959. Its name, a portmanteau of "motor" and "town", has become a nickname for Detroit, where the label was originally headquartered.
Motown played an important role in the racial integration of popular music as an African American–owned label that achieved significant crossover success. In the 1960s, Motown and its subsidiary labels were the most successful proponents of what came to be known as the Motown Sound, a style of soul music with a distinct pop influence. Motown was the most successful record label of soul music.
When: 10:00pm–2:00am, every Monday of September 2019
Where: The Roadhouse Macau, E-G016-G019 Broadway Food Street, Broadway Macau, Avenida Marginal Flor De Lótus, Cotai
How much: Free admission
For more information, call or check the event's Facebook page
Tags