All hail the sun! Summer's here, inviting everyone to hang out with friends and family, along with cocktails, good food and music. Experience fun activities these next days and get ready for HUSH!! Full Music Festival, but don't forget to head to Palms Café and Bar and have a Taste of Japan, while sipping on some sake! Kids and adults can also enjoy lots of free activities such as the Tap Siac Market and the 24th Macau Myanmar Overseas Chinese Water Festival. Hop on this weekender and find out what's in store for you!
(See featured image above)
HUSH!! Full Music Festival is an important cultural brand that has a history of over 10 years in Macau! It is one of the most anticipated annual music events held locally and is known by many Asian music artists. The Cultural Affairs Bureau continues to bring "HUSH!! Full Music" beach concert as a multiple-day event in Hac-Sa Beach. Famous and highly-talented local and foreign artists and bands are invited to present a great variety of music at the concert. Music lovers should not miss this enthusiastic music event.
There will also be instrument workshops, a creative market, an "electronic eden" and different music in several stages! Join the party for free and have three musical days in one of the city's biggest outdoor music festivals!
When: April 28, 30 and May 1, 2019
Where: Hac-Sa Beach, Estrada de Hac Sá, Coloane
How much: Free admission
For more information, check the event's Facebook page or website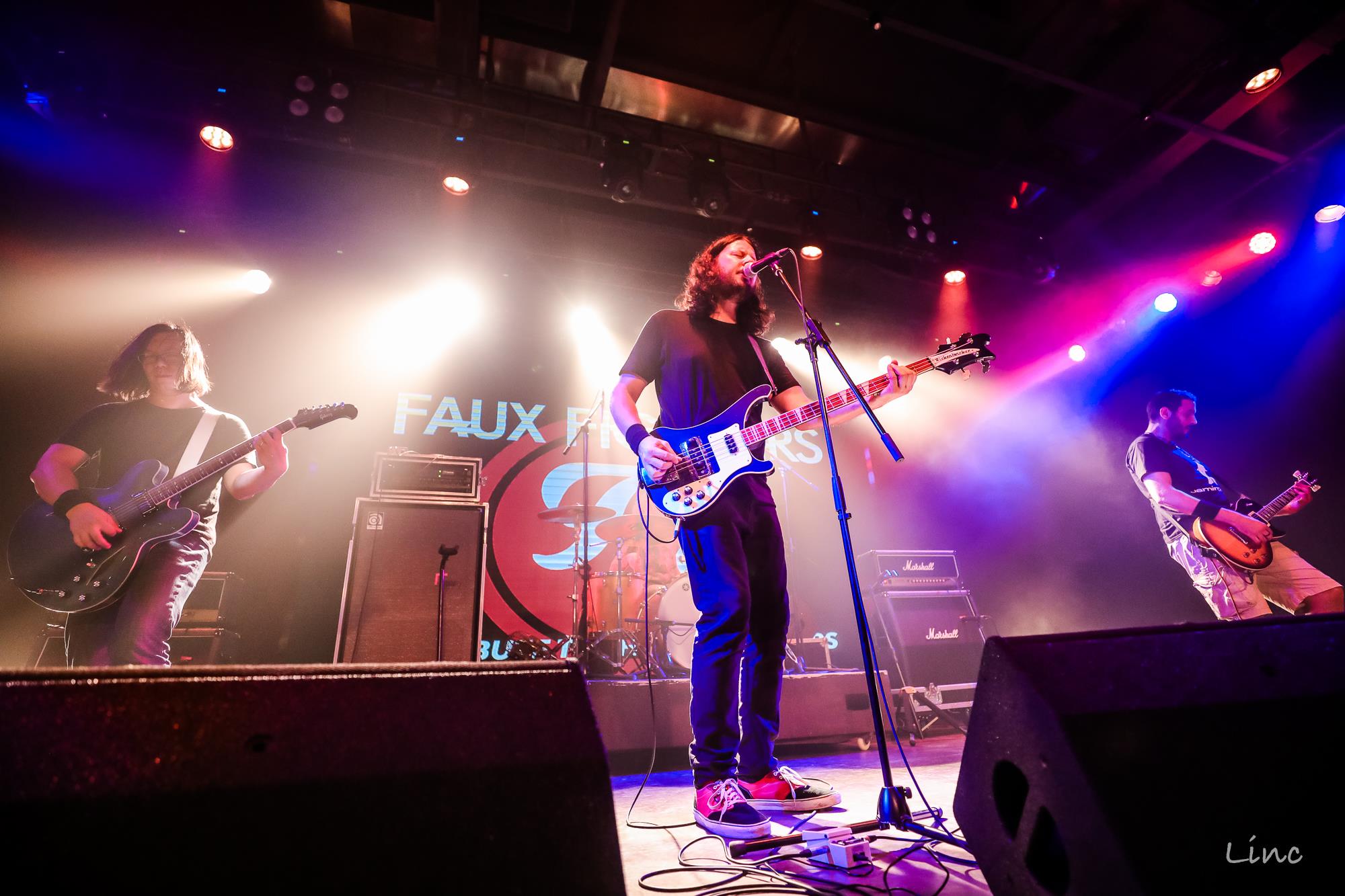 Faux Fighters are coming to Macau and their gig is not one to miss! Save the date for a night of rock at The Roadhouse Macau. Formed in early 2018, Faux Fighters, a tribute to the legendary Foo Fighters is Asia's answer to one of the most iconic, and one of the most popular rock bands over the past twenty years. The band delivers all of the biggest and best Foo Fighters' hits in an action-packed, high-quality show from nine studio albums.
When: Friday, 10:00pm, April 26, 2019
Where: The Roadhouse Macau, E-G016-G019 Broadway Food Street, Broadway Macau, Avenida Marginal Flor De Lotus, Cotai
How much: Free admission
For more information and reservations, call +853 2875 2945 or check the event on Facebook

Cinematheque Passion will celebrate its second anniversary with a "Surprise Film Festival" from March 30 to April 28. Featuring eight brilliant classic works, the festival will bring a different perspective on these films in secret screenings. The titles are not revealed until the screening room's lights go off, and they are presented in codes. The vibrant programme is sure to excite and ignite Macau audiences with works ranging from auspicious directorial debuts, moving and nostalgic love stories, spine-chilling horror masterpiece, timely comedy and world cinema, to a landmark sci-fi film. The screenings will also be accompanied by talks and exhibitions that spark reflection and interaction.
Over the last two years, Cinematheque Passion has presented over twenty successful film festivals–looking back on classics and great works in radical perspectives–and expanded the audience's imagination of film and filmmaking with in-depth talks, workshops and more. Along with its excellent screen and facilities, Cinematheque's programmes target hardcore cinema fans, as well as new audiences, with events led by both expert speakers and practitioners. In March, the "Surprise Film Festival" will reinforce its artistic mission and value with secret screenings of fantastic films.
When: March 30–April 28, 2019
Where: Cinematheque Passion, 13 Travessa da Paixão, Macau
How much: MOP $60 per person for each movie
For more information and ticketing, check their website or Facebook page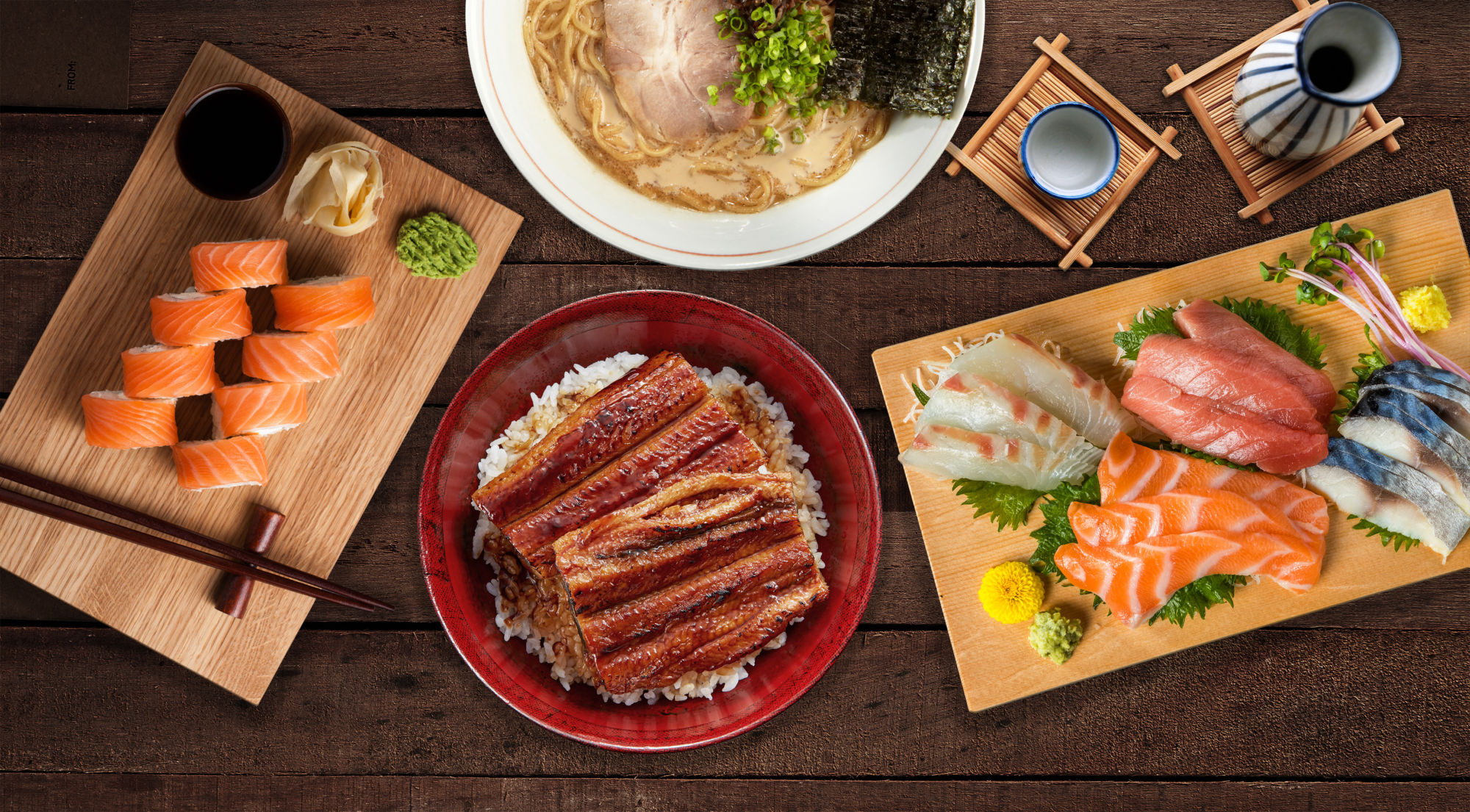 For Japanese food fans, head to the Palms Café and Bar for their Taste of Japan menu! From April to June, diners are invited to embark on a culinary journey of Japan with some of the best and most recognized authentic and flavorful Japanese delights on offer.
Highlights of the limited-time menu include a range of sushi rolls and fresh sashimi prepared by our masterful chefs daily, unadon–grilled eel rice donburi, baked lobster with spicy lemon garlic sauce, and okonomiyaki–a Japanese pancake with bacon, octopus, soba noodles, spring onions and bonito flakes. Guests can pair these special dishes with a selection of sake and special beverages such as Saketini, Tokyo night (Asahi beer, lemon juice with mixed syrup) and Tokyo float.
When: Daily, 12:00pm–3:00pm and 6:00pm–11:00pm, April 1–June, 2019
Where: Palms Café and Bar, Sheraton Grand Macao Hotel, Cotai Central, Estrada do Istmo, S/N, Cotai
How much: Each dish has its own price (MOP $78–148)
For more information please visit Palms Café & Bar website, call +853 8113 1200, send an email to [email protected] or visit Sheraton Grand Macao Hotel, Cotai Central's website

Organised by the Cultural Affairs Bureau (ICM), the "Tap Siac Craft Market" will be held on April and May, at Tap Seac Square, featuring thirty-eight handicrafts workshops. This event is a great platform for local cultural and creative practitioners to display and sell their products. It has also become a hub for local cultural and creative brands, and has attracted local and overseas creative talents who showcase their creativity and handicraft products with various styles. Music performances and handicraft workshops will be held for the public to enjoy different types of activities.
Workshops include "Piggy sheep leather card holder", "Origami with silver clay", "Stone painting", "Lovely wool felted kitten", "Hand-sewn little grey elephant doll", "Little fox brooch", "Chinese round fan with hand-drawn peonies", "Fiber-threaded crochet picture", "Guess what sharks' favourite thing to do is (Family class)", "Spinning hot air balloon preserved flower music box", "Pressed-flower night lamp", "Korean-style preserved flower bouquet with cone holder", "Hand-sewn piggy (Family class)", "Sterling silver earrings fringed with starry beads", "Chubby wool felted piggy (Family class)", "Japanese porcelart coffee cup", "Polymer clay workshop (Family class)", "European-style embroidered hat", "Japanese round fan with colourful marbling" and many others.
When: April 26–28, May 3–5, 2019
Where: Tap Seac Square, Avenida do Conselheiro Ferreira de Almeida, Macau
How much: Free admission; the fee for each handicrafts workshop is MOP $50
All interested parties can register for the workshops through the "Activity Registration System" on ICM's website from April until April 8, at 5:00pm.
For more information, check their website or its Facebook page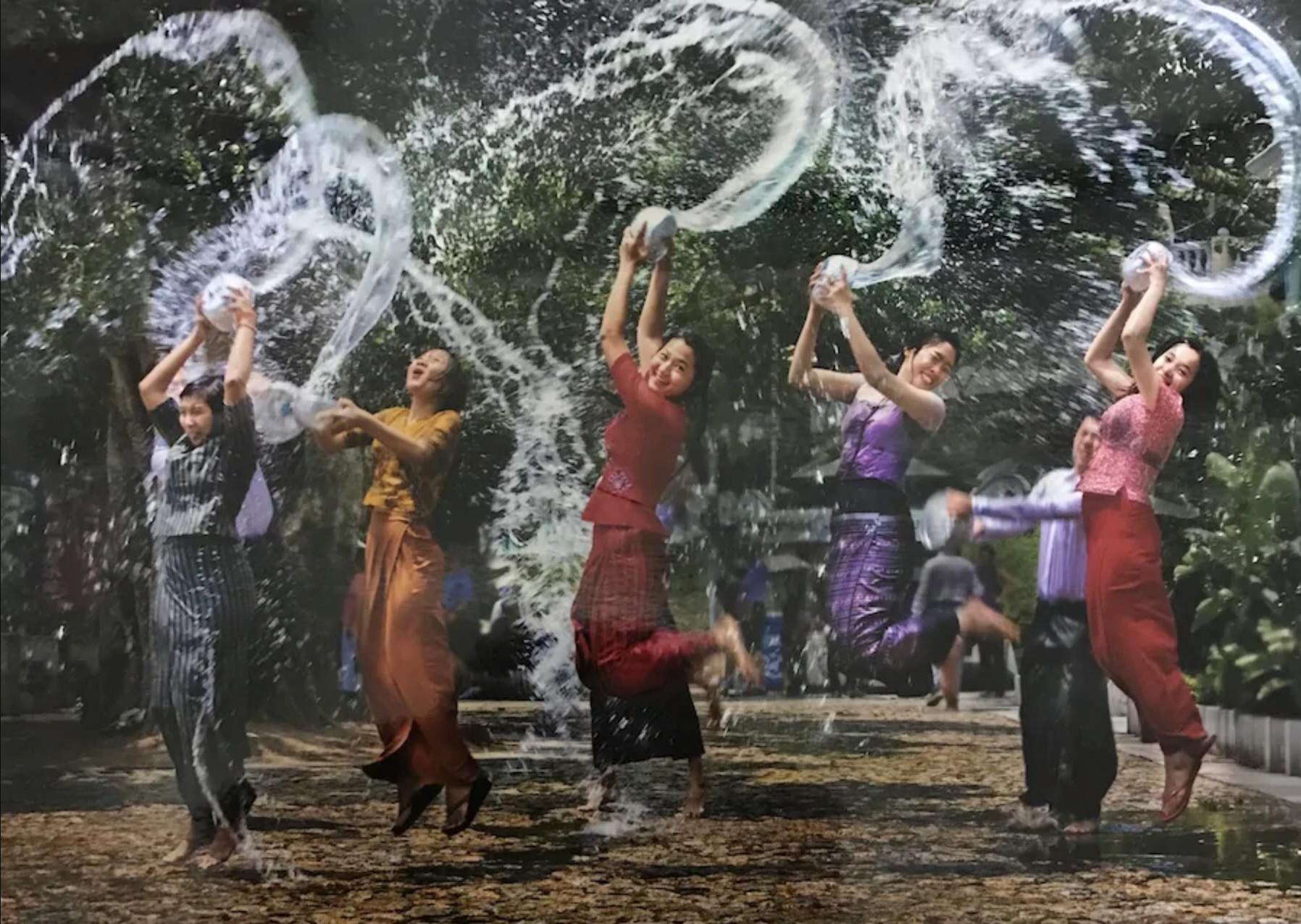 Macau has a significant community of people with links to Myanmar. The Myanmar Overseas Chinese Water Festival celebrates the traditions of that country's new year, while ushering out the old one; with revellers sprinkling water on each other and offering prayers. The highlight is the outdoor Water Festival Carnival that includes music and live performance. In the heart of the Three Lamps district, a very popular Myanmar and Southeast Asia Cuisine and Cultural Festival is held, where residents and visitors can explore 15 stalls selling authentic delicacies from those parts of the world. There will be a photo exhibition at the opening, followed by a worshipping ceremony the next day. April 27 will be dedicated to Myanmar and Southeast Asia Cuisine with cultural festive activities, a blessings parade, music performances, and two festivals: a water carnival and a food event!
When: Friday–Sunday, April 26–28, 2019
Opening of Myanmar water festival photo exhibition – 5:00pm, April 26, 2019
Worship Ceremony – 8:30am, April 27, 2019
Myanmar and Southeast Asia cuisine and cultural festival – 1:00pm–10:00pm, April 27, 2019
Blessings Parade – 4:00–5:00pm, April 27, 2019
Folk Music and Dance Performances – 7:30–10:00pm, April 27, 2019
Water Festival Carnival – 10:00am–5:00pm, April 28, 2019
Food Festival – 2:00pm–4:30pm, April 28, 2019
Where: Rotunda de Carlos da Maia, Three Lamps District, Macau and Macau Fisherman's Wharf, Avenida da Amizade and Avenida, Dr. Sun Yat Sen, Macau
How much: Free admission
For more information, check their website, call +853 2855 3995 or send an email to [email protected]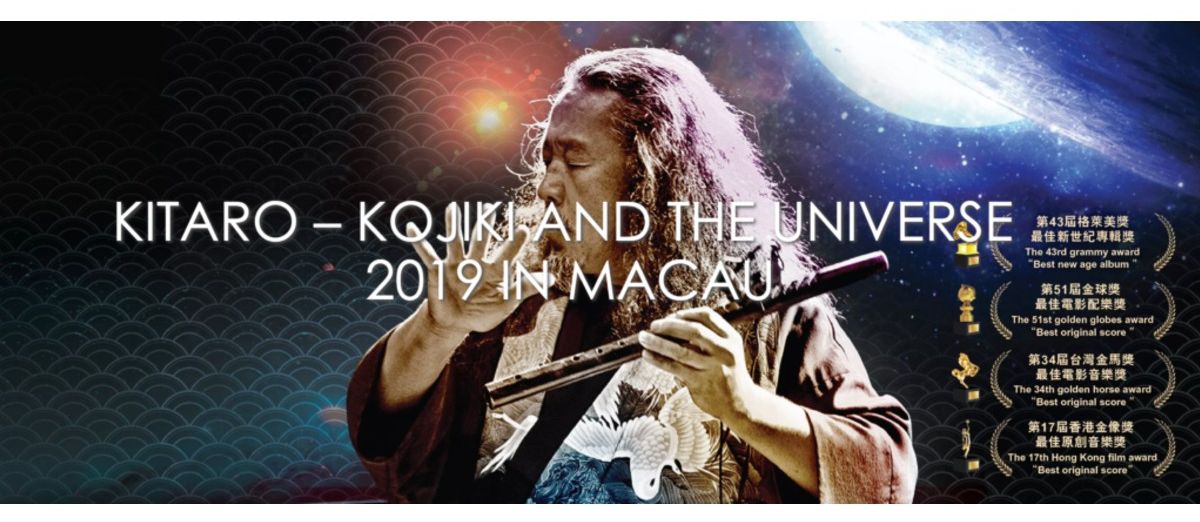 KITARO – KOJIKI AND THE UNIVERSE 2019 IN MACAU
For over 40 years, the multi-award winning musician Kitaro has touched the world with his soul-stirring music. Beginning with California in 2017, Kitaro has been performing around the world on his acclaimed "Kojiki and the Universe" tour, visiting various countries and regions that include London, Istanbul, Romania, Ukraine, Bulgaria and Kuala Lumpur. His multi-textured compositions always show inspirational message of love and respect to nature and the universe. Don't miss your chance to see this living legend in Macau. Catch the master of New Age music LIVE at Broadway Theatre for one night only!
When: Wednesday, 8:00pm, April 27, 2019
Where: Broadway Theatre, Broadway Macau, Avenida Marginal Flor de Lotus, Cotai
How much: MOP $180–1,280
MOP $1,280 tickets include post-concert meet & greet with Kitaro and a special edition CD
For ticketing and more information, click here
Tags