Christmas seems to have just ended and we're now about to start celebrating Chinese New Year! We love all the colors, music, vibes, and food that are available this season and we're sure you do too. There are plenty of places to welcome the Year of the Tiger, so be sure to scroll down and check where to go and what to eat in each of these places. Read on to find out where to celebrate Chinese New Year in Macau!
(See featured image above)
As the Lunar New Year approaches, the city is filled with an auspicious atmosphere as families and friends gather to celebrate. The time-honored Chinese restaurant Portas do Sol at Hotel Lisboa is launching two exclusive delights for the whole family to join: the Gathering Menu and Premium Gathering Menu feasts–perfect to welcome the Year of the Tiger. The first one includes barbecued whole suckling pig, grilled abalone with rock salt, braised supreme food in a clay pot made with 18 kinds of superior ingredients as abalone, and much more! The spotlight of the premium version is Portas do Sol's unique double-boiled superior shark's fin and cabbage in supreme broth. The Gathering Menu is priced at MOP $8,610* per table of twelve persons (one complimentary Hotel Lisboa dining voucher valued at MOP $800 is offered as an additional gift for each table), while the Premium Gathering Menu can be purchased for MOP $12,485* per table of twelve persons (with a complimentary dining voucher of barbecued whole suckling pig, valued at MOP $1,200).
Hotel Lisboa offers you the five handcrafted Chinese New Year puddings and a chocolate Fortune Tiger as the perfect choice. Besides the Fish of Fortune new year pudding, there's also taro and preserved meat pudding, turnip and preserved meat pudding, golden brick pudding, and red date pudding. There are also vouchers for these puddings available–till January 31, 2022–at the restaurant, but also Lisboa Cake Shop at Hotel Lisboa, and the Deli Lafayette at New Yaohan.
Portas do Sol Hotel Lisboa, 2–4 Avenida de Lisboa, Macau, +853 8803 3100, www.hotelisboa.com
*All prices are inclusive of a 10% service charge. Guests may enjoy a 20% discount with cash, credit card, or designated electronic payment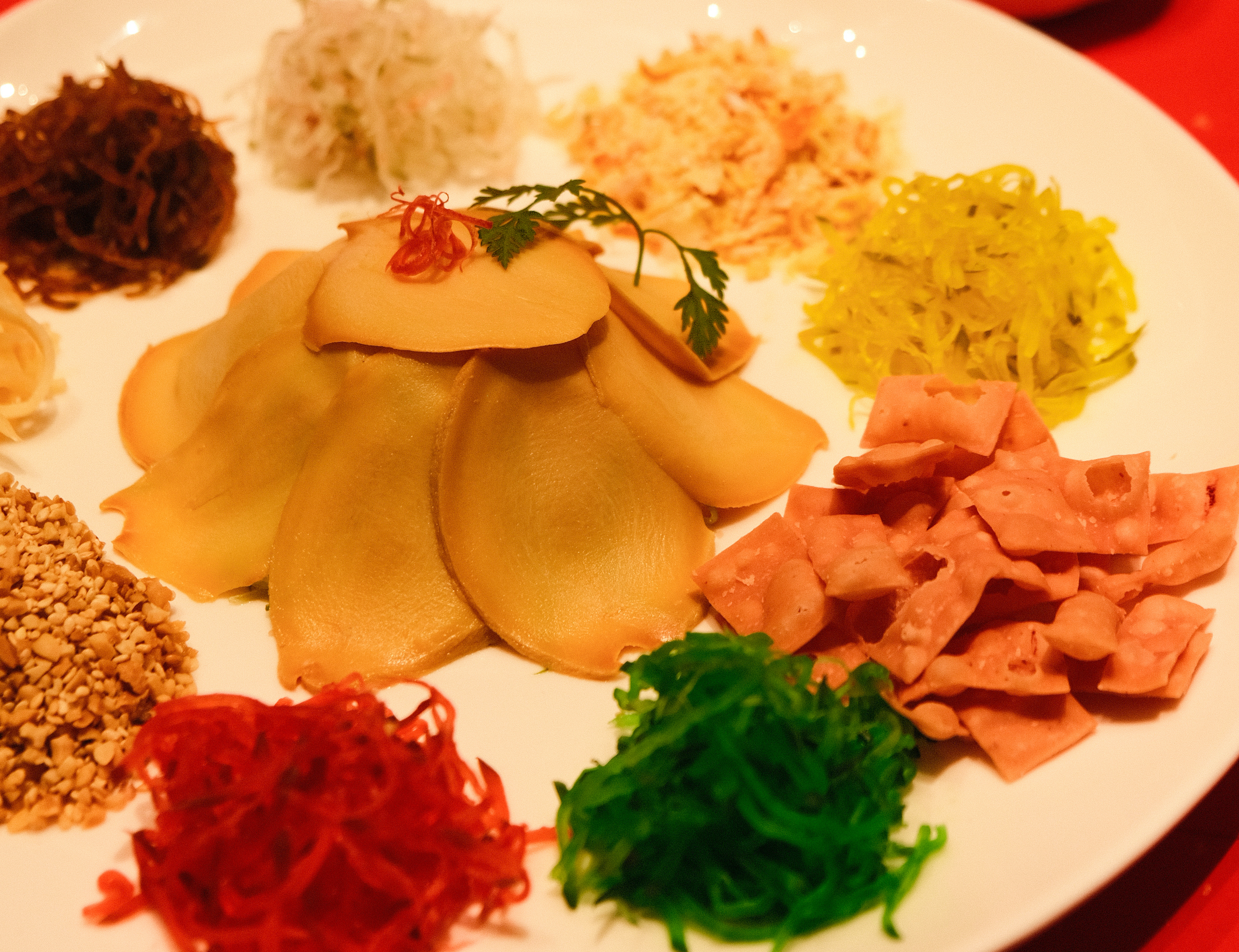 Sink in The Year of Tiger at Lisboeta Macau
Located on the third floor of the iconic Macau Palace, the Royal Palace restaurant's overall design concept comes from the 1960s Macau landmark "Casino Macau Palace". Isn't this the perfect setting to spend Chinese New Year with the whole family? During this winter season, Royal Palace is introducing a series of nourishing and healthy Chinese hot pot dishes that comes with a selection of premium homemade broth, live seafood, and handmade fishballs, keeping you warm in the cold weather. This offer is available from February 1 to 15, 2022.
To welcome the arrival of the New Year, Royal Palace will launch the promotion of "Royal Fortune 'Lo Hei'", so that guests can enjoy a complementary abalone YuShang "Lo Hei" upon ordering selected hot pot sets for the first 15 days of Lunar New Year, wishing all guests a plentiful and fortunate year ahead.
Royal Palace 2/F Macau Palace, Lisboeta Macau, Rua da Patinagem, Cotai, +853 8882 6666, [email protected]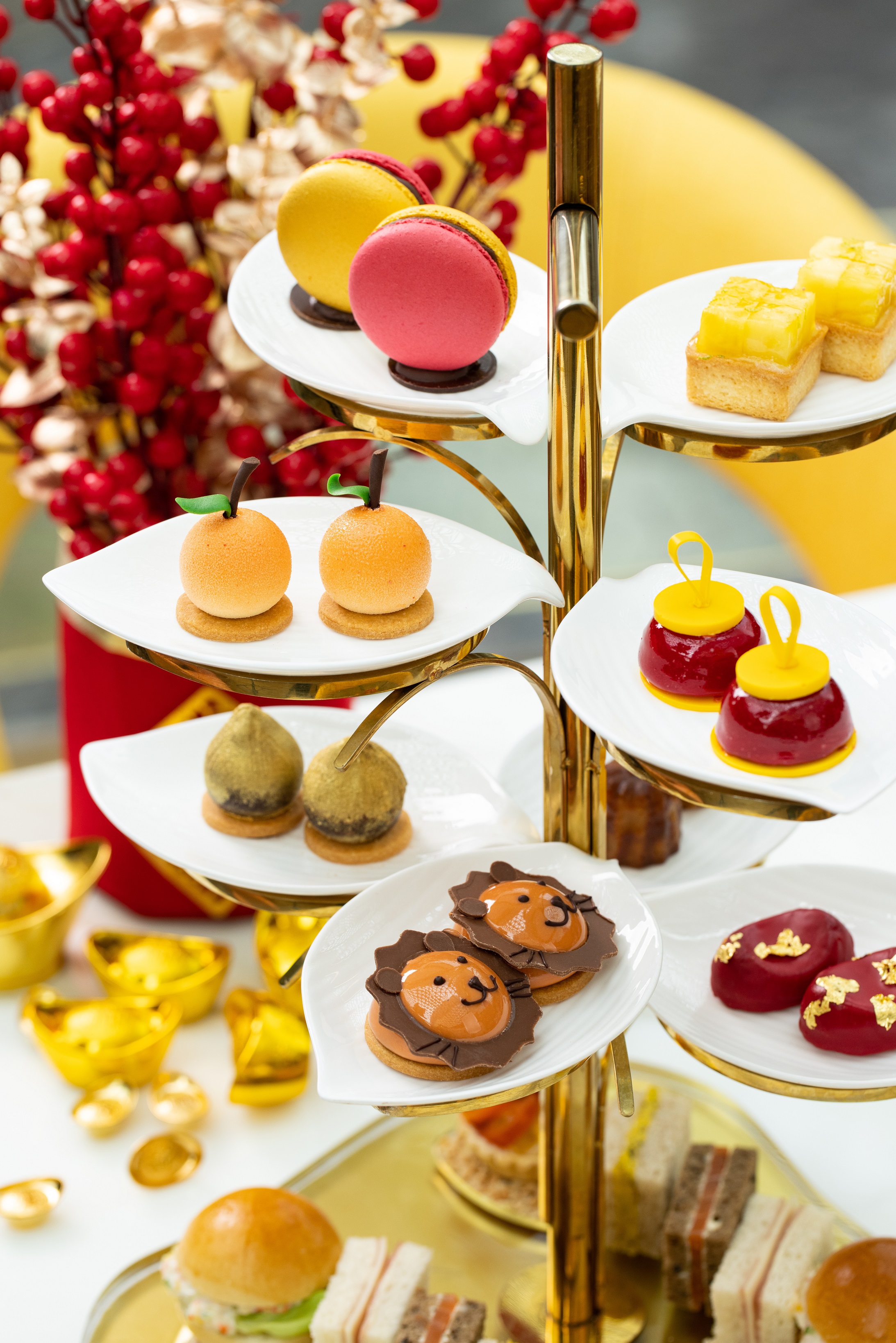 Auspicious "Go" for the Year of Golden Tiger at MGM
MGM's restaurants including Imperial Court and Five Foot Road present a sumptuous array of Chinese festive delicacies from different regions in the country, tailored for celebrating this grand traditional festive season with family and friends. Enjoy a relaxing afternoon with MGM during this traditional holiday – the thoughtfully crafted Chinese New Year afternoon tea set, served at both Rossio at MGM Macau and Anytime at MGM Cotai, is the go-to treat to savor with the loved ones while steeping into the auspicious festivity. These offers are available till February 15, 2022.
Guests who favor Chinese dim sum will certainly relish Chún's festive afternoon dim sum tea set, under the Spectacle roof where sunlight shines through. Other restaurants, such as Coast and Pastry Bar, also offer a variety of festive afternoon tea options also perfect for casual festive gatherings.
Imperial Court, and Rossio, MGM Macau, Avenida Dr. Sun Yat Sen, NAPE, Macau and Anytime, Chún, Five Foot Road, MGM Cotai, Avenida da Nave Desportiva, Cotai, +853 8802 8888, www.mgm.mo/Fortune-Bites-Go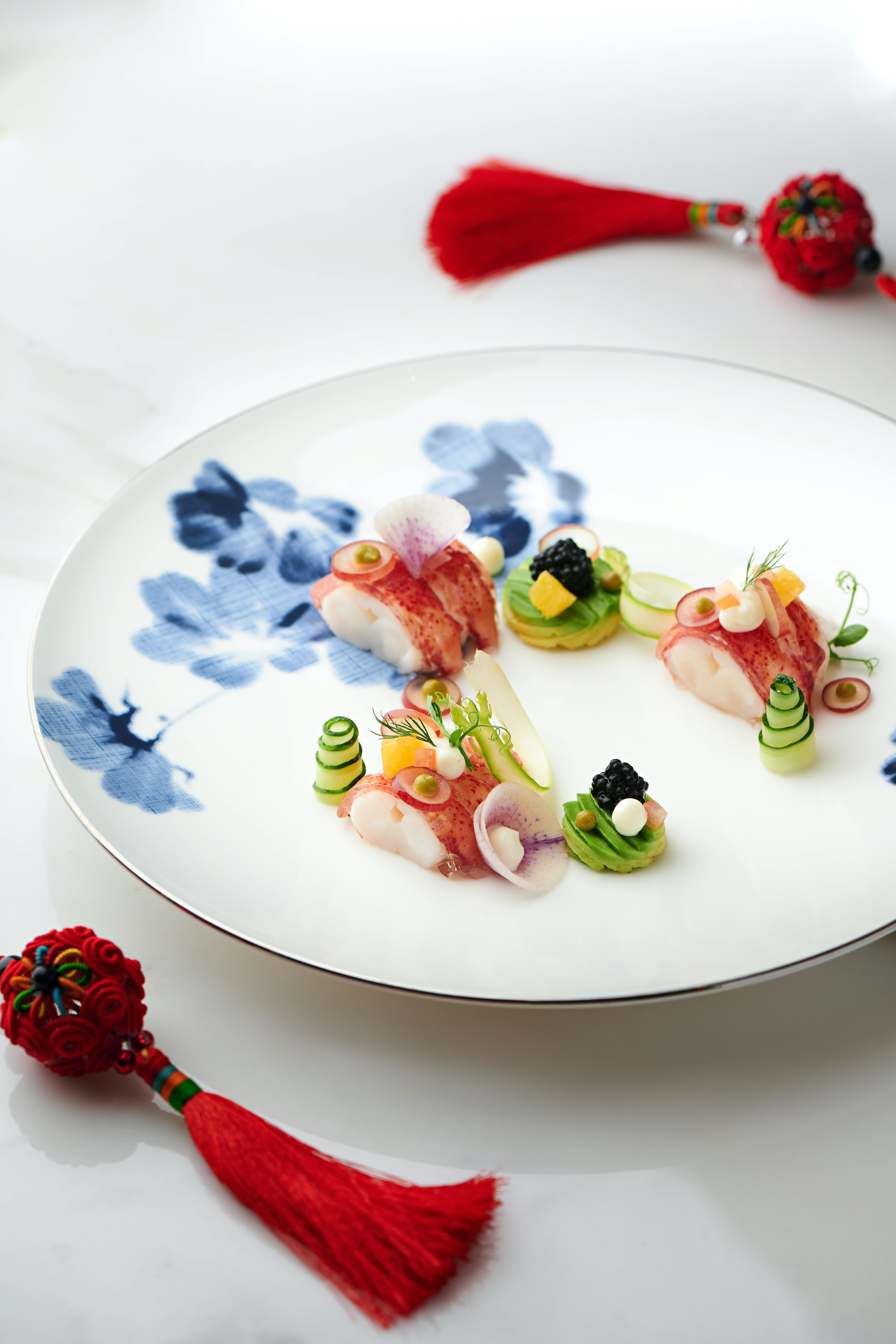 From January 31 to February 9, 2022 sink in the seasonal spirit at The Ritz-Carlton, Macau. The property is offering a series of wonderful meals at Michelin-starred restaurant Lai Heen, but also The Ritz-Carlton Café and even cocktails at The Ritz-Carlton Bar & Lounge. Lai Heen's Chinese New Year Lunch menu will feature dishes such as a lucky trio of dumplings and an abundant fried glutinous rice with air-dried sausage, conpoy, and taro. Their Chinese New Year Dinner menu–MOP $2,388* per person–features festive favorites such as braised whole abalone with foie gras and morel mushrooms, double-boiled fish maw soup with snow goose and conpoy, and sliced pork and hairy mousse accompanied with air-dried oyster.
The Ritz-Carlton Café is introducing the Chinese New Year Prix Fixe–a three to five courses' menu including dishes such as truffle brioche toastie, Boston lobster chard Froid featuring oscietra caviar, and a delightful chestnut mont blanc star alongside a choice of two mains, broiled halibut with marinated tomato, among others. At the Ritz-Carlton Bar & Lounge, mixology lovers will be able to savor the exclusive and original Mandarin Blossom cocktail, priced at MOP $138.
Lai Heen, The Ritz-Carlton Bar & Lounge and The Ritz-Carlton Café The Ritz-Carlton, Macau, Galaxy Macau, Estrada da Baía de Nossa Senhora da Esperança, Cotai, +853 8886 6868, www.galaxymacau.com/the-ritz-carlton
*Guests may enjoy a 15% discount on this indulgent dinner menu with booking and full payment on or before January 9, 2022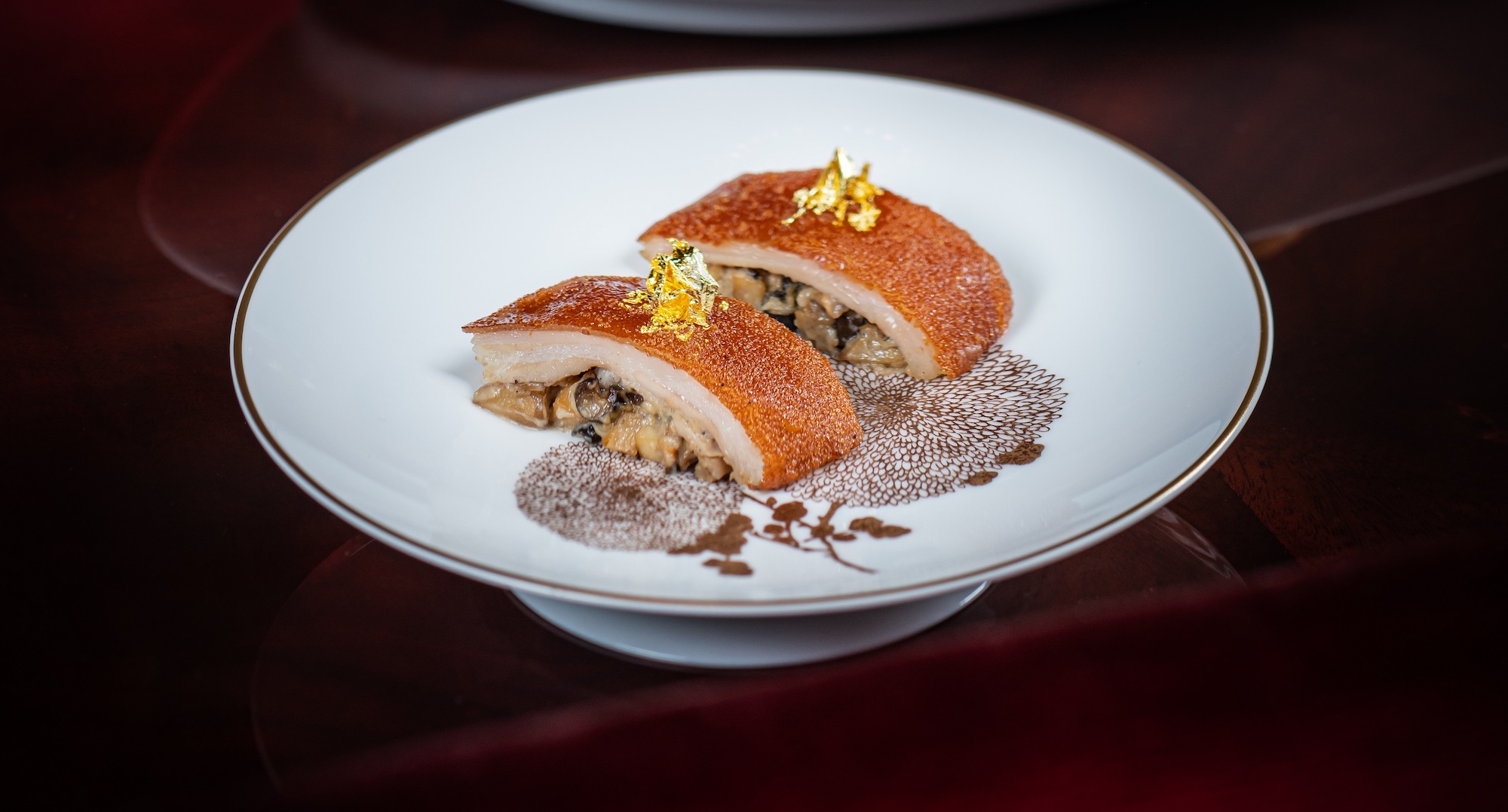 Beckon In the Year of the Tiger this Chinese New Year at Grand Lisboa Palace Resort Macau
The roar of the tiger welcomes this auspicious New Year at Grand Lisboa Palace Resort Macau with gourmet delicacies. These include a variety of Chinese New Year cakes, exquisite poon choi, and traditional Chinese dishes to invite in the new spring. From January 31 to February 7, 2022, Cantonese restaurant Palace Garden offers unique delicacies to welcome the New Year. In addition to their Chinese New Year lunch (priced at MOP $1,288* per person), there's also dinner (MOP $2,688* per person) set menus, and a la carte options including suckling pig roasted and served with black truffle and mushrooms, Kanto sea cucumber stewed with sun-dried oysters in supreme abalone sauce, and more.
At Chalou, you'll be able to try their red-spotted grouper steamed with Yunnan ham and mushroom, the Chalou deluxe poon choi, and a whole crispy chicken with lemongrass. This is available from January 31 to February 6. They'll also be serving–from February 1 to 6–dim sum delights with crispy seafood rice roll with freshly shaved black truffle, pork dumpling with black moss and dried oyster and crispy cuttlefish cake with celery.
Palace Garden and Chalou Grand Lisboa Palace Resort Macau, Rua do Tiro, Cotai, +853 8881 1380, +853 8881 1320, www.grandlisboapalace.com, www.grandlisboapalace.com
*Prices are subject to a 10% service charge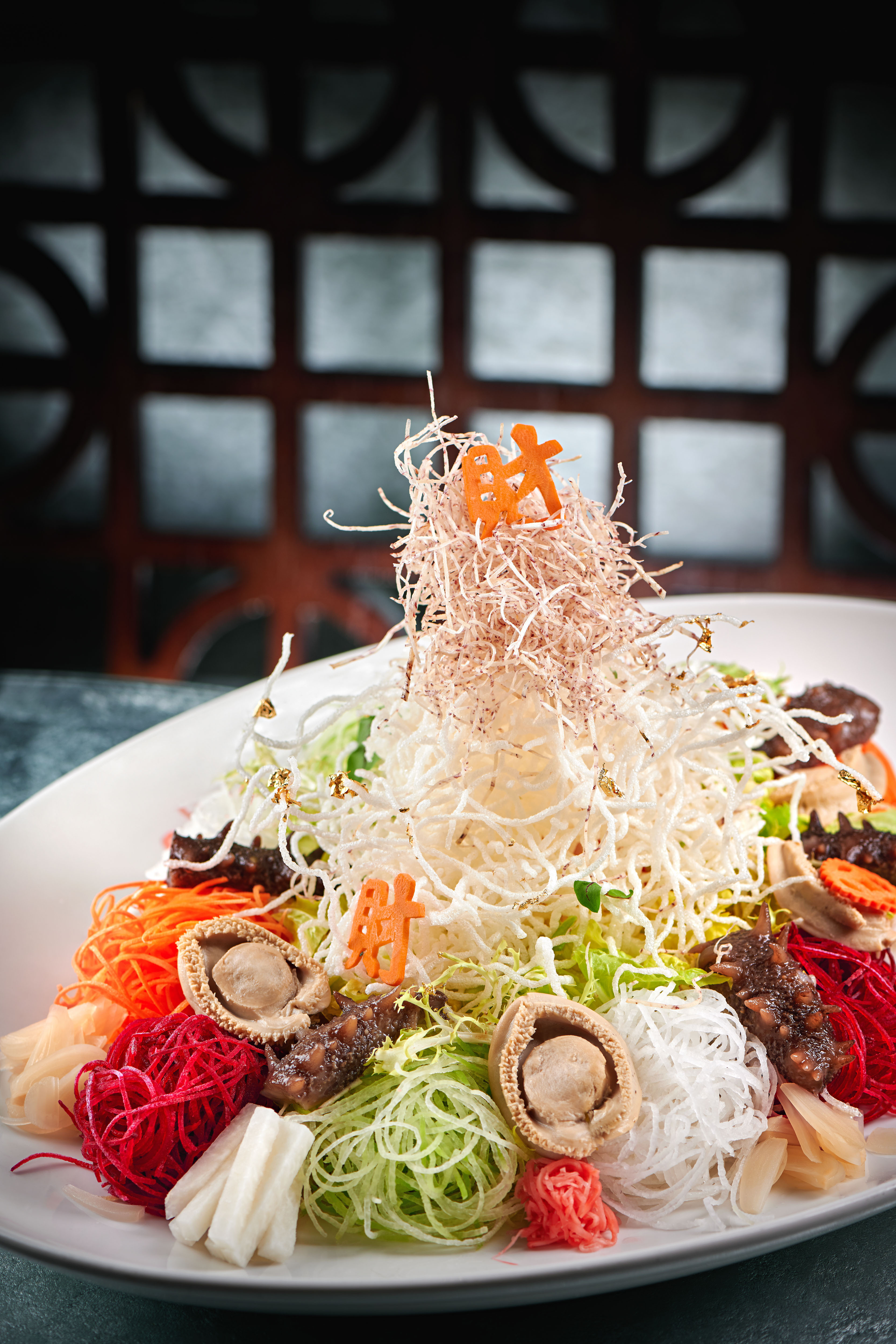 Chinese New Year with a Splendid Selection of Festive Offerings at Melco
The multi-award-winning Jade Dragon is the destination to be to celebrate the arrival of the Year of the Tiger. From January 31 to February 15, it will be showcasing its festive set menu (at MOP $2,280* per person with a minimum of two persons), with dim sum items, and Chinese New Year specialties. This includes steamed shrimp paste with Iberico pork and foie gras dumplings steamed rice rolls with crispy prawn, dried oyster, and black moss rolls, but also baked abalone and sea conch tartlet. The Chinese new year's specialties include tossed Australian abalone, Hokkaido sea cucumber, sweet pickles with homemade plum sauce, and more.
Pearl Dragon is presenting auspicious dishes such as braised yellow croaker with bean curd stick and bamboo shoots, baked American lobster with e-fu noodles and crab roe sauce, braised abalone, fish maw, sea cucumber, mushroom and goose web, "lo hei" prosperity tossed salad with geoduck clam, shredded vegetables, and yuzu sauce. Michelin one-star Cantonese restaurant Ying has also prepared an array of Chinese New Year delicacies.
From January 28 till 31, two eight-course Reunion Set Menus–starting from MOP $2,398* for four persons–will be on offer. These include delicious dishes such as double-boiled fish maw with chicken, steamed green lobster with vermicelli and garlic, stir-fried scallops with yellow chili sauce, and braised Japanese sea cucumber with pomelo skin. Their 12-course Spring Dinner Set is available from February 1 until 15. For this, they've put together traditional Lunar New Year dishes such as roasted suckling pig, braised lobster and chicken with ginger and spring onion in clay-pot, and braised conpoy with dried oysters and black moss. The special menu is priced at MOP $6,288* for six persons and MOP $11,888* for 12 persons.
Jade Dragon City of Dreams, Estrada do Istmo, Cotai, +853 8868 2822, www.cityofdreamsmacau.com
Pearl Dragon and Bi Ying Studio City, Estrada do Istmo, Cotai, +853 8865 6560 (Pearl Dragon), +853 8865 6650 (Bi Ying), www.studiocity-macau.com
Ying 11F, Altira Hotel, Avenida Kwong Tung, Taipa, Macau, +853 2886 8868, www.altiramacau.com
*Prices are subject to a 10% service charge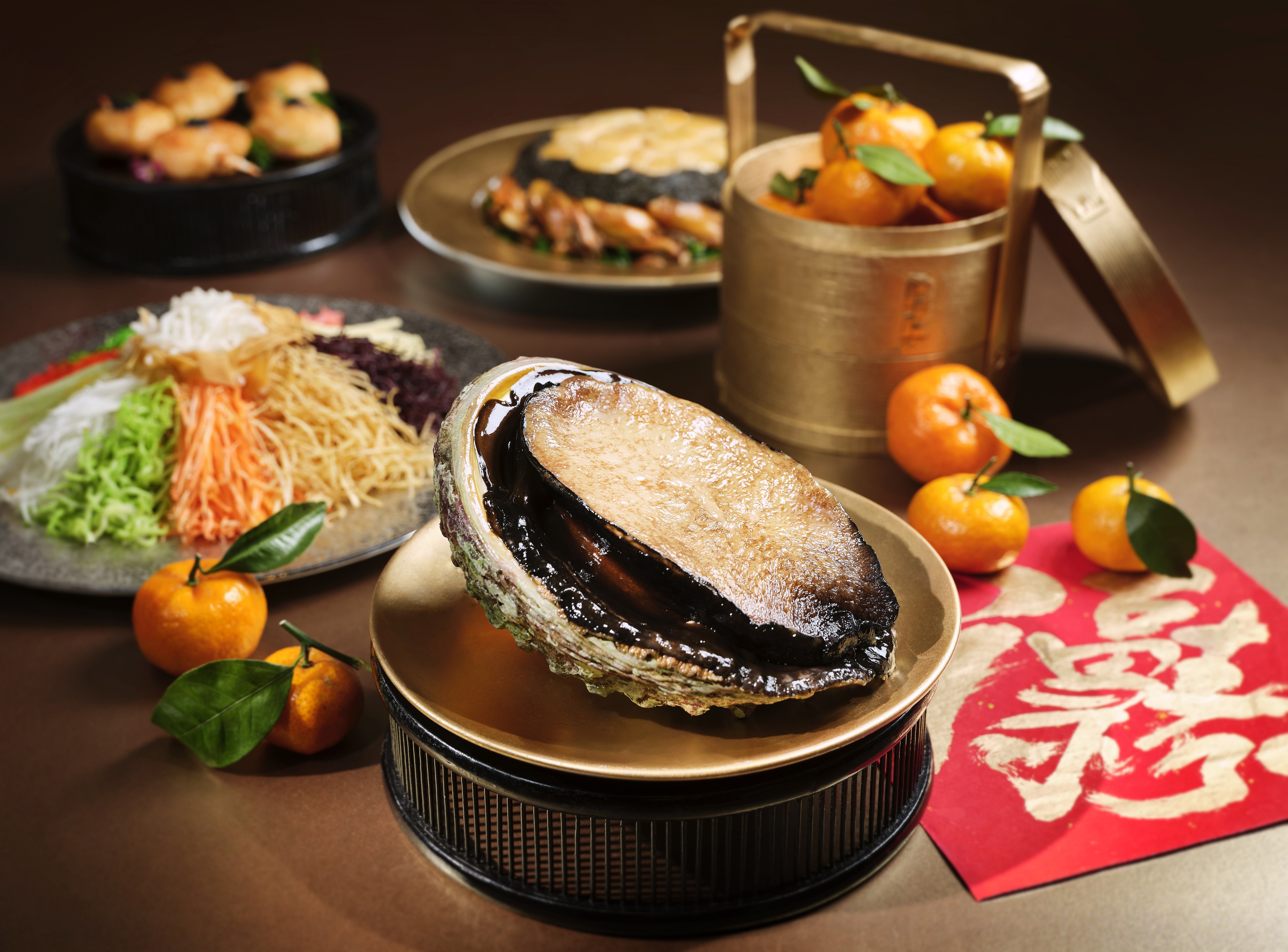 Gourmet Blessings for the Year of the Tiger at JW Marriott Macau
If you're looking for gourmet delights, then Man Ho Chinese Restaurant's New Year menus will astonish you! With three special Chinese New Year Set Menus and a range of auspicious a-la-carte dishes, this will be your favorite to-go place from January 29 to February 7, 2022. The set menus start at MOP $3,688* for six persons, and MOP $9,888* for 12 persons, featuring traditional festive dishes such as variations of the "Lou Hei" salad–with New Zealand king abalone, Norwegian salmon and Boston lobster–to toss and hope for great luck in the new year. There's also baked crab claw and squid roe in superior soup, as well as crispy prawns with salted egg yolk. The Man Ho Abundance Treasure Pot Takeaway–pot full of nutritious ingredients including fresh abalone, lobster, dried sea cucumber, and more–is priced at MOP $,688* and serves six persons**.
Buffet lovers will rejoice in Urban Kitchen's seasonal offers. Available between January 31 and February 3 (closed on February 2), they have their Fortune Dish (or poon choi), which serves four (requires preorder and full payment of MOP $1,688* one week in advance). Their buffet includes tossed raw fish salad, wealthy pork feet with black moss, and the all-in-one clay pot, as well as golden prawn with salted eggs and roasted crispy fried chicken. If you're looking for a premium experience then upgrade the offer with an extra MOP $88 to get the complete dinner buffet experience that includes free-flow juice, beers, house wines, and a specialty Chinese mandarin orange mocktail that symbolizes good luck.
Man Ho Chinese Restaurant and Urban Kitchen JW Marriott Macau, Galaxy Macau, Estrada da Baía da Nossa Senhora da Esperança, Cotai, +853 8886 6268
**48 hours advance reservation needed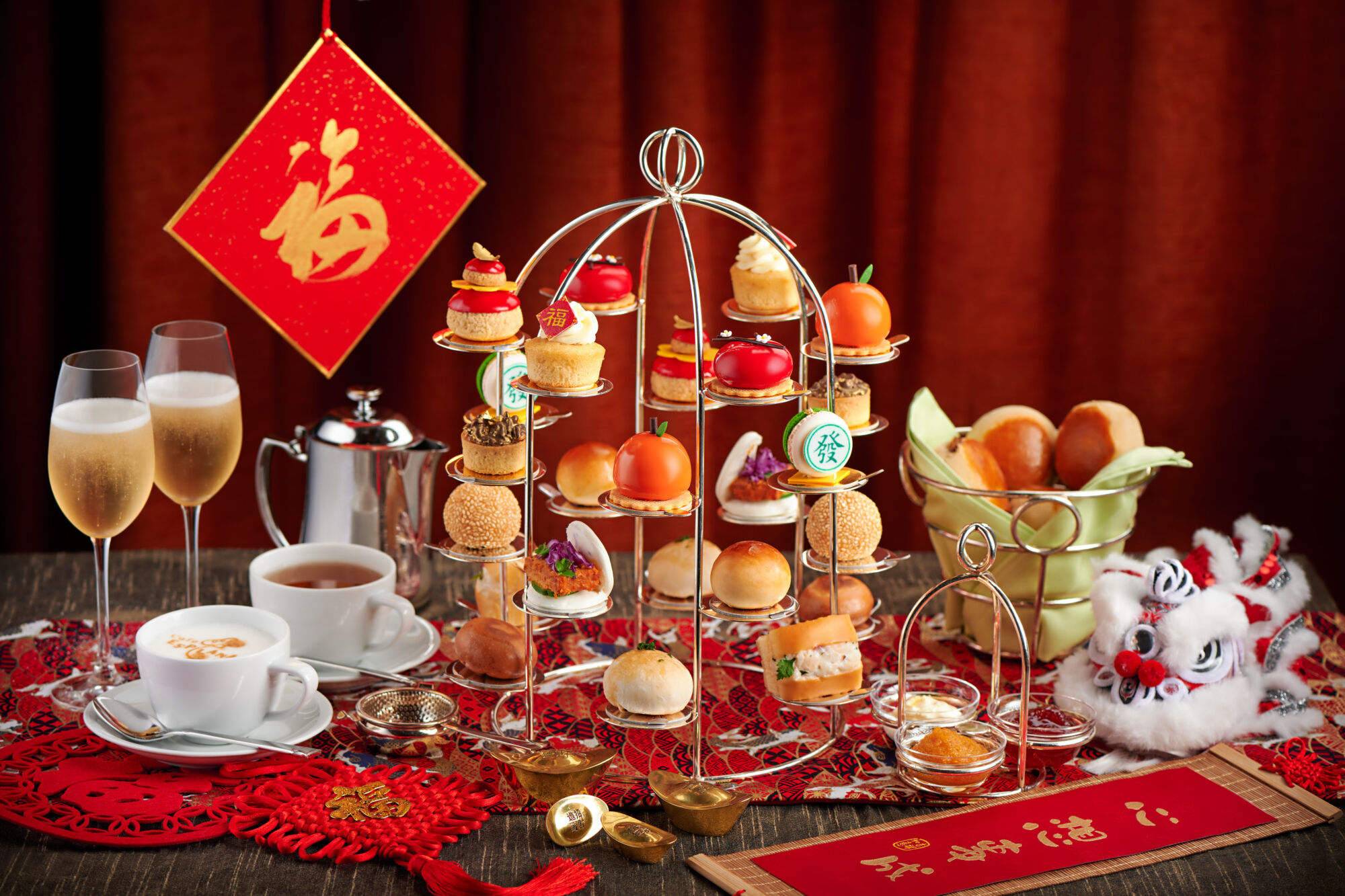 Chinese New Year Dining Experiences & Local Art Collaborations at Wynn Macau & Wynn Palace
The Chinese New Year spirit invaded both Wynn Macau and Wynn Palace as both properties prepare sumptuous surprises for every family to savor while welcoming the year of the tiger! At Wing Lei Palace, guests will be able to experience the restaurant's original chilled abalone, sea cucumber, pomelo, and Chinese pickles salad, while Red 8 and 99 Noodles will be serving Chinese New Year specialties for guests to savor the unique flavors of China's north and south.
Chinese New Year cakes are also available to take home or offer friends and family members and can be picked up at both Wing Lei (Wynn Macau), and Sweets at Wynn Palace. Classics such as turnip cake or taro cake (MOP $428 per box) and coconut and water chestnut cakes–MOP $368 per box–are some of the highlights.
Red 8, 99 Noodles, Wing Lei, and Café Esplanada Wynn Macau, Rua Cidade de Sintra, NAPE, Macau
Sweets, Wing Lei Palace, 99 Noodles and Red 8, Wynn Palace, Av. da Nave Desportiva, Cotai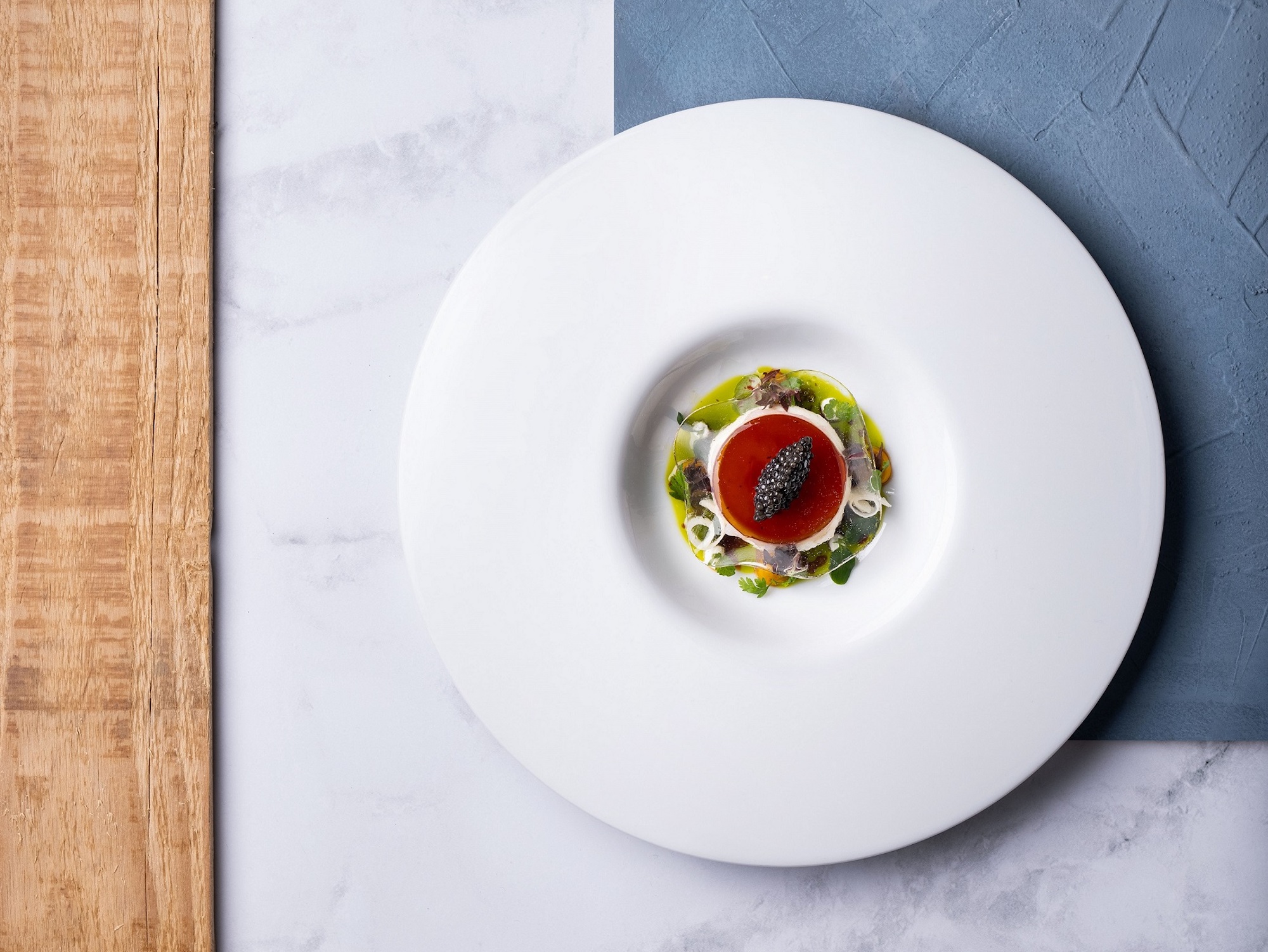 Want to celebrate this Chinese New Year with something different? Well, The Manor might just be the perfect place as they've just launched its newest edition of their Stories of the Sea. Their tenth chapter offers a six-course menu focusing on the freshest seafood and finest ingredients, just in time to celebrate the abundance of the Lunar New Year. Besides Brittany lobster with heirloom tomato, white asparagus, burrata cheese topped with Calvisius Oscietra caviar. In addition to this, there's also red trout paired with seasonal vegetables, and grouper–is pan-seared with baby fennel, ginger, and lemongrass butter sauce.
The next item–Mediterranean turbot–is cooked in the cocoa crust and Barigoule sauce topped with Lingotto dried caviar and it's a must-try. For the ideal finale, try the bright red Raspberry soufflé dressed in wild berries, Azuma Rikishi sake ice cream, and cheesecake cream. A specially curated wine pairing by resident Sommelier, David Duan, enhances each course and elevates the dining experience even further. Indulge in this perfectly created meal for MOP $1,288* per person or MOP $1,788* per person with wine pairing.
The Manor The St. Regis Macao, The Londoner Macao, Estrada do Istmo, s/n, Cotai, +853 8113 1300, [email protected]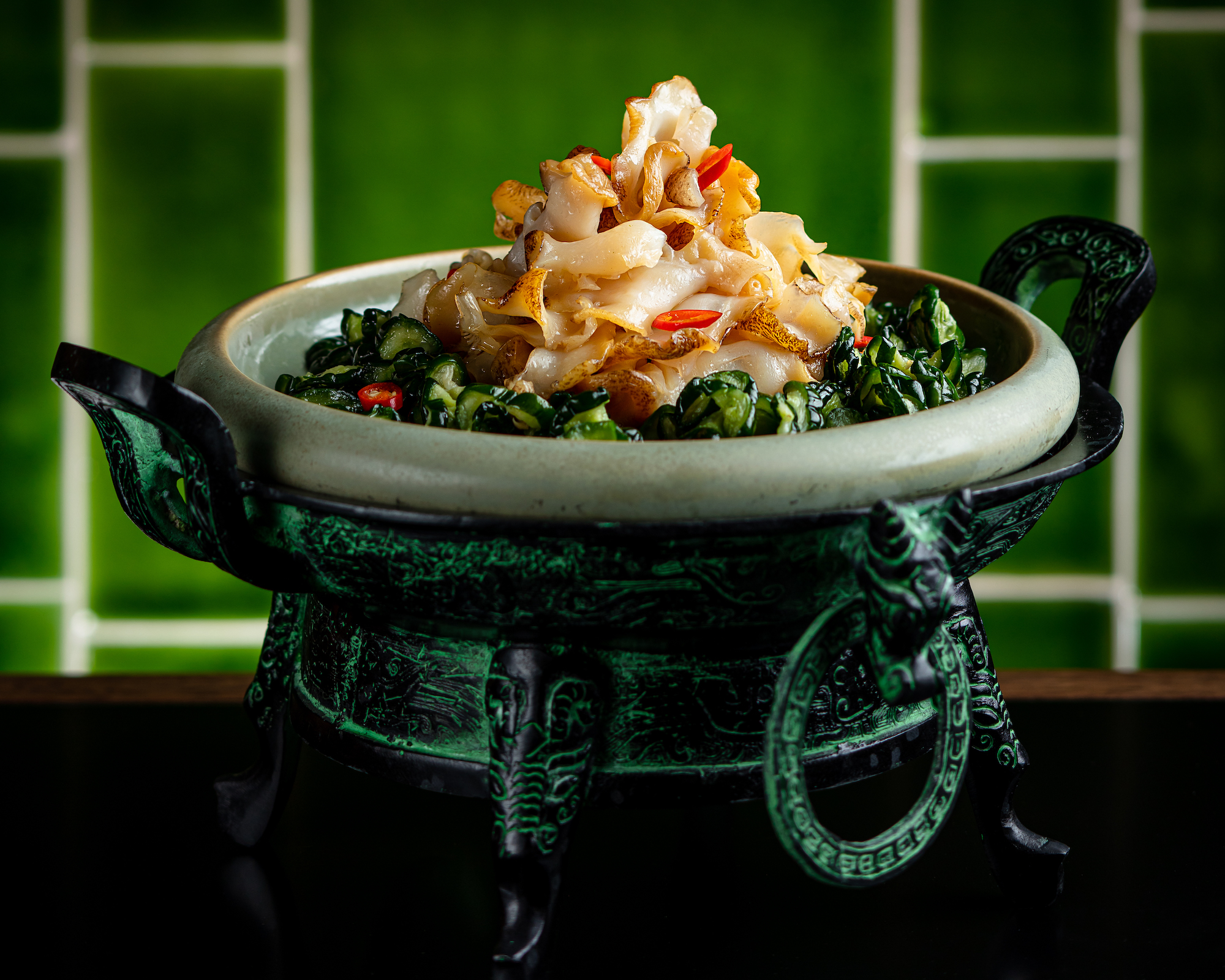 Enjoy Spectacular Chinese New Year Feasting at Sands Resorts Macao & Sands Macao
During this festive season, welcome the Year of the Tiger by joining friends and family at one of Sands Resorts Macao & Sands Macao's 11 signature restaurants–Jiang Nan by Jereme Leung, North, Hiro by Hiroshi Kagata, La Chine, Lotus Palace, Emerald House, The Huaiyang Garden, North Palace, Crystal Jade La Mian Xiao Long Bao, Golden Court and Moonlight. All of them will offer delicious dishes to savor while surrounded by loved ones.
Jiang Nan by Jereme Leung includes signature dishes such as drunken crab in Shaoxing Hua Diao wine, crispy salted chicken, and fish maw broth with grilled cod, as well as premium delicacies like marinated geoduck with assorted greens, "Buddha jumps over the wall" style braised duck with eight treasures, and braised fish maw and river eel with black garlic. This can be enjoyed between January 29 and February 13, 2022 and there are two set menus: one for six persons (MOP $6,888*) and one for ten (MOP $16,888*). If you want to experience some northern China cuisine, then North might be a great choice: savor some of this spot's delicacies between January 29 and February 13 as well. Favorites include spicy and sour braised pork leg with bell peppers, and braised sea cucumber and deer tendon with leeks, with prices starting from MOP $68* per dish.
At Moonlight Noodle House (Sands Macao), expect to savor different things at the same table as celebratory dishes include braised chicken with abalone and black mushrooms; spicy fried shrimps with chili and rice crackers; and Lo-Hon style braised bean curd, bamboo pith, and vegetables. Prices start at MOP $88 per dish. There are several other restaurants serving festive meals, so be sure to check them all out!
Jiang Nan by Jereme Leung, North, Hiro by Hiroshi Kagata and La Chine The Venetian Macao, Estrada da Baía de Nossa Senhora da Esperança, Cotai
Lotus Palace and Emerald House The Parisian Macao, Estrada do Istmo, Lote 3, Cotai
The Huaiyang Garden, North Palace, Crystal Jade La Mian Xiao Long Bao The Londoner Macao, Estrada do Istmo. s/n, Cotai, Macau
Golden Court and Moonlight Noodle House Sands Macao, 203 Largo de Monte Carlo, Macau, www.sandsresortsmacao.com
*All prices are subject to a 10% service charge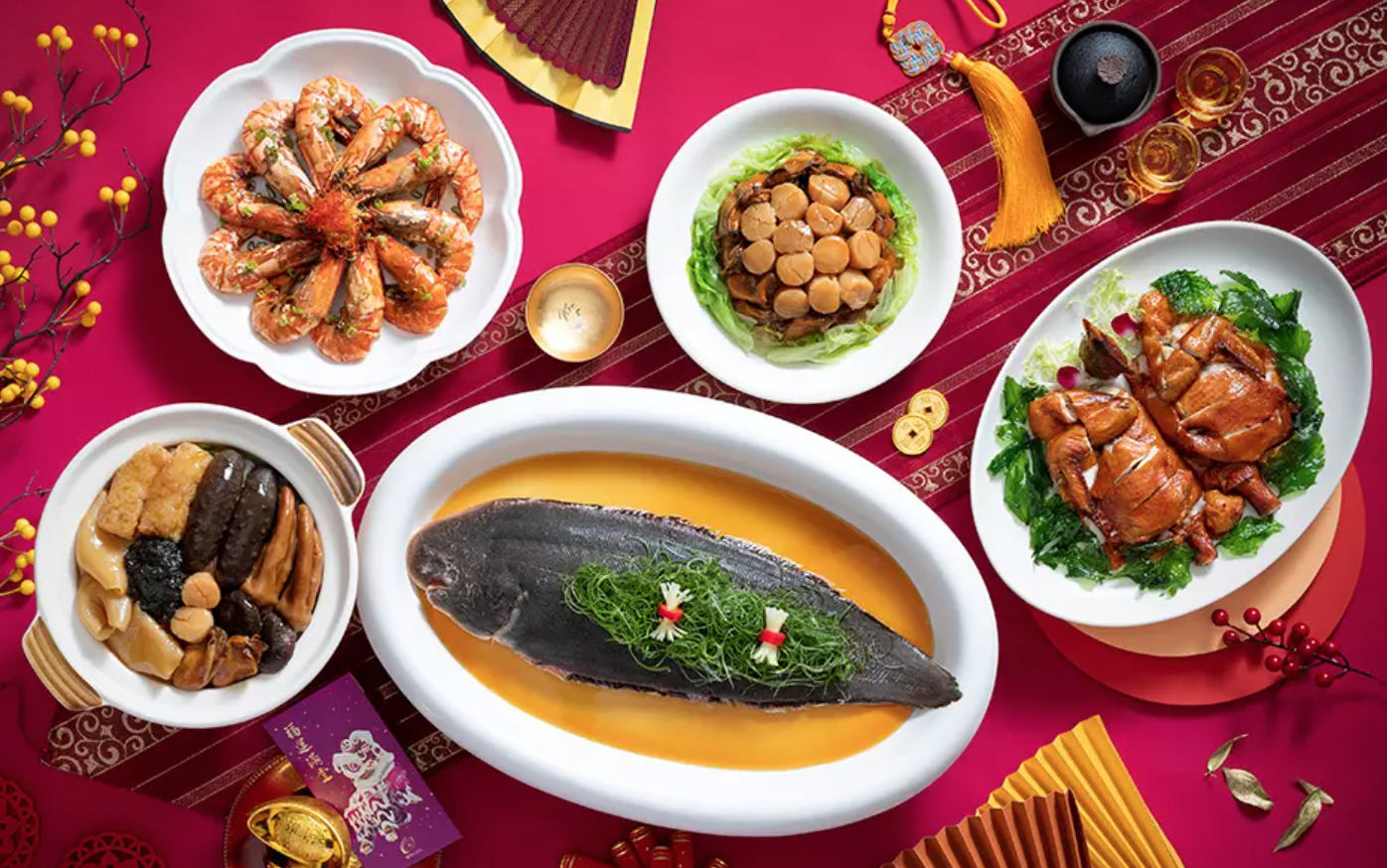 Welcome the Year of the Tiger with Good Fortune & Extravagant Privileges at Galaxy Macau
An unlimited festive dining experience awaits everyone this Year of the Tiger! Galaxy Macau is offering more than 120 of the world's finest restaurants, featuring 18 traditional Chinese provincial cuisines and 13 international cuisines to delight everyone's palate. This Chinese New Year, StarWorld Hotel, Galaxy Macau, and Broadway Macau present auspicious dishes recommended by Master Ling-ling Mak to boost every guests' luck. More than 15 signature restaurants–including Galaxy Macau Tam Chai Yu Chun, Pang's Kitchen, Yamazato, and Fong Seng Lai Kei Restaurant–offer a variety of sumptuous dishes and festive menus.
In StarWorld Hotel, the Michelin two-starred and Black Pearl one-diamond restaurant Feng Wei Ju, Temptations, and Sensations also offer festive dishes of traditional delicacies and premium ingredients that are perfect for reunion gatherings during these celebratory times*. Broadway Macau is another ideal place if you're planning something great and fun for this Chinese New Year. The annual Hot Pot Sensations offer more than 60 sizzling styles of authentic hot pot and casserole dishes!
Black Pearl, Feng Wei Ju, Temptations, and Sensations StarWorld Hotel, Avenida Da Amizade, Macau
Tam Chai Yu Chun, Pang's Kitchen, Yamazato, and Fong Seng Lai Kei Restaurant Galaxy Macau, Estrada da Baía de Nossa Senhora da Esperança, Galaxy Macau, Cotai
Hot Pot Sensations Broadway Macau, Avenida Marginal Flor de Lótus, Cotai, www.galaxymacau.com/special-offers
*Guests born in the Year of the Tiger can enjoy a 20% off dining discount at over 50 restaurants with their ID card
Tags
Related Posts