Located near the iconic and difficult to miss Grand Lisboa, the Macau Military Club (Clube Militar de Macau in Portuguese) contrasts quite wildly with the mainstay of Macau's skyline. Painted in dark pink, it's located beside São Francisco Garden and is still operating. When entering this majestic place, one might feel nostalgic, as if traveling back in time; maintaining a colonial-like interior design, heavy and ornamented tables, and chairs, it's completed with staff in uniforms passing back and forth.
The Military Club's ground floor starts with a nice shaded porch with perfectly painted white big window frames. On the right wall of the hall, there's a massive original painting by Macau-based Russian artist, Konstantin Bessmertny. On the left side, you'll find a door leading to the cute and posh bar, plus a bridge game room–where lots of ladies meet to play–and a big room filled with the most beautiful, classic decoration items such as tapestries, big chairs and tables and a terraced area sometimes opened.
Traditionally good food
Now, let's go a bit back: once you go in, you'll hear the sound of cutlery and plates in action, as well as glasses clinking. This is the famous restaurant of the Macau Military Club. If you pay close attention, you can read the dress code rules (and some still apply, by the way) established way back when the restaurant first inaugurated. These include items such as mandatory hats for the ladies and other curiosities. It was once–till the mid-1990s–highly frequented by most Portuguese expats living in Macau; it's still very popular, but also amongst the local population looking for a more classic approach to Portuguese food.
With a varied menu featuring several dishes–appetizers, mains of fish, seafood, meat, vegetarian, and an array of traditional desserts–it frequently hosts time-limited events inviting chefs from abroad. On weekends, there's also "cozido", a very famous Portuguese dish made with different meats, cabbage, other boiled vegetables and accompanied by potatoes and rice. It makes a perfect delicacy to have during winter!
Want a precious tip? If you're a fan of this restaurant, become a member of the club: one of the amenities is the dining deals, where meals become more affordable. Also, you can still get the member discount when dining with non-member friends.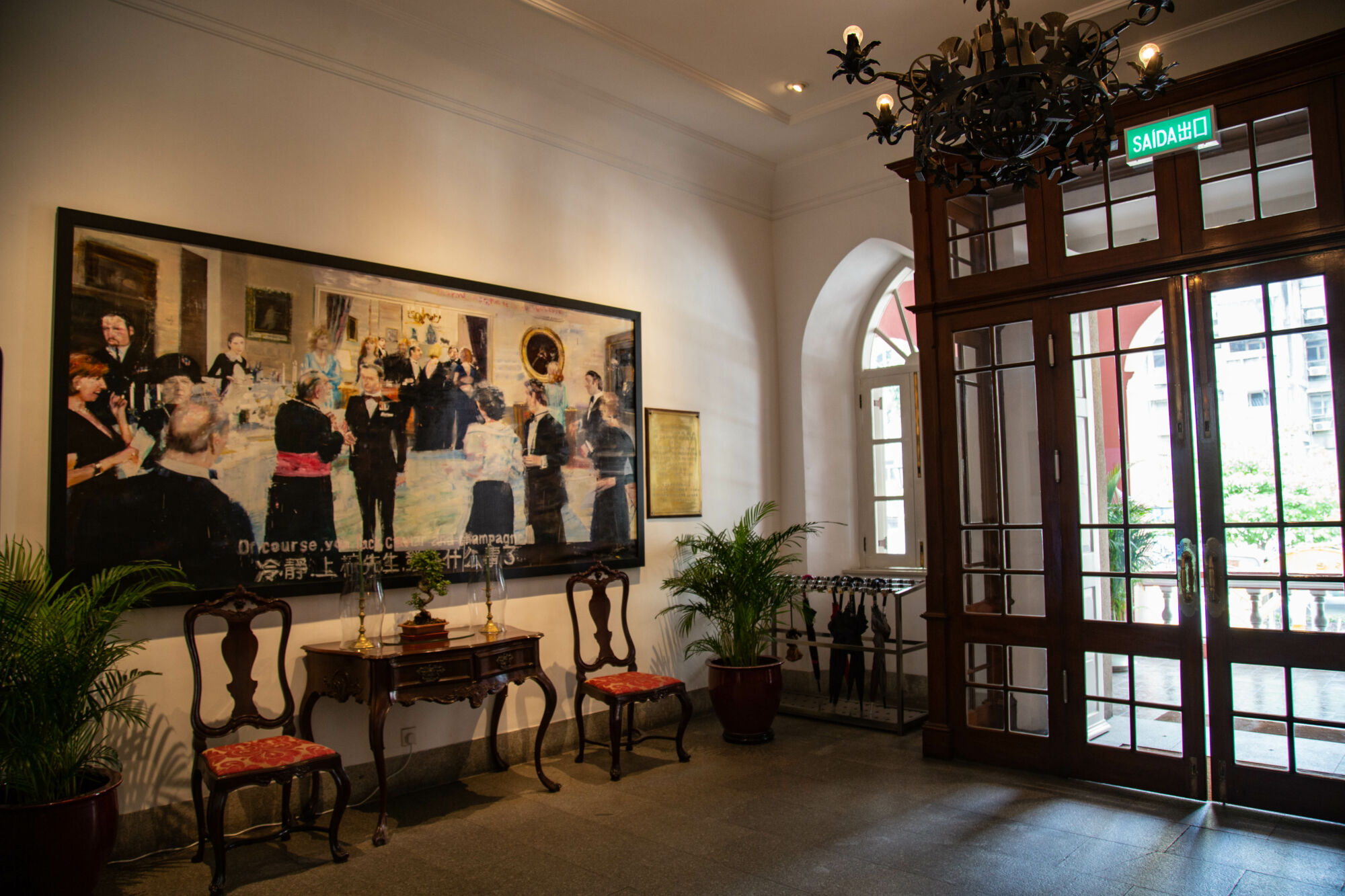 From 1870 till now
Its 19th-century construction and classical design influenced by well-known English clubs–which can also be found in Hong Kong–was kept until today as a point of reference in Macau society and for all Macau visitors. The building was designed with a neoclassical style (similar to many other constructions from the same era in Macau) by the Baron of Cercal and founded in 1870 with the name Military Guild.
Also read: Macau People: Relevant Figures in Macau History
Also read: Santa Sancha Palace: Abode of Barons, Governors & Chief Executives
The club was built on the site of the old Franciscan monastery and has only one level with a basement inside. There is a long balcony across the entire main façade, comprised of five simplified Doric order classical columns on each side of the middle arched Pediment and at the façade wall, classical half-columns surrounding the large wood windows and shutters. Additionally, the building was subject to an extension in 1893.
The rooms on the right side–members-only and the dining hall–were renovated under the supervision of the engineering-lieutenant Manuel de Mesquita Borges, during the last century in 1951 when it adopted its first name. Following a government request, the club was used as a refugee shelter from 1941 to 1945, for Hong Kong residents during the Pacific war.
Also read: Macau During the Second World War: Political Neutrality & City of Refuge

The official opening date of the Military Guild was 1952 and during the second half of the 20th century, it was mainly used to host well-known Sunday dancing meetings. Although renovated, its looks remained unchanged, with the use of high-quality materials and equipment such as solid wood in the doors, frames and panels, and the chandeliers. Outside, the integration with São Francisco Garden and the Battery 1st of December makes the entire area a place worth visiting and exploring.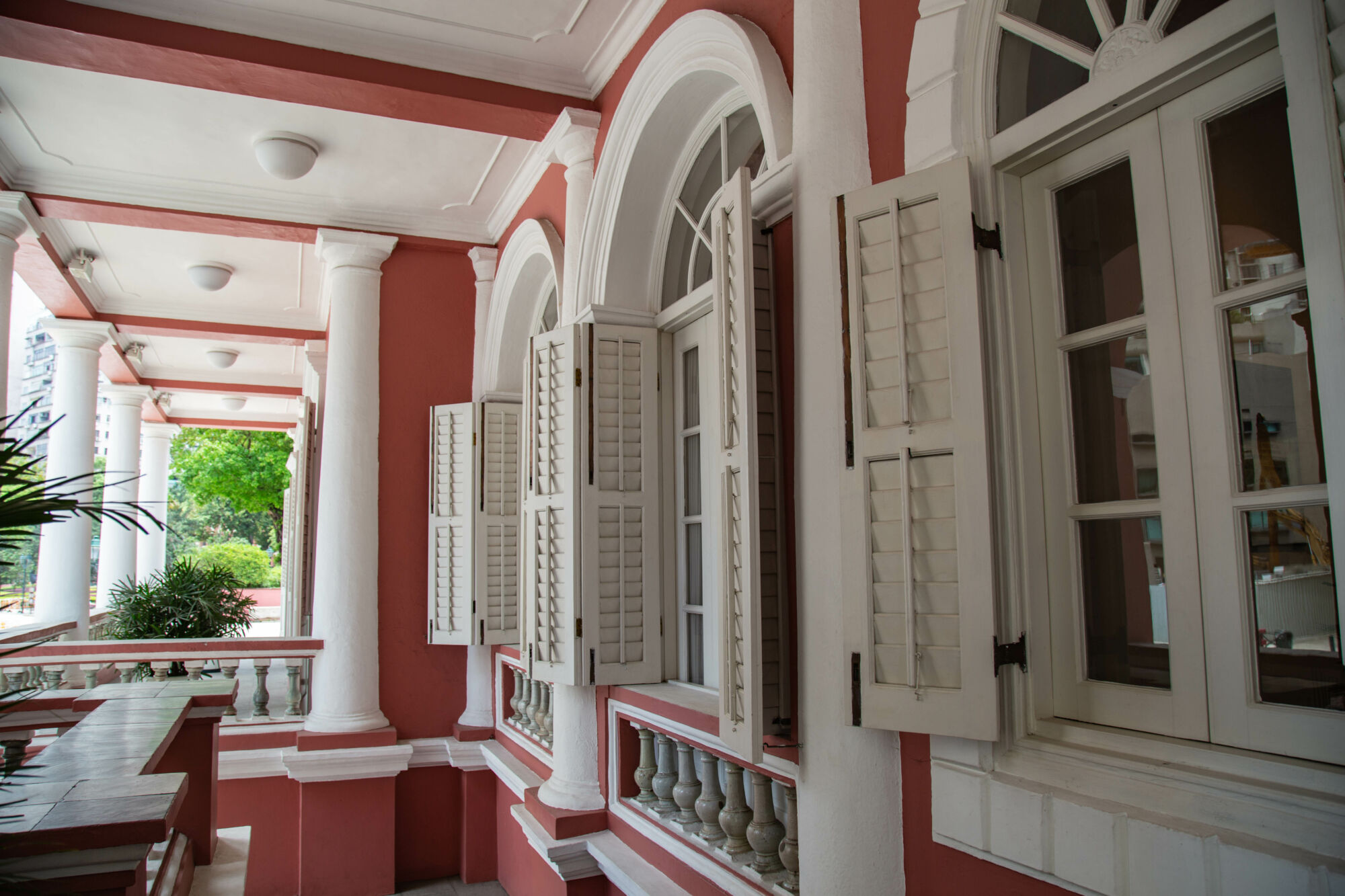 ---
Military Club of Macau 975 Av. da Praia Grande, Macau, +853 2871 4009
This article was originally written by Rui Barbosa in 2017 and updated by Leonor Sá Machado in November 2020.
Tags