Cinco de Mayo is an international celebration vibrant in color and rich in history, celebrated by many with margaritas and tacos every year on the fifth of May (the literal translation of the festival's direct name). Many mistake this as Mexican independence day, but that is actually celebrated later in the year on September 16. So what actually is Cinco de Mayo, if not a memorial of independence, and what is the best way to join this fiesta?
The significance of Cinco de Mayo
On the 5th of May, 1862 Mexico entered a battle that, although was not hugely significant to the history of Mexico as a whole, was an incredibly noteworthy victory. During the late 1850's, the country was in financial ruin from years of war and political toil and had many troubles with European colonizers who were as hungry for power and territory as they were fierce in collecting debts. The country was able to negotiate deals with Spain and Britain and convinced the two to withdraw their forces, but the famous French president Napoleon III was not convinced so easily. Driven by a dream of expanding his empire there, after claiming the state debted to him, he then turned his advances to the city of Puebla de Los Angeles. When Napolean attacked on May 5th, 1862, Mexican President Benito Juárez had armed the city with some 2000 men, who defended the city with velocity and might. With almost no losses to the Mexican army, the French were forced to retreat.
This was a hugely symbolic triumph that is seen as the start of the resistance. Though the French did not leave until much later in 1867, Cinco de Mayo remembers a day where the country did not stand down when threatened and did not falter under siege.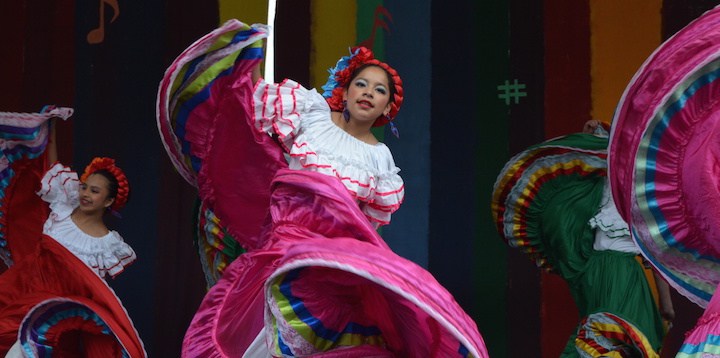 How it is celebrated
Despite being a Mexican celebration, Puebla–where the battle took place–is the only city in Mexico which practices the festival, but it is widely celebrated in the US. A stunning UNESCO world heritage site due to its preserved 17th and 18th century cathedrals, Puebla turns into the set of costumed reenactments and colorful parades and dances on May 5th every year. After the masked French are defeated and the mighty Mexican army is victorious, the whole city comes alive with music, food, and dance, as the floats dance down the streets and the Cerveza starts to flow. And of course, no Mexican fiesta is complete without a piñata.
In the US, Cinco de Mayo is recognized more as a day to celebrate Mexican culture in general, an excuse for the delicious cuisine and mischievious drinks to be enjoyed by all citizens, whether they are of Mexican descent or not. But with a huge Mexican population in the US–it has even been made a public holiday in some areas where the community is large–it is no surprise that the day is so widely maintained. And with the impressive customs of Mexican fiestas, it similarly no surprise that it is a holiday so widely loved too.
How can you join in?
As we have already established, the three key ingredients for a Mexican celebration are, of course, margaritas, Cerveza, and piñatas. So there is no reason to miss out on this enchanting festival. There are also many places in Macau where you can sample the delights of Mexican food and drink and celebrate Cinco de Mayo in Macau too.
Tags
Related Posts