Photo credit: Macau Fencing School
Half a year has passed in the blink of an eye and summer is upon us again! If you are based in Macau, as expectations of being able to travel this year look dim, you might find yourself on the lookout for new summer activities for the kids and yourself. Kids have their summer break from school and parents will enjoy at least part of their annual leave in town, so in addition to ever-pleasing staycations, it's always nice to experience something different. With this in mind, we've rounded up some fun summer activities for the kids to enjoy in the sunshine!
Macau Fencing School 
(See featured image)
Fencing has been growing in popularity as more parents are choosing this sport to keep their tykes in action. On top of the physical benefits, fencing increases concentration as it requires quick thinking to execute your next move. Hosted by the Macau Fencing Sports Club at a well-maintained gym provided by the Macau Fencing school, preliminary foil classes are available for kids as young as four years old. The experienced instructors at the Macau Fencing School come from China, Taiwan, and Macau and all of them have represented their regions in large-scale fencing competitions in Asia. They teach three different types: epee, sabre, and foil, the latter including different levels from beginner to advanced. Summer classes take place from Tuesdays to Sundays between 10:30am and 12:0opm. 
Macau Fencing School 43, Edf. Industrial Si Toi, 4th floor B, Rua do Padre António Roliz, Macau, +853 6289 8985, www.facebook.com/MFFencing
CBM Paddle 
Trying out a new activity while cooling off sounds just about right considering Macau's sultry summer weather. In addition, canoeing and paddling is something we'd definitely do while on vacation in some faraway beach destination, making this activity reminiscent of those much longed days. CBM Paddle offers canoe classes for kids from six years old and up, provided that they are able to swim for a 20-meter stretch (with a life vest) as well as parent-child stand-up paddle classes. The latter takes place in Hac Sa Beach while the canoe classes are taught in Nam Van Lake. Summertime classes will take place this coming July and August during weekends (time to be confirmed). All the sports gear is provided by CBM Paddle. In case you prefer to go for a more personalized experience, private classes may be arranged too. 
CBM Paddle www.facebook.com/clubedecanoagembaiadomar
Also read: Hit the Floor: Dance Studios for Kids in Macau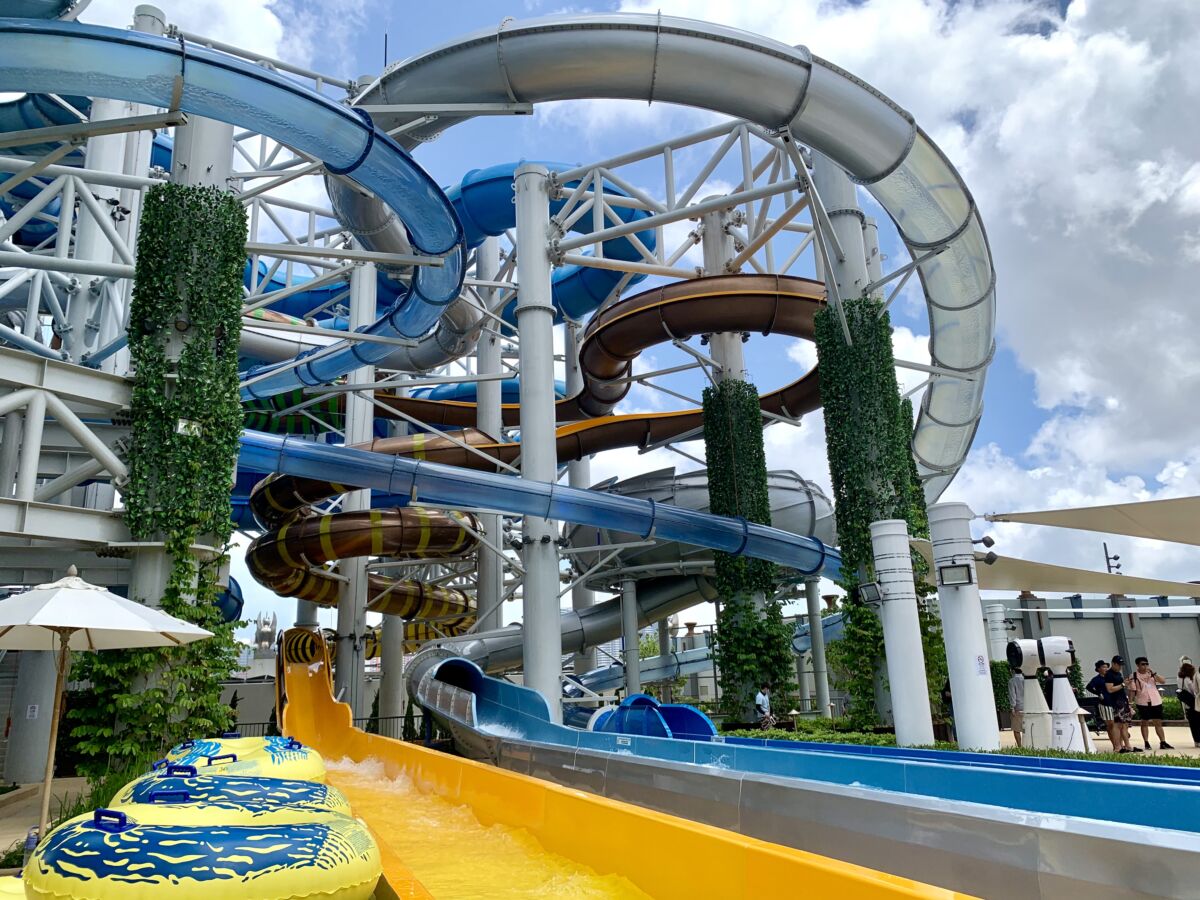 Studio City Water Park 
Macau's first-ever adventure water park is nothing short of spectacular. A day spent at this park is sure to keep those travel deprivation blues at bay and score a huge success with the kids. Located in Studio City Macau, the Studio City Water Park features a plethora of amusements designed for the whole family. These attractions offer different thrill levels, ensuring that from the safe-player to the boldest of riders everyone gets their share of water fun! Some of the coolest include a five-slide ride tower featuring a 360-degree high-speed bowl, a near-vertical slide taking riders on a freefall dive, a thrilling twisting tunnel lit up with glowing stripes, and a giant water bucket tipping out 1.8 tons of water every five minutes! For fun-loving little ones, the Little Lagoon area features gentle slides and a shallow pool. Once the family is done sliding and splashing, relax and float away through the 450-meter long action river. Studio City Water Park has different cabanas offering quick bites, refreshments, and barbecue items too. Sadly, the season pass for this year is sold-out but you can always get a day pass. Children below 0.9 tall get free admission!
Studio City Water Park Level 3, West Wing, Studio City, Estrada do Istmo, Cotai www.studiocity-macau.com/waterpark
Also read: Best Public Pools in Macau
Arrowtag Macau 
While it might be challenging to keep younger kids busy throughout the summer break, keeping a teen off the screen could prove to be a Herculean task. While archery at Arrowtag is out of bounds for kids younger than 13, for teenagers, this activity is most likely a novelty, making it even more appealing. Plus, they may experience it with a group of friends which further adds to the fun. Arrowtag's outdoor archery battlefield is located next to the Macao Science Centre and operates by appointment only. 90-minute bookings come with a 30-minute preparation session in which the host will guide archers through safety measures and rules of the game, conduct a warm-up and get them to try and manipulate the bow, and a 60-minute archery battle in which players take the battlefield and shoot arrows against their opponents. Archers are divided into two teams and into two groups within the team. While half of the team engages in a seven-minute battle, the other half rests, switching around after each short battle. Bow, arrow, and protective gear are provided by Arrowtag Macau. The arrowhead has a soft foam edge to ensure no one gets hurt during the game. Those who wish to book an archery game are advised to do it at least one week in advance.
Arrowtag Macau +853 6611 0930, www.facebook.com/arrowtag.macau
Also read: Top Outdoor Activities to Do With Kids in Macau

Stardustudio 
Hands down, art activities are as important as sports activities for kids. It allows them to express feelings, explore senses and boost creativity. At Stardustudio, a design studio located behind the Portuguese Consulate, founder Jovi runs a private marbling art workshop for adults and kids from five years old and above. Ebru marbling is an ancient Turkish technique that consists of creating colorful patterns using acrylic paint on oily water and then transferring the final pattern onto a different surface such as paper or fabric. Thanks to a particular kind of powdered seaweed–carrageenan–with each stroke, the paint floats on the previous layer but never merges. The process is extremely relaxing and the result look very cool. At Stardust Studio those who attend the workshop can select from creating a marbling silk scarf, lampshade, or even canvas shoes. Workshops are by appointment only and take between two to three hours. Stardustudio offers watercolor classes too! Jovi dedicates her undivided attention to attendees and encourages them to allow their hand to follow their hearts during the process as there is no right or wrong in artistic expression.
Stardustudio 5, Rua do Pato, Macau www.facebook.com/stardustudiomacau
Also read: 6 Museums in Macau the Whole Family Can Enjoy
Wood Fighter 
You might have noticed that during lockdown many decided to spend their time undertaking home improvement projects, proudly sharing before and after pictures on social media. As it turns out, building something that lasts with our own hands is extremely gratifying. For those wishing to up their carpentry skills, Wood Fighter (Zawood's sister company) offers a number of carpentry workshops for the summer. Some of them are open to taking on parents and their children (five years old and up). Kids over twelve years old are welcome to participate unaccompanied. During these workshops, attendees get to learn how to make a kid's chair, small rocking horse, kalimba, or a happy shake out of wood. To make it even more amusing, and since the Kalimba and happy shake are musical instruments, at the end of these two workshops participants get to learn how to play them. The carpentry workshops will take place in July during weekends and require a minimum of four participants to run. If you'd like to get further information or book a carpentry workshop check Wood Fighter out at Oystie's Facebook page, a platform dedicated to promoting small businesses in Macau.
Wood Fighter R/C 16 Mei Fu Sun Chuen, Avenida do Coronel Mesquita, Macau, www.facebook.com/woodfighters
Also read: Dave Wan: Keeping up the Family's Business with Zawood
Tags
Related Posts