The evening is hot and humid – you're walking alone in a dark Macau back alley and out of nowhere, you hear a mysterious crackling sound. There is no one around, but suddenly you see a flame jump up from a box on the edge of the sidewalk which illuminates the dim concrete in a flash. Further down the street, you hear low mournful murmurings coming from Chinese families who stand, hands clasped together, kneeling amongst blood-red burning candles and incense. There is food scattered around the area and it looks like someone had a feast, but whom? Well, to answer this and put your worries at ease, this is not a ghost story, but is, in fact, all part of the Hungry Ghost Festival which is an ancient celebration seeped in superstition and symbols.
What's It All About, and Do We Need to Call the Ghostbusters?
No, you definitely don't want to call the Ghostbusters? This festival is all about appeasing, honoring and respecting the ghosts – you don't want to do anything that might upset them this month. It takes place over the course of the month, the seventh lunar month, which runs from August 11-September 9, with the key date being on August 25. During this Ghost Month, they say the gates of hell stay open until the festival comes to a close after 30 days. During this time you will see people burning incense, 'hell money', and other offerings as gifts to appease the restless spirits freed from the underworld. They say spirits with children or grandchildren will return home while lone spirits with unfinished business will roam freely and feast instead.
It's not all as sinister as it sounds – in fact, the celebration has a lot to with folk culture, ancestral love and reverence. The Hungry Ghost or Yu Lan Festival has been in practice for over 100 years. For the whole month, and especially on August 25, a range of rituals and celebrations is held both for the living and the dead. You can expect to see Chinese opera performances, see lanterns hung or floated in water to help guide the invisible ghosts to operas and banquets, and lots of small fires by the roadsides as people burn their offerings.
Origins – a Monk Rescues the Ghost of His Mother
One of the most popular origin stories for the festival features a Buddhist monk, Mu Lian, who was haunted by his deceased mother in the form of a 'Hungry Ghost'. When she had been alive she was driven by a heartless soul, led by relentless greed, so she was punished in hell – any food reaching her mouth would turn to ash. Deeply saddened, Mu Lian sought advice from Buddha. To help his mother in hell reach heaven sooner, Mu Lian had to organize a grand feast for all hungry ghosts, and soon the Hungry Ghost Festival was born.
In Taoism, the Hungry Ghost Festival is referred to as Zhongyuan. But whether Taoism or Buddhism the essence and aim of the festival lies in spreading love with an open heart and to help others in need. This is most evident amongst the people coming from Chiu Chow. The widespread practice of the Hungry Ghost Festival was brought to Hong Kong and Macau by the Chiu Chow community. The first generation of Chiu Chow people immigrated to Hong Kong in the early 20th century. During their travels, many died without proper burials and it was believed they would face purgatory. The Chiu Chow community highly values brotherhood and respect so, even if many are unrelated to one another, they will still show love and honor to anyone who has passed away through ancestral worship and the Hungry Ghost Festival. They arrange feasts and entertainment for the spirits with the aim of satiating the ghosts' endless hunger in the underworld and also to bless and bring good luck to the living (what goes around comes around, right?).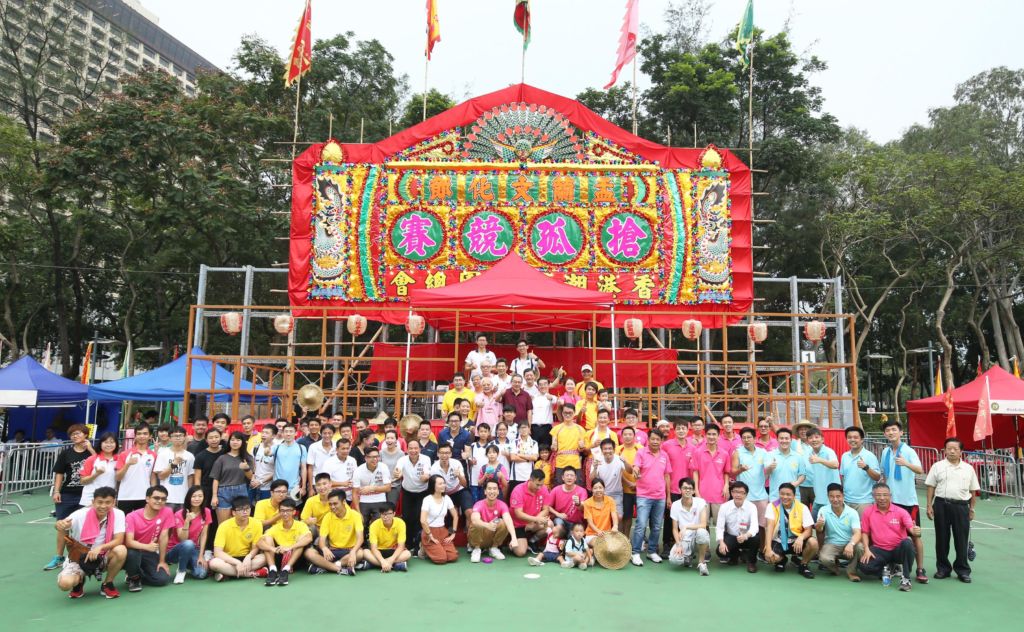 How to Participate
While its practices and importance have diminished somewhat, the Hungry Ghost Festival is still a way to preserve cultural traditions and practices, and pass these on to future generations. In 2011, The Hungry Ghost Festival was listed as China's third national list of intangible cultural heritage and it is still a fairly big celebration.
Everyday Rituals
Pay your respect and avoid touching or moving anything that might be an honoring on the roadside – these may or may not be by a shrine and might include food, 'hell money' and other offerings. To feed the Hungry Ghosts, people usually place out a variety of food, including oranges, tea cakes, and meat items. You will also see large tin cans used for burning the offerings for the ancestors and roaming souls. Other paper offerings and replicas of items in the real world are also burnt to give their ancestors a comfy, and often luxurious, afterlife (these days you will find paper models of iPhones, massage chairs, Louis Vuitton shoes, mansions, and more – you name it they'll have it in the form of an offering for the dead).
Three-Day Carnival
A typical Hungry Ghost Festival celebration usually takes place in the form of a carnival held in and around large bamboo theaters. These will be held in different neighborhoods around Macau and Hong Kong, and usually run for three days – some longer. These carnivals are about entertaining the dead, and the living, and they take in wide open places such as parks and sports pitches. Expect to find some running around August 25.
Typical Carnival Rundown
Day 1
A ritual is performed as a formal invitation to welcome the spirits to join the grand feast and there are games, Chinese opera performances, and more. Delicious food and wine are placed all around bamboo theaters as offerings. In one corner of the carnival, a portrait of a 'guard' is hung, who is actually the Goddess of Mercy in disguise, there to monitor the spirits, in case 'they' get out of hand during the party.
Day 2
A ritual is performed to ask for blessings involving five tables. These are placed in front of the bamboo theater, each according to a cardinal direction (north, east, south, west) with one in the center. 13 Buddhist householders then hold up small flags in the colors black, red, white, light green and yellow and jog in accordance to the music.
Day 3
A chanting ritual is conducted before small treats made out of flour are tossed out to the public. It is said whoever gets the most will be most blessed. Rice is also given out and there is be a grand feast in the evening.
A few of these carnivals will be taking place around Macau, but over in Hong Kong they usually hold the biggest in Victoria Park, Causeway Bay. This Yulan Festival Exhibition will run from 10:00am–8:00pm from August 24–26. It will take place on Soccer Pitch 1 in Victoria Park. Key highlights include an exhibition showcasing customs and traditions, a VR Experience, a 3D Shooting Area, Chiu Chow Opera Performances, a range of workshops on Chiu Chow Opera costumes, makeup and more.
There will also be Chinese Opera Performances in various places around the city (see a timetable of Hong Kong ones here) and a free Chinese talk on Chaozhou Hungry Ghosts Festival: Intangible Cultural Heritage, Collective Memories and Identities (3:00pm–5:00pm, August 25 at Hong Kong Central Library).
Take Note of These Taboos!
Don't hang wind chimes over your bed, especially above your headwind chimes attract restless souls
Don't put the front of your slippers facing toward the bed – spirits follow that direction to where the living are located
Don't stay out too late, or have your name printed on anything you wear – you don't want the ghosts calling out your name
Don't lean against walls – restless spirits hold on to walls
Don't stand your chopsticks vertically in the middle of a bowl of rice – this is similar to incense, and will attract ghosts
Don't pat people on the shoulders – a person is said to have three points of energy in the form of fire (one on the forehead, one on each shoulder) and if you put out someone's 'fire' it will lure spirits to them
It's bad luck to get married or open a new shop or restaurant at this time – postpone it, if possible
---
When: August 11–September 9 (main day on August 25)
How much: Free
For more information on Macau events, please visit en.macaotourism.gov.mo/events
---
Photos credited to the Federation of Hong Kong Chiu Chow Community Organizations
Share
Tags
Related Posts