Party planning can be an exhausting and yet exciting task. Making it a special dining experience for people you care about and ensuring that everyone enjoys the day can be truly tough. Imagine a stress-free soiree, music to set the mood and amazingly tasty dishes that are heartwarming and guarantee an awesome and fun-loving atmosphere. This and more, making your party dreams come true, is The Roadhouse Macau, and here are five reasons why.

Party atmosphere 
Walk through beautifully lit Broadway Food Street and find yourself surrounded by a fun and festive atmosphere. Strategically located at the end of the strip, The Roadhouse Macau's positive vibes are easily felt as you pass by.  The restaurant sits on a spot that's a few steps away from the crowd, providing just the right amount of privacy for guests and diners.
Opt to dine inside where the walls are decorated by rock'n'roll and sports memorabilia, meticulously collected by the owners and the stage is right next to your table. Or go alfresco for some fresh air. Wherever you choose, you'll hear the music and get into the celebratory mood right away! 

Live music all night long
What kind of party doesn't have music, right? Every night from Tuesday to Sunday, The Roadhouse's in-house band Doble Dorias hits the stage with rock and blues. Their repertoire ranges from The Beatles and Elvis to Guns N'Roses and AC/DC. Occasionally, there are some cool guest bands and tribute musicians. You can even request a song, but then heading to the dancefloor is a must!
If it's way over midnight and the party is in full blast, don't you worry–your carriage won't turn into a pumpkin. Party as long as you are awake, as the restaurant stays open until 4:00am. And don't let the taxi service worry you. There is no need to think about the transportation for your group–a free Bloozemobile service is available to pick you up and drop you off anywhere in the city to add to the excitement.
Impeccable service
When you are celebrating something special with your loved ones, the last thing you want is to keep everyone waiting for their orders or deal with unprofessional staff, right? Well, The Roadhouse Macau is famous for its friendly and flawless service. These are not just empty words–check their Tripadvisor reviews to see for yourself. Or even better, head straight to Broadway Food Street to observe if The Roadhouse's Macau hospitality is in fact as great as everybody keeps saying.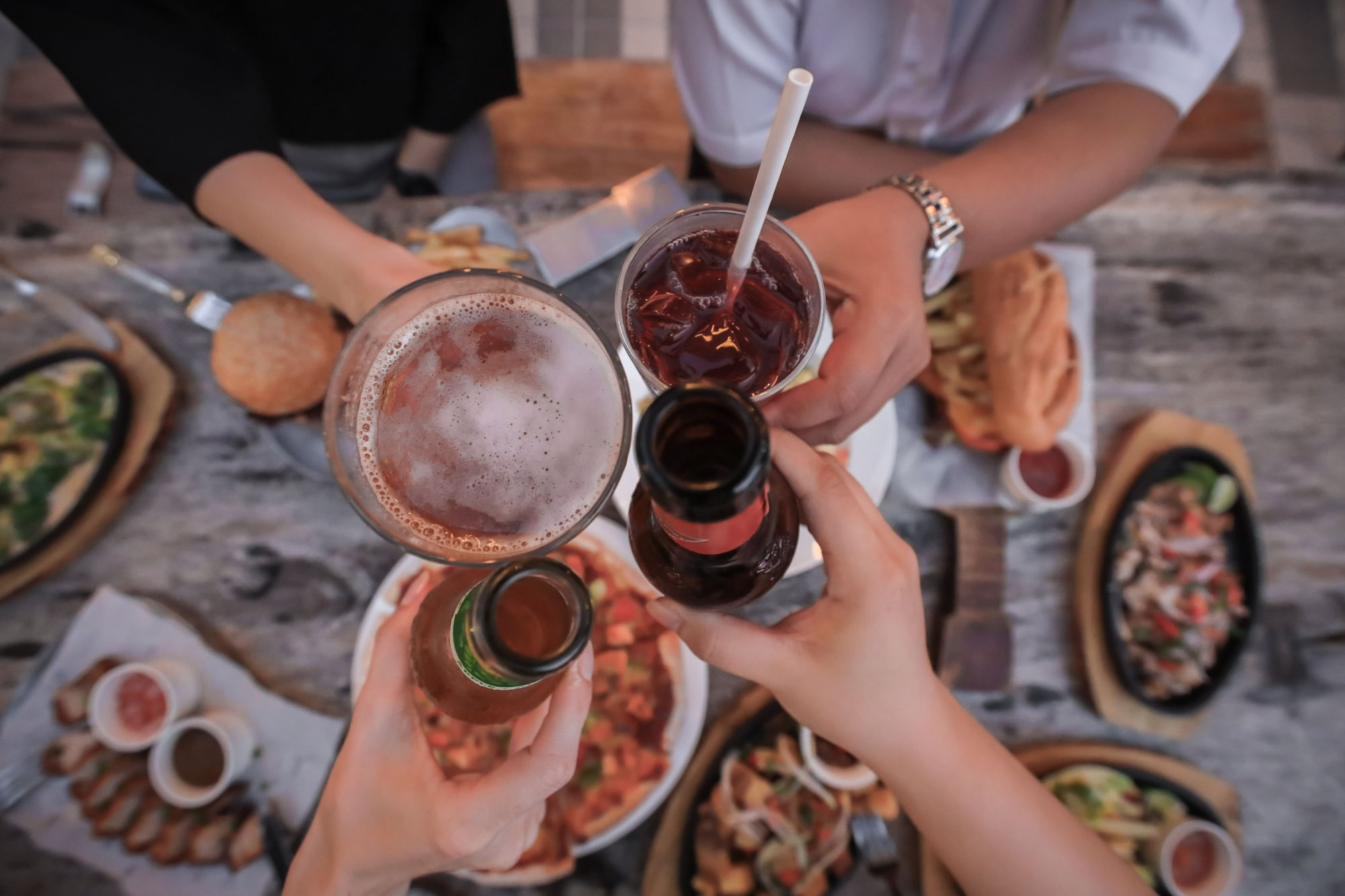 Delicious food and drinks
A crucial part of every gathering is the food. Delve into mouth-watering dishes like chicken quesadilla, crispy pata, burgers and pizza—mix and match menu items for the specific occasion you want to celebrate. You can never go wrong with these all-time favorite dishes and the choice is yours!
Start with some Mexican appetizers including nachos, tacos, and bite-sized snacks to whet the appetite. The sharing concept is recommended through the Roadhouse Platter comprised of the best bites including chicken wings and tenders, garlic mushrooms, onion rings, and french fries. These light nibbles are filling and flavorful, which means everyone can taste and try the dishes in generous proportions. Boasting a fabulous presentation and friendly service, The Roadhouse Macau can also provide tailor-made menus for your group, whether big or small.
Obviously, no party goes without drinks, both alcoholic or not. Luckily, you'll be spoilt for choice with the extensive list of beverages. Try a pint or bottle of beer for a quick start to the festivities. In case you and your friends want to stick with that, go for a beer bucket for a better price. Cocktails, wine, a great selection of liquors are available to choose from as well. Not fond of booze? There are plenty of mocktails, smoothies, and milkshakes available too!

Event packages
But what if you are looking for extra care on your special occasion? Then, get in touch with The Roadhouse Macau's team and they will offer a package that will meet your expectations. They have an array of packages, crafted for different events like anniversaries, kid's birthdays, team building, and more. Even if your group is made up of a hundred guests, the staff will make sure to take care of each and every one of them, keeping food and drinks coming and decorating the place according to your requests. Your goal for the night would be just to relax and have a night to remember! 
This article was originally written by Apple Salangsang in June 2017 and updated by Ksenia Kuzmina in October 2019.
---
The Roadhouse Macau E-G016-G019 Broadway Food Street, Broadway Macau, Av. Marginal Flor De Lotus, Cotai, +853 2875 2945, www.galaxymacau.com
Tags
Related Posts