Macau has a wide, rich, and wholesome culture when it comes to gastronomy. The city offers almost any kind of cuisine you can think of; from Cantonese to Portuguese, Macanese to French, Italian, Spanish, Filipino, there is a world out there for you to explore! The city is teeming with high-end luxury restaurants serving incredible food, but with the right ingredients and mastery, even the cheapest dish can make your tastebuds sing.
Is it possible to get flavorsome, unique food in Macau for an affordable price? We'll let you in on a little secret: there's delicious food in almost every corner of the city and all you need is to know where to look. Here're the best cheap eats in Macau and where to find them!
BBQ Pork with Glazed Honey and Plain Rice
(See featured image above)
Barbecued roasted pork with glazed honey served with plain rice and some vegetables on the side is not only one of the most Cantonese dishes you'll ever have, but a wholesome and satisfying meal for any given time of the day. The plain rice allows for a nice pause between char siu (Cantonese pronunciation of the bbq pork) bites.
One of the best places for this dish is a small joint close to BCM bank, Chan Kong Kei Roast Duck (陳光記飯店). It's usually crowded and people queue outside for takeaway, so be sure to head there during off-peak hours, which probably include lunch and dinner times. In Taipa, we recommend Duckling Gourmet. Serving all day long, the set menu includes a hot soup broth and steamed crunchy vegetables. These options cost less than MOP $70 each and most portions are good enough to share.
Chan Kong Kei Roast Duck (陳光記飯店) 9 Rua Do Dr. P José Lobo, Macau
Duckling Gourmet 161–177 Rua de Nam Keng, Taipa, +853 2883 6118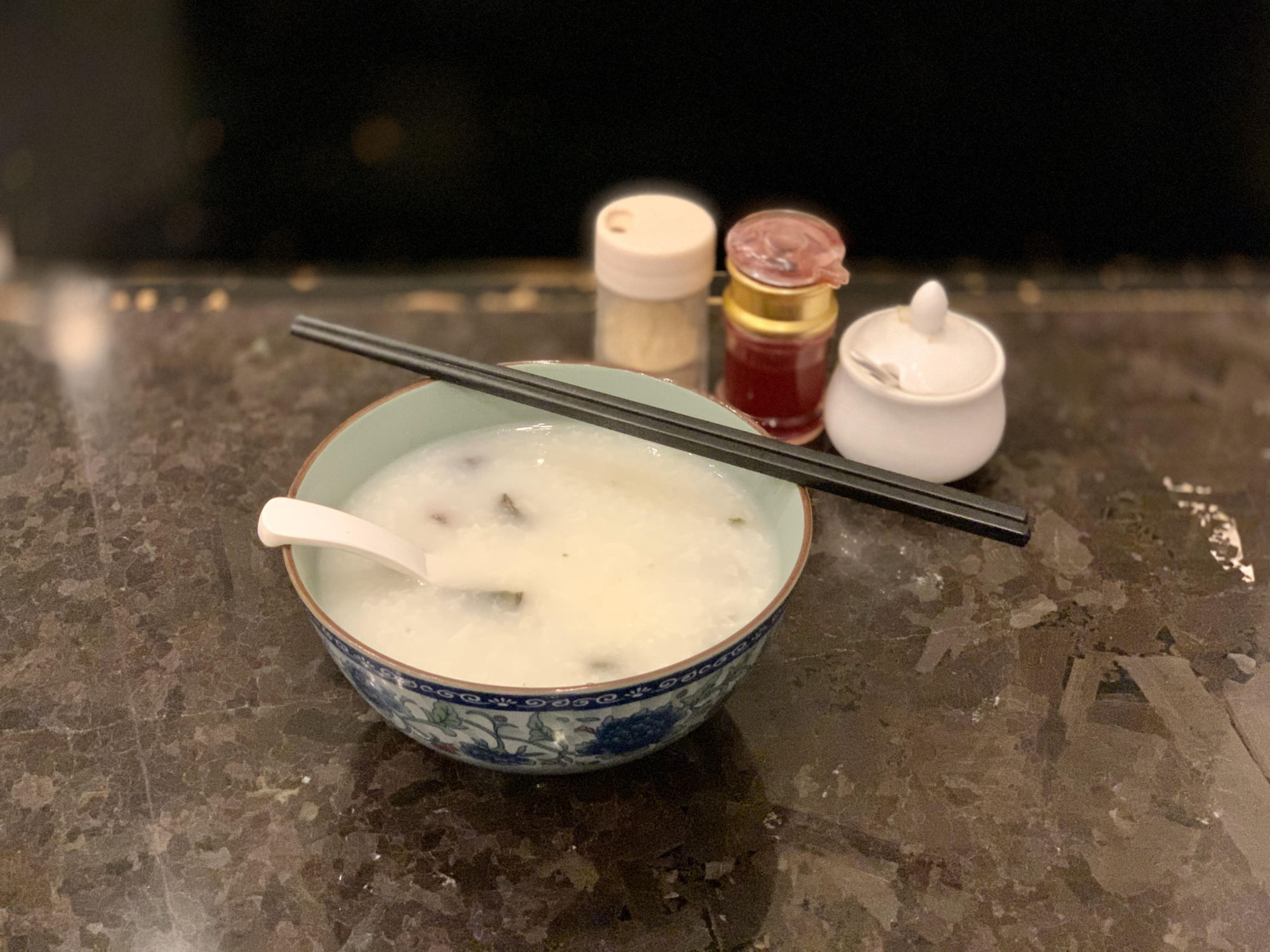 Congee
Perfect for winter days, congee is one of the most fulfilling dishes in Cantonese cuisine. It's also one of the simplest, made by boiling rice in a great amount of water and adding ingredients such as ginger or spices, the basic version is usually topped with spring onions. Variations include pork, crab, shrimp, chicken, and the very typical black century egg. Here, you can either go big or small, but never go home without trying the congee. It's usually priced under MOP $40, depending on the add-ons you choose.
RTC – Noodle & Congee U2/F, Grand Lisboa, Avenida De Lisboa, Macau, www.grandlisboahotels.com
Piu Kei 265 Rua de Bragança, Taipa
Wong Chi Kei 21 Rua do Cunha, Taipa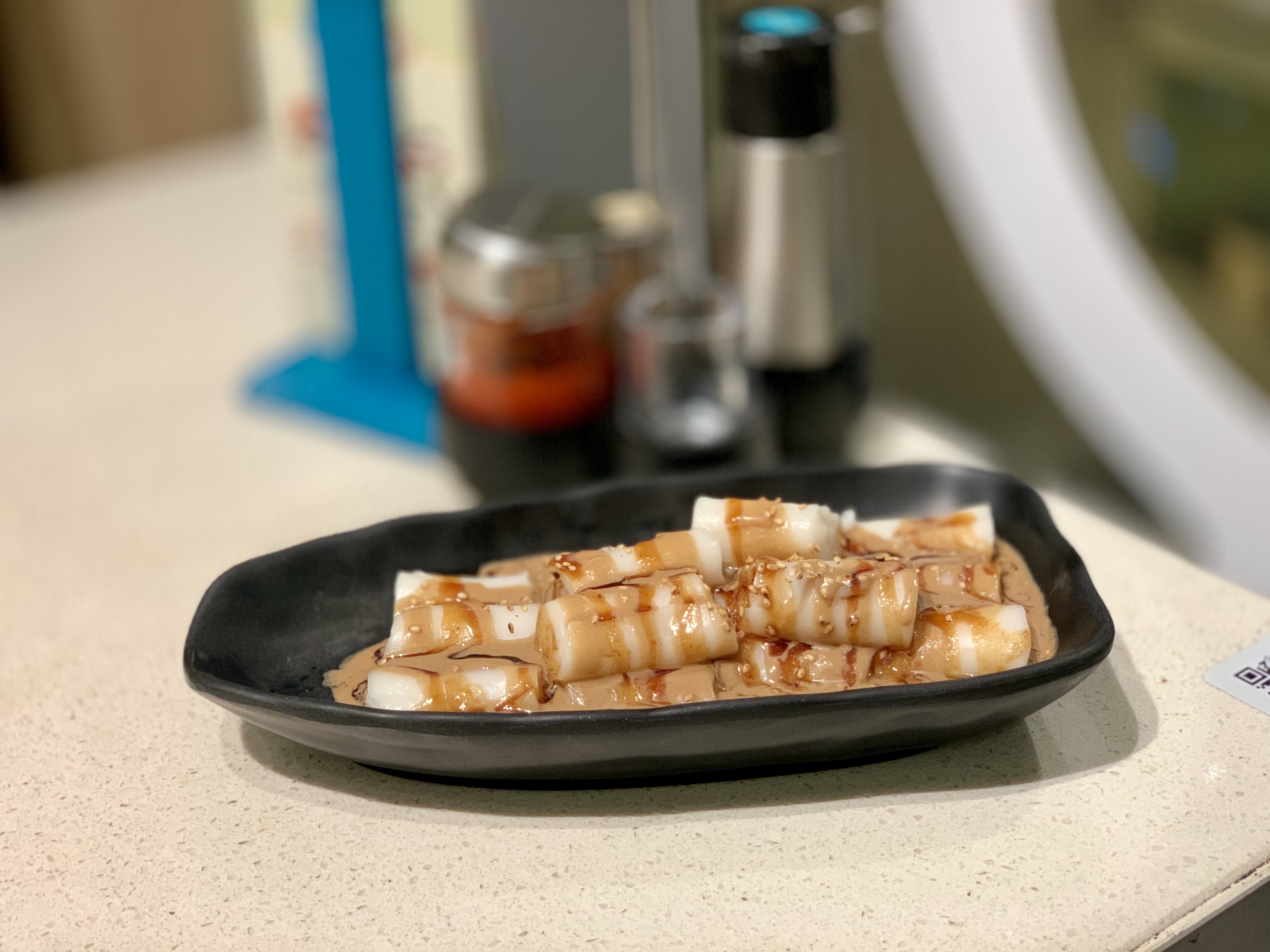 Rice Noodle Rolls with Peanut Butter & Plum Sauce
Hungry enough to eat, but not that much to sit in a restaurant and order an entire meal? Worry not! This option is great for those looking to fill the stomach with something warm and local without having to eat a whole meal. It can be hard to find good rice noodle rolls–chee cheong fun or 豬腸粉–but we let you in our favorite spots.
There is a cart that only opens at night, located close to the Portuguese School. Each takeaway box has a considerable portion, oozing with peanut butter, soy and plum sauce and whatever you want to add on and best is that it costs less than MOP $40. Most traditional yum cha restaurants also serve this, but those have time limitations, which sometimes are a constraint for those looking to just snack on something.
Mobile cart close to the Portuguese School Avenida do Infante Dom Henrique, Macau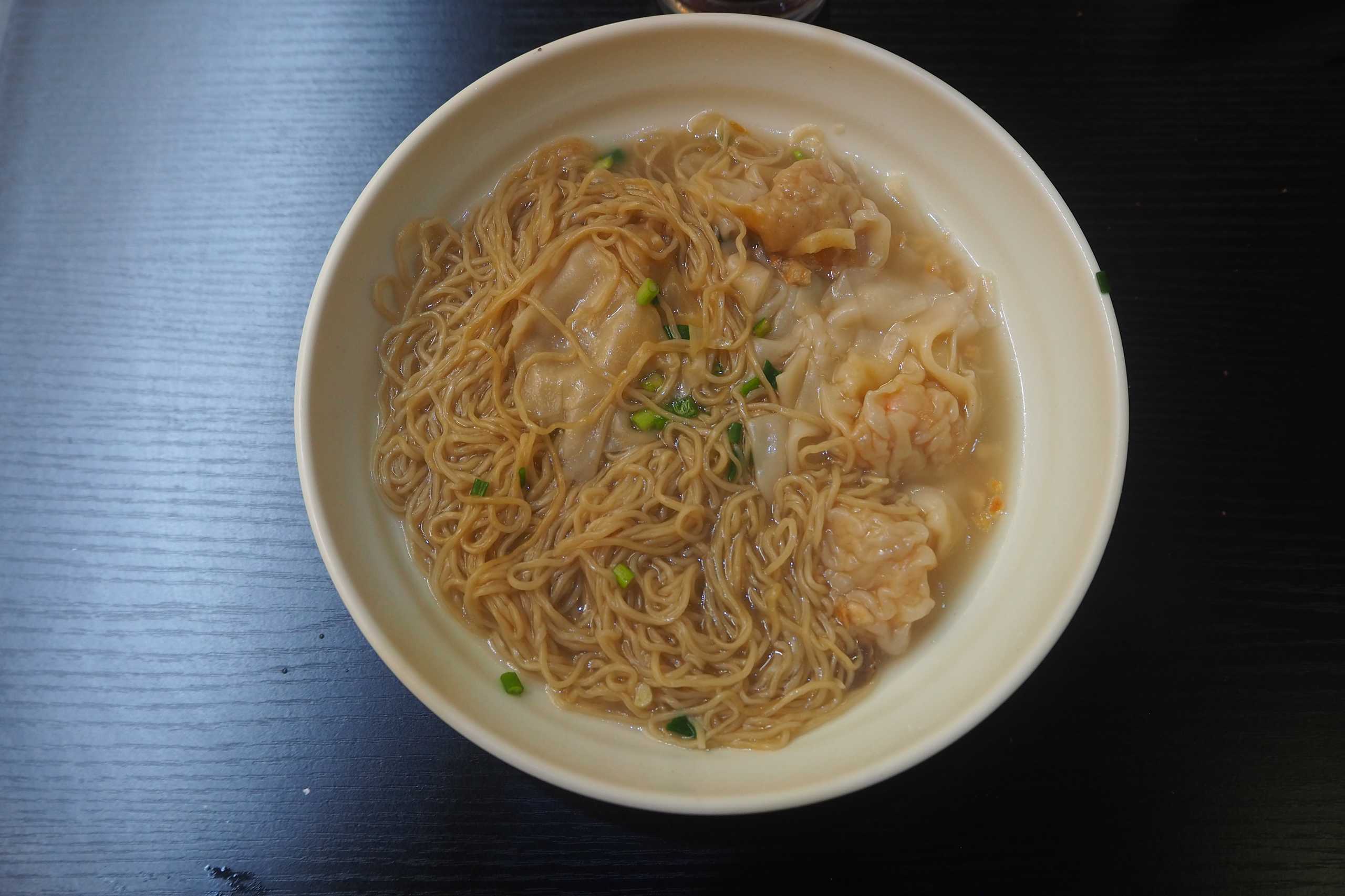 Wonton Noodle Soup
Ideal for winter but also good for the post-night out comfort food, wonton noodle soup is warm, delicious and filled with great ingredients. If you're looking for a meal that combines soup, noodles, shrimp, and dumplings, look no further!
It's served all around the city, although restaurants such as Chu Kei or RTC – Noodle & Congee have some of the best. However, if you're feeling adventurous, take a long walk and discover new places to have this typically Cantonese dish. It's usually priced at no more than MOP $45. If you super love wonton noodle soup, here're more suggestions and best is that they're all under MOP $50!
Chu Kei 327-329, R/C B, Avenida da Praia Grande
RTC – Noodle & Congee U2/F, Grand Lisboa, Avenida De Lisboa, Macau, www.grandlisboahotels.com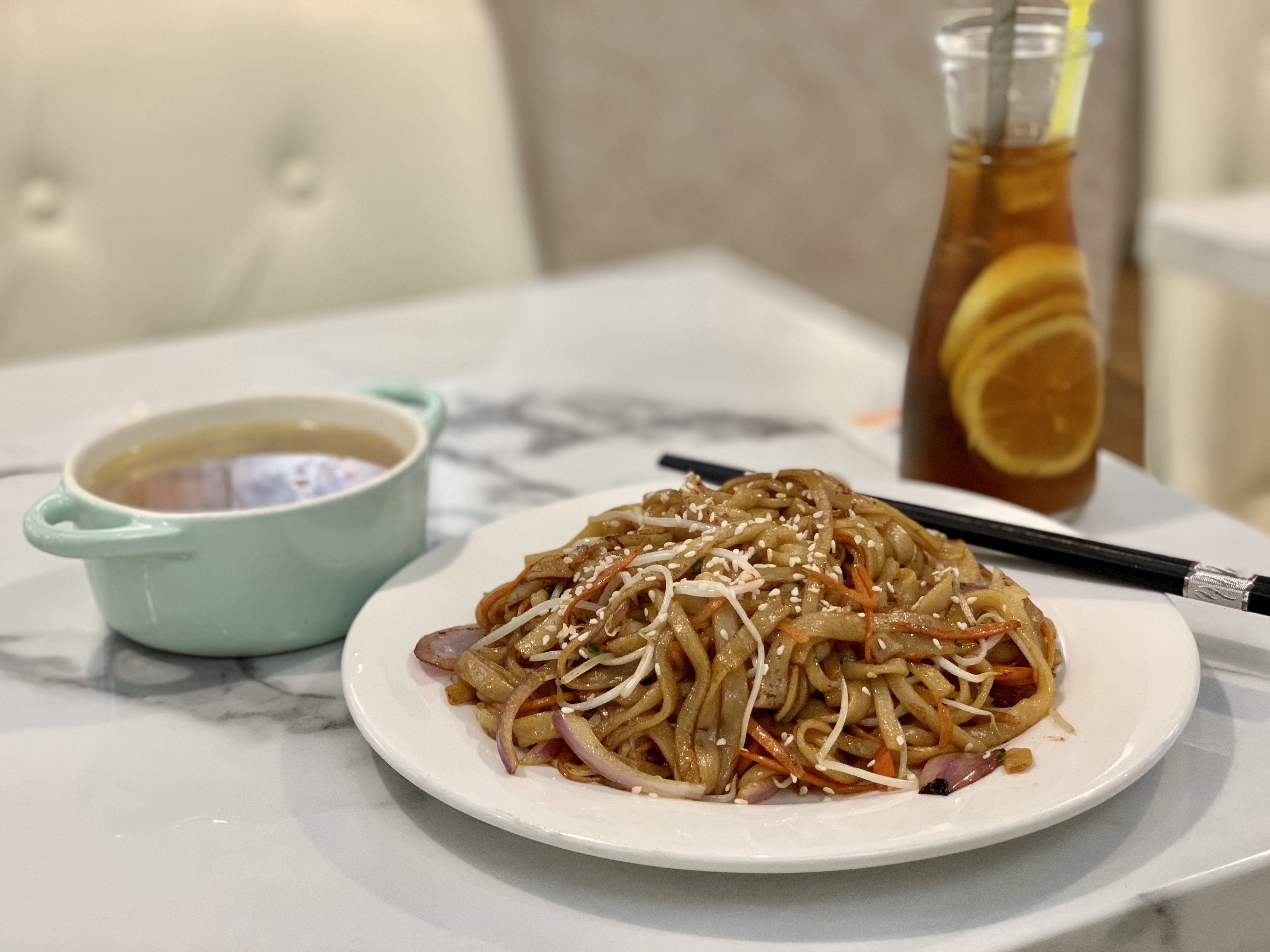 Fried Noodles
This is a must-eat dish when in Macau. These fried noodles–with or without meat–are served all around the city, either in smaller or bigger restaurants. What matters is that it's super affordable and one of the most fulfilling dishes when it comes to local, simple, and comforting food.
Usually quite glossy, they are savory and the vegetables add fresh crispiness to the noodles' texture. Order a "chao fun" and everyone should understand. If communication is hard, then just show this picture. It usually doesn't cost more than MOP $60 and the most expensive can be shared between several people. Enjoy!
Cais 22 22A Avenida de Demetrio Cinatti, Shop C, G/F, Patane, Macau
Chu Kei 327-329, R/C B, Avenida da Praia Grande, Macau
Wa Fong 424, Avenida Dr. Sun Yat Sen, Taipa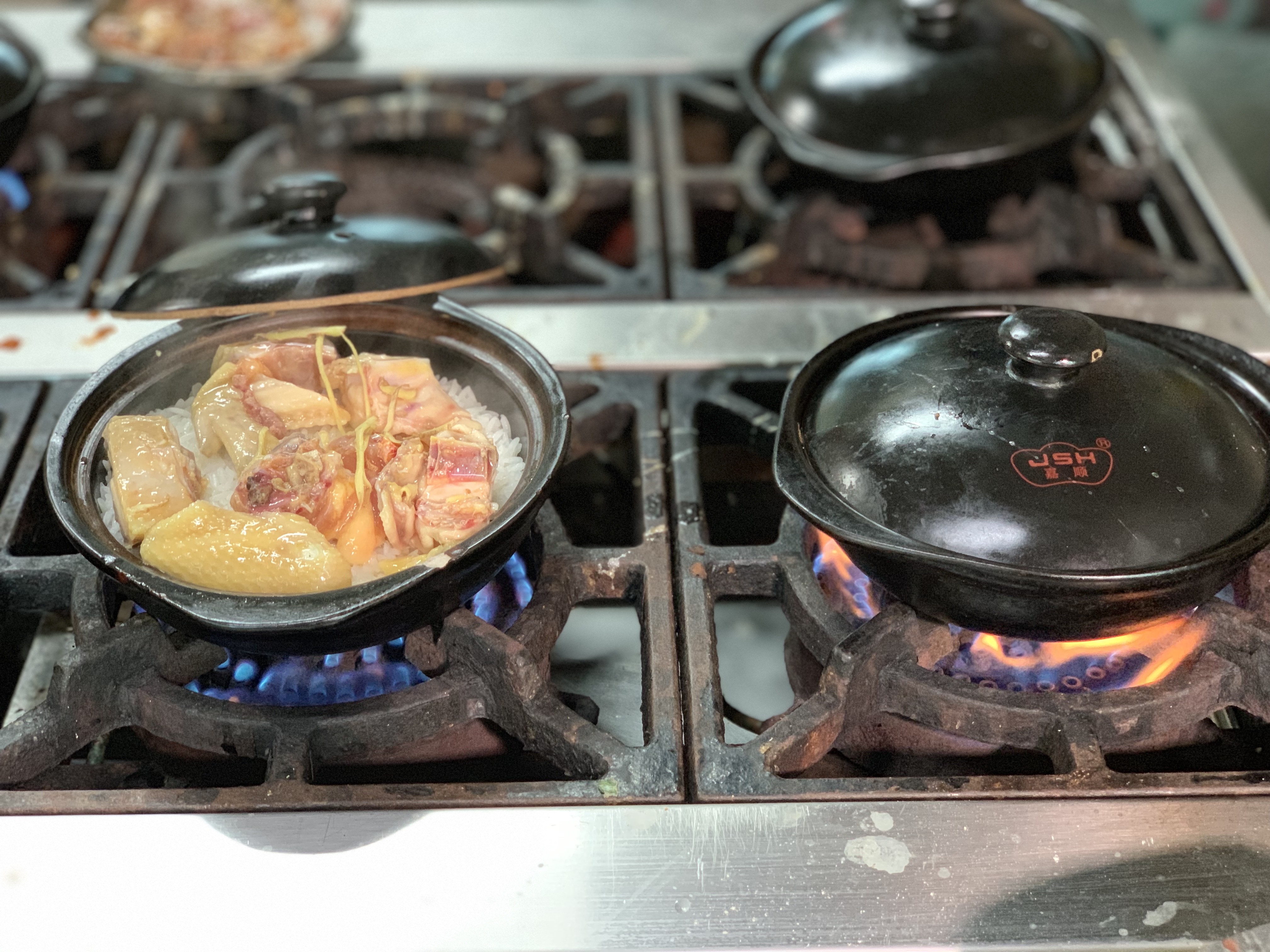 Claypot Rice
There're certainly other places where you can get this Chinese-style delicacy, but we recommend heading to São Domingos' top floor (in Leal Senado), where there's a canteen-like area with all kinds of local food. Here, you can see the cooks making your meal, which lets you experience a whole lot more than just eating.
Made with regular fish, eel, chicken or pork, this rice dish is cooked in less than 10 minutes in these clay pots, which you then take to the table and eat from them. Each dish costs under MOP $50.
São Domingos Market Food Hall Travessa do Soriano, Complexo Municipal do Mercado de S. Domingos
Nam Kee Clay Pot Rice G/F, 6 R. das Estalagens, Avenida de Almeida Ribeiro
Tags
Related Posts