The art of French dining is one of sophistication, creative dining traditions, and elegant wine pairings. These reasons are probably why French cuisine was declared by UNESCO as a 'world intangible heritage' in 2010. The methods and discipline behind this cuisine are simply fascinating. Macau has a plethora of exquisite dining destinations to explore and when it comes to French food, we're definitely not wanting. With award-winning French restaurants and exceptional dishes, these make for a truly unforgettable dining experience. Our top picks each have their own fusion of flavors and degrees of elegance that you definitely need to try.
L'Attitude
(Featured image above)
Voyages by Alain Ducasse is one of our favorites and the menu has a mix of classics and contemporary French influences, which are hard to miss. Located at the magnificent Morpheus, the latest shining jewel in Macau's the City of Dreams, the restaurant is a celebration of fine food to suit discerning diners. The décor is elegant and comfortable and the service is Ducasse-level although relaxed. With an innovative approach, and in the true spirit of French artistry–the Fernande Allard frog legs, cheese souffle, roasted chicken from Les Landes and Koulibiac Salmon are simply exceptional and exquisitely cooked. The wine list is not too extensive but features more than enough excellent wines to pair with the amazing meal you'll have at Voyages.
L'Attitude City of Dreams Macau, Estrada do Istmo, Cotai, +853 8868 6688, www.cityofdreamsmacau.com
Also read: Voyages by Alain Ducasse: A Visit to a French Bistro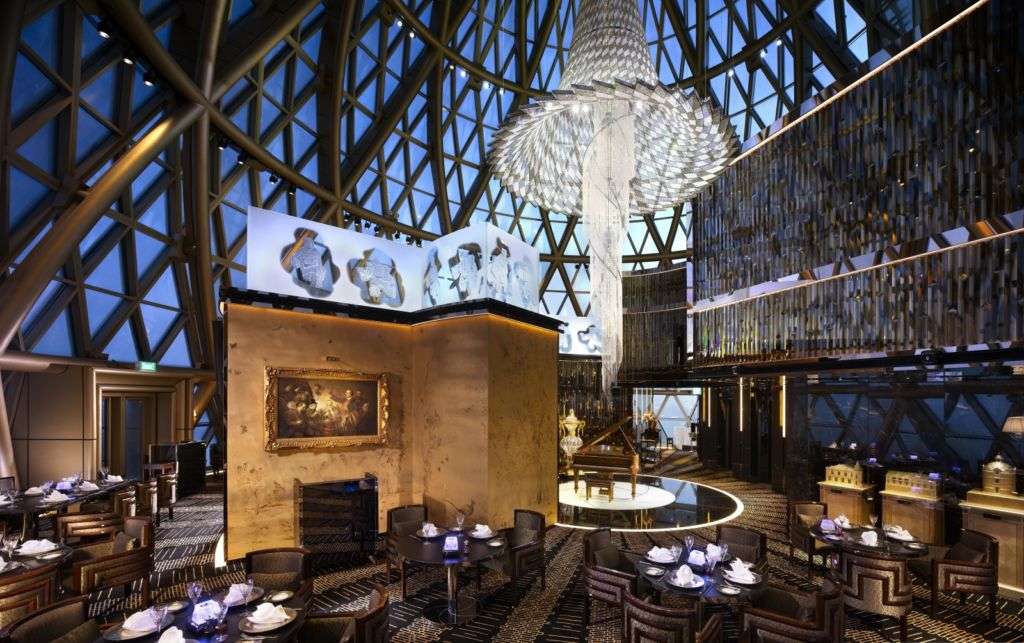 Robuchon Au Dôme at Grand Lisboa
Robuchon au Dôme is undoubtedly one of Asia's top dining destinations. With three Michelin stars for eleven consecutive years under its belt, expect only the best of the best at this restaurant. Inside the glass dome at the top of the Grand Lisboa Hotel, it has a stunning view of Macau. While the centerpiece of the restaurant is a breathtaking crystal light chandelier cascading from the ceiling, in Robuchon you'll find the quintessential sophistication of French cuisine, at its highest level and the largest wine list in Asia. The impeccable service and the live piano music adds a touch of glamor to the whole dining experience. The cheese and dessert trolleys are legendary, so we strongly recommend for you to come when you're absolutely famished and try all that Robuchon has to offer.
Robuchon Au Dôme Grand Lisboa, Avenida de Lisboa, Macau, +853 2828 3838, www.grandlisboahotels.com
Also read: Robuchon au Dôme: A Tale of Legacy and Exceptional Cuisine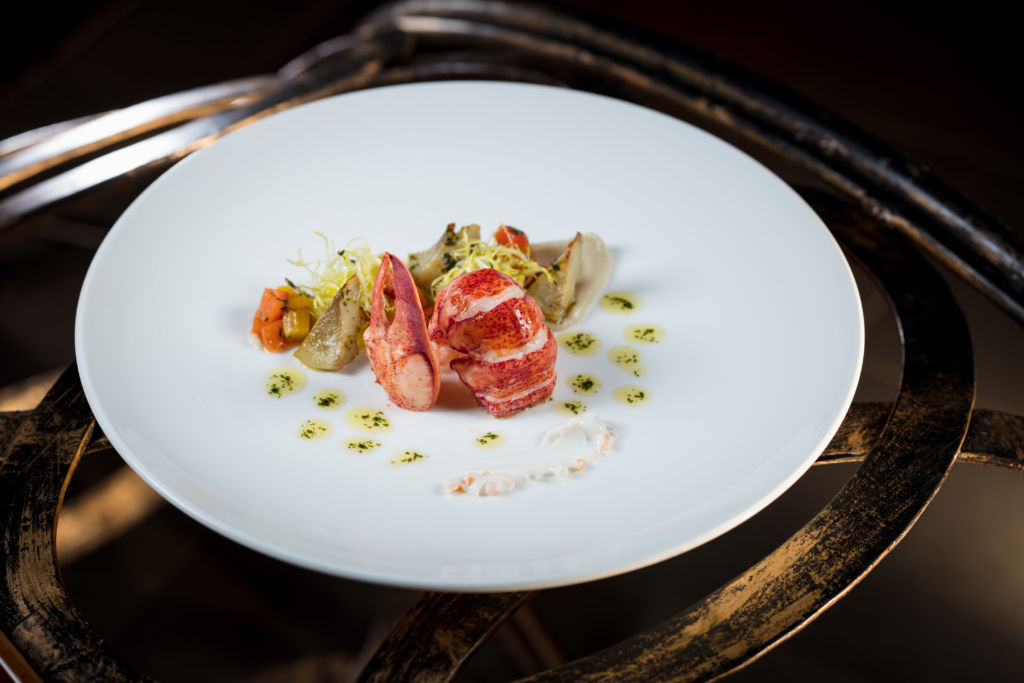 Aux Beaux Arts 
Located at MGM Macau, Aux Beaux Arts is inspired by French brasseries in the 1930s and celebrates the beauty of French cuisine at its finest. The semi-alfresco dining setting and high ceilings lend an airy and romantic ambiance to the restaurant. You can also indulge in an impressive dinner with a view of the colorful tropical fish aquarium at the center of the terrace and the magnificent Valkyrie Octopus installation. Dine on historic Parisian bourgeoisie delicacies and make sure to order the crepe Suzette to round off the night with a sweet treat.
Aux Beaux Arts Grand Praça, MGM Macau, Avenida Dr. Sun Yat Sen, NAPE, +853 8802 2319, www.mgm.mo
Also read: Aux Beaux Arts: A Delicious Taste of France Right in the Heart of Macau
Also read: Chef Jerome Deconinck: French Art of Living at the Revamped MGM Macau's Aux Beaux Arts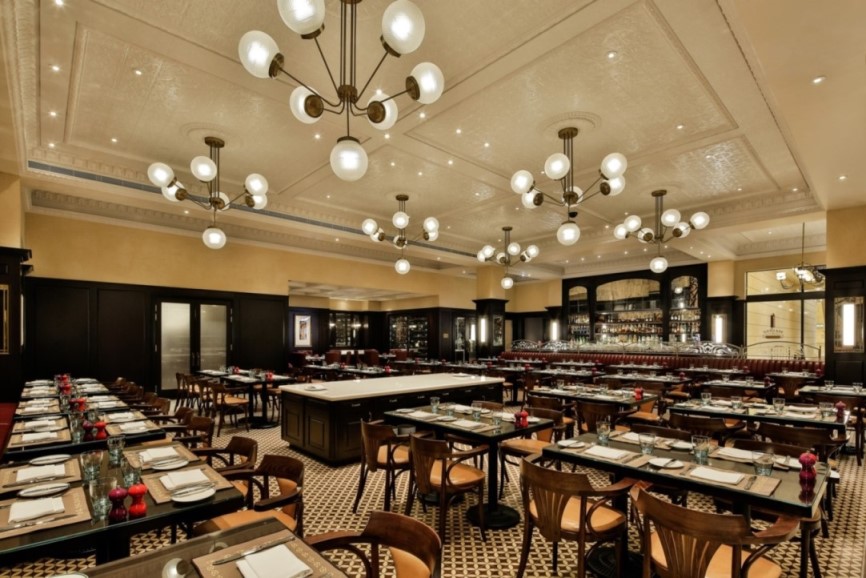 Brasserie at The Parisian Macao
Embark on a gastronomical journey at The Parisian Macao's Brasserie. This restaurant always has a great atmosphere making it a family-favorite when it comes to delicious French food and a comfortable setting. It transports you to France with a taste of the most popular and traditional dishes passed down for generations. The vibe is relaxed and fuss-free making it a joyful dining experience no matter what time of day it may be. It's nestled right in the heart of The Parisian Macao which is so opulently decorated, you'd be hard-pressed to find something uninteresting. Whether you want to dine with family, friends or workmates, Brasserie is the place to partake in delicious French cuisine.
The Parisian Macao Estrada do Istmo, Lote 3, Macau, +853 8111 2300, www.parisianmacao.com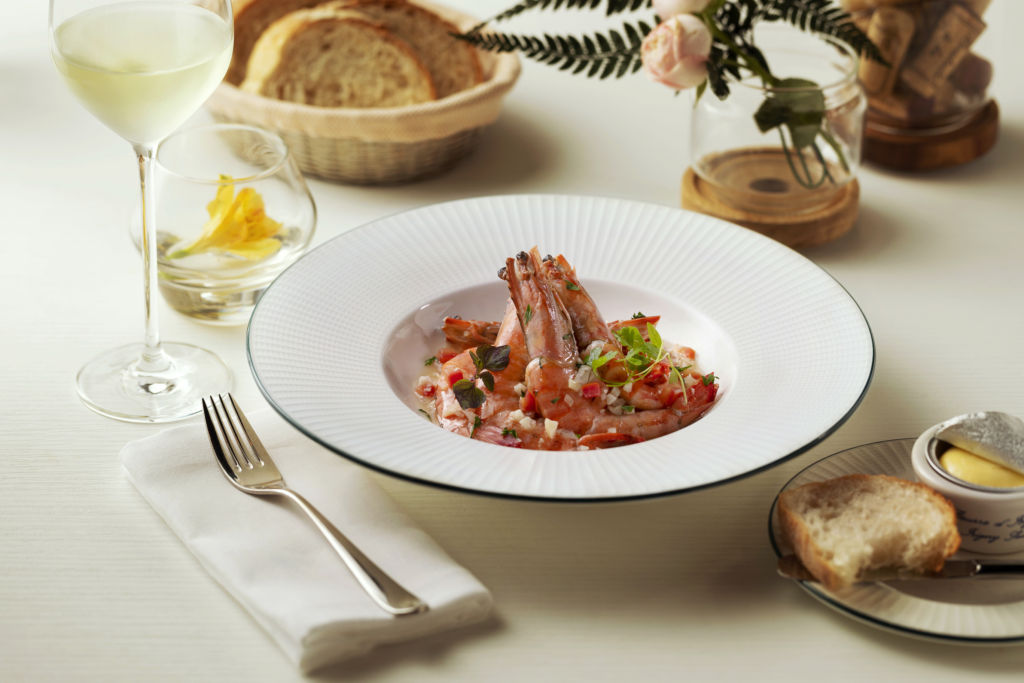 Café de Paris Monte-Carlo at Galaxy Macau
Paris on your plate is what describes Café de Paris Monte-Carlo perfectly. Situated at Galaxy Macau, this restaurant presents sensational French and Asian cuisines and gastronomic delights like no other. Savor old French classics such as onion soup and steak tartare. Taste the lavish flavors of trout Meuniere and lobster Thermidor, some of the best in French cuisine. There is also comfort food in the form of delightful pastries beautifully baked and crafted to perfection. From the carpeting to the chandelier, everything is elegantly designed to invoke romance and beauty to truly bring the essence of France to Macau.
Café de Paris Monte-Carlo Galaxy Macau, Estrada da Baía da Nossa Senhora da Esperança, Cotai, +853 8883 2221, www.galaxymacau.com/cafe-de-paris
Also read: From Monte Carlo with Love: Café de Paris Monte-Carlo, Galaxy Macau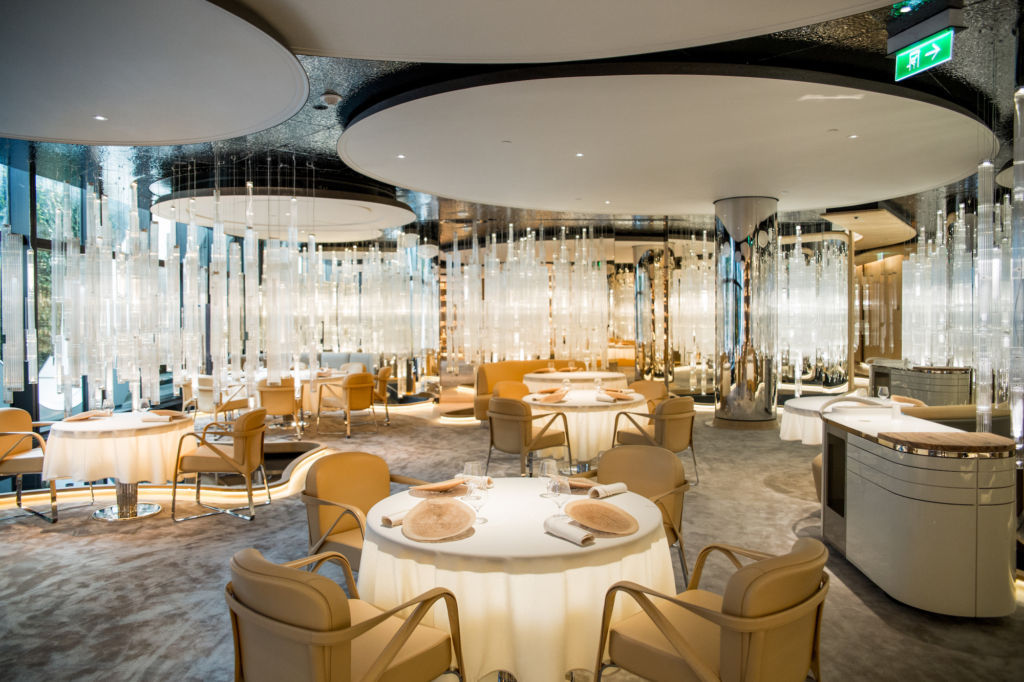 Alain Ducasse at Morpheus
Alain Ducasse is undeniably one of the legendary leaders in classic French haute cuisine. And nothing can be more French than a dining experience at the stylish location of Alain Ducasse at Morpheus. Nestled in the City of Dreams, the elegant interiors of this restaurant match the magnificence of Zaha Hadid's architectural masterpiece. However, it's the dishes and presentation that captivates French food lovers from all over the region to dine at this sophisticated setting.
The menu has been designed with complex techniques combined with creativity and exquisite presentation resulting in extraordinary flavors. The signature dining menu features decadent dishes such as the exquisite steamed duck foie gras with raw and cooked figs and toasted brioche. You'll also be surprised by the impressive wine cellar housing a wide selection of champagne, including some rare bottles. This dining spot is made for an unforgettable evening of the art of living life to the fullest.
Alain Ducasse at Morpheus 3/F, Morpheus at City of Dreams, Estrada do Istmo, Cotai, +853 8868 3432, www.cityofdreamsmacau.com
Also read: A Sumptuous Dining Affair at Alain Ducasse at Morpheus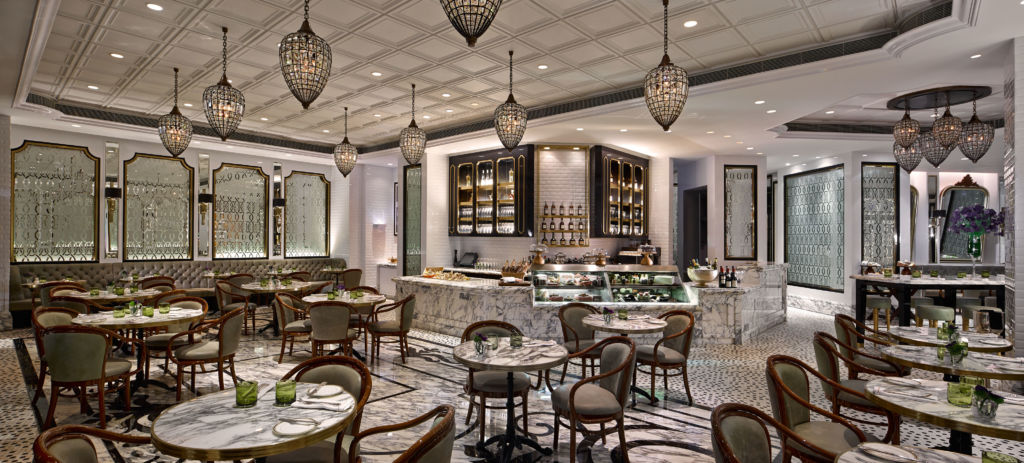 The Ritz-Carlton Café
Fashion, art, and food blend beautifully together at The Ritz-Carlton Café. Nestled inside The Ritz-Carlton, Macau in Cotai, you'll find that it's the perfect place for an afternoon tea or a lovely meal. The décor is whimsical and you'll find classic French food favorites and a sophisticated weekend brunch with French oysters and, of course, champagne. The restaurant setting has an intimate yet laid-back vibe that exudes the French way of life. Amongst the must-try classic dishes are the sea bass with seafood riso, and beef tartare with artisanal beers and crisp wines. On one side of the Café, you'll be able to see the breathtaking high-end Galaxy shopping promenade. Don't leave without trying their incredible desserts!
The Ritz-Carlton, Macau Galaxy Macau, Estrada da Baía da Nossa Senhora da Esperança, Cotai, +853 8886 6712 or email [email protected], www.ritzcarlton.com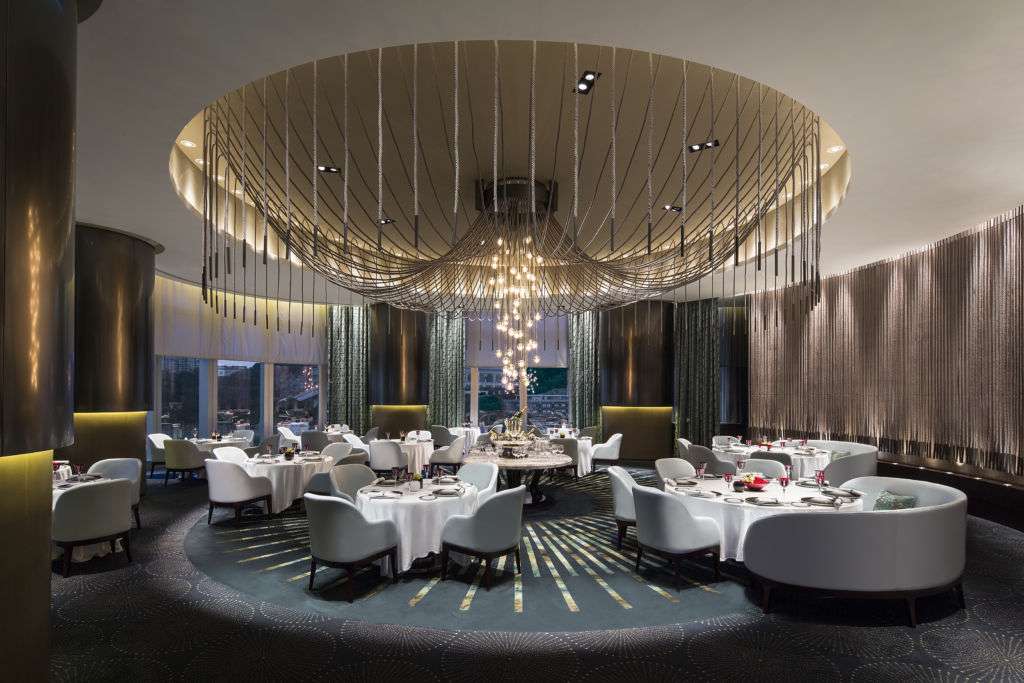 The Tasting Room
*Closed as of April 2020*
Save yourself a trip to France and step into the light and airy interior of The Tasting Room. No need to be intimidated at this two Michelin-starred French restaurants because it's the ultimate gastro destination for fine wining and dining. Embark on a gastronomic adventure where every bite tastes of first-class quality. Reflecting Chef Fabrice Vulin's philosophy of "la cuisine du terroir", the menu pays homage to nature with ingredients meticulously sourced according to the seasons and prepared with remarkable craftsmanship. Every visit is a surprise as it continues to captivate the tastebuds of first-time visitors and returning guests. The view overlooking the Cotai Strip through the large floor to ceiling windows make it the perfect venue for a romantic dinner or a power lunch.
The Tasting Room Level 3, Crown Towers, City of Dreams, Estrada do Istmo, Cotai, +853 8868 6681, www.cityofdreamsmacau.com
This article was originally written by Macau Lifestyle in January 2019 and updated in January 2020.
Tags
Related Posts