Photo credit: Tapas de Portugal. Source: Tapas de Portugal Facebook page
As you might know, part of what makes Macau so awesome is its unique blend of both Chinese and Portuguese cultures. This not only makes the way of life so special and diverse here but also makes for a varied dining experience. We've come up with a list of the best restaurants that offer a taste of authentic Portuguese cuisine in Taipa Village which is coming to be known as the Portuguese food district in Macau. All the following choices have quite an interesting Portuguese wine list as well.
TAPAS DE PORTUGAL
(See featured image above)
The owner has reinvented his restaurant's concept, giving people a new way to taste traditional Portuguese food. Besides grilled squid with olive oil, several codfish dishes, seafood rice, duck rice, and suckling pig, this joint in the center of Taipa Village welcomes customers to try their contemporary tapas. Although their name may suggest that they're Spanish, they are in actuality very Portuguese! Curious? It's just a bus ride away and they are blessed with an incredible rooftop that can be rented for events with an amazing view of the neighborhood.
Opening hours: Daily, 12:00pm–12:00am
Tapas de Portugal 9 Rua dos Clérigos, Taipa Village, +853 2857 6626, www.taipavillagemacau.com
Also read: The Best Places to Eat Real Portuguese Food in Macau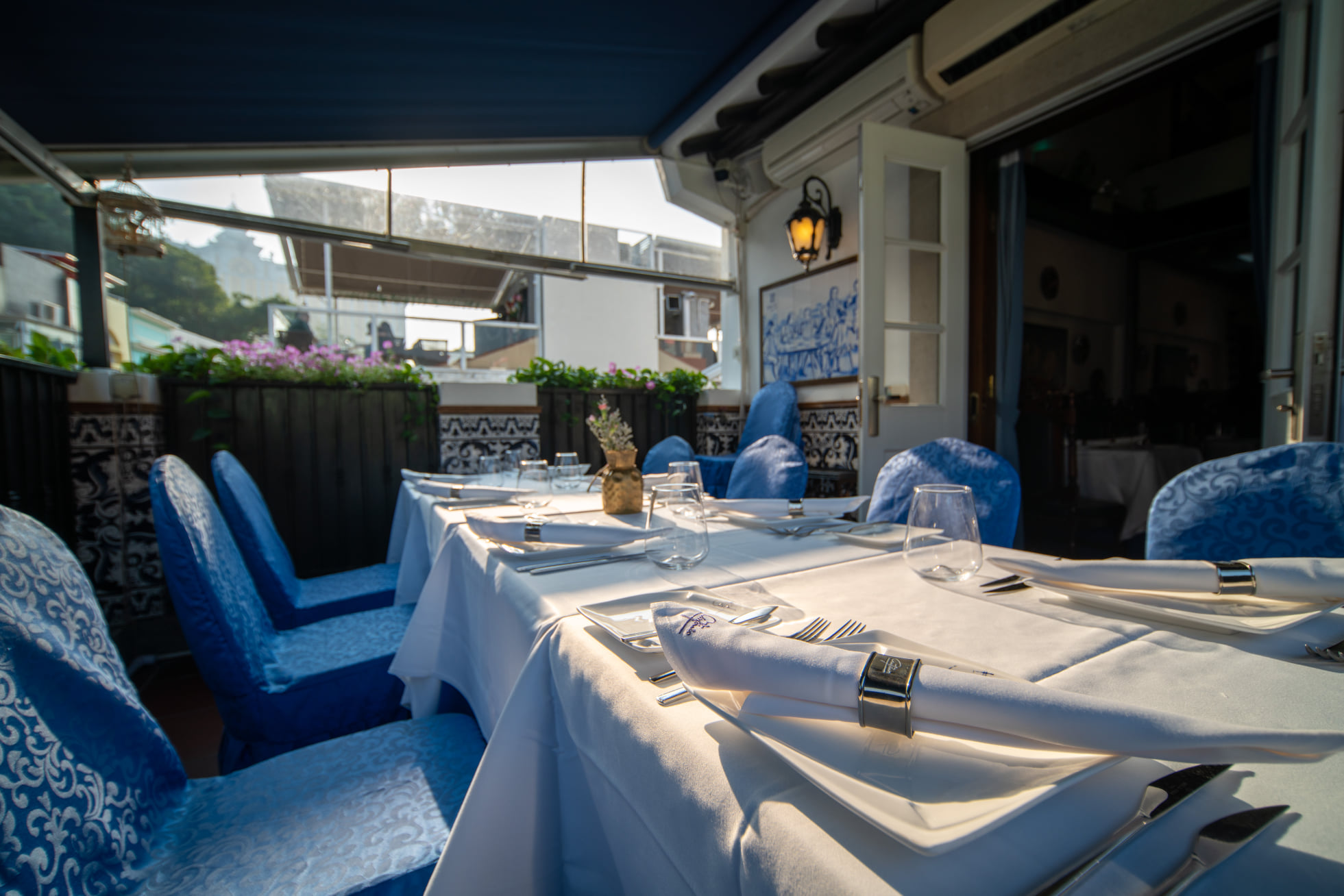 António
Boasting several floors fitted with beautiful Portuguese-inspired decorations and furniture, António is nestled in Taipa Village and offers some of the truest Portuguese flavors in town. Preserving traditional scents and ingredients, chef David Abreu has given the menu his own flair. It now boasts some gourmet-like dishes without losing its roots. Here, you'll be able to try more traditional foods such as braised sardine, roasted codfish, duck rice, lagareiro-style codfish, suckling pig, and several rice-based dishes, but also some of the chef's own creations with Portuguese ingredients including codfish, clams, bread and much more. We also love the "drunken pear", a dessert made with pear and port wine.
Opening hours: Monday–Sunday, 11:30am–10:30pm
António 7 Rua dos Clérigos, Taipa Village, [email protected], +853 2899 9998, www.antoniomacau.com
Also read: António: Creativity & Tradition Walk Hand in Hand in Chef David Abreu's Kitchen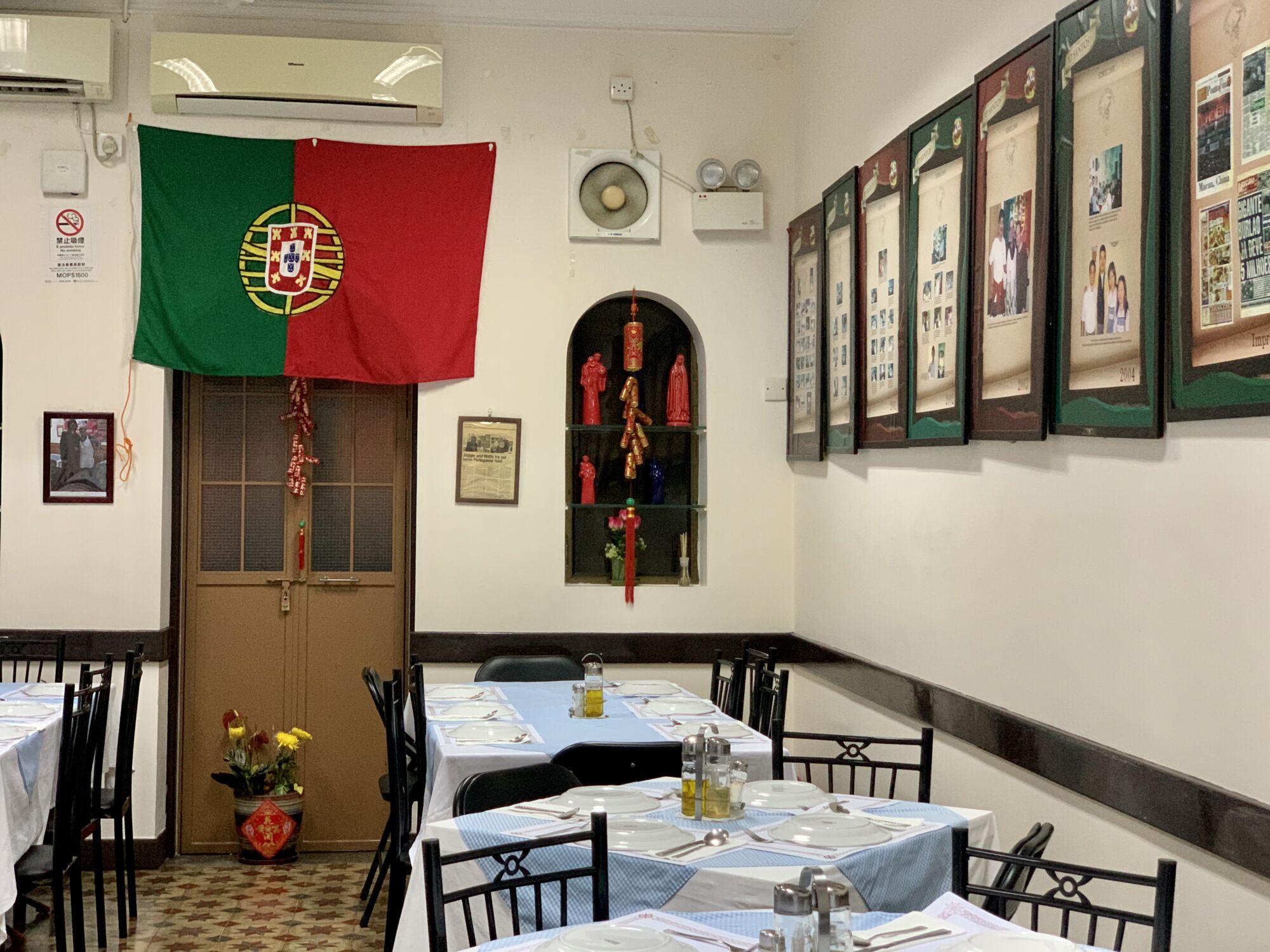 Comida Portuguesa O Santos
What at first seems to be a small food joint tucked in one of Taipa Village's most busy streets is actually an ample two-story restaurant with a big collection of football teams' scarves downstairs. Owned by a great Portuguese cook from Alentejo, O Santos offers a range of typical Portuguese dishes such as roasted octopus, cozido (a traditional stew made with boiled vegetables, a mix of meats and rice), giblet rice or beans stew (feijoada, in Portuguese). The staff is friendly and eager to help, dishes are served quickly and portions are quite generous. O Santos allows you to ask for half servings too, which is good if you're sharing or eating alone.
Opening hours: Wednesday–Monday, 12:00pm–3:00pm, 6:30pm–10:00pm
Comida Portuguesa O Santos 20 Rua do Cunha, Taipa Village, +853 2882 5594, www.taipavillagemacau.com
Also read: Santos: With Open Arms & Open Heart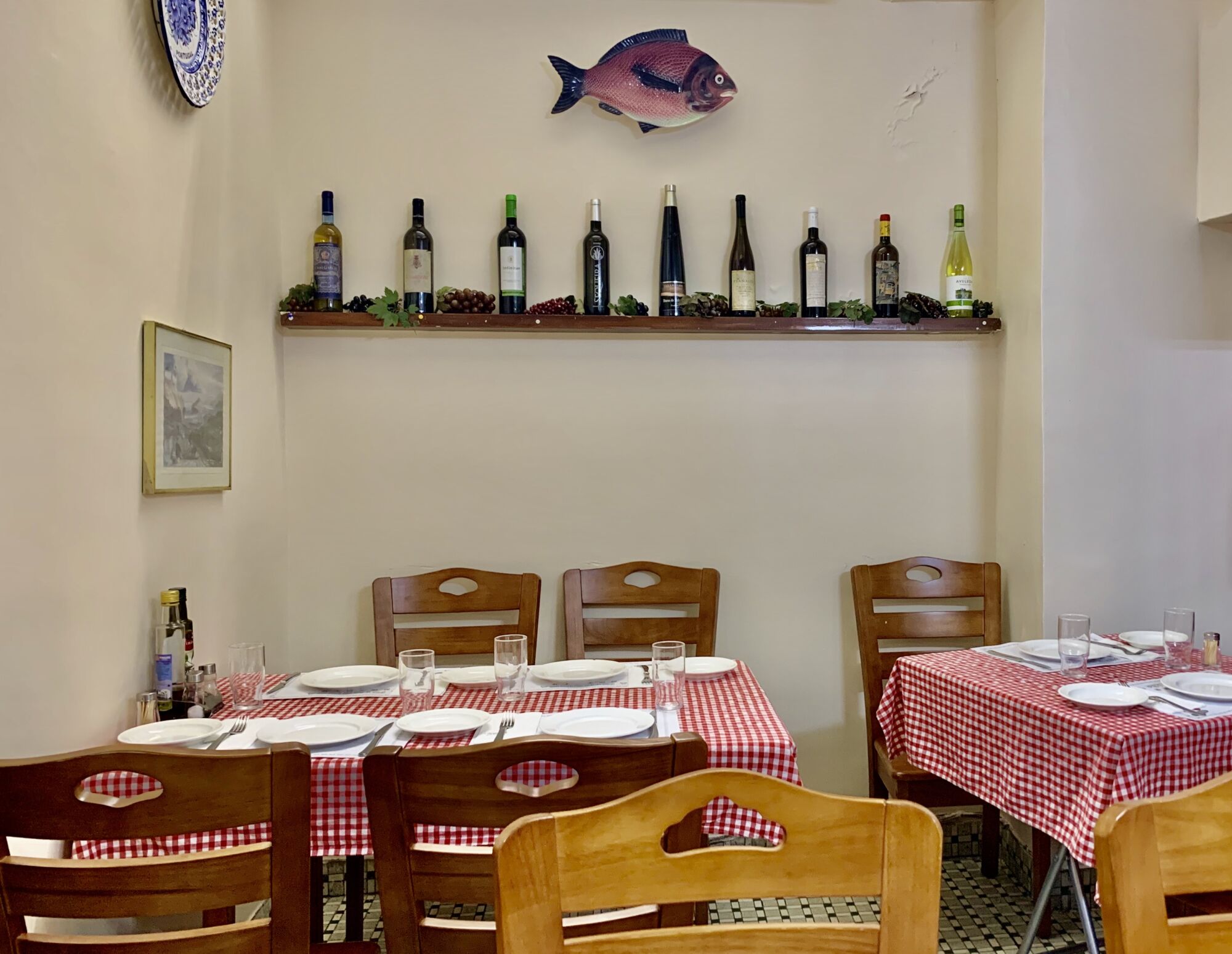 A PETISQUEIRA
Don't be fooled by the exterior, A Petisqueira is a good place to go for roasted dishes, such as codfish or octopus. It's common practice in Portugal to have a bread basket with butter and sometimes olives and pâté as entrée. A Petisqueira is one of the best places to start getting in the mood for lunch: the bread is warm and it goes perfectly with the melting butter. José Lúcio is Petisqueira's owner and opened this tiny joint in 1993.
The restaurant remains in its original location, an unusual thing in a city where there's always somewhere being relocated, closing and opening. Lúcio's reputation in the food world precedes him; he used to work with his uncle at Pousada de Coloane (Cheoc Van Beach) and as a chef at Hotel Lisboa's restaurant, Galera O Guincho.
Opening hours: Tuesdays–Sundays, 12:30pm–2:15pm, 6:45pm–10:00pm
A Petisqueira 15 Rua de São João, Taipa Village, +853 2882 5354
Also read: Petisqueira: First Came the Tapas, Then the Mains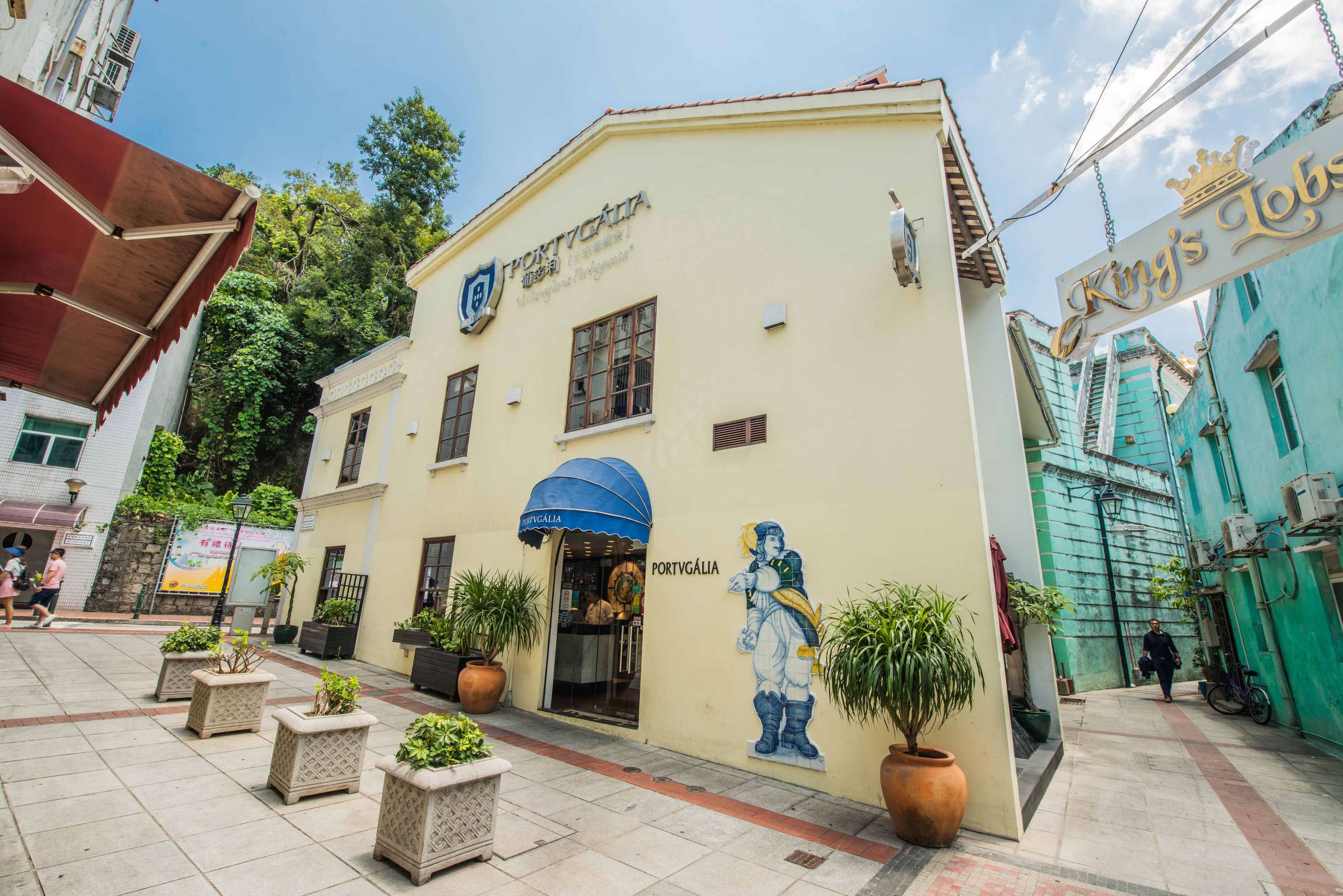 PORTUGÁLIA
In 2015, Macau got a bit more Portuguese with the opening of the first Portugália restaurant outside its birthplace. This joint, known for its Portugália style steak (with a secret and perfect sauce), has a 90-year history starting in Portugal and presently has almost 30 restaurants throughout the country and one overseas branch in Macau. As you can see, Macau is so unique it even gets its own Portugália, which is a big deal for any Portuguese person in town. Although the dishes are a bit pricier than in other Portuguese restaurants in town, their signature dish is really worth it. Besides their steak, there's also codfish, seafood dishes, croquettes, and cold octopus salad. For updates and to see their updated offerings, check their Facebook page.
Opening hours: Daily, 12:00pm–10:00pm
Portugália 2-6 Rua dos Mercadores, Taipa Village, +853 6280 3992, www.portugalia.com.mo
IN PORTUGUESE FOOD
This is the perfect example of a place that started as a hidden gem and still remains that way, depending on the mealtime. At dinner, it can be busy, but it's an amazing place to have drinks during sunset, or grabbing some appetizers with friends! Some dishes at In Portuguese Food might be pricey, but overall, the menu offers a wide range of options and an interesting drinks menu, with champagne sangria too! The terrace sits on the restaurant's upper floor and offers a great and unobstructed view of Taipa Village, which is as relaxing as it is satisfying. For regular updates and menu offerings, check out their Facebook page.
Opening hours: Tuesday–Friday, 11:30am–3:00pm, 6:30pm–11:00pm; Saturday–Sunday, 11:30am–11:00pm. Closed on Monday
In Portuguese Food 86 G/F Rua Correia da Silva, Taipa Village, +853 2857 6700, www.facebook.com/inportuguesefood
Also read: IN Portuguese Food: A True Portuguese Gem in Taipa Village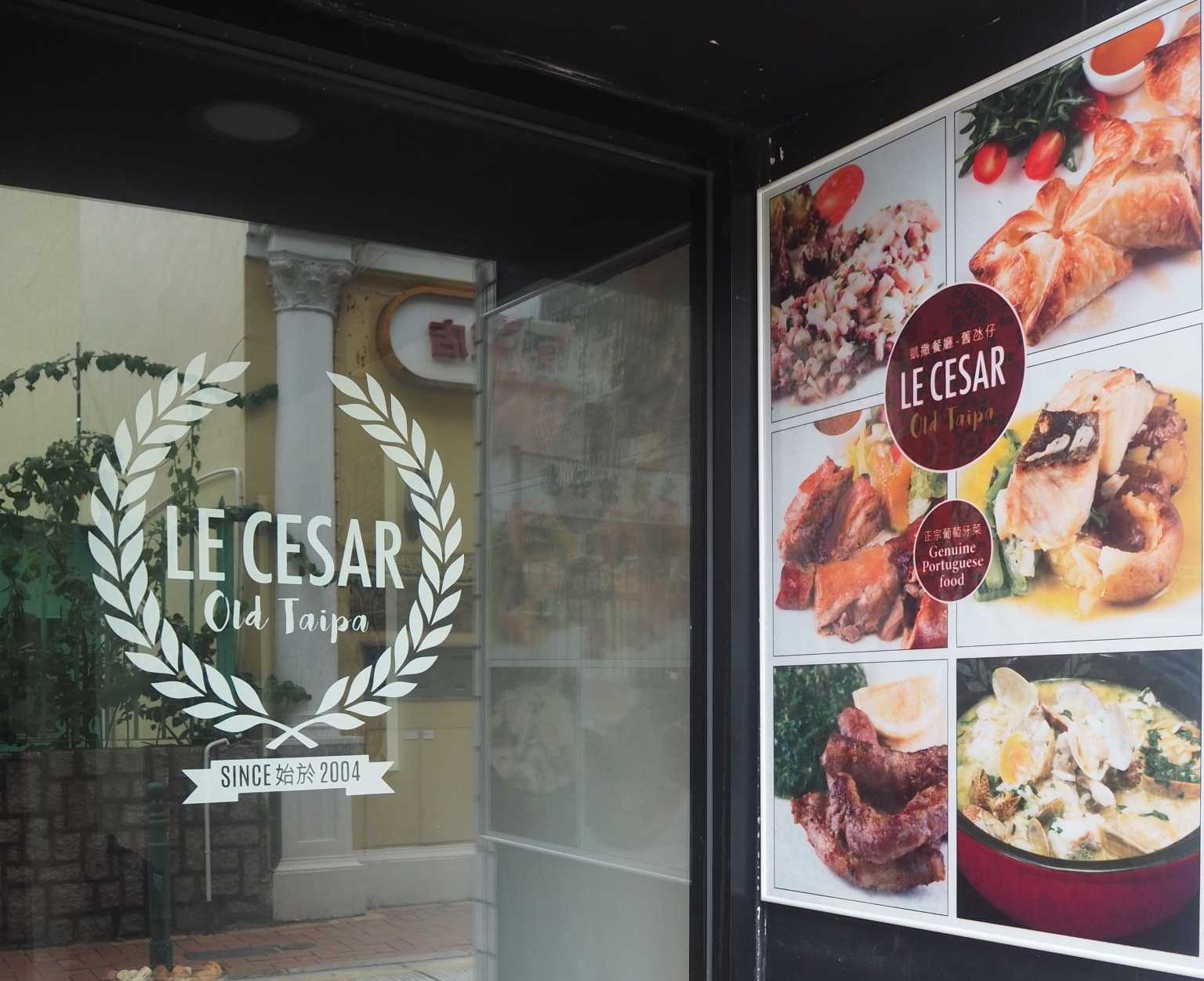 LE CESAR OLD TAIPA
There's already a Le Cesar close to Taipa Central Park. Opened in 2017, Le Cesar Old Taipa has the most exquisite sea bass lemon rice in Macau, especially because it's different (more creative) than the Portuguese-style rice restaurants often serve. They also have great meat offerings and interesting starters, like their puff pastry stuffed with chèvre, apple, and honey. Aside from that, there are always the classics: cheese and smoked sausage's tapas, grilled fish, octopus salad, among others.
Opening hours: Monday–Friday, 12:00pm–3:00pm, 6:00pm–11:00pm; Saturday–Sunday, 12:00pm–11:00pm
Le Cesar Old Taipa 300 Rua Direita Carlos Eugénio, Chun Weng Kok G/F, Taipa Village, +853 2857 6682, www.lecesartaipa.com
This article was originally written by Leonor Sá Machado in September 2018 and updated in July 2021.
Tags
Related Posts