Picture this: dogs relaxing on the floor, kids running in between tables, and groups of friends loudly laughing– does that sound overwhelming? If not, please join our club of Ristorante La Gôndola fans, the summertime favorite after-pool dining spot. Read on to learn why La Gôndola is the best summer place to hang out at in Macau.
Why should you go?
When the pool season starts, Macau is divided into two groups of people. The first group shops for the trendiest accessories, puts on their fancy swimming attire, and heads to one of the luxurious hotels to spend a day by the pool while friendly hotel staff serves them fruity cocktails and ice-cold beer. The other group takes the bus and travels down to Cheoc Van Pool, a place on the beach with MOP $20 entrance fee.
There is no poolside service at Cheoc Van Pool, and you can't order food or drinks right from your sunbed. So during summer, La Gôndola Restaurant, which is located next to the pool, becomes the number one dining spot for the Cheoc Van pool-goers.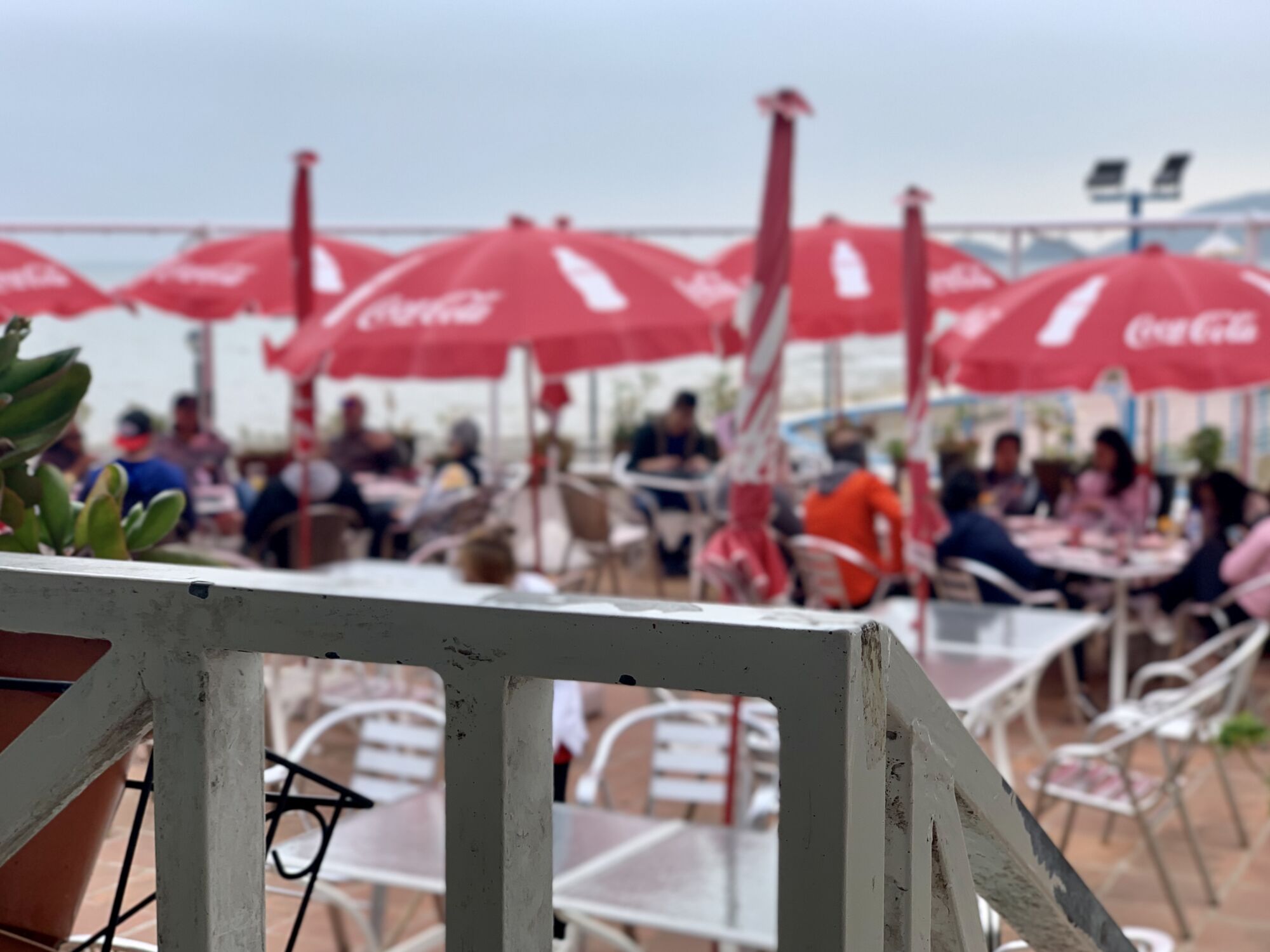 The vibe
After hours of sunbathing and swimming, getting hungry is inevitable. That's when it's time to pack your towels and sunscreen then directing your steps towards La Gôndola. Usually, everybody aims to grab a spot in the alfresco area, a terrace with simple glass tables under Coca-Cola branded umbrellas. Sit back and enjoy the stunning view of Cheoc Van Beach while waiting for your meal. The atmosphere outside is always lively and laid-back, making La Gôndola in Macau a great restaurant for a casual celebration, or a get-together with friends and family. Notably, you can take your well-behaved fluffy friends here too.
There are also enough tables inside, should guests wish to stay inside to escape the mosquito bites or rain.
Also read: Macau Outdoor Dining Guide
Also read: Best Pet Friendly Cafes in Macau

What to order 
We've been here enough to know our way around their menu so stick with us and it's almost guaranteed to make your trip worth it! Overall, Ristorante La Gôndola features simple food with nothing pretentious. As it's an Italian restaurant, there is plenty of pasta and pizza dishes. You can even assemble your own plate, choosing the type of pasta (with a couple of homemade ones) and sauce, from classic bolognese and carbonara to vegetable options and Asian interpretations. 
Check out the "from the grill" section on the menu for squid and shrimps. Among the appetizers, it's always great to have some deep-fried calamari, clams and accompany it with your daily portion of veggies. We prefer the humble green salad with fresh veggies that are fresh and crisp.
If you have any space left for dessert, they offer delicious homemade ice cream. The tiramisu or seradura with an espresso on the side would be a decent way to conclude your meal, too. 
Drinks 
On a hot summer day, there is nothing better than a large jar of an icy drink, be it virgin or alcoholic. If you are up for the latter, try La Gondola's white sangria, a more refreshing version of the classic red wine-based sangria. White wine, fresh fruit, some ice, and good company will turn a casual afternoon into a bit of a vacation. Prefer non-alcoholic drinks? Order a citrus squash or lemonade to cool down and unwind. 
---
Ristorante La Gôndola 41 Escadaria da Praia de Cheoc Van, Coloane, +853 2888 0156, www.facebook.com/pages/Ristorante-La-Gondola
Tags
Related Posts