We all hate those sad puppy eyes our dog gives us each time we leave home. How we wish taking them along to every evening out was possible. Indeed, pets are bound to feel anxious, curious, or bored all by themselves. They may even turn the house into a mess sometimes, in their boredom or even anger. Hence, we are always glad when our favorite establishments also accept four-legged customers! Spend some quality time, chill or enjoy the outdoors. Have a fun day out with your pet without compromising on your social time and yummy food. Here are some pet-friendly cafes in Macau that accommodate you and your furry friend.

Paulaner Wirtshaus Macau
One of the latest additions to Macau's bar scene, Paulaner brings German fleur to town. Serving smoky sausages with Bavarian hospitality on the side and, of course, the renowned German beer, this spot would suit those who look for a casual bar with something different to munch on. Their rooftop terrace will reward guests with fantastic views, and their fluffy family members will love chilling nearby with some fresh water.
Paulaner Wirtshaus Macau 41–43 Rua dos Negociantes, Taipa Village, +853 2838 1038, www.paulaner-wirtshaus-macau.com

Ristorante La Gôndola
This Italian-style restaurant is one of Macau's most popular summer options. Set in Cheoc Van Beach, it boasts a terraced seating area where expats and locals join friends and family to dine, have fun and relax over sangria, a feast of grilled meat or seafood, pizza, and pasta. There is no traffic around, so children and pets can roam and run around playfully and worry-free. Bring your dogs, and have a blast here!
Ristorante La Gôndola 41 Escadaria da Praia de Cheoc Van, Coloane, +853 2888 0156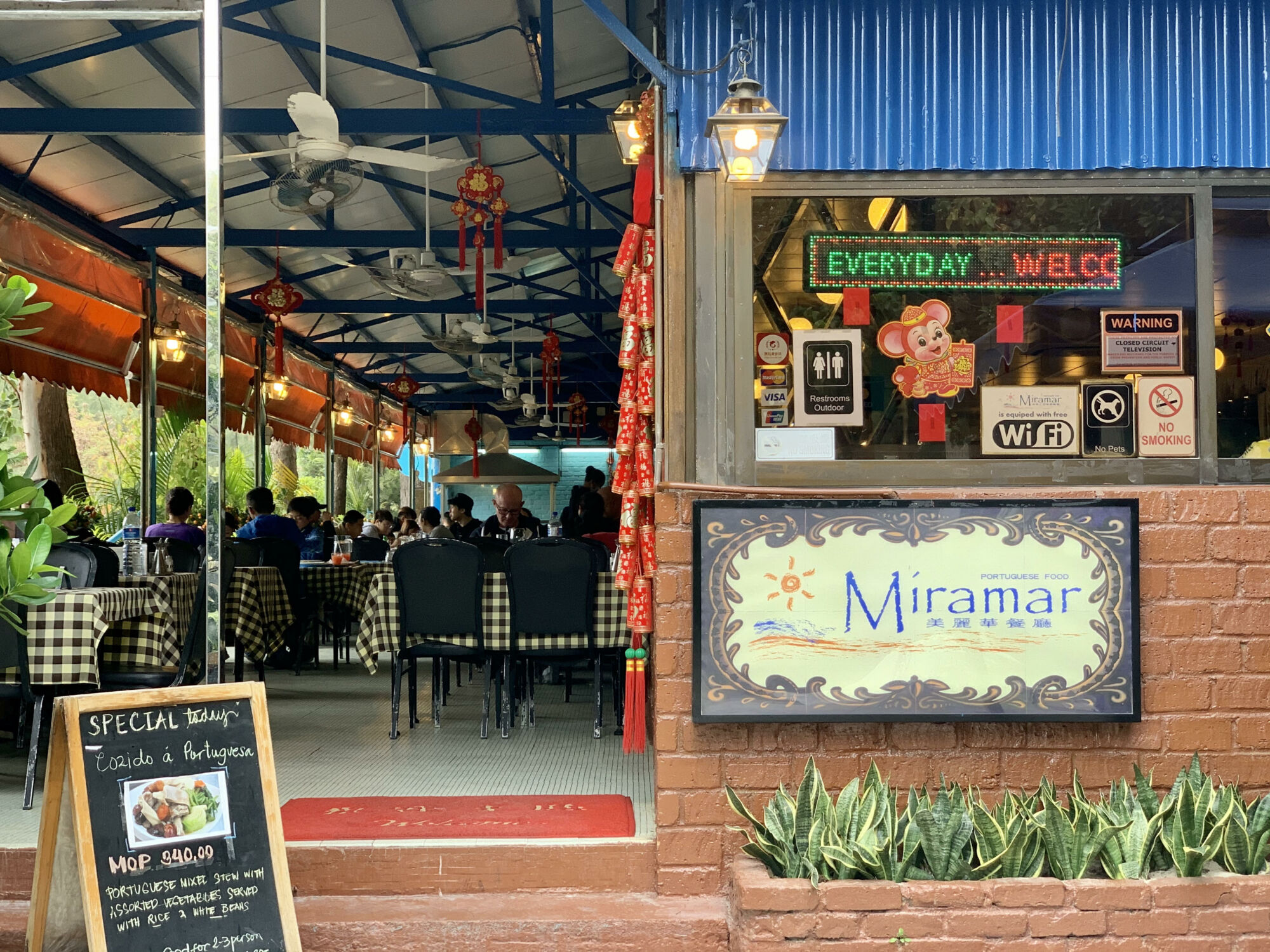 Miramar
Miramar is a Portuguese-based restaurant serving an infinite array of delicious dishes. That includes fish, seafood, and meat directly from the grill and traditional dishes such as seafood rice, duck rice, roasted codfish, among others. Vegetarians also have something to choose from. But the best thing is that you can bring your pet friends as well! Miramar has an outdoor seating area for people to relax and enjoy lunch or dinner time with friends, family, and pets. The beach is right in front, so why not take your dear doggy for a walk before relaxing at Miramar.
Miramar Zona Norte, Praia de Hac Sa, Coloane, +853 2888 2623, miramar.com.mo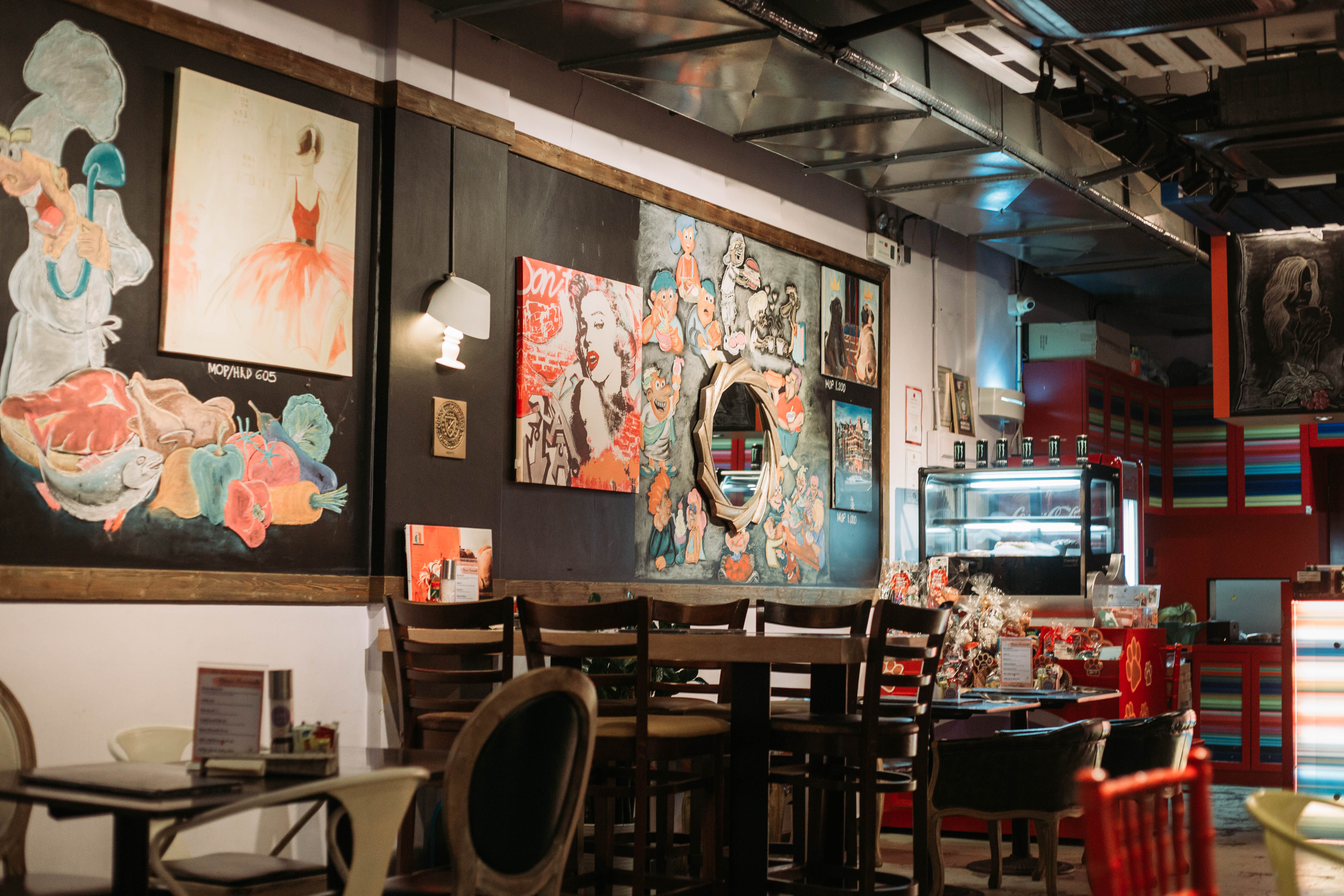 Lax Cafe
Find your average friendly cafe situated on the streets of Taipa island, with an artistic ambiance and a chill vibe. It's hard not to keep your phone away to take some shots of this chic place. Did you know Lax Cafe loves dogs just as much as we do? Lax Cafe has some treats for your doggy to munch on as you enjoy your meal. Stay tuned to their events page on Facebook for pet-related events and activities, which your furry friends will surely enjoy attending.
Lax Cafe 120 Rua De Bragança, Lai Chun Kok, Supreme Flower City, Taipa, +853 2884 3093, www.facebook.com/LAX.Cafe.Macau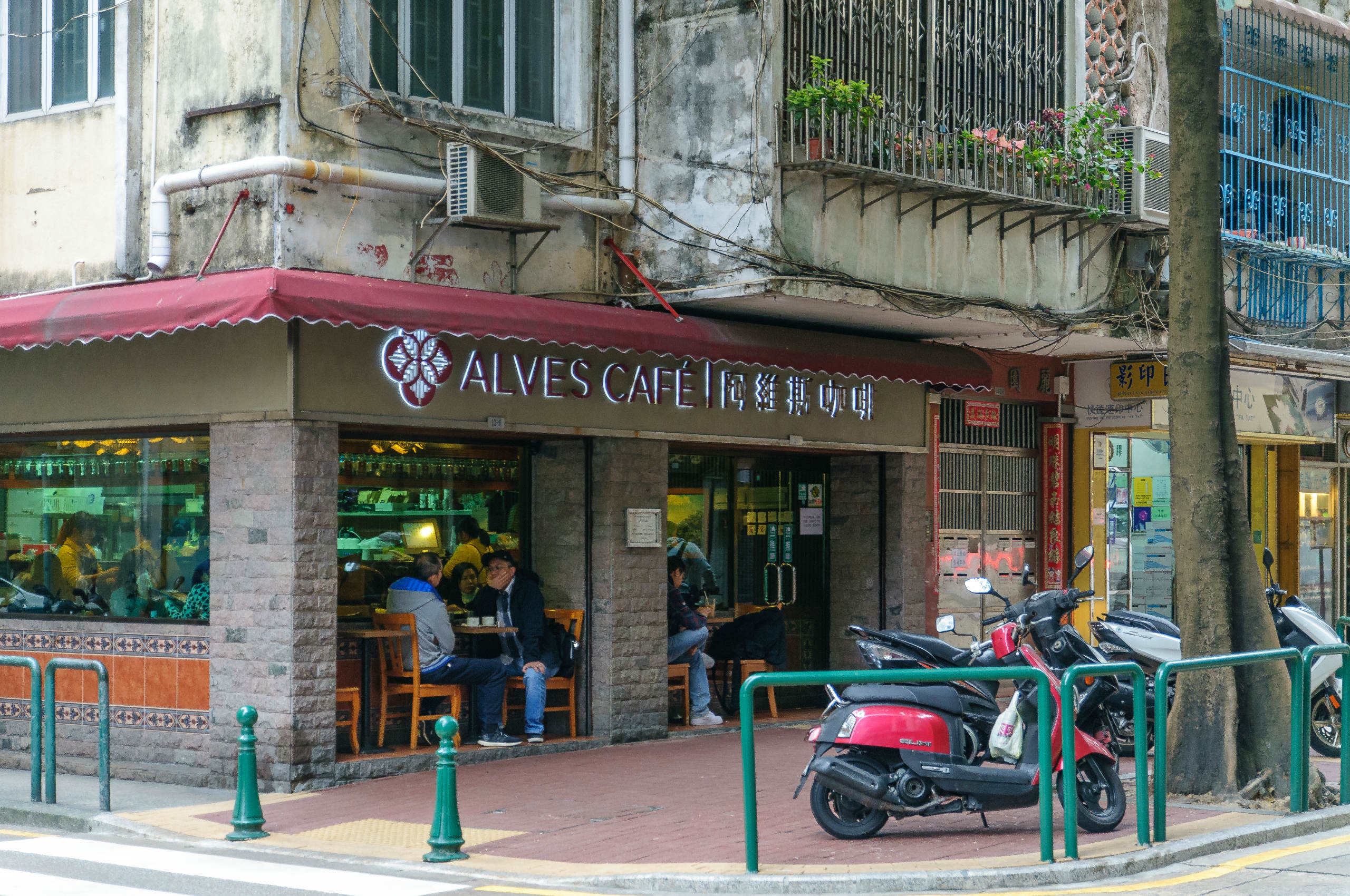 Alves Cafe
Many locals love this Macanese cafe for a hefty lunch or a quick coffee and famous "pressured milk tea," accompanied by their savory sandwiches. Their friendly service alone magically transports you from being in a regular restaurant to a room apt for family gatherings. Pets are welcome to join the party as well since nobody gets left behind in a family. Although pets are preferred to be placed outdoors, it's just as homey outside as inside.
Alves Cafe 49-53 Rua de Sao Joao Bosco, Block A, Hui Fu Garden Building, Macau, +853 2857 1846, www.facebook.com/alvescafemacau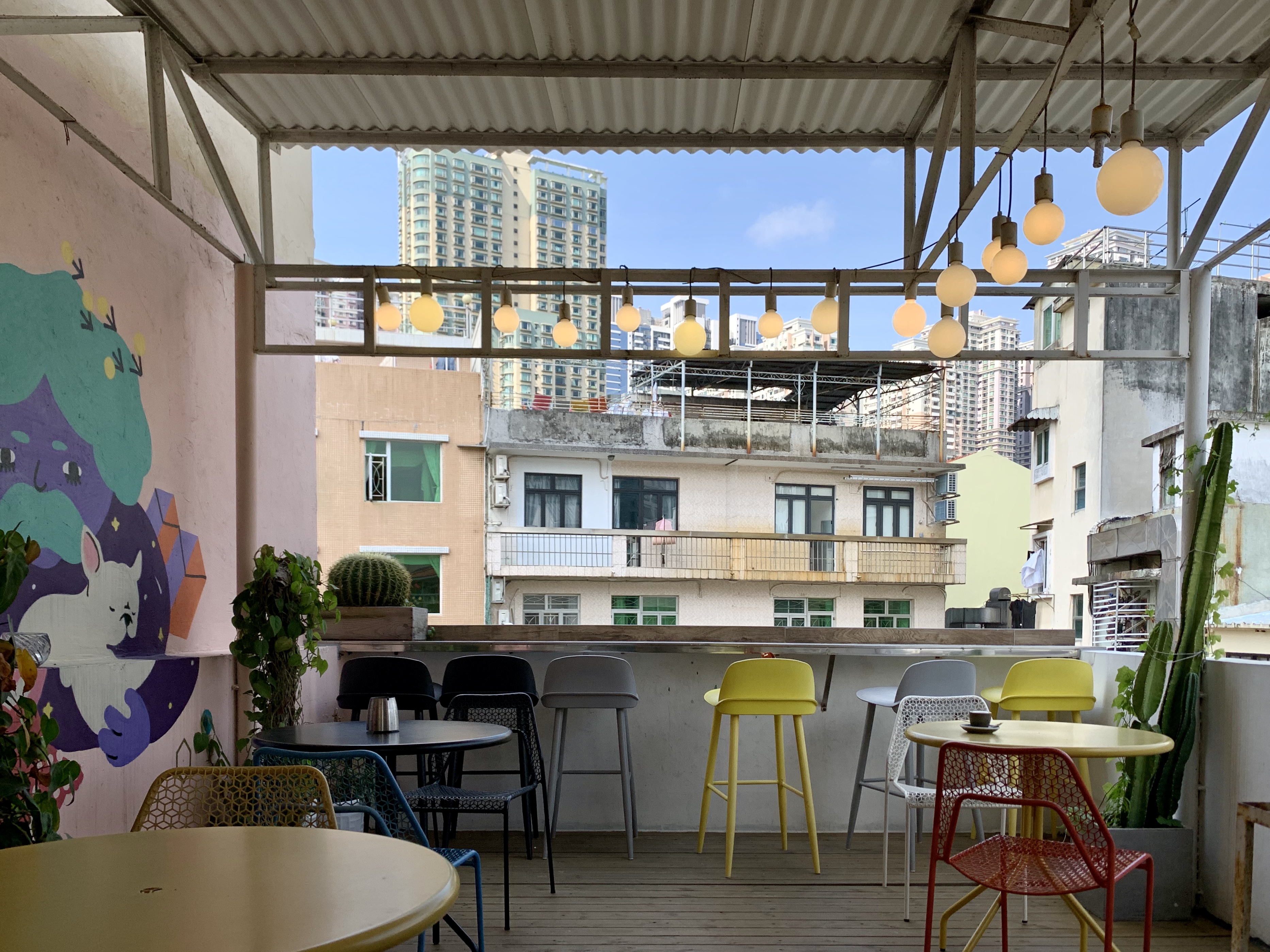 Quarter Square
Taipa Village has plenty of hidden jewels, and one of them is Quarter Square – a gallery, showroom, and coffee shop in one. It's more than just a place you can come and go. We recommend ordering one of their signature drinks, the caramel rum coffee or organic matcha latte. Then enjoy yourself with a bit of chat with the shop owner or relax at their rooftop with your friends and pet. You may catch a friendly french bulldog named Copper that loves meeting other fellow furballs as well.
Quarter Square 89 Largo Maia de Magalhães, +853 2857 6914 or +853 6290 5138, www.facebook.com/quartersquare, www.instagram.com/quartersquare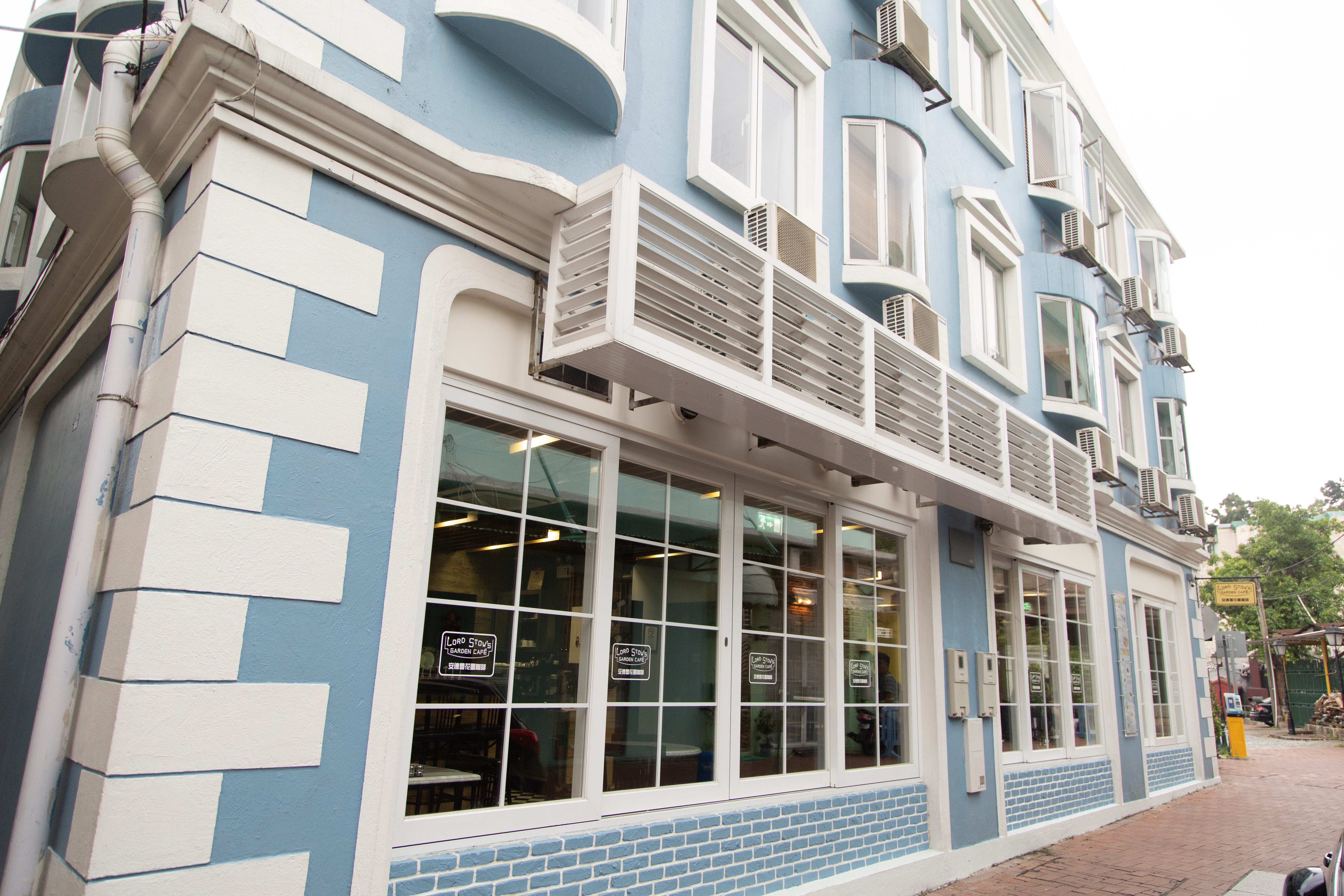 Lord Stow's Garden Café
You may have to journey far and wide for this one, but it'll be worth the travel. This cafe is behind the original Lords Stow's bakery, famous for its luscious Portuguese egg tarts. Skip the queue at the bakery and dine there instead. You would be surprised that it's not just about egg tarts but a whole new world of pastries. Well-behaved dogs are also welcome to dine with you in their front section, on a leash.
Lord Stow's Garden Café 21 Largo do Matadouro, G/F C Houston Court, Coloane Village, +853 2888 1851, www.lordstow.com, www.facebook.com/Lord-Stows-Garden

The Roadhouse Macau
If your furry friend doesn't mind the sound of drums and guitar, bring them to the house of booze, blues, and rock'n'roll – The Roadhouse Macau. Renowned for its live music and great vibes, this bar welcomes everybody, whether you walk on two or four legs. While you sing along to the live band tunes and munch on burritos and burgers, your pet would comfortably nestle under your table in the alfresco area.
The Roadhouse Macau Broadway Macau, Avenida Marginal Flor de Lotus, Cotai, +853 2875 2945, www.facebook.com/theroadhousemacau
Also read: Great Places for Live Music in Macau

Duffy's Irish Pub
The most authentic Irish bar in town attracts the guests with comfort food, refreshing pints, and excellent service with a smile. When you find yourself wandering around Broadway with a fluffy companion on a leash, both craving bangers and mash, head to Duffy's. Like at The Roadhouse, you can stay with pets in the alfresco area. Get some good old Irish stout for you and some water for your dog, and enjoy the classy time together!
Duffy's Irish Pub C-GO02–GO04 Broadway Food Street, Broadway Macau, Av. Marginal, Flor de Lotus, Cotai, +853 2884 5212, www.facebook.com/duffysbarmacau
Also read: Hold My Beer: Macau's Best Pubs & Bars

OTT – Old Taipa Tavern
Who doesn't know this local pub in Taipa Village? OTT has been the number one choice for many locals and expats, serving delicious bar snacks and pouring IPA's and New Zealand sauvignon blanc every day of the week. If you wish to come and play some darts on the second floor, don't leave your dog at home – they can rest on the wooden floor watching their human scoring doubles and bullseyes.
Old Taipa Tavern 21 Rua dos Negociantes, Taipa Village, +853 2882 5221, www.facebook.com/ottmacau

Bottles & Sky Cafe 
A popular get-together bar for One Oasis residents and their friends, Bottles offers an eclectic menu and various drinks at a reasonable price. Be it a cheesy pizza or Indian curry, savor it in a company with your pet sitting at one of their outside tables. As long as your four-legged friend behaves, they are welcome here.
Bottles & SKY Cafe The Verandah, Shop 1 and 8, Estrada de Seac Pai Van, One Oasis, Coloane, +853 2877 2618, www.sunfnbgroup.com/bottles
Also read: Pet Parent Guide in Macau: Need to Know Places & Services
This article was originally written by Hannah Estenilo in March 2018 and updated by Leonor Sá Machado in January 2020 and by Ksenia Kuzmina in May 2021.
Tags
Related Posts