This summer the 7th anniversary of the Malaysian Food Festival is hitting Galaxy Macau again, and they've gone all out to create an authentic experience which will allow diners to immerse their palates in an amalgamation of Southeast Asian and Chinese flavors for which Malaysian cuisine is known.
What is so special about Malaysian food you might ask – well, the best, most distinctive thing about Malaysian cuisine is also its downfall, its vast diversity and range. While this makes it super exciting for foodies, it can also make it hard to define and so it often falls off people's radars. However, the 7th Malaysian Food Festival at Galaxy Macau hopes to change all that and showcase the best and most authentic of the country's offerings.
You may remember the global phenomenon of the 'nasi lemak' burger – the Malaysian McDonald's burger that went viral in 2017 and has since become a staple burger on many an alternative burger bar's menu. The juicy yet crispy, coconut-flavored chicken thigh patty coated with corn flake crunches, a sweet yet spicy sambal sauce, and a fried egg was one of the most Instagrammed foods last year (it's easy to understand why). With even the big burger chain taking it on, pan Asian cuisine has taken the west by storm, with restaurants constantly trying to work the innovative flavors of lesser-known Asian countries into their menus.
Galaxy Macau is taking this a step further with their Malaysian Food Festival which offers guests the chance to sample this amazing cuisine. Yep, there is no need to travel to far-away Asian hideouts to have the ultimate foodie experience this summer as they are bringing it to you. Prepare to be captivated by a blend of spices with a depth of character and complex recipes that will leave an imprint on your memory. The most talented and respected Malaysian chefs will be flown into Macau to create the most authentic street delicacies for two weeks of blissful bites to awaken your taste buds this summer.
EAT
Everyone knows the most authentic way to sample a country's most classic food is to sample their street food. At Galaxy Macau they know this well, and so they will showcase Malaysia's street stall culture through 15 of Malaysia's top chefs, who will expertly cook up a storm of signature street food dishes. While Malaysia guidebooks normally suggest you try these on a visit to the country, you can now get them right here in Macau. You can even try one of Malaysia's culinary secrets, premium durian, which will be integrated with special dishes in new ways. They will be flying in a variety of 10 of the most famous durians from Malaysia and you can read more about that here.
In terms of food highlights, you don't miss the Penang Char Kway Teow and Oyster Omelette (see the featured image above), known as 'Or Chien' in Malaysian. This is a classic dish that most will recognize as there are many variations of it in China and in the night markets of Taiwan. They can, however, differ greatly from the Malaysian original which Chef Toon Chin Wieu will be cooking at the festival. He will serve it with fresh coriander and his secret chill sauce recipe – try it here, and you won't look back at the others.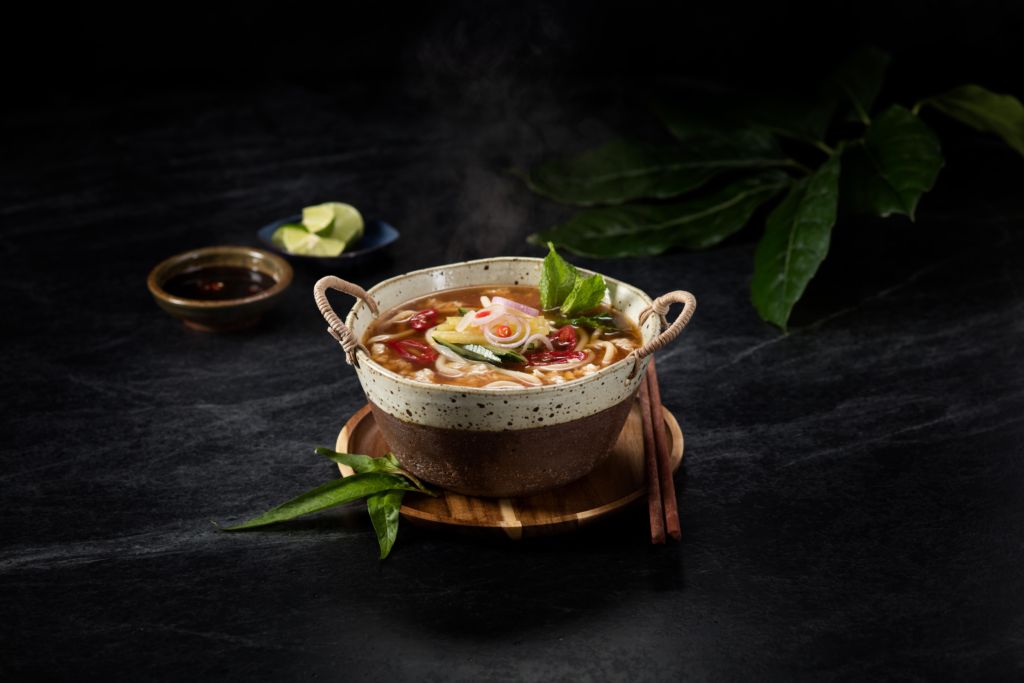 Pangkor Laksa is another dish that you should also be excited to try – a white noodle dish in a fishy soup that comes from Pangkor Island south-west of Malaysia. Usually served both for breakfast and for an evening meal, it is light and scrumptious.
Chef Mohammad Riyazuddin bin Pakeer Mohamed will cook Penang Seafood Bakar and Kajang Satay. Although 'bakar' literally means 'burnt', in the case of this popular Malay and Indonesian dish its name refers to barbecued seafood. Kajang Satay meanwhile is a popular grilled street meat – charcoal-flavored, seasoned and skewered to perfection. Yum!
DRINK
To give you a true Malaysia experience, Galaxy Macau has invited traditional 'tea masters' to perform the art of pulling Teh Tarik in front of your tables during the special buffet dinner. Teh Tarik is a hot milk tea beverage which is commonly found in everything from restaurants to outdoor stalls and is widely drank and enjoyed by all in the country. The chefs will use leaves from the Cameron Highland – the vast acres of emerald plantations in the Pharak district of Malaysia – to ensure authenticity and rich aromatic flavors. They will then expertly 'pull' the tea (referring to the art of pouring the liquid backward and forward between two vessels to produce a creamy froth) in front of your very eyes.
FOR WHO?
A feast fit for a king, this is a dinner that can be tried with family, friends or even alone. The Galaxy Macau's team is sure to provide a warm welcome and make the night one to remember no matter who attends! Book your experience and try these wondrous delights soon!
---
When: August 16–August 31, 2018
Where: Oasis, Grand Resort Deck, Galaxy Macau, Estrada da Baía da Nossa Senhora da Esperança, Cotai
How much: MOP $428 per person (before August 10), MOP $588 per person (after August 11). All prices are in MOP and subject to 10 % service charge
For more information or for reservations, please call +853 8883 2221; or visit www.galaxymacau.com
Tags
Related Posts