Macau boasts numerous iconic structures that are definitely worth a visit but quite frankly none are as striking as the original gem of the city–Grand Lisboa Macau. Nestled right in the heart of Macau's bustling shopping and entertainment district, this stunning architecture was inspired by Macau's lotus symbol. To know more about the architecture, check out this article. An emblem and a true reflection of the city's history, the property is surrounded by incredible UNESCO heritage sites. But most importantly, it is a refined example of Macanese hospitality which we experienced to the fullest during our stay.
A convenient location for tourists, Grand Lisboa Macau is only a 15-minute and five-minute drive away from the Macau International Airport and the Macau Maritime Ferry Terminal respectively. Whether you're visiting the city for business or pleasure, convenience is the essence of this property amongst other incredible features that have made it an ultimate destination and not just for the photo op. Because no one can simply resist a snap of this beautiful building!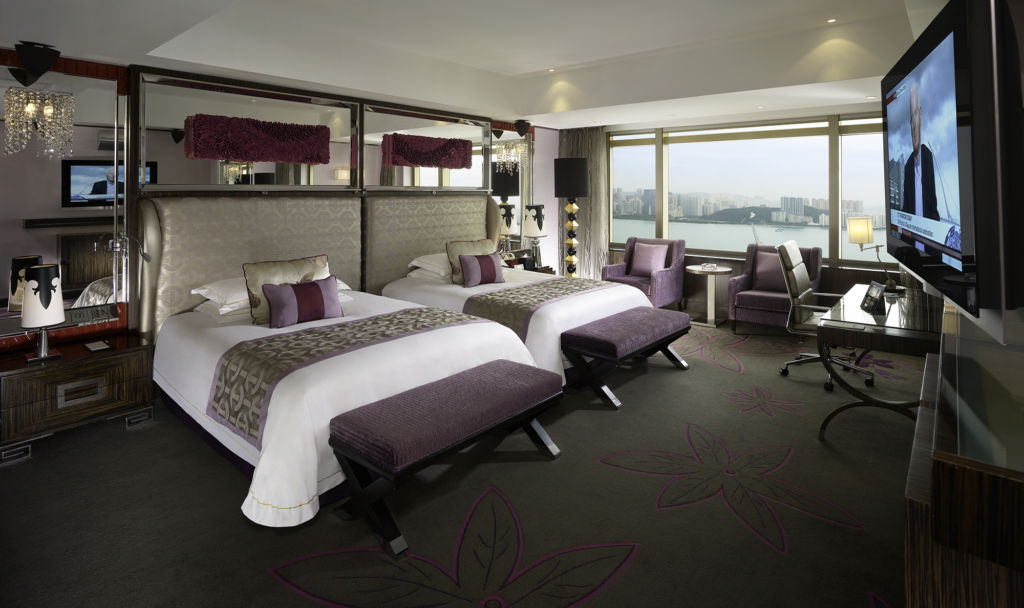 STAY
Purveyors of luxury and excellence with regards to hotels won't be disappointed, with 400 gorgeous rooms and suites at this lavish hotel. The interiors feature plush furniture and unrivaled views that offer an unforgettable experience for all the senses. Don't be intimidated though, there are varieties of rooms for every kind of traveler with different budgets as well. The deluxe room is a good place to start with a Turkish steam bath, a 60cm diameter rain shower, jacuzzi, 40-inch television with 5.1 surround sound system effect and "in mirror" TV in the bathroom. We loved their Hermes amenities and comfy bathrobes to lounge around in too. You have everything you need in your room to keep you comfortable all throughout your stay. So comfortable that you might have to force yourselves out of the room, with so many features to try!
Walking into the rooms is an experience in itself. With incredible views of Macau from all windows, this is truly a place to see a different side of Macau. By the way, if a stunning view from your hotel room is one of the factors you prioritize, check in to one of the corner rooms, especially the premier and deluxe corner rooms. We were absolutely stunned by the breathtaking panoramic view of the city, especially when that was the first thing we saw after waking up! Besides, selected corner rooms come with a magical in-room private sauna or exclusive sky garden. That will definitely help you buff up your content game on Instagram, won't it?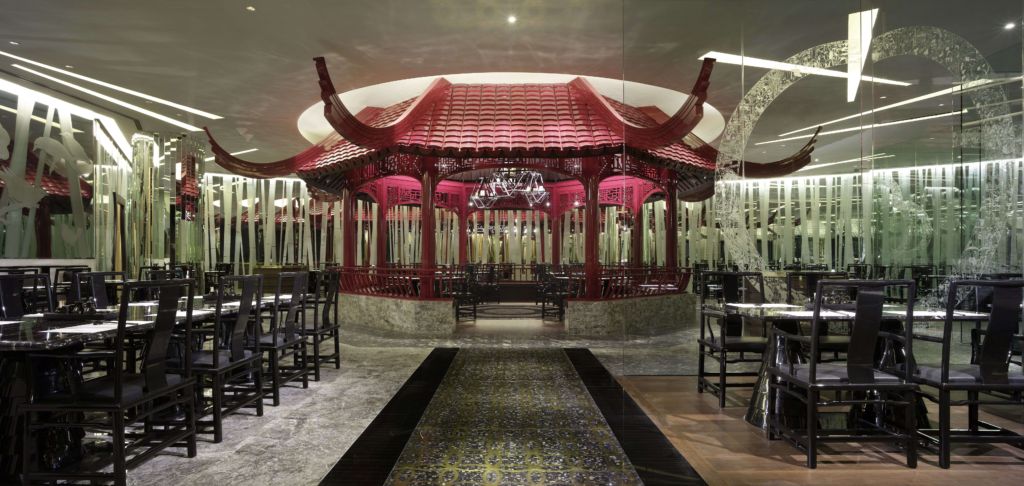 DINE
Home to the three Michelin star French restaurant Robuchon au Dôme, it's enough to say that Grand Lisboa Macau takes culinary excellence seriously. We love everything at Robuchon au Dôme, from the gorgeous crystal light chandelier, made up of over 131,500 pieces of Swarovski crystals, to every bite of the exquisite French haute cuisine. Grand Lisboa's accommodating and friendly staff will be happy to help you with a table reservation.
Furthermore, it also houses the first Chinese restaurant in Macau awarded three Michelin stars–Cantonese restaurant The Eight, one Michelin star steakhouse The Kitchen, and authentic Italian dining at Casa Don Alfonso. An open secret for many food connoisseurs in the region is the hotel's extensive collection of over 17,000 wine labels from all over the world and different vintages too! So the only struggle we experienced at the hotel is the struggle of choosing between the tempting fine dining options.
When it comes to casual food options, we strongly recommend checking out RTC – Noodle & Congee. The restaurant serves traditional hand-made Shan Xi noodles, congee, and snacks. The best part is that it's open 24 hours a day and diners can enjoy specially selected teas poured by the restaurant's kung fu tea master.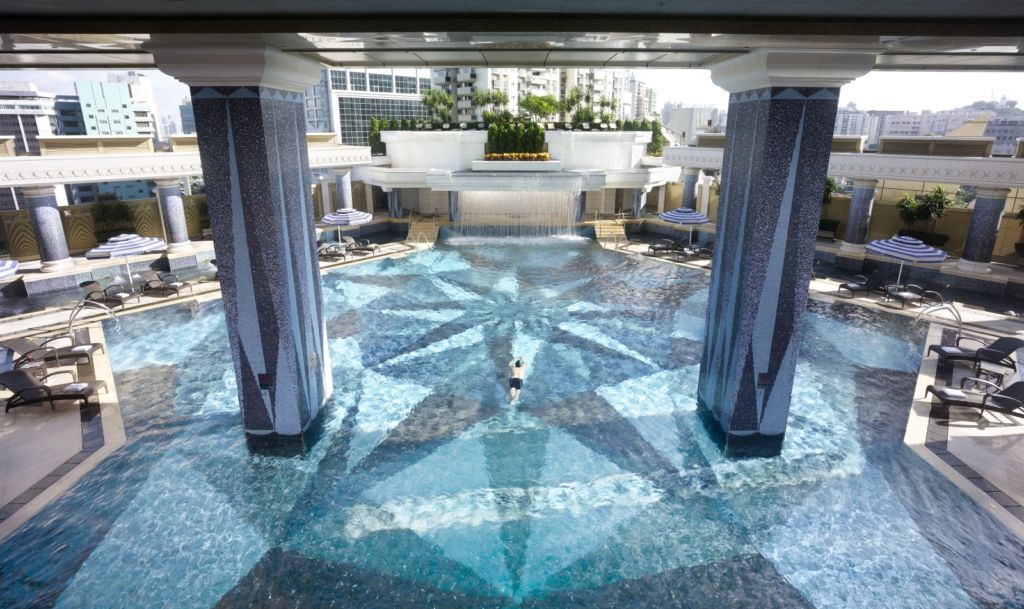 WORK & PLAY
Is there anything better than a relaxing spa treatment after a long day of exploring the beautiful streets of Macau? Head to The Spa and pick one from a wide range of innovative spa programs for your body and soul. If you have a special event or have a table booked at one of the Grand Lisboa's fine-dining restaurants, you can ask a concierge to reserve a spot at Le Salon where the skilled hair stylists will work their magic.
For the gym addicts out there who prefer not to interrupt their fitness routine on vacation or business trips, there is a state-of-the-art fitness center and an outdoor temperature-controlled swimming pool. We truly enjoyed a quick swim there before breakfast.
If you're visiting the city for business, you'll find the business center strategically located in the lobby area of the Grand Lisboa Macau. It offers top-end business amenities including two sets of computers, printing services, as well as high-speed Internet access. Hong Kong and Macau newspapers and magazines are also readily available for your reading needs and of course, every member of the staff is available to cater to the needs of all guests. It's easy to fall in love with this place and keep coming back no matter what the purpose of your visit may be.
TOP TIPS:
Don't miss the Grand Lisboa: Crazy Paris Show. The artistic and sexy Crazy Paris Show which has existed in Macau for 40 years is definitely a popular attraction in Macau that truly lights up your hotel experience. Watch an eclectic mix of modern dance and performance and a wide range of entertainment spread out over the main gaming floor and other venues only found at Grand Lisboa Macau.
It's possible to arrange for a customized guided tour service with Grand Lisboa Macau's concierge via a partnered travel operator. Explore the fascinating city of Macau and its famous sightseeing spots in sheer comfort and convenience.
You don't need to pay for a trip to the airport or terminal because Grand Lisboa Macau offers complimentary shuttle bus services allowing easy access to the Macau Maritime Ferry Terminal and Macau International Airport.
---
Grand Lisboa Macau Avenida de Lisboa, Macau, +853 2828 3838, www.grandlisboahotel.com
Tags
Related Posts