There is nothing quite like a good sunset in Macau. Those golden romantic warm hues disappearing over the horizon as day transforms into night. Even those who prefer staying in the shade love a beautiful sunset, and luckily for us Macau's scattered hilly terrain has some great spots to catch sundown. So get away from the city's chaotic daily life and dive into the light – here are some of the best places to enjoy Macau's sunsets.
Nova Park Building
(See featured image above)
Nova Park residential building boasts a restaurant in its 42nd floor–open to the public–where they frequently organize parties and events. One can also rent the space out. The views from up there are absolutely amazing and have Taipa Central Park as main character. When the skies are clear, sometimes there are pink and light purple sunsets happening, which results in the coolest photographs from this high building; Nova Taipa, Nova City and newly constructed Nova Grand kind of "build" a frame surrounding the park, which allows for nice square photos. It's even better if you have friends living there, as houses have balconies facing the park as well. Have your phone's panoramic mode on and start shooting!
Nova Park Avenida de Guimarães, Taipa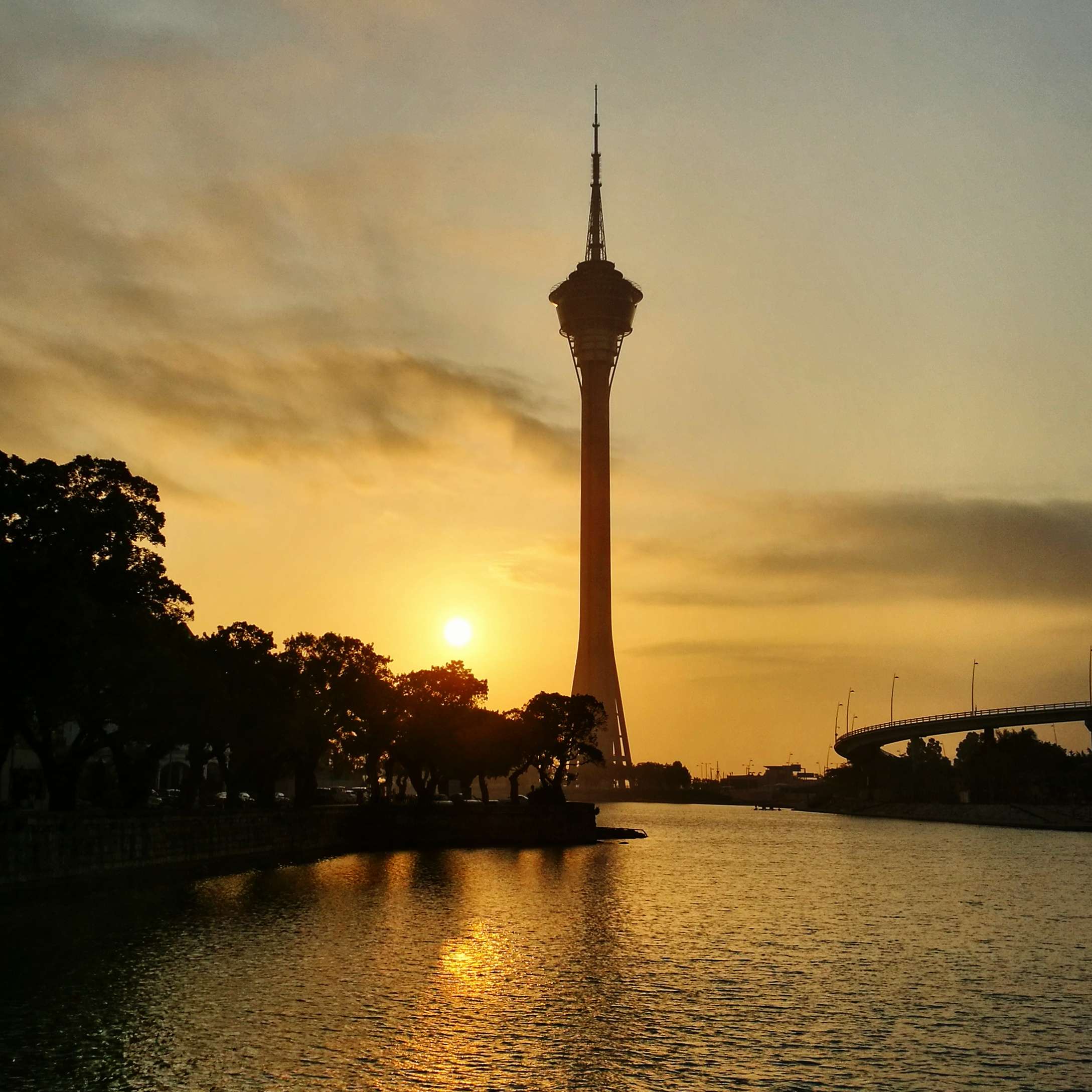 Sai Van Lake
Sai Van lake is the perfect spot to sit and chill. While the lake features cute little boats and some mini-islands filled with green areas, the sun usually shyly sets in the back towards late afternoon. Although Macau summers can be insanely hot, its sky can also be unforgettable, with all shades of pink, purple, white, blue and red.
Also read: Off the Beaten Path: Exploring Sai Van & Nam Van Lake
Also read: Great Picnic Spots in Macau
Nam Van Lake Nautical Centre Lago Nam Van, Macau
Taipa Hill
Did you know the sun sets in front of Small Taipa Hill? Sports and sunsets always go together, if you ask me. When you start climbing this circuit there is a white relief design by Dorita Castel Branco, a Portuguese artist. As the sun sets, the sculpture lights up and it is the perfect spot to sit and relax, possibly along with some friends, snacks and beer as well. This spot lets you enjoy Macau side's view both during day and night.
Small Taipa Hill Circuit 2000 Estrada de Sete Tanques, Macau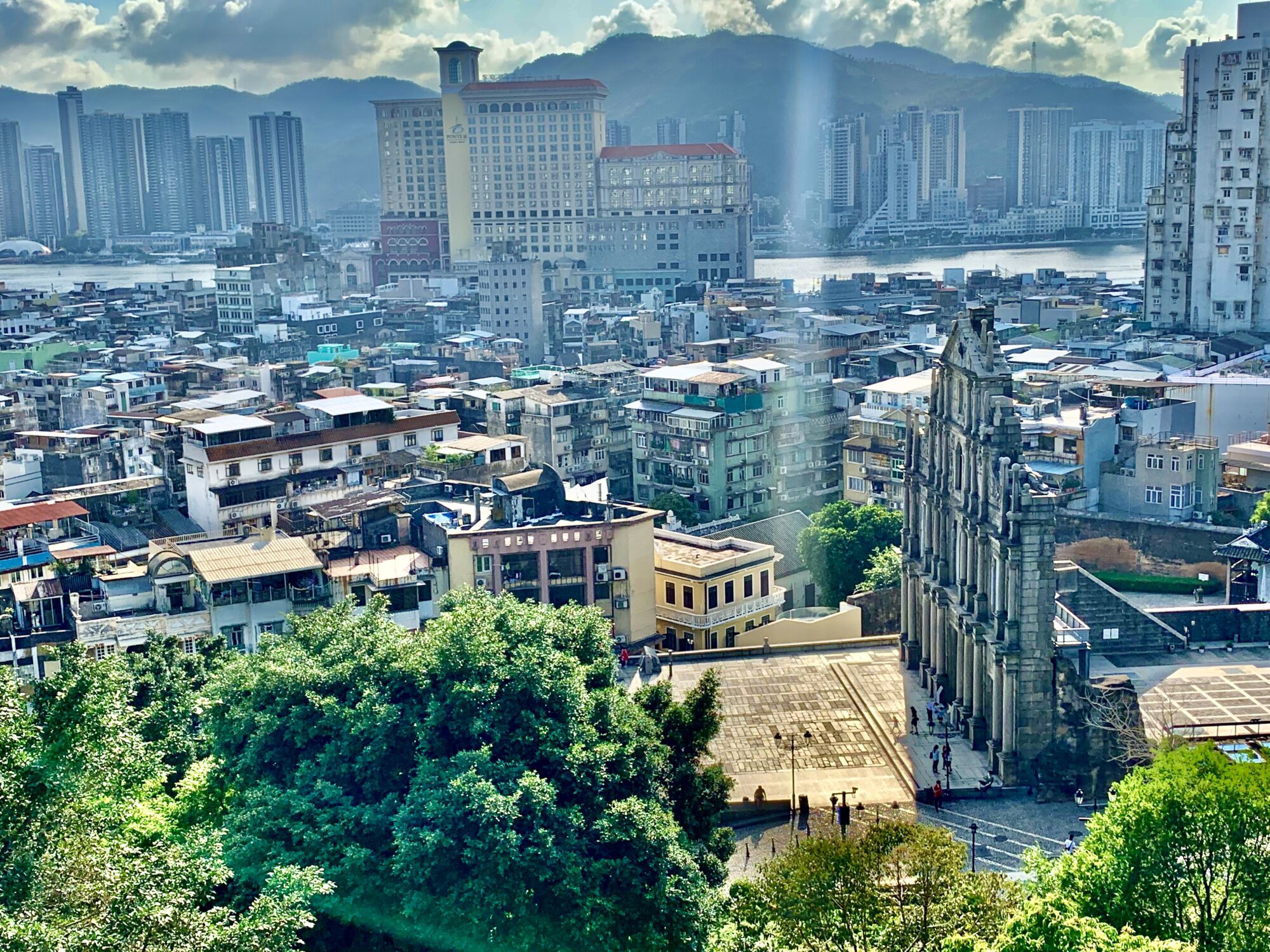 Mount Fortress
The scenic view 360-degree of the city from Mount Fortress will never lets you down. It's tough to climb all the way, and you might get pretty tired and sweaty, but once at the top it will be all worth it. If you're lucky to catch a golden sunset total bliss will take over. This is definitely the best spot to have a full view of the city's true and most raw landscape. The wide area allows one to go around and have a full range understanding of the differences in the Macau landscape and, if you are paying attention, its changes. One can gaze onto Grand Casino Lisboa and the old neighborhoods simultaneously–you will see that Macau is much more than Asia's gaming Mecca.
Also read: Macau's Mount Fortress: The Vatican of the East
Mount Fortress Rua do Monte, Macau
Long Chao Kok Coastal Trail
Completed not so long ago, this hiking trail was designed to give people a peaceful safe haven of a trail. Featuring a small and usually deserted pagoda leading to the sea, walks through this path can be really soothing (or tiring, depending on your goal). When weather allows, it can be the perfect place to enjoy a beautiful local sunset away from the usual tourist paths. The trail starts in Hac Sa Beach and ends near a housing condominium. Just walk for three minutes to reach the bus stop or keep going until you reach Cheok Van Beach.
Also read: Best Things to Do around Hac Sa Beach
Also read: Guide to Coloane's Hiking Trails
Long Chao Kok Coastal Trail Tv. Um de Long Chao Kok, Macau

Penha Hill
This hill has it all. The view, the historic sites, the local twists, the greenery and the relaxing environment. Why not head there for an after lunch stroll through Penha area towards Penha Church, relax for a bit and take some photos until sunset? Enjoy the view while it lasts because it is one of Macau's few spots free from gentrification. This area features several houses with colonial architecture and some green areas.
Also read: Stunning Locations in Macau For Your Pre-Wedding Shoot
Also read: Penha Hill: A Trace of the Augustinian Presence in Macau
Chapel of Our Lady of Penha Hilltop of Penha Hill, Macau, +853 2857 2801
Macao Science Centre
The Macao Science Centre is one of the city's most amazing buildings. Set close to the Macau Outer Harbour, it's known for housing a wonderful and state-of-the-art planetarium where both kids and adults can learn about astronomy and be amazed. The Macao Science Centre also features shows for children and grown-ups, but what we really like at this place are its breathtaking views! Taipa side and Ponte da Amizade (Sai Van bridge).
Macao Cultural Centre Avenida Dr. Sun Yat-sen, Nape, Macau, +853 2888 0822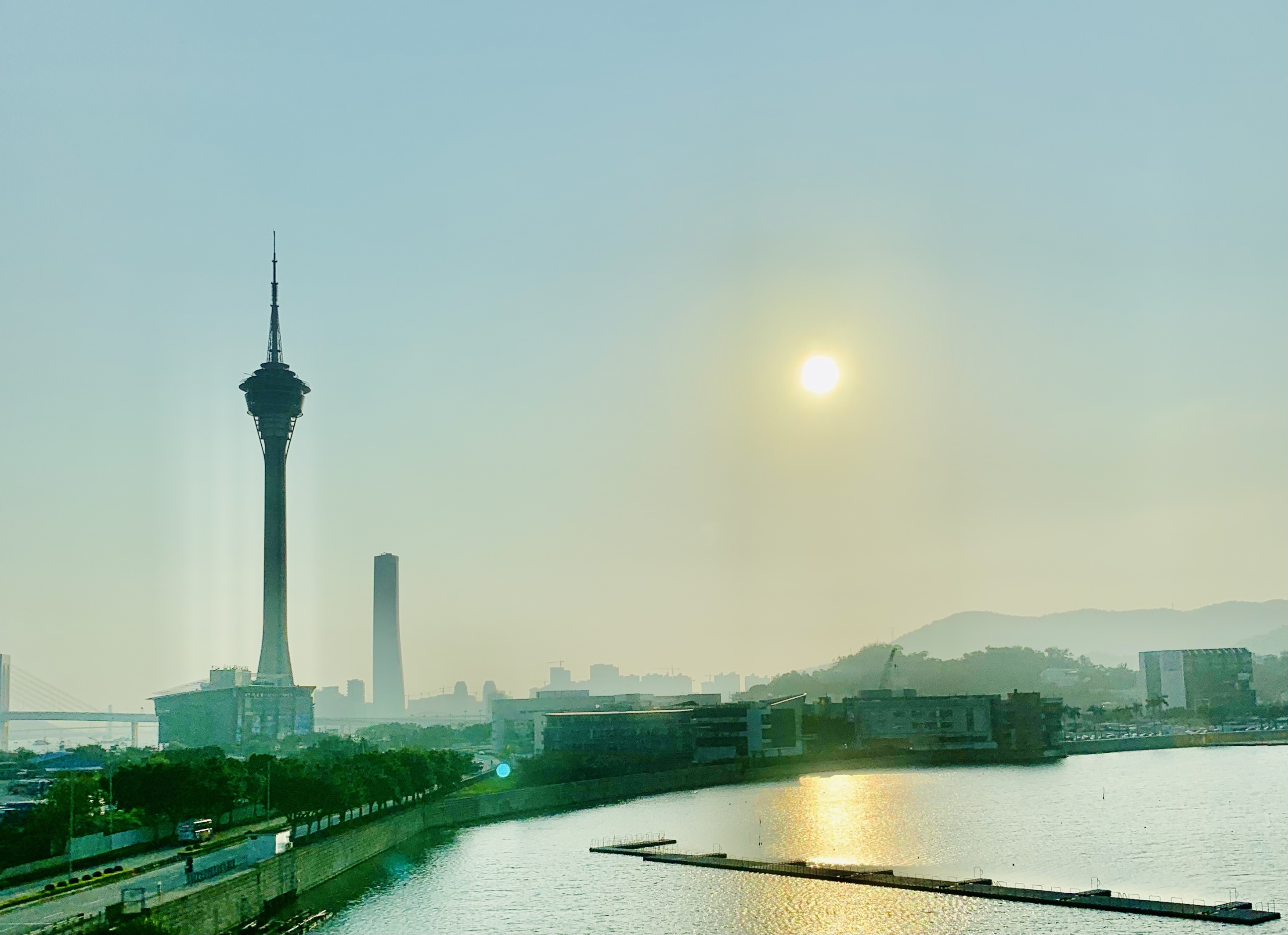 Governador Nobre de Carvalho Bridge
This might be an unorthodox choice, but Governador Nobre de Carvalho Bridge can be an interesting place to enjoy beautiful sunsets. Try taking the bus from Macau to Taipa side and enjoy a window seat on the right side. Watch as the symmetry of the land lines with the sea and if you get it at the right time the sun's rays will shine in as it heads down over the horizon.
Also read: 10 Free Things to Do in Macau
Also read: Five Things Macau Guide Books Won't Tell You: Part 2
Governador Nobre de Carvalho Bridge Pte. Gov. Nobre de Carvalho, Macau
Ocean Gardens
This housing condominium located in the east side of Taipa features a simple yet amazing terrace facing Mainland China on the other side of the river. Although residents might be more comfortable watching the sunset from their own balconies, this terrace offers a breathtaking view as well.
Ocean Gardens Jardins Do Oceano, Macau
Sky 21
Sky 21 boasts some of the best day and night views of the city and this includes, of course, sunset time. With a terraced outdoor area enabling 180º panoramic views, all you have to do is buy a drink or something to eat to sit outside enjoying this beautiful and welcoming spot. It might even feel like a live painting some days.
Also read: Best Rooftops in Macau to Relax At
Also read: Most Instagrammable Restaurants & Bars in Macau
Also read: Best Places for Happy Hour in Macau
Sky 21 21/F AIA Tower, 251A – 301 Avenida Comercial de Macau, Praia Grande, Macau, +853 2822 2122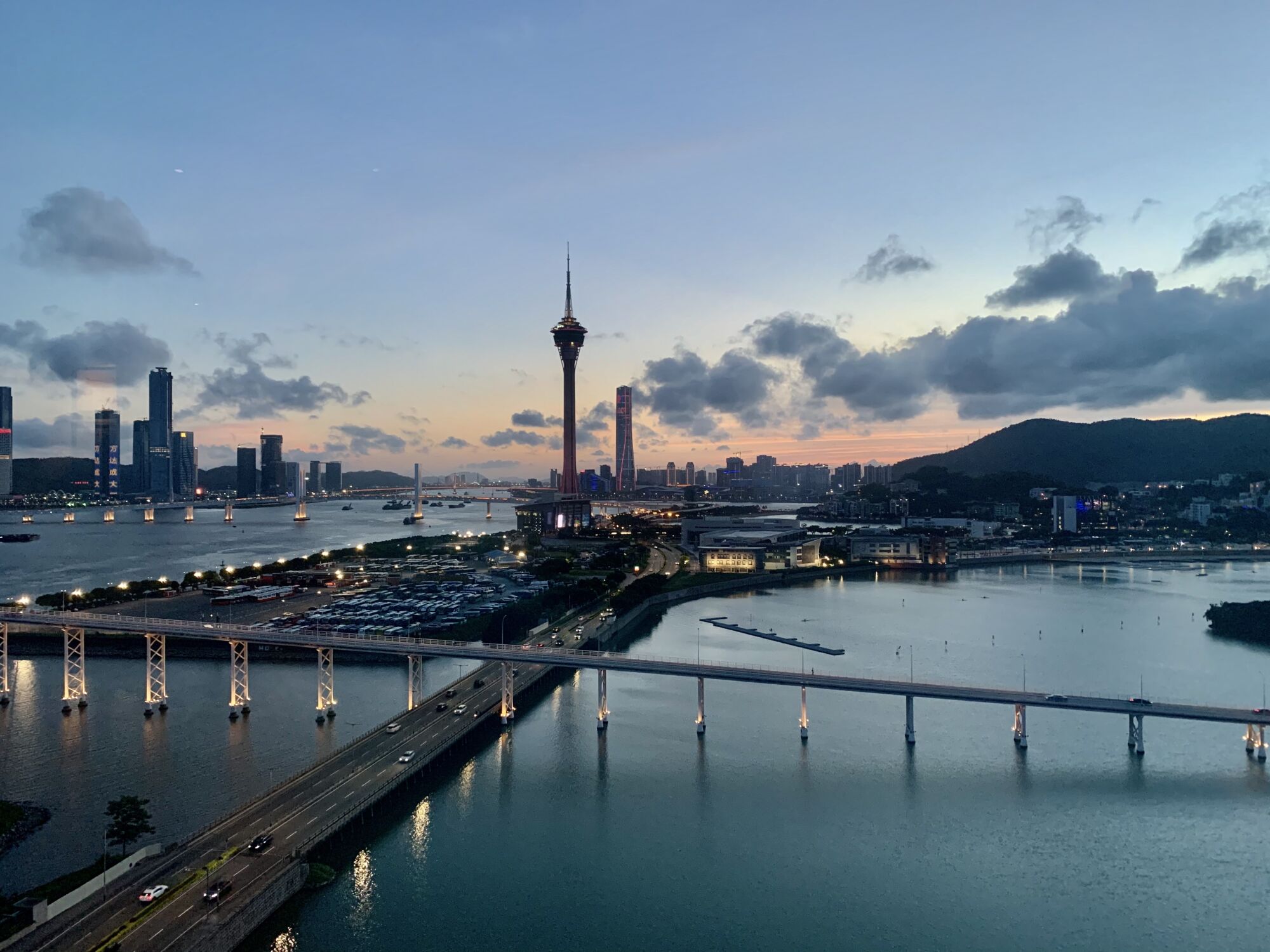 Mandarin Oriental, Macau
Mandarin Oriental, Macau is one of the hotels with the best views in town. You'll be able to take plenty of great photos sitting at Vida Rica Bar's comfy sofas, but the ultimate sunsets are best enjoyed at one of their rooms facing the lakes. From Taipa all the way to the Macau city centre, you'll see everything! The water moving slowly, cars passing by as the day turns into night. Watch the city lighting up as the sun goes down and have the Macau Tower as a reference for beautiful shots.
Also read: Best Staycation Packages in Macau
Mandarin Oriental, Macau 945 Avenida Dr. Sun Yat Sen, NAPE, Macau
Tags
Related Posts