Macau is a great city and one of the best things about it is how close it is to so many other interesting places to visit. Whether you are visiting Macau or live here, here are some of our favorite places for a day trip from Macau. From Hong Kong to Zhuhai and Shenzhen, there's an array of possibilities when it comes to heading out and exploring nearby cities. The best thing is that all of these places can be reached in less than two hours!
Hong Kong
(See featured image above)
Whether you've been living here for ages or just arrived, a day trip to Hong Kong should definitely be part of your itinerary! It's always a great option when you need a break from Macau. Although it houses almost seven times more people than Macau, Hong Kong is home to beautiful buildings, wonderful beaches, hiking trails, and fabulous food. This neighboring city of ours has something for everyone–whether you're looking for a quiet adventure in nature, relaxing on the beach or dining at one of the high-end restaurants or partying in the clubs.
If hiking and chilling at the beach is your thing, our pick is Shek O Country Park, which includes one of Hong Kong's gems for hikers–Dragon's Back, a four-hour trail that will certainly leave you breathless but satisfied. The trail isn't too steep nor too far and we often see school-aged children joining their parents! The hike can end at either Big Wave Bay–the best place for surfing in Hong Kong with a few cafes to stop by–or go right down to Shek O Beach for some takeaway Thai food, a quick dip in the sea and watching the sunset with your loved ones.
If the hustle and bustle of the city is something you relish, start from IFC (International Finance Center), head up the escalators and explore from there, where there are lots of great streets full of cafes, temples and local life. We love heading over to Sheung Wan, Sai Yin Pun and Kennedy Town. Those are easily walkable and a great way to get to discover new places in the suburbs. We have an article on the 40 best free things to do in Hong Kong island, plus outlying islands, so why not take a peek at it and find out more?
How to get there: Hong Kong can be reached by ferry–arriving in Sheung Wan–or the Hong Kong-Macau-Zhuhai Bridge, connecting you to Lantau Island. Ferry tickets cost between MOP $160–200, while crossing the bridge is MOP $65–70.
Kowloon
A day trip from Macau to Kowloon is nothing new to those of us living in Macau, however, there are just so many places to see it has to be on our list of best day trips from Macau. When crossing the river–by bus, taxi or MTR–one enters a whole new world. From hip art galleries to new restaurants and shopping malls, there are so many experiences to seek. One of the neighborhoods we most enjoy on this side is Yau Ma Tei: besides Mongkok's Ladies Market, there are several nice boutique hotels with restaurants and bars inside, but also a cute shopping mall with a huge bookshop filled with culture, literature and alternative readings, cinema halls, and a records store. It's called Kubrick and head there if you're more into the indie scene than mainstream. For those design lovers, a stop by the newly opened K11 Musea is a must. With stunning interiors, interesting selection of shops and home to MoMa Design Store (the first and only in Hong Kong) there is also some great restaurants, cafes and ample space to walk around. Connected along the Avenue of Stars, you can also check out Rosewood Hong Kong or follow the path along until you reach The Kerry Hotel.
If you're really looking for a peaceful day, head to one of these three options–Plover Cove Country Park, Sai Kung area or the beautiful and relaxing High Island, a rare acidic polygonal volcanic set of rock columns. Choose to camp at these places or after having your fill of nature, just head back home. If you're heading to Sai Kung in search of a succulent seafood lunch, our handy guide to Sai Kung will be useful to navigate around the area.
How to get there: Get to Kowloon by hopping on a ferry directly stopping at a ferry terminal on this side of Hong Kong, or arrive at Sheung Wan and get on the MTR towards the other side. Tickets for the ferry ride cost MOP $160–200.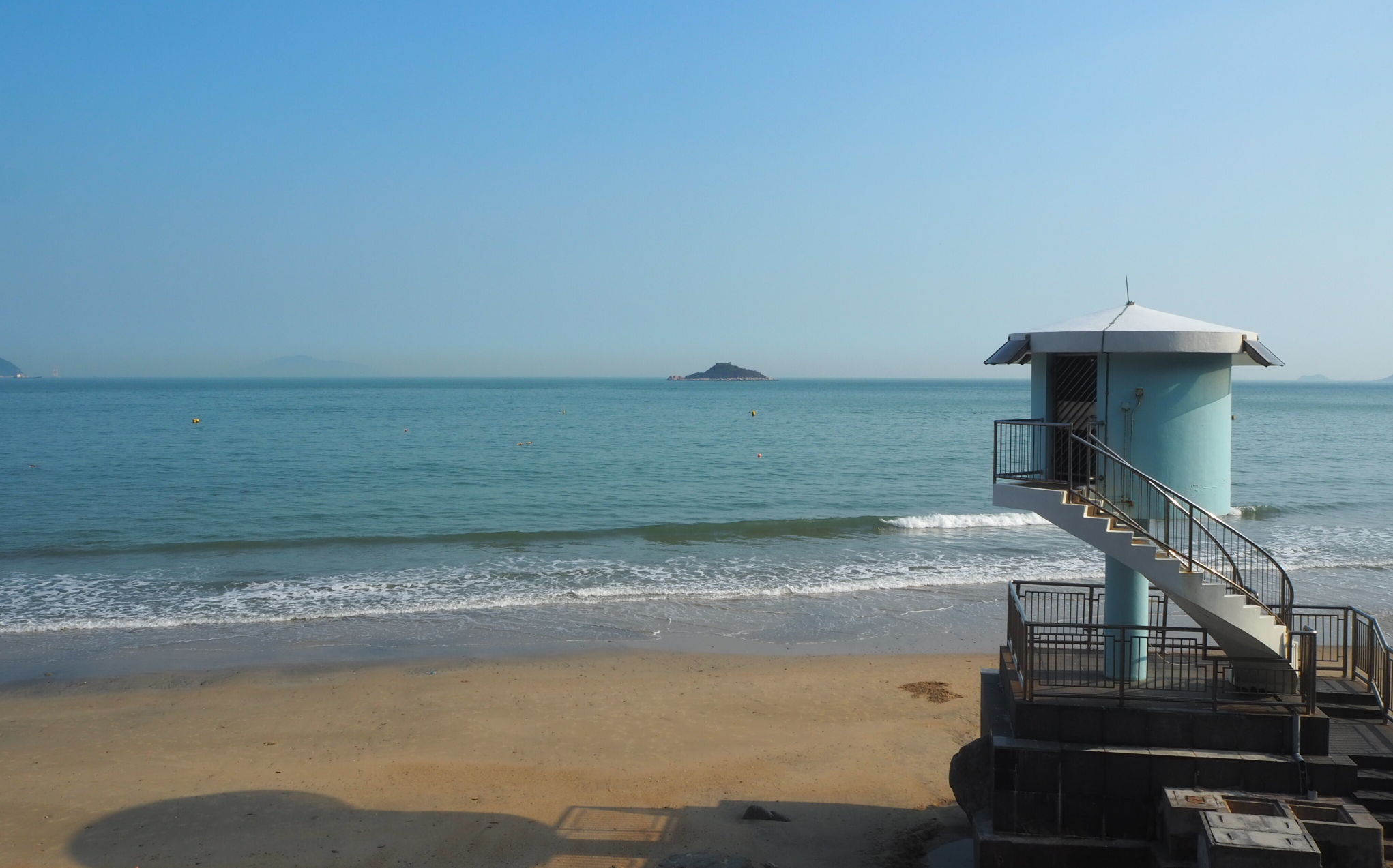 Lantau Island
One goes to Lantau Island to sunbathe, eat, drink and chill. This area is one of the best in Hong Kong, especially when it comes to a day trip worth your while. Either by ferry reaching Mui Wo through Central, or MTR–leading to the other side of the island–Lantau Island offers a great variety of restaurants, beaches and things to do. There is a huge outlet shopping mall with brands like Samsonite, Hugo Boss, Havaianas, Banana Republic, Max Mara, Timberland, Massimo Dutti, Levi's and so many others, everything with incredible discounts you'll hardly find elsewhere.
The best beach on the island is Welcome Beach and its located in the middle, reachable by local buses–Welcome Beach is actually a desert, with nothing in sight. This is great if you want silence, but not so good when you get hungry. However, worry not–restaurants are 10 minutes away at Upper Cheung Sha Beach. The latter is usually less silent but has a lifeguard, lots of eateries, including fresh fish and BBQ stalls, with showers and other facilities. Pui O and Tong Fuk Beach are also wonderful choices. Visiting Lantau Island is one of the best ways to have a nice break from Macau and have a mix of choices for how to spend your time.
Lantau Island also includes a charming little fishing village, where local experiences are very much still alive. Tai O stilt houses are a piece of the city's heritage, really worth your while if you are a history lover. It also has lots of cute cafes and restaurants to chill out at. Mui Wo is the same with cows roaming around peacefully in the middle of the road, while cars and people patiently wait for them to amble along. Big Buddha and having lunch at the monument's monastery is also a great way to spend the afternoon while overlooking the island on the way there by cable car. We're sure you could get used to this lifestyle! If hiking is what you were thinking of to get your mind off work, check out the Olympic Trail. We've also been there for an entire weekend and it's a really great way to spend a weekend–it feels like you're on holiday but without going too far. Lantau Island remains one of our favorite islands and one of the best day trips from Macau.
How to get there: Lantau island is reachable through the HMZ Bridge–which literally stops at the island. Take the ferry to Sheung Wan and then to Mui Wo pier (south), or the MTR, getting out at Tung Chung (orange line). The ferry to Sheung Wan costs between MOP $160 and $200, while from Central–Mui Wo is set at less than MOP $20. It costs MOP $65 or MOP $70 depending on if it's day or night and the same to return to Macau.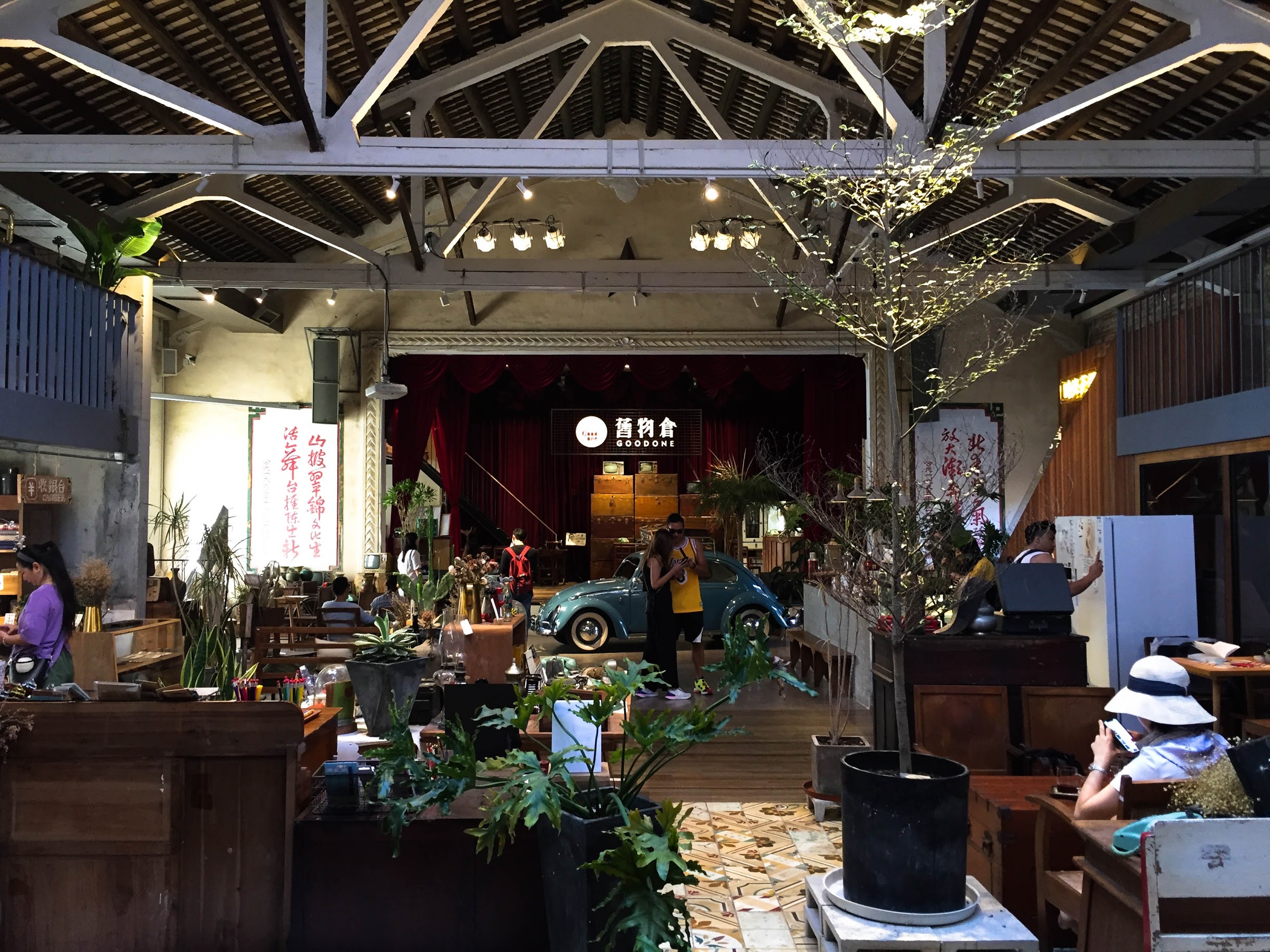 Zhuhai
Zhuhai has much more to offer than shopping malls and great massage places. It has a modern, contemporary cultural hub called Beishan, that is quite close to the Gongbei border. There are also several parks, gardens, and interesting restaurants and bars area (LETS Cultural District) attracting a young crowd of both locals and expats. This article on Beishan's cultural district will have you want to sip ramen and listen to jazz all day long. Don't worry, we also got you covered if the idea is to stay longer than just a few hours. Here's what to see, where to sleep and what to eat on a 24-hour trip to this buzzing city! Heading to Zhuhai for the day is one of the more affordable and easier day trips from Macau.
Another area quite sought out by foreigners for outdoor dining and clubbing is Huafa, which besides having a cycling route along the river, it offers a wide range of dining options and more. Venues there hosts weekly live concerts and other shows, so you might be in for a great night when heading there on a weekend. This city is huge and you might be unable to check it all out in just a day, but it's surely enough to relax and unwind.
How to get there: Hop on a bus to Gongbei port, cross the border with both your ID card and passport, and when on the other side, just head to the taxi station and show them the address you wish to head to. Also, always have everything in Chinese to show taxi drivers or people on the street if you get lost. The journey takes less than one hour and one way costs RMB $70–90 per person.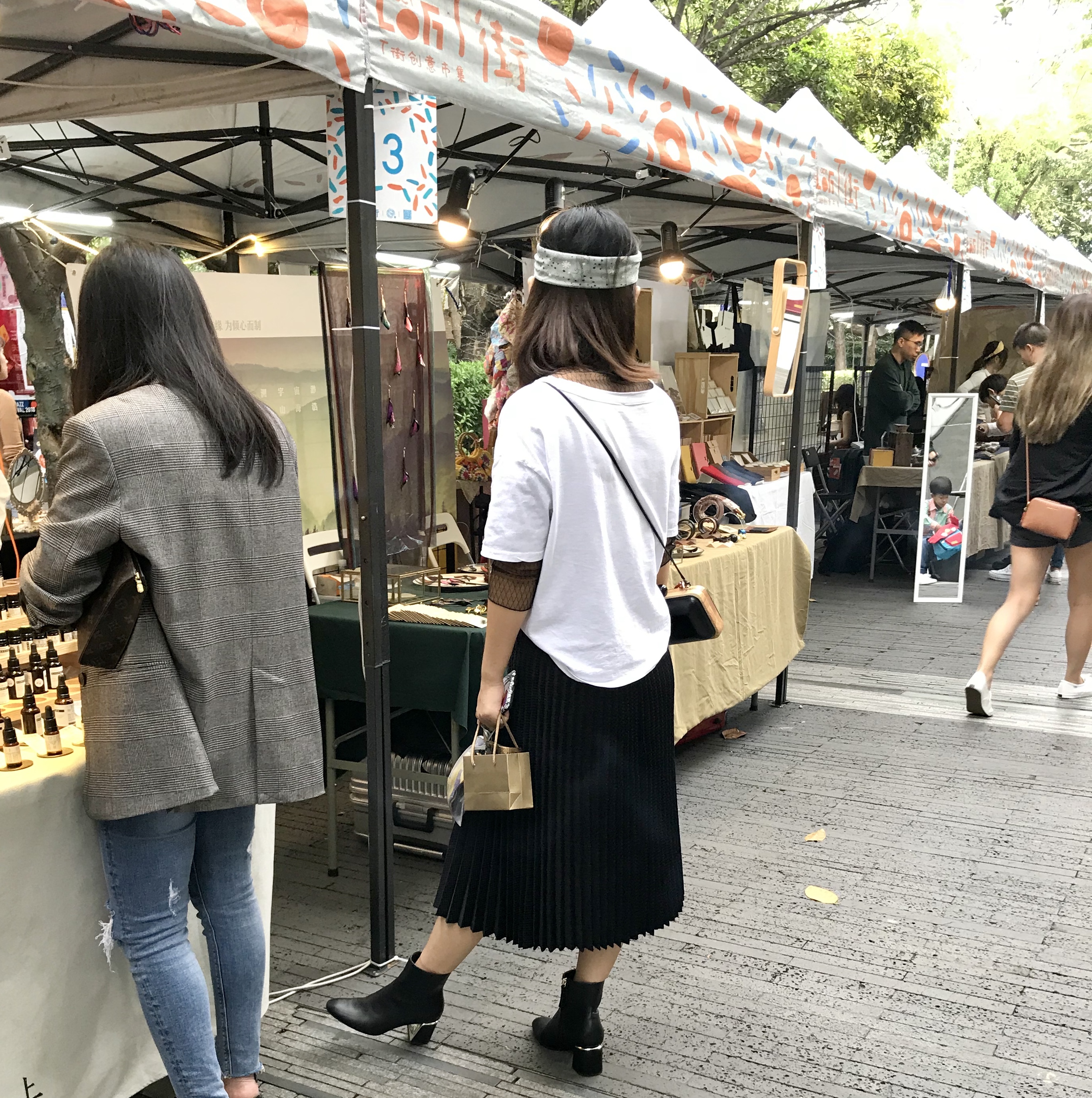 Shenzhen
OCT. Yes, OCT is the place to go in Shenzhen. If you are a culture addict, there are tons of art galleries and shops specializing in handicrafts, books, music and much more! OCT is located a bit far from the ferry terminal–where you arrive when coming from Macau–but worth the taxi ride. This is our preferred means of transportation when time is key in this city–besides being cheap, it's the quickest way to reach anywhere.
There's also an area full of restaurants and bars which is close to the ferry terminal. It's called Sea World because it features a huge ship in the middle, filled with restaurants and music all around. Affordable, fun and located outdoors, what's not to like in Shenzhen? There are also affordable massage parlors, huge shopping malls with interesting finds that might not be found Macau, as well as design shops and boutique hotels. Shenzhen is also known for its electronics markets. Huaqiangbei is the one everyone goes to and if you're looking for a new phone or computer, electronic pieces or something specific for any tech-lover, this is the place to go to. Shenzhen is easily one of the easiest and best day trips from Macau.
How to get there: Head to Shenzhen by ferry, but double-check on the schedules, because they don't run as frequently as the ones to Hong Kong. You can depart from both Taipa and Macau side terminals. Roundtrip costs MOP $500 per person, as one way costs MOP $250. You can check on the ticketing information here.
Guangzhou
Guangzhou is less than an hour away from Macau by train and a great option for a day trip from Macau. To reach Guangzhou you leave from Gongbei port, since it departs from Zhuhai train station. The city is quite developed, revealing a modern and contemporary China. Besides wide parks and gardens where you can sit, read and relax, there are marvelous architecture pieces scattered all over the city.
A shining example is the Guangzhou Opera House. Designed by master architect Zaha Hadid, it opened in 2010 and has the most beautiful, modern lines. Featuring a restaurant outside, let them pour you a glass of wine, ask for some snacks while overlooking the lake and just chill. There is also a huge bookshop with lots of English language books, so why not head there and get yourself some material to read when you're back home? Guangzhou's art scene is almost as hot as the one in Beijing's art district–798 Art Zone–where contemporary artists get together to showcase unique pieces. It'll be difficult to cover the whole city in just one day, so be sure to think about taking a weekend or so to revisit. If you only have 48 hours, we have the best guide for where to stay, what to do, visit and eat while there! There are also quite a few beautiful hotels popping up over the city which offer fantastic views over the city, the Four Seasons Hotel Guangzhou is a great place to take in the gorgeous views over a fantastic cocktail before heading back home at the end of the day.
How to get there: Guangzhou is a short train trip away, so cross the Gongbei border on foot, turn left upon exiting and there's the train station you're looking for! Ask for a roundtrip ticket to Guangzhou and the rest is easy. Hop on and start enjoying your day. Check for more info on ticketing and schedules here.
Tags
Related Posts