You don't have to travel too far for a well-deserved holiday with the whole family. Treat them to an awesome stay-cation right in the heart of our very own city. No matter what you do, do it as a family to further strengthen your bond! If you're planning a family trip, here're our top picks of the best family-friendly hotels and resorts in Macau.
The Parisian Macao
(Featured image above)
Everything about The Parisian Macao has been tailored to fit a perfect family holiday. Choose from rooms and suites designed with the comfort of families of various sizes in mind. Head to Aqua World for a splash of adventure. The little ones will love the fantastic water features and the wading pool, while older children can go wild with water guns on the gigantic pirate ship. Additionally, Qube Kingdom is an indoor and outdoor play area located right in the hotel to keep kids actively occupied. Go to the top of The Parisian's Eiffel Tower for the magnificent view and remember to take pictures! There are also many dining options to choose from and the hotel is always bustling with activities.
The Parisian Macao Estrada do Istmo, Lote 3, Macau, +853 8111 2300, www.parisianmacao.com
Also read: Best Staycation Packages in Macau

The Venetian Macao
This is a one-stop-shop with the biggest casino in the world for the adults and a variety of entertainment options for the kids. We recommend the famous Lord Stow's Bakery for their egg tarts that are sure to delight! Take the kids for a fun ride in the gondola and go shopping in one of the many boutiques. The massive indoor play area is also near one of the gondola canals and guarantees a day of fun and enjoyment.
The Venetian Macao Estrada Da Baia De N. Senhora Da Esperanca, S/N, Taipa, Macau, +853 2882 8888, www.venetianmacao.com
Also read: Getting Around Macau with Kids
Also read: Wake Up Here: The Venetian Macao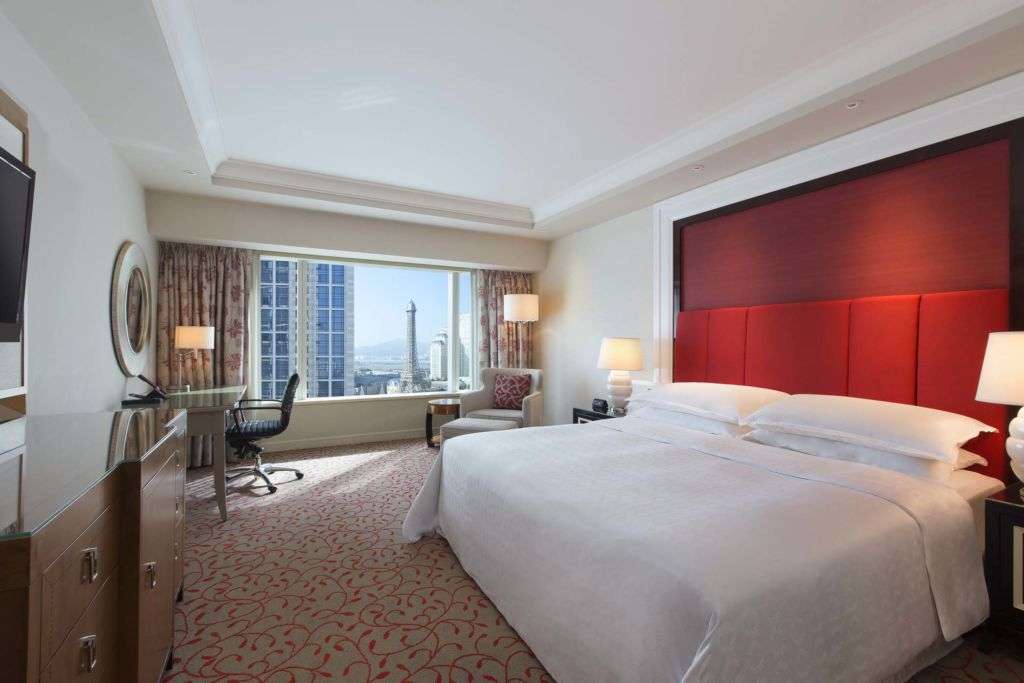 Sheraton Grand Hotel Macao
Sheraton Grand Macao Hotel boasts 4,001 stylish guestrooms, which includes 350 suites and Sheraton Club rooms, and a well-appointed Club Lounge. The three signature restaurants–Bene, Feast, and Xin–offer fine Asian and international cuisine. There are also three swimming pools, the holistic Sheraton Fitness, a kids' program, and other incredible amenities catering to leisure travelers and families.
Sheraton Grand Hotel Macao Estrada Do Istmo, Cotai, Macau, +853 2880 2000, www.sheratongrandmacao.com

Grand Coloane Resort
Escape from the stress of the big city and explore the secluded shores of Coloane Island. With lush tropical surroundings and the serene sea as a beautiful backdrop for a range of activities, the Grand Coloane resort has something for everyone. While away the hours at the club, or head to the wellness recreation center with a gym and soothing spa. Select from the indoor or outdoor pools or get the kids moving with table tennis, pool volleyball, yoga classes, swimming lessons and more. There's even a Kids Club that offers hours of fun for the little ones.
Grand Coloane Resort 1918 Estrada De Hac Sa, +853 2887 1111, www.grandcoloane.com
Also read: 5 Things to Do at Macau Giant Panda Pavilion & Seac Pai Van Park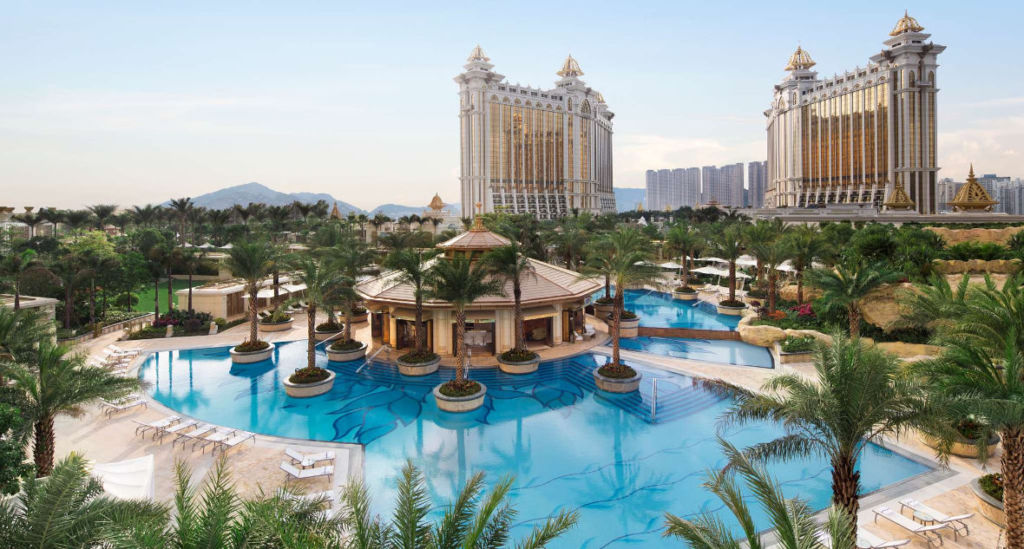 JW Marriott Hotel Macau
Set within Galaxy Macau, JW Marriott Hotel Macau is stunningly located. There's instant access to a wide selection of international cuisine and vibrant entertainment, along with all the amenities parents could wish for. The luxurious rooms and suites are styled with elegance and overlook majestic views of the Grand Resort Deck. Think of it as a retreat within the city! Take the little ones to the JW Kids' Club that features an array of interactive activities for children designed to both educate and entertain.
JW Marriott Hotel Macau Galaxy Macau, Estrada Da Baia Da Nossa Da Esperanca, S/N, Cotai, Macau, +853 8886 6888, www.marriott.com
Also read: Top 10 Things to Do With Kids in Macau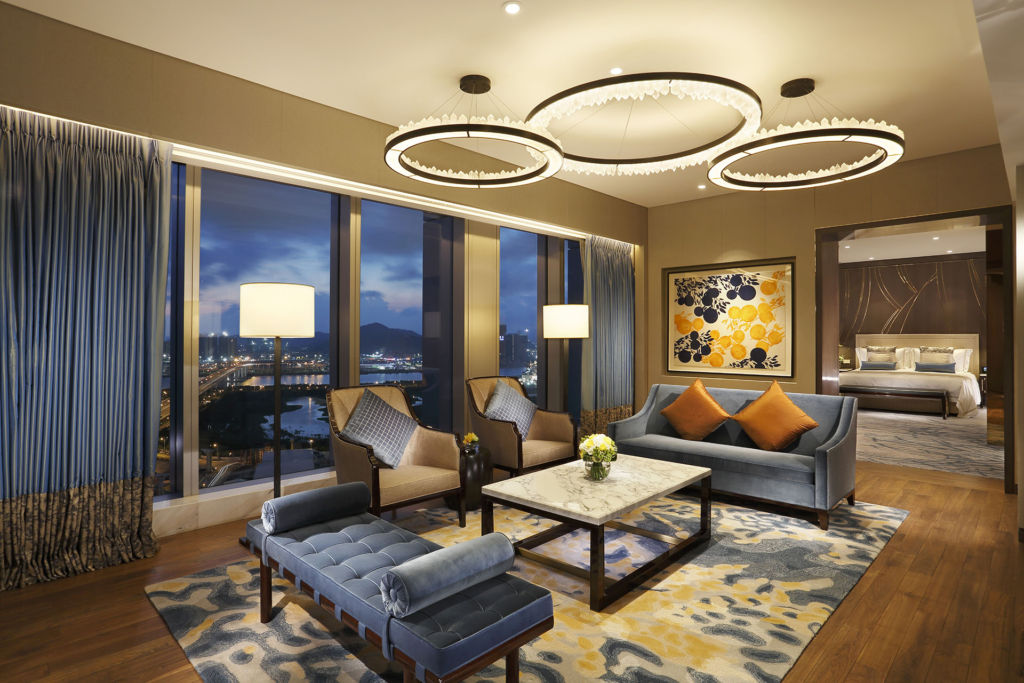 Studio City
Studio City is decorated within an inch of its life with art deco-inspired architecture and luxurious touches. This massive resort is home to a diverse selection of entertainment facilities, a luxury hotel, world-class shopping, and exclusive dining. You'll find everything you need without leaving the premises of Studio City.
Let your kids run wild in different zones of character-inspired fun at Warner Bros. Fun Zone. Embark on a pulse-racing adventure on DC Comics' first Batman 4D flight simulation ride at Batman Dark Flight just across the play zone. After a fun day, head to the Macau Gourmet Walk for a taste of local treats and quick bites. We highly recommend you fill up on creamy Portuguese egg tarts and delicious pork chop buns before heading back to your luxurious room.
Studio City Estrada do Istmo, Cotai, +853 8868 6767, www.studiocity-macau.com
Also read: Wake Up Here: Studio City Macau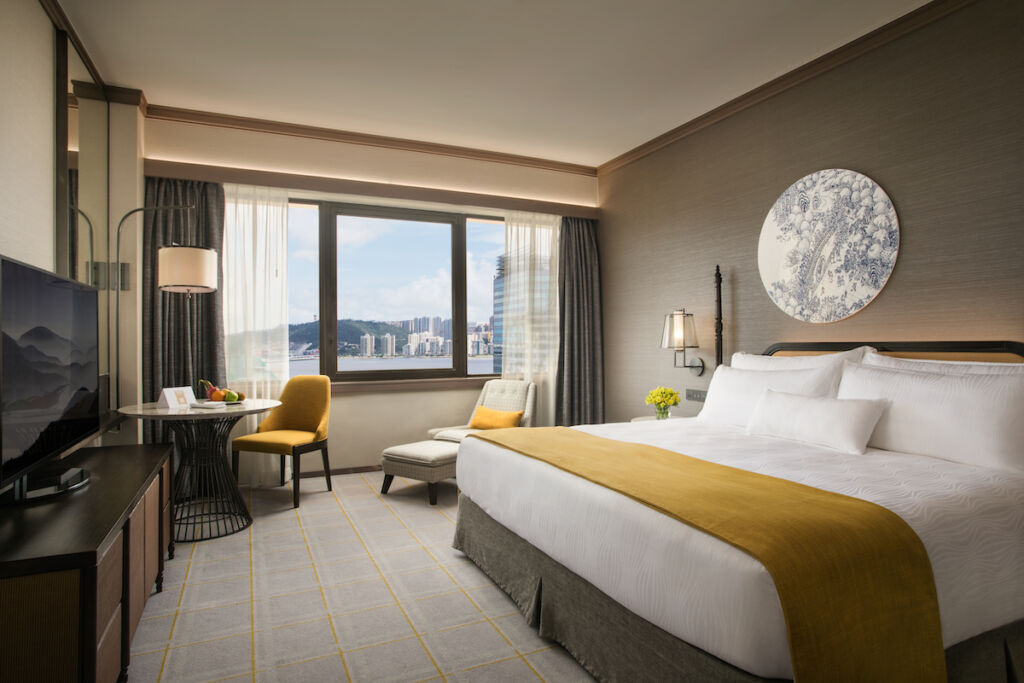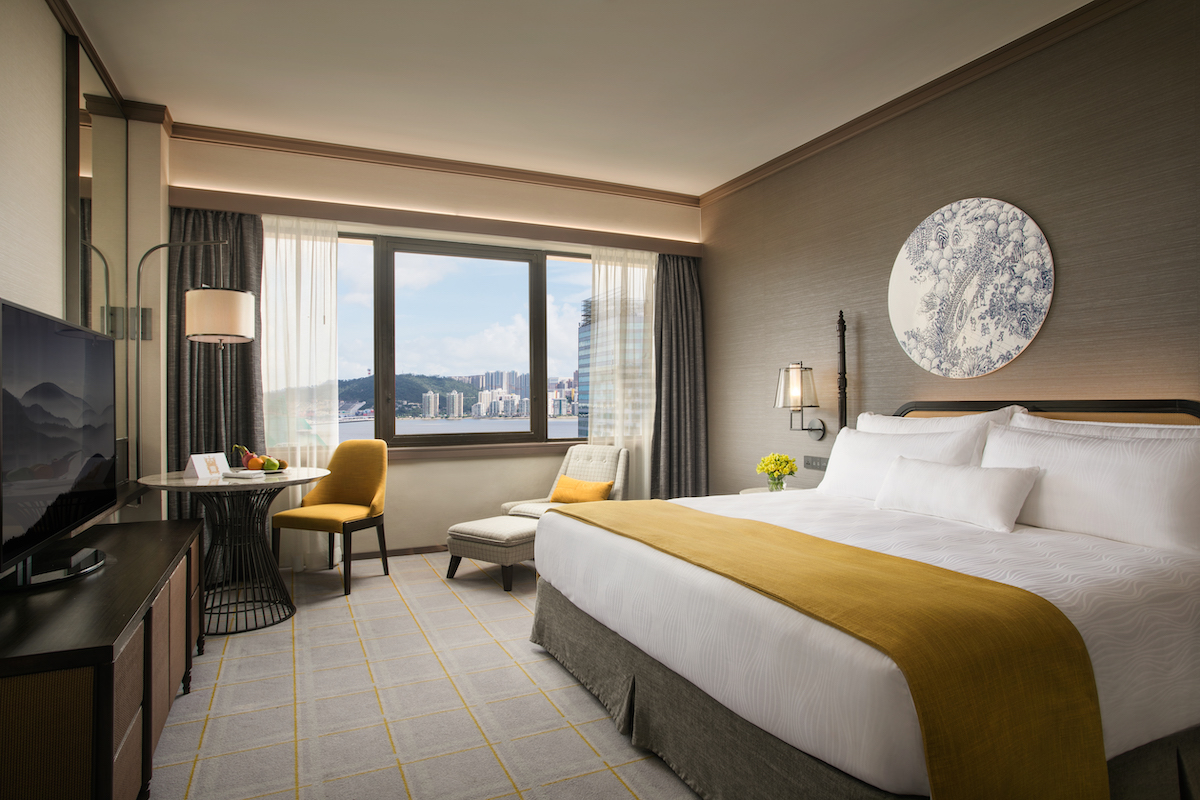 ARTYZEN GRAND LAPA MACAU 
The Artyzen Grand Lapa Macau is the perfect place to stay for a family vacation. Located right in the heart of the city, you can walk your way to almost all of the iconic spots in the SAR including stunning UNESCO world heritage sites. The property integrates culture and arts into many aspects of the hotel's design and interiors. Every room is artfully designed with Sino Portuguese influences paying homage to Macau's Portuguese heritage. It's important to introduce young children to art appreciation and you can find it in the simplest of things and experiences at Artyzen Grand Lapa Macau. You can also taste the local flavors of Macau at Café Bela Vista, indulge in exceptional Cantonese cuisine at Kam Lai Heen, and authentic Thai dishes at NAAM.
Artyzen Grand Lapa Macau 956-1110 Avenida Da Amizade, Macau, +853 2856 7888, artyzen.grandlapa.com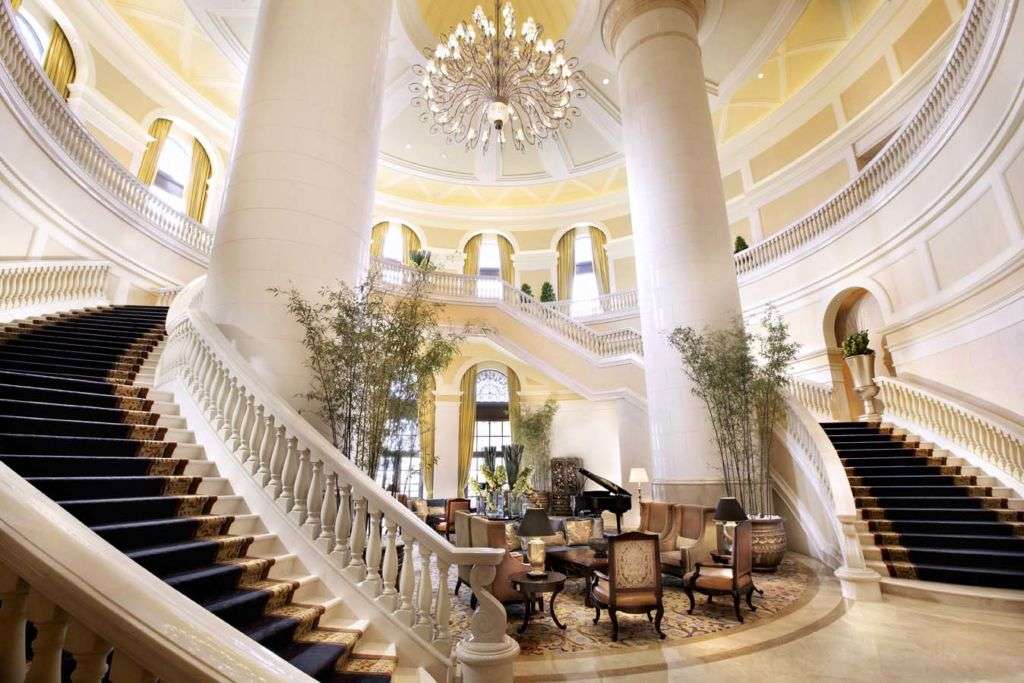 Four Seasons Macao
There are many reasons why Four Seasons Hotel Macao is a fantastic place for a family holiday. The resourceful concierge is always ready to make reservations for a family dinner and offer suggestions for outings. They are also to help arrange for a babysitter in case you and the missus would like to go on a well-deserved date night. The guest rooms are bright and spacious, perfect for kids to have space to run around in. The lavish suites combine a spacious floor plan with sophisticated furnishings and modern technology. Close proximity to the entertainment spots in Cotai strip makes it a desirable spot to stay without the busy feel of other establishments.
Four Seasons Macao Estrada Da Baia De N. Senhora Da Esperanca, S/N, Taipa, Macau, +853 2881 8888, www.fourseasons.com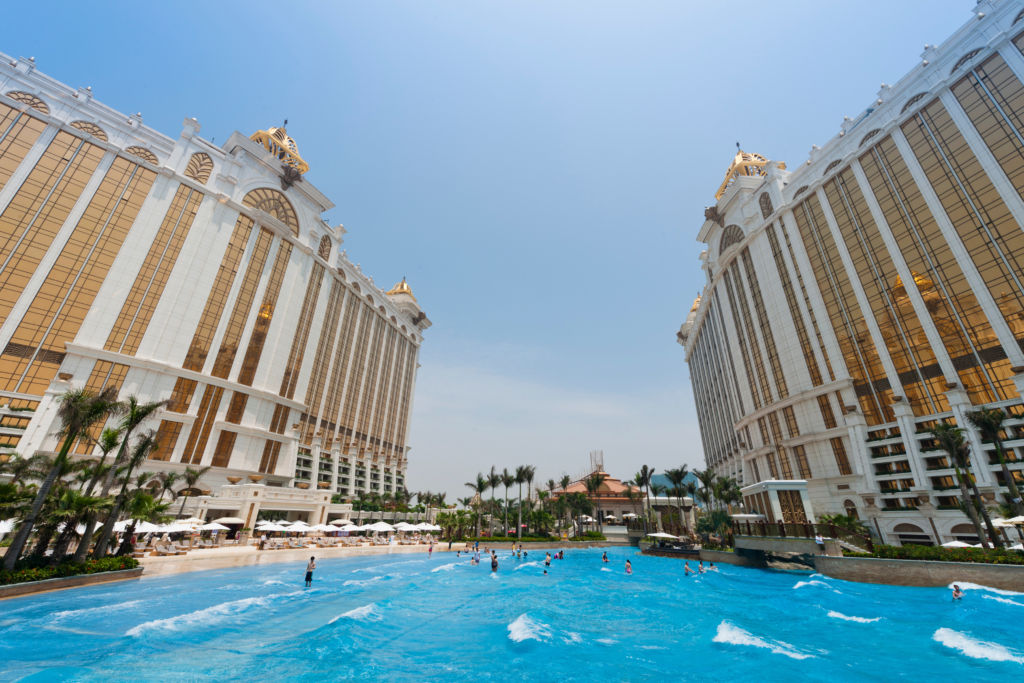 Galaxy Macau
Galaxy Macau is an integrated destination resort complete with more than 2,200 rooms, suites, and floating villas. There are so many things to see and do right in Galaxy Macau. Choose from delicious dining options at various price points. Enjoy shopping from highstreet to high-end! The spectacular Grand Resort Deck is closed until March 15, 2019, but you can still enjoy the Galaxy Hotel heated outdoor pool and jacuzzi. The Grand Resort Deck holds the world title for the world's largest skytop wave pool and must not be missed during its re-opening. Don't miss the Galaxy diamond show of magical lights, sound, water, and visual artistry that the kids will surely love.
Galaxy Macau Estrada da Baia de Nossa de Esperanca, Cotai, Macau, +853 2888 0888, www.galaxymacau.com
Also read: Top Outdoor Activities to Do With Kids in Macau
This article was originally written by Apple Salangsang in February 2017 and updated by Macau Lifestyle in January 2019.
Tags
Related Posts