Macau is a fairly small city, however, and especially if you're traveling with kids, you'll need to make use of some means of transportation in order to explore the city in the most convenient way possible. The means at your disposal include public bus, the hotels' free shuttle bus and taxi–very soon, light rail train too! Before we move on to transportation, we have a few tips for making trips with the little ones smoother and easier.
Food and drink 
Even though eating and drinking are not allowed on buses (whether public or private operated) and taxis, it's not uncommon to see toddlers being fed and kids eating while commuting. People, in general, are super friendly with kids and wouldn't bother to force the non-eating and drinking rules on them. So, the first tip to avoid a loud meltdown is to have a little snack and water ready in case your toddler gets hungry or thirsty.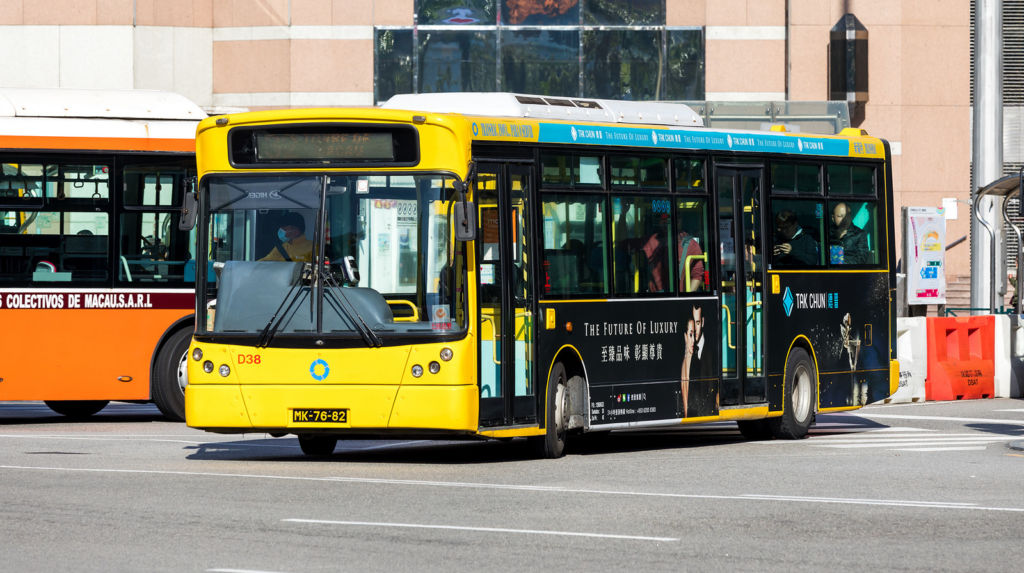 Transportation
Public Bus
With an effective network of around 30 routes connecting the Macau Peninsula, Taipa, and Coloane, public bus is one of the most convenient and inexpensive ways to make your way around town. Buses stop by regularly and stops are plentiful. The best part is that toddlers up to one meter in height ride for free! You can carry luggage and strollers along with you, but just keep in mind that strollers should be folded and kept on the luggage compartment during the trip.
For more information on public buses in Macau visit the www.dsat.gov.mo website or get the free Bus Travelling System app (IOS).
The best way to settle the bus fee is by Macau Pass, a contactless card, as by doing so you'll benefit from a discount fare of MOP $3 per ride compared to if you use cash which costs MOP $6. In addition, if you're using the Macau Pass, your second bus for a connecting route within 45 minutes of the start of your first ride, is free. Do note that bus drivers do not collect the bus fee nor handle change, so if you choose to pay with cash, be sure to use the exact sum of money. Before hopping on the bus, it is also a great teachable moment for your child to count out the amount of money needed for the ride. If you're using Macau Pass, have the kids to tap the card. Kids love to feel included in tasks usually handled by grown-ups!
You can purchase a Macau Pass at any Macau Pass service center, 7-Eleven, Circle K and Royal Supermarkets for MOP $130–MOP $100 retrievable value and a MOP $30 refundable deposit. For more information visit the www.macaupass.com website.
Free Hotel Shuttle Bus and Cotai Connection
While visiting Macau, it is super easy to get around without spending a dime. We have hotels to thank for that! Major hotels provide complimentary shuttle service for customers and the general public. These buses are usually quite comfortable and all passengers aboard get a seat. There are also spacious luggage compartments you can use to keep your large belongings and stroller. These free shuttle buses usually serve the major border checkpoints such as the Border Gate, Macau Ferry Terminal, Taipa Ferry Terminal, Macau International Airport, and Hong Kong–Zhuhai–Macau Bridge. Hotel chains with properties set in the Macau Peninsula and Cotai like Wynn Macau and MGM Macau offer connections between the two.
You can check on some of the major hotels' shuttle bus schedules below:
Cotai
Macau
If you plan on touring around the Cotai area, The Cotai Connection is quite practical. It shuttles passengers between Galaxy Macau, Studio City Macau, City of Dreams, The Venetian Macao, Sands Cotai Central, MGM Cotai, and Wynn Palace. There is also an express bus connecting Studio City Macau, The Venetian Macao, and Galaxy Macau.
Taxi
If you wonder whether Uber operates in Macau, we're sorry to let you know that it does not. But taxis in Macau are inexpensive making them a convenient way to get around town. Taxis run by meter with the initial rate of MOP $19 for the first 1.6km and an additional MOP $2 for every 240m thereafter. A surcharge of MOP $5 applies if your journey is between Macau Peninsula to Coloane, or if you catch a taxi at Taipa Ferry Terminal, Macau International Airport or the University of Macau. If you ride from Taipa to Coloane an additional MOP $2 will be charged. There's also a surcharge of MOP $3 added for every item of luggage kept in the boot. Taxis are a great way to get around especially if you're bringing along more than one child and it might be a bit difficult to handle all of them on public transport.
If you don't speak Cantonese or Mandarin, it is advisable that you have your destination written down so that you can show it to your driver, as many of them are not fluent in English.
Try using the Macau Taxi app (IOS) to book a taxi, all you need to do is set your location for pick up and your intended destination and press "call now". You'll get a call from the taxi driver closer to your area to confirm your location. A surcharge of MOP $5 applies when booking via Macau Taxi app. Bear in mind that this app works only in Chinese.
Light Rail Train
A much-anticipated addition to transportation in Macau is the MLRT (Macau Light Rail Train). With a total length of 9.3km, the Taipa Line started operating this December. It has terminals set at Oceano (Ocean Garden) and Taipa Ferry Terminal and covers 11 stops throughout its route, including Macau International Airport, Cotai East and Cotai West. The Taipa-Barra extension, which is currently under construction will connect the island and the Macau Peninsula. It is estimated to open in 2023/2024.
Consider hopping off at Pai Kok station (check above route map) which is within walking distance to the quaint Taipa Village and take the kids to explore what the village has to offer! You can visit Taipa Colonial Houses, a must-see Macau colonial heritage offering beautiful views over Cotai Strip followed by a relaxing stroll and playtime at the spacious garden nearby. The area is particularly magical around dusk! In addition, Taipa Village has plenty dining options, ranging from local to Portuguese cuisine. Rua do Cunha, nestled in the heart of the village, is a well-known haven for foodies. After lunch or dinner, get the kids an ice cream–always a win–and be sure to stock up on local delicacies such as almond or peanut cookies!
Rent a car
Even though there are several inexpensive ways to get around in Macau with kids at your disposal, you might prefer renting a car to make commuting quick and convenient. There are several car rental businesses operating in town, including the well-known Avis. To ensure the process of being allowed to drive in Macau runs smoothly, consider reaching out to the car rental company prior to visiting and provide the details of the person who will be driving the vehicle (passport and driving license). Depending on your country of origin and the length of your stay in Macau, you might need to obtain a driving permit from local authorities. If you need a car seat for your kid the rental company should be able to provide it (usually charging for it).
Driving in Macau should not be difficult. Keep in mind that left hand side driving is in force. Although there aren't many parking spots on the streets, there are several car parks spread throughout Macau, Taipa and Coloane. Follow this link to check on the full list of parking lots available in town.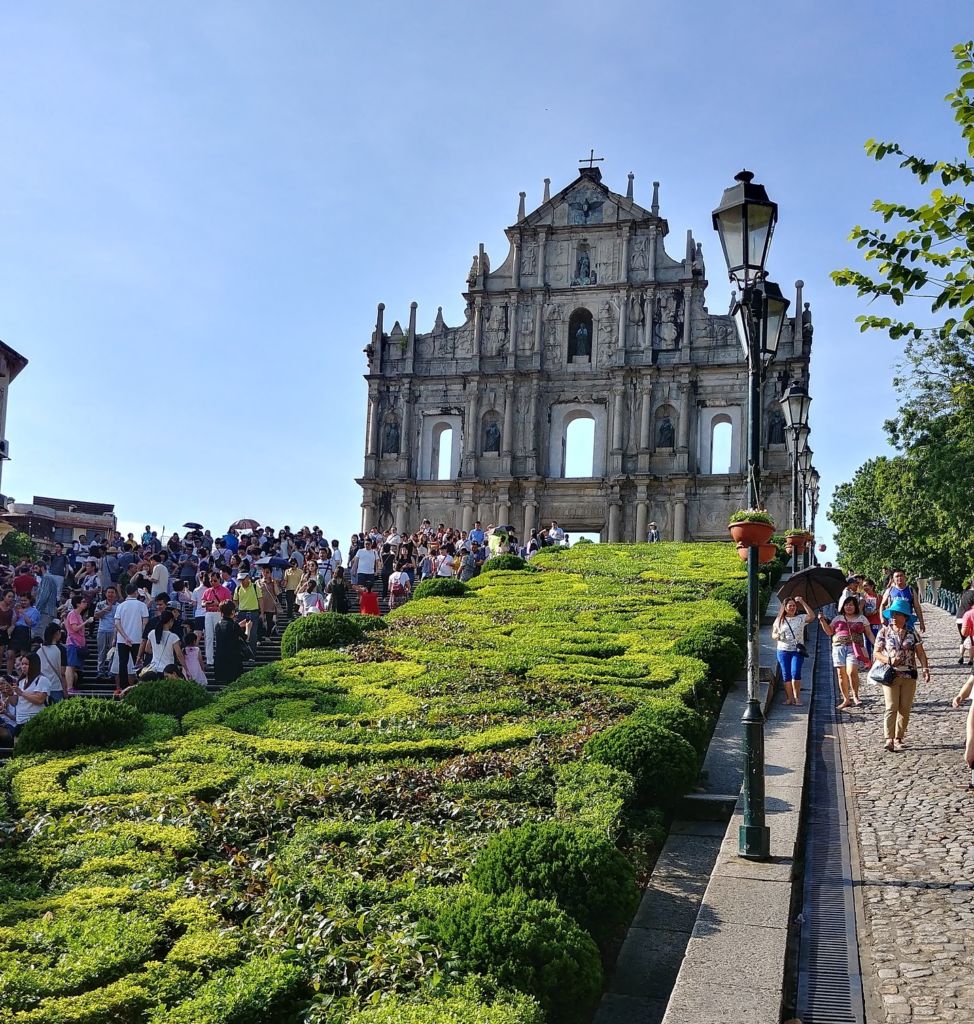 Walk and Explore!
Since Macau is a fairly small city, you can easily walk around some areas of town and tick off a few touristy spots. Get your little one on a stroller (the city is reasonably stroller-friendly) and explore your surroundings. For example, if you find yourself at Senado Square, you can walk to Rua de Felicidade, Ruins of St. Paul's, St. Dominics Church and Luís de Camões Garden. This might take some time, so enjoy Macau at your own pace and when you feel like having lunch, there are several great spots around too!
Entertainment 
The main reason why so many kids get restless while traveling is that they become bored. In order to keep them entertained, it's a good idea to take along a small toy or book, which is preferred to noisy electronic gadgets. Most toddlers go crazy with sticker books and will gladly spend their time flipping pages in search of the right place for a certain sticker.
What about an activity book with stickers specifically about Macau to simultaneously entertain and educate your little one? Well, now you can with the Little Explorers of Macau, an activity book that goes through Macau and its history with 88 stickers and lots of games. The activity book is available for purchase in several shops and bookstores, including the Portuguese Bookstore and Jubilo 31 Books. It's also possible to order Little Explorers of Macau via the publisher's Facebook page. This activity book also makes for an awesome souvenir from Macau!
Tags
Related Posts